Facebook proxies are a must for some people. Are you one of them? If you are, check out our list of the best residential Facebook proxies you can find on the market today.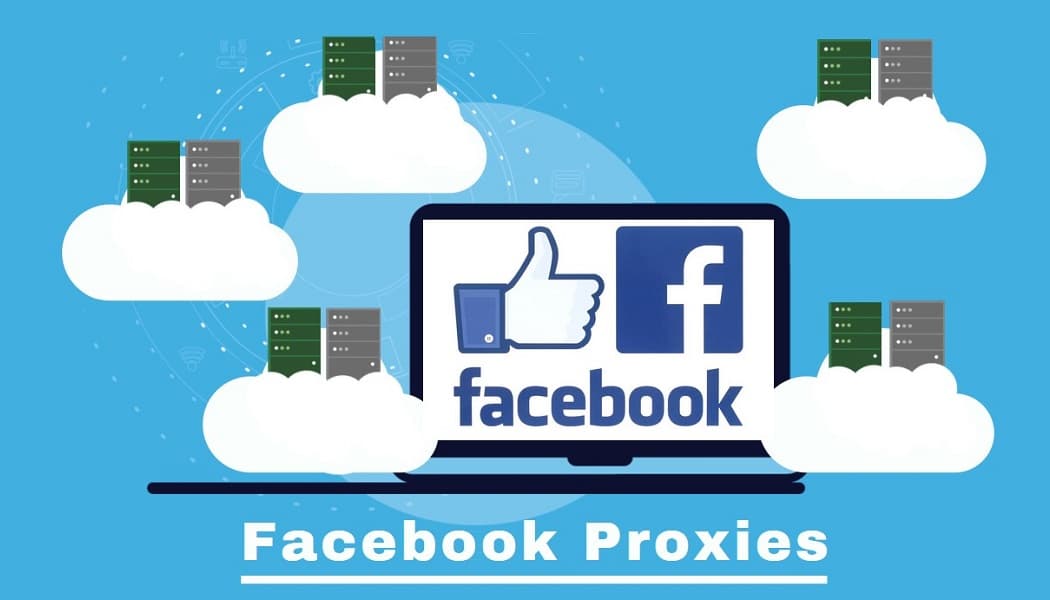 Ever since its initial release, Facebook has become one of the most popular social media networks in the world. As the year went by, so did the popularity grow, and with that, people have started to use Facebook for more than just posting statuses.
Even though Facebook is available across the globe, so people do not require a proxy server to access it, there are still some situations where you will not be able to do anything without Facebook proxies. Creating multiple accounts or scraping are only some of those situations, and using a decent set of proxies can make or break your success in that task.
To aid you in your search for the best Facebook proxies on the market, we have compiled a list of the best residential Facebook proxies you can find on the internet.
---
Best Facebook Proxies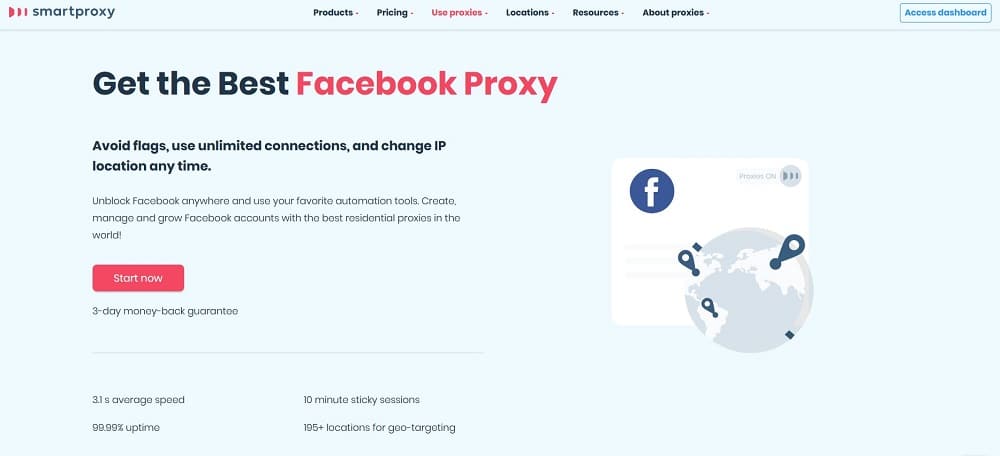 Starting off this list, we are presenting an excellent mid-range Facebook proxy provider. Smartproxy has a pool of IP addresses consisting of over 10 million proxies that are located in over 195 locations around the world. The extensive proxy pool and locations are backed up with a decent set of features.
The geo-targeting is a nice touch, but the fact that you can only target eight cities is quite limiting. You can set up your Facebook proxies to be rotating or sticky, depending on your needs, but the sticky session can only go up to 10 minutes. Smartproxy offers reasonable prices, and you get multiple pricing plans with the similar set of features.
The difference in the packages is the included bandwidth, while all 10 million proxies in all locations are available. Unfortunately, you will not be able to test the proxies for free, so you will have to settle for a 3-day money-back guarantee.
Pros
Competitive price compared to other proxy providers
Over 10 million proxies across the globe
Cons
No free trial available
Bandwidth limitation on all packages
City-level targeting limited to only eight cities
---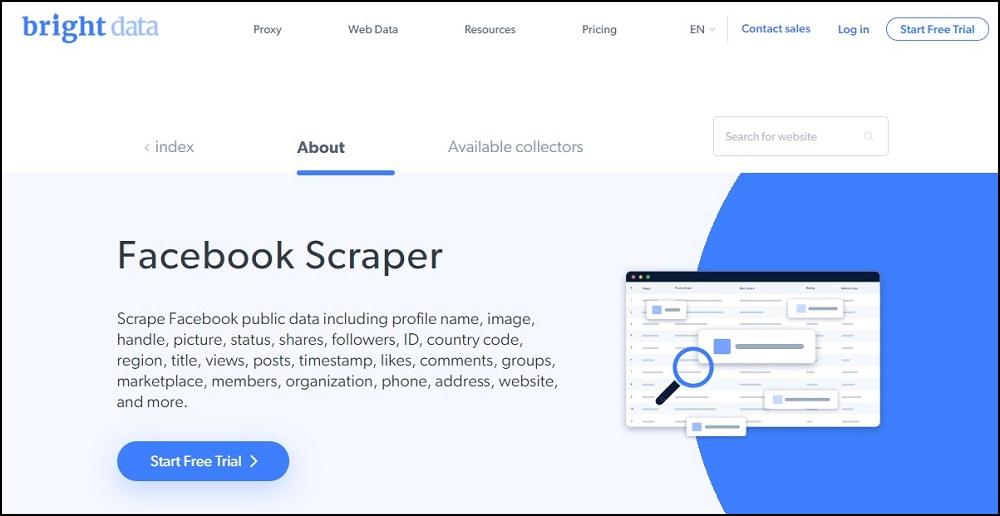 As a leading Facebook proxy provider, Bright Data deserves to be on this list. Offering their customers the biggest network of proxies on the market consisting of over 72 million in every single country around the world, it is understandable why we praise them so much.
The advantages do not stop there. Apart from the huge IP pool, you also get tons of features that can improve your experience. Among the many features, you get advanced geo-targeting, as well as an option to rotate the proxies with advanced options. Getting all these features and the number of proxies is not something that will not be heavy on your budget. These Facebook proxies are among the most expensive ones we have seen on the market.
The pricing plans offer a variety of options, where the most important one is the included bandwidth depending on the price you are willing to pay. The price is a downside, but the fact that you get a 7-day free trial is a huge advantage over most of the competition.
Pros
Over 72 million proxies in every corner of the world
Advanced geo-targeting and rotation options
Free trial option lasting up to 7 days
Cons
Among the most expensive provider on the market
Can be confusing for first-time users
---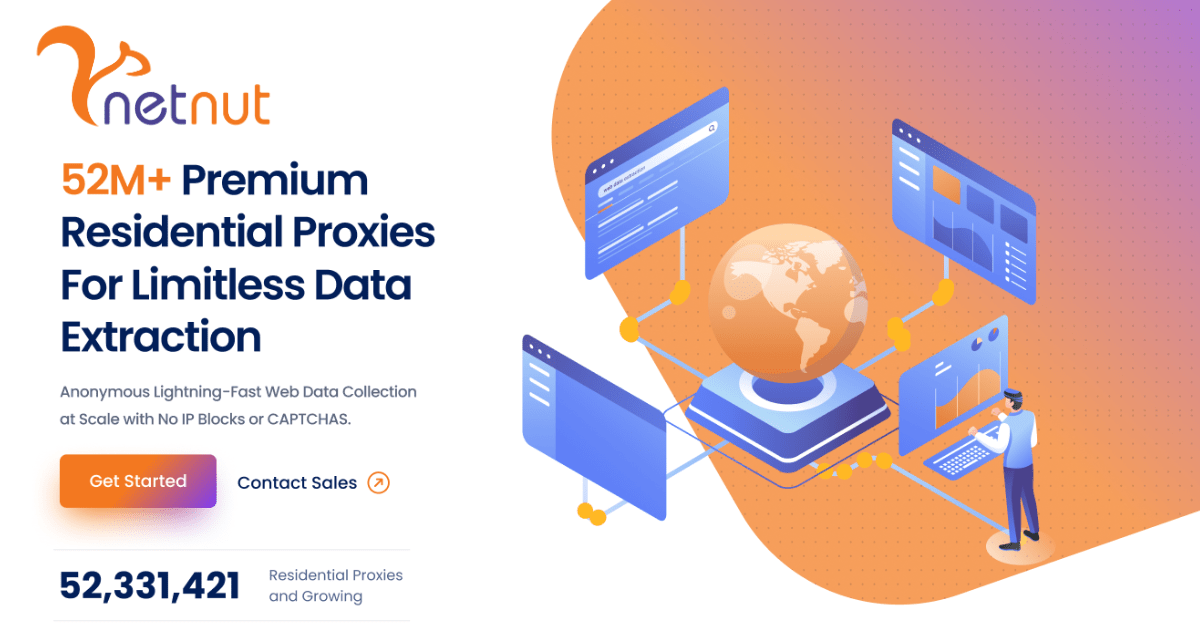 When it comes to scraping and extracting data from Facebook, NetNut is your go-to high-speed residential proxy provider. With a whopping pool of over 52 million proxies sourced from real user devices across the internet, NetNut offers an array of undetectable and private IPs that are entirely yours.
NetNut's Private Proxy service combines ISP and P2P networks to ensure an unbeatable browsing experience matched with outstanding performance. Their dynamic P2P setup guarantees uninterrupted service no matter where you are in the world, boasting a remarkable zero percent failure rate. These are important qualities to look for, especially if you're a heavy Facebook data miner.
Beyond speed and coverage, NetNut's rotating proxy networks provide a wealth of other equally important benefits. Using NetNut's private proxy network grants you unrestricted access, allowing you to effortlessly bypass Facebook CAPTCHAs, reCAPTCHAs, and anti-bot measures that the platforms deploy to combat spamming. Another key attribute of their proxies is that they remain undetected and anonymous, which is crucial to prevent Facebook from blacklisting your IP.
The pricing structure is another act NetNut always seems to get right every time. Their three-tier pricing plan caters to a wide range of budget and bandwidth needs, letting you allocate your budget precisely. Beginning with the starter package at $350 for 20GB monthly, you pay for only what you need. There are the Advanced Plan and the Production Plan which gives you substantially more data for less money.
Finally, there's a 7-day free trial that carries enough data juice to allow you to appreciate the difference between leveraging a premium proxy service like NetNut for data extractions on Facebook and relying on cheap knockoffs that will slow you done.
Pros
Access to over 52 million IP addresses worldwide
Nearly zero failure rate
Flexible pricing plans to suit your needs
Invisible to website security measures
Complete control of IP rotation by ASN
Cons
Lack of API Integration Documentation
---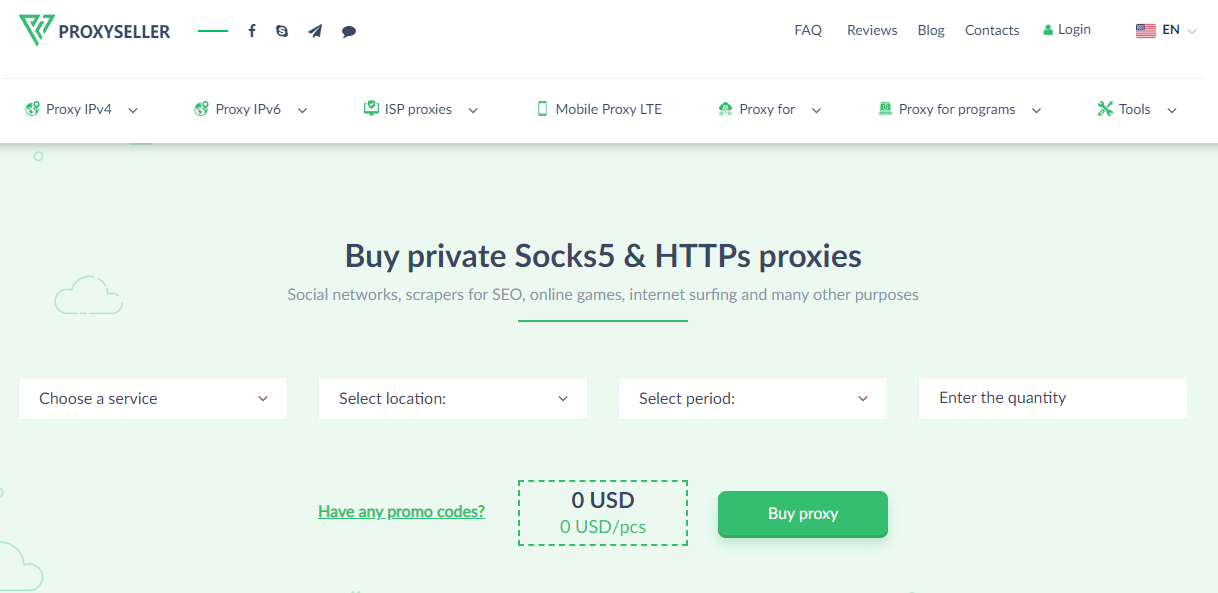 If you are a social media marketer specifically looking for Facebook proxies, then the next company that offers these high-quality proxies is a Proxy-Seller. Though Facebook is not strict, private Proxy-Seller Facebook proxies effectively automate all tasks.
While these Facebook proxies have good location coverage, there are also issues linked to them. But you can assume they have recorded good response time alongside the high network speed enough to evade all the geo-restrictions and give you the high anonymity level needed.
A Proxy-Seller might be a new company to people. Still, they are taking over the market since this has Facebook proxies servers situated in about 15 territories worldwide, allowing us to target cities with high traffic.
They also have the Proxy replacement of no refund within 24 hours but no free trial. The support team can also help you configure using the TeamViewer remotely. These proxies are cheap and flexible in terms of the packages, as you can purchase them based on your budget.
Pros
Good location coverage with city targeting option
High connection speed.
Offers refund and proxy replacement.
---

Something that not too many people know about this Facebook proxy provider is that it has not started its business as Shifter; instead, it was Microleaves. With that may years of existence, it deserves to be on this list. Offering over 31 million proxies in every country in the world, as they claim, it is easy to see why we can recommend it. Something almost unique that we rarely see in other residential proxy providers is the type of proxies.
Shifter's basic and special proxies offer a more extensive range of options for more people. For Facebook proxies, you should go with the special ones for two reasons. The geo-targeting option will allow you to target any country or city that you need, and also, the basic proxies will not work with Facebook. The pricing structure is simple – you purchase as many proxies as you need, and you get them with no cap on the bandwidth. Similar to Stormproxies, you do not get a free trial, only a money-back guarantee. The good news is that it is for three days.
Pros
Over 31 million proxies across the globe
No limit on the bandwidth
Geo-targeting with the option to choose specific countries or cities
Cons
Not the cheapest option in this category
Free trial option not available
---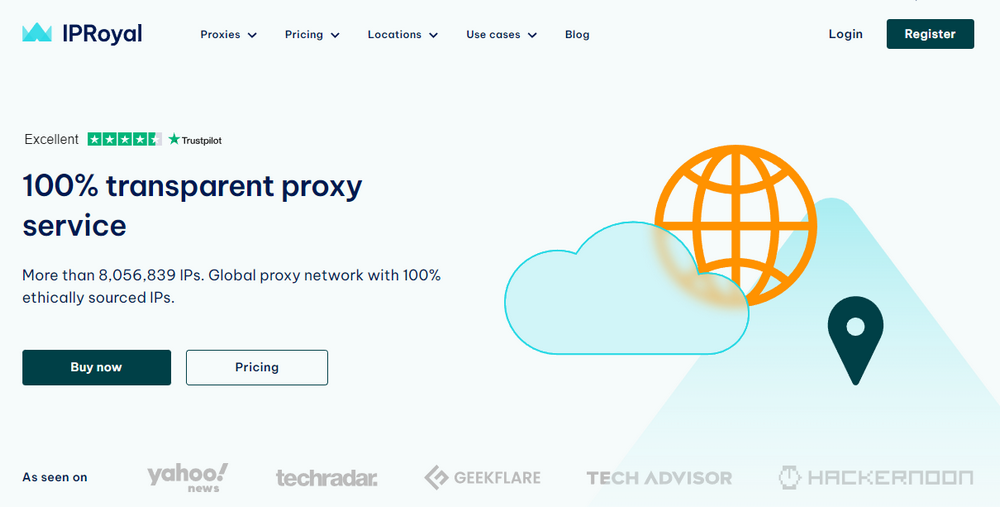 High-quality residential IP addresses are mandatory for Facebook proxy service providers. IPRoyal is a relatively new proxy service provider that has over 2 million residential IPs with excellent trust scores. They are well suited for managing multiple Facebook accounts or scraping Facebook data with nearly zero failure rates.
IPRoyal's proxies stand out by their price and quality ratio. The rotating residential proxies start from $1.75/month, which is way below the market average. They make scraping FB data particularly easy with an intuitive dashboard and a free proxy tester to guarantee a comfortable experience.
You can also get datacenter, mobile, and sneaker proxies alongside residential proxies. IPRoyal's overall proxy pool consists of 8 million IPs in 195 countries. Rotating residential proxies allow broad city-level targeting and provide unexpired traffic so you can use them whenever necessary.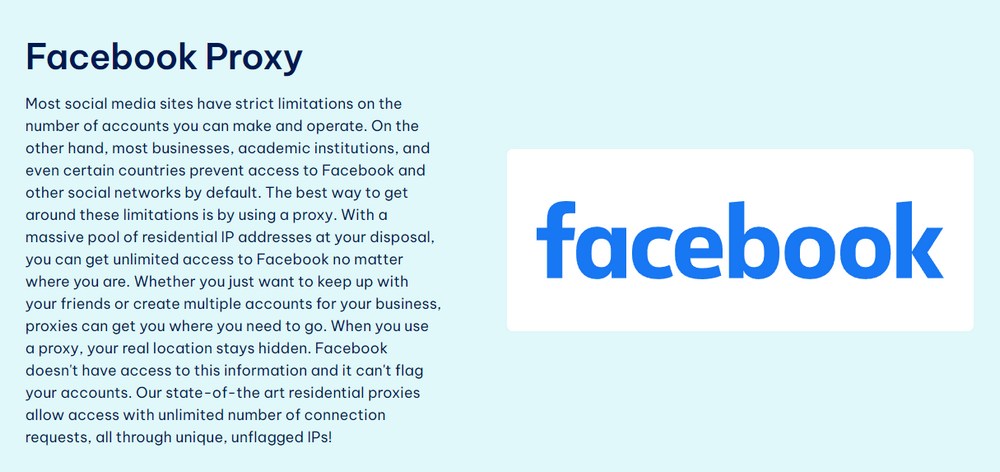 Pros
Unexpired rotating residential proxy traffic
Competitive Pricing
Easy to use
Cons
IP Pool could be larger
No free trial
---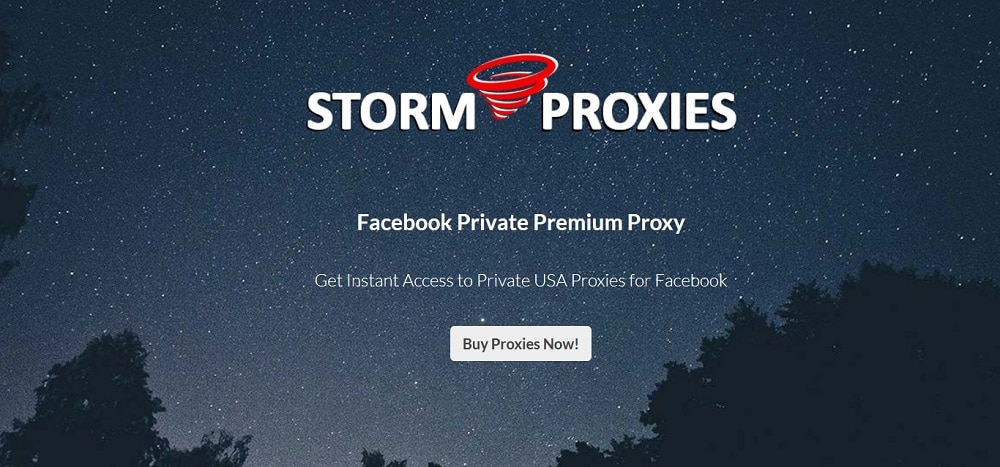 Moving to the other side of the price spectrum, we come to the next residential Facebook proxy provider. Stormproxies offers a far less than most of the other, but at a more competitive price. The proxy pool consisting of over 40 thousand proxies, is far less than any other provider on the market. On top of that, they do not disclose a full list of available proxies, making things complicates if you are after a specific area.
You will have to go on the fact that the proxies are from the US and EU. On the flip side, using the Facebook proxies will not be a problem due to the automated rotation option and a simple dashboard where everything is clearly laid out. As we mentioned, the price is competitive, and for that, you get several packages varying in the number of proxies you want to purchase. All of them come with unlimited bandwidth. Testing the proxies for free is not available via a free trial, so your only option is the 24-hour refund option.
Pros
Among the cheapest options on the market
No limit on bandwidth for all pricing plans
Cons
The pool of IPs is small
Locations limited to US and EU only, with no info on specific states or countries
---

Last but not least, we have Geosurf. This Facebook proxy provider has been around the longest compared to the others, but it is not all positive. The available Facebook proxies in their pool consist of over 2 million proxies, which is far below the average. Regarding the regions, you get a decent diversity with proxies in over 130 countries. On a positive note, Geosurf is an excellent choice for people that are not very experienced with proxies and the process of setting them up.
In addition to the ease of usage, you also get advanced and very detailed reports on how Facebook proxies are performing. The bad news is that you will need to pay slightly more compared to other providers. Also, the bandwidth is limited on all available packages, so you will need to plan ahead about which package to purchase. A testing period is available, but it is limited to only 24 hours, and you only get 1 GB of bandwidth to work with.
Pros
Easy to use and set up
Decent diversity in locations
Cons
Pricy compared to others
Way less available proxies than the competition
---
Frequently Asked Questions
Must I use Facebook proxies?
Depending on your needs. If you are using Facebook just as a social media platform that is not banned in your country, then you do not need it. If Facebook is banned or you want to scrape, or you need to set up multiple accounts from the same computer, then you must have proxies to avoid any kind of detection or ban.
What are the best free Facebook proxies?
There are none. Regardless if you are using Facebook proxies or any kind of other proxies, the free ones are not secure enough to be used, especially when you are doing more than just everyday browsing. The information that you send through them can quickly end up in the wrong hands and be misused.
Are there cheaper Facebook proxies?
If you are on a really tight budget, you could try with datacenter Facebook proxies. We would not recommend them as well, but you can try. Datacenter proxies are easier to be detected because they come from data centers, unlike residential proxies, which are IP addresses from people's home internet connections.
What is the best location for Facebook proxies?
It depends on your need, but there is no rule regarding that. If you are scraping or creating multiple accounts, make sure that the proxies are from different countries to prevent any suspicion.
Will Facebook know that I am using a Facebook proxy?
Probably not. The main reason for using quality proxies is to prevent detection and to complete the task with no interruptions.
---
Conclusion
No matter how you look at it, Facebook proxies are a must in certain situations. Over the years, Facebook's protection has improved, making things a bit more complicated, so our list of the best Facebook proxies will give you the advantage to stay safe from any potential bans.
---