From time to time, people come in a situation where they need proxies from a specific country, let's say the UK. If you are one of those, our list of the best UK proxy providers will help you.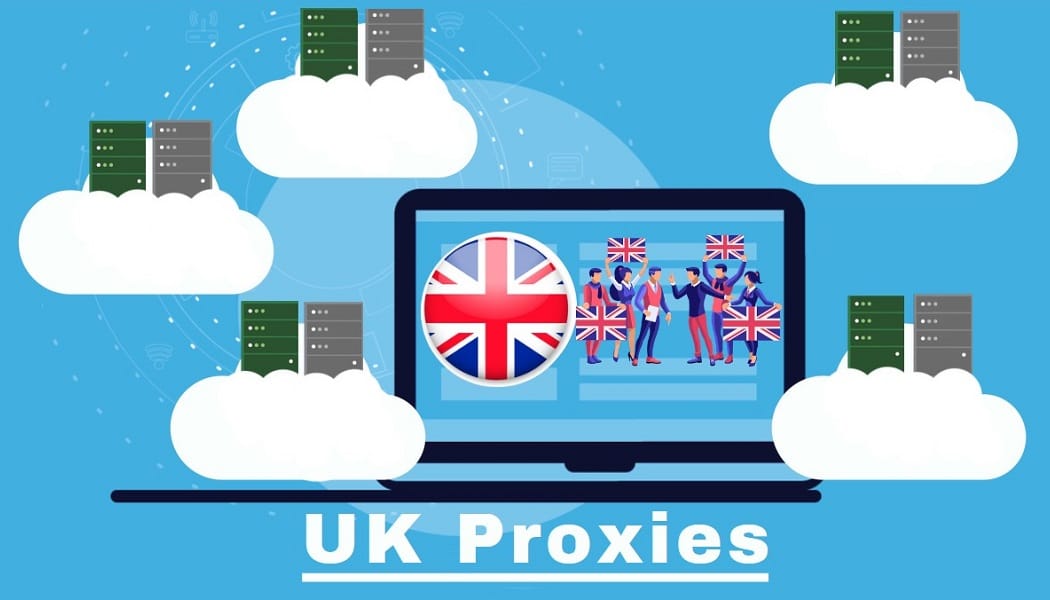 Proxy usage has seen an increase over the past decade, and with that came the need for a particular set of features, like geo-targeting. In the olden days, that was a premium feature that you paid extra, but now almost all of the proxy providers offer it with all packages. Some still may charge you extra for it, but we will discuss that later in the article.
Regardless if you are scraping or trying to access content restricted to your location, country-specific proxies have become a necessity. In this article, we are going to cover several proxy providers that will sell you IP addresses from the UK. Even though Uk is one of the more popular locations and almost all providers have proxies there, we compiled the list to help you in your search. Also, we included several free UK proxy sites that you can use.
---
As we mentioned, UK proxies are in high demand, and it's relatively easy to find them for free. Here are a few websites:
---
Using free proxies is fine-ish, but if you need them for something more serious, you should look into paying for them. Here are our picks.
---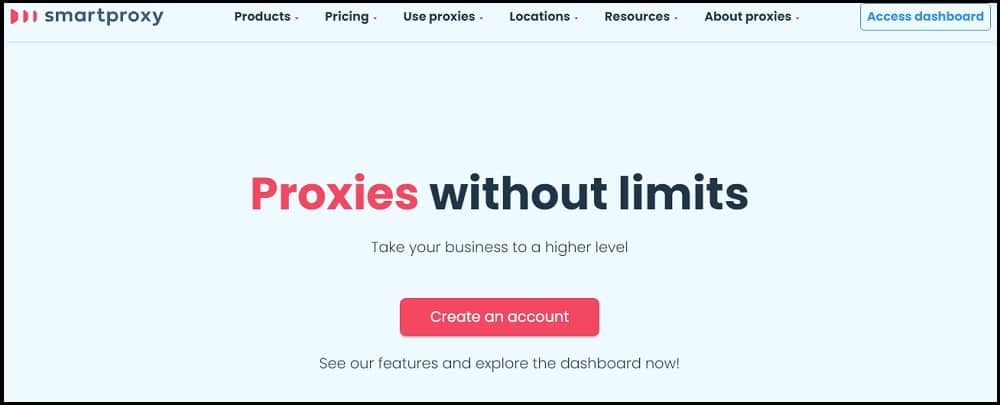 Making the right choice when it comes to UK proxies can be difficult, but going for a provider like Smartproxy may be a good solution. It's not the best of the best, but it balances things right. With over 300 thousand proxies in the UK, it's not breaking any records, but it's certainly more than enough for what you may need. Geo-targeting is not exactly usable as you may think because the only city you can actually go for is London.
Moving away from the not so good news is the price. Even though it's not the cheapest provider on the market, the average prices, combined with decent flexibility in the plans, make Smartproxy the best all-rounder in this category. All pricing plans come with limited bandwidth, and a free trial option is not available. Your only option is their three-day money-back guarantee.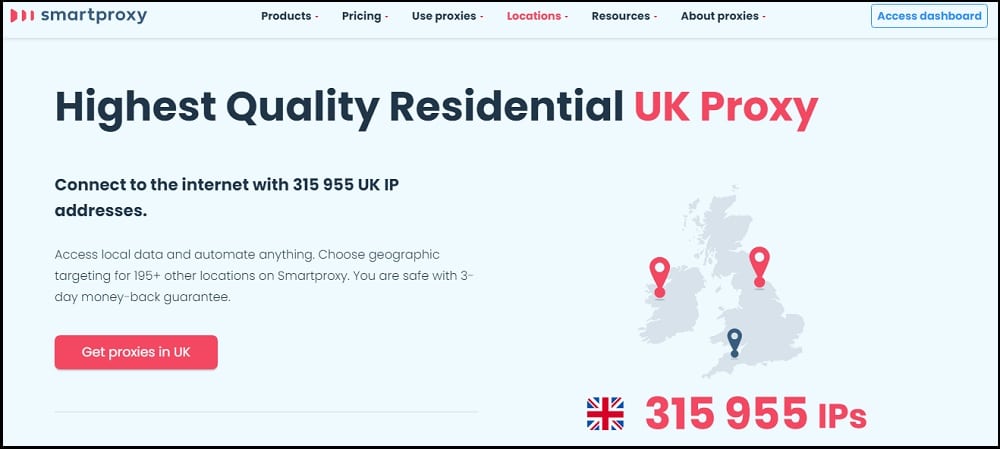 Pros
Excellent balance between features and price
Cons
Bandwidth limited on all packages
Trial option not available
---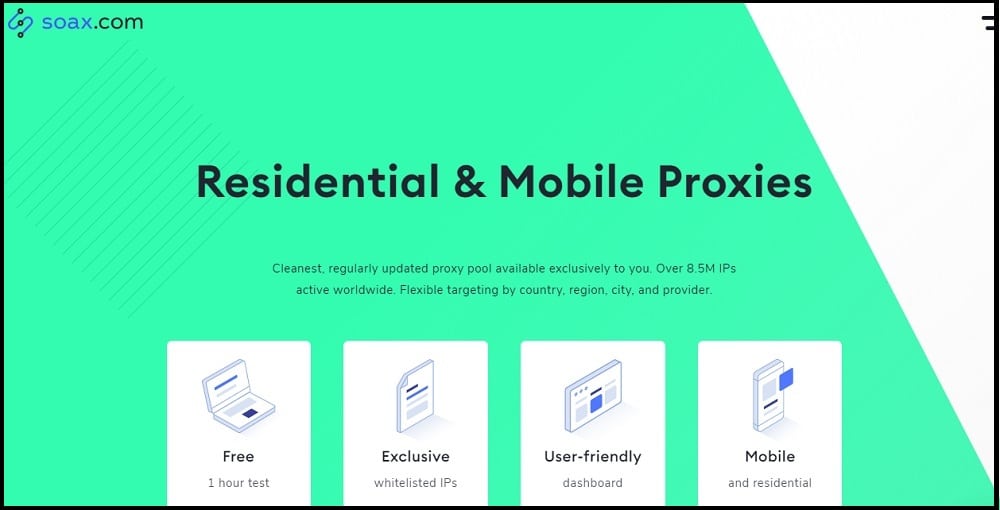 As a direct competitor to Smartproxy, next on the list, we have Soax. Similarly, this UK proxy provider gives a great balance between what is offering and the price. The pool of UK proxies consists of over 169 thousand IP addresses, which is less than the average, but more than enough to get the job done.
As with most UK residential proxies, Soax's bandwidth is limited, but there are a few good things that come out of it. The prices are very competitive compared to other providers and you get a lot more features. The geo-targeting option enables you to get proxies from certain cities which is a nice thing to have.
The packages are very flexible and you are paying for the number of ports you intend to use, giving you access to the entire proxy pool. Something that's unique for this provider is that you can purchase proxies for as many days as you need. There is a downside too. Unlike some of the cheaper options, Soax does offer you a trial option, but it is limited to only one hour.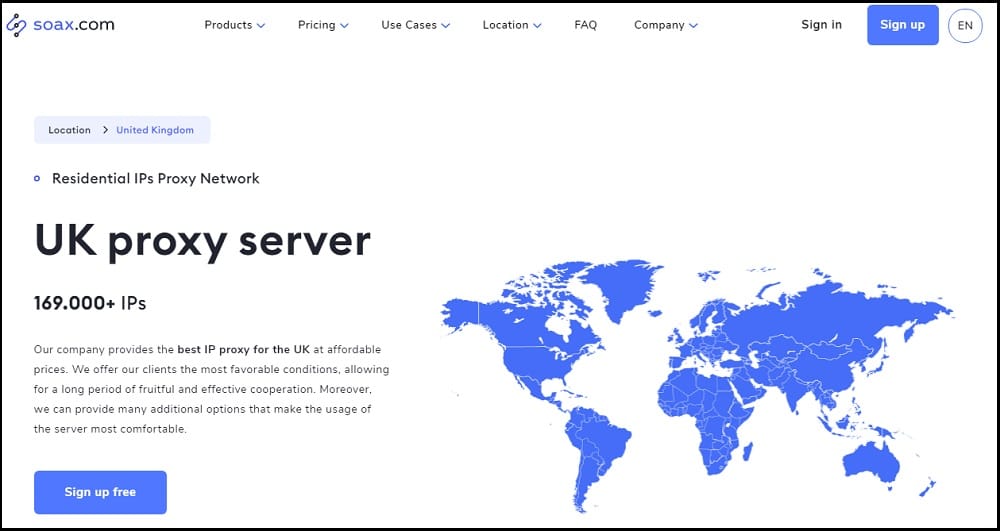 Pros
Competitive price
Option to get proxies from specific cities
Cons
Very limited free trial
Limited bandwidth
---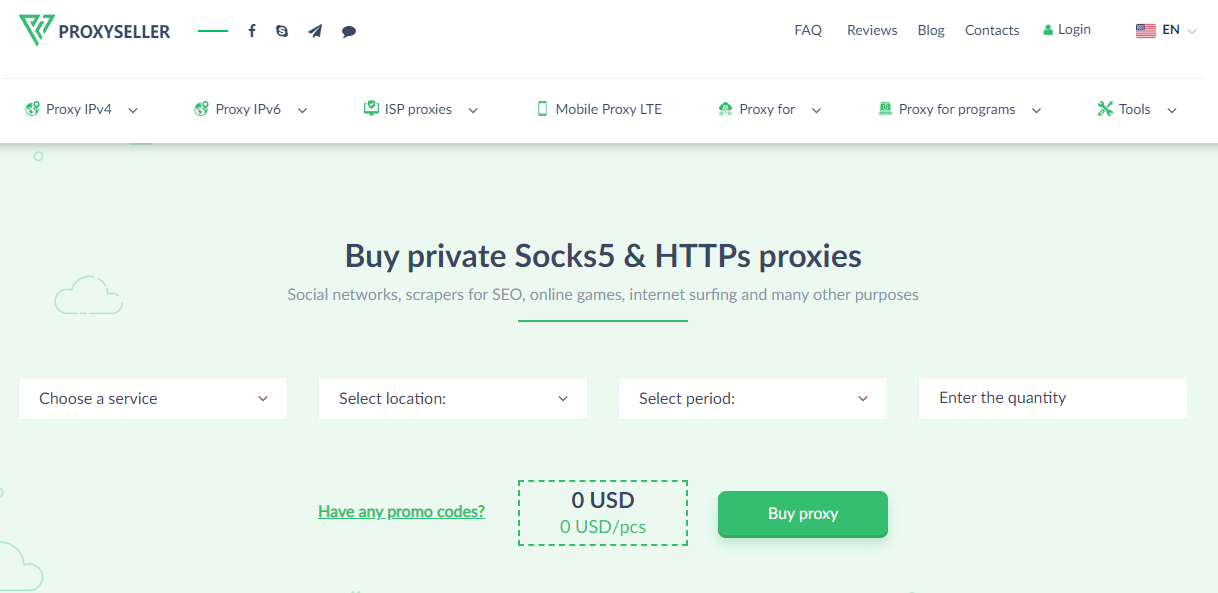 Regarding UK proxies, a Proxy-Seller is a next option as a highly recommended UK proxies provider. The Proxy-Seller offers high-quality UK private proxies, which we can testify to based on their performance and quality. The option when purchasing on their website range from the IPV4 and IPV6 to the mobile LTE4G proxies.
Looking at this option, the company has good location coverage with England proxy servers, well distributed as UK-based IP addresses. Therefore, any customers utilizing them experience faster response time, improved performance, and the ability to evade all the geo-restrictions.
In the UK alone, Proxy-Seller has over 100 cities which is impressive for you to select any towns that best fit your preference, specific or local. You can also decide whether to encrypt or not encrypt since this Proxy supports HTTP and HTTPS protocols. There is unlimited traffic and the ability to change IP addresses over time.
Pros
Impressive location coverage
Guaranteed refund
24/7 customer support
Regular discounts
---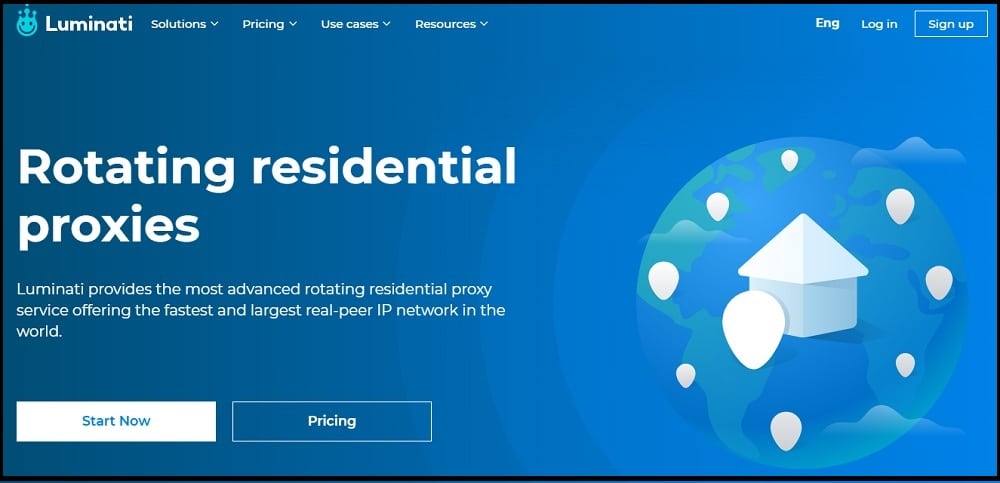 If you want to combine the best of both worlds, residential and mobile proxies, you should check out Luminati. This proxy provider has often been praised as the best, and with all that it has to offer, it's clear why. The pool of UK proxies consists of over 2.6 million residential ones and almost 100 thousand mobile proxies.
If you combine that with the geo-targeting option enabling you to get proxies from specific cities and you see why Luminati has that title. The dashboard can be slightly confusing, especially if you haven't used proxies before, so it may take you some time to learn it.
This UK proxy provider's services and IP addresses don't come cheap; in fact, this is one of the most expensive providers on the market. You get multiple pricing plans to choose from, but all of them come with limited bandwidth. There is a positive side to this. The 7-day free trial option means that you don't have to pay to test the proxies.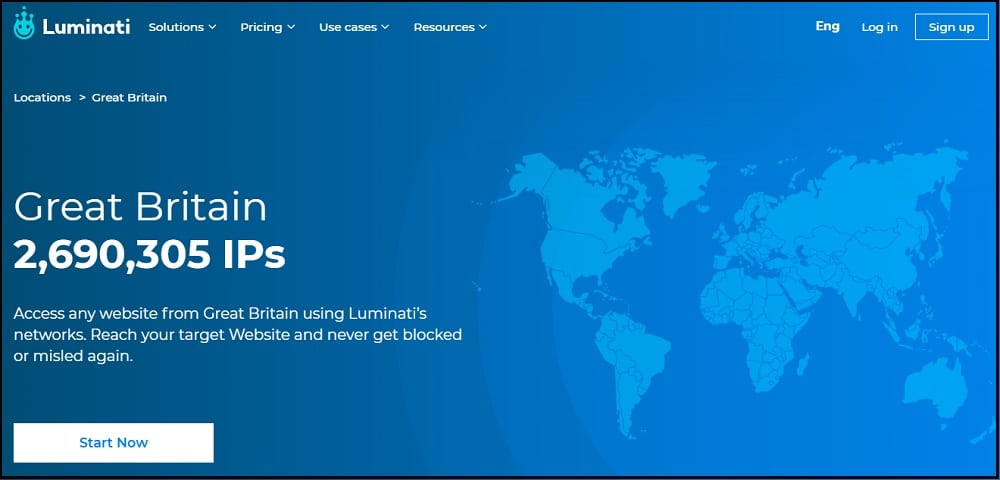 Pros
Over 2.7 million residential and mobile UK proxies
Citi-level targeting
Free trial available
Cons
Slightly complicated proxy manager
No option for unlimited bandwidth
Expensive
---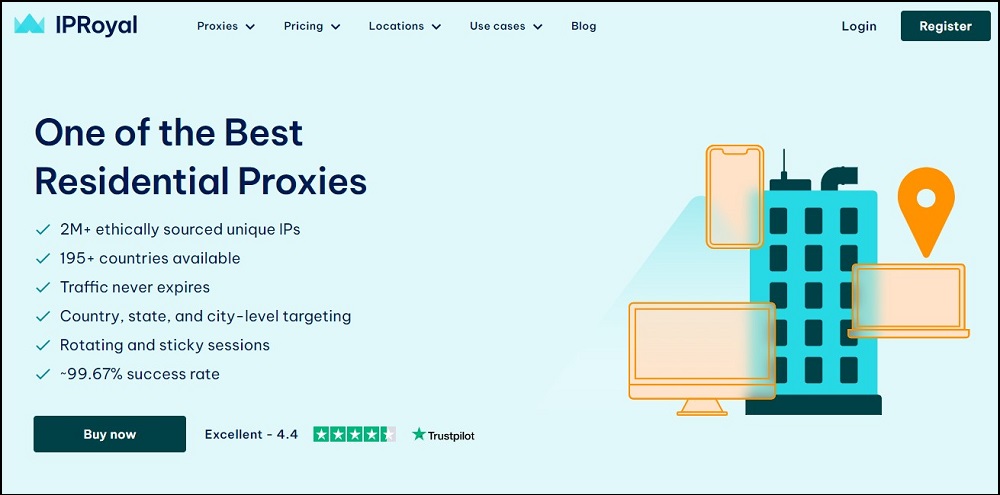 IPRoyal offers nearly 250K proxies in the UK in five types: rotating residential, datacenter, sneaker, mobile, and static residential. The network continuously grows with new proxy servers adding fresh high-trust score IPs optimized for data scraping, market analysis, price comparison, geo-block evasion, and more.
On their website, you'll find a long list of all UK cities where IPRoyal has proxy servers covering the entire country. Currently, only rotating residential proxies support city-level targeting, but the server location spread is impressive. Their static residential proxies are available in 24 countries, and the datacenter and sneaker proxies in 30.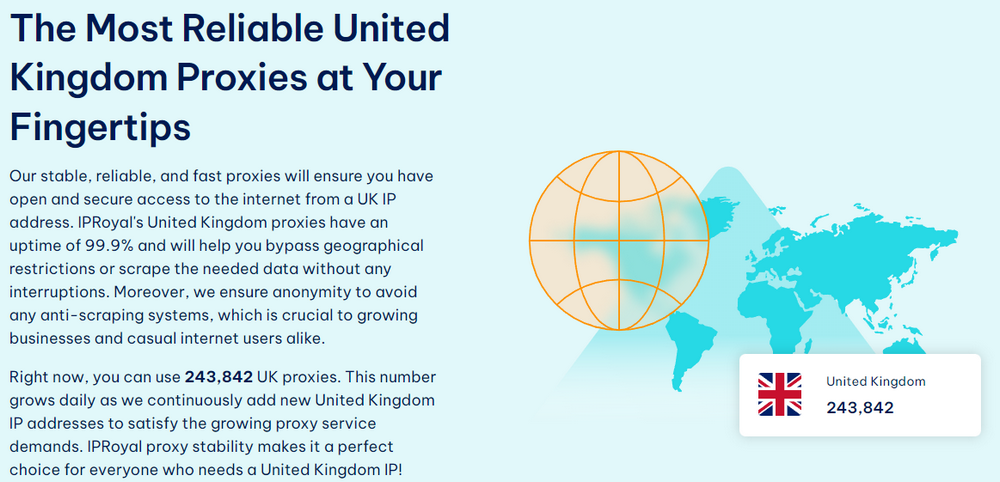 IPRoyal's UK and mobile residential proxies are excellent for accessing UK-restricted streaming services like BBC iPlayer, as their connection speed is high and stable for buffer-free streaming. Combine that with one of the best price-value ratios, and you won't have to look for another UK proxy service provider.
Pros
Rotating proxy UK city-level targeting
Efficient geo-block evasion
Stable connection speed and uptime
Cons
No static residential city-level targeting
---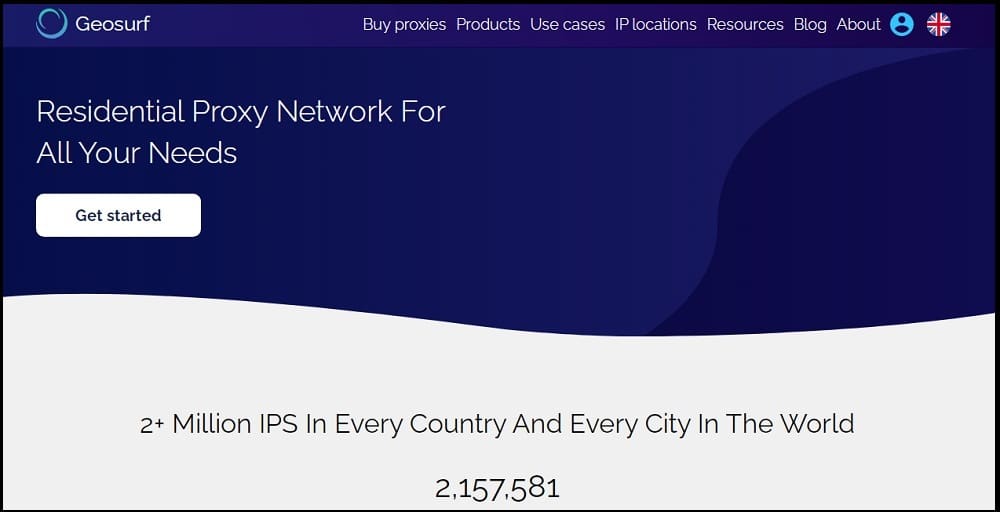 Geosurf has often been criticized for being too expensive for what it offers, and even though that is true, we still felt that it should be on this list. With only a little over 5 thousand proxies, this is way below average and even the smallest UK proxy pool we have seen. Even though the pool is tiny compared to some of the competitors, there are still some good sides.
You get the option to get proxies from specific cities, meaning that if there's a proxy in the city, you can use it. The dashboard is aimed for people that are not experts and will get around it with ease. As a bonus, you also get some very detailed reports and graphs on your usage.
The price is where Geosurf starts to disappoint a bit. They are a tad high considering the number of UK proxies you get, but with all the features, it may seem like a good deal. You have limited bandwidth on all pricing packages, and access to all proxies is included in all of them. A very limited free trial is available, where you can use their proxies for 24 hours with only 1 GB of bandwidth. After you make a purchase, there is no option to get a refund.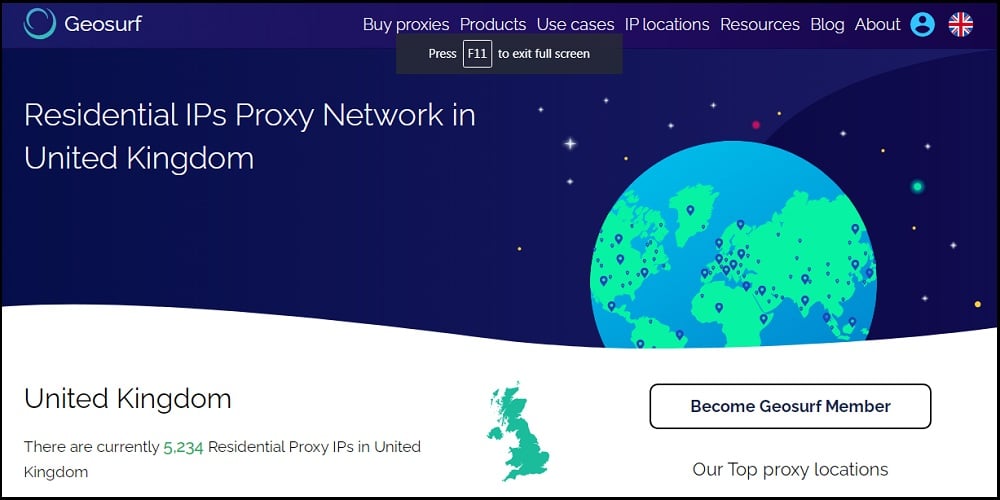 Pros
Aimed at beginner proxy users
Decent performance
Cons
A small pool of UK proxies
Trial limited to 24 hours and 1 GB of bandwidth
---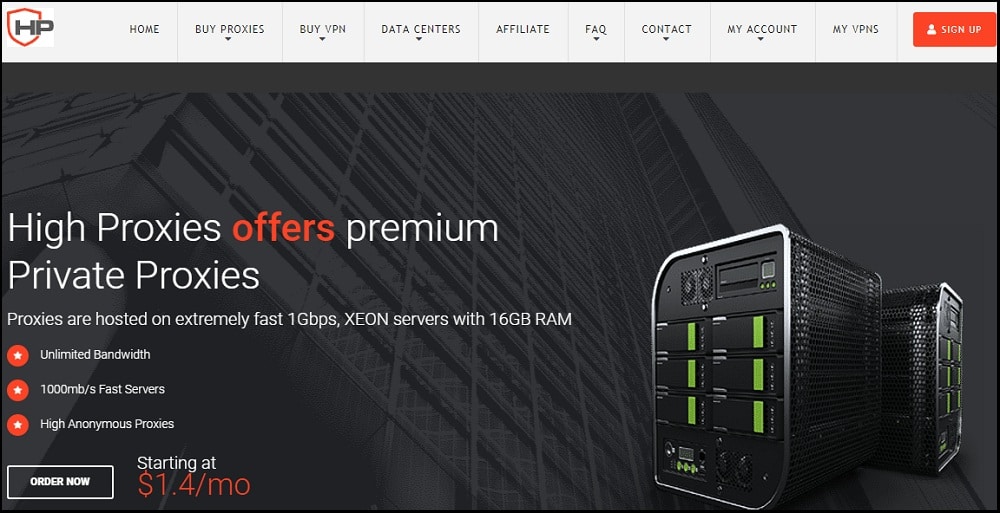 The final UK proxy provider on our list is a datacenter one. Highproxies mostly offer proxies in the US, but they have a datacenter in the UK as well. With 4096 UK proxies, it's far from the most we have seen, but depending on your needs, it may be enough.
Any option for geo-targeting is not available because the only datacenter they have in the UK is in London. When it comes to the type of proxies, you can choose between shared or private. The connection speed of Highproxy's server is 2000 MB/s, meaning that you will have no problem with the speeds and traffic. Speaking of, the bandwidth is unlimited on all packages and types of proxies.
The prices are reasonable and you have multiple plans to choose from. Considering the price, you don't get a free trial option, so the only way to test drive the proxies is to purchase a package and ask for a refund within three days.
Read more, Compare to Different Type of Best Proxy Services
Pros
No limit on the bandwidth
Decently priced
Cons
Only one server in the entire UK
Not a lot of UK proxies available
---
Are UK proxies legal to use?
Yes, the use of UK proxies is legal, or to be precise, there is no law preventing you from using them. Even though you should keep in mind the laws in your country, at the moment, there is no law in any country against using them.
Can I access streaming content limited to UK people only?
Yes, proxies are often used to get access to geo-restricted content. One thing to keep in mind is that in a lot of cases, especially with the more popular streaming services, it would be best to use residential or mobile proxies. The reason for this is that services that are keen to keep their content "locked" to a specific country are usually picky in regards to what kind of addresses can access it. Datacenter proxies, even though they have higher speeds, are easier to detect, and modern sites are good at that. Since residential and mobile proxies are from existing home or mobile connections, sites will not be able to detect them.
Will UK proxies work for other countries?
If you purchase UK proxies and want to access sites or services that are not located in the UK, You shouldn't have any problems. If you stumble across websites that have some kind of geo-restriction to the country they are in, you will need to get proxies specifically from that country because your UK proxies will not work.
---
Conclusion
Even though UK proxies are not as common as US proxies, there are still quite a lot of providers that sell them. The list we compiled should help you in deciding which one to get from. Since there are more than the ones we outlined, you may find another UK proxy provider that works better for your needs.
---
You may be like,
---