As proxies become more and more popular, we begin to see an increase in the number of providers. ProxyEmpire is among the younger competitors, but how does it fare against the veterans in the industry?
Proxies aren't something new in the digital world. They had started their life as a feature used by companies and employees back when the internet was still in its infancy, and thanks to their benefits, they grew into a service that many of us use today. Even though the end-goal may vary depending on who needs them, the main thing to note is that they offer plenty of advantages, which you'd want from a service you pay for.
The need for proxies pushed the market into a frenzy, leading to more and more providers showing up on the market. Among the newer additions in this industry is ProxyEmpire. Considering that it goes up against some of the industry's prominent names, it must prove itself as a worthy contender.
Recommended for: AD verification, SEO & Web Scraping
ProxyEmpire is a brand that came into existence two years ago when people began to spend more time at home, thanks to the pandemic. Many people are used to going for options with a proven record, but despite that, this proxy provider managed to get the attention of some people, myself included.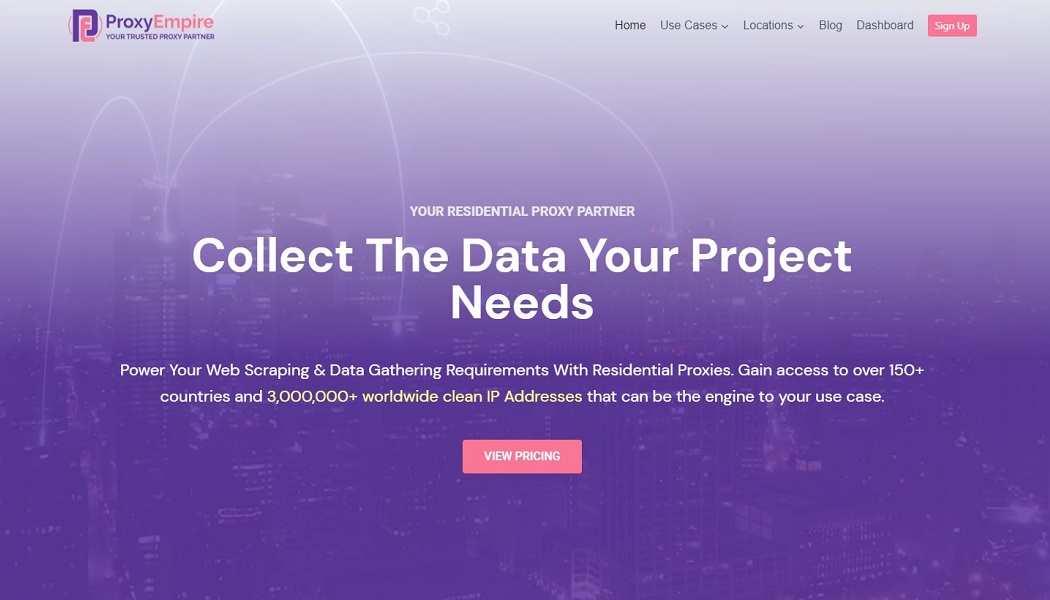 The company is relatively new, and that's no secret, but based on what the team says in the about us section, it gives people the impression that they have plenty of experience with proxies. Basically, the story is that they have tons of experience with using proxies and decided to launch their own service.
As part of the offerings, ProxyEmpire isn't a terrible choice, but don't expect it to compete with something like Bright Data or Smartproxy. The service offers over 3 million IP addresses from over 150 countries, which are decent numbers. You'll have a good variety in terms of proxy pool and locations, and since the more "popular" countries are covered, you shouldn't have any issues.
The proxies that ProxyEmpire offers are residential and mobile, which is an excellent option. For each type of proxies, you have several pricing packages, so there's a decent variety there as well. Overall the set of features is identical, and the difference is in the amount of included bandwidth.
As a new provider, you wouldn't want to pay something without testing it. Luckily, there is the option for a free trial which is more than I can say for some of the other residential and mobile proxy providers on the market.
Pros
You can authenticate with IP whitelist and username and password
There are over 3 million proxies in its pool
The list of locations includes over 150 countries
Geo-location enables you to choose cities and regions as well
Rollover bandwidth that transfers unused bandwidth into next month's billing cycle
Cons
Latency is higher
No info on the specific number of residential and mobile proxies
Bandwidth is limited on all packages
IP whitelist is disabled by default
Based on what I've seen, ProxyEmpire seems like a provider that should be fine and be a decent competitor to the ones we already know. Despite that, I will be testing and see if that is the case or it's all show and no go.
Proxy Types, Features, and Pricing :
ProxyEmpire is a two-for-one provider, which is a good thing. In some cases, people need multiple proxy types, and getting them from one provider is always better than digging through the internet looking for numerous. Here you have an option to choose between two types of proxies – residential and mobile, both of which are excellent options for gaining access to websites that are strict about datacenter proxies.
With a proxy pool of over 3 million IP addresses, it may not sound like much, but it shouldn't be an issue. One thing I have to critique is in terms of the specific numbers. ProxyEmpire claims to have over 3 million proxies but doesn't mention if that is for the residential or mobile-only. As a result, I'm guessing that's the total amount of proxies. The good news is that the mobile proxies are 4G, so you should expect good speeds.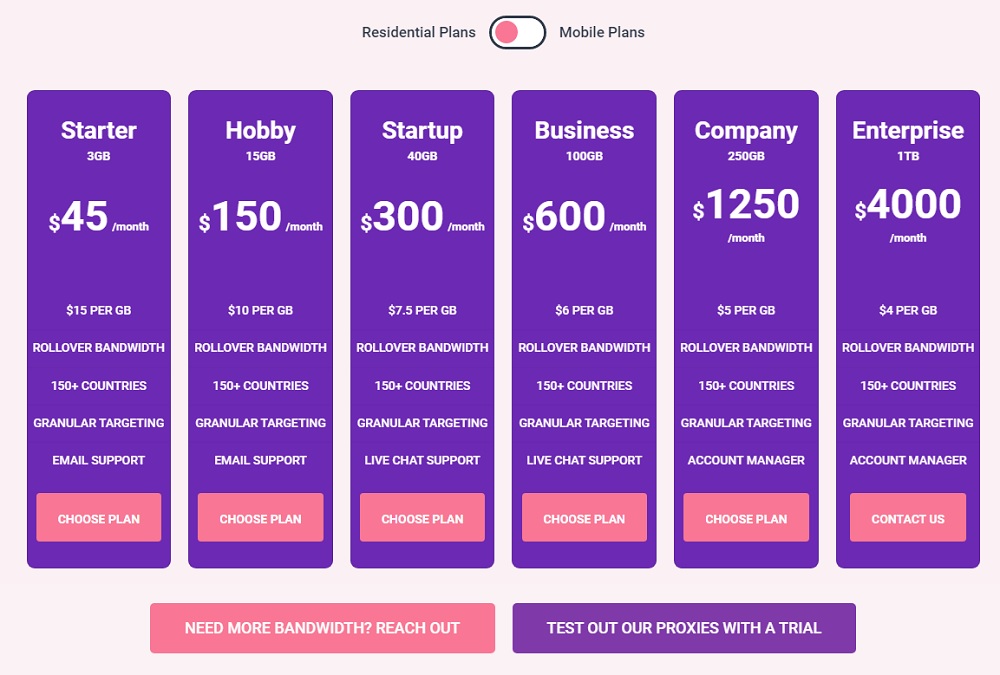 With that aside, we come to the pricing, which favors the provider. ProxyEmpire has 6 distinctive packages for each proxy type, meaning that it can cover anything from beginners that don't need too much bandwidth to companies that need more. The included bandwidth ranges from 3 GB to 1 TB for the residential proxies and from 2 Gb to 300 Gb for the mobile ones.
In both cases, you get full access to the entire pool of proxies with all the locations available for you to choose from. All of them also come with granular targeting for fine-tuning the proxies' location, which is where the similarities end.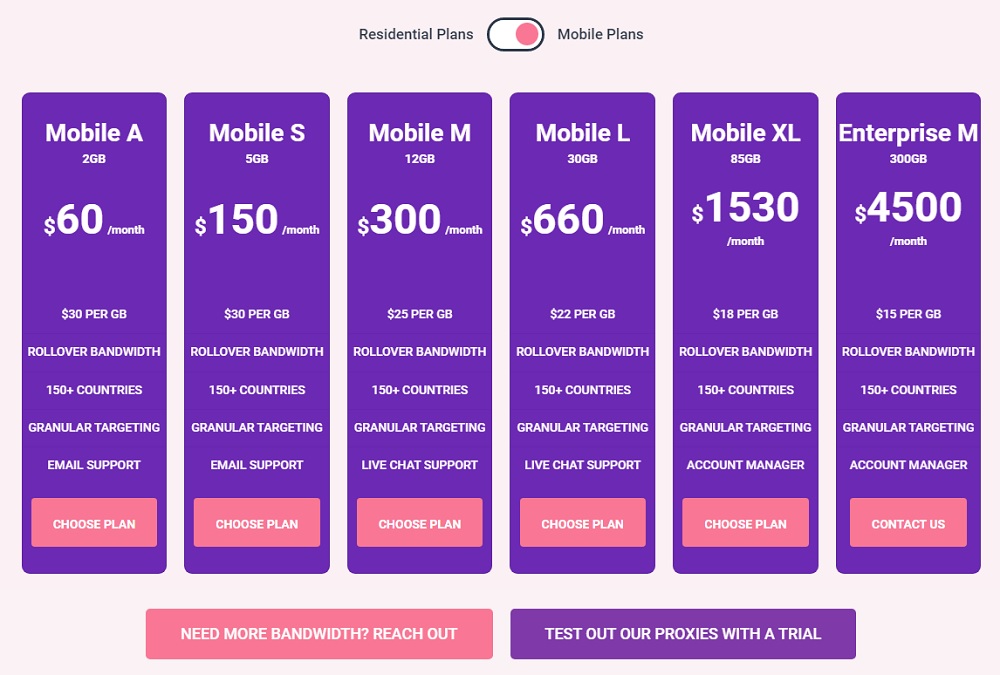 The first two packages come with email support only, the second two give you access to live chat, while the two most expensive ones have dedicated account managers. In addition to that, if you think that the 1 TB for residential and 300 GB for mobile don't fit your needs, you can reach out to the sales team and ask for a bigger package.
One thing that's a bit unique in this segment is the rollover bandwidth. What this means is that all unused traffic from this month will be transferred to the next one and added to the bandwidth you'll receive regularly. There is no limit on this, and you are given the option to use all of the bandwidth you pay for. This is a much better option than the counter resetting each month.
In theory, ProxyEmpire is a decent provider that even though it may not be the most affordable, it seems to be a good choice. In practice, we'll see how it goes in the tests.
Locations of Proxy Servers
One thing I often praise about a provider is transparency. Many of them can make all sorts of claims, but if they don't back them with specific information, there's not much to lean on in terms of the trust. I see this often with the locations, and I'm happy to report that ProxyEmpire isn't following that trend.
The company says that it has proxies in over 150 countries and outlines the list of countries on its website. Another thing that goes in its favor is geo-targeting. While some providers over country targeting only, ProxyEmpire also enables you to choose certain regions or cities where applicable.
Also, if you are after proxies from a specific country, there are options to purchase a package with enough IP addresses. At the moment, ProxyEmpire allows you to buy proxies from a handful of countries, which is a nice touch that avoids sifting through proxies to find the one you need.
Ping Test & Proxy Speed Test
People that use proxies rely on them, and in some cases, they need decent speeds. The slower speeds may be passable, but they aren't always the ones you're after. To see how well each proxy provider delivers, I put 10 IP addresses through the standard test and analyze the results.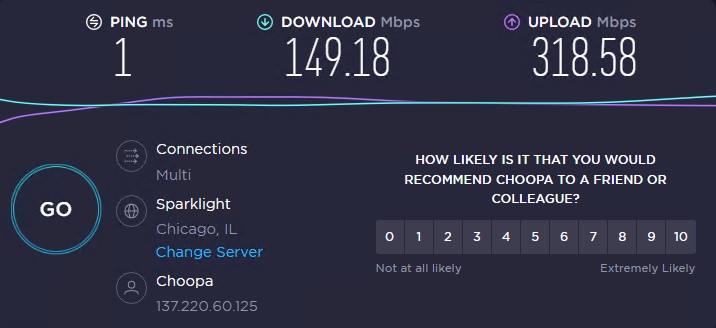 For this test, I took 10 residential proxies from various countries and ran a speed and latency test. As residential proxies, I didn't expect record-breaking speeds, and based on the results I got, things are more or less in line with what I was expecting.
Speed tests with ProxyempireDetails of the speed test
| IP of Rotating Proxy | Ping | Download | Upload |
| --- | --- | --- | --- |
| 137.220.60.125 (VPS) | 1 | 149.18 | 318.58 |
| 92.46.163.216 | 570 | 8.75 | 27.77 |
| 92.255.135.198 | 578 | 5.59 | 1.31 |
| 46.70.219.198 | 473 | 6.44 | 7.77 |
| 109.174.112.134 | 902 | 5.17 | 12.61 |
| 189.5.178.208 | 556 | 13.53 | 21.79 |
| 79.105.41.213 | 411 | 2.57 | 3.05 |
| 103.144.169.120 | 742 | 11.37 | 2.05 |
| 84.54.92.240 | 782 | 1.58 | 41.8 |
| 110.137.100.67 | 307 | 1.38 | 5.95 |
| 146.120.246.52 | 538 | 1.86 | 52.49 |
IP 1: 92.46.163.216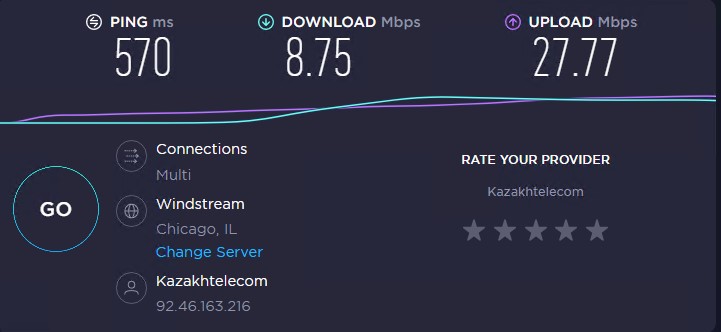 IP 2: 92.255.135.198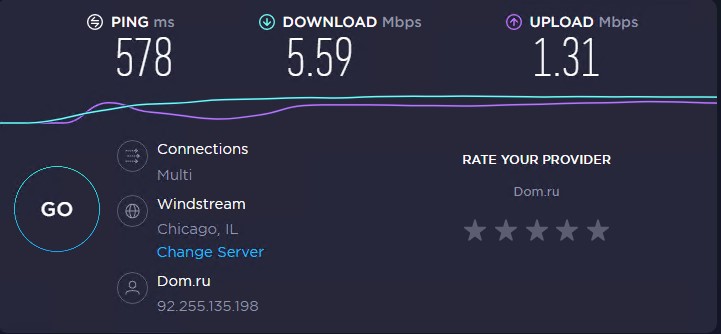 IP 3: 46.70.219.198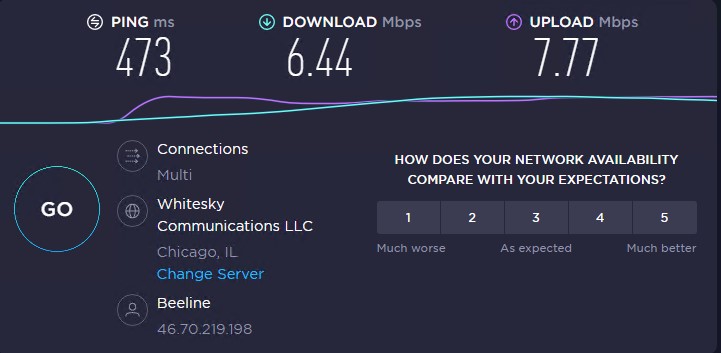 IP 4: 109.174.112.134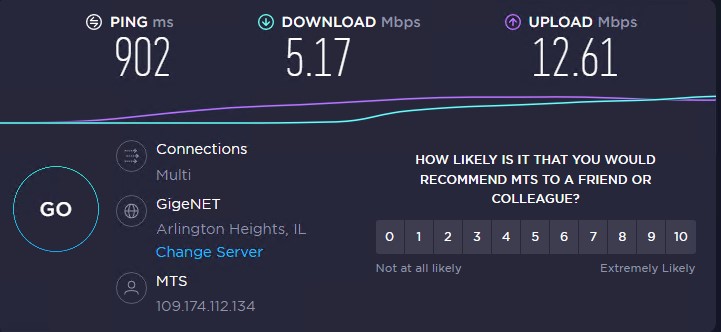 IP 5: 189.5.178.208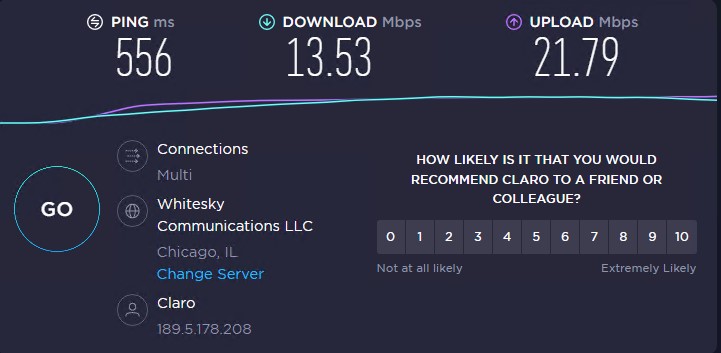 IP 6: 79.105.41.213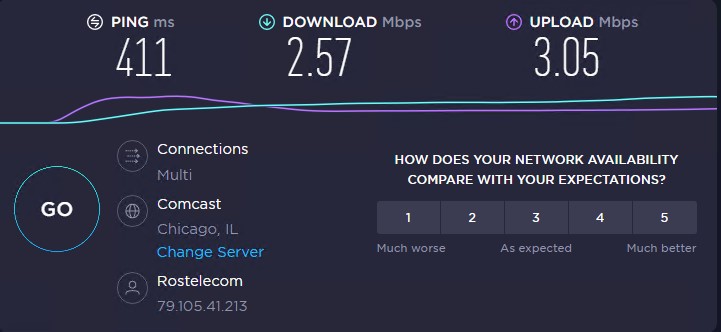 IP 7: 103.144.169.120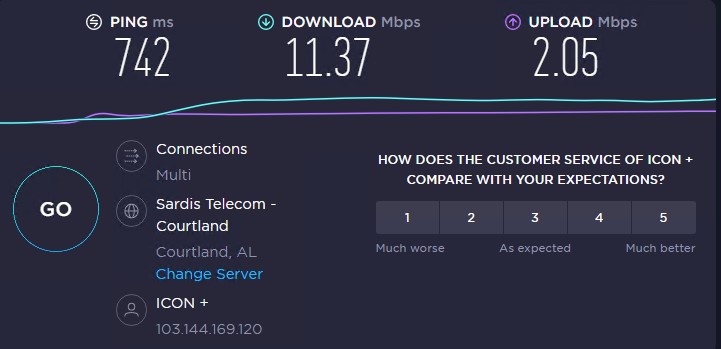 IP 8: 84.54.92.240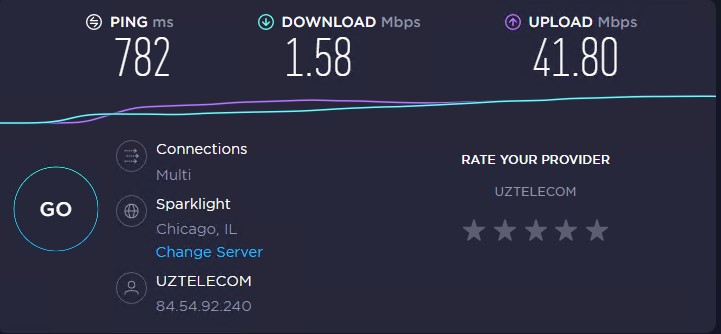 IP 9: 110.137.100.67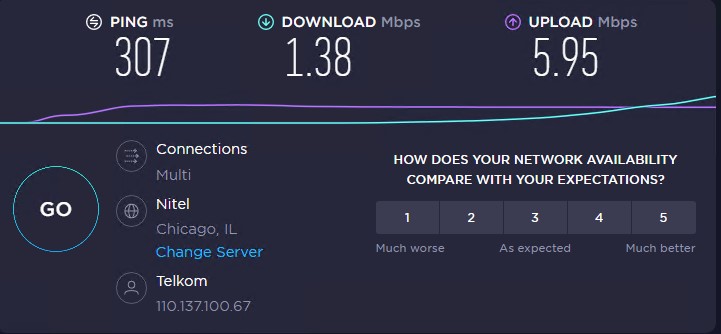 IP 10: 146.120.246.52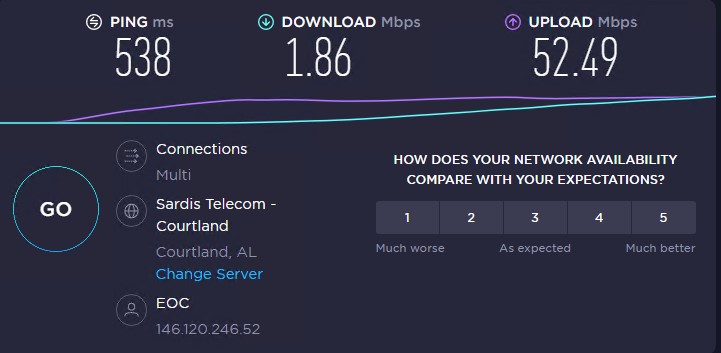 Looking at the table above, you may be seeing a familiar sight from some of the other proxy providers I've tested in the past. The inconsistency in the speeds is due to the host's different internet connections and network congestions, so you shouldn't expect all of them to be similar.
A few of them are surprised in the upload segment, so that seems to be a better story when compared with the download speeds.
The latency is concerning, something where I was expecting ProxyEmpire to deliver better results. Only one IP delivered around 300 ms latency, which is acceptable, while the rest were well over 400 ms. As you can see, there was even one that went as high as 900 ms. I'll have to be honest, the results aren't as good as some of its rivals.
Geolocation Test / ISP Test
There are some applications where precise location is crucial, which is why you'd want a proxy provider a geo-targeting feature. ProxyEmpire, like many of its competitors, offers advanced geo-targeting, meaning that you have the flexibility to choose IP addresses from a specific location. With that said, how precise is it? To find out, I did a geolocation test on a few proxies to find out.
ISP Test with ProxyEmpireDetails of the ISP Test
| | | | | |
| --- | --- | --- | --- | --- |
| IP of Rotating Proxy | Hostname/IP | ISP/ASN | Country | Type |
| 137.220.60.125 (VPS) | 137.220.60.125.vultr.com | AS20473 – AS-CHOOPA | United States | Hosting, proxy or bad IP |
| 92.46.163.216 | 92.46.163.216.megaline.telecom.kz | AS9198 – KAZTELECOM-AS | Kazakhstan | Good IP (residential or business) |
| 92.255.135.198 | net135.255.92-198.perm.ertelecom.ru | AS12768 – ER-TELECOM-AS | Russia | Good IP (residential or business) |
| 46.70.219.198 | 46.70.219.198 | AS12297 – TELECOM-ARMENIA | Armenia | Good IP (residential or business) |
| 109.174.112.134 | host-109-174-112-134.bb-nsk.sib.mts.ru | AS28884 – MR-SIB-MTSAS | Russia | Good IP (residential or business) |
| 189.5.178.208 | bd05b2d0.virtua.com.br | AS28573 – CLARO | Brazil | Good IP (residential or business) |
| 79.105.41.213 | 79.105.41.213 | AS12389 – ROSTELECOM-AS | Russia | Good IP (residential or business) |
| 103.144.169.120 | 103.144.169.120 | AS9341 – ICONPLN-ID-AP-ISP | Indonesia | Good IP (residential or business) |
| 84.54.92.240 | 84.54.92.240 | AS8193 – BRM-AS | Uzbekistan | Good IP (residential or business) |
| 110.137.100.67 | 110.137.100.67 | AS7713 – TELKOMNET-AS-AP | Indonesia | Good IP (residential or business) |
| 146.120.246.52 | 52.246.120.146.edinos.ru | AS208087 – EDINOS-AS | Russia | Good IP (residential or business) |
IP 1: 92.46.163.216

IP 2: 92.255.135.198

IP 3: 46.70.219.198

IP 4: 109.174.112.134

IP 5: 189.5.178.208

IP 6: 79.105.41.213

IP 7: 103.144.169.120

IP 8: 84.54.92.240

IP 9: 110.137.100.67

IP 10: 146.120.246.52

ProxyEmpire sells residential proxies, meaning that geolocation should be correct. With that said, the results in the table above are just as they should be. Each IP address is from the country where the provider claimed to be.
IP address Compatibility Test
One of the reasons you'd be after residential proxies is that they aren't identified as such. Some websites are strict about users accessing them via proxies and will block access, meaning that in some cases, datacenter proxies won't get the job done.
As usual, I'm putting ProxyEmpire's IP addresses against some of the strictest websites known to be problematic to get access to. Since they are residential proxies, the websites should see them as regular users from those countries and fully access the website.
| | | | | | | |
| --- | --- | --- | --- | --- | --- | --- |
| IP of Rotating Proxy | Instagram | Pinterest | Ticketmaster | Craigslist | Nike | Adidas |
| 137.220.60.125 (VPS) | √ | √ | √ | √ | √ | √ |
| 92.46.163.216 | √ | √ | √ | √ | √ | √ |
| 92.255.135.198 | √ | √ | √ | √ | √ | √ |
| 46.70.219.198 | √ | √ | √ | √ | √ | √ |
| 109.174.112.134 | √ | √ | √ | √ | √ | √ |
| 189.5.178.208 | √ | √ | √ | √ | √ | √ |
| 79.105.41.213 | √ | √ | √ | √ | √ | √ |
| 103.144.169.120 | √ | √ | √ | √ | √ | √ |
| 84.54.92.240 | √ | √ | √ | √ | √ | √ |
| 110.137.100.67 | √ | √ | √ | √ | √ | √ |
| 146.120.246.52 | √ | √ | √ | √ | √ | √ |
The results aren't surprising and are just as they should be. Every proxy was able to get access to every website, meaning that you shouldn't have any issues with restrictions with other websites. In the mobile proxy part of this provider, you should expect identical results.
I'm starting with this because it's a rare feature in the proxy world, and I'm glad ProxyEmpire offers it. Essentially, the provider enables you to use the unused bandwidth from the previous month in the next one. There are no limitations to this, and as long as your subscription is active and there is some traffic leftover, you'll rack it up.
Residential and Mobile Proxies
While this isn't something new in the industry, it's a nice feature to have. Being able to choose between two types of proxies is a nice touch, meaning that you aren't fixed with only one, and you have more to play around with.
ProxyEmpire has over 3 million IP addresses in its pool which isn't a terrible number, but some of its competitors do over more. One thing I have to note is that the provider doesn't outline the number of residential and mobile proxies individually.
The most expensive proxy provider usually offers you the ability to get IP addresses from a bigger list of locations, while most mid-range options have some limitations. Despite not being the "premium" provider, ProxyEmpire seems to do a decent job. It gives you access to over 150 countries to choose from, and if you combine that with the geo-targeting that enables you to choose a specific region or city, you are looking at a good option.
Do not support rotate IP each request, So It's a disadvantage if you want to find the proxies for web scraping.
A high praise with any proxy provider is the option to test the proxies without paying for them. I'm aware that some people will abuse that, but at the end of the day, it's something that I'll praise in a provider that offers it.
ProxyEmpire gives you the ability to test the proxies for free, and the best part is that you can test both types at once. The trial package comes with 100 MB bandwidth for the residential proxies and 50 for the mobile ones without time limitations. I have to say that this is among the most flexible free trials in the category.
Another little thing that ProxyEmpire isn't unique with, but the custom package is a great feature. Like most providers, there a predefined packages for people to choose from, and most people go with the one they need.
If you're a larger company or just need more traffic, you can reach out to the sales department, and the team can quite you with a package based on your needs. Keep in mind that the set of features will remain the same as the other ones, but you get as much traffic as you need.
ProxyEmpire offers two types of authentication, which is a nice touch, but there is a catch. By default, the service has an IP whitelist disabled, meaning that you can only use the username and password to authenticate. To enable IP whitelisting, you'll need to reach out to support to have the feature enabled.
Considering that the team behind ProxyEmpire consists of people with previous experience in using proxies, its goal was to make the service usable for beginners. While I wouldn't classify it as the simplest service available on the market, I've seen quite a lot more complicated ones.
When you log in to the dashboard, the main window, the first thing you'll be greeted with is the graph showing you the used traffic. Right below that are the active proxies and the countries they come from, and that's about it. For each section, you have a toggle to switch between the residential and mobile proxies and which is more or less what you need
There is the navigation bar on the top, where you can navigate to the management section, which I'll get to in a minute, a subscription where you can manage the package you pay for and the knowledge base, and the affiliate section.
Like I mentioned previously, ProxyEmpire offers two types of authentications which is an advantage. If you're willing to go with the IP whitelist authentication, reach out to support to have that feature enabled.
If you want to have your IP whitelisted, in the bottom right corner, enter the IP address you which you want to have whitelisted, and you'll be good to go. For username and password authentication, things are pretty simple and straightforward. Within the proxy manager, you have the username and password, and all you'll need to do is copy and use them wherever you need to, along with the IP addresses.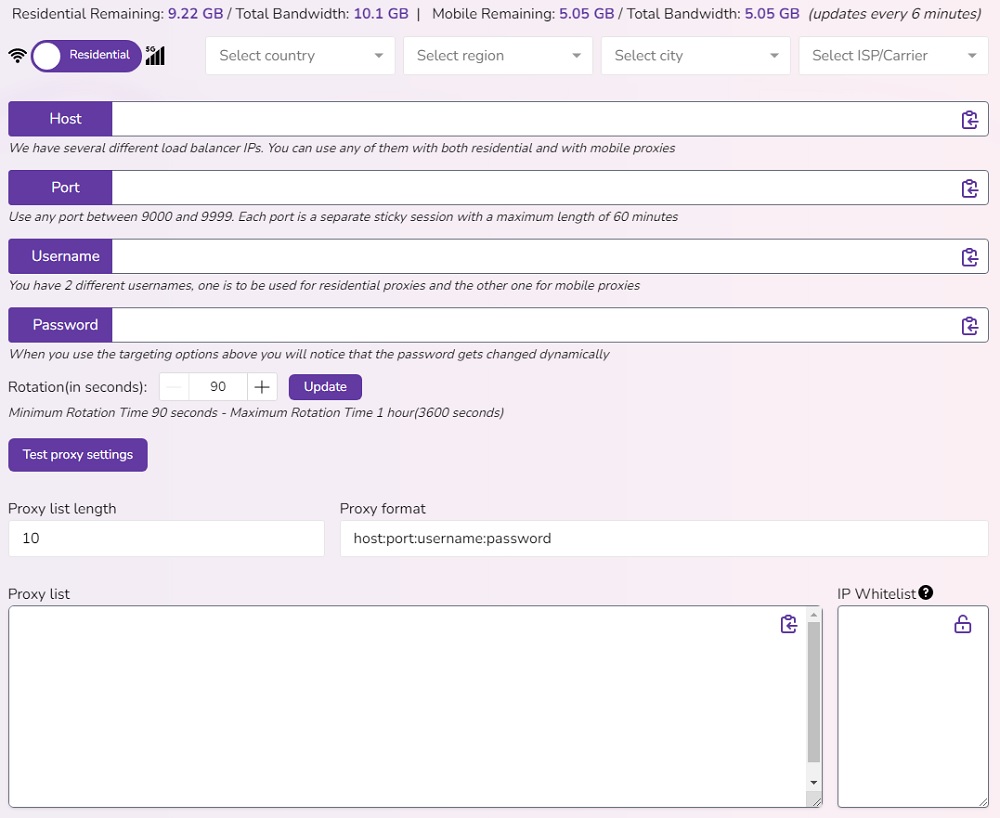 When you are a long-time proxy user, you know the key areas that make a proxy provider good and bad. This is the policy that ProxyEmpire went with, and I believe that the team did a good job with this one. It's not perfect, and there are some drawbacks, but it's a positive experience overall.
Features

Pricing

Reliability

Easy to Use

Support
Usability
ProxyEmpire is a provider that won't be a problematic one in the usability department. Apart from the higher latency than most IP addresses had, things were pretty straightforward during testing. There were no issues with the proxies during usage, which is what you'd expect.
Proxies passed all tests without any hiccups, and during the setup process, everything went smoothly. I chose the package I wanted, completed the payment, and had no issues. A good thing in this regard is that you have flexible packaging options and some features that I'm happy to see, making ProxyEmpire even more usable.
Pricing
Is ProxyEmpire the most affordable provider on the market? No. As far as the prices go, things are more or less average when compared with some of the other providers. You can get residential proxies from anywhere between $45 and $4000 monthly, while the mobile ones are in the $60 to $4500 range.
With that said, even though the prices are matched with some of the more popular options I've reviewed in the past, there are some features that its competitors don't have that make it a good bang for the buck.
Reliability
Residential and mobile proxies tend to be problematic at times, considering their nature. Since they are from home or mobile connections, there are some instances where you may have reliability issues, which is something that I had no problems with ProxyEmpire.
Support
On the support side of things, ProxyEmpire does things decently. The level of support you'll get depends on the package you'll pay for, which may not seem fair, but it's not the first provider to take this approach. You can have email support only, live chat, or a dedicated account manager.
In addition to that, there is also a knowledge base section that provides a decent amount of information. It's not the most extensive one, but it gets the job done to answer the most commonly asked questions.
Our Verdict
Looking at ProxyEmpire as a whole, I can say that it's a very well-composed proxy provider that should be more than enough for most people's use case scenarios. Even though there are some drawbacks, it's not a provider that I'll advise you to steer clear.
Right off the bat, things may not seem to go in ProxyEmpire's favor with the fact that it offers 3 million proxies. That is true, but the number is far from the smallest one I've seen and shouldn't be a problem. Those IP addresses are a combination of residential and mobile proxies that come from over 150 countries across the globe, meaning that diversity won't be an issue.
All of those proxies come wrapped in 6 packages for each proxy type, meaning that the provider should cover anything from light to commercial use. On top of that, the custom package is a nice touch, just as is the free trial option, enabling you to test the proxies for free.
Features are something that ProxyEmpire does well, and among the popular ones like geo-targeting is the bandwidth rollover. Having the option to transfer the unused traffic into next month's billing cycle is excellent, meaning that you will use everything that you pay for. As a bonus, the transfers have no limits, so everything gets transferred without an expiration date.
In terms of the results, things are more or less as I was hoping. The ISP and usage tests went smoothly, and all proxies managed to pass them without any issues. In the speed test, the results were all over the place, which isn't something new regarding residential IP addresses.
A slightly concerning area was the latency, which was higher than what I was hoping. This doesn't make the proxies unusable, but the increased latency means that some things will take a bit longer.
Overall, ProxyEmpire is far from the perfect proxy provider, but I can say that it's an excellent one. The price, along with the features and results, makes it a good option not only for beginners but for corporate users as well.
User's Reviews & Rating
ProxyEmpire
Average rating:
0 reviews
---