If you ever found yourself ins a situation to look for proxies, you may have gotten confused by the term backconnect proxies. The principle behind them is not as complicated as you think, and today, we are going to guide you through it.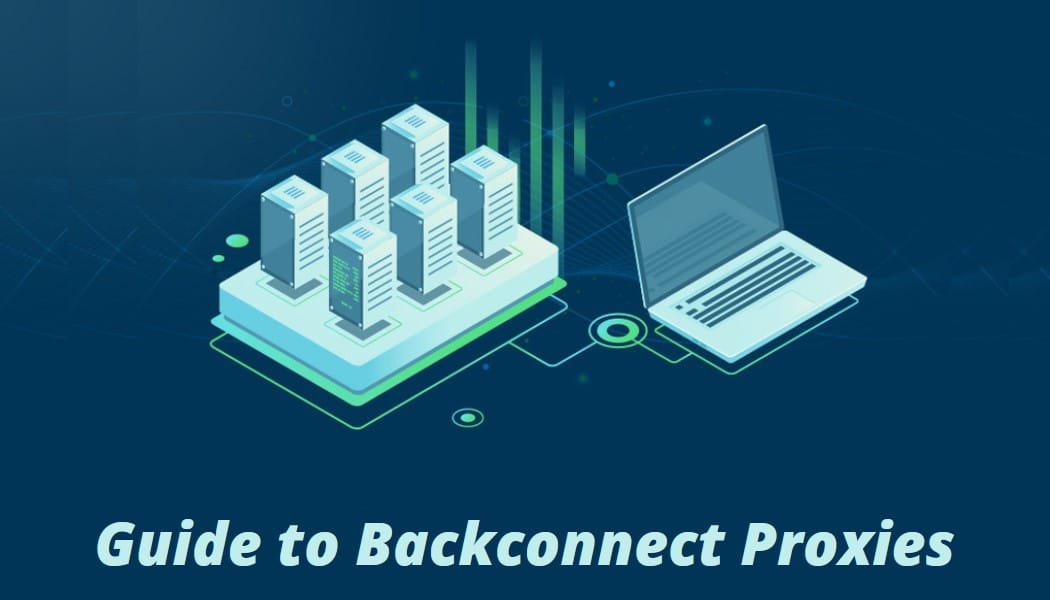 In this article, we are going to define what backconnecting proxies are, how they work, compare them with the regular types of proxies, and provide you with a few recommendations for the best providers.
---
What Are Backconnect Proxies?
Backconnect proxies are not a specific type of proxies, as you may think. In essence, they are pools of residential proxies that you can connect to and rotate them as necessary.  When you purchase backconnecting proxies, you get access to a single IP address where the company's server is, and from there, the server does all the rotation. Depending on the provider, you may rotate them as you need them, or as the service has determined.
The advantage of going for backconnecting proxies is mostly for when you are scraping. The rotation process will enable you to make tons of requests with a different IP address and avoid detection.
Read more, The best rotating proxy API for web scraping
How do Backconnect Proxies Work?
Most people compare backconnecting proxies to TOR, and even though that may be true to some extent, there is a difference.
When you purchase backconnect proxies, you get a pool of residential proxy addresses, and you use those for whatever you need them. Behind the proxy, IP address, or the domain that you connect to is a service that manages the pool of proxies and rotates them.
Look at it this way: your request is sent from you're your device to the server, which pulls an IP address from the pool and assigns it to your active connection. After a predefined time or the time you set up, the server will appoint a new proxy, and you will get a new IP address.
Providers set these differently, and you may get providers with a fixed rotation period, while others will be more flexible. There are also some that can offer you a new IP address with each different request to a specific website, ideal for scraping.
Related,
Backconnect vs. Regular Proxies
The main difference between backconnecting and regular proxies is the management part of it. If you are using a regular proxy, you set up a specific IP address as a proxy, and you run with it for as long as you need it. Regular proxies are ideal for when you are browsing, and you need to hold on to the single IP address for more extended periods.
Even though some backconnect proxy provides will offer an option to have a sticky session and keep the same IP address for a long as you need, the higher price will probably not justify using them for regular surfing. On the other hand, if you are scraping, then backconnect proxies are the only way to go.
With regular proxies, you will need to get a list of proxies, set them up in an application, and use that to rotate them. It is doable, but it is too much hassle.
Backconnect proxies eliminate the trouble, and the only thing you'll need to do is set the server's IP address or domain and set up how you want the proxies to rotate in the provider's dashboard. It will cost you more, but it will be worth it.
---
 

Advantages and Disadvantages of Backconnect Proxies
As with any service, the perfect one does not exist, and the same can be said for the backconnect proxies. So, let us go into the pros and cons of them.
We already mentioned the main advantage, and that is the rotation. You purchase the proxies, set them up, and you are good to go. This is especially true for scraping because you can set each new request to go through a different IP address in another part of the world.
To the website, your scraping will look like multiple people are trying to access it and will not raise any red flags. In other words, you get a secure and anonymous scraping experience. Depending on the provider, some may offer unlimited bandwidth, something that is ideal if you are scraping large amounts of data.
If you decide to purchase backconnecting proxies, make sure you have the budget for it. in almost all cases, they are more expensive than regular proxies, so it is something you should keep in mind.
Another disadvantage is the performance or the inconsistency of it. As you may know, residential proxies are IP addresses from people's home internet connections. Not everyone in the world has the same speeds. For example, my optical connection has a speed of 60 Mbps for download and upload, while my neighbor's ADSL connection is 12 Mbps for download and 1 Mbps for upload.
So, if you get my IP address as a proxy, you will have excellent speed, but after that, if you get my neighbor's IP address, you will notice a considerable drop in speeds. This probably won't damage your entire scraping experience, but you will notice some differences.
---
Recommendations for Backconnecting Proxy Providers
as the popularity of proxies grew over the years, so did the number of providers. Even though there are tons of those available on the internet today, not all of them are good. To help you in your search, here's our pick for the top five backconnecting proxy providers.
---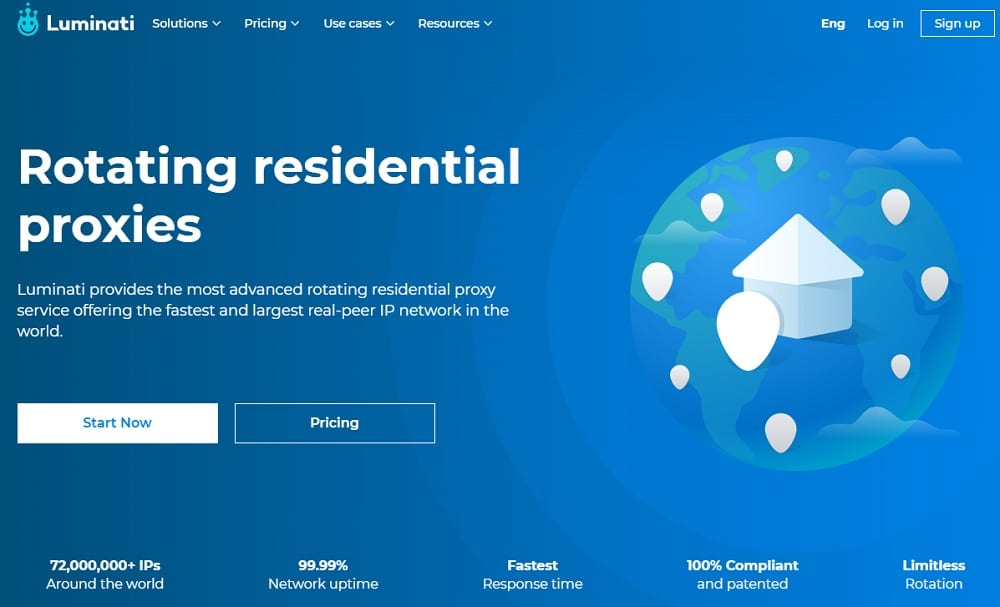 Most of the lists that outline the best proxy provider will have Luminati somewhere on the top and with good reason. Offering a proxy pool consisting of over 72 million residential IP address makes Luminati one of the biggest providers out there. If the number of proxies is not enough to convince you, maybe the set of features will.
Since the primary usage for backconnecting proxies is for scraping, the geo-targeting option is one of the best. Not only do they have proxies in every country in the world, but you also have the opportunity to target specific countries and most of the bigger cities, For more detail, you can read our in-depth & test review.
On top of that, you get an excellent proxy manager with tons of flexibility, unlimited concurrent connections, and tons of payment methods, but the bandwidth is limited. When it comes to payment, be prepared for it. Luminati offers a lot, and you pay the price for it. Even though it is one of the most expensive providers, you get a lot of packages, as well as the option to pay-on-the-go. Testing their proxies is available with a 7-day free trial.
Pros
Over 72 million proxies available
Proxies come from every country around the world
Free trial option available
Cons
One of the most expensive providers on the market
No option for unlimited bandwidth
---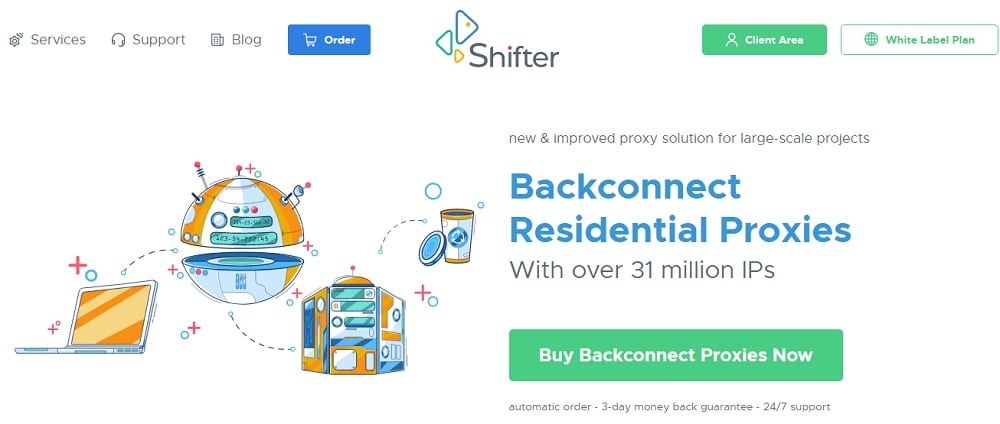 A proxy provider that most people don't know that has been on the market for quite long. Several years ago, Microleaves rebranded themselves and formed Shifter. With that in mind, you should expect to get good proxies. The pool of IPs has over 31 million proxies in every country in the world.
Regarding the location list – it is not available on their website, but with that many proxies, they surely cover most countries in the world. Something unique with Shifter is the type of proxies. They have basic or special proxies meaning that you can choose them based on your usage. If geo-targeting or access to popular websites like social media, sneaker site, etc. is not what you need, then the basic will do just fine.
Otherwise, it would be best if you got the special proxies. The good thing is that you have tons of packages for both types of proxies, so you are getting as much as you need and plan to use. Even though the proxies are not as expensive as other providers, they are still not cheap, but the good news is that all packages come with unlimited bandwidth. The bad news is that there is no free trial option, so you have only three days to test the proxies and ask for a refund if you don't find them useful.
Pros
Over 31 million proxies
Proxies in almost all countries worldwide
No limit on the bandwidth
Cons
Not the most affordable provider
The free trial option is not available
---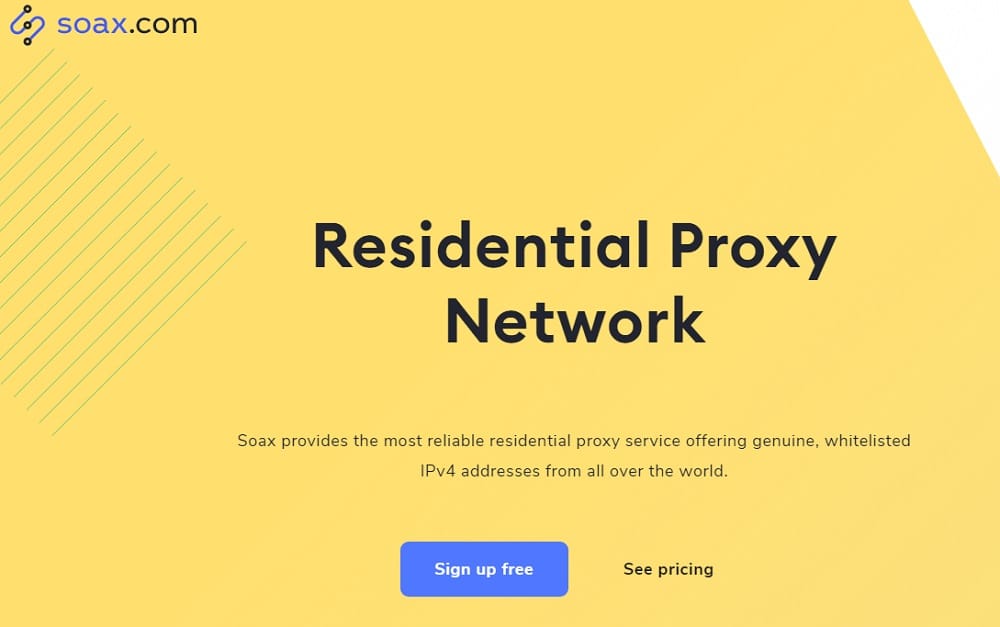 Probably the least popular proxy provider on this list is Soax. This provider doesn't offer anything flashy, but it gets the job done. Their pool of proxies has over 8 million proxies available in over 120 countries. It's far from what Luminati or Shifter offers, but so is the price.
Even though the proxies are cheaper than a lot of competitors, you have the option to purchase as many proxies as you need for as long as you need them. Yes, Soax offers daily proxies.
Even though the bandwidth is limited, having the option to target specific regions or cities where they have proxies is nice. Soax has a lot to offer, and it won't cost you an arm and a leg.
As much as we want to praise them, the trial period is way too short. You get only one hour to test the proxies, which may not be enough for some users.
Pros
More affordable option
Decent list of countries available
Option to get daily proxies
Cons
Trail period is way too short
Limited bandwidth
The pool of proxies is not on par with competitors
---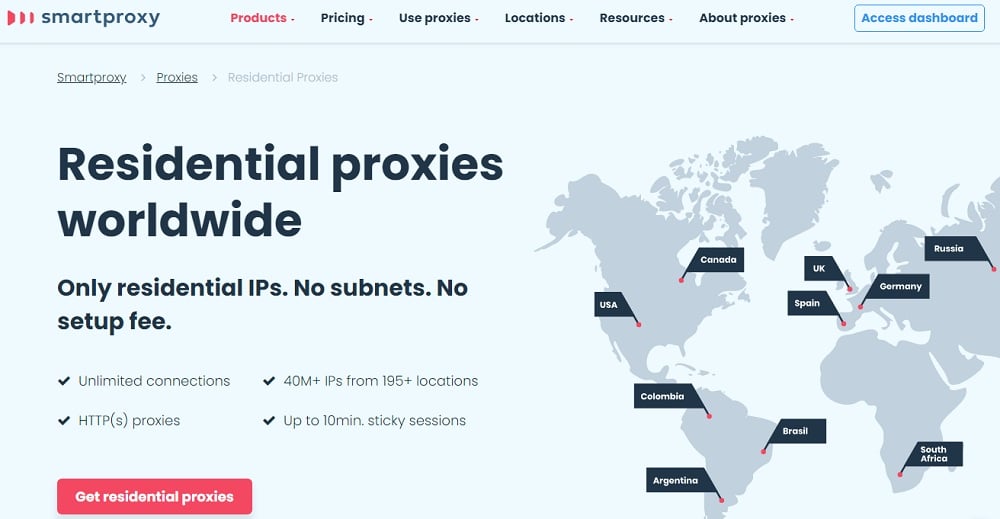 As a direct competitor of Shifter, we come to the next proxy provider – Smartproxy. Offering quite a lot more proxies, the pool of over 40 million proxies is not a record-breaker, but it's definitely above average. Location wise, Smartproy shines with its proxies coming from over 195 countries across the globe. Having that many countries means that you also get a geo-targeting option, which is a good thing.
The bad thing is that if you want to target specific cities, you have only a handful of them, and over half are in the US. The pricing for these proxies is not too cheap and not too expensive, somewhere in the middle.
You have several predefined packages and an option to get a supercharged one based on your requirements. All of them come with limited bandwidth, but you get unlimited connections and threads, as well as access to the entire pool of proxies. A trial option is not available, so the only way to test the proxies is to pay for the first and ask for a refund within three days.
Pros
Over 40 million proxies
Proxies come from over 195 countries
Competitive price
Cons
Bandwidth is limited on all packages
Refund option available, but no free trial
---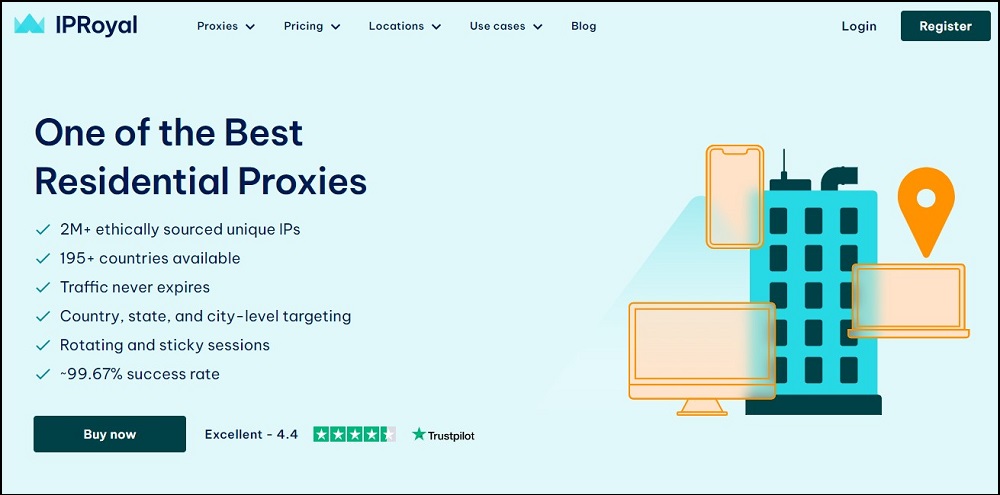 IPRoyal is becoming a frequent guest on top proxy providers' lists, and there are a few reasons for this. Over a few years, it established a decent backconnect proxy network with two million IPs. It might not be as big as some other providers offer, but the high connection speed and excellent IP trust scores balance the situation out.
On their website, you'll find a list of 195 countries they offer the service in. Furthermore, many worldwide locations support city-level targeting, with dozens of unique entries – amazing for localized operations. Proxy newcomers can spend hours reviewing their blog entries, illustrating the many ways you can utilize the service.
IPRoyal mixes quality, user comfort, and pricing. They don't offer as many unique features as more data-science-oriented providers, but that's an upside if you're not a senior data analyst. Overall, you will get speedy and affordable backconnect proxies that are easy to use.
Pros
Easy to use
Affordable service
Excellent for local operations
Cons
Medium-sized IP pool
No refunds
---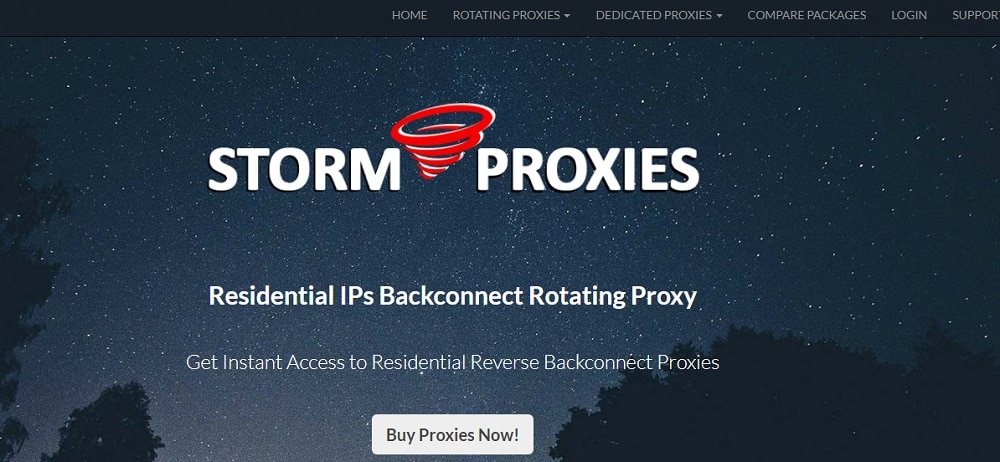 Stormproxies is not the provider that gets on top of the lists, and there's a good reason. On the other hand, if you are on a tight budget, maybe you should look into it. the main reason why Stormproxies is not mentioned too often is the proxy pool. You get access to only 40 thousand proxies, which are only located in the EU and US. In other words, not a lot of proxies and limited geo-targeting options.
Regarding the specifics of that, the list of countries is not available on their website, so you may be flying blind if you need a specific state or country. The main thing that Stormproxies gets right is the price. You can get their proxies at a low cost, far lower than most of the other providers on this list.
Since the number of proxies is probably the weakest in the industry, even though they are cheap, you still get unlimited bandwidth on all packages. If you want to test the proxies, a free trial option will not be available. You can only ask for a refund within 24 hours.
Pros
One of the cheapest providers on the market
Bandwidth unlimited on all packages
Cons
Much fewer proxies than other providers
US and EU locations available only
---
Frequently Asked Questions
Do I need to use backconnecting proxies for scraping?
It is recommended. Going for the backconnecting proxies means that the provider's service will be handing the IP rotation so that you don't have to worry about that. If you get regular proxies, you will need to rotate them yourself, which will cost you time.
What if I need to hold a single IP address longer?
Some providers will also offer you sticky sessions. It means that the service will not rotate the proxy and will keep the same session active longer. Some providers have a predefined duration of how long the proxies can be sticky, while others can offer you an option to customize that. You will need to look into the providers' features to find out which one would work best for you.
How can I test if the service is rotating the proxies?
To test if your proxies are being rotated, set them up, and start running them. Navigate to a website like https://whatismyipaddress.com/ or https://whatismyip.com/ and check the IP address it shows. If the service is set to rotate the proxy on each request, just do a hard refresh and see if the IP address is changed. If the proxies rotate on a specific interval, for example, 2 minutes, you will need to wait for 2 minutes before you can refresh and check if the proxy is changed.
---
Conclusion
Backconnecting proxies may seem like rocket science, but with our guide, you should have the hang of it and know what to look for. On top of that, our picks for the best backconnecting proxy providers will help you in your search.
---
Read more,
---