Want to put your anonymity on another level? Our list of top 10 mobile proxy providers will help you with that.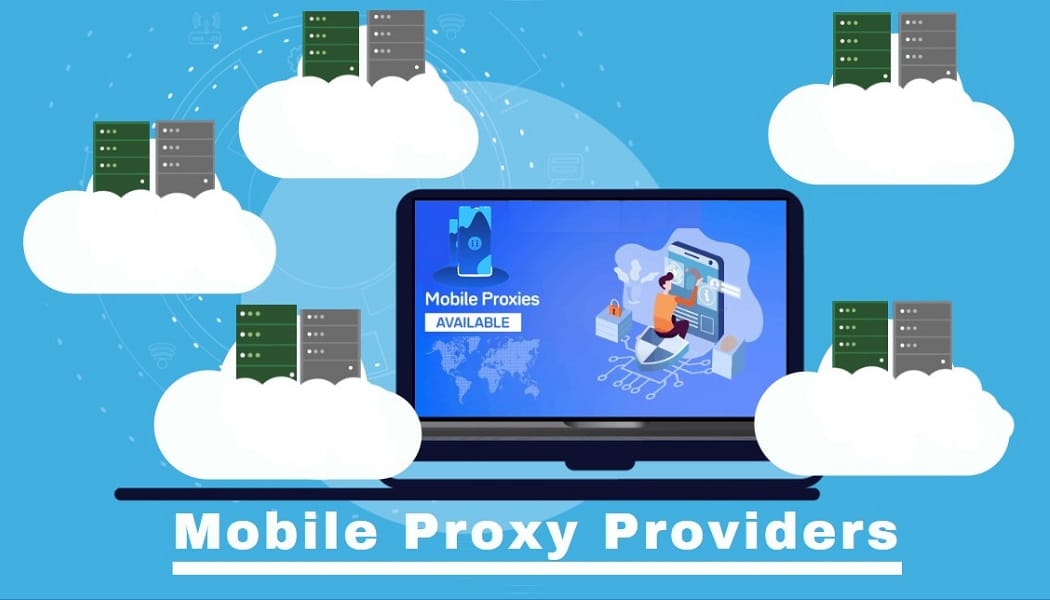 Mobile proxies are becoming a thing over the past several years. Similar to residential proxies, these types of IP addresses are used by real people and are not purchase from a datacenter. The main difference between residential and mobile proxies is the fact that mobile proxies are not from a home internet connection – instead they are from mobile connections, mostly 3G and 4G. Still no word on 5G mobile proxies, but we should start to see them in a few years.
3G or 4G, here is our list of top 10 mobile proxy providers on the market.
---
Best Mobile proxy providers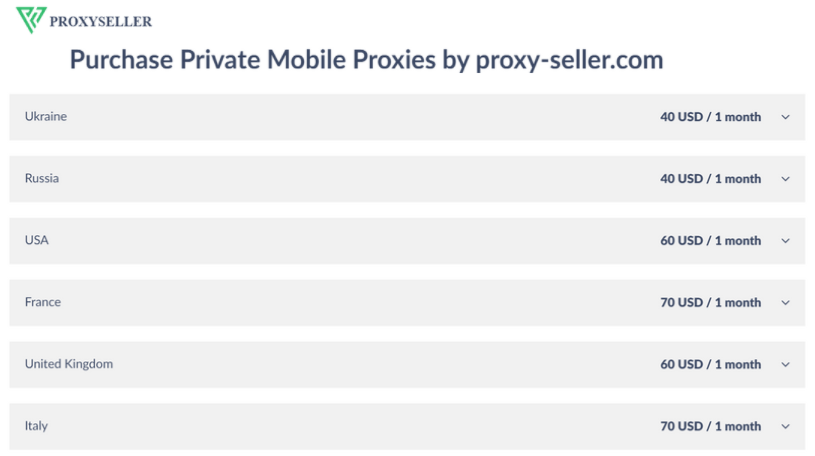 While some mobile proxies providers are legit, a good number of them are alarming. Proxy-seller was recently known for their datacenter proxies until lately when they launched private mobile proxies. Their proxies are compatible with HTTPS and SOCKS5 protocols.
The private mobile proxies are effective in social accounts automation with unlimited traffic to access the internet. These proxies ensure clients of complete online anonymity. And above all, they are used for SMM because this is a critical tool for monitoring IP addresses as well as visiting websites without hassle.
Their IP addresses cover 6 regions in UK, Ukraine, Russia, USA, Italy, and France, and users can access a disguised variety of IPs. They have various pricing plans for mobile 4G proxy, but both ensure trouble-free operations, and just in case of any inoperability, they are available to replace your IPs. However, such cases are sporadic.
Pros
24/7 customer support
Unlimited traffic
IP rotations
Refund within 24 hours.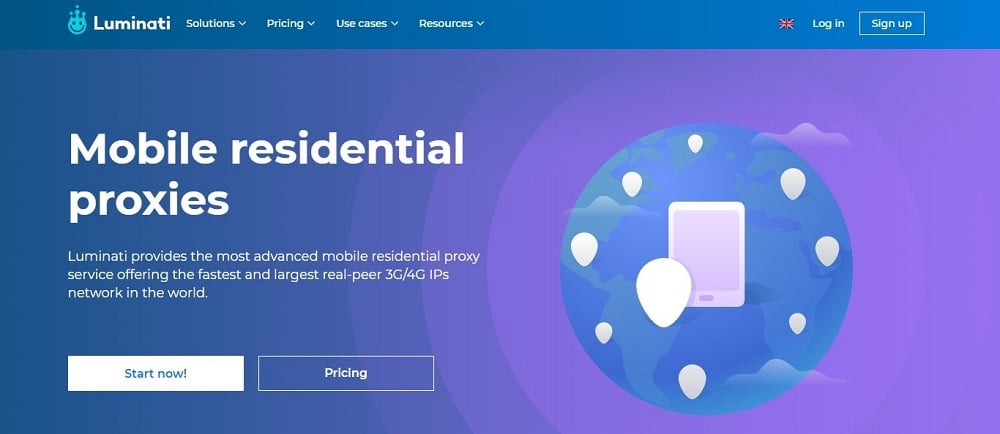 In almost any list, Bright Data is near the top and with good reason. The main selling point of this mobile proxy provider is the number of proxies in the IP pool. With over 7 million proxies in every country in the world, we can see why Bright Data is on top. The proxies are a combination of 3G and 4G connections meaning that you should have no problem with slow speeds and high latency.
Combine that with the option for geo-targeting and the unlimited number of concurrent sessions and you start to think that there is no point in going to other proxy providers. That is not true. Even though Bright Data has a lot to offer, the price is not for everyone's pocket. The high price and the limited bandwidth mean that committing to Bright Data might not fit your budget. Good news is that you get a 7-day trial to test drive the proxies.
Pros
Over 7 million proxies in every country in the world
4G proxies available
Cons
Among the most expensive proxy providers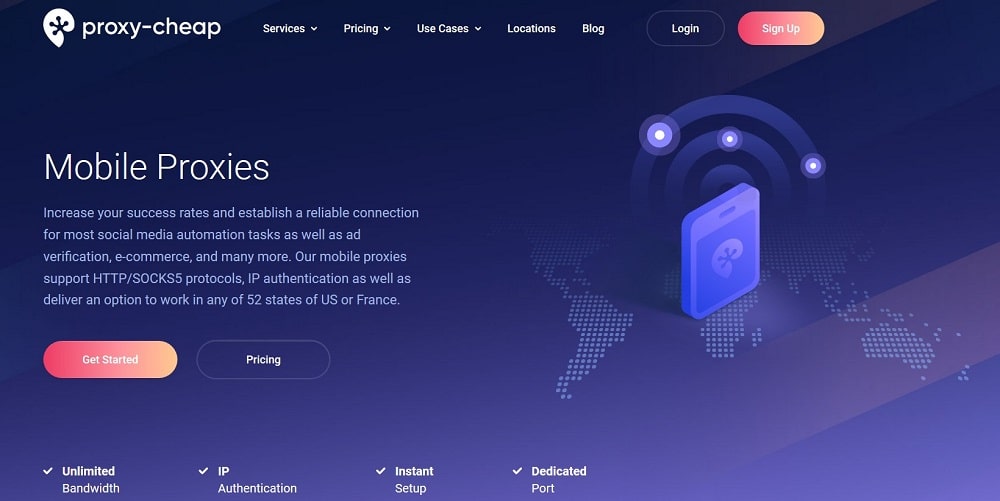 As the name might suggest, this mobile proxy provider is striving to sell proxies for a cheaper price than the competition. Even though they only offer mobile proxies in France and the USA, the prices for those are very acceptable. The France mobile proxies are more expensive and offer a fixed IP rotation with no geo-targeting.
The US proxies are cheaper, but you have the option to get IPs from a specific region or state as well as random rotation. Both proxies come with unlimited bandwidth and 4G speeds, but the number of available proxies is not disclosed on their website. The payment options are limited to only PayPal and cryptos and since, as they claim, their proxies are virgins, there is no trial or a refund option.
Pros
Cheaper than most competitors
Unlimited bandwidth
Geo-targeting for US proxies
All proxies are 4G
Cons
No info on total number of mobile proxies
No trial or refund options
No flexibility for the proxy rotation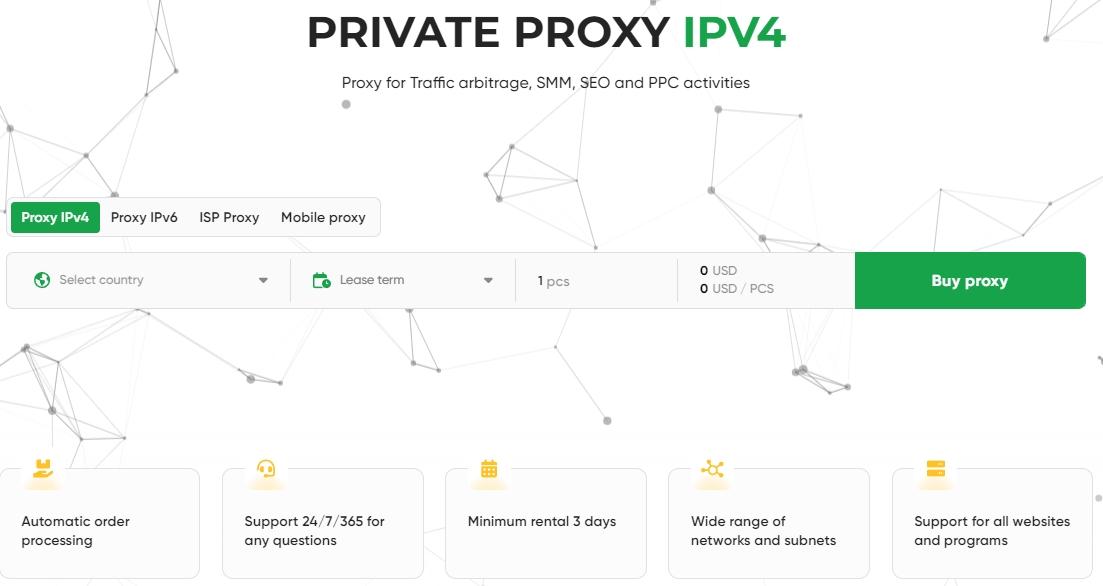 Proxy-IPv4's Mobile Proxy service is a standout solution for those seeking geographically diverse and reliable mobile proxies. Covering a vast array of countries, including Lithuania, Ukraine, the USA, France, Italy, and England, it ensures users can access content from different regions. Notably, the service offers unparalleled flexibility in its pricing structure, allowing users to purchase mobile proxies for various durations such as 3, 7, 14, 30, 60, and 90 days.
For example, a 3-day mobile proxy from France is priced at $20, while the US counterpart costs $23. This adaptability, combined with high uptime, speeds of up to 1Gb/s, and comprehensive technical support, positions Proxy-IPv4 as a top choice for both individuals and businesses in need of efficient and adaptable mobile proxy solutions.
Pros
Flexible pricing system (minimum from 3 days)
Reliable Performance
Versatile Application
Comprehensive Support
[su_headi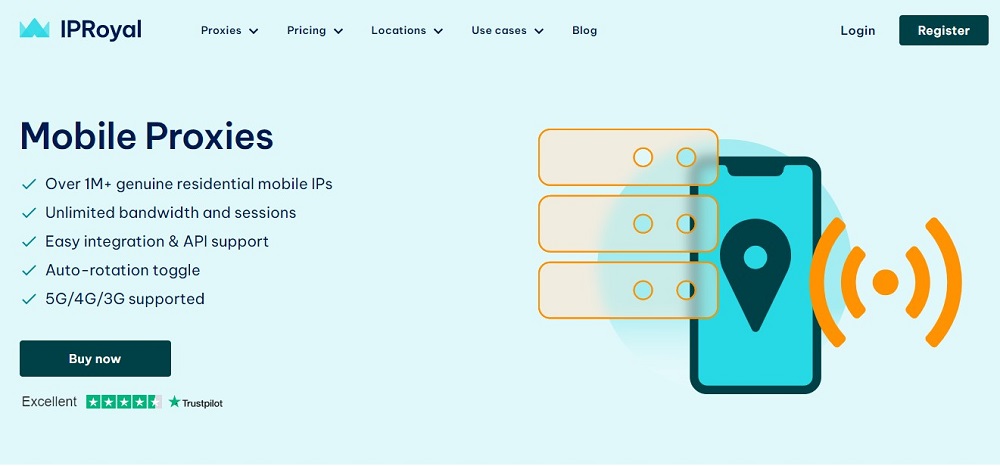 Our next mobile proxy provider is IPRoyal. The company has been building an elaborate proxy network for a few years and quickly amassed 500,000 mobile IPs in three countries: the United States from T-Mobile, the UK from Vodafone, and Lithuania from their local mobile broadband providers.
IPRoyal's mobile proxies offer auto-rotate features, unlimited bandwidth, and, most importantly, 5G mobile IPs. 5G support is still making its way in the proxy industry, and IPRoyal stands out by providing such services.
Furthermore, Lithuania has one of the fastest Internet connection speeds in the EU, so mobile proxies there will show outstanding results. Lastly, you can negotiate better prices by ordering more, and the cost starts from $81/month for three months of mobile traffic.
Pros
5G support
Outstanding connection speeds
High IP trust scores
Cons
No city-level targeting
Service available in three countries

A lot of proxy providers offer proxies specialized for social media and one of those is AirProxy. Even though their primary usage is for Instagram, Facebook, Tik Tok and so on, you can still put them to use for other purposes.
The number of mobile proxies they have in their IP pool is unknown, but all of them are located in Italy. If the location is not an issue, you can enjoy the mobile proxies with speeds of up to 50 mbps with a latency from 350 to 700 ms. Combine that with a price which is only average and you get a mobile proxy provider that just might work for you. There is a trial option, if you can call it that. If you want to test the proxies you need to pay to be able to use them for 72 hours.
Pros
4G proxies
Excellent speeds
Unlimited bandwidth
Cons
Proxies are only from Italy
Trial available for a fee

The next mobile proxy provider on this list is often considered a veteran in the world of proxies. As for their mobile proxies, the available proxies are unknown, but they spread around several countries in the world. They have proxies in three major cities in the US and one city in Ukraine, UK, Russia, Thailand and Lithuania.
Depending on the country, you may also have the option to choose from several mobile operators available. The prices for the proxies vary depending on the country and operator and compared to AirProxy they are a bit more expensive. There is a flexibility where you can purchase their mobile proxies for a day, week or month. You have the option to set out their 3G and 4G proxies with a free trial with no limitations for only an hour.
Pros
Unlimited bandwidth
Flexible packages
Several countries available
Cons
Trial period only one hour
Slightly more expensive than competitors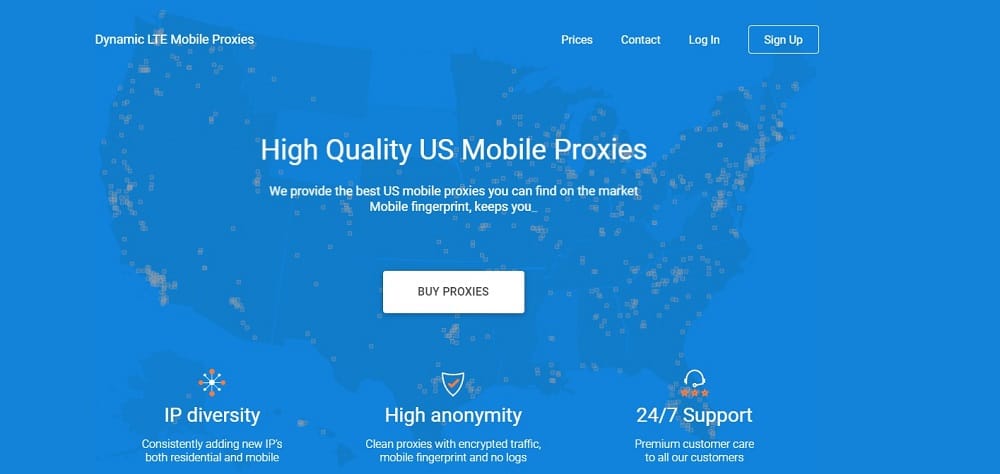 If you are looking for strictly US proxies, then Proxy LTE is an excellent provider. All of their mobile proxies are 4G, meaning the speeds should not be an issue. The exact number of mobile proxies is unknown, but you have a flexibility of the number of proxies you want to get.
The flexibility extends to the mobile carrier as well as the state you want your mobile proxies to be. Their prixing structure is also flexible allowing you to purchase the mobile proxies for a long as you need them, ranging from one day to an entire month. A free trial option is not available, but are eligible to get a refund if you make a request for it within 24 hours of your purchase.
Pros
Flexible packages
Ability to choose the state from where you want the proxies
4G proxies
Cons
Slightly more expensive
US proxies only
No trial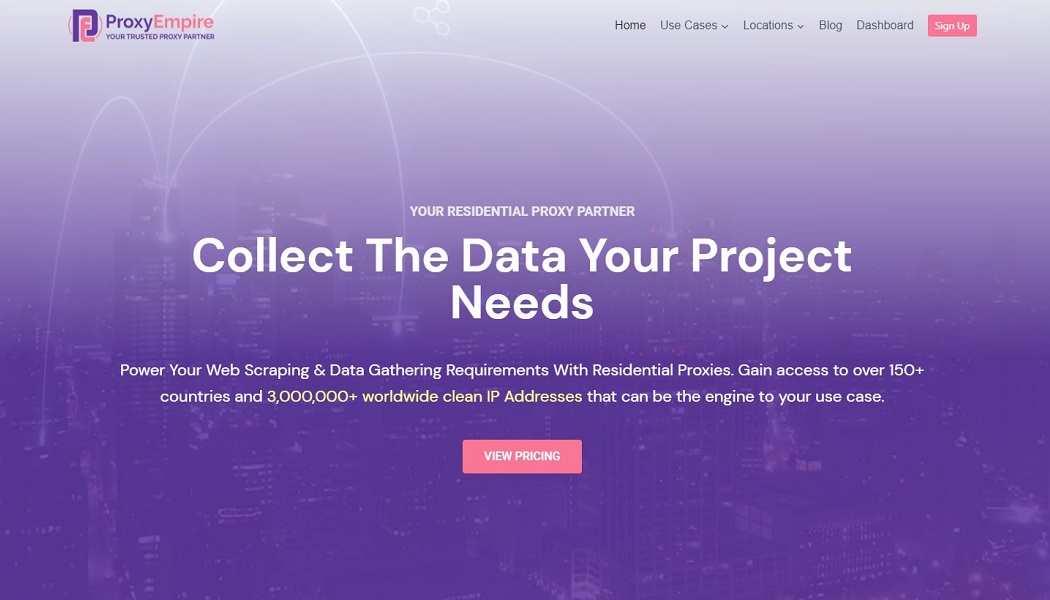 ProxyEmpire is a new addition to the mobile proxy family, but it has momentum that cannot be ignored. It is one of the very few services except Brightdata that has mobile proxies worldwide. While most providers only offer mobile proxies in one or two countries, ProxyEmpire has mobile proxies in over 150 countries.
They also have Region, City, and ISP (Mobile Carrier) targeting options, ensuring that you always get the exact location you need. We don't expect it can compete with Bright Data. But, they are more budget-friendly than Brightdata (but don't have as many nodes as them) and accept cryptocurrency. So, reasonable prices and extensive coverage give ProxyEmpire a competitive edge to some extent.
Pros
Over 1 million mobile proxies in over 150 countries
3/4/5G proxies available
Precise Location Targeting
Cheaper alternative to Brightdata
Cons
Not as many nodes available as on Brightdata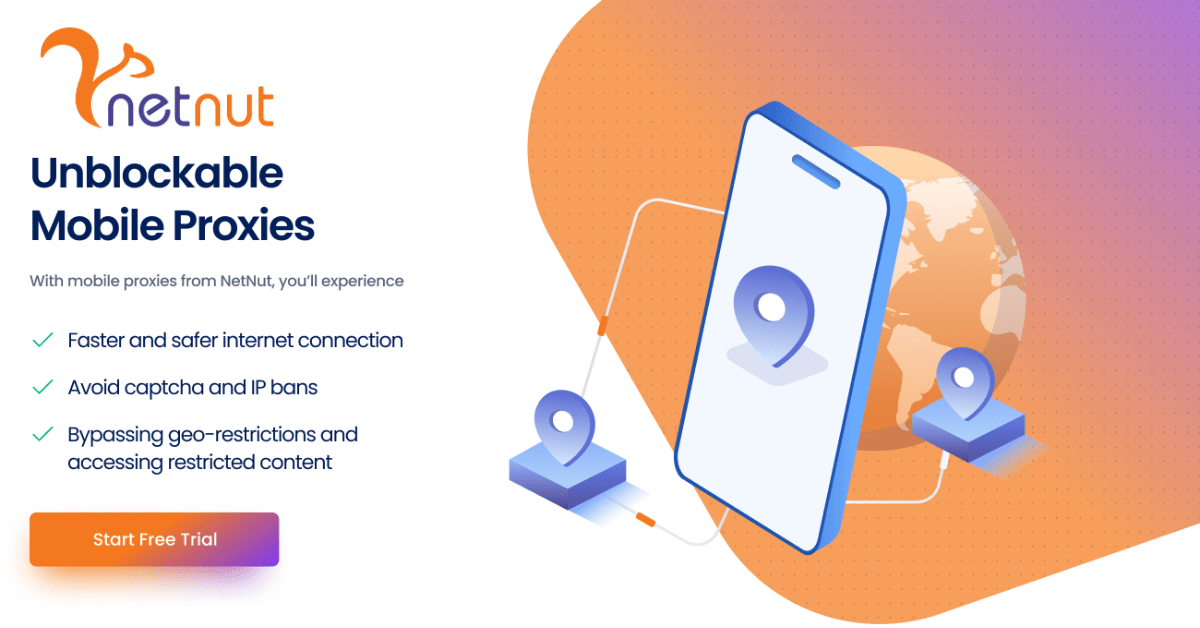 NetNut's unblockable mobile proxies are one of the best around. They are prime to elevate your web scraping and data extraction processes much more effective and efficient. With NetNut, what you get is a premium mobile proxy service that is suitable for professionals in the marketing, software development, IT services, and consulting industries.
NetNut has a plethora of mobile IP addresses – more than a million! They're sourced from real-user devices all over the world. The one selected for use for a job is going to be the ultimate one. The high uptime is stable and constant, which allows for uninterrupted connectivity wherever you go. And we are talking top-of-the-menu 4G/LTE speeds here. Hence, you can rely on NetNut's mobile proxies for fast and efficient data extraction.
What's really worthwhile about NetNut is that they use real mobile phone IPs. This makes sure that your data scraping is hidden and that not even the cleverest bots can detect them. The combination of dynamic IP addresses and routing web traffic through real users' mobile devices improves security, anonymity, and privacy.
The immediate and noticeable difference is that you won't deal with those annoying CAPTCHAs, and your IP won't get banned. You can also get past restrictions to see stuff you couldn't before.
If you're looking for a reasonable amount of data and cost-effective pricing, the Advanced Plan gives you 50GB of data every month for a flat rate of $900. This plan is perfect for those small businesses and professionals who require moderate data usage while enjoying the benefits of NetNut's powerful mobile proxies.
If you need more bandwidth, the Production Plan is really good. You get substantial data – 250GB every month. This plan is made for bigger web scraping jobs. It costs $3500 each month, and it's great for people and businesses that want a lot of data.
Pros
Over 1 million mobile IPs
Proxies that are really fast
Unlimited sessions
24/7 availability
free for 7 day trial
Cons
The documentation isn't detailed enough.

At first sight, DSL Rentals might seem like a provider dedicated to VPS, but that is far from the truth. Even though they offer that kind of services, they also provide several kinds of proxies, including mobile proxies. With an IP pool of several thousand mobile proxies it is not the most we have seen, but should suffice unless you need all of them.
All mobile proxies are from a 4G connection from four different providers, enabling you to have some flexibility. The lack of flexibility is in the location of the proxies; they are only from the US and Canada. The proxies can be purchase for a day, week, month or a year and the price for them is not as cheap as it should be. A trial option is available, but DSL Rental may charge you for it, while a refund option is not available.
Pros
Flexible packages
Several providers to choose from
Cons
Trial is paid
No refund available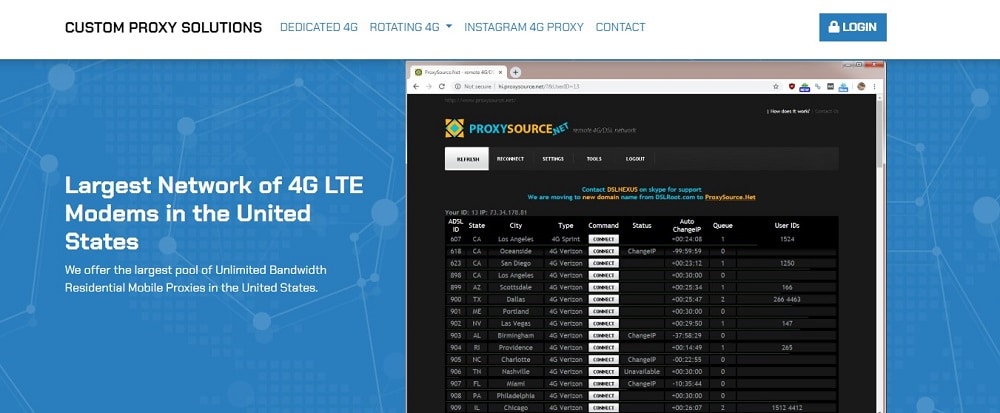 Custom Proxy Solutions is a 4G mobile proxy provider that does not have a lot of users, but it is a worthy contender that should be on this list. With an IP pool of around 750 thousand proxies it is refreshing to see a mobile proxy provider that actually disclose the available proxies. Regarding locations the proxies are in the US, but you will not be able to find proxies in every single state.
All proxies from either from Verizon or Sprint and you only have the option to pay for them weekly or monthly. Depending on the type of proxy you get they will either rotate automatically at an interval of 30 minutes, or you can do it manually when you want. A trial option is available if you want to test before you buy.
Pros
Large IP pool
Unlimited bandwidth
Free trial available
Cons
Not available in all states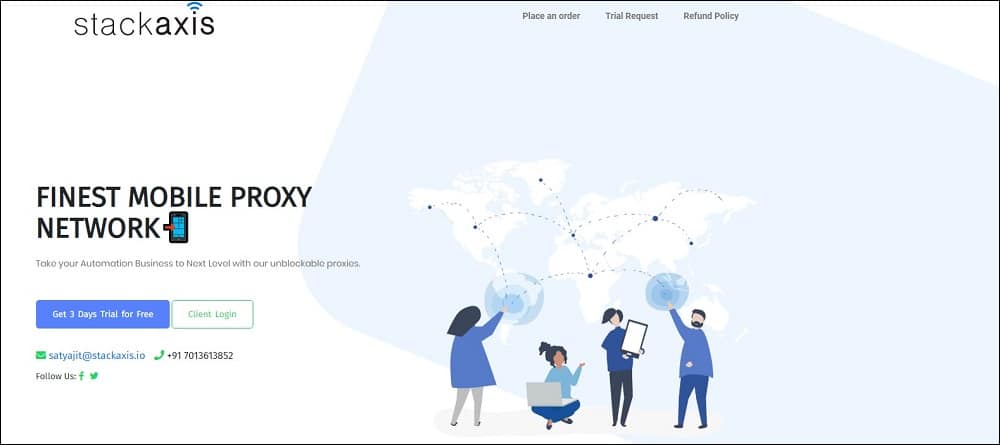 The next mobile provider on this list is a small Indian company that sells local mobile proxies. The company only runs with one proxy hub which is in Hyderabad, India, so you should not expect thousands and thousands of available proxies. For that matter, the exact number of proxies is not outlined anywhere on their website. as for the mobile proxies, they are no 4G available, so you will have to settle with 3G speeds.
The price for this service is relatively cheap considering that you do not get as much as you would with some of the other mobile proxy providers. A refund option is not available, but you can request a 3-day trial to test if the proxies would be suitable for you.
Pros
Cheap
Free trial available
Cons
Proxies are from India only
No 4G proxies available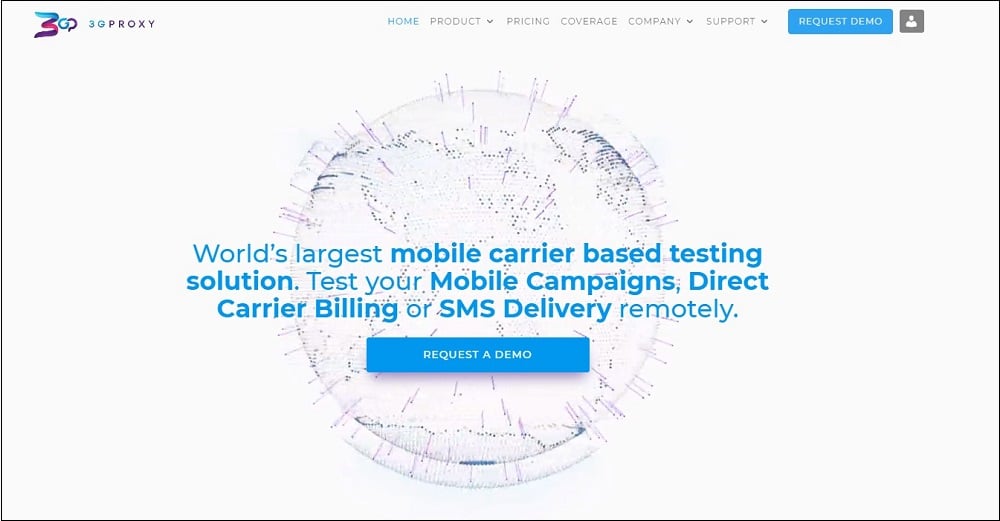 The final entry on our list is a mobile proxy provider whose name is confusing – 3G proxy. Even though they are called that, the company offers 4G proxies as well. The size of their pool of IPs is unknown, but the options for locations and carriers is impressive. You can get their mobile proxies from over 130 carriers in over 40 countries in the world.
Unlike some mobile proxy providers 3G proxy's country lists include a lot of Eu countries, a few from North and South America, Asia, Africa and Australia. Now we come to the price. Compared to most of the providers on this list, 3G Proxy's plans are expensive and on top of that, there are a few additional costs regardless of which plan you choose. On the flip side, you have a free trial available.
Pros
Proxies from over 130 providers in over 40 countries
3G and 4G proxies available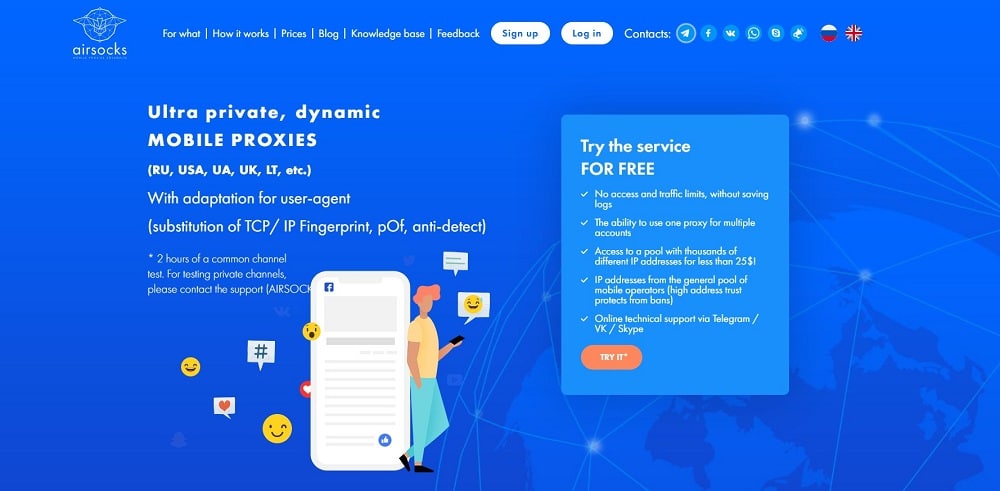 Airsocks is a Russian base mobile proxy provider that usually flies under the radar. When it comes to these smaller companies we do not expect too much, but Airsocks is keeping one important information secret – the number of available proxies. On a positive note, the locations are disclosed and most of the proxies are from the Russian federation, UK and USA all coming from multiple mobile providers. The proxies are a combination of 3G and 4G offering reasonable speeds.
The company offers shared proxies that are used by multiple users and private proxies reserved just for you. The rotation interval is can be less than a minute, depending on the type of proxy you purchased. The prices seem decent, and with an unlimited bandwidth included in the subscription it might seem like a better option if you need a lot of traffic. A testing period is available, but only for two hours.
Pros
Cheap
Flexible rotation times
4G proxies available
Cons
No info on how many proxies they have
Locations are limited
Test period only two hours
Frequently Asked Questions
Are mobile proxies better than residential?
There are some advantages and there are some disadvantages. Even though residential proxies are very difficult to detect, mobile proxies are even more difficult to detect. The reason for that is the way that the carriers assign them to multiple users, meaning that a lot of services will try not to ban them. A main disadvantage are the speeds. mobile proxies rely on 3G and 4G networks, meaning that you may come in a situation where a residential proxy will be faster than a mobile.
Can I use a mobile proxy on my smartphone?
Yes. Depending on the type of smartphone you use, there are settings in the network section that will allow you to set up the usage for a mobile proxy.
What can I use mobile proxies for?
Mobile proxies can have the same applications as residential and datacenter proxies have. You can use them for scraping, creating accounts, SEO and tons of other applications.
What is the best mobile proxy provider?
It depends on your needs and your budget. If you do not need mobile proxies from all over the world, then you will need to get them from a provider like Bright Data or 3G Proxy which are more expensive. If the location of the proxies is not important for you, then you can get cheaper proxies from providers like StackAxis.
---
Conclusion
Even though mobile proxies have grown in popularity in the past several years, the availability is still fairly limited. Apart from our list of 10 mobile proxy providers you might be able to find a few more, so the choice might not be as good you might think. Regardless of that, the mobile proxy providers on our list are more than enough for you to get started.
---