This Russian based proxy provider offers a decent amount of proxies in a relatively wide area of countries, neatly wrapped in a pricing package that would seem affordable for most.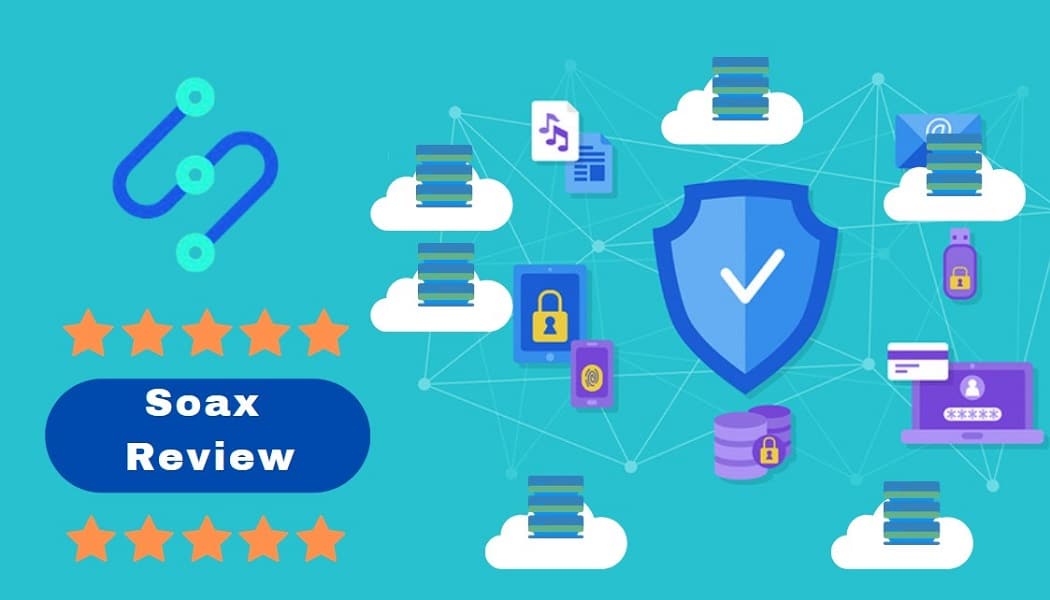 Soax is a proxy provider company that was founded in 2019. Being this "young" in a world of proxy providers that have existed for over a decade might seem like it is not fit, but if you take their offerings into consideration, you might be surprised how capable they might be.
Recommended for: Web Crawling & scraping, bypassing geo-restrictions
Since we are talking about a company that has been around for about a year, it is natural that we do not see it in most of the top proxy providers lists. The pool of available proxies consists of over 8.5 million IP addresses, and unlike most, these are a combination of residential and mobile proxies. Offering this many proxies for a competitive price, Soax is a proxy provider that deserves to be looked into.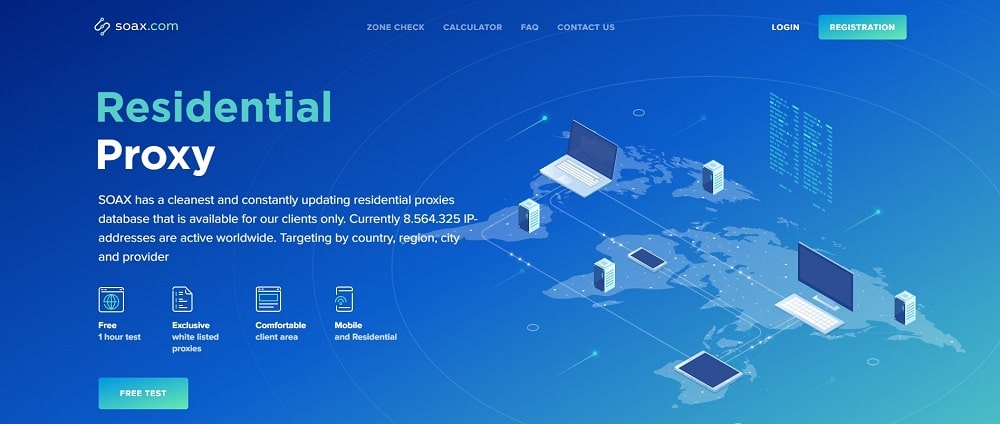 In this article, we are going to review Soax as a proxy provider. We will test the speeds and quality of the proxies, go over the features, and see how easy it is to use.
With a proxy pool of over 8.5 million proxies in over 120 countries around the world, Soax offers a decent amount of IP addresses in a relatively dispersed number of countries does not make it one of the best. However, it is certainly more than enough for what you might need. The entire IP pool consists of residential and mobile proxies, meaning that you can make a choice when purchasing them. On top of that, you get them in a very affordable package, with the option to buy proxies for one day. No matter what type of package you get, the option for geo-targeting specific sites, countries, or providers is available to you.
Pros
Simple and easy to use
Over 8.5 million residential and mobile proxies in over 120 countries
Averagely priced
Decent speeds
Multiple authentication options
Cons
High latency
Support could use some improvements
Free trial limited to one hour
No refund option
Proxy Types, Features and Pricing
Unlike some of its competitors, Soax does not offer tons of different types of proxies. Instead, you only get residential and mobile proxies.
Even though they are mixed into one big pool, you still have the option to choose which type of proxies you want to get. There are three criteria for selecting the proxies: country, type, and the number of proxies and duration of the subscription.

They have a calculator on their website that enables you to quickly do the math how much the proxies would cost you. Initially, you would only be able to purchase either residential or mobile proxies, but you can purchase several packages, so there is the option to mix them up.
If you do not want to fiddle with that and you just need proxies as fast as possible, you can get some of their premade packages. You can choose between daily, weekly, or monthly packages and if you want the proxies to be from one location or all available ones.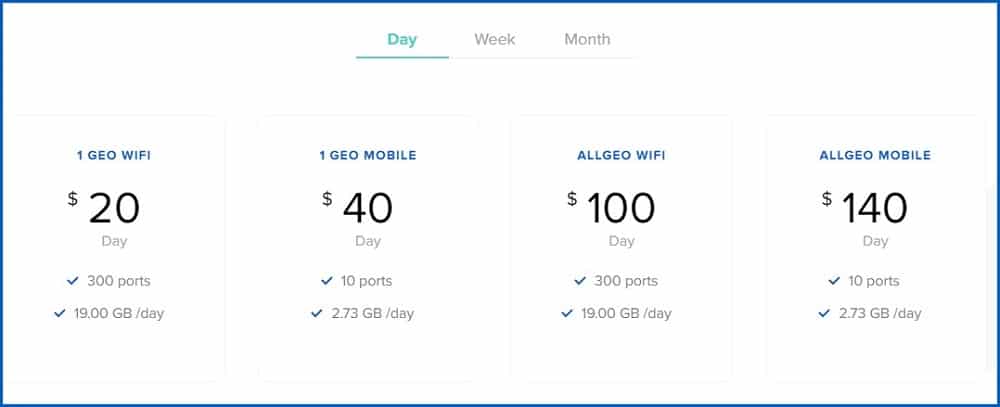 One thing that is a bit confusing is the fact that they say that there is no limit on the bandwidth. That is true; you can use as much traffic as you want and need, but the packages have limited bandwidth, so make sure to keep that in mind when you are configuring your package.
Most people would like to be able to test a service before making a commitment, and the good news is that Soax offers a free trial. The bad news is that the free trial period is only one hour, making it the shortest free trial of all proxy providers. Overall, it might not be enough to give the proxies a good test, and on top of that, you do not get a money-back-guarantee, meaning that you will be stuck with them until the subscription period ends.
Locations of proxy servers
Even though Soax might not offer as many proxies as Luminati or some of the other reputable proxy providers, what is right is the diversity of the locations. You can get the proxies from over 120 countries around the world, and as you can see from the interactive map on their website, you can get proxies from almost any country across the five continents.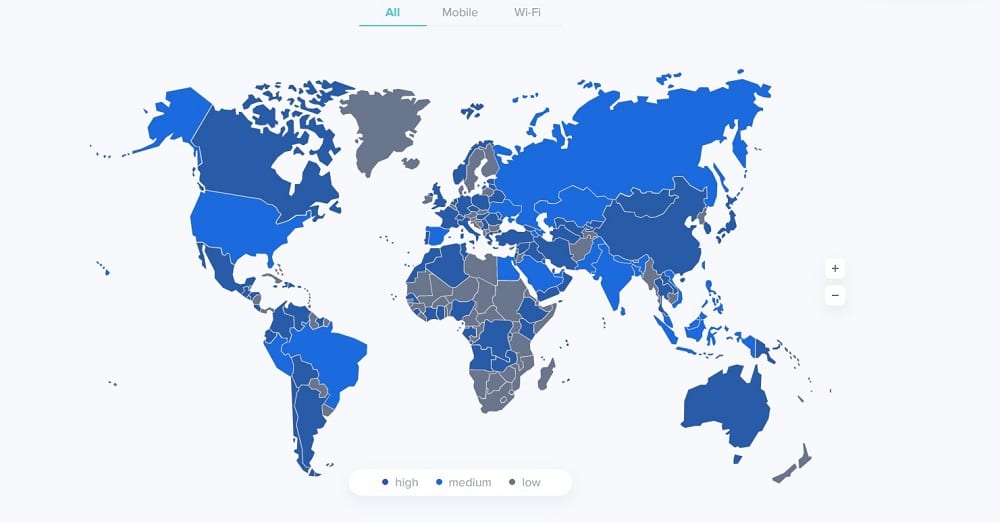 From the map above, you can see the locations where the have high, medium, or low amounts of available proxies, and by clicking on a specific country, you will see the available providers. You can also see where the have residential or mobile-only proxies.
A proxy provider can claim a lot of things, but the performance is something that they cannot hide. Proxies with high latency or slow speeds can almost be unusable, especially if you need them for scraping a large amount of data.
To verify if Soax's proxies are performing as advertised, we purchased several proxies and put them to the test. Since we only bought a handful of proxies, we cannot say for sure that other proxies will perform the same as these, but our results should give you a pretty good idea of what to expect from this proxy provider.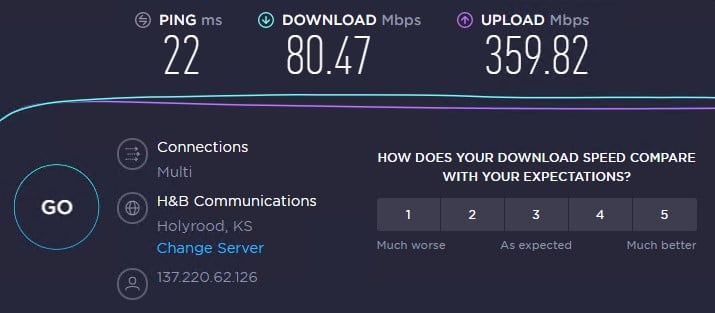 To have something to compare the proxy speeds with, we did a controlled test with no applied proxy, and you can see the results in the screenshot above. The purchased proxies are residential and are from the US only.
Here are the results we got from our tests.
Once we had the base, we ran the test with the proxies. The results are below.
Speed Tests with SoaxDetails of the Speed Test
| IPs of Rotating Proxy | Ping | Download | Upload |
| --- | --- | --- | --- |
| 137.220.62.126 (No Proxy) | 22 | 80.47 | 359.82 |
| 192.119.160.170 | 1011 | 1.68 | 1.8 |
| 159.65.99.94 | 1100 | 2.13 | 2.28 |
| 99.203.145.80 | 339 | 5.07 | 3.59 |
| 24.205.226.246 | 287 | 4.31 | 4.89 |
| 209.141.43.73 | 301 | 12.5 | 12.96 |
| 172.58.76.157 | 471 | 1.89 | 8.78 |
| 162.243.174.60 | 326 | 3.77 | 4.64 |
| 198.199.116.44 | 608 | 10.82 | 4.57 |
| 69.242.95.79 | 340 | 9.62 | 13.09 |
| 75.58.122.53 | 281 | 0.86 | 11.31 |
IP 1: 192.119.160.170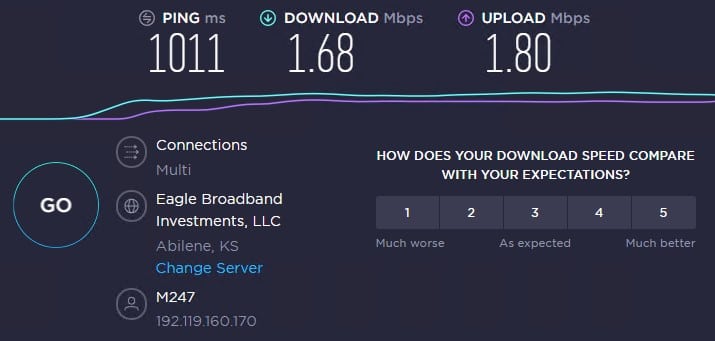 IP 2: 159.65.99.94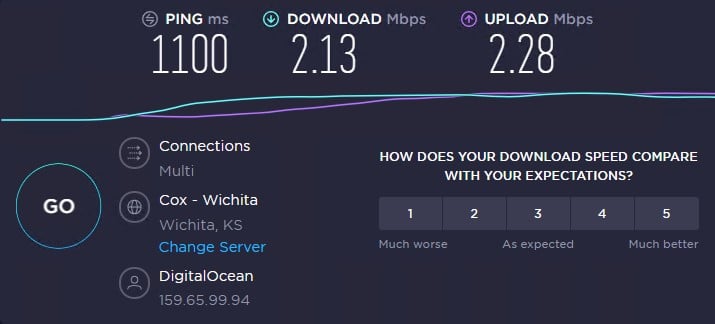 IP 3: 99.203.145.80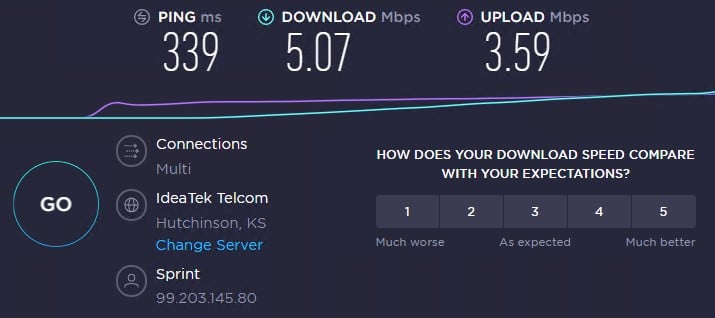 IP 4: 24.205.226.246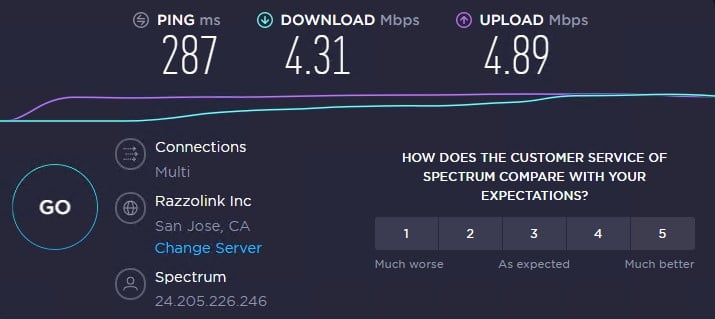 IP 5: 209.141.43.73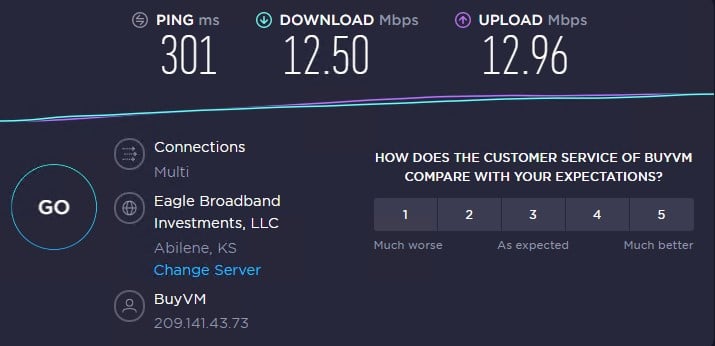 IP 6: 172.58.76.157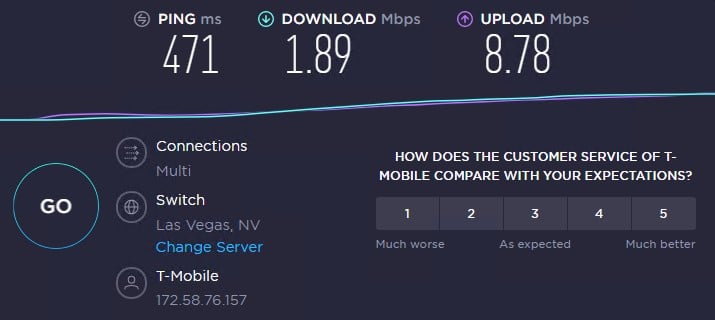 IP 7: 162.243.174.60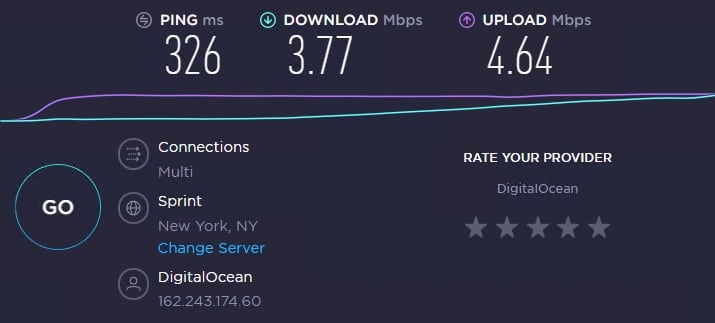 IP 8: 198.199.116.44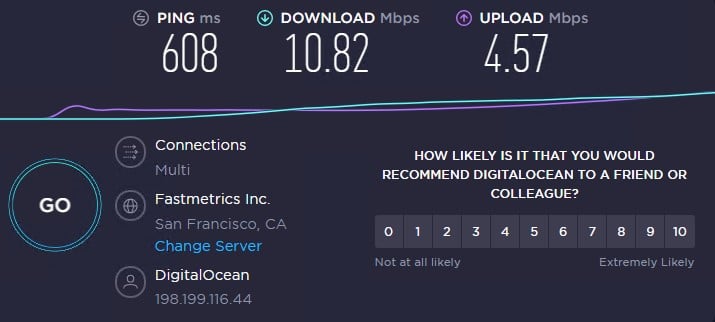 IP 9: 69.242.95.79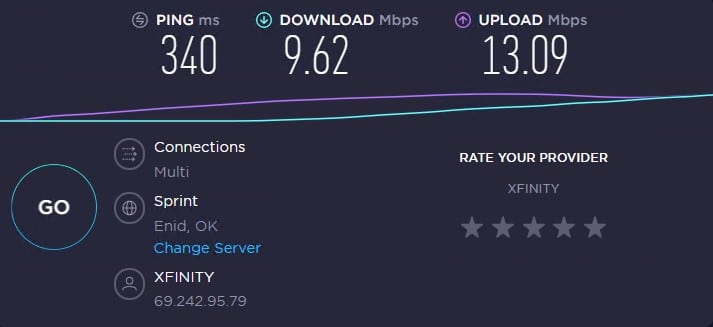 IP 10: 75.58.122.53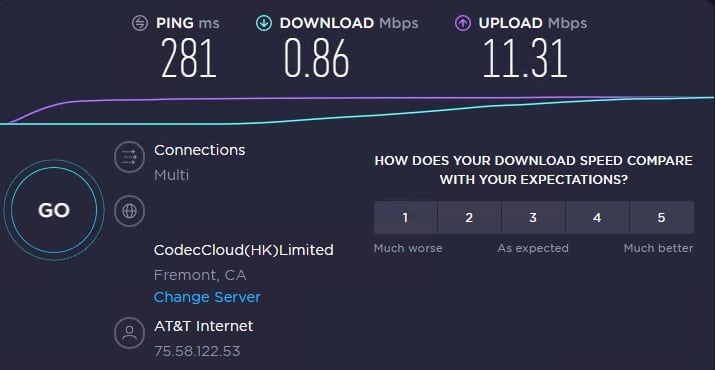 In all honesty, the results are not quite what we expected. The speeds are more or less what you might expect from this type of proxies. Residential and mobile proxies, in general, are much slower than datacenter proxies due to their limited connection speeds, so we are looking at some decent results.
What is concerning is the latency. Most of the results are slow, but not the slowest we have seen. The first two on the table have a latency of over 1 second, which in the proxy world is entirely unacceptable, especially if speed and low latency is something that you absolutely need.
Proxy providers usually claim to have proxies from specific locations meaning that their customers expect that information to be accurate. Paying for Russian proxies only to find out that they are Chinese is bad. To see how valid Soax's claims are, we put their proxies to the geolocation test. For it, we used the same proxies we did the speed test on.
Soax ISP Test Details of the ISP Test
| | | | | |
| --- | --- | --- | --- | --- |
| IPs of Rotating Proxy | Hostname/IP | ISP/ASN | Country | Type |
| 137.220.62.126 (No Proxy ) | 137.220.62.126 | AS20473 – AS-CHOOPA | USA | Hosting, proxy or bad IP |
| 192.119.160.170 | 192.119.160.170 | AS9009 – M247 | USA | Hosting, proxy or bad IP |
| 159.65.99.94 | 159.65.99.94 | AS14061 – DIGITALOCEAN-ASN | USA | Hosting, proxy or bad IP |
| 99.203.145.80 | ip-99-203-145-80.pools.spcsdns.net | AS10507 – SPCS | USA | Good IP (residential or business) |
| 24.205.226.246 | 024-205-226-246.res.spectrum.com | AS20115 – CHARTER-20115 | USA | Good IP (residential or business) |
| 209.141.43.73 | smtpout104.joesnew.com | AS53667 – PONYNET | USA | Hosting, proxy or bad IP |
| 172.58.76.157 | 172.58.76.157 | AS21928 – T-MOBILE-AS21928 | USA | Good IP (residential or business) |
| 162.243.174.60 | 162.243.174.60 | AS14061 – DIGITALOCEAN-ASN | USA | Hosting, proxy or bad IP |
| 198.199.116.44 | 198.199.116.44 | AS14061 – DIGITALOCEAN-ASN | USA | Hosting, proxy or bad IP |
| 69.242.95.79 | c-69-242-95-79.hsd1.de.comcast.net | AS7922 – COMCAST-7922 | USA | Good IP (residential or business) |
| 75.58.122.53 | 75-58-122-53.lightspeed.frokca.sbcglobal.net | AS7018 – ATT-INTERNET4 | USA | Good IP (residential or business) |
IP 1: 192.119.160.170


IP 2: 159.65.99.94


IP 3: 99.203.145.80


IP 4: 24.205.226.246


IP 5: 209.141.43.73


IP 6: 172.58.76.157


IP 7: 162.243.174.60


IP 8: 198.199.116.44


IP 9: 69.242.95.79


IP 10: 75.58.122.53


The column with the location shows just what we expected; all proxies are US IP addresses. The IP type is what is concerning. Half of the proxies are identified as hosting, a proxy, or bad IP. These types of results for residential proxies are not acceptable.
IP Address Compatibility Test
Regardless of what the ISP test shows, there are still some IP addresses that can be identified as proxies but still manage to get access to certain websites that are strict. The list of sites we use are among the strictest, so this is the ultimate test that will show if the proxies would be of any use to anyone.
| | | | | | | |
| --- | --- | --- | --- | --- | --- | --- |
| IPs of Rotating Proxy | IG | Pin | TM | CL | Nike | Adidas |
| 137.220.62.126 (No Proxy ) | √ | √ | √ | √ | √ | √ |
| 192.119.160.170 | √ | √ | √ | √ | √ | √ |
| 159.65.99.94 | √ | √ | X | √ | √ | √ |
| 99.203.145.80 | √ | √ | √ | √ | √ | √ |
| 24.205.226.246 | √ | √ | √ | √ | √ | √ |
| 209.141.43.73 | √ | √ | √ | √ | √ | √ |
| 172.58.76.157 | √ | √ | √ | √ | √ | √ |
| 162.243.174.60 | √ | √ | √ | √ | √ | √ |
| 198.199.116.44 | √ | √ | √ | √ | √ | √ |
| 69.242.95.79 | √ | √ | √ | √ | √ | √ |
| 75.58.122.53 | √ | √ | √ | √ | √ | √ |
*IG – Instagram, CL – Craigslist, Pin – Pinterest, TM – Ticketmaster
The results are surprising. Even though five of the ten proxies we tested were identified as proxies, all of them were able to get access to all the sites we use for testing. The only exception was the second proxy that did not manage to get to Ticketmaster.
14-day money back guarantee
Unlike most proxy providers that offer their proxies mostly in a monthly package, Soax will enable you to purchase proxies for as least as a day. This is excellent news for people that have a small scraping project or maybe need to cop sneakers. The flexibility of the duration of the packages is an excellent thing to have.
This is something that is not explained as well as it should be. Technically there is no limit on the bandwidth, but the price you pay will depend on the included bandwidth in your package.
Available proxies in a lot of countries
The number of available IP addresses in Soax's proxy pool is not a number that will turn heads. What is good is that the proxies are coming from over 120 countries, providing you with a diverse list of locations from countries across the globe.
Apart from the flexibility in the duration of the subscription, you also have the ability to choose several other options and make a completely custom package that would fit your needs. Choosing the location and type of proxy will even open up the opportunity to select which provider you want to get your proxies from, making it among the most flexible proxy provider on the market.
At first glance, Soax's dashboard may seem very complicated, but after a few minutes, you realize that it is straightforward and simple. On the left side, you have the main navigation panel, the middle section has the list of your packages that you purchased and their status, and on the right side, you have the options for the specific package you intend to use.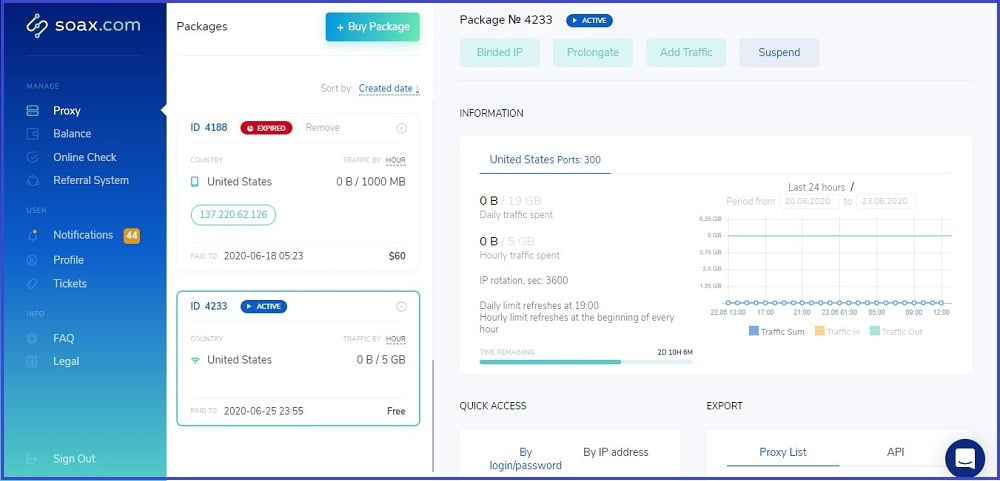 The top of the right section provides you with a detailed graph and information regarding your package – how much traffic you used and how much time remains before your subscription is over. In the bottom, half are the settings that you would want to check out if you want to fine-tune your proxies.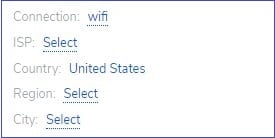 For our current package, we chose residential proxies from the US, which means that those two settings are not available for modifying. As for the rest of them, you can select a specific ISP, region, or city.
There are two ways that you can authenticate yourself to Soax's servers – via username and password or with IP whitelist.
The username and password authentication method is already set up. Select the subscription plan that you want to use, and from the right side, locate the section where it says "Quick Access." On the top of that section, you have the username and the password, which, unfortunately, you cannot change them.
Authenticating with a username and password is excellent if you are using the proxies on multiple locations and multiple devices, so you do not have to set up a new whitelisted IP address for each location and device.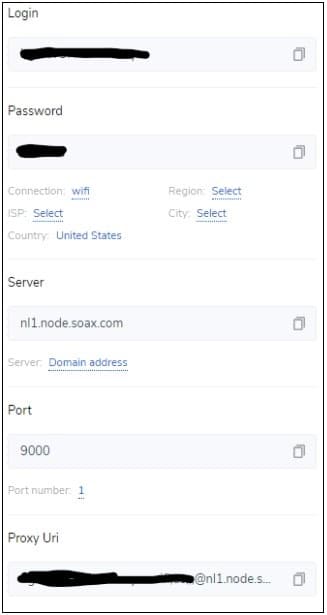 IP authentication is an option that works best only if you are using the proxies on one or two devices, meaning that you do not need to set up tons of whitelisted IP addresses in Soax's dashboard.
Unlike most of the proxy providers that call this authentication type IP authentication, Soax calls it Binded IP. To add an IP address to this, click on the "Binded IP" button on the top of the right management panel. Enter the IP address in the text box and click "Save IPs." The first two IP addresses that you will add are free, while for every other, you will need to pay $5 each. Additionally, you can add comments for your added IP addresses so that you can tell them apart, which IP address is which.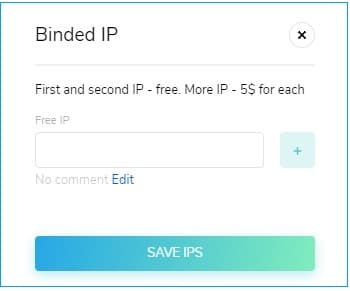 There are quite a lot of proxy providers available on the market today, and getting proxies from the right one for you is not as simple as you may think. Providers offer all kinds of services, number of proxies, features, performance, etc. meaning that you will be flooded with information that you do not know what to do about. If you are thinking about getting proxies from Soax, this next section should help you with that decision.
Editor's Rating
Features

Pricing

Reliability

Easy to Use

Support
Usability
As we mentioned, Soax has a relatively simple to use dashboard. All the information is laid clearly in front of you. Your task will be to set up the proxies in your scraper or computer or wherever you want to use them. Making changes is also easy; you will only need to choose the specifics regarding the location or ISP, and you will be good to go.
Pricing
Considering how young Soax is, the prices are not the most competitive ones. Regardless of that, if we take into consideration what they offer, then we are looking at some average prices that will not empty your pockets. There are cheaper and more expensive options available, putting this proxy provider somewhere in the middle. The free trial is a nice touch, but the one-hour duration is very limiting, and you cannot ask for a refund if things do not work as you want them to.
Reliability
In the time with spent testing the proxies, we found no problem with their stability or reliability. Putting that one proxy that did not manage to get access to Ticketmaster, the rest were performing as intended.
Support
The support is a part where Soax needs to work a bit more. Their FAQ section contains only a handful of questions, and the way they are written could use some more work. A phone support option is not available, so if the question you have is not in the FAQ section, you will be left with sending them an email or getting in touch via Telegram or Skype. To be fair, we tried their chat option on the website, and it took them about an hour to get back to us. It is not all that bad, but they could make some improvements in this department.
Verdict
Is Soax a good proxy provider?
Yes, it is, but it is not a perfect one. Technically, you will not be able to find the perfect proxy provider, so you will need to work with what is offered – similar to Soax.
The pool of IP addresses and available locations, combined with the flexibility of the packages, makes this a very good provider. If you look at the tests we did, you may be worried by the latency, which we were as well, but those might have been a few isolated cases.
The overall performance of the speed was decent, and unless you need to reach out to their support constantly, you should have no problem with Soax's proxies.
User's Reviews & Rating
soax residential and mobile proxies
Average rating:
0 reviews
---