Have you been in need to get proxies from a specific country, say the US? Our list of the best US proxy providers will outline the providers and some details for their features.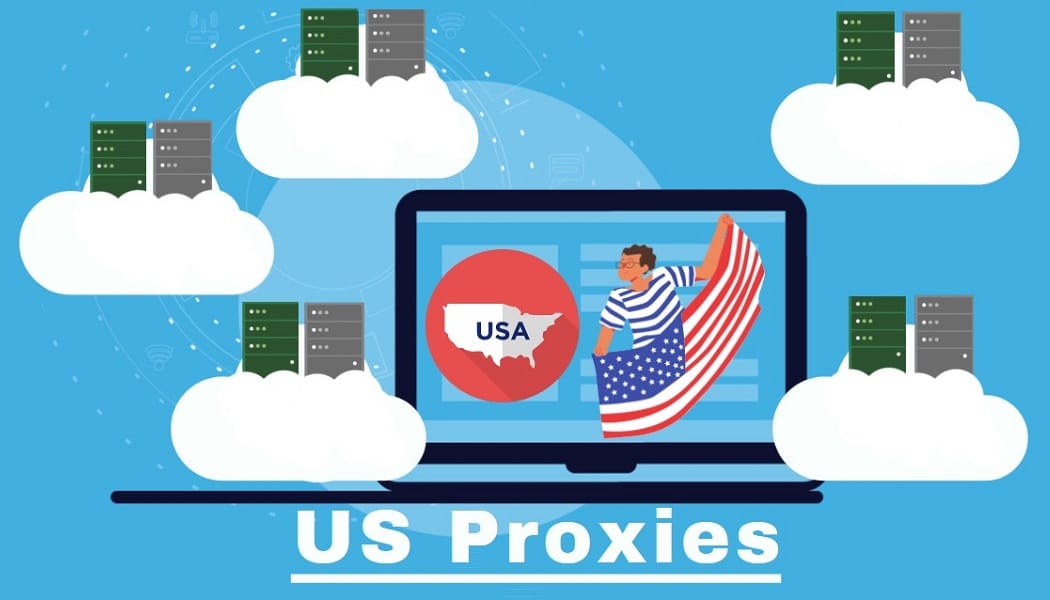 People that use proxies often will know that there comes a time when you need proxies from a specific region. Regardless if you are scraping a website that has geo-location restrictions, purchasing sneakers, or checking prices, country-specific proxies may be necessary. Even though quite a lot of proxy providers offer IP addresses from almost any country in the world, it's always a good idea to have the list at hand.
Today's list will cover the top six providers that sell proxies in the US. Frankly, almost all providers have proxies in the US, but not all of them offer a huge amount or are worth looking into. To help you in your search for the best providers, we have compiled a list of what we think are the best five providers for US proxies. As a bonus, we will include some free US proxy providers.
---
By doing a quick Google search, you will be able to find tons of free US proxies. Among the many are:
Free proxy list websites are slow usually and dead fast, for they are public proxies that everyone can access, So If you want to safe to use proxies and get fast speed, I highly recommend you use paid US proxy servers!
---
If you decided to pay for the proxies, then there is a serious decision you need to make. Getting your US proxies to form the right provider is essential, and for that reason, we make a list for you.
---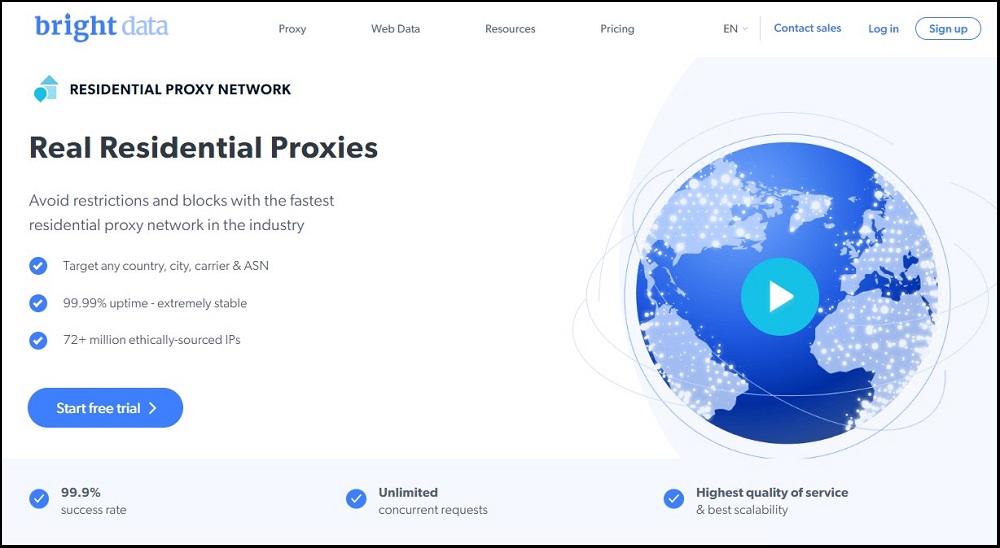 You may have guessed, but Bright Data always manages to get on top of every proxy provider list. Out of the entire proxy pool, almost 4.9 million IP addresses come from the US, which means that you have one of the biggest networks in the world.
With that many proxies, you can be sure that you will find the required proxy in every single state and bigger cities, which is where the advanced geo-targeting option comes into play. In addition to that, you have a proxy manager with the ability to set up the proxies as you need them. There is a learning curve with the proxy manager, but it's nothing too complicated.
All those features and goodies don't come cheap. Bright Datais one of the most expensive US proxy providers you can find on the market, and with all that it offers, it is worth it. Unlike some of its competitors, the bandwidth is limited, but the diversity of packages and the ability to pay for additional bandwidth is a nice thing to have. Finally, you have the option to test the proxies before buying them with the 7-day free trial period.
Pros
Almost 4.9 million US proxies available
You can get the proxies from any state or bigger cities
7-day free trial available
Cons
More expensive than most of its competitors
The dashboard may be confusing for first-time users
Bandwidth limited on all packages
---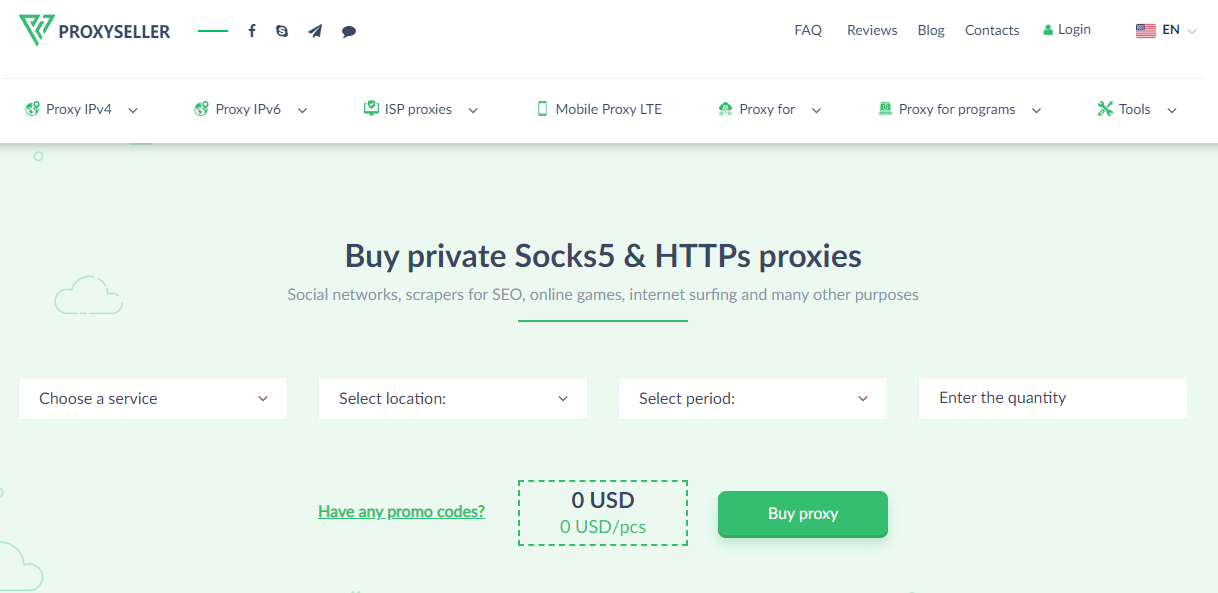 We can never finalize our US proxies provider without mentioning the Proxy-Seller. Proxy-Seller, though well known for the private proxies, they al; so have the US-targeted proxies. Customers can select between the high-quality rotating Mobile LTE 4G with the dynamic US IP addresses for efficacy and high anonymity or go for the ISP proxies.
For ISP proxies, they have static residential proxies targeting North America. You can pick a ready-made package from the options and enjoy the discounts. Both choices guarantee unlimited traffic, high anonymity, compatibility with the major protocols, including socks5, and 24/7 technical support.
All the Proxy-Seller US proxies are dedicated without any exception. You can use it for marketing or even gaming for entertainment purposes. Enjoy the flexible payment plans, which start from weekly onwards, and the diversity of the proxy pool to carry out any task.
Pros
Affordable and flexible pricing
24/7 technical support
24-hour refund or replacement guaranteed
Access to unlimited traffic
Cons
Does not offer a free trial
---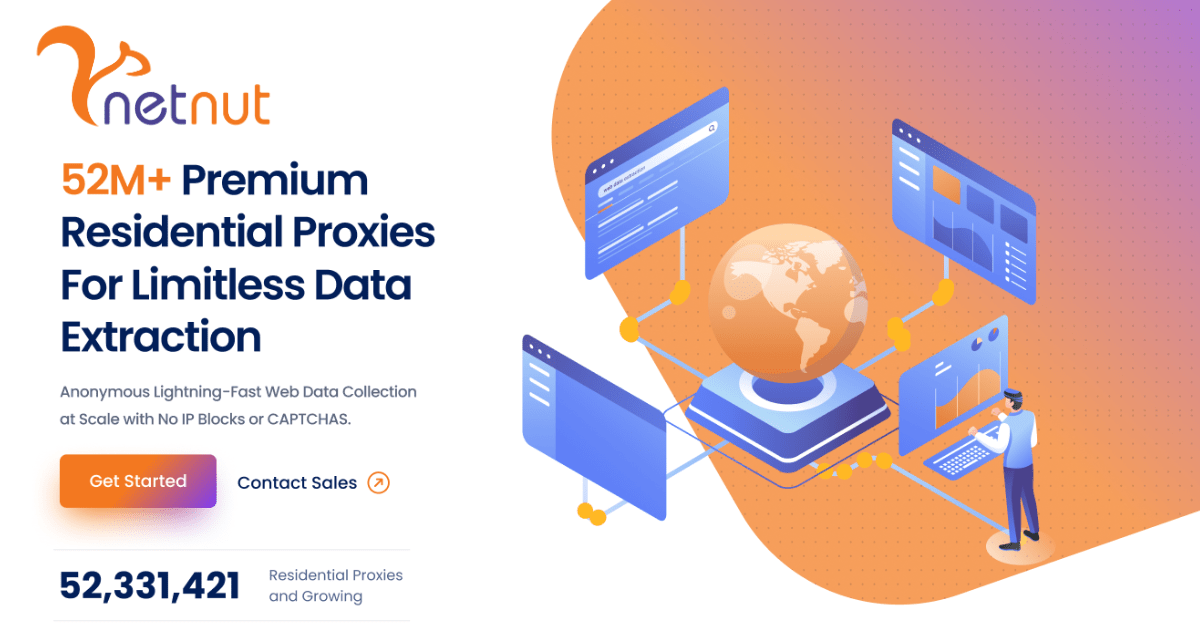 NetNut is a premium proxy provider with a huge footprint in The United States. As we all know, the U.S. is a key international market in almost every single industry. Hence, it's important that when deciding on proxy access for such an important data hub, you use the best ones possible. There's no doubt that NetNut ensures you can access just about any information in the U.S., regardless of the location you are in the world.
NetNut's boosts a very impressive count of over 2.3 million IPs in the U.S. alone. The only reason we say it's the fastest growing is because of the astonishing rate of growth in such a short space of time. With over 2.3 million US IPs in the pool, NetNut already is one of the largest players in the country. You can rest assured that NetNut allows you to carry out various tasks that rely on data as much as any other proxy can.
So, you can track SEO performance, manage social media, conduct market research, perform brand protection, and extract data from the web. You also get about a million static IPs which allows you to confidently and securely analyze the highly significant U.S. market data, and gain the essential insights necessary to shape your business strategy.
Thanks to NetNut's innovative one-hop ISP technology, you are guaranteed uninterrupted access to the U.S. data market, 24 hours a day, 7 days a week. Instead of a network dictating when you can work online, NetNut empowers you to work when it's optimal for you and your business. This capability empowers you to stay ahead of both global and local competitors, enabling you to formulate strategic moves in the international U.S. markets.
For just $300, you get yourself a wide array of premium U.S. IPs, making this one of the most advantageous entry-level plans for efficiently accessing the country's data. Furthermore, their exploratory 7-day trial is also applicable in the U.S.A! It's typically free, doesn't require a credit card, and is a hassle-free process to initiate your usage of NetNut services. Simply register and get going.
Pros
Fast and Reliable Proxy Network
Use Unlimited Domains and Connections
Support for SOCKs5 and HTTP/HTTPS
Free Trial for 7 Days Available in the U.S
Simple Dashboard and API integration
Cons
API Documentation May Disappoint Some
---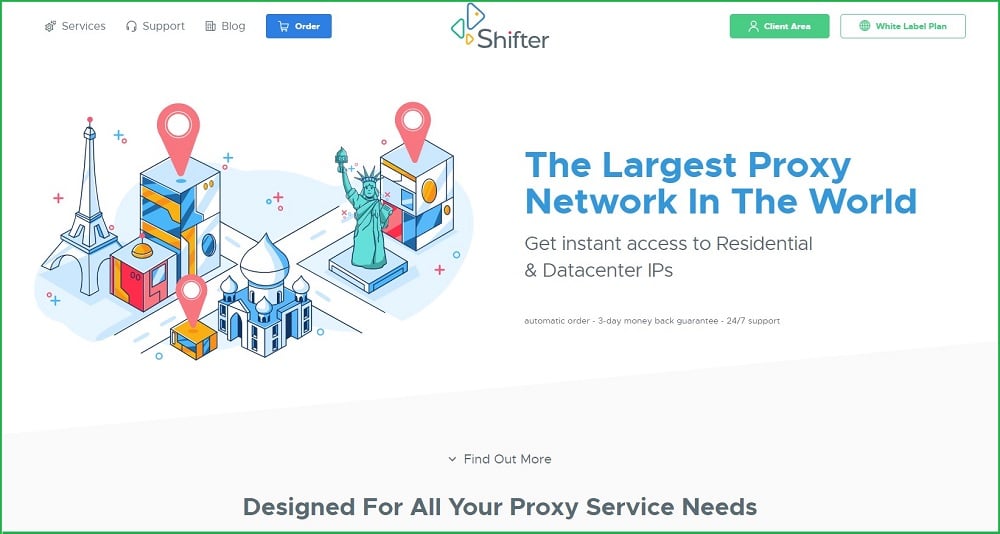 The second US proxy provider on our list is Shifter. If you have been in the proxy niche, you may know this proxy provider as Microleaves. With the rebrand, they upped their game and tried to compete with the best. Regarding the actual number of US proxies, there is no information on that. They claim to have over 31 million proxies worldwide, and that's all the information there is.
On the other hand, since the US has a high demand for proxies, you are sure to find more than enough. Shifter offers two types of proxies, basic and special. Since you are looking for US proxies in specific, you will need to get the special proxies because they come with the geo-targeting option available.
For the packages, you have tons of them, ranging from 10 proxies up to 4000, and all of them come with unlimited bandwidth, which is a nice feature, especially if you need to pass a lot of traffic through the proxies. The prices for these proxies are average compared to their competitors. Testing the proxies for free is not available, so your only option is to purchase a package and ask for a refund within three days.
Pros
Unlimited bandwidth
US proxies available
Cons
No info on the number of proxies in the US
No ability to test the proxies for free
---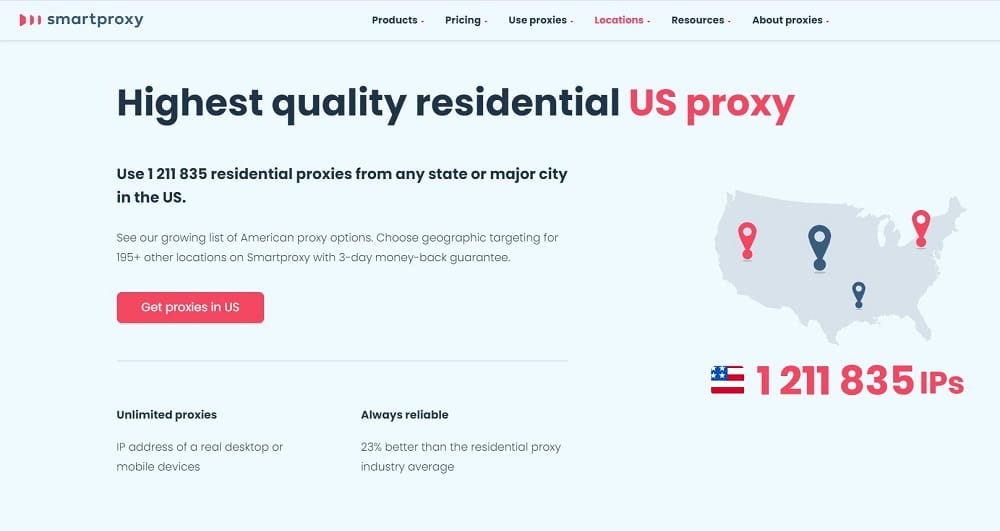 If you are looking for a cheaper option than Bright Data, Smartproxy may be the right choice. When we say cheaper, it means that you are paying less, but also getting less. Smartproxy has over 1.2 million proxies in the US, and you can use the geo-targeting option to select which state you want the proxies to be from. If you are after specific cities, then you may not have as much luck.
At the moment, you can only target five cities: New York, Los Angeles, Chicago, Houston, and Miami. Compared to other providers, this may be far from ideal. In regards to pricing, you have several packages to choose from, as well as an option for a custom plan.
At the same time, the prices for them are reasonable and fairly competitive compared to the other more premium providers. The downside is that all packages come with limited bandwidth. Since we are looking at a cheaper option, you only get a three-day money-back guarantee option, but not a free trial one.
Pros
Cheaper than some of its competitors
Over 1.2 million available US proxies
Cons
Limited bandwidth
No free trial option
---
If residential proxies are not working for you as you need, maybe you should look into mobile proxies, and for that, Soax may have the answer. Not as popular as the other providers on this list, but a decent contender offering good enough performance and features. One thing that is not very impressive is the fact that Soax claims to have over 685 thousand US proxies. The number is not bad, but we don't know how many of those are mobile.
With that aside, there are some good things about this US proxy provider, and that is the price and pricing plans. Regarding the actual price, you will be getting decent US proxies for relatively cheap prices. As for the plans, you have a lot of flexibility. You can choose the number of ports you need, location, and how long you need the proxies for. If you need some specific geo-targeting, you can also select city targeting and get IP addresses from particular cities.
Another great feature is that you can purchase daily proxies. There are two downsides to Soax's packages: all of them have limited bandwidth, and you only have a one-hour free trial to test the proxies.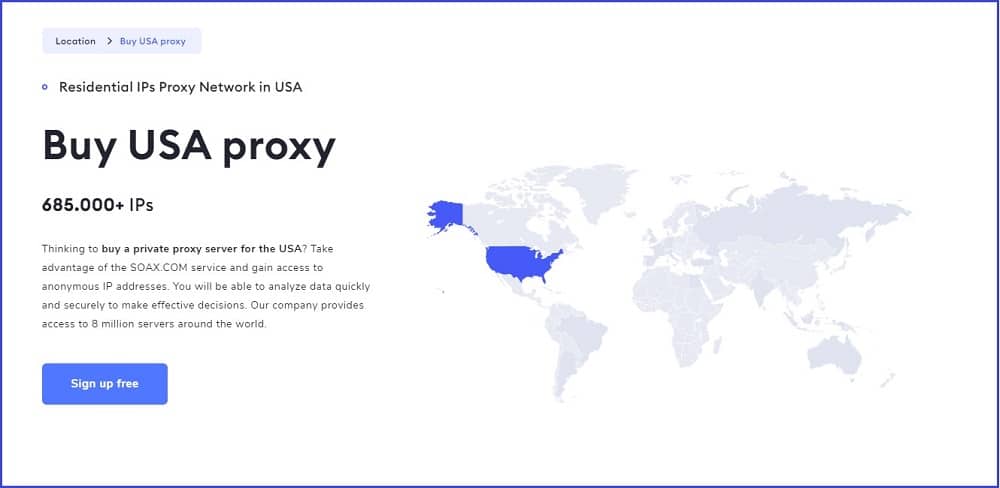 Pros
Ability to purchase daily proxies
Affordable US mobile proxies
Cons
Only one-hour free trial
Bandwidth is limited on all packages
---
IPRoyal – Fastest US Proxy Provider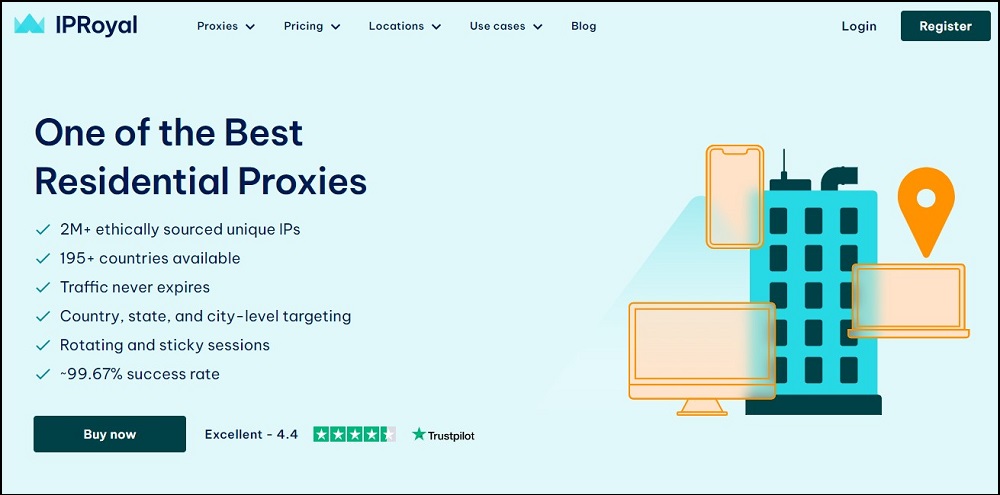 IPRoyal is a relatively new proxy service provider but one that has already made a name for itself. Its proxies are praised for extraordinarily high speed, and in just a few years, they established a network of 8+ million IPs, out of which 340k are in the US.
Although the network is smaller than some proxy network giants, it is very fast with excellent uptime. The HTTP(S) and SOCKS5 protocol support are suited for privacy-related operations, and you can choose one of five US proxy types: rotating or static residential, datacenter, mobile, and sneaker proxies. Their rotating residential proxies outshine the competition providing non-expiring traffic, so you can use them whenever you need.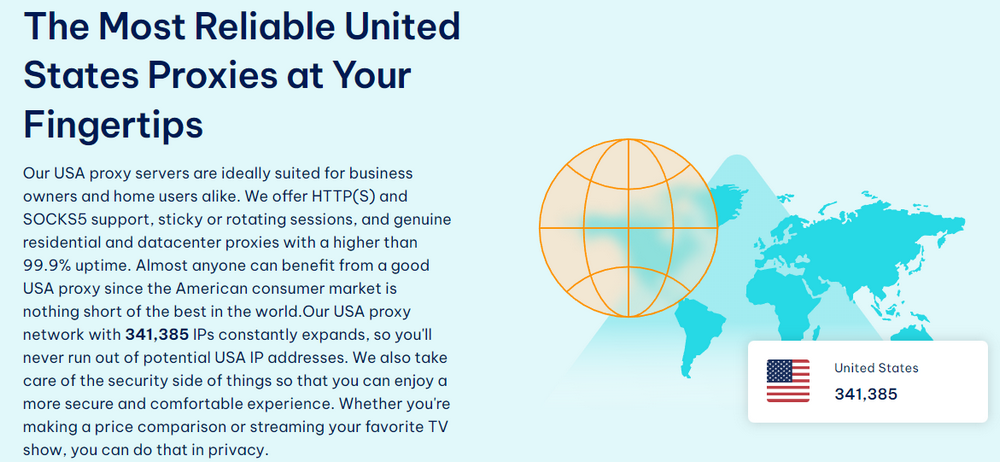 Regarding additional features, there are Chrome and Firefox browser extensions, a proxy tester, and an informative blog with how-to guides and in-depth proxy technology explanations. All additional benefits are available on all payment plans, which are competitive compared to the market average.
Rotating residential proxies charge per GB with a zero monthly minimum and without limiting how much you can order. IPRoyal asks to pay per proxy for static residential IPs, datacenter, sneaker, and mobile plans. With affordable prices, this is one of the best US proxy choices.
Pros
Competitive prices
Exceptionally fast proxy servers
Useful free-of-charge additional features
Cons
The US proxy pool could be larger
Does not offer a free trial
---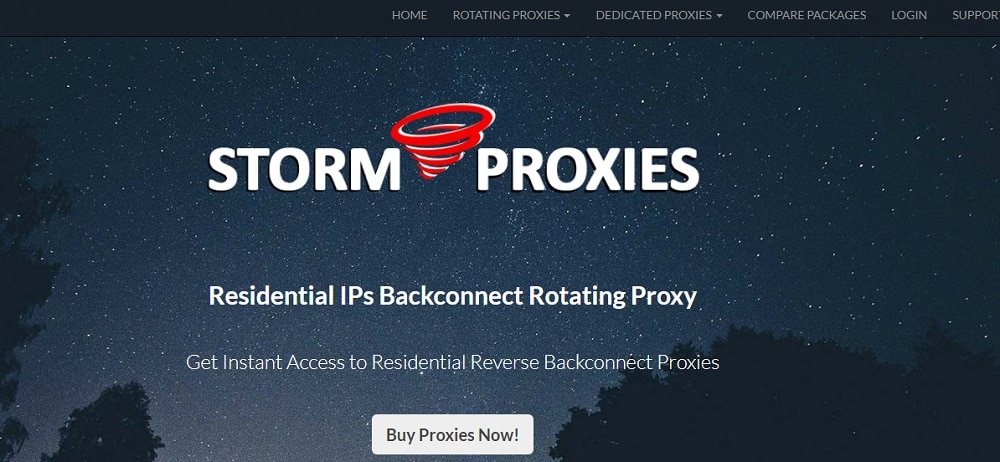 If you are on a tight budget, you may want to look into Stormproxies. Even though they have been around for quite some time, they don't have too much to brag about, including the number of proxies and available locations. Regarding the proxy pool, you'd get access to only 40 thousand IP addresses from the US and Europe. The problem is that the number of proxies available in the US is unknown.
Even though you are looking at probably the lowest number of proxies available, there is a good side. The first one is the price. Stormproxies is one of the cheapest US proxy providers on the market, and regardless of that, you are still getting some decent packages with the basic features, and all of them come with unlimited bandwidth. Since it's a cheap proxy provider, a free trial option is not available; instead, you only have a 24-hour money-back guarantee.
Pros
Unlimited bandwidth
Cheap
Cons
Not a lot of proxies available
Number of US proxies unknown
---

If you are on a really tight budget, or you don't need residential or mobile proxies, then this final US proxy provider may be the right one for you. MyPrivateProxy offers a pool of over 200 thousand US proxies in 20 cities around the states. All of their servers are connected to 20 Gbps connections, meaning that speed bottlenecking is not something you'll encounter here.
As with most datacenter proxy providers, MPP offers shared and private proxies with access to multiple locations, unlimited bandwidth, and nonsequential IP addresses upon refresh. Regardless of what type of proxy you decide to go for, there are multiple packages where you purchase the number of proxies you need. You are limited by 100 threads by proxy, which should be more than enough for whatever you need.
A small disappointment is the fact that there is no free trial option, but since the prices are cheap, you can purchase a package and test the proxies. If you don't like them, you can ask for a refund within three days of purchasing them.
Pros
Unlimited bandwidth on all types of proxies
Cheap
A decent number of available US proxies
Cons
US locations limited to only 20 cities
No free trial
---
Will using US proxies allow me access to US restricted content?
Yes. The entire idea behind the proxies is that you use them to make it look like you are accessing a website or service from there. You still will be using your own IP address, but the traffic will pass through the proxy and will be sent to the website's server. That way, the server will see a US IP address and will provide you with access to it. Otherwise, if it sees a non-US IP address, you will be denied access.
What are the laws about using US proxies?
If you are not from the US, then your local laws will apply. In any case, the use of proxies is not forbidden, and there is no law against it. You may be breaking a few rules that some websites or services have in their terms of usage. That is why it is recommended to use residential or mobile proxies because the chances of getting caught are minimal.
Will I be able to scrape US websites that only people from the US can access
Yes. One of the many applications of proxies includes scraping as well. In order to be able to successfully scrape a US website with limited access to people from other countries, first, you will need US-based proxies. The next step is to figure out if that website is strict about the type of proxies you can use on it.
Some websites will allow you to access them with datacenter proxies, while others will require you to purchase residential or mobile proxies. Either way, do a research first before you decide to buy the proxies. Also, for scraping, it is essential to have more proxies to avoid getting them banned.
Read more, Different between datacenter proxies and residential proxies
---
Conclusion
Considering how high the demand for US proxies is, there is an extremely high chance that you will be able to find a provider that would work for you. The list we compiled is the US proxy providers that we think are the best choice, but they are not the only ones. If you find a provider that suits you better, go for it.
---