Twitch is a game streaming platform that has grown quite significantly over the past several years. With over 15 million users accessing the service every day, we can safely say that it is the most popular one today.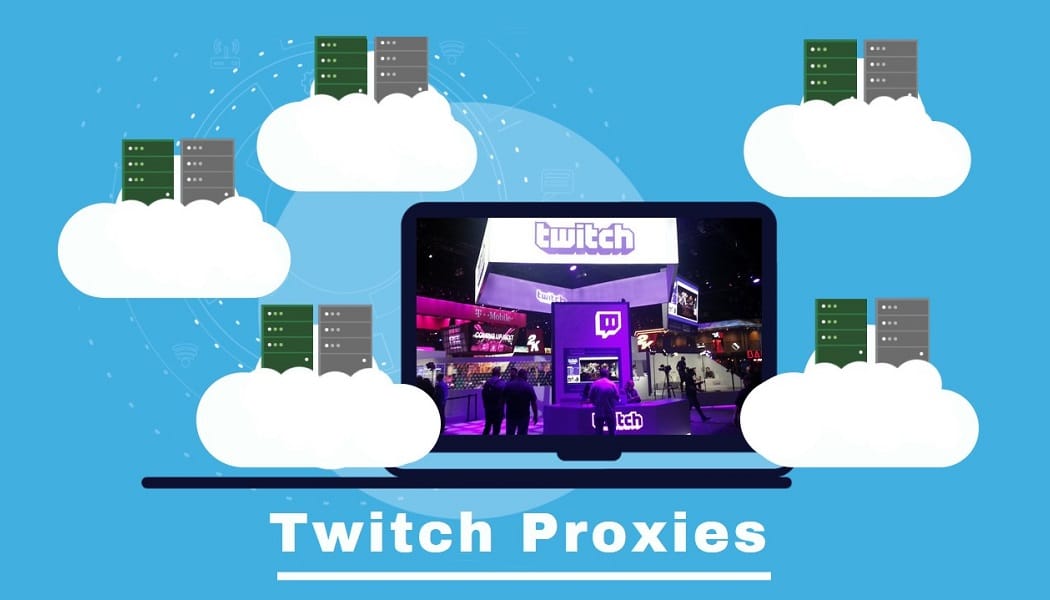 People often get confused when we talk about Twitch proxies, but there are some cases where you'd need them.
The first and most commonly used application for Twitch proxies is due to restrictions. Some countries don't allow access to the service, so you'd need to use a proxy. A similar story is with schools, libraries, or workplaces that restrict access to Twitch.
Another everyday use for Twitch proxies is with bots. There are automated viewer bots that generate views, create accounts for followers, etc. Using bots from a single IP address like your home one will result in a ban. To bypass it and still have success with the bot, it is recommended to use Twitch proxies.
With most proxies that we talk about, we always recommend going for residential proxies, especially for these kinds of applications. The reason is that they are IP addresses that ISPs assign to their users. When a proxy accesses the service, it will view it as a regular user and won't ban it. Datacenter proxies are not as good as the residential ones, but there are some decent choices.
Today we are going to cover both sides. We'll be outlining residential and datacenter Twitch proxies for you to choose from. That way, you will have various options, depending on the number of proxies, locations, and price.
---
Best Residential IP Proxies for Twitch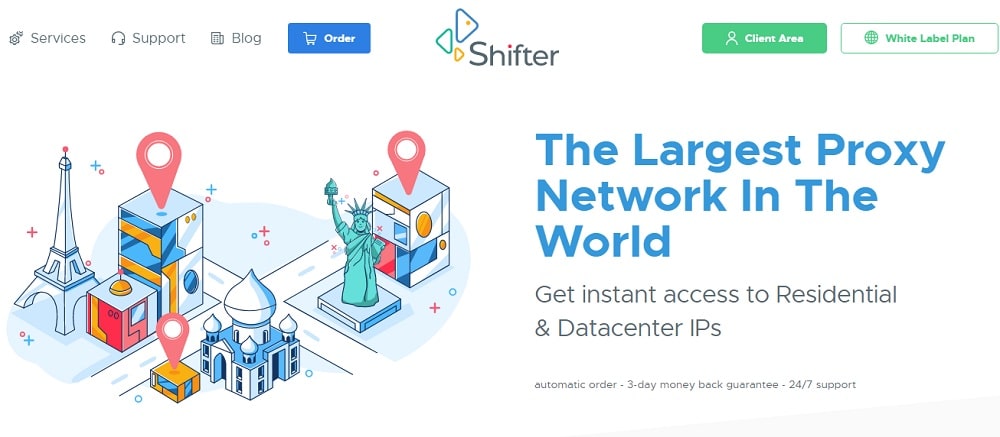 For many people, Shifter may not be the first choice when it comes to Twitch proxies, but it is an excellent provider. It has an IP pool of over 31 million proxies in every country in the world. Regarding the locations, that is their claim, but the list of countries is not available on the website. Still, with that many IPs, we can say that the claim is valid.
While most proxy providers will sell packages based on the included bandwidth with access to the entire pool, Shifter does it differently. There are basic and special proxies where you purchase as many proxies as you need to use.
For Twitch, we recommend using the special proxies because they offer geo-targeting, which is essential. The packages range from 10 to 4000 proxies, but unfortunately, you don't have the option for more. The good side to Shifter is that you get unlimited bandwidth with all packages.
You cannot test the proxies with a free trial. Your only option is to get a package, and we recommend getting the smallest one and try them that way. You will have 3 days to ask for a refund if they don't work.
Pros
Bandwidth is unlimited
Over 31 million proxies
Tons of packages available
Cons
No free trial
Not the most affordable
---

If you are on a tight budget, Stormproxies can accommodate you. This is one of the cheapest ways to get residential proxies, but it is far from the best choice. Unlike all other Twitch proxy providers in this article, Stormproxies can offer you only 40 thousand proxies, which is one of the smallest pool of proxies on the market. Another downside is that the proxies are in the US and EU. The locations are not bad, but the exact EU locations are not known.
The packages are divided by the number of ports you use, ranging from 5 to 50 ports. It means that you get access to the entire pool of proxies, and it also includes unlimited bandwidth. Even though the Twitch proxies are rotating, you can keep a sticky session for up to 5 minutes.
There is a way to test the proxies, but it's not through a free trial option. You will need to purchase a package and go for the 24-hours money-back guarantee if you are not satisfied.
Pros
Cheap residential Twitch proxies
Unlimited bandwidth
Cons
Small IP pool
US and EU locations only
---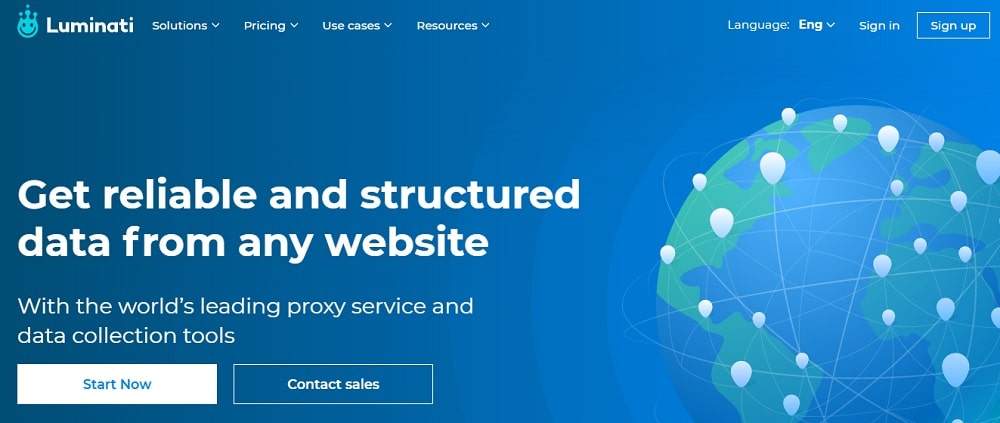 If you want to get your Twitch proxies from the best provider without worrying about the price, Luminati is the provider to go to. It is one of the most expensive proxy providers with over 72 million proxies, and they have at least one proxy in every country. Considering the price, there are some additional goodies on top of the huge number of Twitch proxies. The advanced geo-targeting enables you to get proxies from a specific country, and the automated rotation will ensure that each Twitch session receives a new IP address are only a part of the features.
As mentioned, Luminati is not cheap, but there is a good variety of packages to choose from. All plans have limited bandwidth, and if none of the 4 existing ones don't work for you, there is the option to create a custom one. A relatively new addition is the pay as you go package. With it, you don't have a monthly commitment and pay for the bandwidth you spend.
While most Twitch proxy providers only offer a refund option, Luminati has a 7-day free trial for you to test the Twitch proxies.
Pros
Biggest pool of Twitch proxies
IP addresses in every country in the world
Free trial
Pay as you go package
Cons
One of the most expensive options
No option for unlimited bandwidth
---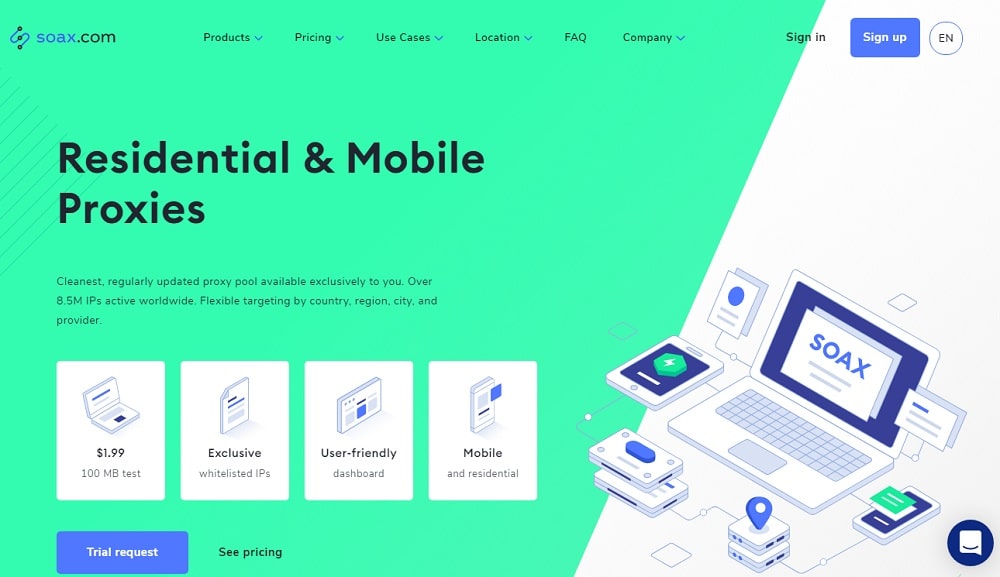 The last Twitch proxy provider is one with a reasonable price per performance ratio. The proxy pool has over 8.5 million proxies in over 120 countries worldwide, where around 5 million are residential, and the rest are mobile. The number is not as high as Luminati, but considering the price, it is an excellent Twitch proxy provider.
You can choose from the 4 available packages, where each one will give you access to the entire pool, and the difference will be in the included bandwidth. There is a 5th enterprise plan that enables you to get a bigger limit on the bandwidth. If you don't want to pay for monthly commitments, you have the option to get daily Twitch proxies. All monthly and daily packages will provide geo-targeting.
Soax claims to have a free trial option available, but that is not exactly true. While you do get 3 days to test the proxies, you will still need to enter your payment information and pay $1 for that.
Pros
Competitive price
Wide location coverage
You can get daily Twitch proxies
Cons
The free trial is not free
No unlimited bandwidth
---
Best Datacenter IP Proxies for Twitch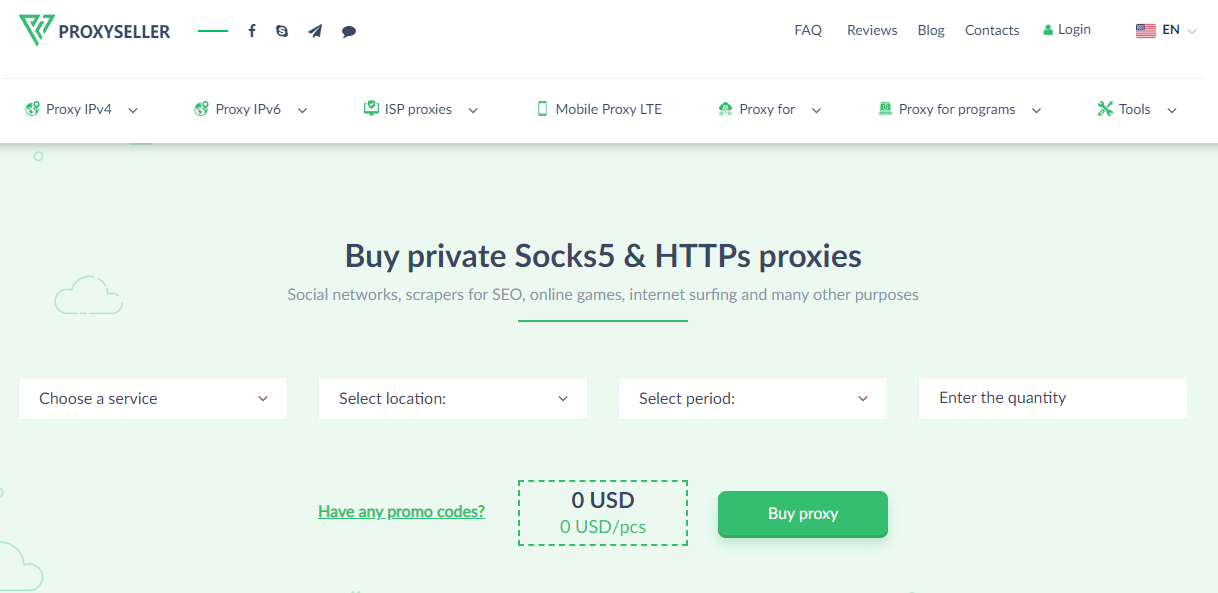 If you have been struggling to choose the perfect twitch proxies, then you are at the right place; Proxy-Seller offers customers around the world not simply elite twitch proxies but also highly anonymous. Though not specifically twitch proxies, the company has excellent social media proxies compatible with all social media platforms.
This is the provider's advantage over other private social media proxies. Other than 99% uptime, these social media proxies have a high connection speed, render 24/7 technical support services, and have good location coverage. Once you order the proxies, the team selects the effective IP addresses based on your needs to ensure you obtain the best. If it fails to work, you can request a refund or replacement.
All IP addresses are private, uninterrupted, and support over 50 countries with over 500 subnets and over 400 networks to access random Ip addresses for your twitch tasks. Count on the Proxy-Seller social media proxies to increase your twitch engagement, such as likes, comments, etc.
Pros
Guarantees uninterrupted connection speed.
Good location coverage in over 50 countries
Highly anonymous and private IP address.
Cons
Customers don't enjoy a free trial
Newbies face configuration issues.
---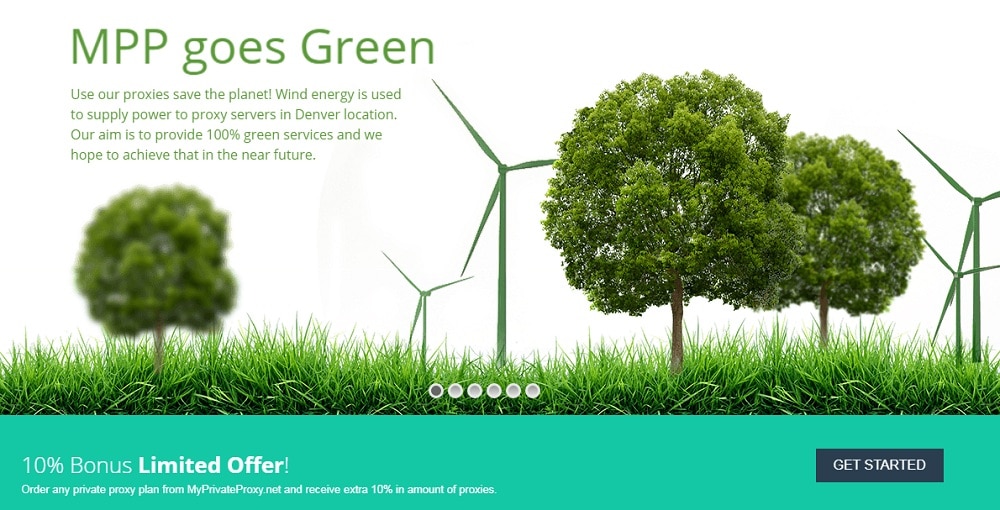 MPP is a reasonably popular private proxy provider that offers Twitch proxies. They have around a quarter of a million proxies in multiple datacenters. Most of them are located in the US, and there are a few throughout Europe. The US servers are connected to 20 gigabits, while the European ones have 2-gigabit connections. In both cases, you will be getting excellent speeds.
There are several types of datacenter proxies, and for Twitch use, we recommend to get private proxies because only you will be using them. You get 10 predefined packages to choose from, ranging from 1 to 2200 proxies. If that is not enough, you can get even more by getting a custom plan. All plans except the cheapest one get access to multiple locations and subnet features, but they all come with unlimited bandwidth.
You cannot test the proxies for free, though. You will need to purchase a package, and you will have 3 days to ask for a refund if you are not satisfied.
Pros
Unlimited bandwidth with all packages
Wide range of packages
Gigabit speeds on their datacenters
Cons
Not the cheapest option
Most Twitch proxies are from the US
---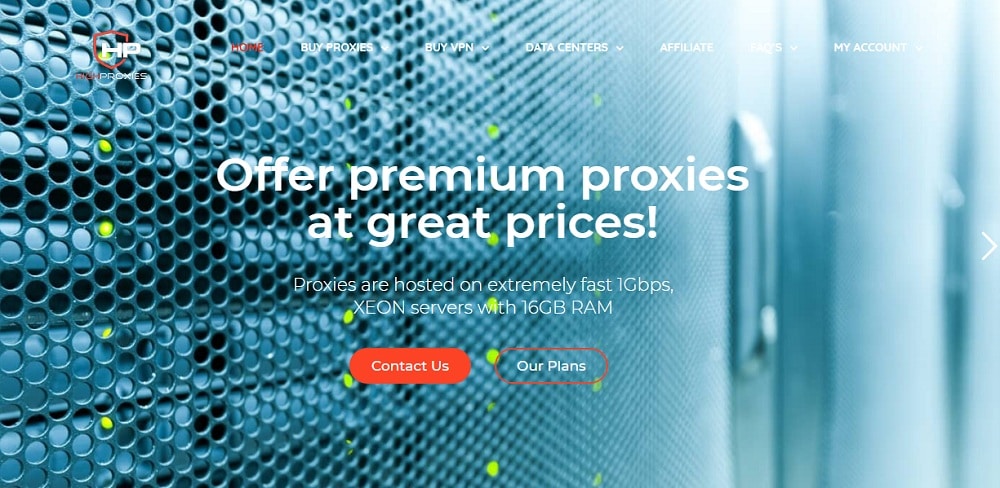 If we make a direct comparison between HighProxies and MPP, we'll see there are some similarities. You have a pool of 100 thousand proxies in datacenters in the US, EU, and Israel. The story is similar here; most of the datacenters are located in the US and have gigabit connections.
Another similarity between these two is the prices. Overall, the price per Twitch proxy is similar, but the maximum number of proxies you can get is 1000 without an option to customize your own plan. The plans that offer multiple Twitch proxies get multiple subnets and locations, while all plans will randomize your proxies each month. During the process, you get non-sequential IP addresses.
The trial and refund options are similar to MPP. A free trial option is not available, leaving you with the option to pay and ask for a refund within 3 days.
Pros
Competitive price
Slightly wider location coverage
No limit on the bandwidth
Cons
No free trial
No custom plan
---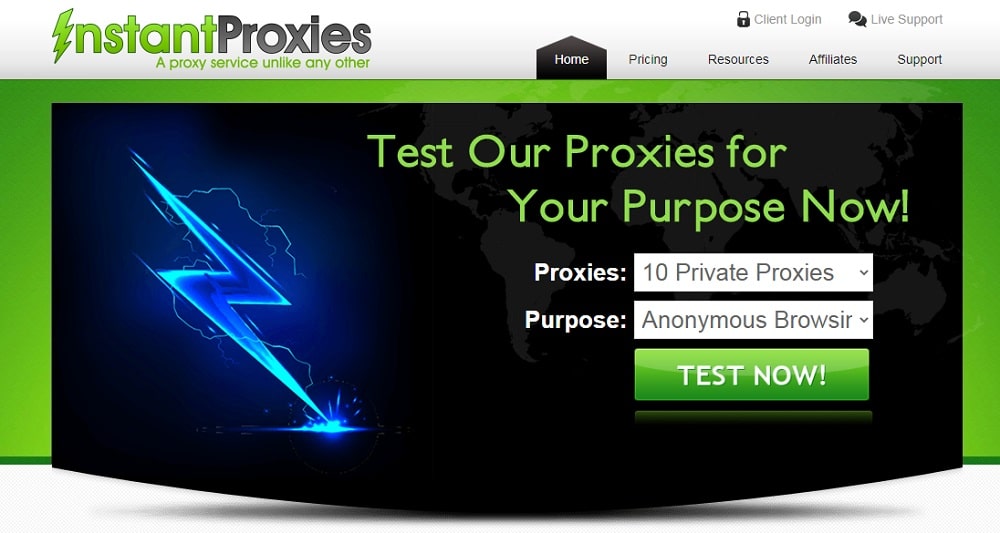 Last but not least, in our list of datacenter Twitch proxies, is InstantProxies. The provider offers very little information regarding its proxies. The number of available Twitch proxies and their locations is unknown, making it not the most attractive choice. They claim to have fast proxies with high uptime, but we always take that with a grain of salt.
The packages are decent and cover a wide range of Twitch proxies. You can get from 10 to 500 with the option to get a custom plan if you need more. Price-wise the proxies are quite a lot cheaper than the other two datacenter providers. The plans vary in other areas as well, such as the number of available cities or subnets. At the same time, all of them come with unlimited bandwidth and are proxies with elite anonymity.
A free trial is not available, which is not surprising. To balance things out, they offer a free Twitch proxy tester. Essentially, it runs the proxies through a test and shows you the results. If you are happy with them, you can purchase the same proxies that the service tested. Also, there is a 7-day moneyback guarantee if the proxies don't perform as advertised.
Pros
One of the cheapest options
Bandwidth is unlimited on all packages
Proxy tester
Cons
The number and location of proxies is unknown
No free trial
---
Frequently Asked Questions
What will happen if I don't use a Twitch proxy?
It depends on the situation. If the service is blocked in your country, school, work, then trying to access it without a Twitch proxy will be unsuccessful.
If you plan to use a Twitch bot, the service will pick up that many requests are coming from your local IP address and will ban it.
Can I use a Twitch proxy if my local address is already banned?
Yes. The goal of a Twitch proxy is to mask your local IP address. If you use a proxy, the service will be looking at the proxy address, not your own, meaning that you won't have any problem with that.
The same goes if you get one of your proxies banned. Just replace it with a new one, and you are good to go.
Are residential Twitch proxies better than datacenter ones?
We often praise residential proxies and say that they are better than datacenter ones, but that is not always the case. The goal of a Twitch proxy is to hide your real identity by masking your IP address.
In general, residential proxies are better at that because they are IP addresses from excising internet connections. Datacenter proxies come from providers that purchased them in bulk, meaning that the chances of staying hidden are lower.
Residential proxies are more expensive but will provide anonymity for sure. Datacenter proxies are cheaper but won't always work as you hope.
Am I allowed to use Twitch proxies?
No service is happy about its users accessing it through proxies and goes against their terms and conditions. With that said, as long as Twitch doesn't identify that you are using a Twitch proxy, you will have no problem with that.
What are the best locations for Twitch proxies?
There is no limitation on this. One thing to keep in mind is that some countries have restricted access to Twitch, so getting proxies from those countries is not a good idea.
How to tell if the proxies from a provider will work with Twitch?
The best way to test this is to go for a free trial option if the provider offers it. If that is not an option, then you will have to purchase a package and ask for a refund if the proxies don't work with Twitch.
Conclusion
As Twitch's popularity grew, so did the need for proxies. Some people have limited access to the service, while others may want to use a Twitch bot. In both cases, a Twitch proxy is the way to go.
To aid you in your search for the best Twitch proxies, we have compiled a list of the best providers. Since residential proxies are a better choice but the more expensive one, we also included datacenter providers. That way, you will have a choice, especially if you are on a tighter budget.
---
More Helpful Guides,
---