Do you need good Shopify proxies to use on your bot? Our articles will provide you with our list of top three residential and datacenter Shopify proxies that you can pair with your Shopify bot.
The popular e-commerce platform, Shopify, has provided an excellent website service for individuals and companies looking to sell merchandise. In recent years people have been using bots to make instant purchases on Shopify sites.
In some cases, the bots themselves will not be able to do its job done, so something else is required and that something else is Shopify proxies. They work in combination with the bots to provide an added advantage when you are looking to be the first to get your hands on some items.
In this article, we are going to outline the top three residential and datacenter Shopify proxies that you can pair with your Shopify bot.
---
Best Residential Shopify proxies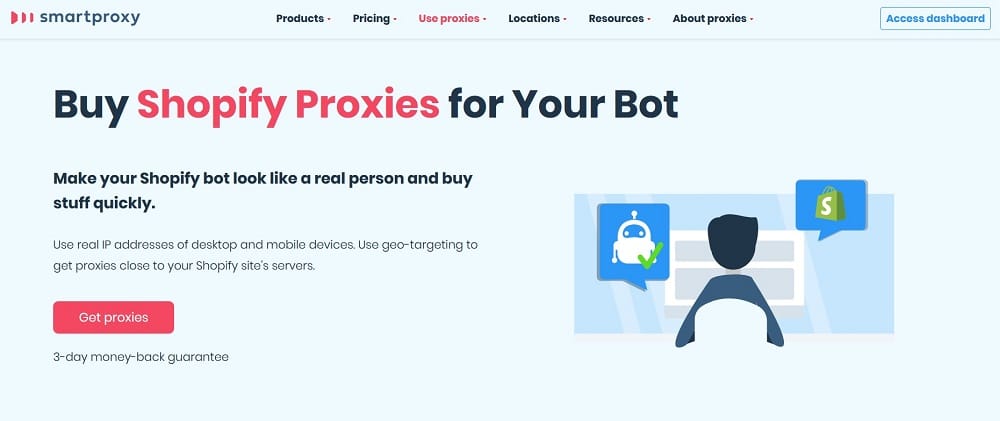 Often ranking high on the most list of the best Shopify proxies, we begin our list with it. Smartproxyoffers a proxy pool of over 10 million IP addresses in almost every country in the world. That many proxies in over 195 locations make it a very sought-after proxy provider. You do get a decent set of features that can be limiting in certain situations.
The geo-targeting option is limited to only eight cities, and over half of them are located in the US. You also have an option to have a sticky or rotating session, but the sticky session can be only last up to 10 minutes.
The pricing plans for the Shopify proxies are clearly laid out, and the price will depend on the amount of included bandwidth while all of them include the same amount of proxies available. A free trial option is not available, so the only way to test the proxies is through a 3-day refund option.
Pros
Affordable option
More than adequate amount of proxies all over the world
Cons
Free trial option is not available
Bandwidth limited on all packages
Limited geo-targeting of cities
---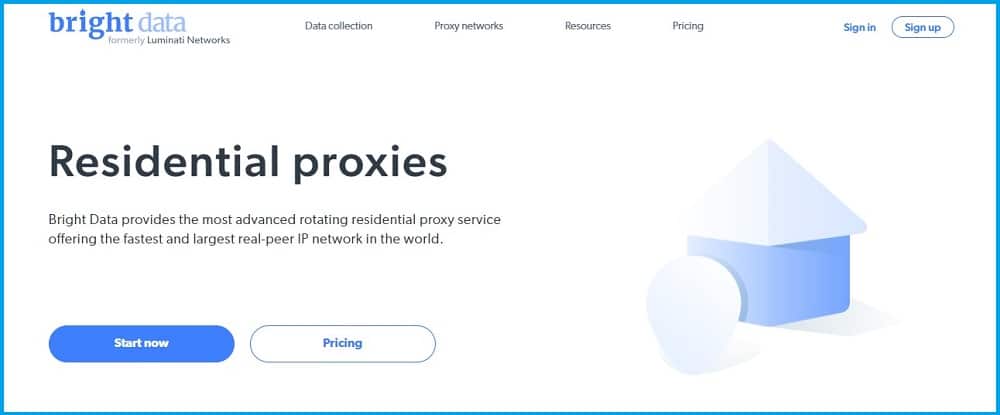 We saved the best for last. Bright Data is not only one of the best Shopify proxy providers; it is one of the best providers in general. With a large IP pool of over 72 million proxies in every country in the world, it is understandable why. On top of the millions of proxies at your disposal, Bright Data also offers tons of additional features.
The option to target a specific country or region, as well as the automated IP rotation with advanced options, makes this one of the best Shopify proxy providers you may find. The biggest downside this provider has is the price. When compared to most of the others on the market, you are looking at one of the most expensive ones available.
The good thing is that you have a variety of packages to choose from, where all of them come with the same set of features and available proxies, so the only difference is in the bandwidth included. Prices aside, Bright Data will offer you a 7-day free trial to test the proxies before you make a monthly commitment.
Pros
The largest number of available proxies
Feature-rich
7-day free trial
Cons
Expensive
All packages come with limited bandwidth
---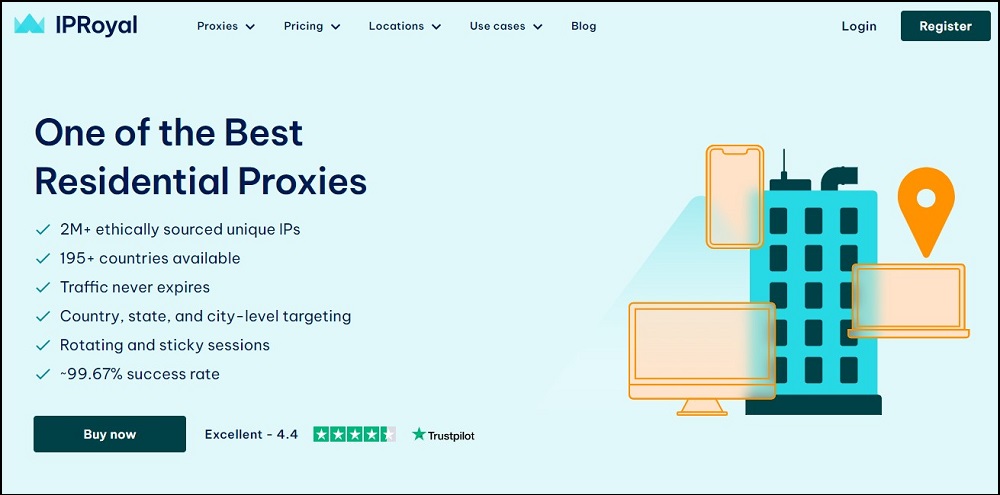 While IPRoyal is not the biggest proxy service provider, it delivers a great service at a great price. It has over two million rotating residential proxies in 195 worldwide locations, with city-level targeting for most countries. These proxy servers are ethically sourced from genuine users and mix well with Shopify bots to enhance your experience on the platform.
Shopify's popularity makes it hard to acquire top-notch items because they are nearly instantly gone to someone else. Combined with a Shopify bot, IPRoyal's proxies will put you in front of the line by automating the process. Furthermore, they offer sufficient only anonymity benefits to protect your Shopify account from undesired attention.
This provider has a good price-value ratio optimized for both business needs and casual use. Businesses can negotiate better prices for big operations. Simultaneously, IPRoyal has flexible plans suited for individual use.
Pros
Highly competitive pricing
Optimized for business and personal use
24/7 support
Cons
Fairly limited IP address pool
No free trial
---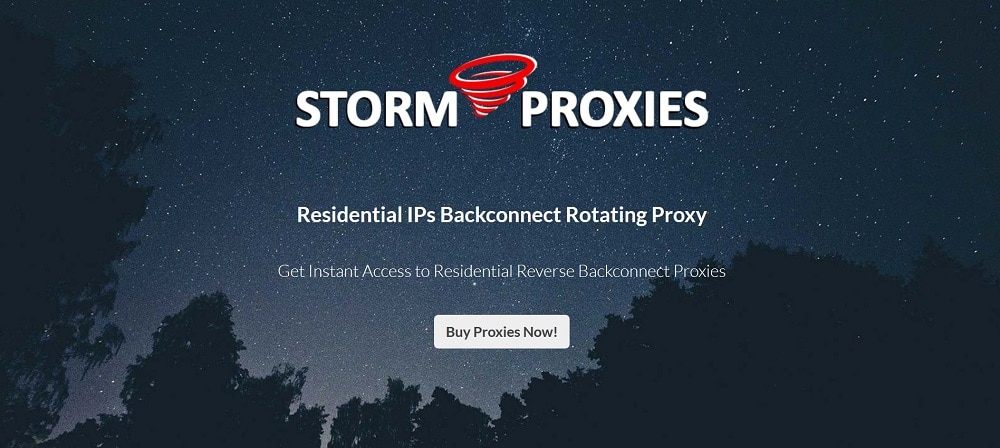 Not very competitive with features, but definitely competitive with prices, Stormproxies is a provider that can offer decent Shopify proxies. The biggest downside to this provider is the number of available proxies. With only 40 thousand of them in their IP pool, it the least we have seen in many years.
The lack of information regarding the location of the proxies is another big disappointment for most. The only info available is that they are from the US and the EU regions. Getting an automated rotation function is a nice touch, and the fact that everything in the dashboard is clearly laid out makes it great for first-time users.
The pricing is where this Shopify proxy provider excels. The cheap prices, combined with the variety of packages, is what draws most people. All packages come with unlimited bandwidth, so you are paying for the proxies you will need. Being this cheap means that a trial option is not available. You only get a 24 hours money-back guarantee.
Pros
Cheaper than most of the competition
Unlimited bandwidth on all packages
Cons
Small proxy pool
Limited number of locations
---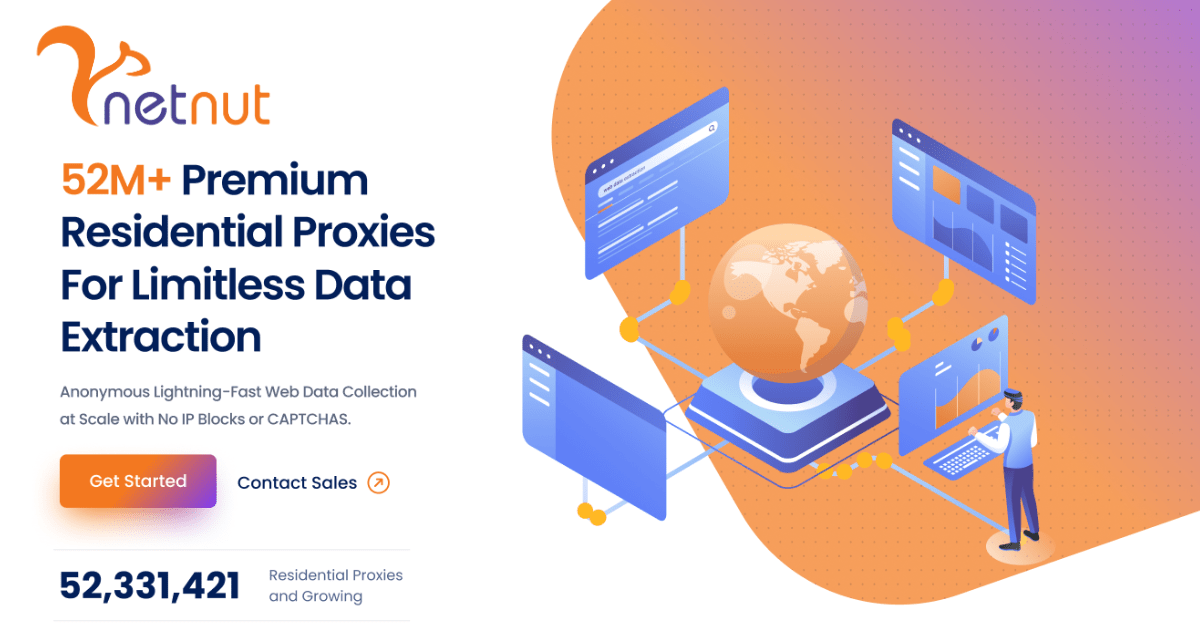 NetNut's Residential Proxies is an interesting and strategic tool to overcome Shopify's limitations. While Shopify imposes certain restrictions, NetNut's advanced proxy service offers a clever workaround. These undetectable proxies empower visitors to access the Shopify platform without the controls that could hinder your activities.
When Shopify says you can't access certain things or gather specific information, NetNut comes to the rescue with a wide range of over 52 million addresses that are spread out everywhere. With these proxies, you can go past the usual borders and log in to Shopify from anywhere on the planet. This opens up new opportunities for you to run ads or research markets in precise locations, and keep your local branding safe – all without any roadblocks.
NetNut's proxy network uses real addresses from regular people all over the world. This makes it tough for Shopify's computer systems to figure out that you're using a proxy. You won't get in trouble for sending too many requests or trying to gather a lot of data. Bid farewell to the frustrations of dealing with CAPTCHAs and IP bans – NetNut's private addresses make sure everything stays smooth and hassle-free when you're on Shopify trying to grow your business.
Starting at an affordable price of $350 per month for a big chunk of 20GB of data, NetNut's Residential Proxies is a pocket-friendly solution to help you do more on Shopify. You can then elevate your Shopify ventures with the Advanced Plan. Priced at $750, it grants a robust bandwidth of 50GB, enabling you to delve deeper into data and engagement strategies with your e-store audience. If you want to see just how well they work, NetNut lets you try them out at no cost for 7-days. This way, you can experience firsthand how these proxies can make your Shopify experience even better.
Pros
Global IP Pool
Unlimited Connections
Easy API Integration
Free 7-days offer
Cons
The API documentation might not be enough.
---
Best Datacenter Shopify Proxies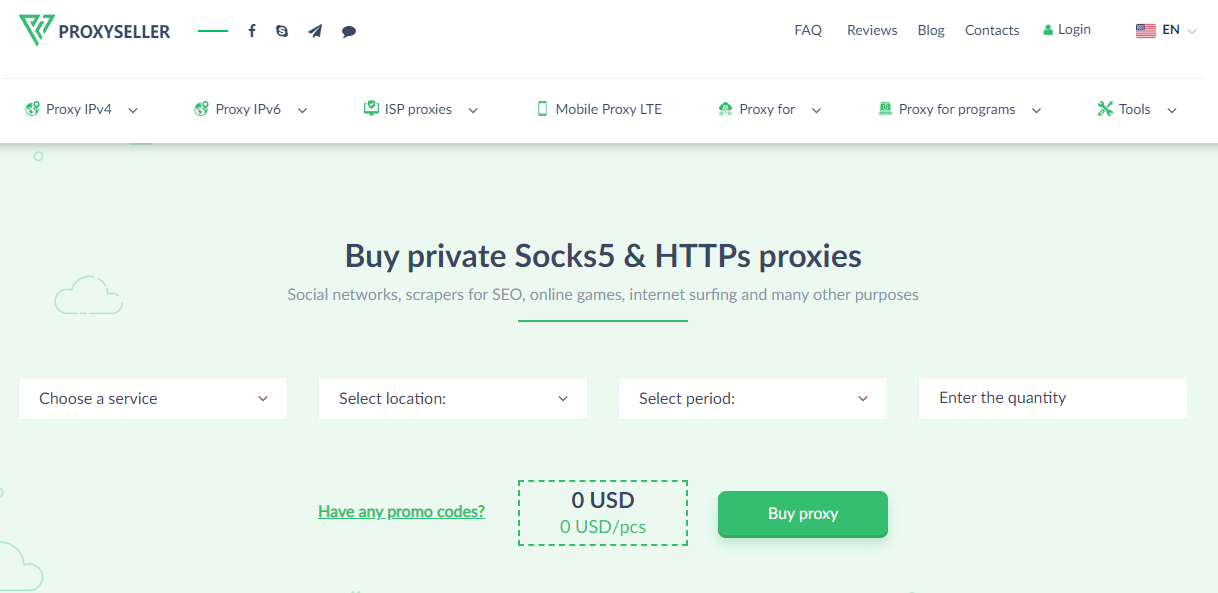 On top of selling mobile and residential proxies on the market, Proxy-Seller also has a special package for sneakerheads. If you are targeting to manage, and create multiple Shopify accounts and cop, then the company has special private proxies that are compatible with the sneaker sites like Shopify.
These proxies operate with the throttling speed and guarantee high anonymity as Shopify is sensitive. With its huge IP pool, you can surf the site without restriction, as the entire collection is exclusively meant for you.
In addition to the affiliate programs, discounts, and other things, these proxies assure you they will give you a high success rate on Shopify, and all the sneakerheads will enjoy it. They also support the HTTP(S) and socks5 protocols alongside the unlimited bandwidth on Shopify. The impressive uptime indicates any failures on the way, as it gives you military-grade security in the store.
Pros
Unlimited bandwidth
Good location coverage and server distribution
Have stellar connection speed.
High anonymity and bypassing Shopify restrictions
---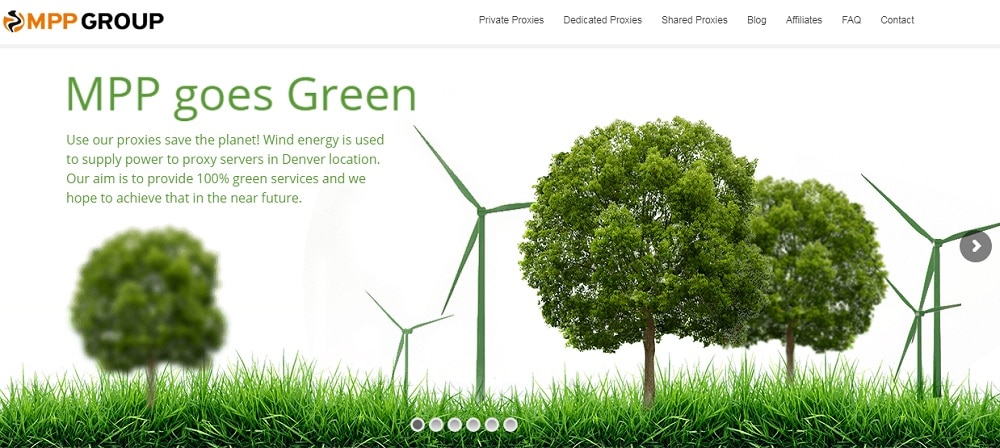 The first datacenter Shopify proxy provider that we are going to cover is MyPrivateProxy. In their lineup, they offer over a quarter of a million datacenter proxies in 24 locations, most of which are located around the US.
The proxies can be provided in a variety of packages that differ by type: shared or dedicated, depending on if you want to have exclusive usage rights over them or not. Another positive side is the fact that no matter what type of proxies you purchase, all of them come from servers connected to gigabyte connections.
The packages will allow you access to various locations, depending on the price, and your Shopify proxies will rotate each month automatically, giving you new non-sequential addresses. Unfortunately, testing the proxies is not available for free, so you can only utilize their 3-day money-back guarantee.
Pros
Competitively priced
An above-average number of available proxies
Bandwidth is unlimited
Cons
Not a lot of locations most of which are in the US
Free trial option is not available
---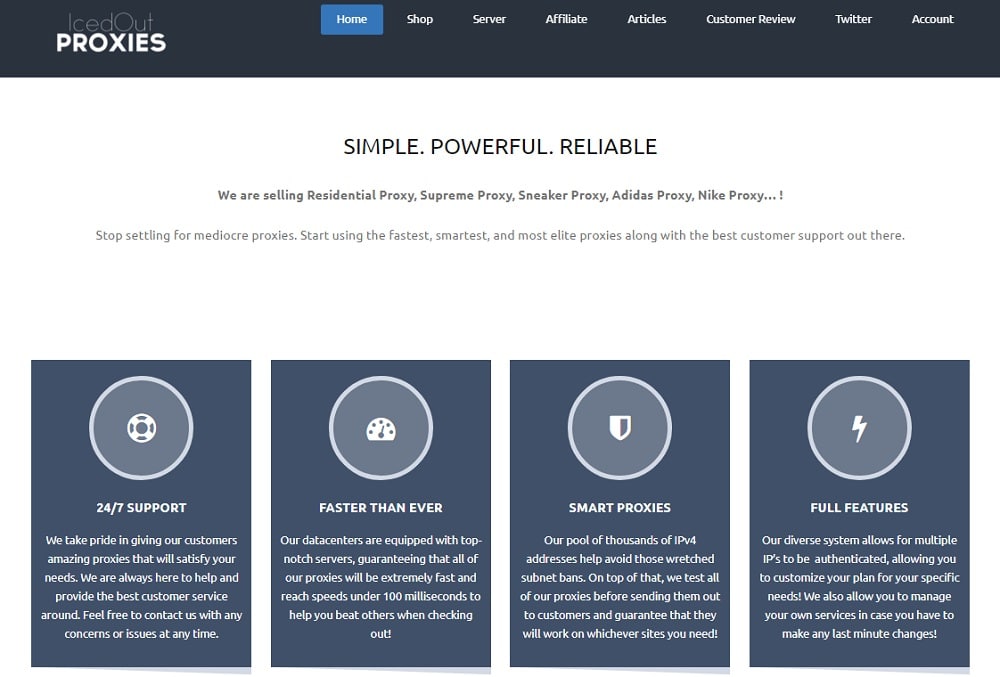 Far less popular, but still a decent Shopify proxy provider on the market is IcedOutProxies. Compared to MPP, this provider offers less regarding locations and available proxies. The exact number of IP addresses in their pool is unknown, and they claim to have thousands of proxies, but the locations are limited to several servers in the US and the UK.
Regardless of that, the set of features is just as you would expect from any other datacenter proxy provider. One thing that IcedOutProxies has got right is the pricing packages for the Shopify proxies. You get several types, each with several plans, depending on your needs.
A very welcomed feature is the fact that you can get daily packages for one-time use. Apart from that, the packages differ by the number of proxies and locations. A big downside is the fact that you do not get a free trial or a money-back guarantee, so you will need to purchase some proxies to test them out.
Pros
Daily packages available
Affordable prices
Cons
Not a lot of locations
No trial of refund options available
---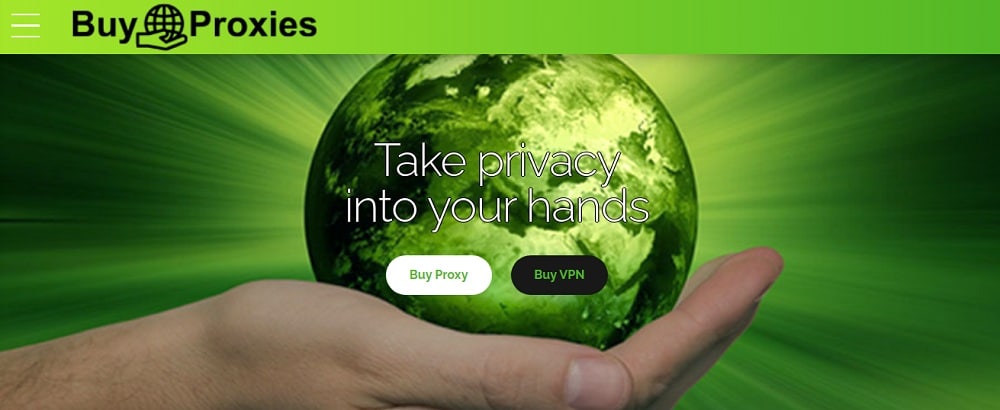 Even though the name might not sound like something fancy,BuyProxies is among the longest existing datacenter Shopify proxy providers.With over 50 thousand satisfied customers, BuyProxies seems like an excellent choice. A slight concern is the fact that they have proxies in the US and Europe, but the exact locations and number of available IP addresses are unknown.
A good side to this is the fact that all servers that they have are equipped with gigabyte connections, meaning that speeds and latency will not be an issue. Their pricing lineup consists of several types of proxies, each with various pricing packages, offering great flexibility. You pay for the number of Shopify proxies you need, and you get unlimited bandwidth on all of them. A free trial option is not available, but you get a money-back guarantee. The downside is that it is only for 24 hours.
Pros
Various proxy types and pricing plans
All packages come with gigabyte speeds and unlimited bandwidth
Cons
Lack of information regarding the number of proxies and locations
Not the cheapest option available
---
Frequently Asked Questions
Which Shopify proxies are better – residential or datacenter?
In general, residential proxies are better because they are much more anonymous, and they are less likely to be detected. A downside to residential Shopify proxies is that they are more expensive than datacenter ones, so if they are outside your budget, you could get decent datacenter Shopify proxies for your bot. Another advantage datacenter proxy has over residential ones is the speeds.
Must I use Shopify proxies with my bot?
It is not necessary to use Shopify proxies with your bot, but it is recommended. Proxies can mask your home IP address and replace it with a different one, thus avoiding detection.
What are the requirements for pairing a bot with Shopify proxies?
Technically there is only one, and that is for the bot to have proxy support. If your bot supports proxies, then you will have no problem using any Shopify proxies with it.
Are there free Shopify proxies available?
There are some free Shopify options available around the internet, but we do not recommend using them. If you are using a free choice, that means that the sensitive information will pass through an untrusted node, so your data may be compromised.
---
Conclusion
Regardless of which Shopify bot you are using, pairing it with proxies is the best approach to using it. Our list of residential and datacenter Shopify proxies covers a variety of providers that differ in price and performance.
---