Are you stuck trying to find an excellent Indian proxy provider? Our list of the best providers will put you back on track.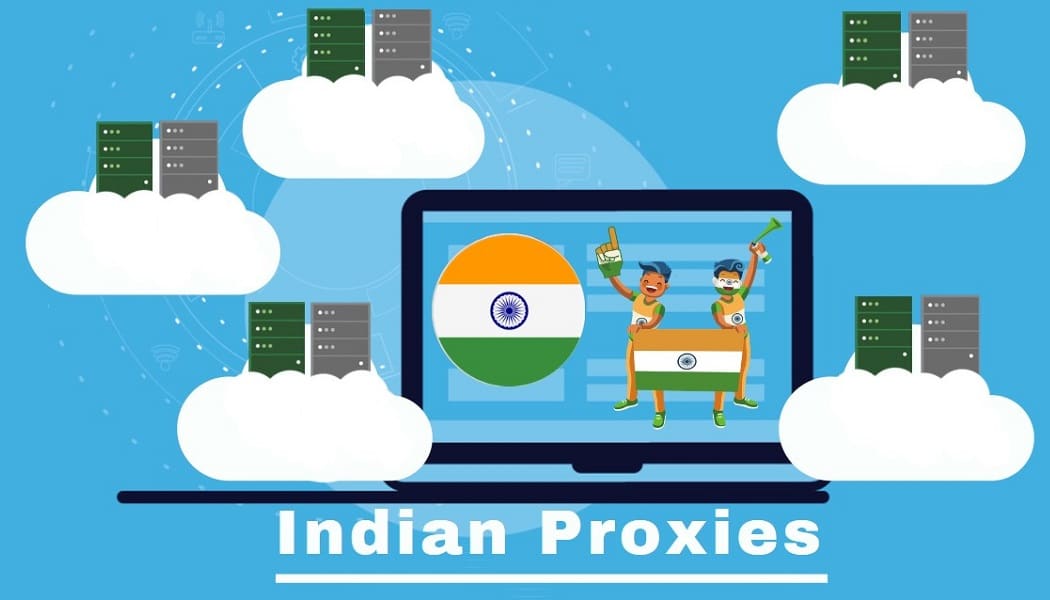 Proxies have become an essential part of our lives, regardless if we are talking about personal or professional use. Bypassing geo-restricted content, scraping, copping sneakers, checking prices, and so much more uses today cannot happen If you don't have the right proxies.
Getting proxies from a provider that has them in multiple countries is one thing, but getting proxies from a specific country can often be a struggle. The problem becomes even greater in a situation where you need proxies from a country that usually doesn't have too many of them – a country like India.
If you reached this part and you are in need of an excellent Indian proxy provider, we made a list that will help you with that. We will start off with a few free proxies, and then we will focus more on the paid providers.
---
Even though there are tons of websites where you can get free proxies, there aren't that many that offer Indian proxies.
---
When you pay for a service or a product, you should first research it and see if it's worth it. In our list below, we will go over the features of the Indian proxy providers so that you can decide which one is the best for you.
---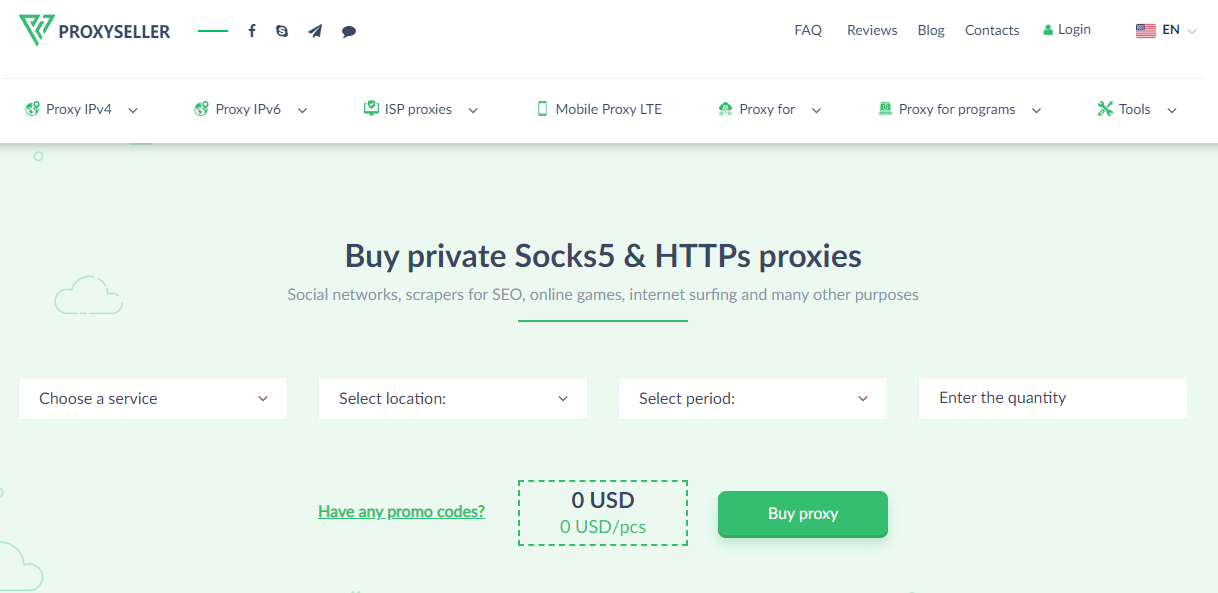 While Proxy-Sellers are well known to offer private proxies that cover multiple locations worldwide, they also have targeted proxies. Among them are the Indian proxies.
On their private proxies list, they have India as among the countries supported and specifically based on this location; you can buy the mobile 4G proxies or go for the IPV4 proxies, which are only opinions that are available in India. These indian based IP addresses offer you 5GB within 24 hours of traffic, high anonymity, good location coverage, and access to 24/7 technical support.
If you fail to achieve your target, you can request a refund or replacement within 24 hours. Therefore, the Proxy-Seller has one of the outstanding Indian private proxies on the market, and from our experience, these proxies have a low spam rate and impressive response time.
Looking at the carrier, mobile private proxies rely on Vodafone, but they give users the option to change the IP address or set automatic based on time intervals. Though IPV4 offers unlimited traffic, mobile private proxies have limited traffic access.
Pros
Impressive uptime of 99%.
High speed, efficacy, and guaranteed anonymity.
Control over IP rotation.
Cons
Expensive compared to the alternatives.
Limited traffic except for IPV4 proxies.
---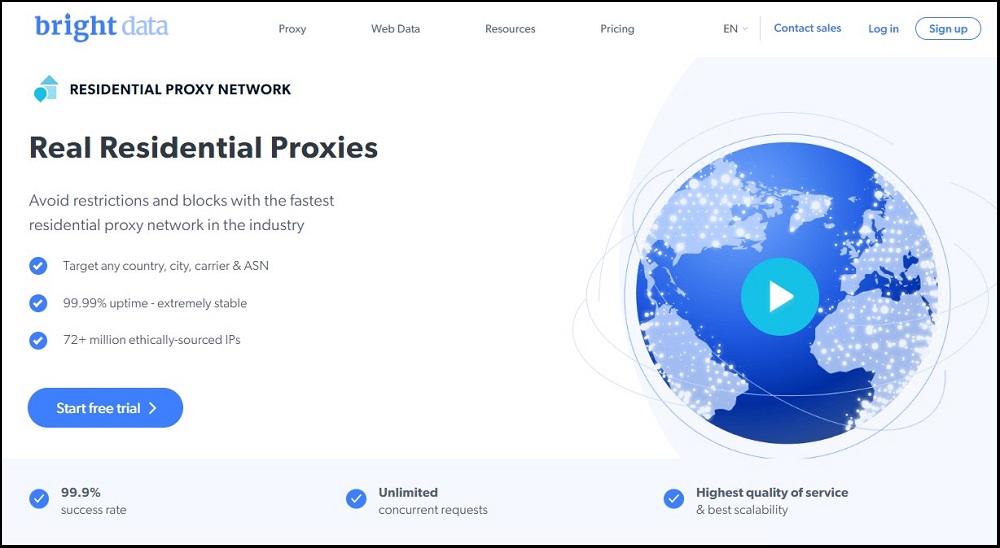 With the datacenter proxies aside, you may need residential or mobile proxies, and Luminati has got you covered. Their pool of Indian proxies consists of over 5 million proxies, where over 1.5 million are residential, and over 2.5 million are mobile. If you compare these numbers to any other provider and you will see that you are looking at the biggest number of Indian proxies anyone can offer.
The prices are not low and considering the sheer size of the proxy pool and the included features, it is understandable. You get access to the famous Luminati geo-targeting feature, where you can select specific cities or providers and get proxies from them.
As we mentioned, the prices are not for everyone's pocket, but you do get multiple packages to chose from, base on your needs, and you also have the option to pay for the proxies based on how much you use them. The free trial option is available to you for seven days, but if you do decide to purchase proxies from them, the bandwidth will be limited on all packages.

Pros
A huge number of Indian proxies
A free trial lasting up to seven days
Advanced geo-targeting
Cons
Among the most expensive providers on the market
No option to pay for unlimited bandwidth
---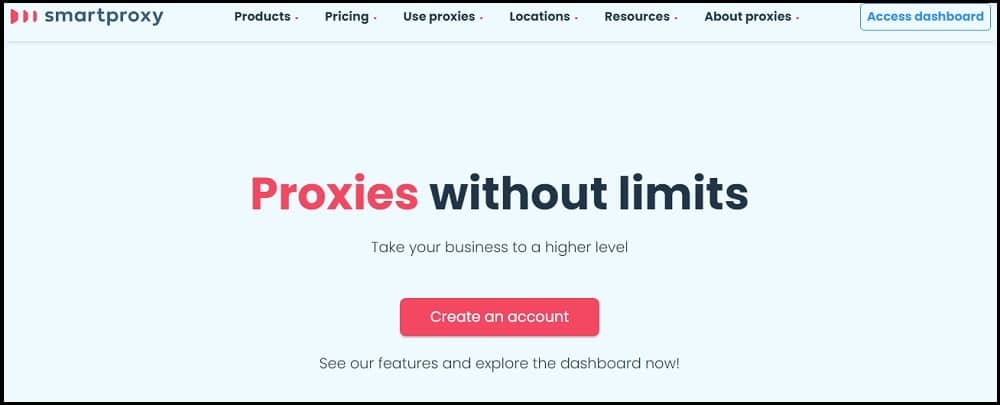 If you are looking for a cheaper option with also a lot of proxies, Smartproxy is the best. The pool of Indian proxies consists of over 9 million proxies, twice of what Lumiatni has to offer, and since it's the cheaper option, you are missing out on a few features. The main one missing is the city-level targeting. Smartproxy only offers you an option to target a handful of cities, but that will be unavailable for the Indian proxies.
Regardless of that, the proxies are much more affordable, so if you are okay with the lack of certain features, you'll like this option. Similar to the previous provider on our list, all packages come with limited bandwidth, but unlike it, you don't get an option to test the proxies for free. You are left with the option to pay for the proxies and ask for a refund, and that period lasts for three days.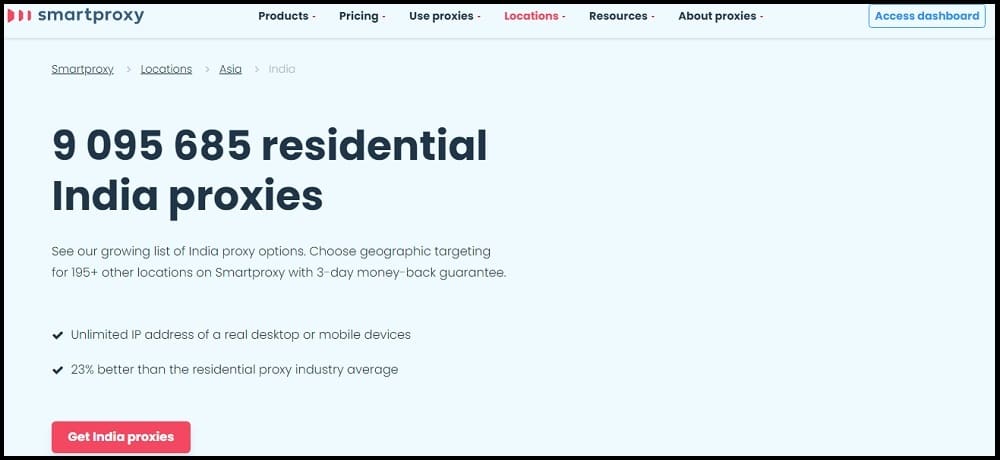 Pros
More affordable than some of its competitors
Cons
Lacks come features
No free trial or unlimited bandwidth options
---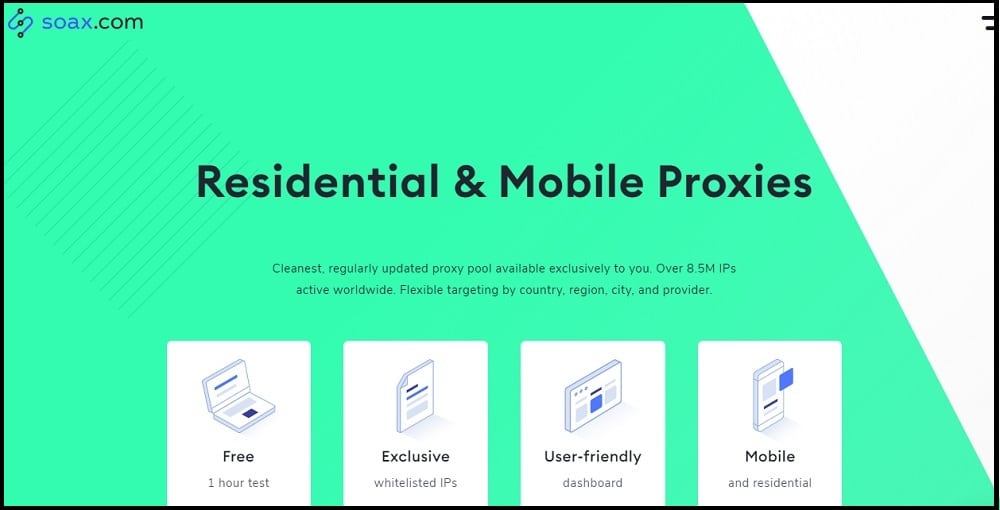 Often considered as a competitor to Smartproxy, as on option, you have Soax. The number of Indian proxies this provider has is over 2.5 million, which is a lot, but not the most that we have seen. Combining that with the prices for the proxy packages and we get another affordable provider on our list.
The price depends on the number of ports you purchase, and with that, you get access to the entire pool for rotation. You don't get an option for some detailed geo-targeting, but what you do get is daily packages.
With Soax, you have the option to purchase daily proxies, making it ideal for copping sneakers. In general, the prices are reasonable and you get a limitation on the bandwidth. The good news is that you have the option to test the proxies for free, but the bad news is that you only have one hour to do it.
Read more, Rotating proxies & IP Rotation for Scraper to bypass IP ban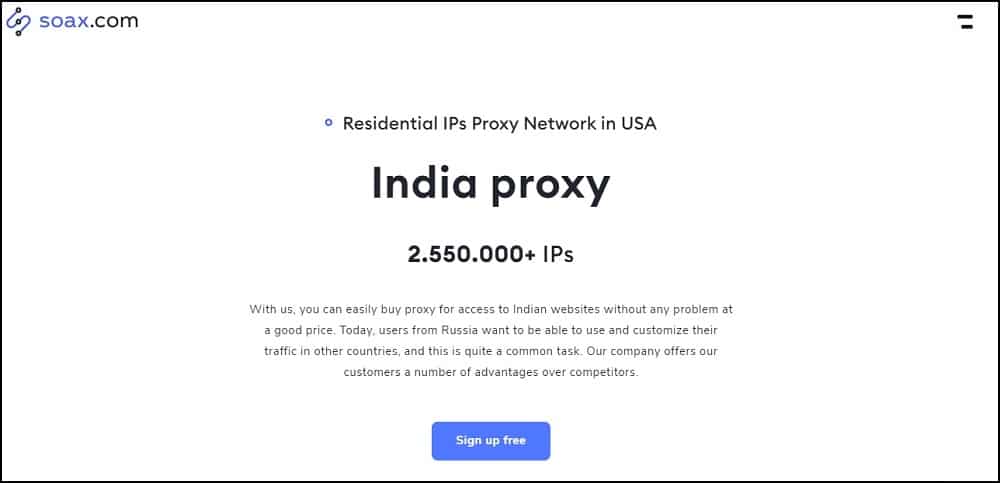 Pros
Decently priced Indian proxies
Option to purchase proxies for a day
Cons
One of the most limited free trial available
---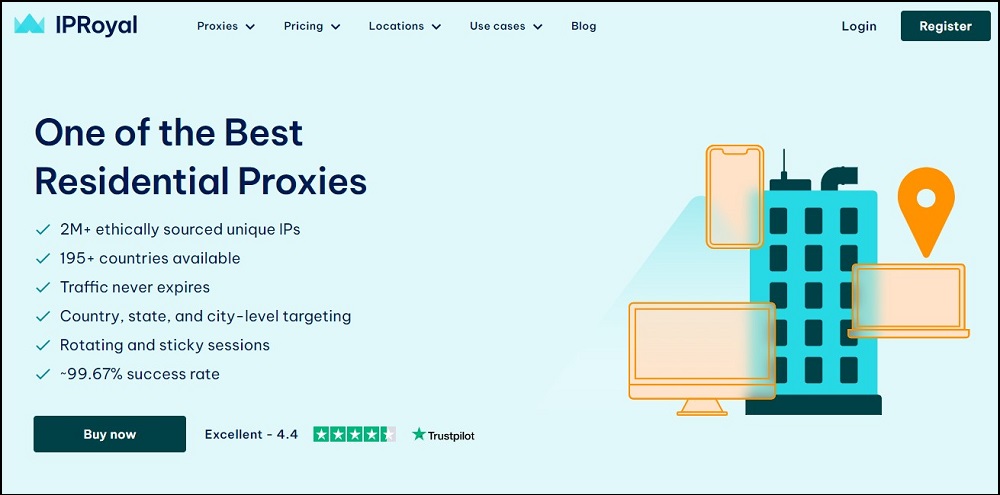 India has one of the most elaborate surveillance systems worldwide, which requires exceptional proxies if you want to remain private while operating there. When picking an Indian proxy service provider, you should look for the SOCKS5 protocol, which offers additional authentication and supports encryption for an extra layer of anonymity.
IPRoyal provides more than 137K residential (rotating and static) and datacenter proxies in India, and they all support the SOCKS5 protocol. Moreover, rotating residential proxies offer Indian city-level targetings, like Mumbai, Delhi, Hyderabad, and dozens of others.
Regarding pricing, their static residential and datacenter proxies cost per IP address, and rotating residentials are priced per GB used with no upper limit! The payment plans are flexible, providing a better price-value ratio the more you use it, and business clients can negotiate better deals for large-scale operations. Lastly, IPRoyal offers the required high-quality features: unlimited bandwidth, good connection speed, 99.9% uptime, and 24/7 customer support.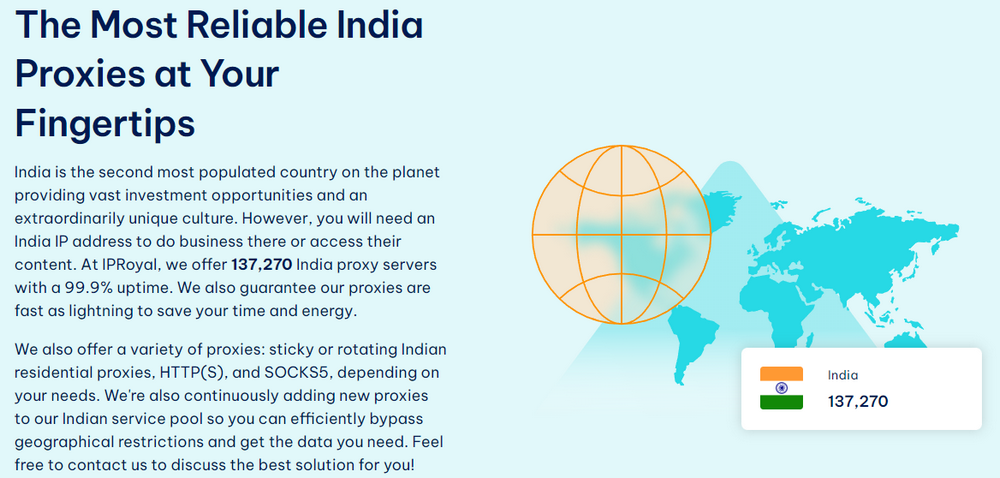 Pros
Excellent price-value ratio
SOCKS5 protocol support
Professional and responsive customer support
---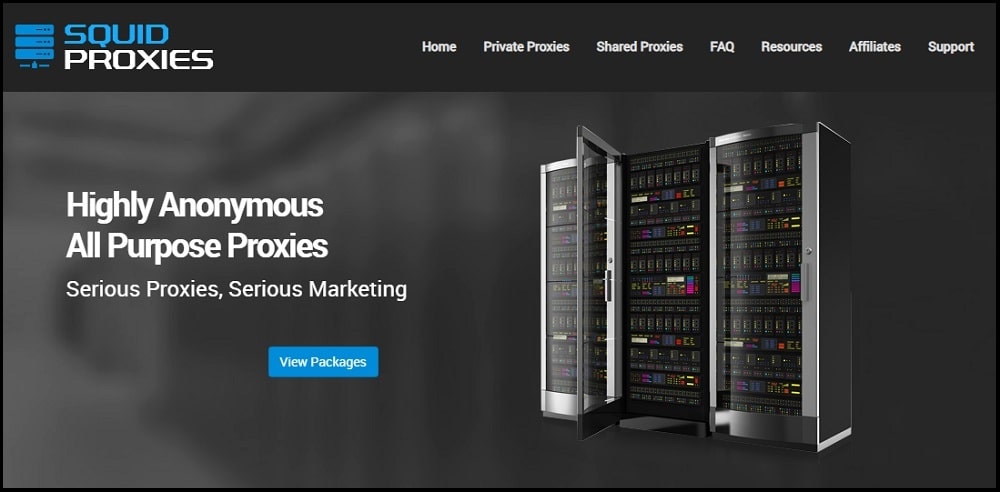 The first one on the list is a datacenter provider. SquidProxies is one of those providers where you will have to rely on a little bit of faith. They claim to have proxies in over 25 locations, and India is one of them. The problem is that they don't tell you how many proxies there are, so you will need to believe that it will be enough. They sell private and shared proxies in multiple packages based on the number of proxies you need.
The price for them is affordable, and with all packages, you get unlimited bandwidth and gigabit speeds. the only difference between the packages is the number of included subnets and cities. Due to some abuse in the past, SquidProxies don't offer free trial anymore, and your only remaining option is to purchase a package and use the money-back guarantee option within three days.

Pros
Affordable prices
Excellent speeds with no limit on bandwidth
Cons
The number of Indian proxies is unknown
---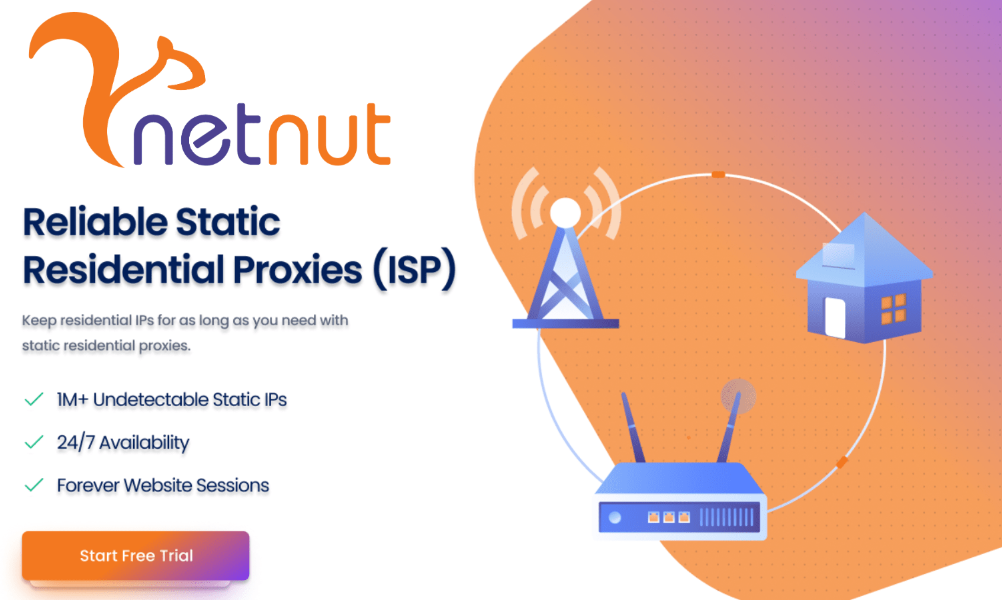 NetNut offers a practical solution for fast, reliable, and confidential proxy networks across the world. With over 52 million residential IPs, and over a million of them static IPs, you can effortlessly collect web data from any location. India is not left out, NetNut has a robust presence, allowing you to access web data as if you and your business were based there. You don't need to physically be in India to understand your audience's views about your brand. This helps you stay competitive by staying ahead in the game.
In India, NetNut offers an impressive count of 1,087,258 IPs. This gives you unparalleled access to one of Asia's, and perhaps the world's most important markets and its web data.
NetNut's Reliable Static Residential proxies are equipped to handle a variety of tasks, such as monitoring SEO, managing social media accounts, dealing with cybersecurity issues, and collecting web data. With these proxies, you can quietly and securely access India's web space, which is crucial for businesses who want to move forward with data analytics.
NetNut ensures uninterrupted network connectivity and availability. Downtime helps no one and any crucial tasks you have on queue can be completed in time.
Don't let your competitors outfox you. Everyone else has a premium proxy service doing the dirty work for them when they need information from a particular country. You certainly need a proxy service like NetNut's residential IPs to harness India's market data to its fullest potential.
You can tell by the IP counts alone the company sees India as a key global market worth exploring to the fullest.  Their strong presence in India represents the perfect opportunity for you to elevate your data-mining expertise.
For just $350, you can gain access to a substantial number of Indian IPs, making it an attractive option as you venture into the Indian markets. There is also the larger $750 for 50GB plan and a master 250GB allocation. You can scale up and down as you wish with their flexible bandwidth-driven packages. And oh, the 7-day free trial is also available in India too. What not to like about NetNut?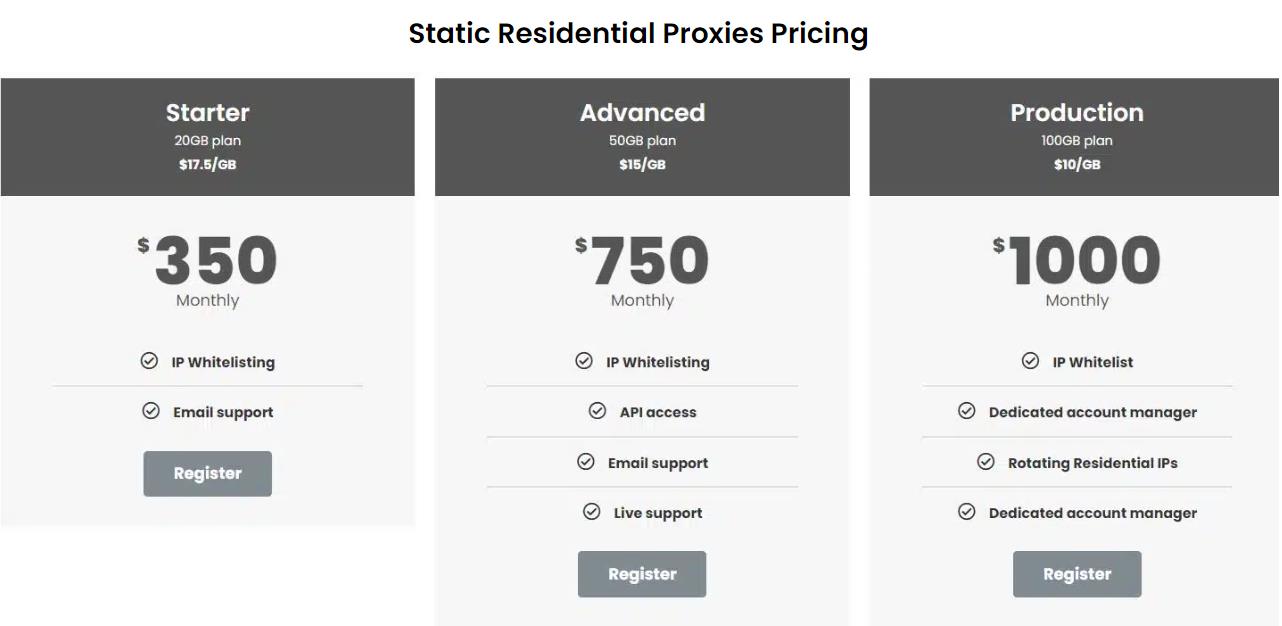 Pros
1M+ static residential proxies IPs
99.9% success rates for sneaker copping
24/7 availability
Free for 7 days
Cons
The documentation isn't detailed enough
---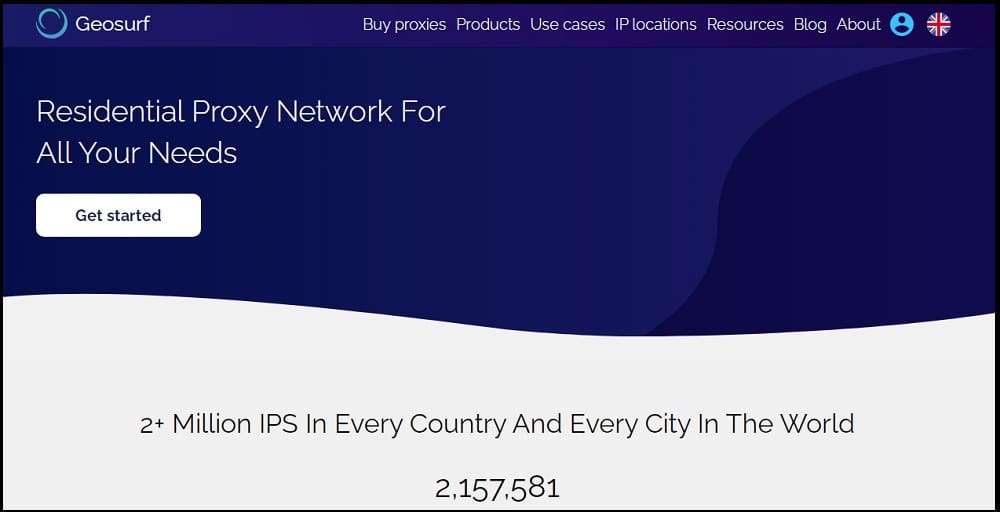 The final Indian proxy provider on our list is Geosurf. This is not the most popular choice for many people because the balance between price and the number of proxies is not very good. Their pool of proxies has a little over 25 thousand proxies, which is not a lot compared to other providers.
On the other hand, you have prices that would fit more on a premium proxy provider. The good news is that some useful features may be worth it. Geosurf will offer you some geo-targeting options, enabling you to fine-tune the location of the proxies within India. In combination with that, you get an excellent dashboard that is not only easy to use, but it also has the option to provide you with a detailed usage of your proxies.
As you may have guessed, the bandwidth is limited for all packages, and the free trial is not very ideal for testing. You get free proxies for 24 hours, which is good, but you are limited with only 1 GB or traffic.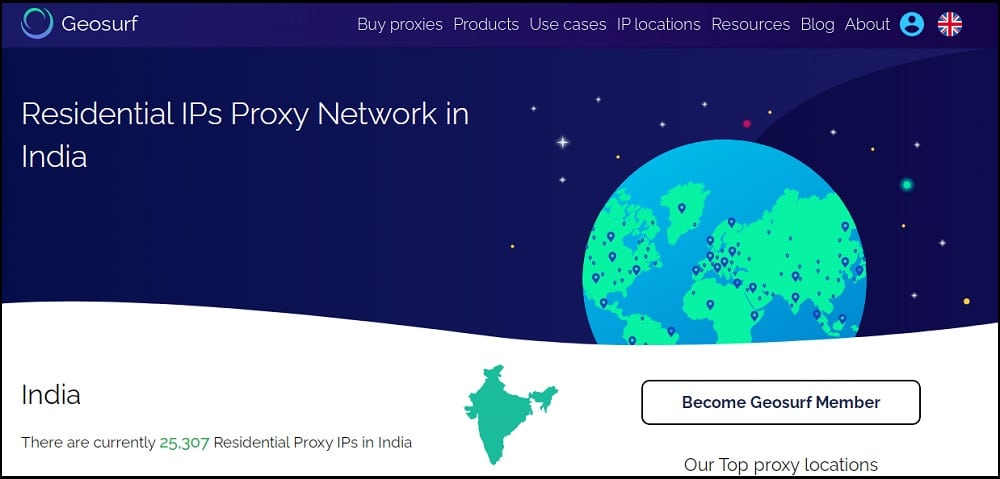 Pros
A decent set of features
Easy to use dashboard
Tons of report options available
Cons
Slightly expensive for what it offers
Not the most flexible free trial available
---
Is it safe to use Indian proxies?
Yes, proxies from India are perfectly safe to use. When you purchase proxies from India, you are paying a company that is maintaining them, and with that, you avoid any possibility of data issues.
Can I cop sneakers with Indian proxies?
Technically you can, but you need to keep in mind where is the store you are purchasing from. If the store does not ship to India or is not accessible to Indian residents, then you will not have luck with it and will not be able to make the purchase.
Which Indian proxies are better to use, residential or datacenter?
It depends on what you need them for. Specific scenarios require you to get residential while for others, you can use datacenter proxies. If you want to scrape a website that is only limited to Indian residents, you can still go either way. Datacenter proxies are easier to detect than residential ones, but some sites are not very strict about it, so you can get away with that. If the website doesn't like datacenter proxies, then residential proxies are the best approach.
---
Conclusion
If you thought that finding Indian proxies is not simple and easy, you were right. Even though there are providers that have them, finding the good ones was not that simple. We hope our list will help you make the right decision.
---
You may be like,
---