Do you run the Jarvee or self-developed Instagram bot to engage numerous IG accounts? One of the most factor for Instagram automation it the "Proxies"! This Post I would like to share our experience with Instagram proxies to help you out!
You've finally decided to tap into the great traffic source of Instagram. Smart decision, people who aren't using the Instagram platform are missing out on one of the internet's biggest traffic sources. Today I will be showing you the ultimate guide for using proxies on Instagram.
Mobile proxies for IG? You have to set on your own! Never buy other 4G Proxies!
---
Why should you use Instagram as a traffic source?
This is because Instagram has 350+ million monthly active users. It would be hard to not use this platform correctly. Another great thing about it is if you use any sort of automation. You really start to get a lot of free quality traffic.
Any business owner not tapping into Instagram traffic sources is missing out for sure. Instagram is great for many things that increase sales. Brand awareness is important in any marketing campaign. Instagram gives the chance for an average person to get hundreds of accounts and start gathering 1000s of clicks.
---
What are the Best Instagram proxies?
When starting your Instagram journey you just can't pick any proxies. You want private proxies that are only used by you. This is because normally proxy companies share them out to other customers. This is a red flag for Instagram and will give you a higher ban rate.
I would like to share my Instagram automation strategies for proxies here! Based on it, you maybe know my IG marketing strategy also. I divide my account into three categories,
Entry-level: Fast Growing accounts: Test the IG's limits, you can bear all accounts get banned! (Core of Automation!)
Middle-level: Growing accounts: Steady Growing is the core.
Top-level: Significant accounts: Growth is no longer the core, Not willing to take risks for it already has lots of followers.
---
Residential proxies with sticky sessions for Mass IG accounts
It's a game of cat and mouse for this strategy!
When you use those type of proxies, Don't worry about accounts get banned, just try to avoid the amount of accounts get banned!
When using those IP Pool providers, you can easily get thousands of proxies at one time! So you can easily handle thousands of Instagram accounts at one-time!
Easily choose rotating residential proxies that support GEO cites targeting proxies, such as,
Residential Proxy Service
Price
Feature of proxy providers
5 GB - $75
20 GB - $200
50 GB - $400
Geo-targeting in 50 US states
10 minute sticky sessions for Instagram
Working for Jarvee, Follow Liker and so on
20 GB - $300
40 GB - $500
100 GB - $1000
100% self control
Unlimited concurrent sessions for Instagram
For the social media bulk management
5 GB - $75
10 GB - $130
50 GB - $550
Excellent city Geo-targeting
Clean and real Residential IPs
Affordable prices for the Social Marketing
25 Proxies - $249.98
50 Proxies - $499.98
100 Proxies - $999.98
Perfect compatibility with Instagram
Unlimited Bandwidth
Best backconnect proxy
10GB - $52.5
50GB - $245
100GB - $355
Non-expiring traffic
Wide city-level targeting
Offers sticky sessions
38 GB - $450
90 GB - $900
250 GB - $2000
Good for marketer
Extensive geo locations
Support sticky session
---
Only support a few cities, but the price is great!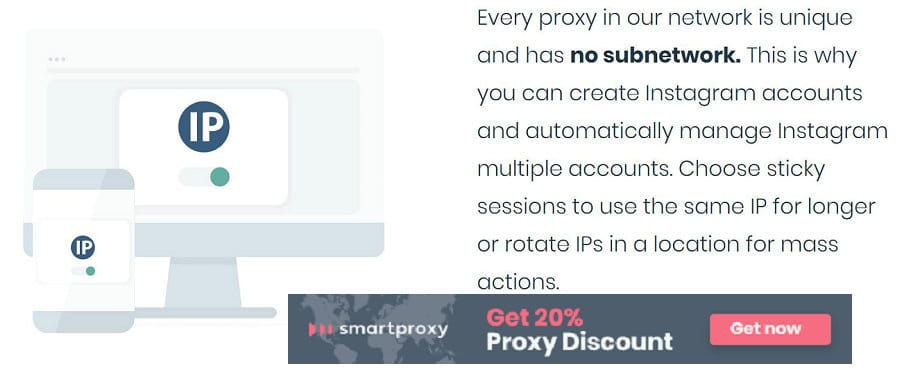 Smartproxy is one of the most renowned proxy providers with great Instagram automation features. It is available in 50 U.S. states, eight major cities, and over 195 locations worldwide. Furthermore, their pricing is quite affordable, making it one of the best proxy providers with pocket-friendly pricing.
If you are looking for speed, then Smartproxy has got you covered. They offer super-fast speed and connectivity with a guaranteed 99.9% uptime. This means you can use it to create and automate an unlimited amount of Instagram accounts without worrying about being detected.
They also offer rotating proxies that enable you to switch I.P. addresses effortlessly. This enables you to remain anonymous and avoid detection and potential banning. Wondering whether these I.P.s are reliable? Don't worry, Smartproxy sources its real I.P.s from credible Internet Service Providers (ISPs) worldwide.
In addition, their residential proxies are unique from real mobile and desktop devices. This makes you look like a regular user and further maintains your anonymity. These proxies also do not share a subnet, which makes you immune to mass bans. They have an unlimited thread, so you can run as many tasks as you wish at no extra cost.
Smartproxy also has a 3-day guaranteed money back feature, which allows you to test the quality of service before making any commitments. Their customer care is great and offers help from their Email and LiveChat option.
---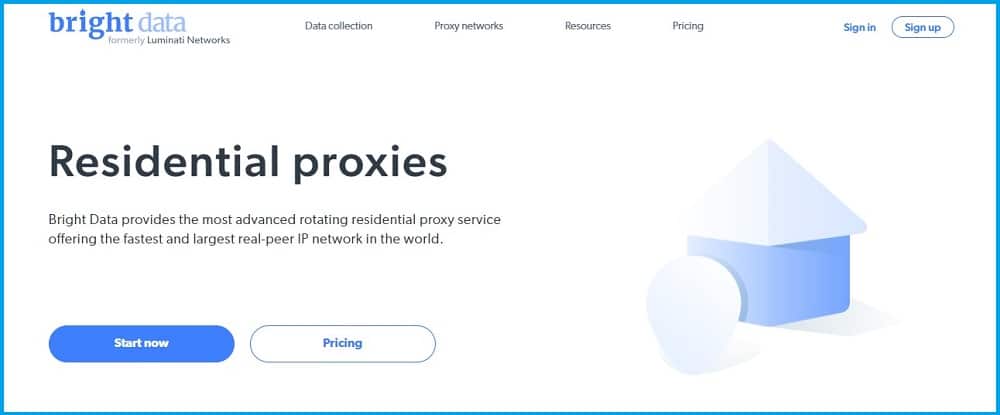 Bright data, formerly known as Luminati Networks, is by far the best proxy provider globally. It boasts of owning over 72 million I.P.s, which is great for Instagram automation. To make it better, all these I.P.s are legit and sourced from trusted ISPs. They offer worldwide coverage, meaning you can use their services from anywhere around the Globe.
Unlike most other proxy providers, their prices are very reasonable. Starting at $25 per GB (Pay-As-You-Go), you can be sure of getting top-notch services. In addition, you get to run an infinite amount of tasks concurrently, all thanks to its unlimited threads feature.
This feature simplifies the management of several Instagram accounts. They also offer geo-targeting, which allows you to classify your proxy by country, city, or internet service provider. For higher proxy amounts, you get dedicated account managers. Their dashboard is also easy to navigate, making it an excellent platform for new users.
You also stand to gain from their highly professional customer support. They offer real-time assistance, which is not the case for most other providers.
---
ISP targeting with mobile pool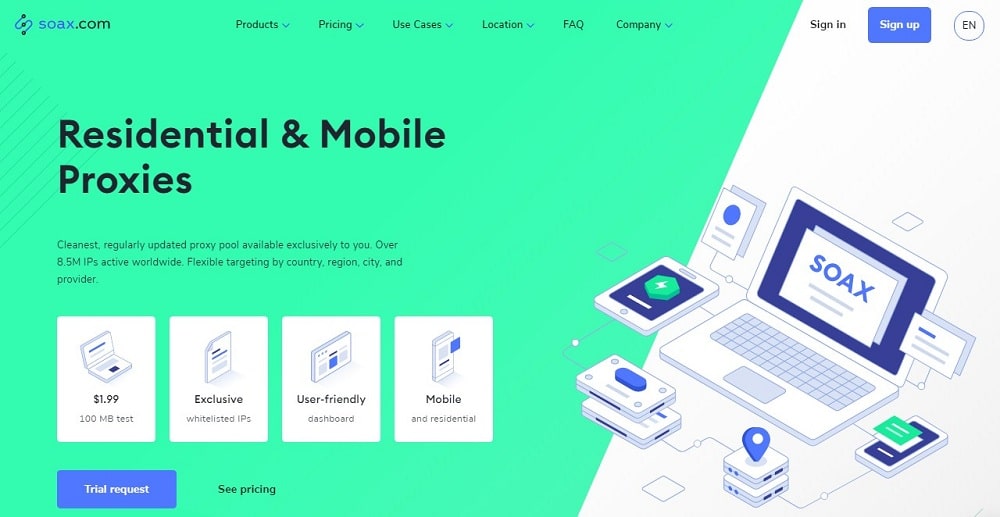 Soax is also another great proxy provider for running mass Instagram accounts. They offer some of the best residential proxies in the market and are well known for their incredible speed. Additionally, they have a vast pool of I.P.s with over 8.5 million residential I.P.s. All their proxies are also static, which means you get a new I.P. every few minutes.
They have fast connection speeds that bypass Instagram spam filters and ensure you are always connected. It also comes with a guaranteed 99.9% uptime which means you will not experience downtime and network failure. Soax also offers an unlimited bandwidth which means you can easily manage all your Instagram accounts at a go.
Their I.P.s are legit and reliable from whitelisted IPv4 addresses globally. For pricing, this is one of the best proxy providers you can get. They have a starting price of $75 per month for 300 ports. Apart from that, you can test their proxies at $1.99 only! This ensures you are sure of their services before making any commitments.
Another great feature about this proxy provider is its user-friendly interface. You can easily navigate the dashboard without any problems. Their customer support is superb, offering timely help from Telegram, Live Chat, and Email options.
---
Flexible payment options for IG Automation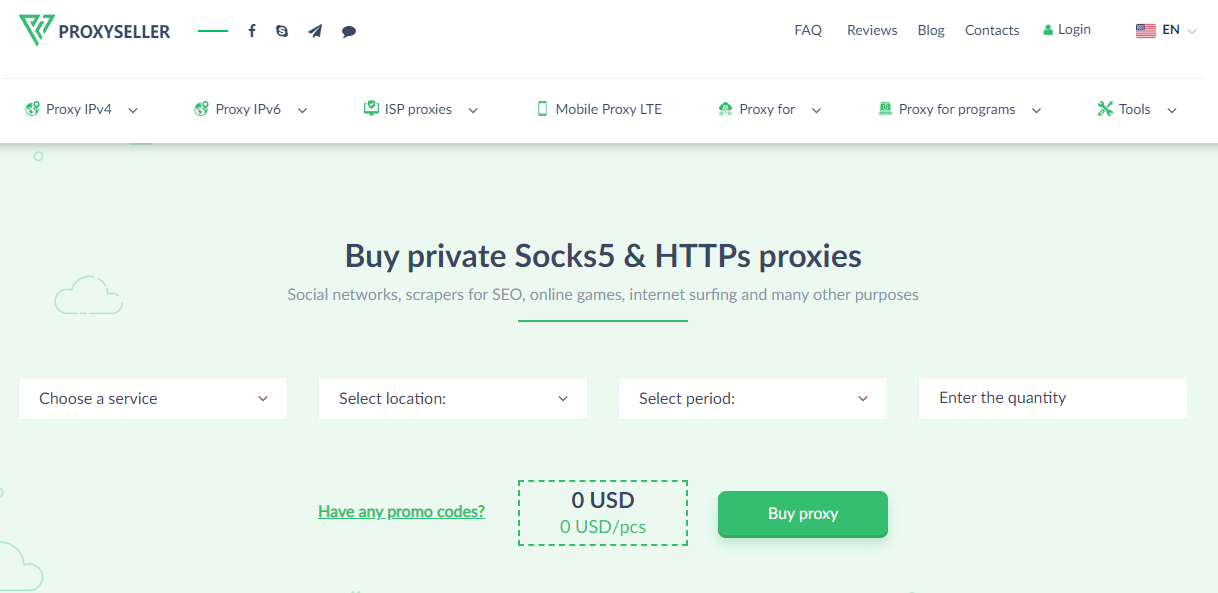 Proxy-seller are highly flexible, and they offer a variety of billing options to cater to different needs. They provide both monthly and daily payment options, so you can choose the one that suits you the best. Additionally, they offer the option to choose the number of proxies that you require, so you only pay for what you need.
One of the key features of Proxy-seller for Instagram is their mobile LTE 4G proxies. They offer a wide range of flexible billing options and high-quality proxies to cater to the needs of Instagram automation. These mobile proxies are highly reliable and offer a stable connection, which is essential for running Instagram bots. They are perfect for users who need to manage multiple Instagram accounts.
They also offer ISP proxies, which are perfect for users who require a high-speed and stable connection. These proxies are ideal for those who need to perform tasks that require a lot of bandwidth, such as scraping data or running multiple bots.
---
Worldwide targeting & US city-state selection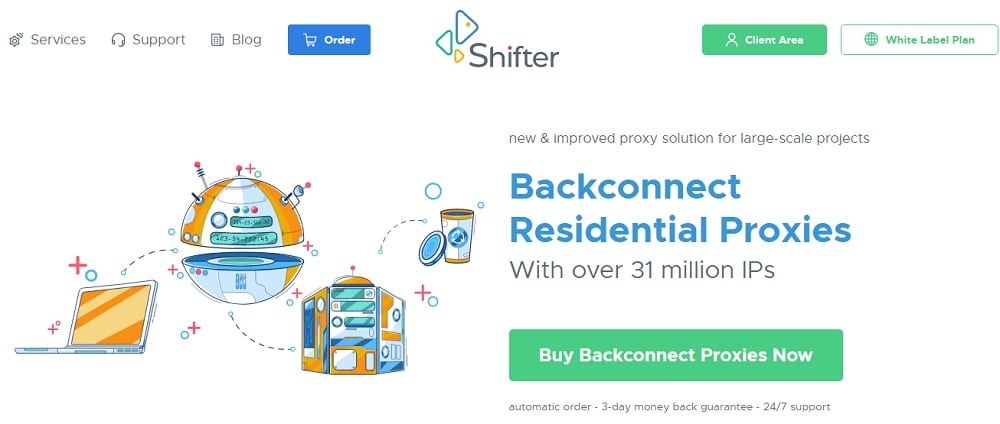 The Shifter is one of the best proxy providers for automating multiple Instagram accounts. It offers a worldwide targeting feature, including US city and State selection options. Also, they have an excellent connection speed and a guarantee of 99.9% uptime. This way, you can be sure o staying connected at all-time not experiencing throttling and other network issues.
Their platform is user-friendly as it has an excellent interface which is ideal for new users. They also have unlimited bandwidth, which enables you to manage as many Instagram accounts as possible. If you need a proxy that is well priced, then you should consider Shifter. It comes with pocket-friendly prices starting at $124.99 for 10 ports.
Additionally, they have a vast pool of I.P.s sourced from reliable ISPs across the world. These I.P.s are static and rotational, meaning you get a new I.P. address whenever you want. Logging into your account is not an issue as they support username and password authentication. All proxies come with high anonymity, making it almost impossible to be blocked. The reason for this is their legit residential I.P.s that make you look like a regular Instagram user.
---
Affordable proxies for multiple IG account management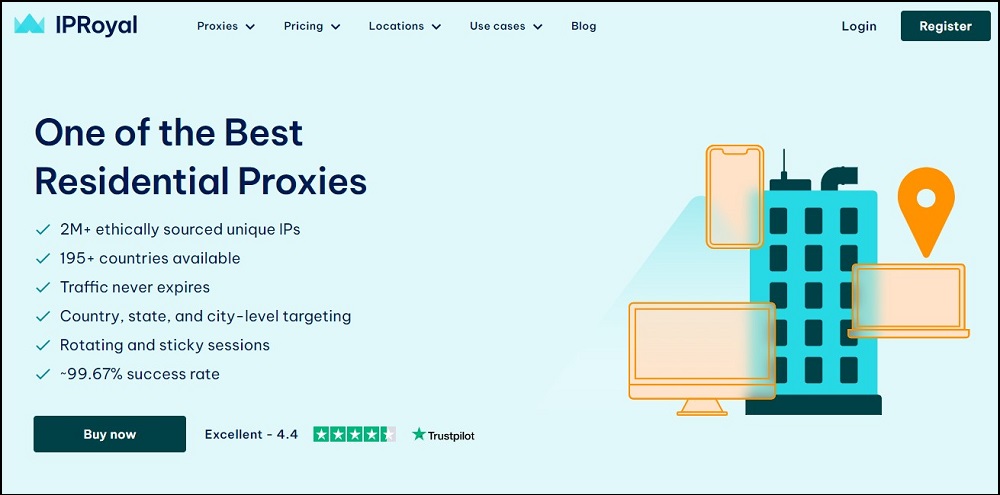 Most Instagram marketing and automation operations require high-quality residential proxies to avoid detection and bans. IPRoyal offers rotating residential proxies that are excellent for IG data scraping. Simultaneously, they provide static residential proxies for multiple account management. Their services are optimized for businesses that use the Instagram platform to drive traffic to their website and increase revenue. Businesses that order a large number of IPs or traffic can negotiate better deals, as low as $1.75/GB of rotating residential traffic.
Right now, they have a network of 2M+ ethically sourced residential IPs coming from genuine users with excellent IP trust scores. Rotating residential proxies also support city-level targeting if you want to target accounts in a specific location. Simultaneously, static proxies assign an unchanging IP address, and you can use several static residential proxies to manage multiple Instagram accounts without detection.
IPRoyal's proxies are easy to use, providing an intuitive dashboard for efficient management. They also offer Chrome and Firefox browser extensions and a proxy tester, all at no additional cost. There's a 24/7 customer support team and an informative blog with multiple guides regarding different proxy types and their use cases.
---
Use cities sticky gateways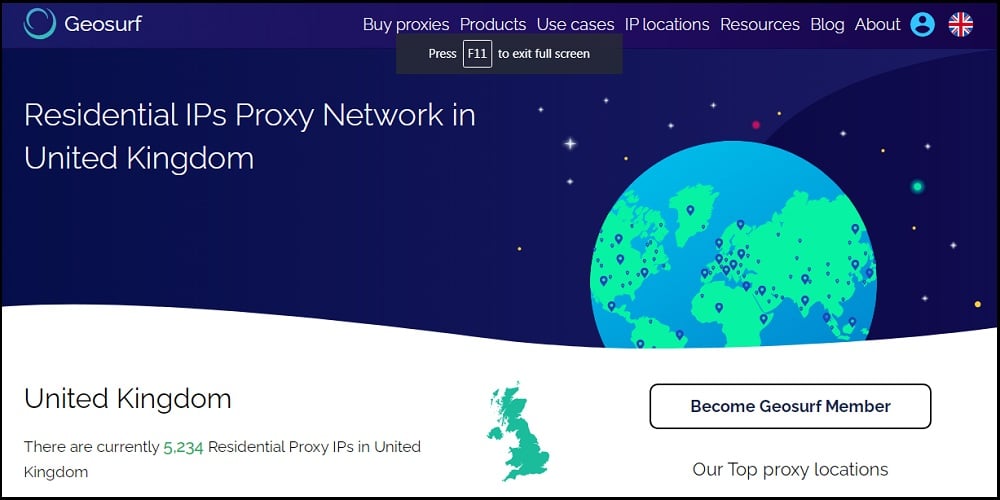 If you need a great Instagram proxy provider that uses sticky city gateways for geo-targeting, then Geosurf is here for you. They are arguably among the world's best proxy providers with a vast pool of I.P.s. In addition, they have a great speed that sets them apart from their peers.
They also have many unique features, such as unlimited bandwidth, which allows you to run infinite tasks at no extra cost. For the speed, you can never go wrong with GeoSurf. They offer a super-fast speed that can beat Instagram spam filters and keep you connected.
You have the option of choosing from their 1,10 or 30-minute automatic I.P. rotation. You can as well change the I.P. address manually whenever you feel exposed. Although their prices are a little bit high, they are worth every coin. This is because they offer nothing short of top-tier services for managing your Instagram accounts.
They support HTTP and HTTPS protocols and offer username and password authentication. Their platform is also user-friendly and easy to navigate.
More Top Picks Here.
---
Netnut.io (Not recommend anymore)
Netnut proxies have proven to be perfect for Instagram automation as they are undetectable, fast, and compatible with Instagram. I have used their proxies for bulk creating Instagram accounts using a custom IG account creator, and they perform excellently well. Netnut has a pool of over 10 million residential IPs – this number is enough for any amount of Instagram IP addresses you want to create. You can always rotate IP addresses and create as many IG accounts as you require.
One thing that will make you like Netnut is that they ensure the best uptime as their IPs are directly sourced from ISPs and not via P2P networks as other providers do – you will enjoy the best uptime and a zero fail rate when using their network. Instagram is not very particular about IP location, except you give them reasons to dig dipper. However, if you want to be on a safer side, you have the option of selecting a country, city, or state of your choice.
---
Dedicated datacenter proxies for Growing IG accounts
You need to balance the chance of growing and the risk of account gets banned! For dedicated datacenter proxies are much cheaper than residential IP proxies, that's I choose those types of providers for you.
Note, most of those proxy providers over-sold their IPs and some of us recycled IPs for their proxies, so one proxy per account is recommended, but it's not a must, you balance it based on your budget.
Dedicated Proxy Service
Price
Feature of proxy providers
10 Proxies - $28.00
50 Proxies - $135.00
100 Proxies - $260.00
Good for the Social Marketing
Fast Squid proxy server
Working for Jarvee & Followliker
10 Proxies - $24.00
50 Proxies - $87.00
100 Proxies - $160
Fast dedicated proxy speeds
Proxies are delivered automatically
Unlimited Bandwidth
5 Proxies - $42.00
10 Proxies - $172.00
100 Proxies - $335.00
Proxies are manual activation
Proxies for Instagram automation
Monthly Randomize and Multiple Subnets
10 Proxies - $10.00
10 Proxies - $50.00
100 Proxies - $100
99%+ uptime guaranteed
Tested Proxies before you buy
Proxies are Automatic management
10 Proxies - $22.65
50 Proxies - $86.00
100 Proxies - $169
The proxies good for Instagram
Work well on social networks
Data center located in US and UK
---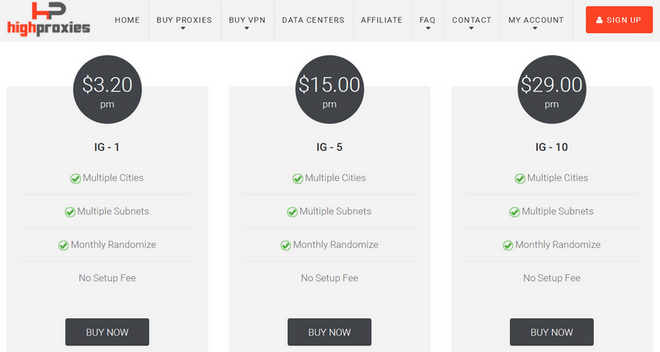 These proxies come at a higher price compared to their competitors. With a cost of around $2 per private proxy would really hurt the bank. They have good quality proxies though, and you are getting every pennies worth.
You can read more about their proxies on HighProxies Service Detail.
---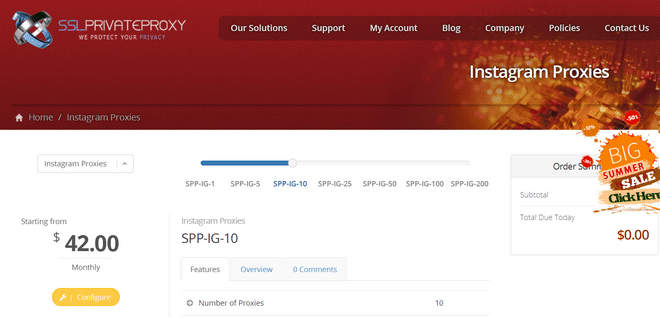 Definitely a more expensive choice but by user reviews, it looks like it money well spent. With 25 Instagram proxies costing an enormous amount of $96 monthly. You would think they wouldn't make any sales. Surprising they have a great reputation and a huge client base.
Check our review about the SSLprivateproxy, Do their proxies work on Instagram?
---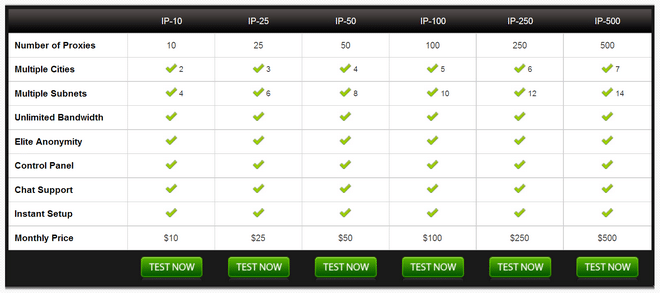 Paying $1 per private proxy is one of the greatest deals. Instantproxies is consistent with their quality, have a great reputation, and ease of ordering. I've personally used their proxies for months on a couple of Instagram projects.
Instantproxies are the best cheap Instagram proxies from our test! Read our review to know more detail about their proxies.
---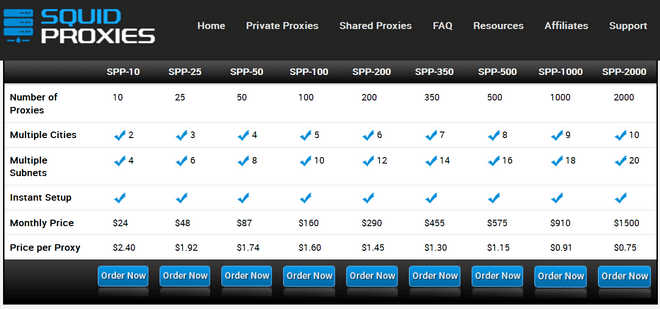 A company is known on all marketing forums but the sad part is the cost. Their is competitors that offer cheaper proxies, and have the same or better quality. Depending on how much proxies you get, when you get 10 proxies. That would cost you $24, but when you buy 2000 it cost only $1500.
You can Read more about their proxies on SquidProxies Service Detail.
---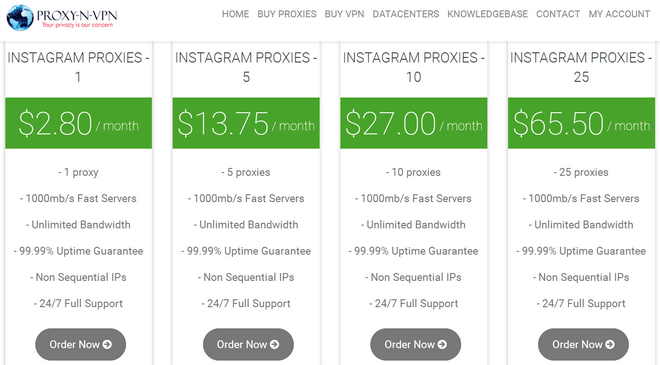 Generally, one of the more expensive options, but not as expensive of some of its competitors. On average paying, up to $2 per private proxy would hurt and give any marketer stress on making back that money. Their quality is still great nonetheless, so don't worry about spending money on low quality.
To know more about Proxy-n-vpn, you can read our review that tested their proxies on Instagram.
---
Static residential IP proxies for significant IG accounts
These proxies are the safest proxies similar to 4G Proxies, with this type of proxy, it's almost the same as you rent an ADSL to use! So it's 100% safe for the IP address, but obvious disadvantages and is very expensive!
Now, Bright Data offer the dedicated residential IP proxies! If you want a plan to find out the most stable proxies for Instagram, There is no doubt that Bright Data's static residential IP proxies are the best choice for that.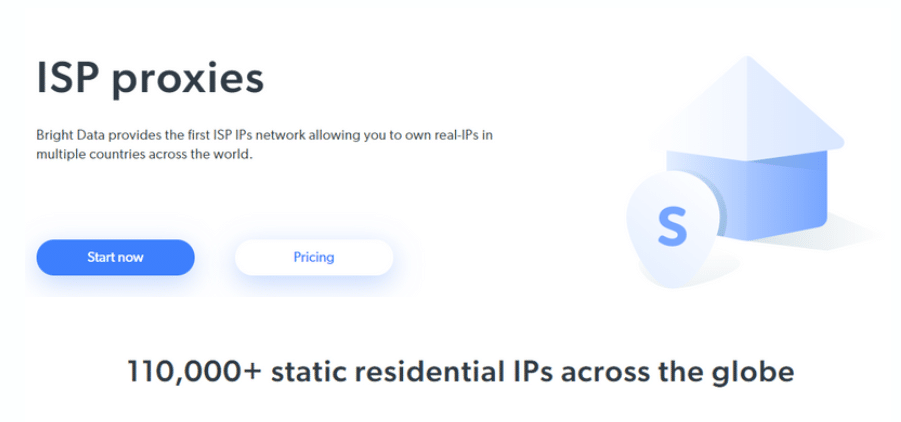 >> Visit to this page get more detail of Bright Data static proxies.
---
Do mobile proxies for Instagram are the right choice?
The mobile proxies mean the proxies from Getting the IPs from 3G/4G/LTE operators or carriers directly!
If you know how to set up mobile proxies/4G proxies for Instagram, It's maybe a good solution, but if you want to buy mobile proxies from mobile proxy provider, they sold the IP proxies directly belongs to carriers, based on my bad experience, I really do not recommend you use 4G proxies for Instagram.
These providers are overcharging their Mobile/4G IP proxies! Too many accounts host on similar subnet! So…
Most of the 4G proxy providers offer much the same subnet IPs and can easily detect also, I used 2 providers from BHW, both get really sad results, So the answer should be "NO".
---
What's the best Instagram automation tool?
There are many tools out there that will help the process more. Without using automation you are behind the curve and missing out on traffic. It is impossible to manual gather traffic off Instagram and makes it worthwhile. This is why we have Instagram bots to do these mind-numbing task automatically.
Below are the most popular automation tools in the industry:
Jarvee – the best IG automation tool

You may not believe it, Now the massplaner back again! I don't think I need to introduce the Jarvee here!


This bot has a huge reputation in many marketing forums and for a good reason too. They are known as the most stable and feature-rich automation tools. Costing $97.99-lifetime fee and on top of that $5.99 per month. This bot is comparable to the old mass planner, and mass planner was one of the greatest automation tools.

You could either pay $9.95 per month or $79.95 annually. Gramdomintor isn't as feature-rich as follow liker. It still has all the necessary features required to run CPA spam projects. There is a promising developing team behind the product. It looks like it has the potential to be the next mass planner.
Nova Automation
This bot costing at $19.99 per month, $49.99 for 3 months, $89.99 per 6 months, and $149.99 per year. This bot is on par with followliker and has potential to take over the automation game. This bot for its price it's still feature-rich and I have nothing but good thoughts. The company behind this bot is still at its start-up stage but I believe it has a chance to take over.
Gramista
Costing per day is $1.79, 3 days is $4,99, 7 days is $10.99, 30 days is $39.99, 60 days is $64.99, and 90 days is $89.99. Gramista is a very stable bot with many features and also comparable to gramdomintor. The pricing system throws me off and is pretty inconvenient. Although, it has all the necessary features for an average Instagram campaign.
Instamarco
Costing per day at $2.99, 3 days is $7.99, 7 days is $17.99, 14 days is $34.99, 21 days is $49.99, and 30 days is $59.99. This is also comparable to Gramista but just more expensive. Also, pricing throws me off and shows be more simple, like gram dominator.
---
A simple method to make money off Instagram
Here is a very popular method I will be showing you in this article. The reason why proxies or automation is required because it would be impossible to do by hand. This method is known by Instagram spam, also known as, Instagram CPA or CPI.
How does the method work?
You get a user on Instagram to install an app and you get paid for it. That's all to it basically and people are making thousands daily from this method. The only way to make this method worthwhile is by having multiple accounts. Instagram also bans spam accounts so you must always be adding accounts.
The first thing you do is purchase any Instagram automation tool, private proxies, and sim cards. You may or may not need a VPS if you decide you can't run the program 24/7.
Do not want to manage IG accounts by yourself? Here is some Instagram automation service to use.
The next step is to set up either 1 or 2 IG acc per private proxy. Customize the bio to lead up to whatever offer you're promoting. Then start to follow users, and that's all basically. The more accounts you have running the more money you make.
That is the basic template of how IG spam accounts operate and make money. Next, I will show you how another group of marketers is making money with IG. This method involves creating high-quality accounts and posting valuable content. This, in turn, gives you a loyal fan base and engaged visitors.
Once you have around 10k followers on IG this is when you could either, sell your own products, or sell shoutouts. It's easier to sell a couple of shoutouts a day across accounts. If you have 10 accounts with 10k followers per account. You can sell shoutouts at $5 apiece all you need is 1 shoutout across all accounts per day to make $50. This method is popular because these accounts normally last way longer than spam accounts.
Instagram is a popular platform for marketers because the sky is the limit. Nothing is stopping you from creating 100s or 1000s of accounts. Instagram traffic is popular because it makes people around the world so much money.
---
Things to do before starting your Instagram journey.
When starting either spam or legit Instagram campaign. You have to be careful about how you run the accounts. It is impossible to go full blast on the first day of using the accounts. You must use low settings with the Instagram bots and slowly increase settings.
For example, you follow 10 people on the first day, 30 people on the third day, 50 people on the fifth day, 100 people on the seventh day, 200 people ninth day, etc.
You slowly increase and follow on average 200 people per day. Make sure to tweak your automation settings to look as human as possible. For example, random breaks, not contently following, too much liking in a short period of time, etc.
The best way to make sure your accounts survive the longest is looking human. Once you start to get the hang of how everything works then profits start to roll in.
Why do we need to use proxies for Instagram?
To put it simply its because we don't want Instagram to connect the dots and ban all our accounts. This is why we use proxies, to look like we come from a different place. It would be impossible for anyone to use 1 IP address for 100s of Instagram accounts, but it is possible to have 50 proxies for 100 Instagram accounts.
Where to learn more about this type of stuff?
Blackhatworld is one of the greatest marketing resources online. It taught me all the information I'm laying out to you right now. It also has a marketplace to find all the necessary items for pulling off a successful Instagram campaign.
Considering joining that forum it has information to find all the best proxies and money-making methods. Once joining that forum you will understand the amount of potential Instagram has to make a full-time living.
---
Conclusion
To sum it all up the best proxies price and quality-wise from this list would be Smartproxy.com. They have consistently kept their servers up and running and had no issues with using them then you can handle a number of Instagram accounts!
It's the key to Instagram automation! They beat all competitors on that list simply by the price and the quality is better than most on the list.
---