Rotating proxies are becoming more and more popular for scrapers! We compare the Datacenter, residential proxies and Scraping API for scraping Without Getting Blocked!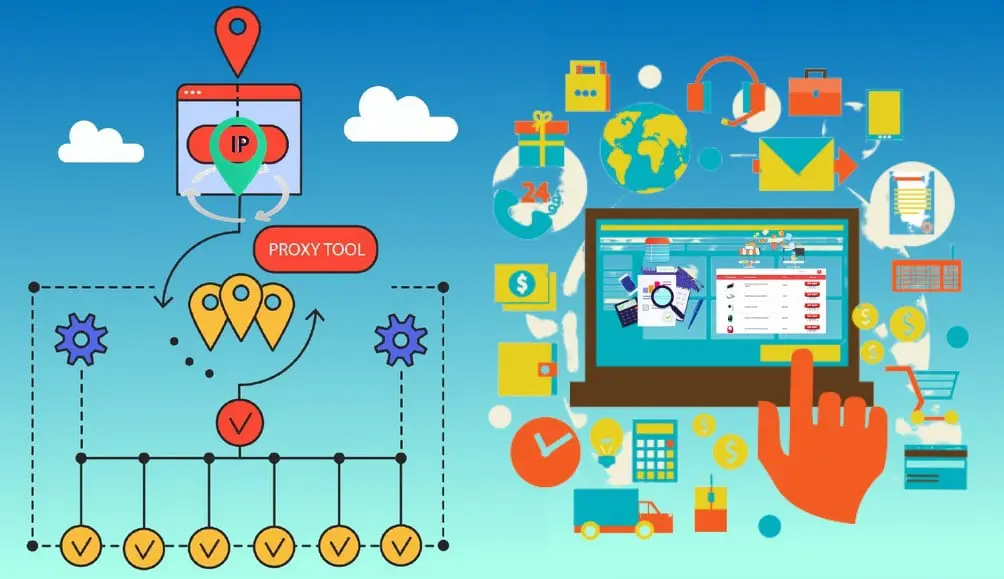 Data on the internet is something that is growing exponentially. The data that was created and stored online in the early days of the internet is only a speck of dust compared to what we have today.
Companies and individuals have been scraping data for years, and they have been doing it for various reasons like market research, brand comparison, price comparison, SEO, and much more. Only in the recent decade or two things have started to become complicated. In the old days, data scraping was done by hand by copying and pasting the data. Today it is a different story.
In order to be able to perform a successful scrape today, you need two things: a scraper and proxies. Today we are going to talk about proxies, what they do when scraping, what types of proxies are the best, and we are going to go over some of the most popular choices. As a bonus, we are going to go over a few scraping APIs that you can use.
How do proxies and scrapers work together?
Before we answer that question, first we should define what proxies are.
Proxies are IP addresses that are part of a network. There a variety of types that we will go over later in this article. The proxies work as a gateway providing you with anonymity. The server will see the proxy IP address, but not your own.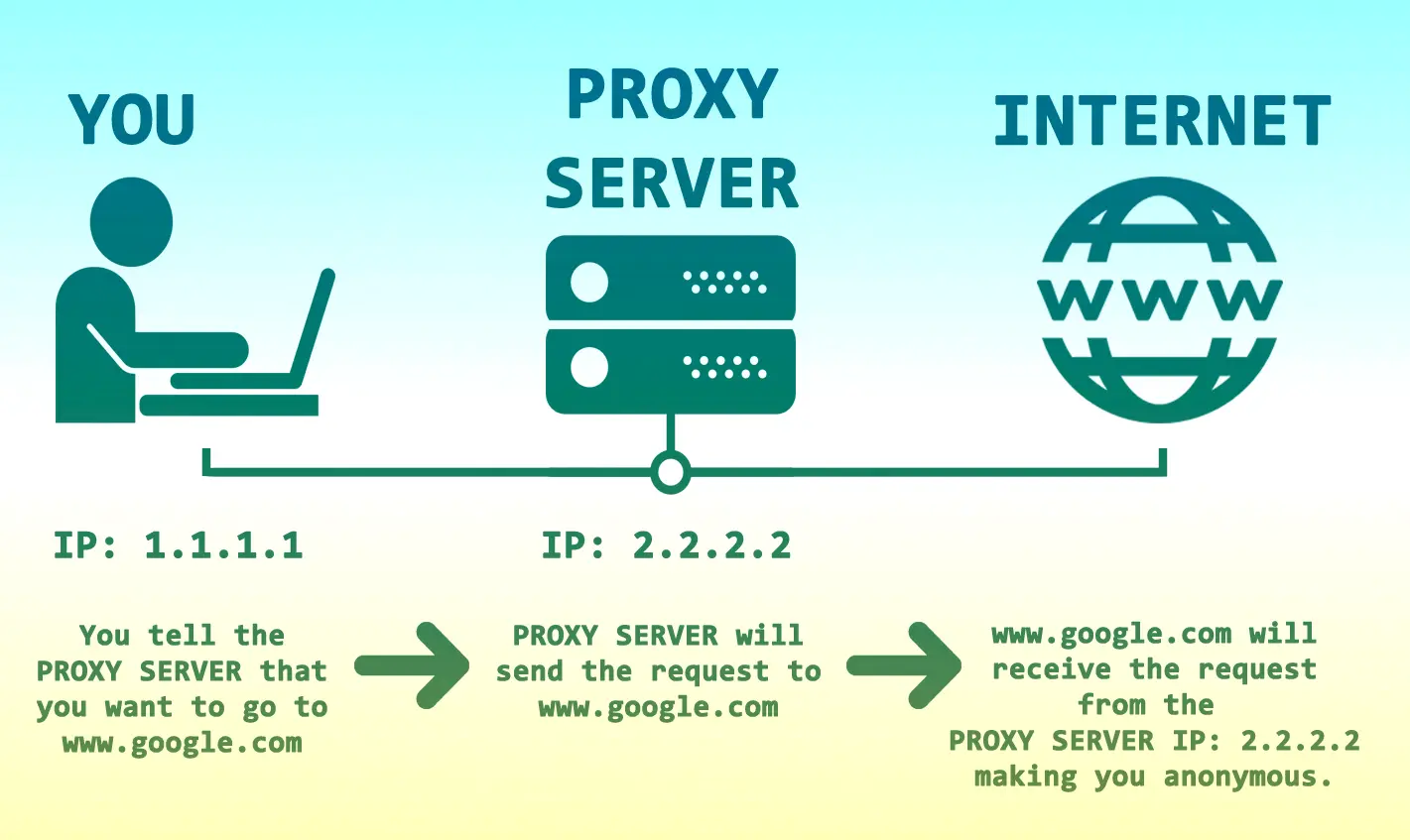 When you access a website, you send out a request from your own IP address to the website's server. When you scrape, the tool can send out hundreds of those requests every second to the website's server. Once it sees all those requests, the server will think that it is being DoSed and will block the IP address that is sending out the requests. In simpler terms, you will scrape less than a second if using your own IP address.
This is where proxies come into play. Since they provide the anonymity and hide your original IP address from the destination server, you can scrape longer without getting detected.
What types of proxies are best for scraping?
There are several types of proxies that you can use, and each one has its pros and cons.
Datacenter proxies are IP addresses that providers purchase from datacenters and resell them as proxies. They usually come sequentially and in bulk. They can be used for scraping, but since they are datacenter proxies, there is a great chance that they are already marked as such. That means that strict websites will already have them blacklisted, and you will find yourself in a tight spot.
Residential and mobile proxies are very similar. Residential proxies are IP addresses from real people's home internet connections. On the other hand, mobile proxies are IP addresses from connections of mobile networks – 3G and 4G. We still haven't been able to find 5G proxies.
Compared to the datacenter proxies, the residential or mobile is a better choice because they come from real IP addresses from other people's connections, so the chances of them being flagged as proxies are very small.
Regardless of which proxies you would go for, make sure to get rotating proxies. Using a proxy is one thing, but the type and how you use them can make a huge difference.
---
Rotating proxies mean that you can set up the proxies to rotate at a specific interval. Some are flexible, while the provider preconfigures others.

The advantage that rotating proxies have over static ones is the fact that they can rotate with every new request. If they do that, each request will be with a different IP address, and the web site's server will think that a new person is making the request. Static proxies will work as your own home IP address and will send all requests from the same proxy address.
Best rotating proxies for scraping
In this section of the article, we are going to go over some of the more popular proxy providers for rotating proxies. We will cover mostly the residential proxies and a few datacenter ones.
Best rotating residential proxies
As mentioned previously, residential proxies are a better choice for scraping due to the fact that they offer greater anonymity and will enable you to scrape easily without getting caught. The downside is that they cost more than the datacenter ones.
---
Probably one of the most popular proxy providers on the market today is Bright Data, and there is a good reason for that. For starters, the network of residential proxies consists of over 40 million IP addresses, which is among the highest number of proxies we have seen. All of those proxies come from all over the world, from almost every country there is.
The price is where Bright Data is not the most competitive. Their pricing plans are not the cheapest, but they are worth it. No matter which plans you go for, you get access to all available proxies, and the difference is how much you pay monthly for the included bandwidth. Regarding the rotation, their proxies are flexible, so you can either rotate them at a specified interval or with requests, depending on what you need. You also get a 7-day free trial.
---
Among the younger companies on this list is Smartproxy. Having excited less than two years, they quickly managed to get on the top listings of proxy providers. Offering an IP pool of over 40 million proxies in over 195 countries and regions, we see why they are a popular choice.
All of those 40 million proxies will be at your disposal no matter which pricing plan you choose. Along with that, you get unlimited connections and threads. The things that are limited and vary from plan to plan is the price for every GB of bandwidth after you spend the included one, sub-user number, and whitelist limit. The good thing about all of this is that you get proxies that you can rotate with every new request. A trial option is not available, but you do get a 3-day money-back guarantee.
---
NetNut.io offers one of the best rotating residential proxy services, with an extensive IP pool of over 52 million auto-rotating proxies. You get to enjoy unlimited sessions and zero IP blocks, which ensures smooth web browsing and seamless data collection without the problems that come with solving CAPTCHAs and other anti-machine measures.
NetNut High-Speesd auto-rotating proxy is built upon a dynamic ISP and P2P proxy network that guarantees optimal performance while maintaining complete anonymity by avoiding U.S. peer proxies. Such combinations are what result in 24/7 service availability and minimal failure rates. Their high-speed auto-rotating proxy service is certainly one of the fastest in the industry today.
This high speed makes NetNut's rotating residential proxies an excellent choice for unrestricted access to websites from any part of the world. This versatility makes it suitable for various use cases, including SEO, ad verification, market research, and brand protection. With the option of lightning-fast data, your web scraping tasks or data-intensive activities are set to achieve new levels of efficiency.
NetNut offers a flexible pricing plan that is both practical and scalable. The six-tier pricing structure allows you to acquire the high-speed auto-rotating proxy service for as low as $300 per month, valued at $15/GB. Moreover, the largest Master Plan package provides a gigantic 1TB for $4K, ensuring you can navigate through website restrictions for the entire month.
---
The name Shifter might not mean anything, but Microleaves should. Founded as a daughter-company on Microleaves, Shifter quickly started going for the top when it comes to providing proxies. The pool of residential proxies consists of over 31 million proxies. While that is good, we could not find a list of locations, but with that many IPs, they sure have them in a lot of countries.
You can purchase two types of residential proxies: basic and special. The difference is that the special proxies offer more like high demand cases and access to websites that are usually not available for the basic proxies. For both types of proxies, you get unlimited bandwidth, so you are paying per proxy address. You will not be able to test drive Shifter with a free trial, but you do get a 3-day money-back guarantee. Regarding the rotation, their proxies rotate on time intervals, and the minimum is 5 minutes.
---
Unlike most rotating proxy service providers, IPRoyal does not put an expiration date on this proxy-type traffic. Sometimes you're done with your scraping operations without using the whole traffic but require it later. IPRoyal ensures you get all the traffic you purchase, and it doesn't expire at the end of the month of the billing cycle.
The IP pool is limited to two million, which can be too small for large businesses or massive operations. However, the servers are located in 195 countries, and some of them have excellent city/state-level targeting. It might be one of the best choices for medium enterprises that don't require thousands of different IPs but want to reach consumers in specific regions.
IPRoyal's rotating residential pricing is dynamic, however, there are no refunds nor a free trial. Luckily, the prices are competitive, and you can go as low as $1.75 per gigabyte for large orders.
---
We come to a proxy provider that has been on the market for a while now – Proxyrack. Founded over six years ago, they quickly grew from one-person company to a world-wide know proxy provider. Their residential proxies are separated into two groups: premium and unmetered.
The premium proxy pool consists of 5 million IP addresses with a limit on the bandwidth. The unmetered proxy pool has 2 million proxies with no cap on the bandwidth. Both types can be rotated with every new request.
The exact list of locations is not outlined on the website, but they claim to cover a lot of the significant locations on all continents. You will not get a trial period, but there is a 14-day money-back guarantee, which is more than enough to see if their proxies are worth it.
---
Now we come to the cheap option on this list, Proxy-cheap. As the name might suggest, this is one of the most affordable proxy providers around. Offering an IP pool of over 6 million residential proxies in 127 countries, Proxy-cheap is a serious contender to other more expensive solutions on the market.
The pricing plans are simple but well thought off. For each one, you get to use all 6 million proxies in all locations, and basically, you are only paying for the bandwidth. Another great thing is that the proxies rotate automatically, so you do not need to worry about setting that up. It is not all positive, though. Proxy-cheap does not offer a trial period nor a refund. That would mean that you would need to pay in order to test them.
---
A cheaper alternative to Luminati is Stormproxies. The reason for that is that they offer less, but they are more affordable so that people might use them. The IP pool consists of only 40 thousand proxies that are located in the US or Europe, so if you need specific locations outside of these regions, you might need to look elsewhere.
The pricing is what draws people to buy proxies from here. All packages offer unlimited bandwidth and access to all 40 thousand proxies. The only difference is in the number of ports that you get with your monthly subscription. One thing to bear in mind is that these proxies rotate every 5 minutes, and they do that automatically. Do not expect a free trial; you can only get a 24-hour money-back guarantee for the 5-port package.
---
Founded over a decade ago, Geosurf has been a proxy provider that has been on people's radar for years. The pool of residential proxies consists of over 2 million IP addresses scattered in over 130 countries in the world, and looking at the list of countries; they are not lying.
The prices are what may drive some people off. They are far from the cheapest provider, but to be fair, you do get a lot. Each pricing plan is paid monthly, and for that, you get access to all proxies in all locations, and you are only limited by the bandwidth. For rotating the proxies, all you need to do is use a high rotation gateway so that each new request is sent out from a unique IP address. There is a free trial option available with a lot of limitations, but it might take some time to find it on their website.
---
This is a name that not many people know, and there is a reason for that. The company was founded less than a year ago, but in the past months, it has proven to be able to compete with the big players in some areas. The exact number of proxies is unknown, but based on the pricing plans, it is not a huge pool. All pricing plans come with unlimited bandwidth, but you are limited by the number of proxies you can use and the threads included. The largest package offers only 20 thousand IPs.
The list of locations is also not excellent. They have a list of 12 countries on their website, but the good thing is that they are the major countries from America, Europe, and Asia, so you do get a diversity. Their proxies can rotate, but it seems that their servers regulate the rotation, so you do not get a lot of flexibility there.
Best rotating datacenter proxies
As we mentioned before, datacenter proxies are not the best option for successful scraping, but for people or companies on a tight budget, they will do the trick. In this section, we will outline three datacenter proxy providers that you should check out.
---
This is a name that we keep seeing over the past two years. Webshare is a proxy provider dealing only with datacenter proxies. Their rotating proxies are relatively cheap, and each one can handle from 500 to 3000 threads and come with unlimited bandwidth. Essentially, you pay for the proxies that you purchase.
The number of proxies and locations is not something that will break any records. They have several thousand proxies in around 20 countries. The good thing is that you can get a free trial with ten proxies and 1 GB of bandwidth to test them out.
---
Blazing proxy is a name that you surely haven't heard of. The reason is not that they are new, but they have begun as a small company and remained that way. The pricing for the rotating datacenter proxies includes unlimited bandwidth, and you can get proxies only from the USA, Germany, or Brazil. Since the bandwidth is unlimited, you only pay for the number of proxies that you purchase and the duration of your commitment to them.
One of the main selling points is the speeds. They offer their proxies with 1 GBPS connections, which means that speed and latency will not be bottlenecking your scraping. The rotation of the proxies is for each new request. And the best of all is that you get a 2-day trial for the package that you intend to buy.
---
Another veteran company founder, roughly the same time as Geosurf is Oxylabs. In their 12 years of existence, they have formed an IP pool of over 30 million residential proxy addresses. Their list of locations is impressive as well; looking at it, we had a difficult time locating a country where they do not have proxies.
All of this comes at a price, and it is not cheap. Regardless of that, all pricing plans give you access to all 30 million proxies and city-level geo-targeting. The difference between the packages is the included bandwidth. On top of that, you can rotate the proxies to get a new address on each new request.
---
The last proxy provider on this list is a veteran compared to the other two. Existing for almost a decade, Proxymesh has made its name selling datacenter proxies and offering excellent service. The pricing packages come in a variety of prices and options available. Each plan is limited by the number of proxies you get every day; the bandwidth included as well as the proxy locations.
Speaking of locations, they have servers in 11 countries in America, Europe, Asia, and Australia, but you get those only with the most expensive package. In regards to the rotating cycle, their proxies rotate every 12 hours, which is why you get new proxies every day. Since they are not the cheapest provider you can find, you can get a free trial to test out the proxies before committing to paying for them.
Proxy API for Web Scraping
We promised before, and we are delivering now. In this final section, we will outline three of the most popular scraping APIs that you can use.
---
Developed by a team from Scrapinghub, Crawlera is advertised as one of the best proxy network solutions on the market. Combine that with a service that can grab the data, and you get the full package – something that can scrape and handle proxy rotation with very little input from you.
Their pricing plans cover the needs of almost any company that might need their services. The most expensive package is the one that is fully loaded with all the bells and whistles. If you want, you can get a free trial for the Enterprise package before you decide to purchase it, or a 7-day money-back guarantee for the other two.
---
Similar to Cralwera, Scraper API is an all in one solution to scraping data. It offers a scraping service that is combined with a proxy network. The entire network has a pool of over 40 million proxies in 12 different locations with the ability to get more if needed.
The pricing is also very flexible, offering a little bit of something for everyone. The lower packages have no or limited geo-targeting with regular datacenter proxies, while the more expensive packages have everything, and the most expensive one is almost unlimited. If you need more than that, you can get a fully customized plan based on your requirements.
On top of all that, you get a very limited free trial, which is enough to test the service out. If the trial does not work for you, there is a 7-day money-back guarantee.
---
The last on the list is Proxy Crawl. Same as the other two, this service offers a scraping service combined with a proxy network that automatically rotates the IP addresses. The weird thing is that they are offered as separate services.
The scraper prices are very flexible and offer you to pay only for the successful requests, and you can choose how much you want to pay. As for the proxies, there are three plans, each one, including a different amount of proxies and unique proxies. Additionally, you can get in touch with their sales team and make a custom plan that will better suit your needs.
Frequently Asked Questions
In this section, we are going to answer the most commonly asked questions regarding the rotating proxies for scraping.
Are residential proxies better for scraping than datacenter?
In general, yes, but that is not always the case. Residential proxies are much more secure and are less likely to be detected as proxies.
When choosing the proxies, first check out the website you need to scrape. Some websites are not very strict about what kind of IP addresses send requests to them, so you might be able to scrape with datacenter proxies.
Can I use free proxies from the internet?
Not really, free proxies from a shady website are not secure and will certainly get you banned from the website you want to scrape.
How to know how many proxies I need?
If you are not sure, you can do research to see if someone else scraped the same website that you want to get data from. Alternatively, you can reach out to the sales department of the proxy provider that you want to get proxies from.
Will I get in trouble if I scrape?
Most websites are not too happy about people scraping data from them, but the entire process is not illegal. One of the reasons for using proxies is so that the website's server does not know that someone is scraping data.
Data scraping is a process that has become easy to do over the years. The scrapers have gotten smarter, and the choice of scrapers and proxies have increased. Regardless of how automated the process is, you still need to make sure to choose the right scraper and combine it with the right proxies if you want to get the best possible results.
---