Proxies are more and more used by internet users, Lots of marketing programs, bots and apps need proxies to works. When you unblock the website you need the proxy, when using Search engine optimization (SEO) tools such as Scrapebox, GSA – Search Engine Ranker you need proxies, when using AIO Bot for sneakers, you also need the proxies to unblock the foot sites.
It's easy to find the free proxy list online, but the free proxies really not good, Even worse the free open server is a danger to your online data and privacy. That's why I introduce the private proxy to you!  OK, let me show you more detail, Before talking about the Dedicated Proxy, you need to know the "what the proxy" first.
A Dedicated Proxy basically refers to a dedicated IP that is used exclusively by one client at a time. The main purpose here is to hide the public IP address that has been assigned by the ISP.
Private Proxy Service
Price - Month
Feature of proxy providers
25 Proxies - $39
100 Proxies - $135
500 Proxies - $625
Unlimited Bandwidth for web scraping
For Social Media accounts management
Dedicated Datacenter IPs and located in US
1 Proxie for 1 week - $1.07
1 Proxie for 2 weeks - $1.61
1 Proxie for 1 month -$2.14
Offer IPV4 and IPV6 Proxy
Cheap Private Proxy
Flexible Billing Mode
20 GB - $350
50 GB - $750
100 GB - $1000
Reliable ISP Proxies
Fast one-hop proxy connectivity
Unmatched Global Coverage
10 Proxies - $23.70
50 Proxies - $87.50
100 Proxies - $165
Dedicated Proxies for Sneakers
143,360 Data Center IPs located in US and EU
24/7 Support and Fast Proxy Delivery
10 Proxies - $22.65
50 Proxies - $86.00
100 Proxies - $169
Good for the Social such as Followliker
Fast Squid proxy server
Proxies for Craigslist
10 Proxies - $24.00
50 Proxies - $87.00
100 Proxies - $160
Fast dedicated proxy speeds
Proxies are delivered automatically
Unlimited Bandwidth
$250/month
$125/month
Affordable dedicated mobile proxy
Multi-country package
Unlimited threads
10 Proxies - $29.97
50 Proxies - $99.97
100 Proxies - $199
YPP Proxy Support Socks5 protocol
24-hours free proxy trial
Dedicated Data center IPs
10 Proxies - $22.65
50 Proxies - $86.00
100 Proxies - $169
The proxies good for Instagram
Work well on social networks
Data center loated in US and UK
What's the Proxy and Why use it?
A proxy is an intermediary between the user and a certain destination server that's you want to visit. When your requests from your home PC or Mac sent to the proxy server which then processes your request and returns certain destination that you were wanting to go.
And it allows to the user does not use their own IP address, and he can surf the web through another IP address and connection settings or indicators.


You get these advantages as when you are using a proxy, you are not connecting to a destination site. In fact, it is your proxy that is connecting to the site.
This way it can fully hide all traces of your presence. This way you can really speed up your work. Another fact is that there are some applications that work much better with private proxies as opposed to free proxies.
There are many reasons why people use a proxy. A few of these are given here.
Anonymous web surfing: In order to keep their searches private or for hiding their online privacy
Unblock the censorship: Bypass Internet blocks or open services of their country.
Change the IP address: Getting IP from many locations all over the world, you can check your IP address here.
---
What is a dedicated proxy

?
A dedicated proxy is the dedicated IP proxy host on a dedicated server and also known as the private proxy. It is not accessible to anyone else. Hence you would not be responsible for sharing in the consequences of the action of others. Also, it is much faster as there is no issue of congestion from other users.
The benefit of a dedicated proxy is that you get the entire service to yourself. Hence you can avail of fast speeds while browsing the internet. This facility will be available even during peak hours.
So, you can easily know what's the difference between the Public Proxies and Private Proxies on the "BEST PROXY GUIDE". Obviously, the dedicated IP proxy is the best choice for you, if you're really want to do the business online.
---
Why Dedicated Proxies are so useful?
As we already know the proxy can change your IP address, You can use the proxy to Protect your online information.
There is more function on the proxies, Compare with the public proxies, Here are some applications about Dedicated proxies, that's why lots of private proxy providers online.
---
1. Dedicated Proxies For SEO and web scraping
You can use dedicated proxies for any kind of online service in order to scale up your operations. This can be for SEO, web scraping. In the 2-3 years ago, The Scrapebox is so hot on Blackhatworld.com, If you want to harvest URL or scrape content on the search engine fast, you must use the private proxy. Today It's also great to help guys who use the SEO tools.
Not just for the SEO tools, also the SEO service providers also need the proxies to track the ranks and find the backlinks, such as Moz, Ahrefs.
Now lots of programmers use the proxies for scraping social media profiles on Facebook, Linkedin, Amazon…There is no possible if you don't use the proxies for bypassing the restriction of IP address.
2. Dedicated Proxies For Social Media Marketing

Dedicated proxies are being used for internet marketing. These are being used as social media proxies in order to connect to online platforms. These allow the marketer to increase their reach and work from one single location too.
In social media marketing, HTTPS proxies are used for connecting your accounts to social media platforms. Since social media platforms are highly restrictive, hence you need these proxies to connect your accounts.
Basically, these social media proxies are used for running and automating multiple accounts. Hence these proxies can help you to connect your accounts and manage them from one place.
Related: Ultimate guide to Instagram proxies for social marketing.
3. Dedicated Proxies For Coping sneakers

Now more and more online users use sneaker bot & sneaker proxies to cop shoes, for the websites don't like the guys use the bot, such as ANB AIO, BNB AIO, Sole Slayer, JustCopIt Bots, EasyCop Ultimate and so on.
The foot sites such as Eastbay, Finishline, Footaction, Footlocker…That's could not suffer the too many requests from the same IP address, so the IPs will be banned by the servers of the footsites.
For coping more sneakers, Having specially dedicated proxies for footsites can help to scale up your operation. With the proxies, you can do more tasks on the sneaker Bot. So, more chances you will win this game.
---
4. Dedicated Proxies For Local services

Dedicated proxies can be used from a designated location so that online services can be used for that area.
At the same time, private proxies can be used for geo-spoofing search engines and help to get locally targeted web scraping results too.
In addition, local private proxies can be used to connect to the most restrictive websites, which are the ticketing websites. These websites allow buying of only a few tickets per IP. So to get more tickets, you can buy ticketing proxies and use when these tickets are available online.
That's the main reasons that private proxy is so useful!
---
Where to find the Best Dedicated Proxies?
If you've decided to use the dedicated proxies for your different purpose, it's not difficult to find a dedicated proxy service online. But when you search on the google, I think you must be confused by the lots of type of proxy providers online, But which one offers the best private dedicated proxies?
Yes, you should be careful to some of the proxy providers, some of use the shared proxies as dedicated proxies, even worse, some of the providers use the free public proxies as the private… It does not work for you, and your data or privacy information may be revealed! Here I added a list of six proxy services for you to buy dedicated proxies!
---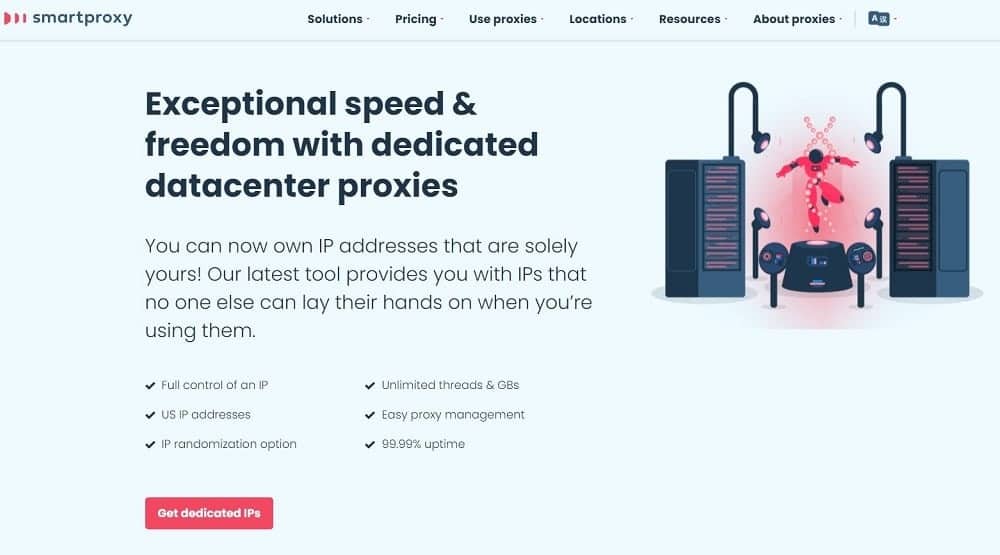 Despite being a relatively new company on the market, it managed to get near the top thanks to its offerings. The latest addition to Smartproxy's lineup is the dedicated datacenter proxies. In terms of numbers, the provider doesn't disclose the number of IP addresses it has. The only information we know is that the proxies are from the US.
3 predefined packages offer identical features in terms of authentication, number of users, etc. what is different is the amount of included proxies. A 4th package enables you to get more proxies if you think that the Classic one won't be enough.
Smartproxy's dedicated proxies are packed full of features. For starters, you get unlimited bandwidth and treads, which is not a common occurrence in the proxy world. Thanks to the fast and powerful servers, you can be sure that speed and stability won't be an issue. All of this comes wrapped nicely in a dashboard that is easy to use, so even beginners will have no problem with it.
A free trial option isn't available, unfortunately. Smartproxy offers you a 3-day money-back guarantee if you are not satisfied with the performance of the proxies.  The full detailed review is Here.
---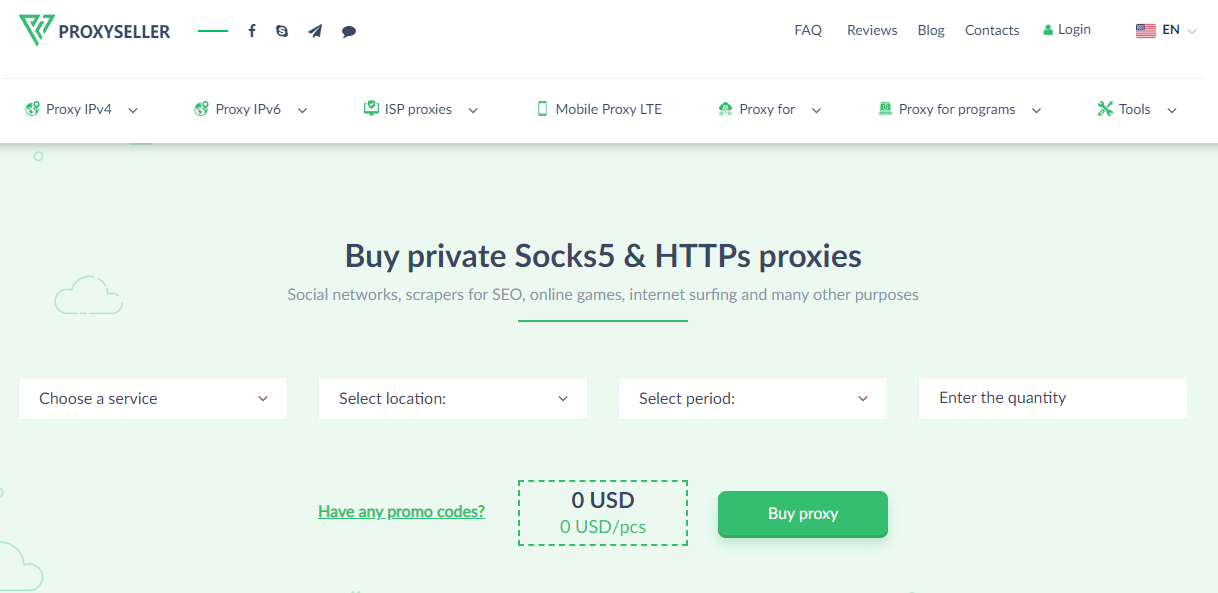 Among the outstanding private proxy providers comes the Proxy-Seller in the industry. The company has gained popularity for its fair pricing, flexible plans, and good location coverage worldwide.
Though their dedicated proxies are meant for various tasks, the company to date targets social network managers as well as the ads agencies worldwide. Therefore, with the private proxy packages, they have been able to attract social media marketers who want to establish a strong online presence worldwide.
The proxies can bypass any geo-restriction to scrap data from numerous parts of the world. Besides the fact that they have the perfect private socks5 and HTTP proxies, these proxies are also compatible with IPV4 and IPV6 hence excellent for internet surfing, SEO scrapers, social networks, and other marketplaces.
They have a standby support team to help configure the proxies and a dedicated channel speed that goes up to 1GB per second. The company guarantees a 24-hour refund or replacement if they fail to work. They have servers in Asia, Europe, North America, Africa, Australia and Oceania, and South America, where the proxies come with impressive 99% uptime. The packages are available based on your budget.
---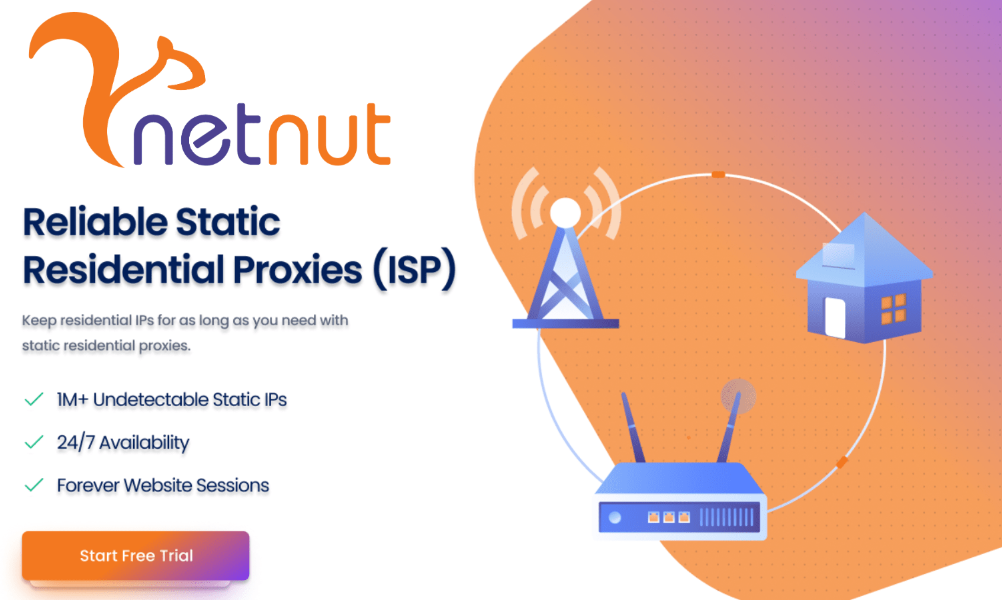 Playing around with free proxies will only get you so far. But when your work is serious about software development, IT servicing, advertising, and marketing media, you need premium dedicated proxies to help you fulfill professional jobs. If you're in search of a reliable and high-performance dedicated proxy solution, look no further than NetNut's private residential proxies.
These private proxies from NetNut are special in the sense that they offer an unparalleled level of control and exclusivity, providing you with a dedicated IP address that's only yours to use. With NetNut's private residential proxies, you get the assurance of optimal performance, enhanced security, and the ability to carry out various online activities without any interference.
NetNut's large pool of over 52 million residential IPs surely gives you access to a large network of proxy services scattered all over the globe, unlocking endless possibilities with their comprehensive network. But our focus here is the wholesome 1M+ private residential proxies that offer unparalleled anonymity and security.
Because each dedicated IP address is assigned to you exclusively, online actions remain private and secure. It's the best type of proxies you can get for web scraping and data mining. Whether you're engaged in SEO tasks, social media management, data extraction, or market research, these proxies offer the speed and reliability needed to carry out your activities effectively.
Furthermore, NetNut's dedicated network infrastructure guarantees high-speed connectivity and minimal downtime. This means you can engage in your online tasks without interruptions, boosting your productivity and efficiency. With NetNut's private proxies, you can confidently navigate around CAPTCHAs, access geo-restricted content, and bypass other online barriers, all while enjoying the seamless and secure experience they offer.
NetNut's pricing plans for private residential proxies are flexible and designed to cater to a variety of business sizes and needs. Whether you're a small business, a medium-sized enterprise, or a large corporation, NetNut has pricing options that can align with your budget. They also offer a 7-day free trial which in all honesty, is a bargain at this level. They also provide a 7-day free trial, which truly offers excellent value at this level.
---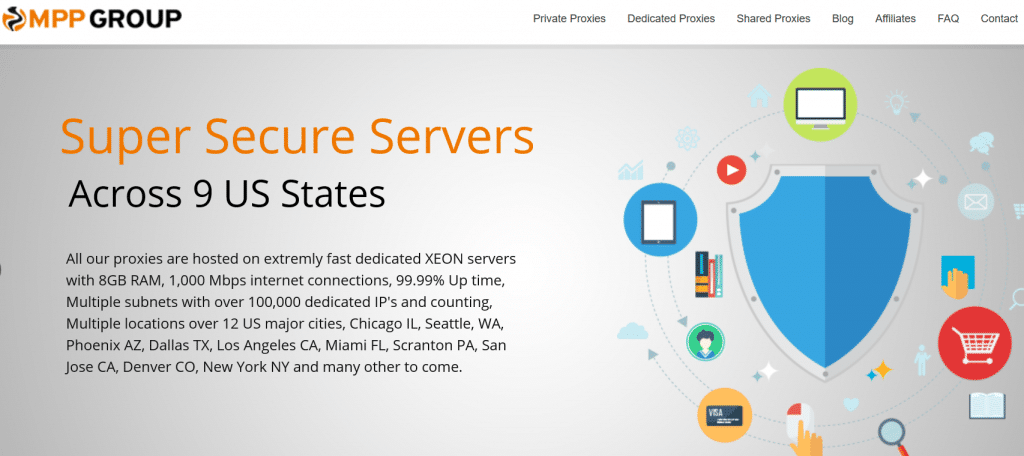 It's also named MPP which is a leading Private Proxies provider. The company was established in 2010. Provide more over 140,000+ dedicated IP's with multiple subnets! All of their proxies are hosted on fast dedicated servers with 1Gbps internet speed connections.
The Myprivateproxy is one of the best dedicated proxy services online, I subscribe their dedicated proxies for more than 5 years, No any issue for those years! That's why I rank it as #1, highly recommend to you!
And if you still want to learn more about MPP proxies, go to our full review here.
Now, Myprivateproxy offers the sneakers proxies for Adidas.com, Barneys.com, Champssports.com, Eastbay.com, Finishline.com, Footaction.com, Footlocker.com, MrPorter.com, Nike.com, Slamjamsocialism.com, Supremenewyork.com, Shop.bdgastore.com, Yeezysupply.com.
Also offer the PokemonGo proxies and Ticketing proxies for Applauze.com, Evenues.com, Gametime.co, SeatGeek.com, StubHub.com, Ticketmaster.com, TicketClub.com, TicketFly.com, Tickets.com, Ticketsnow.com, Ticketweb.com, Ticketexchangebyticketmaster.com.
---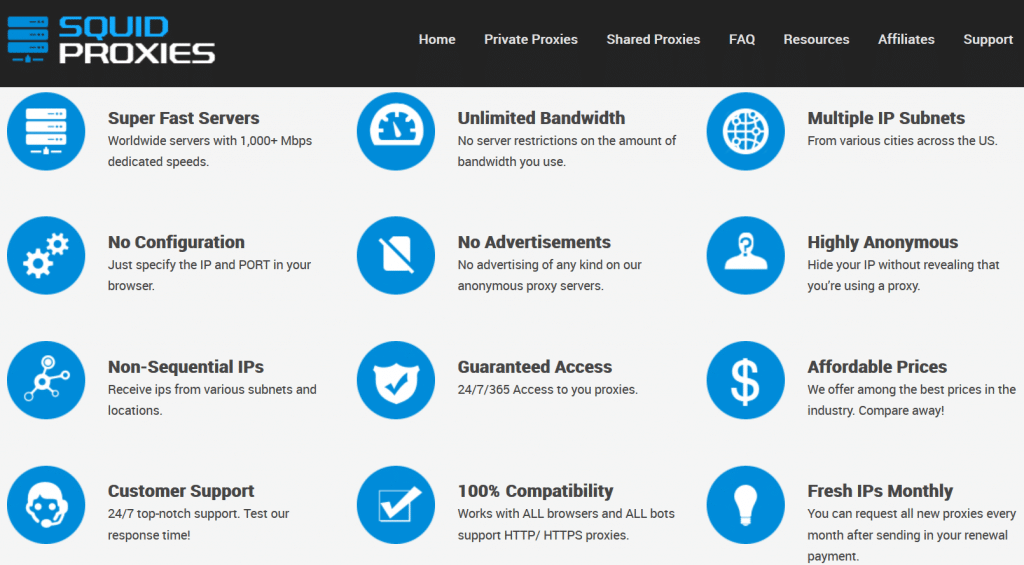 A well knows the proxy provider is "SquidProxies". Their Elite Private Proxies are popular on blackhatworld.com and warriorforum.com. Their offer Non-Sequential IPs and Works on all bots support HTTP(s) protocols.
Squid Proxies do not guarantee access to special websites, such as Nike, Adidas, Supreme. But they guarantee that if their proxies can't work for your purpose or you get a full refund in 3 days.
So, I suggest you order a small plan of 10 private proxies to test if the proxies work or not.
Their proxies are well known by BHW members, To know more about SquidProxies, our complete review here.
---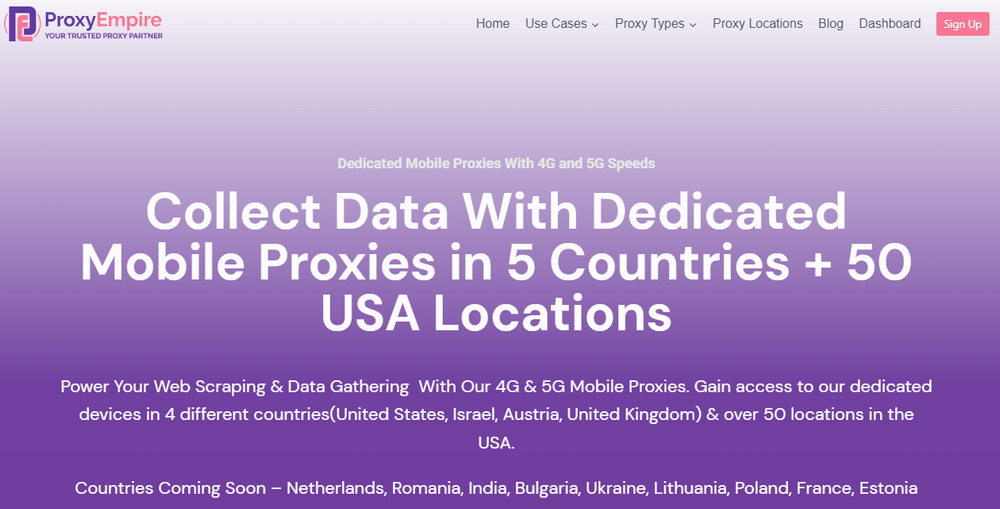 Being a new player on the market, ProxyEmpires offers astonishingly feature-packed dedicated mobile proxy packages, including USA 5G Mobile proxies and a multi-country package with impressive features.
With their USA 5G mobile proxies, you get unlimited threads, unlimited bandwidth, and custom rotation times for 45 locations in 39 states. Their multi-country package includes unlimited bandwidth, unlimited threads, and custom IP rotation (4-5 times a day) for USA (NY and Texas), Israel, the UK, and Australia.
The price for USA 5G Mobile Proxies is discounted from $300 to $250, as is the price for the multi-country package from $200 to $125. Ideally, their dedicated mobile proxies' uptime IP addresses are tested for quality to ensure you are receiving only the best rotating proxies with an exceptional network boasting a 99.95% uptime.
---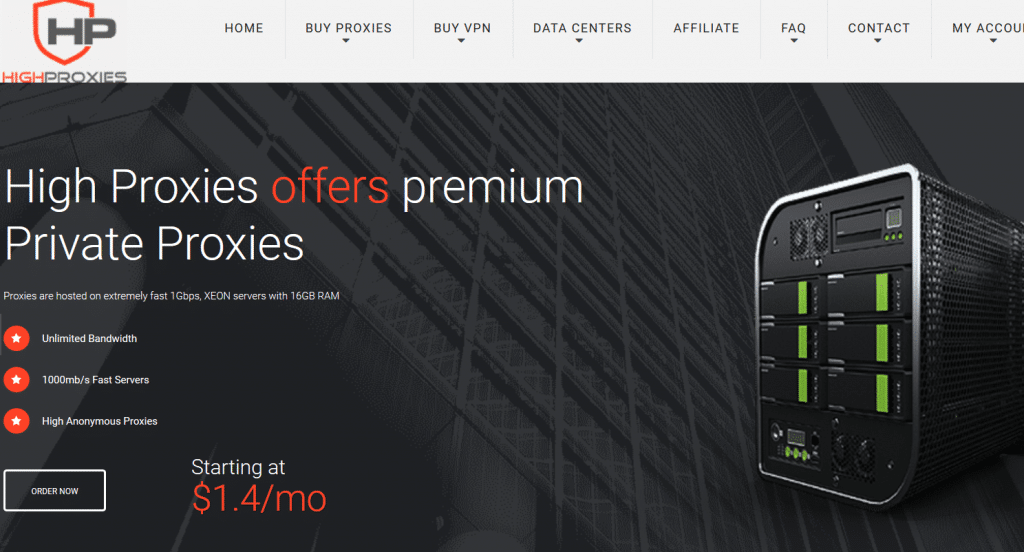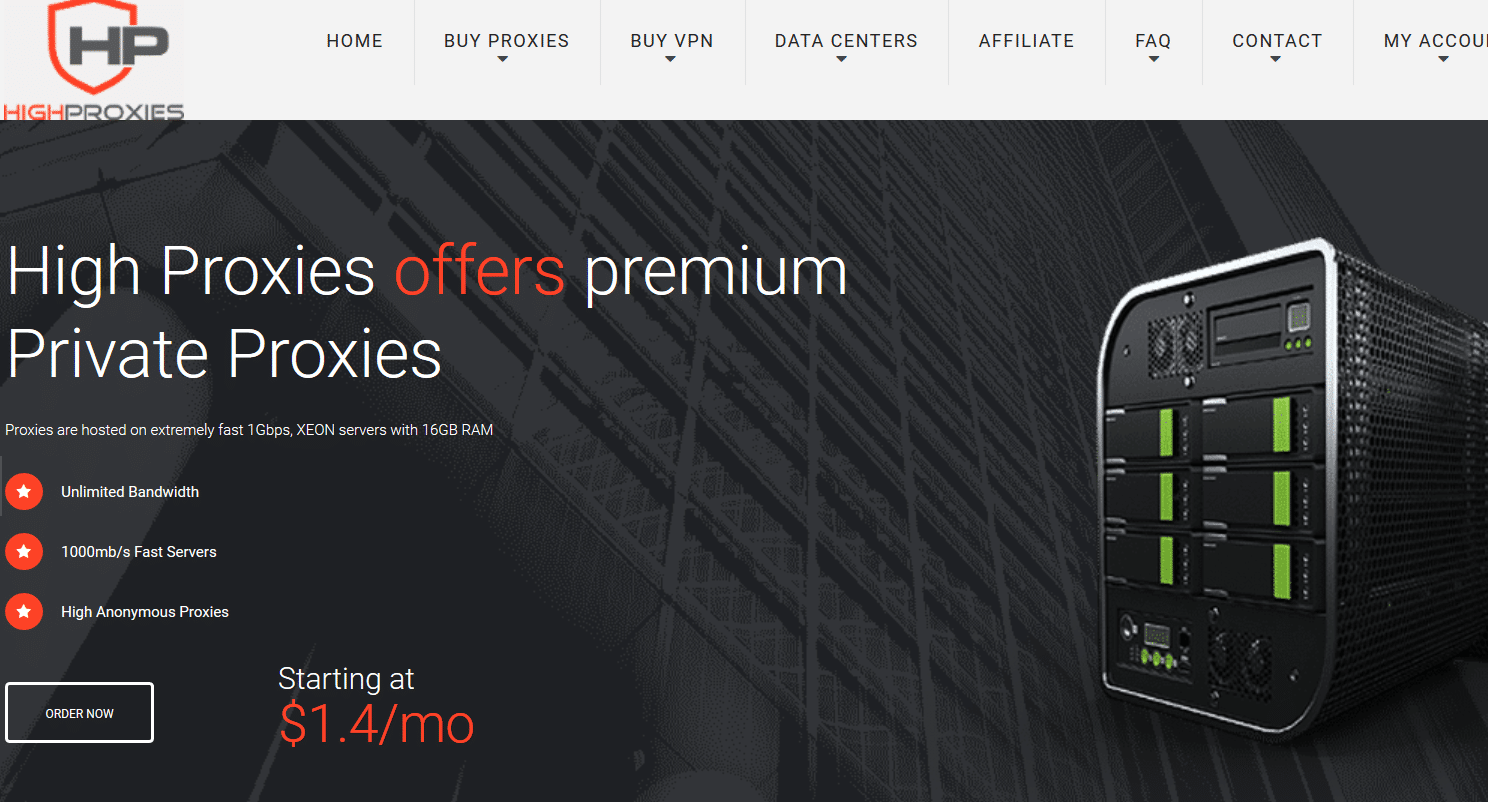 High Proxies is not an old proxy service, but Highproxies offer really fast Customer support, Their support is one of the best after I've tested.
I used to buy 100 US proxies for Adidas to cop "Adidas Yeezy Boost 350" on US store, but their proxies are all banned by the Adidas,  Though all the proxies are fast and google passed which I checked it on my Scrapebox.
So I submit a ticket to their support for a refund, and after 3 hours, I get the full refund. Now I still using their proxies for the Instagram automation, I handle more than 200 IG accounts without any issues using their dedicated IP proxies!
If you're want to know more details about Highproxies, you can read our test and review them to their proxies Here.
---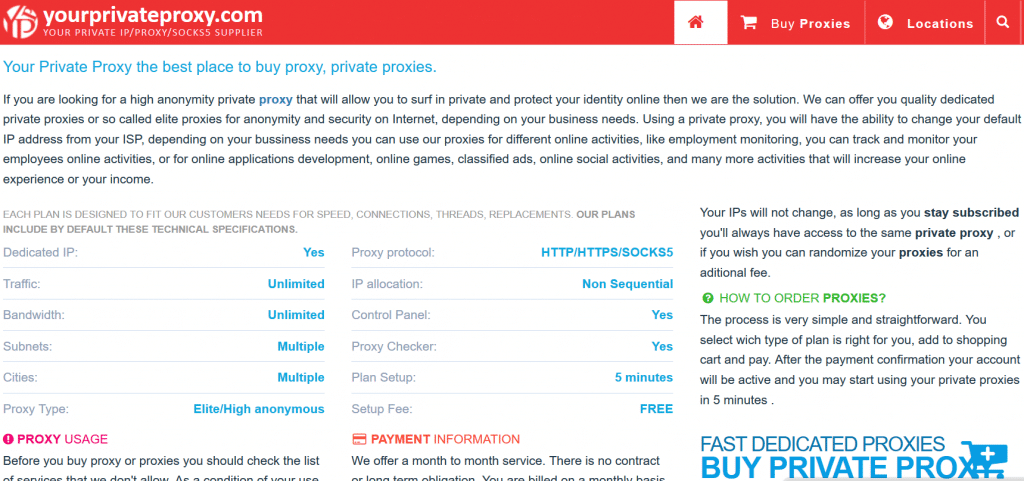 YourPrivateProxy.com also named by YPP is another proxy service offer the private proxy online. Though their proxies are more expensive than MyPrivateProxy and SquidProxies, I also like their proxies for their proxies support the Socks5 protocol.
YPP doesn't allow use their proxies on Mailing, ScrapeBox, Xrumer, Conquer Online, TicketMaster, and Torrents.
And you must note this, YPP does not offer refunds for proxies used or banned during sneakers releases!
Find out more about YPP proxies in our in-depth review here.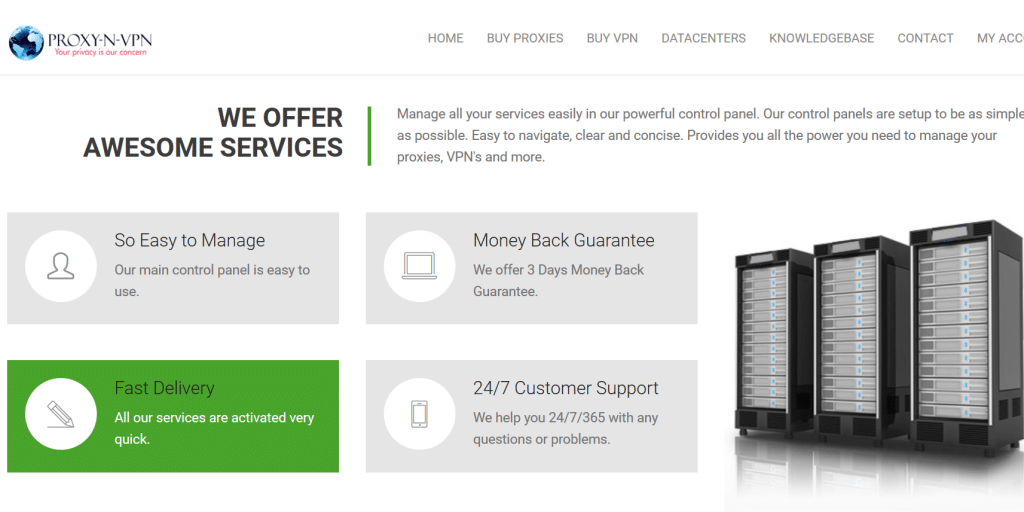 Proxy-n-VPN provide  Dedicated proxies which are datacenter IP addresses, Their proxies are great for Social media, such as Twitter, Instagram and so on, also they offer the craigslist proxies to bypass Craigslist posting. Also, it's another option to choose their proxies for SEO, who is well know in the BHW.
But their proxies do really slow when compared with other dedicated proxy providers, you can read and check their speed test results on their review page.
---
We do not recommend you use those residential IP proxy providers' dedicated proxies! They mainly sell residential proxies, few support to handle your datacenter proxies, so I would recommend you easily use a private proxy provider for dedicated IPs!

Oxylabs specializes in large-scale web data extraction. They own a pool of more than 1.5M datacenter IPs and can offer proxies from more than 80 data centers from locations all around the world (including places like North Korea).
Their datacenter IPs come from secondary corporations and are not owned by internet service providers. These IP addresses are not shared but given exclusively to a single user, thus providing them with private IP access and anonymity.
Oxylabs datacenter IPs can be implemented in any custom data harvesting script and tool. They are also very reliable, and the number of targets is not limited.
If you want IPs to be rotated automatically, you can use the Oxylabs proxy rotator. You get one entry node (with the necessary amount of static proxies inside) which is used as a regular static proxy, and the Oxylabs rotator changes IP on each request. It's also possible to control the session and keep the same IP on HTTP queries using cookies.
What's especially great about Oxylabs is their support. They offer 24/7 system monitoring, and you get a dedicated account manager. They have a free 7-day trial too.
---
11. Ghostealth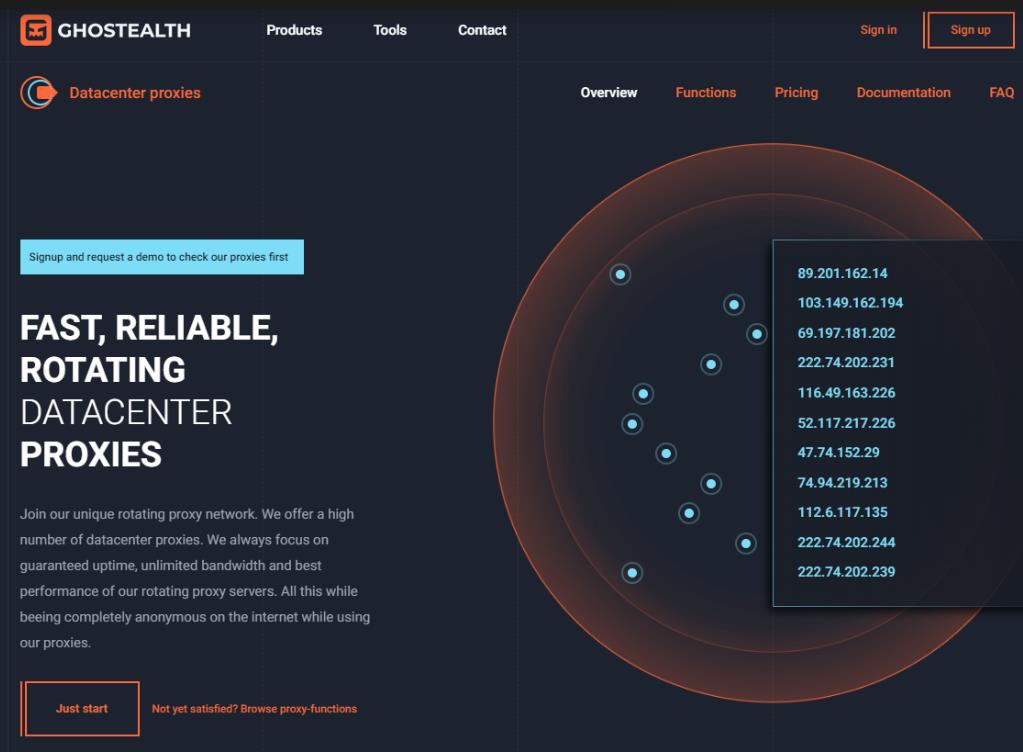 Ghostealth has been on the market since 2017 and has been developing its datacenter proxies ever since.
More than 5.000 customers have already put their trust in Ghostealth and their datacenter proxies.
The datacenter proxy pool consists of over 50,000 proxies and is updated on a regular basis. The unique element here is that these proxy servers rotate.
Each time you make a request, you get a new IP address. This keeps you completely anonymous on the Internet, meaning your original IP is always hidden.
With each of their servers, you get a fast internet connection with at least 100mb/s. This makes sure that the datacenter proxies can be used for many different kinds of tasks.
The price structure is flexible and transparent. Depending on project size and demand, the monthly membership rates range from $20 to $350 per month.
---
Advantages of Dedicated Proxy Server
The private proxy hosted on a fast dedicated server with a static IP address in the data center. There are many advantages of using a private proxy server for your online activities.
1. Dedicated Proxy Server is More Faster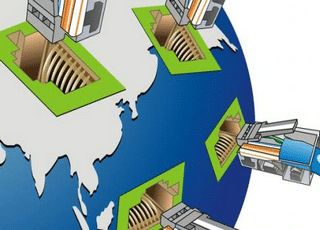 Dedicated proxies host on a fast server with a high-speed connection, So Your work gets done faster. Private proxies are safer as they are more likely to help you bypass various filters as well as firewalls.
You are able to get more IP addresses, along with with a wider selection of geographic locations, as well as faster speeds. A private proxy is a great way to keep your browsing history secret.
With the server, Proxy creates a cache that avoids the identical transfers of information among servers during a certain time, for what to navigate through a proxy with the cache will surely accelerate notably the time of load of the destination websites that's you're already visited.
---
2. Dedicated Proxies are More Stable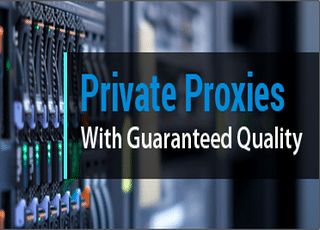 Most people would always enjoy the fact that private proxies are able to offer a much wider selection of geographic locations with regard to their IP addresses.
So you can have your IP addresses from the US, India, or elsewhere. There is no problem in arranging that with a private proxy.
One of these is that you become highly anonymous. This is because the dedicated proxy server will hide your real IP address as well as geographic location completely. Besides, internet servers will not even be aware that you are using proxies.
This way you would be able to protect yourself by making use of HTTPS protocol for the websites that you visit regularly. Do note that private proxies support both HTTP as well as HTTPS protocols.
3. Dedicated Proxy Server is More Secure
The fact is that on the internet you are always giving away a lot of information about yourself. Hence your unencrypted e-mails can be read by the e-mail server administrators.
Even the internet service provider and such other parties will be able to know the contents. The same would also apply to any kind of traffic that gets generated on the internet. This would include web browsing besides instant messaging, and so on.
Hence it becomes easy for someone to know where all you've been and the length of stay, it would not be that hard. In fact, even your own personal computer can watch and record every internet move of yours. Using a private proxy ensures that your browsing sessions are private as well as secure.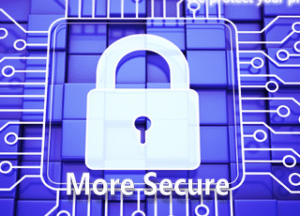 Hacking refers to the companies gathering information about where you live, your phone number is, and the business you do.
This may not seem too sensitive right now, but it can be a big hassle in the long run. A hacker getting this information can sell it to a number of other companies or even to other hackers.
This would lead to you getting smothered with junk mail, sales calls and so on. In fact, the hacker can put a few pieces of information about you together and have a full picture of your digital identity. This would allow them to open accounts in your name and even use your social security number for their own benefits.
Hence a secure proxy is able to keep your information safe. The hackers will not be able to get through to your computer to install a keylogger or something similar in order to record everything you type.
Thus a dedicated proxy can keep your identity as well as internet privacy safe from the eyes of others. This way hackers are prevented from using all that information against you.
---
The FAQ about Dedicated proxies
What are the different private proxies between dedicated proxies?
Lots of times the dedicated proxies are same as private proxies, some of the proxy services sell special private proxies for the special purpose, To let the users know it's not just private proxies, but also dedicated to special websites, such as Ticketmaster, Instagram, pokemon go and so on.
Those dedicated IP proxies are never used on those special websites, so It's virgin proxies can 100% working on those specific websites, That why the price much higher than normal private proxies. And one dedicated IP only allocates to you!
So you 100% handle this IP address not share to other users. All behaviors of behind this dedicated IP take responsibility by you, that's why some of dedicated proxy providers do not offer the refund for special websites.
Dedicated proxies VS. Simi-Dedicated Proxies VS. Public Proxies
| | | | |
| --- | --- | --- | --- |
| Type | Dedicated | Simi-Dedicated | Public |
| Speed | Fast | Slower | Slowest |
| Users | 1 | 2~5 | 5~10+ |
| Privacy | Anonymous | Anonymous | Not Anonymous |
| Price | Costs more | Much cheaper | cheapest |
| | $1.00~$3.00 | $0.3~$1.00 | Free |
Note, 100% Do not trust free dedicated proxy online! The free proxies usually for your personal privacy information with really slow speed, take care!
---