Residential proxies have become so popular lately. From web scraping to improving one's online security and anonymity, these proxies are taking surfing experience to a whole new level. Datacenter proxies are good yes, but residential proxies are the best.
Residential proxies are essentially IP addresses assigned to homeowners by their local ISP. These IPs are therefore real and legit. Therefore, as proxies, they look trustworthy to most site owners. No wonder they are rarely blocked.
Owing to the complexities involved in their "IP acquisition", there are not many "legitimate" and rightful residential proxy providers. In this article, we have rounded up some of the best providers. Check them out.
---
---
Why your proxies are blocked?
Proxy servers are a fantastic way to hide your IP on the internet. They enable you to channel your connection/browser through another, separate server which masks your IP. This also allows you to geographically spoof your location and give tell the internet that you're in another location – the location of the server. The proxy server has many benefits, allowing you to surf the internet in privacy. If you use a VPN as opposed to a proxy server, your connection will also be encrypted which will stop ISPs and Government agencies from sneaking on your traffic. However, although these are great options, they still have their limitations.
The main issue with the majority of proxy servers or VPNs is that they use data center servers. These are servers that are not linked to a specific homeowner and are essentially servers on their lonesome – dedicated servers, Such as when I use a dedicated proxy server on my chrome, You can easily check the IP of proxy on ipleak.net, Here you can know the proxy server from Digital Ocean which is a hosting company offer dedicated server, VPS.

Of course, these IPs can be useful when you want to use them say to create accounts on a smaller website, however, with modern technology such as Google RECAPTCHA V3, and MaxMind, MinFraud, these IPs are rendered as useful as any other "Commercially Allocated Address", also known as "Datacenter IPs".
This means that certain websites (Especially for sneaker sites or foot sites, such as Footaction, EastBay, ChampSports, SneakersNStuff, Footlocker, Finishline, Barneys, Kith, and More.) can spot the majority of proxy networks and VPNs when they are trying to connect to their systems. This is more so with bigger websites and their security software can detect a datacenter server and deny it access. However, with residential servers that use residential IP addresses, sneaker sites can be more chance to bypass to run multi-threads.
---
What is a Residental IP?
Before you understand the use of a Residental proxy you need to first understand what a Residental IP is. These are IP addresses that are given to a homeowner from their internet service provider. Each home has its own Residental IP and it holds certain information, like the approximate location and the name of the ISP Company.

The main benefit of these IP addresses is that they are legit and are tagged to a legit home. They are not data centers and cannot be banned as easily (unless they are seen to be spammy). This makes them excellent for proxies.
---
What are residential proxies?
Unlike datacenter proxies, residential proxies provided by legitimate ISPs to homeowners. These are real IP addresses wired into homes by Internet Service providers, such as Verizon, Cognate, Comcast, and most ISPs. They are trusted by most sites and are less prone to blacklisting.
Residential proxies are associated with real physical locations. Your ISP will provide you with a unique IP address depending on your location. That is your residential IP.
---
The 8 Best Residental Proxies
Residential proxies let you hide your IP address with another homeowner's IP, masking it and making it look completely legit. They are excellent for people who use proxies to get access to sneaker sites and who use aggressive data mining techniques. They are a little more expensive but are well worth the money. Here are the top 5 Residental proxies for 2022-2023.
Residential Proxy Service
Price
Feature of proxy providers
40 GB cost $500/mo

Over 40 million Residential IPs
Business proxy network
Luminati Offer 7 days free trial
20 GB costs $200/mo


40 million IP pool
24/7 Live Customer Support Chat
3-Day Money Back Guarantee
5 GB with 300 port cost $75/mo
8.5 million IPs active worldwide
ISP-level targeting
Supports Over 120 Countries

25 Special Ports $249.99
Offering Residential IPs
Large P2P proxy network
3 Day Money Back Guarantee
10 Ports cost $90
40,000 IPs in rotating pool
2 Days Money-Back Guarantee
Unlimited bandwidth
Our #1 Pick! All (Fastest & Largest) is the Best except the Price.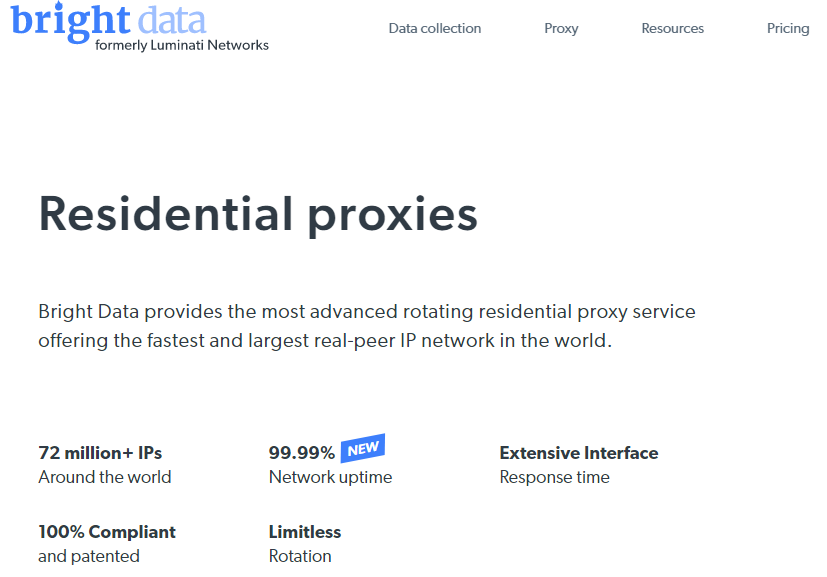 Brightdata (formerly Luminati) is one of the leading providers of residential proxy servers and has helped a lot of fortune 500 companies use the internet for their data scraping needs. The residential proxies all the companies to harvest vast amounts of data without being blacklisted by internet providers. Brightdata's (Luminati's) network consists of millions of IPs consisting of real addresses, making it difficult to get a server banned or blocked.
The largest residential proxy network in the world
To be precise, the service actually has just under 40 million different IP addresses in its pool and they are present in just about every major city around the world – giving you great global reach when using the internet. This is partly due to the fact that they offer a free VPN service named Hola VPN in exchange for a residential IP address that goes into their pool of P2P servers.
The Fastest residential proxies based on our speed test!
Also, because you can send concurrent requests to the different IP address you do not get slowed down too much by a rogue server, allowing you to use the service at decent speeds, Brightdata (formerly Luminati) offers the fastest residential proxies, check our speed test here.
Brightdata (formerly Luminati) mainly has four different price plans and they all change depending on the amount of data you require. The cheapest plans cost $500 a month and give you 40 GB of usage ($12.5 per GB). This goes up to $30,000 a month for 10,000 GB ($3 per GB). These prices are very expensive and this might be the only problem with this network. Aside from that, Luminati is fantastic and is highly recommended.
Do you need the static residential IP or dedicated residential proxy?
Now Brightdata (formerly Luminati) offers the dedicated residential proxies, so you can get the static residential IPs that's good for some projects like the mobile project and Instagram account management, Get more detail from Here.
---
Best residential proxies for personal or Small Business use, worth to buy!
Smartproxy is one of the fastest-growing names in the residential rotating proxy industry. It has very flexible subscriptions and pricing. Their "ready to buy" packages vary from 5GB ($15 per GB) to 1,000 GB ($3 per GB), so they are a good fit for various users.
The network is versatile and will satisfy both sneaker botters and the pickiest scraping experts or social media managers. Smartproxy keeps growing and now covers 50 US states and 195 locations (including some cities) around the world and claims to have over 40M IPs at the time of writing.
Smartproxy has dedicated 24/7 Customer Support with Live Chat and email, which is very helpful if you run into any random trouble and need someone to double-check your script late at night. The site has a nice dashboard for traffic usage tracking and adding session controls, and whitelisting IP addresses.
Smartproxy also recently launched an API to manage proxies without logging in on the site. The best part – you don't have to commit right away, as you get a 3-day money-back guarantee for all plans.
Want to know more about Smartproxy? Click here and read our full review. Use a 20% discount code "stupidproxy" in the check out to save money!
Tutorial, How to use Smartproxy Endpoint?
---
Fastest-Growing: NetNut – Fastest-Growing Proxy Network with the fastest speed!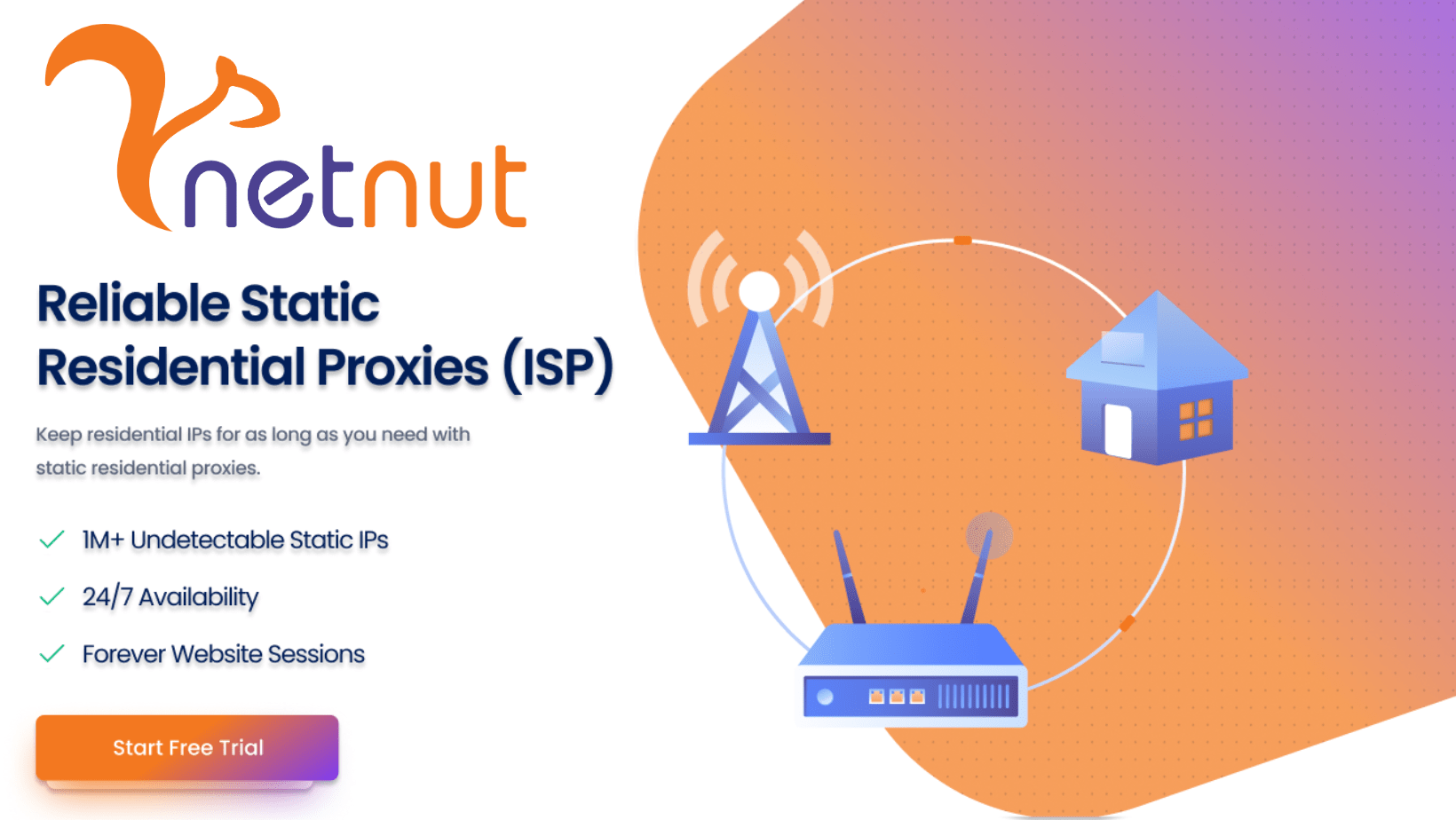 20GB cost $350
52,000 IPs in a rotating pool
7 free day-trial
Bandwidth starts at 20GB
NetNut's trustworthy static residential proxies offer you unlimited data and connections. With these proxies, you can access the internet quickly, securely, and without revealing your identity. NetNut has over 1 million undetectable static IP addresses available at all times. This makes it perfect for doing many serious work like competitor research, SEO, brand protection, and market analysis.
You can use as many connections as you want and won't get flagged as suspicious activity by the web security system. And therefore, you won't get blocked. The speed is undoubtedly one of the proxy service's strongest points. NetNut's clever mix of ISP and P2P proxy networks gives you great performance while keeping you completely anonymous.
The API integration with your browser is seamless. This gives you an intuitive and informative dashboard that allows you to monitor key performance metrics of the network. You'll also find out about your sessions and how much data you've used. NetNut makes sure everything is smooth and uninterrupted while you collect information from the internet.
NetNut's special residential proxies are uncompromising enough to bypass things like CAPTCHAs, reCAPTCHAs, bots, and other limitations. You don't have to deal with these limitations any longer. But with NetNut, you can elevate your work efficiency to the next level. You can schedule and complete tasks on time and get lots of information quickly.
You can start with a 7-day free trial to see if it's right for you. Then, if you like it, you can pick a plan that fits your needs both in terms of budget and bandwidth. There are different levels, and the higher ones give you more your value for your money. You could even choose the biggest package called the Production Plan which offers a massive 100 GB of data. NetNut has flexible plans so you can choose what works best for you. When they say "unlimited," they mean it with NetNut's Reliable Static Residential Proxy Packages.
---
ISP-level targeting with residential 4G & Wi-Fi!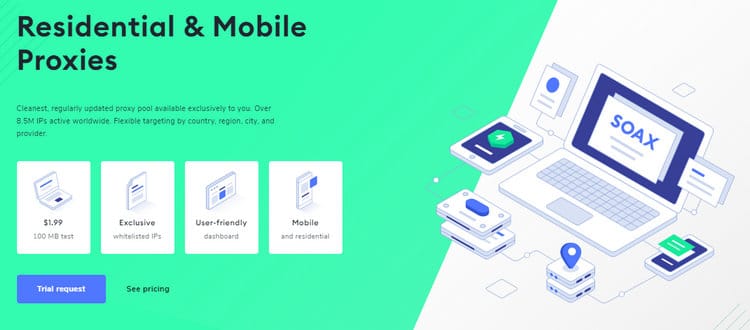 Unlike the other providers discussed above, Soax is a new kid in the block – but yeah, it has proven to be a strong contender and has made it to the list of the best residential proxies in the market. One thing you will come to like about Soax is that they maintain one of the cleanest proxy pools in the market. Currently, they have a residential proxy pool with over 5 million IP addresses. These IP addresses are sourced from countries around the world.
With Soax, you can enjoy a fine-tuned targeting option as Soax has support for country level, state level, city level, and even ISP targeting options. Soax residential proxy service is versatile as you can use it for many use cases, including price monitoring, ads verification, SEO monitoring, web scraping, crawling, and other types of web automation.
Unlike in the past that Soax is very flexible with their packages and payment options, Soax is not as flexible as it used to be. Now, you can no longer buy daily or weekly proxies from them. Their pricing is now monthly pricing. However, one thing you will come to like about their pricing is its affordability – you can get started with them with as low as $75 monthly.
---
No bandwidth restriction & Support Socks Proxy Protocol!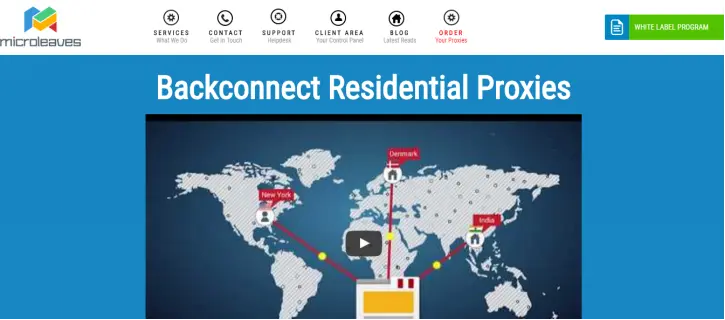 Microleaves change to a new brand named "Shifter", It is another big residential proxy network support Unlimited bandwidth and consists of over 26 million IPs (Though this looks not true!) around the world. The proxies charge by Port, which does really easy to use compare to the Luminati and others cost by bandwidth!
Besides this, another advantage is that Microleaves offer the Socks5 residential proxies that are easy to use! So If you looking for a residential socks proxy, Microleaves is the best choice for a residential socks proxy! Few of residential IP proxies service support socks5 compatibility, even if Luminati supports that, but you have to download LPM(Luminati Proxy Manager) to config it.
As just mentioned, all of their IP addresses are of real people and real homes, so it is very difficult to get banned or blocked when using their network, making it perfect for data mining and harvesting. Their network rotates between IP addresses and ports your connection every 3 minutes, you can use special Backconnect Proxy Ports to get more functions such GEO location, exclusive websites, and so on, for more detail, you could read our in-depth & test review.
They have 24/7 customer support and have the biggest range of plans that I have ever seen. They offer different price plans that suit everyone's needs and even allow for custom plans if you still cannot find one that suits your needs. They do not charge per GB and offer unlimited bandwidth – they charge on the number of ports you require. Their starter plans are priced $$124.99 and go up to around $12000.
---
The Cheap ISP proxies with a flexible payment plan

Proxy-Seller is definitely the cheapest ISP residential proxy provider on the market. Even though it is new to many customers, it guarantees high-quality, reliable, and affordable prices on top of good coverage. And if you need help in multiple Proxy categories, Proxy-Seller covers you under one roof.
The company gets positive feedback from its website for its ISP proxies capable of carrying out countless tasks, including sneaker copping, online gaming, marketplace, crypto, and many other purposes. They have targeted residential proxies that work on particular programs such as in the sneaker bots, e.g., AIoBot, BetterNike Bot, Eve AIO, Sole AIO, and even CybersSole, which indicates they have high speed, guaranteed response time, and high success rates.
Proxy-Seller ISP residential proxies are compatible with third-party software and support all major protocols with excellent customer support service. What makes them more popular is that their pricing is flexible to accommodate any budget but guarantees fewer bills on long-term purchases.
---
Cheapest residential proxies, but small pool!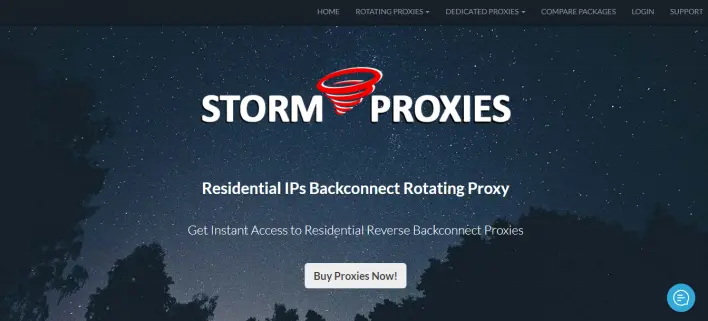 Storm proxies is another great network of backconnect residential proxy servers that enables you to safely use data harvesting tools and search the internet without the risk of being blocked or banned. Their residential rotating proxies are fantastic is you are both an expert user and need hundreds of proxies or are a beginner and don't want to spend too much money.
To know the performance of their proxies, you can read our in-depth storm proxies review.
This is because they offer beginner users who do not need as many ports a $19 per month deal that gives them one port. As for their server count, they do not have as many as Luminati but they still have a fair few on their P2P networks – 40,000 to be precise. All of their plans allow you to have access to these servers but the variation is in the number of ports you can connect through.
What we liked about Storm is that they provide a 24-hour money-back guarantee which you don't often get with these services and they provided unlimited bandwidth. They also provide 24/7 support and give you access to their network immediately.
---
Affordable and versatile proxy provider!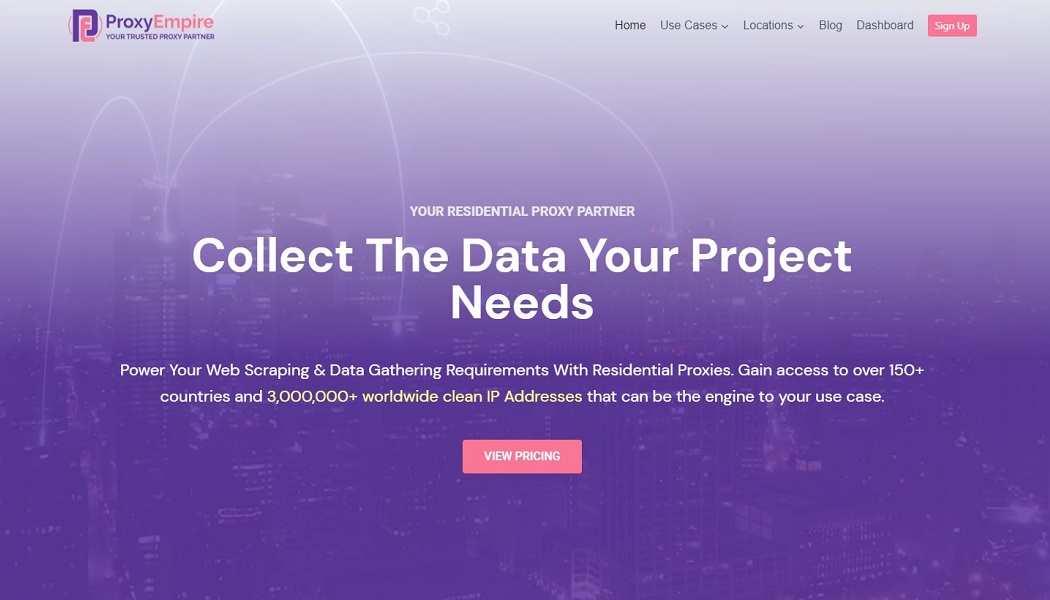 ProxyEmpire as a relatively new player in the market offers a low starting price and accessibility for smaller projects. ProxyEmpire is recommended as a high-quality, budget-friendly proxy provider.
In comparison to Bright Data, ProxyEmpire has a smaller IP pool (over 4 million), but its proxies have been tested and are more than sufficient for a variety of tasks, including data scraping, account creation and management, and many more.
Another exciting advantage of using ProxyEmpire's services is their option for rollover bandwidth. This means you get to use all of your bandwidth without expiration.
In general, Proxy Empires provides six residential plans ranging from $45 for 3GB to $4000 for 1TB, with an option for custom payment plans that makes them suitable for a variety of use cases.
---
Residential Proxy Providers to Avoid!
Oxylabs
Oxylabs
is a tech company that specializes in large-scale web data extraction and has helped many industry leaders with their web crawling needs. They own a pool of more than 1.5M data center IPs and a residential proxy network with more than 30M+ residential IPs from more than 180 countries around the world.
Oxylabs

Residential Proxies
are perfect for large-scale data extraction. These IPs mostly belong to the large Internet and mobile service providers. That's why other websites don't block users with this kind of IP. They offer worldwide city level targeting with 24/7/365 uptime and have enterprise-level 24/7 support.

There are 5 different price plans from as little as 300$ (20 Gb included) per month. The price depends on the amount of bandwidth you require.
Why not recommend: Compared to other residential proxy providers, there is nothing different, especially for Smartproxy, Now smart proxy offer 40+ million IP Pool to use, the same type of proxies, why do you get expensive one?
---
GEOsurf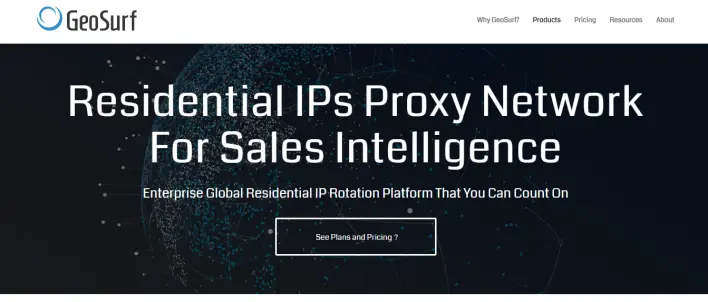 Geosurf is another well-known residential proxy network and consists of over 2.5 million different IP addresses in every city in the world – giving you an enormous reach when it comes to geographical coverage. They also are fantastic for speed because you can perform high-data requests parallel to each other through multiple IP addresses, which doesn't comprise speed and doesn't get you banned or blacklisted.
In total, their network has over 199 locations and has premium support which runs round the clock to make sure your service is working ok, you can learn our test to Geosurf proxies from Here. You are also not limited to their plans – you get access to their complete pool of IPs no matter which plans you choose.
What we particularly liked about Geosurf is that they give you a statistics and analytics board to monitor your data harvesting. Allowing you to optimize it where necessary. Their starter package begins at a pricy $300 per month and goes up in price depending on the amount of data you require.
Why not recommend: Pool never changed for years, and support is slow.
Tutorial, How to use Geosurf proxy gateway?
---
Zyte Proxy– Crawlera.io
And if you want to choose residential proxies for data scraping & extraction, the Crawlera is a much better choice as the alternative to Oxylabs! Their proxy API is one of the smartest options designed for scraping data to avoid blocked and captchas.

Why not recommend: Those types of scraping APIs are easy to use, but compare to normal proxies, those types of API charging by request! That's more expensive than normal proxies, But they help you handle the proxies, Worth or not, based on your choice!

Obviously, there are lots of scraping API services online, worth than ZYTE's rotating proxies, such as scraperAPI, Scrapingbee and so on.
---
What are the Benefits of Residential Proxies?
There are a lot of different benefits to using s residential proxy service like the companies above. Here are a few benefits that you should be aware of.
They Allow You to Hide Your IP
This is a fairly obvious one but it is still a benefit. A residential proxy works in the same way a datacenter proxy works – it allows you to stay anonymous when using the internet.
This is because you are spoofing your IP with another server and this allows you to gain access to restricted websites and other geographically restricted content. However, with proxy servers, you are not entirely anonymous because the network is not encrypted. This means an ISP can still see your traffic.
Comes Across as a Legit Connection
This is why residential proxy servers are so good at accessing sneaker sites with datacenter proxy security systems. They look more legitimate than datacenter proxies because they are tagged to a specific home and ISP.
The sneaker site will see that the connection is coming from a real person and let you through. However, residential proxies can still be banned if they are abused. This is why the IP rotates every few minutes so that the proxies do not fail.
---
Who Should Use Residential Proxies?
Residential proxies are not for everyone. They are very expensive and should only be used by people who really need them. Here are a few individuals who may benefit from a Residental proxy.
---
Data Harvesters
They are perfect for data harvesting and collection which is why they are perfect for marketing agencies and corporations who need to collect a lot of data quickly about their audience and competitions without being told off by their internet provider.
They are also widely used in SEO for information scraping. There are a number of systems which are a huge weight online because they are designed to scrap hundreds of data very quickly. Devices such as SEnuke and GSA are just a few examples of link builders that require a lot of internets and are perfect when used with a residential proxy service.
This is because of the IP rotations that occur in the system. This is also a safety precaution so that individual's home IPs are not abused and blacklisted from sites.
---
Getting Past Sneaker Sites
This is one of the main uses of a Residental proxy and has already been mentioned in the introduction. The main people who will use these servers are spammers (which is why websites protect themselves) but some may just want to access the website for information.
However, because of the security systems in place, the site can often sniff out a datacenter proxy during connection and will blacklist it if any alarm is triggered. If you use a legitimate residential IP address the website will most likely let you pass. However, in some cases, datacenter IPs will be fine if you are spoofing your browser fingerprints, Sometimes you can use those proxies for Shopify Sites or set up the proxies on Sneakers Bot, but for the official websites like Adidas or Nike, the Residental proxies are the safest to use.
---
And more…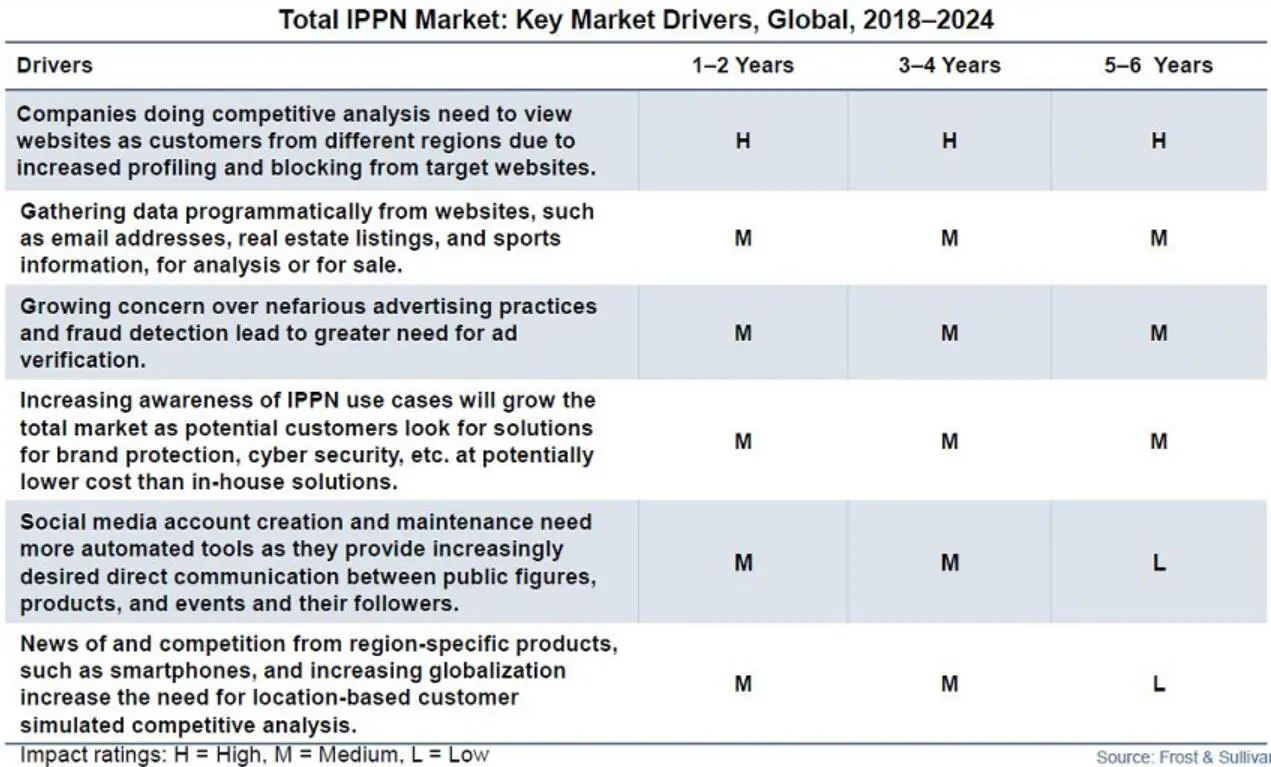 ---
Datacenter proxies or Residental proxies for copping the sneaker?
My answer to this is,
Residential Proxies for Adidas
Now Adidas is offering a security system named HMAC to prevent users to run a bot to cop their sneakers, specifically for the Adidas YEEZY BOOST by Kanye West, One of the great ideas to unblock the restriction is use the Residental proxies. Residential IPs are like ours home IP address looks more natural, so it's less chance banned by Adidas, That's why I suggest Use the Residental Proxies for run AIO BOT on Adidas US/UK.
Dedicated proxies for Foot sites
Datacenter proxies offer by private proxy providers are still works well on lots of foot sites, like #SneakerNStuff #Finishline #YeezyStore #footlocker #eastbay #footaction #Barneys #Offspring #Kith #ChampSports..and so on which still works well.
So if you want it to cop the sneakers from these sites I still highly recommend you use the Dedicated Private Proxies, The Datacenter proxies give you more fast network connection and the server is more reliable than the Residential/Home network connection.
---
Conclusion
Proxy networks are fantastic if you are looking to hide your IP address and surf the internet more privately. However, if you are also looking for a way to use proxy networks and not get banned when using them you should look for residential proxies. These are IP addresses that have real locations and are tagged with other users.
This makes them legitimate and less prone to being banned. With the services available there is also the option to have them rotated so that you do not overload any servers. They are great for mass data harvesting during research and scraping and also allow you to get past sneaker websites that recognize proxy data centers. There are a number of providers and the top 5 are listed above. Have a read-through and choose one that suits your needs.
---