Whether you're a torrent user, an online business owner, a social media marketer, or someone who wants to go through SEO rankings in bulk, you will undoubtedly benefit from proxies. These days proxies are becoming popular because they allow users to perform various tasks that are otherwise not possible.
Using proxies, you can easily bypass various restrictions such as those of censorship and the geological ones. However, with the plethora of private proxy providers available on the web, it gets really difficult to choose one that is exactly according to your needs. This is a complete buying guide of private proxies, in which we have also reviewed the top ten best proxy providers of all time.
Beginner's Guide to Private Proxies
What is a Private Proxy?
A private proxy is the type of a proxy server which is exclusively being used by one person at a time. This proxy server hides your IP address and makes it untraceable. This means that if you're using a private proxy, your IP address becomes masked, masking your IP address given to you by your local ISP.
How the Private Proxy works?
How to ensure that you are the only user of the proxy? The way to go is AUTHENTICATION. Before you buy a private proxy, you should get a private proxy provider that provides authentication system as part of his services for his private proxies. There are two common ways of private proxy authentication:
Username and Password Authentication.
The first method is the Username and Password Authentication. This method is very common and it is frequently used among internet users. It is also very easy, since all you need to provide are your login details which are username and password. The format of private proxy as,
IP: Port: username: password
Whitelist IP Authentication
The second method is the IP Authentication. When you purchase a proxy from a private proxy provider, there is an IP address assigned to you. This IP can be used for authentication. It is a simply way to give you an authorized access to proxies. The proxy is actually the simplest but you can't call it less secure compared to the username and password method. It has its own pros and cons. You will have to whitelist your IP address with your private proxy provider which means you can only have access to the proxy from that Whitelist IPs alone.
Types of Private Proxies (Different type of IPs)
From the broad sense, Private proxies are a type of proxy server which only used by one users at one time, So It's further divided into some types. The premium proxy providers will offer three types of private proxies which will include Private dedicated IP proxies, Private residential IP proxies and mobile IP Proxies.
From a narrow sense private proxies are the just Private Data center proxies are also referred to as "dedicated proxies" to conceal their public IP address! The Dedicated proxy is a dedicated IP address which is only used by one person at a time, to conceal their public IP address.
Private Dedicated Proxies

The private dedicated proxy providers mainly offer the Datacenter IP addresses, which consists of dedicated IP address with a stable and trusted proxy software which masks your real IP, which provides anonymity on the internet.
The dedicated proxies provide most stable and fast proxy network connections, but the IP may be blocked by some strict sites such as sneaker websites and ticket sites, So, if you're intending to use the Datacenter Dedicated proxies for using on these strict platforms, you shouldn't consider the Virginity of these proxies.
Private residential proxies
Residential proxies are dedicated to a particular home and when the users access websites using these proxies, the websites get an idea that the request is being made from home.
Private Mobile proxies
Mobile proxies are setup only for cellphones and are associated to mobile carriers such as T-Mobile and AT&T. These proxies are always changing and thus are difficult to track. These proxies are the best to use because of their lesser chances of being tracked. So, before buying a private proxy, it is also necessary to determine the type so that you can use according to your needs.
To simplify things, Here we're mainly discuss about the Private Dedicated Proxies. And if you're much interested on the residential IP proxies, See our in-depth private residential proxies here.
Why do you need to use it?
Efficient & Essential to Automation Tools
Private proxies allow their users to use a variety of tools for various purposes. Most of the private proxy users ignore this thing and then they try and get their desired results even when the proxy is not able to use a particular tool. There are some tools that are more compatible with some proxies as compared to others. These tools are very beneficial in accomplishing various tasks, but you must understand that different tools are needed for different tasks.
For Sneaker Bots
Both Bot and Proxies are the great tools to help you buy limited edition sneakers. You can use the private proxies with bots for catching the limited-edition sneakers. There are sometimes IP limitations to such sneakers but with private proxies you can easily buy them.
If you're a sneakerhead, you should know there are tons of sneakerheads who cooking the sneaker for sale. The private proxies can help you run more accounts on the sneaker Bot, Here is some of Recommended Bots by sites.
| | | | | |
| --- | --- | --- | --- | --- |
| Adidas | Nike | Supreme | Shopify | Footsites |
| SplashForce  | BetterNikeBot  | ForceCop | Dashe  | ANB AIO |
For SEO Tools
You can use various powerful tools such as SEO Power Suit, ScrapeBox or GSA SER to harvest data from various sites and also for checking rankings of the search engine.
For example, if you want to scrape websites using your private proxies, you'll need ScrapeBox which is the best tool for data scraping. This tool will let you scrape data faster and also in bulk. You can scrape bulk of data such as comments, links, and much more with this tool.
For Social Media Automation
Private proxies can also be used to create multiple social media accounts. If you want to build social media presence, you can combine various tools to do so. You can also discuss with the proxy provider to discover more tools that can help you get most out of your proxies. Also, make sure that the private proxy you are buying supports the tool that you will be going to perform your tasks.
Instagram automation
Instagram is a popular social media platform and it allows you to take breathtaking pictures of whatever you want to show to the audience. As an online business, you can promote your business by increasing the number of followers on your account. This can be done through proxies by using bots such as FollowLiker.
Twitter automation
If you want to create multiple accounts on Twitter without being banned, private proxies are a good option. Also, using these proxies you can unblock Twitter if the website or app is not accessible at your location.
There are lots of platform you can run the social media Tools with proxies, such as Pinterest automation, reddit upvote bot, Youtube views bot and so on.
Web scraping
Web scraping is a common practice of extracting data from websites. Private proxies are the best at doing this because they try their best to maintain anonymity and avoid being tracked by the website. During the data mining process, a private proxy prevents the IP address from being banned and thus makes the task easier.
Amazon scraping
Amazon is the greatest e-commerce websites of the world! There are countless Brands and products on amazon, with private proxies you can easily scrape all data from their website, with those data you can Track Keywords Ranks and Products Performance, and Running Keywords & Product Research.
App-store scraping
By doing app-store scraping you can easily and immediately get access to any type of information without any restrictions. You can scrape app-store data in a lesser time and that too easily.
Special usage of private proxies
Private proxies can be used for different purposes, and an important task is to determine the reason for which you need them. Following are some great uses of private proxies:
Geo-surfing
Geo-surfing has now become popular with private proxies. You can easily surf those websites which are restricted in your country due to any reasons. Your private proxy provider will offer you a proxy from that location where that website is accessible and then you'll be able to view the content easily, and that too without being banned.
Craigslist
Craigslist is a big ad-posting platform and there are millions of people who use it to promote their business. If you have an international business and want to promote it outside your country, you can use private proxies for the purpose. However, if you want to post an ad from another country without being filtered, you can use the private proxies to do so.
Rank tracking/mass searching
Private proxies also help in rank tracking of various websites. Rank tracking tools are very helpful for SEO purposes and for online marketers because they can analyze the strength of particular keywords. Such tools are really helpful when it is necessary to find the most effective keywords for SEO purposes.
Apart from these, there are many other tasks that you can do with your private proxies. Even if you had already decided to do a particular thing with proxies, it will help you define your priorities and convey them to the private proxy provider. This way you'll be able to get the right proxy and your surfing experience will be better than ever.
Also, you can use the private proxies for Gaming, Ticketing sites and more!
Things to consider before buying a private proxy
There are a lot of factors that should be considered before buying a private proxy, because it will help you improve your web surfing experience. If you are not getting the right type of proxy according to your requirements, you won't be able to benefit much. Also, if you end up with a proxy that doesn't perform up to the mark, you might face loss of information or data too. So, are you wondering what to look for in a private proxy? Following are some important points that you should consider:
Security and speed
Security and speed are the two most important factors that determine the performance of a proxy. It is always important to choose a private proxy with a high-speed connection. You can test the proxy for its speed and then decide whether it is up to the mark or not. Some good proxy providers offer a trial period too, which allows the user to check the various performance factors and then make a buying decision.
Security is another important thing that must be taken into account. Though a private proxy is very secure, you must still make sure that the provider uses advanced tools and technology to secure their clients' data and information. Some proxy providers sell shared proxies to their clients and the clients think they are private proxies. Service providers tend to play this game mostly with the beginners because they aren't able to differentiate between a slight drop in speed in a shared proxy that doesn't happen in a private one.
A private proxy provides a separate layer of firewall and acts as a filter to block the malicious content. Since it doesn't connect directly to the internet and acts as an intermediary, it easily filters out the viruses or malware that can harm your system. It is very necessary for a private proxy to possess all these properties to provide adequate level of security.
Location
Proxies are mostly used because of their ability to bypass the geological restrictions. If you are buying a private proxy for the same reason, you must first make sure that you buy a proxy with a trustworthy location. This is because some locations are riskier than others and that there is a chance of an IP or proxy ban from those particular countries. When you choose a private proxy just to use some particular websites, you must check the location of the website too. When you know the city where the website is hosted, you can choose the location accordingly. Proxies from certain trustworthy locations like the U.S, Canada, Australia, and the U.K have lesser chances of being banned as compared to the riskier locations such as Ukraine, Russia, and Africa etc.
Anonymity
Many people give prime importance to anonymity and this is why they use proxies. Proxies allow the users to surf the web anonymously and thus the websites and search engines are not able to trace their details such as location and other information. With proxies there is no fear of being tracked by cookies and other methods of detection.
When you make requests to a website server using a private proxy, your identity remains anonymous and thus you can surf freely without any restriction. This means that if you own a business, you can visit the website of your competitor without being identified. Private proxies are secure and provide anonymity to the users but still you should make sure with the provider if there is any chance of data leakage. Websites have become more intelligent and they use advanced methods to detect the activities of the visitors. However, it depends entirely on the quality of the service provider the degree of anonymity it is capable of providing.
Price
Price plays a crucial role in the performance of the private proxies, and both the terms have a direct relation with each other. The higher the price of a private proxy, the better its performance is. Most of the social media marketers or SEO experts use price as the main factor for differentiating between the quality of various private proxies. However, some private proxy providers take advantage of this thing and sell poor quality private proxies at higher rates. Virgin proxies are considered as the best ones as they haven't been used by anyone earlier, but it is difficult to recognize whether a proxy is virgin or not. Virgin proxies are the best for SEO tasks and to be used on websites that have serious restrictions.
Customer service of provider
The customer service provided by the private proxy provider also plays an important role in improving the experience of the user. Whenever you encounter an issue, you must have your proxy provider by your side so that the issue can be resolved immediately. Some of the private proxy providers offer very less support and their users face a difficult time when they have any query or any problem at hand. Some proxy providers even exchange your proxy if it gets banned, while others provide a money back guarantee if the customer isn't satisfied with the performance of the proxy.
Virginity
Virgin private proxies are those that have never been used by any one and are set up for the first time particularly for a user. These are the best proxies in terms of overall performance. Virgin proxies will be the best choice if you are concerned about the speed or security. There are also very less chance of these proxies being banned because they haven't been used by anyone earlier for sending requests to a website. So, if you are going to use the proxies for bots to scrape data, these will be the best choice as there are lesser chances that they will get detected or traced.
Best Place to buy proxies?
Now that you have determined your needs and requirements for buying a private proxy, you should go ahead with the selection of private proxy provider. The cost of the private proxies can vary from one provider to the other and you should negotiate with the provider before you make a final decision.
Top 10 Recommended Private Proxy Providers
Private proxies are one of the best proxies available as they are dedicated to single user and he/she gets to utilize the full bandwidth and get complete security while surfing. We have jotted down a list of the top ten private proxy providers who are trustworthy and reliable. Following are the our in-depth reviews:
MyPrivateProxy – Best for all Uses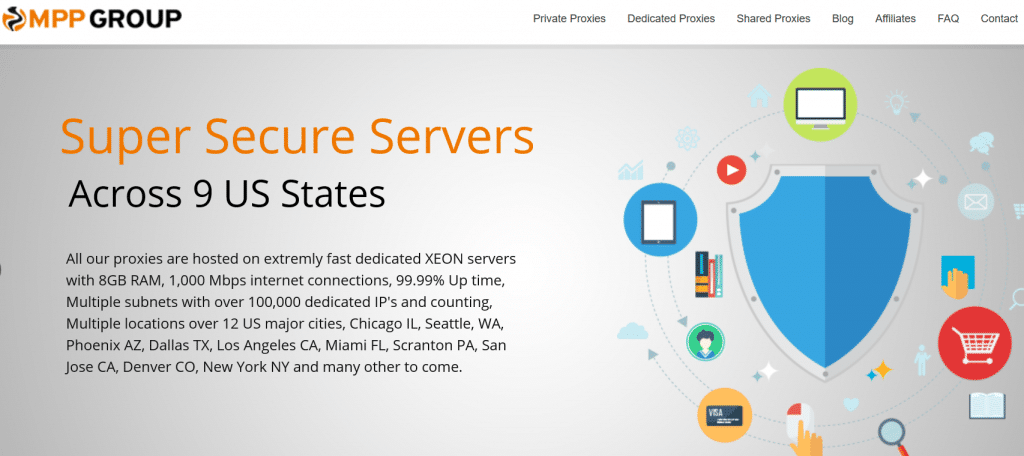 MyPrivateProxy is the best proxy providres by many proxies users, as it is considered to be an all-round one. MyPrivateProxy is perfect for SEO purposes because it supports various tools for scraping, social management, and link building. They offer shared proxies as well as private proxies and cater a large range of services. Following are the special purpose proxies that they offer:
Ticketing proxies
Pokemon GO proxies
Sneaker proxies
SEO proxies
Network performance:
MyPrivateProxy offers very speedy proxies because the proxies are hosted on 464 dedicated XEON servers along with 20 Gbps internet connections and a 32 GB RAM. There are multiple subnets and are more than 200,000 dedicated IPs allocated for the proxies.
You can learn more about MPP's Speed & Network performance in our in-depth Review here.
Server locations:
There are 29 server locations out of which 21 are spread across the major cities of the U.S. The proxy servers in US are running on green energy. Other than US they have server locations in Germany, Canada, France, UK, Netherlands, and Luxembourg.
Pros
Authentication is done by username and IP method both.
When you buy proxies from them, you can enjoy instant activation.
There are no bandwidth restrictions.
If you request, you can have an IP-refresh for each billing cycle.
There are 29 server locations.
They provide a 3-days money back guarantee.
They are perfect for copping sneakers and ticketing with Ticketmaster.
You can get a discount if you want to buy proxies in bulk.
The servers on which the proxies are running are optimized for speed.
Cons
Their live support isn't responsive.
The threads are capped to 100 for one proxy but you shouldn't do that without switching.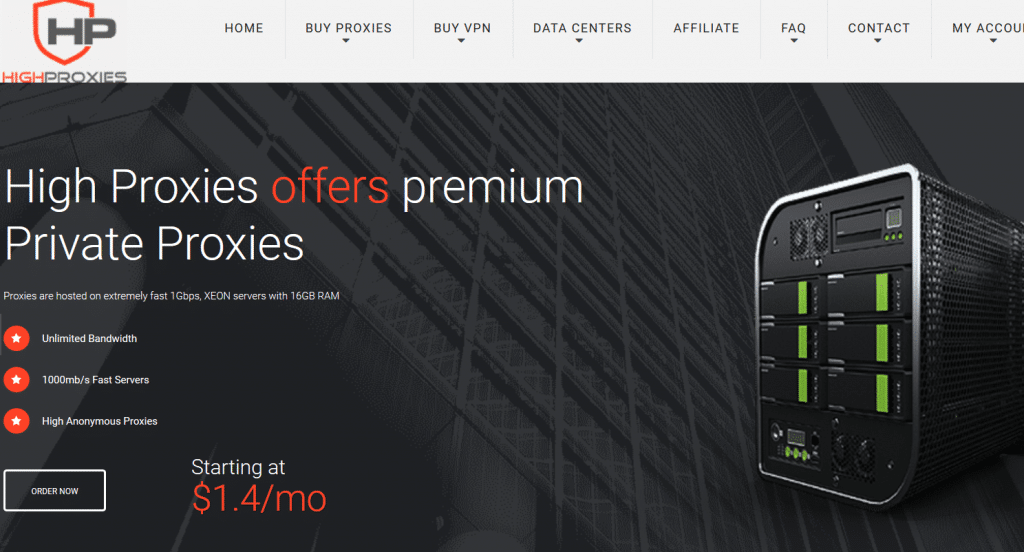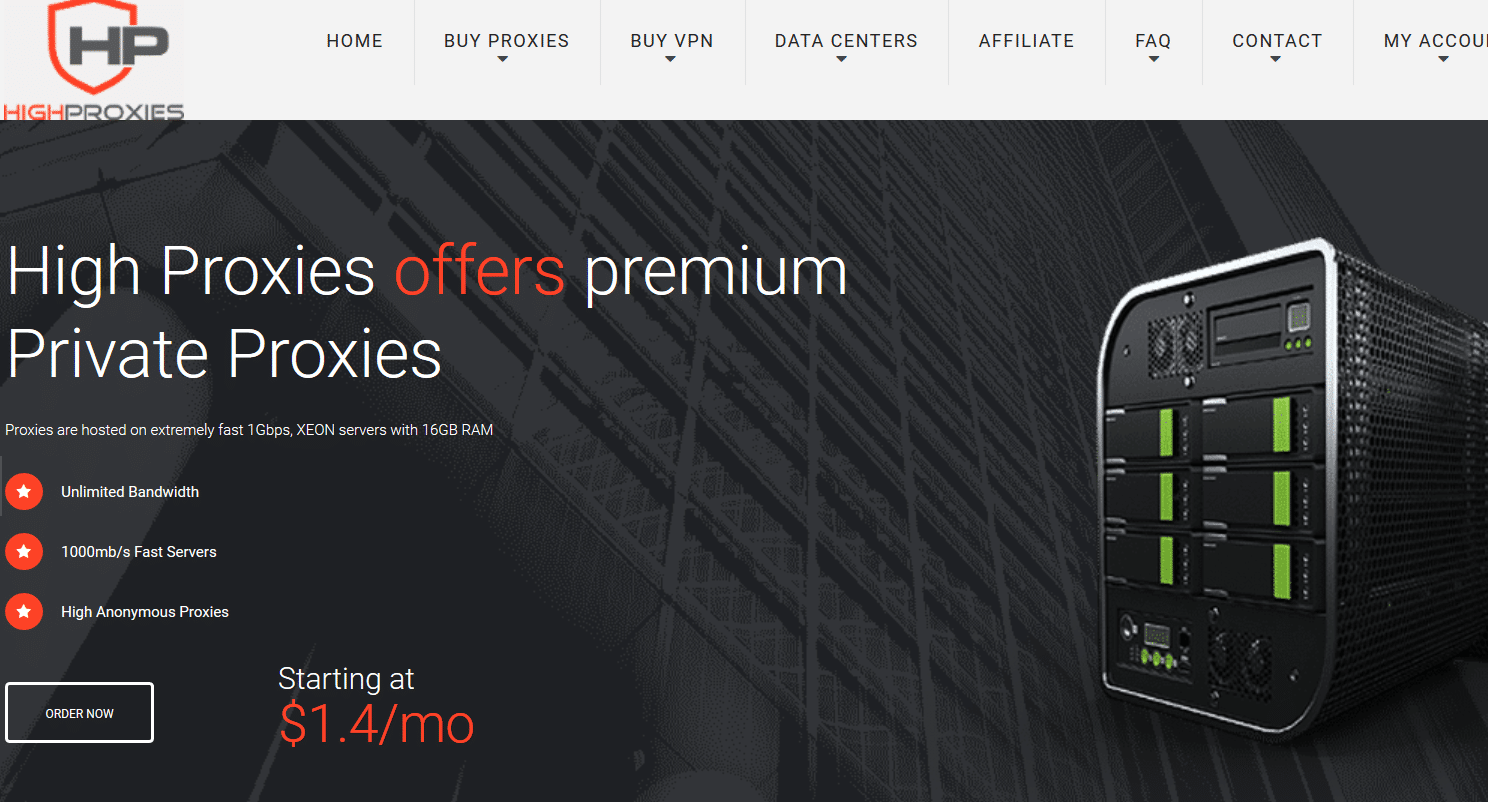 Though High Proxies are a newcomer to this industry, but they have made a big name in a short time due to their performance. They provide high speed dedicated virgin proxies which are perfect for using with the social media platforms such as Instagram, YouTube, Pinterest, Facebook, Twitter and Tumblr. The private proxies offered by High Proxies are very affordable and the good thing is that they are mostly virgin. You can buy private proxies for as low as $1.35 per proxy. Following are the main proxies provided by them:
Craigslist proxies
Instagram proxies
Ticketing proxies
Network performance:
High Proxies use powerful Intel based servers which provide amazing speed and performance. They use Intel Quad Core XEON processors for their proxy servers. The proxies run on a Gigabit network and thus are very speedy.
And if you still want to learn more about High Proxies, Go to our full review here.
IP locations:
If you want IP diversification then High Proxies are a perfect choice. They have 18 different server locations out of which 17 are spread across the US. So, if you want a variety of locations in the US, you'll find these proxies very suitable.
Pros
The private proxies offer unlimited bandwidth.
There are multiple locations based in the US.
The proxies are refreshed every month.
They are highly anonymous private proxies.
You can get speed as fast as 1000 MBPS.
There are various payment modes such as PayPal, Bitcoin, and Payza.
Authentication can be done by username and IP method both.
Instant account setup is done.
All of the servers use firewall as additional security.
All the servers have plenty of RAM available which allow up to 100 threads per proxy.
Cons
The thread limit is 100 per proxy.
Squid proxies – Good for Instagram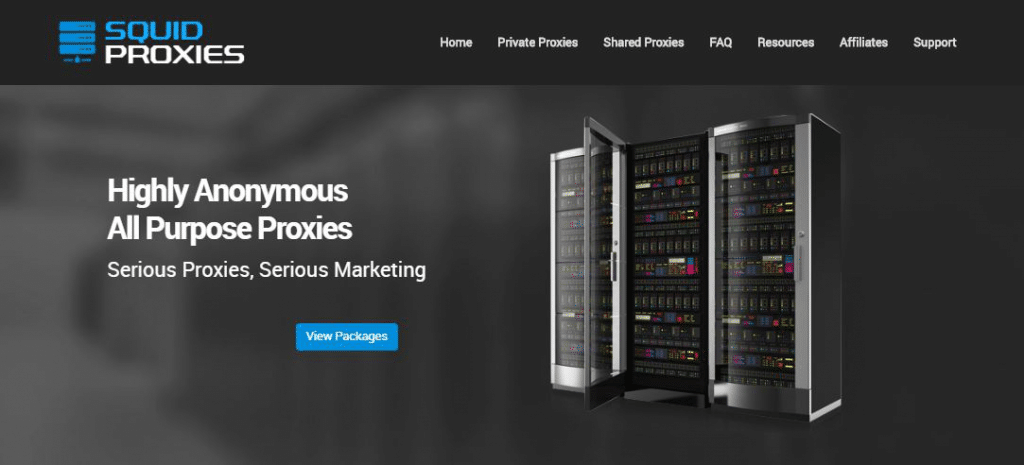 Squid proxies are popular because of their trustworthy services and amazing customer service. The private proxies offered by the service provider are fast and secure and are used by many people around the world. You get an immediate delivery after the purchase and there is 24/7 access to the proxies.
Performance:
Squid proxies provide elite anonymous proxies (http and https) which means you can use the proxies with any of the popular browsers such as Firefox, Chrome, Internet Explorer etc. The proxies are great for social media platforms especially Instagram. You can also use the proxies for Scrape Box but Xrumer is not recommended.
Find out more about this proxy provider: our complete review Here.
Server Locations:
Squid proxies provide multiple locations in the US and the Europe. The locations include UK, Canada, Bern, Zurich, Switzerland, India, China, and more.
Pros
Unlimited bandwidth is provided.
100% compatibility with all browsers.
No configuration is required for browsers.
The servers are super-fast.
There are multiple subnets.
Highly anonymous proxies.
The prices are affordable.
Instant setup is provided.
Cons
Only IP authentication is provided.
Storm proxies – Best for web scraping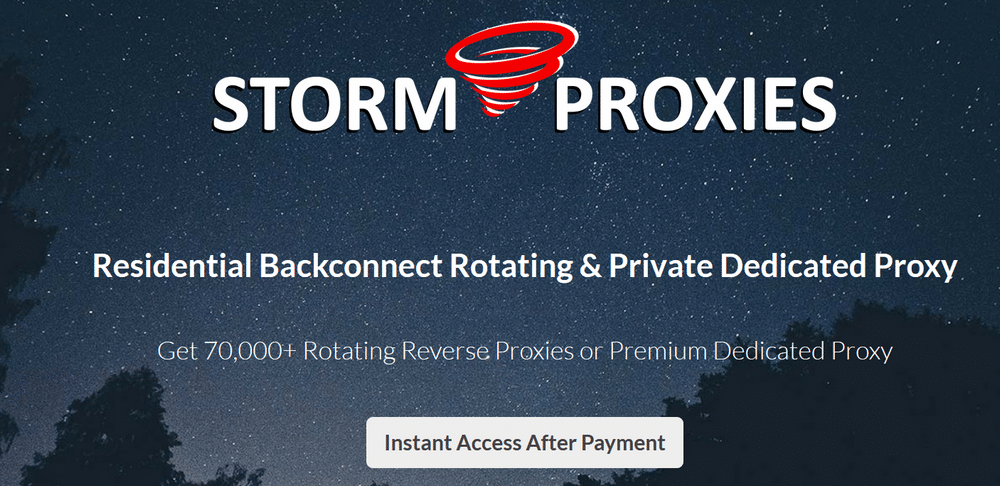 Storm proxies is a well-known name in the field of proxies and it has been providing premium quality private proxies to its customers. Their proxies are best used for web scraping and they offer both datacenter IPs and residential IPs. They provide highly anonymous private proxies that have constantly rotating IPs. The rotating IPs have three settings which are changed every 3 minutes, every 15 minutes, or on each http request.
Speed and performance:
Storm proxies provide private proxies that are very speedy and highly efficient. The proxy providers use multi-threaded tools and offer 1 GB of network so that the customers have an improved experience. The users get instant proxy access after they have purchased the proxy. There is no need to wait for the lengthy account activation process either.
Customer service:
Storm proxies provide a good customer service and that's why they are trusted by a lot of users. Additionally, the provider gives a trial period of two days to customers so that they can get a refund if they are not satisfied with service. The identity of the customers is kept safe and unique technology is used to provide complete anonymity to the users.
Pros
They provide unlimited bandwidth.
There is a two days money back guarantee.
Customer support is really fast and helpful.
The IP locations include US, Europe, and mixed proxies.
They are perfect for data scraping.
The proxies offered by Storm proxies are compatible with automation tools and SEO tools.
Cons
They don't offer username authorization, only IP authorization is provided.
SSLPrivateProxy -Best for Classified ads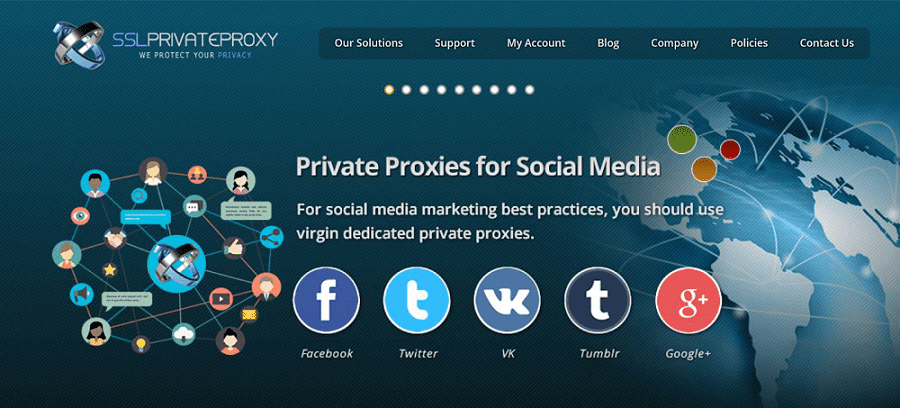 SSLPrivateProxy is now a household name as it is trusted by many users for its reliable private proxies. The proxy provider offers proxies at a very reasonable price with private proxies starting from $1.75 per month. The private proxies are highly anonymous and are very fast too. With this service provider you'll easily master various fields such as social media, web scraping, and online marketing. Following are the best proxies of this service provider:
Craigslist proxies (for classified ads)
Instagram proxies
Facebook proxies
Twitter proxies
Snapchat proxies
Network performance:
All of the proxies of SSLPrivateProxy are hosted on dedicated and ultra-fast Dual Intel Xeon servers that have a capacity of up to 16 GB of RAM. They have multiple subnets and provide 99% uptime. The main specialty of their private proxies is that they work on classified ads sites.
Learn more about SSLprivateproxy and its overall pros and cons here.
Server locations:
SSLPrivateProxy have more than 120,000 private proxy servers which are spread over 33 locations in the US. Apart from the server locations across major cities of the US, there are 5 proxies for European locations too. This gives the user a large option of server locations to choose from.
Pros
The private proxies are extremely fast.
They are highly anonymous.
The website of the service provider is very easy to navigate and go through.
The customer support is excellent.
The private proxies are perfect for Craigslist.
You can get a refund of full amount within 7 days.
The proxies are good for torrent downloads and account creation.
They provide unlimited bandwidth and have over 300 subnets.
The proxies are updated monthly.
Cons
They are not recommended for SEO tools.
The private proxies are a bit expensive as compared to other good proxy providers.
Buy Proxies – Best for SEO softwares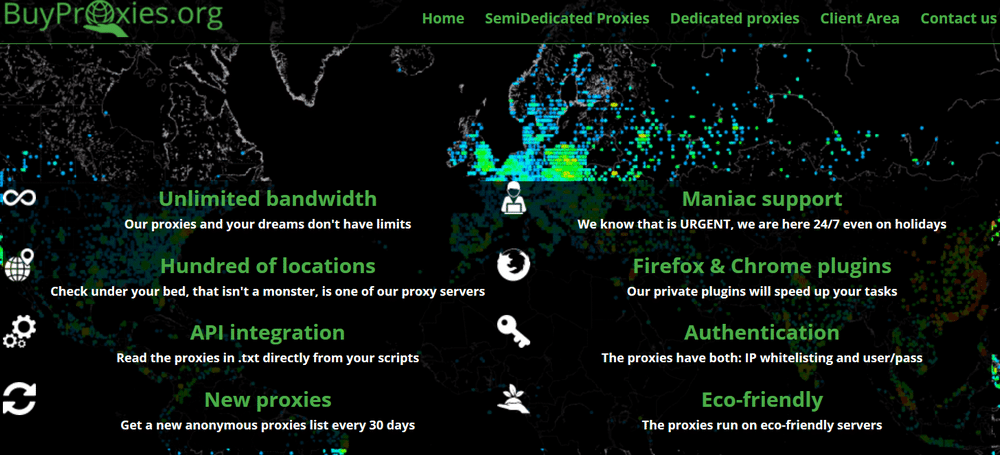 If you are into SEO software such as GSA, Scrapebox, Xumer and the likes, you would be glad to know that BuyProxies will help you do so because they provide private proxies especially for this purpose. These tools are very efficient ones and they require some best quality proxies to function properly. BuyProxies is the provider that provides the best proxies for running these tools smoothly. The provider offers all types of proxies, but the most common ones are:
Private/dedicated proxies
Ticketmaster proxies
Shoes proxies
Semi-dedicated proxies
Datacenter locations:
Though you can't be very specific about your requests for locations, but you'll easily get different proxy locations in the Europe and the US. European proxies include UK, Netherland, Germany, France, and Switzerland. You have to choose either US or Europe for your proxies and the specific location will be given to you by the provider.
Performance:
BuyProxies offer a good value for money and they perform very well if it comes to the SEO software. There is no downtime and unlimited bandwidth is provided. If you are planning for data scraping on Google, we recommend one connection per proxy if you are using GSA SER.
Pros
IP and username authentication, both are offered.
Website is very easy to navigate.
The customer support runs 24/7.
Unlimited bandwidth is provided.
You can get 10 private proxies for $20.
They have a BP Proxy switcher which makes it very easy to use.
Proxies are highly anonymous.
Cons
The proxies work fine for a week but when you use more, 20 to 30% are burnt out.
YourPrivateProxy – Good for Sneaker websites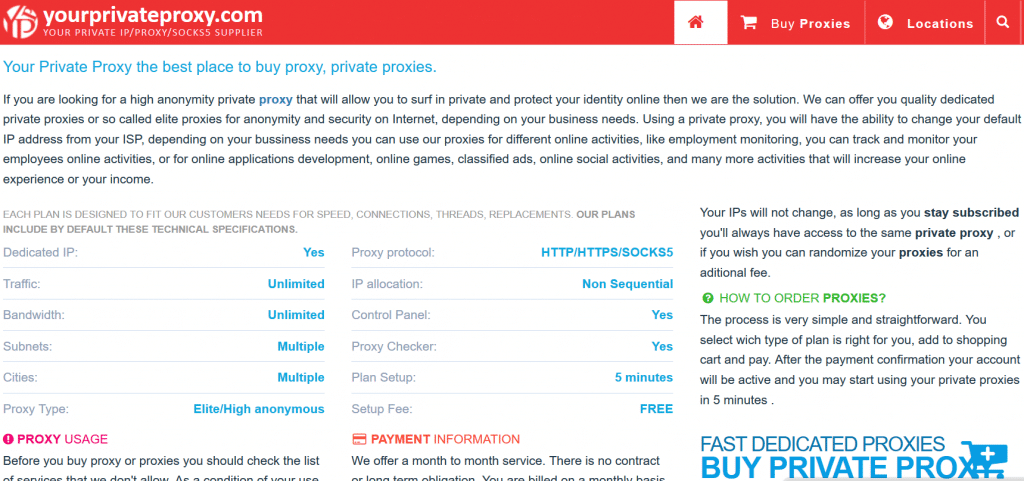 YourPrivateProxy sells private proxies that are good for the sneaker websites, and they provide virgin proxies for that. The private proxies offered by this provider are very secure and highly anonymous, and they allow the users to surf the web in a safe environment. They offer elite private proxies that will give you your desired anonymity and security while you'll also be able to perform various useful online activities.
Interested in other proxies providers for sneaker sites? See our picks here.
Pricing strategy:
The price of the proxies you purchase from YourPrivateProxy will depend on the number of proxies you want. The setup fees of proxies are free and there are many different services available at various price ranges. The price of a single proxy per month is $9.97 and the most number of proxies that you can get is 253 at a price of $499.97 per month.
Performance:
YourPrivateProxy offers no bandwidth limitations and they are ready to be used after you purchase them. You can use these private proxies for sneaker websites, eBay, Reddit, and some phone verified Craigslist accounts. Their socks proxies are great for skype, FTP, and gaming.
Pros
Username and password authentication and IP authentication, both are offered.
They offer multiple locations.
The update frequency of frequency is on monthly basis.
Instant account setup is there.
Proxies Support Socks5 protocol
Unlimited bandwidth provided.
Free proxy trial available.
Cons
The proxies are very expensive.
No automation tools are allowed.
Proxy-N-VPN – Best for ticketmaster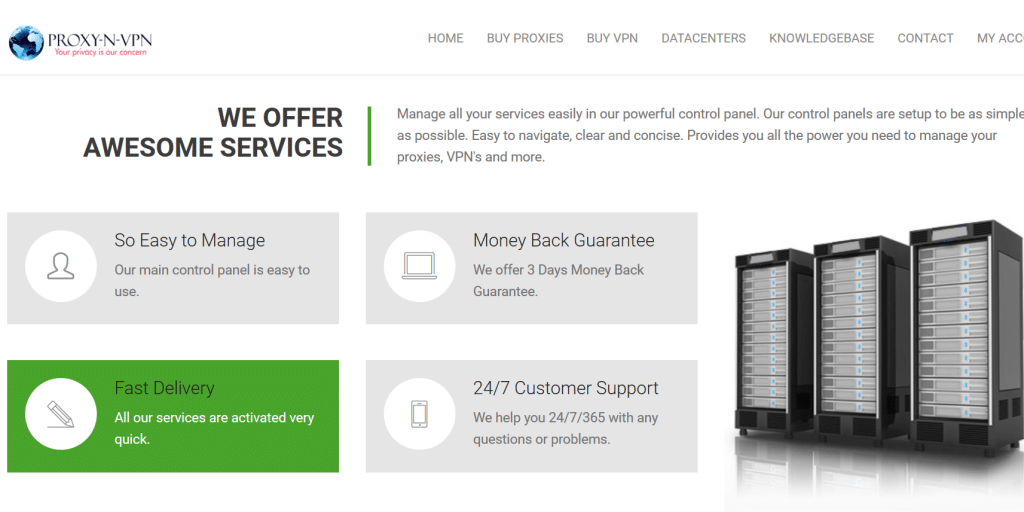 Proxy-N-VPN is a great private proxies provider and they offer static IP proxies with high anonymity. The proxies are great for SEO tools and social media marketing. The private proxies are high end and they best work for Ticketmaster.
Datacenter locations:
The Private proxies by Proxy-N-VPN have 27 locations based in the US cities. Though you can't get any location outside the US, but there is a big variety that includes the major cities in the US. Just make sure that the proxy you're purchasing is suitable for the location you want.
Network performance:
The private proxies run on X3430 dedicated servers with more than 10,000 dedicated IP addresses. The servers have 99% uptime and they are never down. Linux provides more security and power to the proxies and make them more stable. The good thing is that the setup is free and there is 24/7 customer support provided.
Pros
There are numerous locations across the US.
They provide virgin proxies that are great for Ticketmaster.
Customer support is provided 24/7.
IP and username/password authentication provided.
The proxies are fast and secure.
Cons
Website is a bit repetitive.
IPLease.io – Worth to buy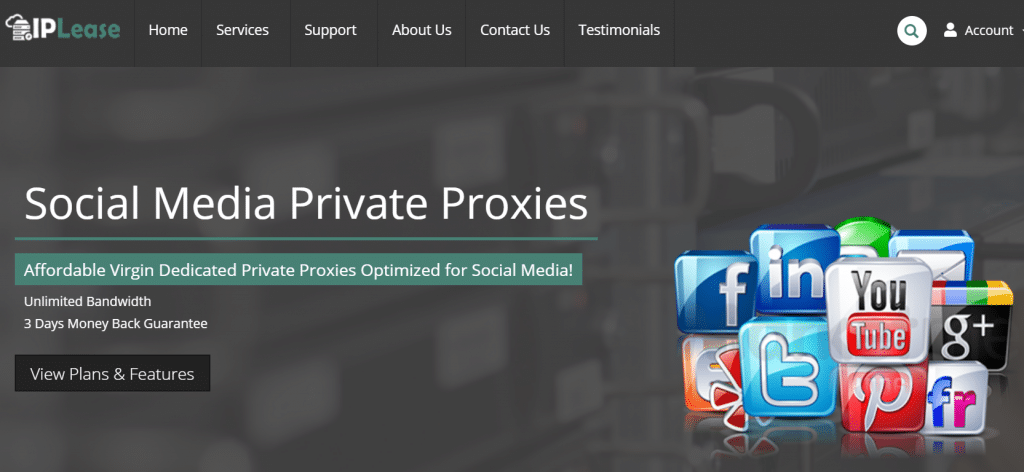 IPLease.io is a fast-growing provider of private and shared proxies and their proxies are used by many people around various locations. Their private proxies are used for SEO purposes and for social media accounts because of their reliability and security. IPLease.io is one of those proxy providers that offer highly efficient virgin proxies. Following are their best performing proxies:
Classified ads
Social media platforms
Shopping websites
Amazon
Gaming
Pricing and packages:
IPLease.io offers private proxies at a cost of $2.75 per proxy and the proxy randomization occurs on a monthly basis. The private proxy packages include SEO proxies, social media proxies, sneaker proxies, gaming proxies, ticketing proxies, and classified ads proxies.
Server locations:
IPLease.io offers 7 proxy locations across the major cities of the US and that are Chicago IL, Seattle WA, Dallas TX, San Jose CA, Miami FL, Los Angeles CA, and New York NY. The international locations include Paris FR and London UK.
Pros
IPLease.io offers a 3 days money back guarantee.
The proxies are best used for restrictive websites.
They offer one of the best virgin proxies.
The proxies are highly anonymous.
The private proxies are tailored according to the needs of the customers.
The private proxies are perfect for SEO tools.
Cons
There are not many server locations.
The price per proxy is high.
Instant Proxies – Very affordable & Best budget choice

InstantProxies is well known for providing private proxies at very reasonable rates. They offer http/https proxies which are good for Amazon, Facebook, Craigslist, Ticketmaster, Google, Twitter, Pinterest, YouTube, and Yahoo. There are many packages such as you can get 10 proxies for only $10.
Performance:
InstantProxies provide unlimited bandwidth in spite of being this cheap. You will get full anonymity with their private proxies and you can create multiple accounts without the risk of being tracked. The proxy provider also features multiple subnets which help in improving the reliability of a proxy.
Authentication and use:
The private proxies are very easy to setup and use. You can start using the proxies through IP authentication only and username/password is not available. You can also use the purchased private proxies immediately.
Pros
There are worldwide locations available.
Subnet variety is there.
Unlimited bandwidth is provided.
The control panel is very advanced and useful.
Elite anonymity is provided.
Instant activation is provided.
The proxies are very affordable.
Full refund is provided within 5 days.
Cons
Username/password authentication is not allowed.