Getting proxies from a provider is easy, but getting the right proxies can be problematic, especially if you need them from a country like Germany. If you don't know where to look, check out our list of the best German proxies.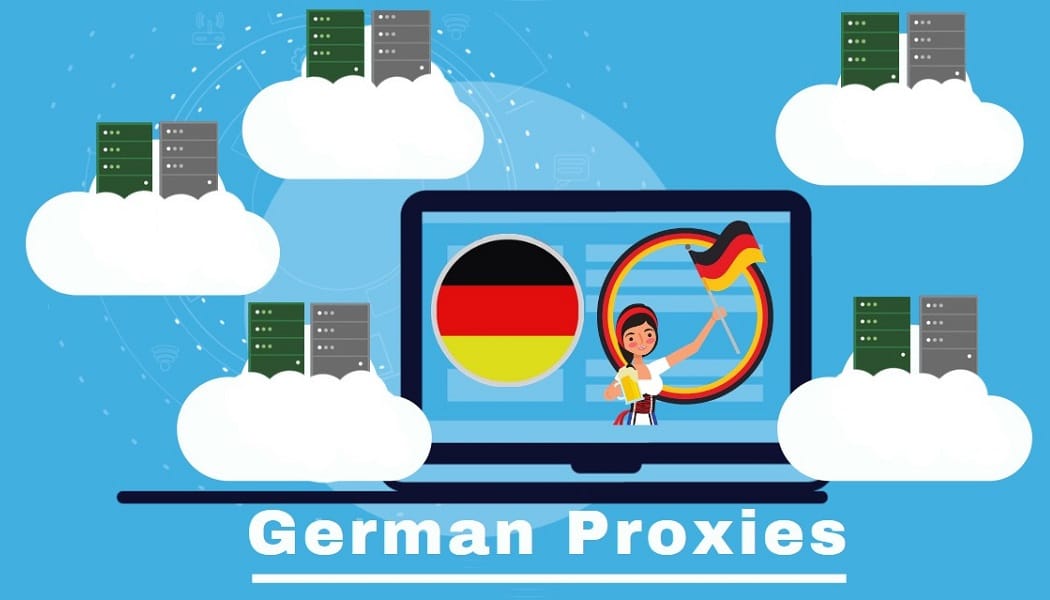 In the world of proxies, certain situations require you to use proxies from specific regions. In a lot of cases, this is due to geo-restrictions, but you may also want to buy sneakers or scrape a website. Regardless of what is the reason, getting the proxies from a reputable provider is very important.
Many proxy providers offer IP addresses from countries from all over the world, but the one we are going to cover today is Germany. Users often have needs for proxies from there, so there should be no problem finding providers, which brings us to today's topic. We will be outlining German proxy providers that offer datacenter, residential and mobile proxies. We will also include several websites where you can find proxies for free.
---
Finding proxies for free is not a complicated matter, especially from a country like Germany. Here are a few websites where you can get them:
More free proxy lists Here.
---
When it comes to paid proxies, the choice can get complicated if you consider how many providers offer German proxies. For that reason, we have compiled our list of top picks.
---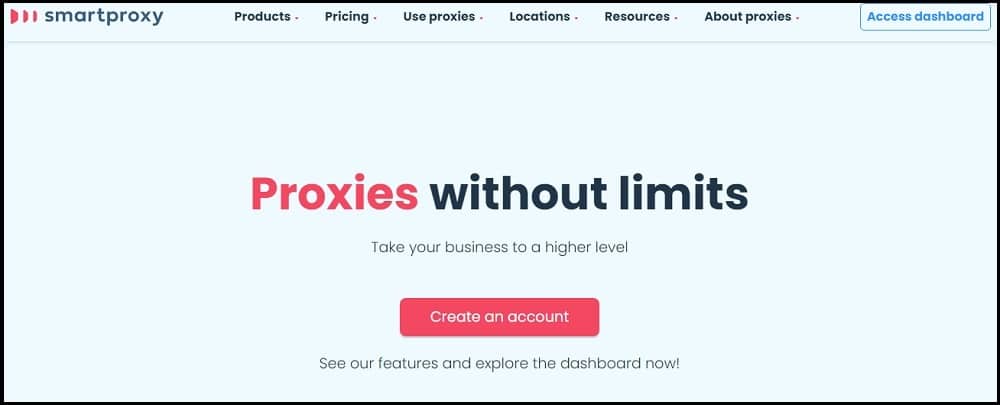 Out of all the German proxy provider on our list, Smartproxy is probably the best all-round. It offers an excellent balance between features, the number of proxies, and the price. With almost half a million German proxies in their pool and the option to get proxies from Berlin only, you are getting an excellent number for a lower price than the competitors.
Smartproxy is far from the cheapest, but the various packages combined with the number of proxies make it probably one of the best choices. All packages come with limited bandwidth, and the city-level geo-targeting is limited to Berlin only, and a free trial option is not available for none of them. You can still test the proxies and ask for a refund within three days of purchasing.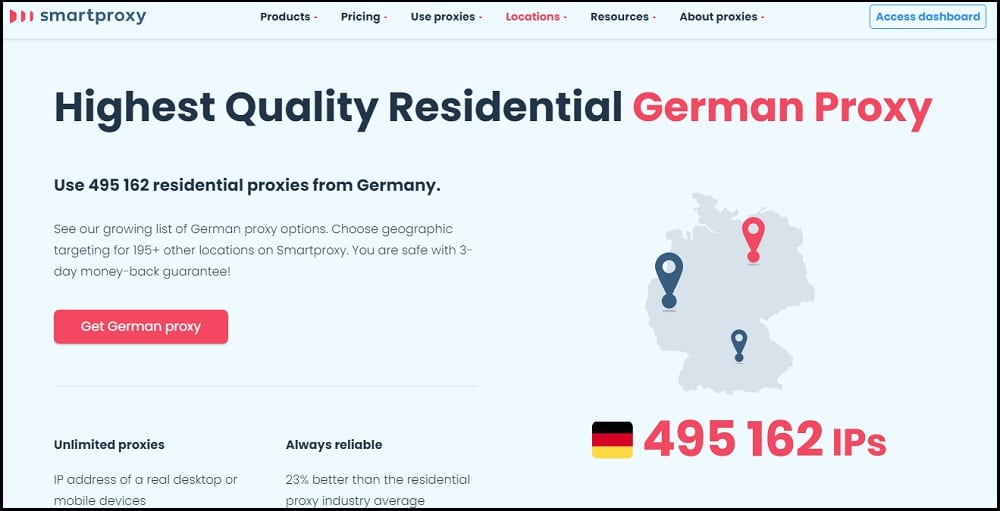 Pros
Best all-round German proxy provider
Cons
Bandwidth is limited
Free trial not available
---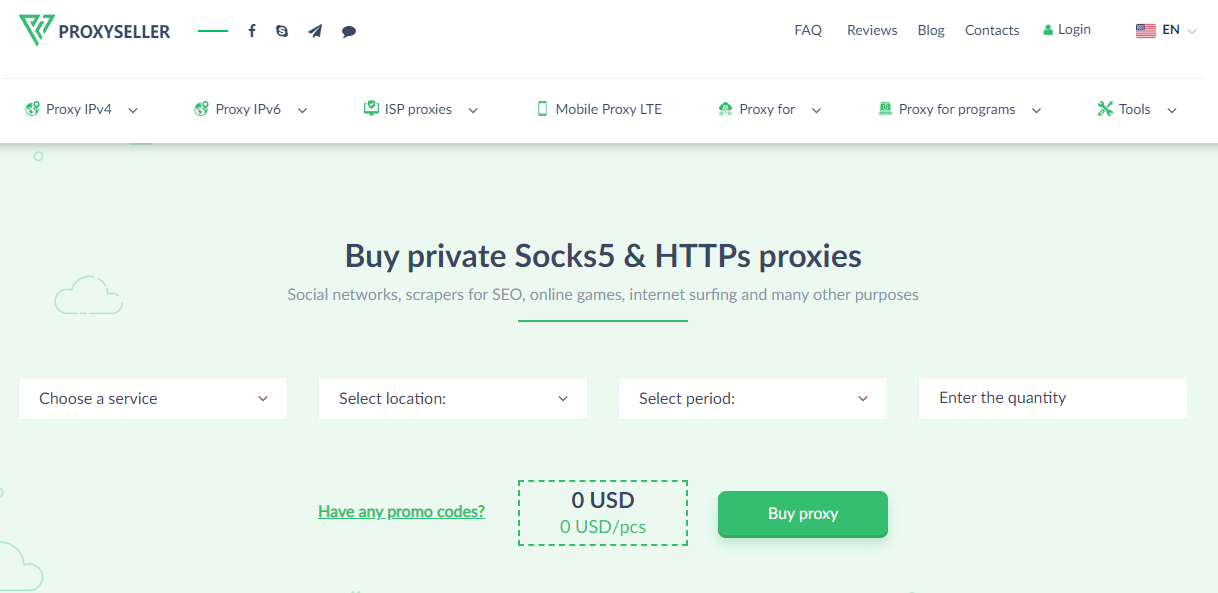 Besides the Stormproxies offering the cheapest German proxy, Proxy -Seller offers you two options for German proxies. You can select the datacenter or private or go for the Mobile 4G proxies. Both have servers located in Germany, guaranteeing high speed, efficiency, and high anonymity. The good news is that Proxy-Seller Germany's private proxies support IPV4 and IPV6 devices which gives you another reason to go for this company.
Proxy-Seller allows you to select the country of your preference on their webpage, which means that besides German proxies, they also provide access to other geo-locations. Although private proxies are cheap and have flexible pricing plans, mobile 4G private proxies are expensive but provide unlimited traffic; you can change the IP rotation upon request or automatically.
The main carrier for the German mobile proxies is TELEFONICA 02. either to Germany private or mobile proxies, you can use them for SEO optimization, functional testing, social media management, typical surging, and even web scraping without detection or facing geo-restriction.
Pros
Offers Germany private and mobile proxies
Good location coverage
Multiple use cases
Excellent performance
Cons
Mobile proxies have low speed
No free trial period.
---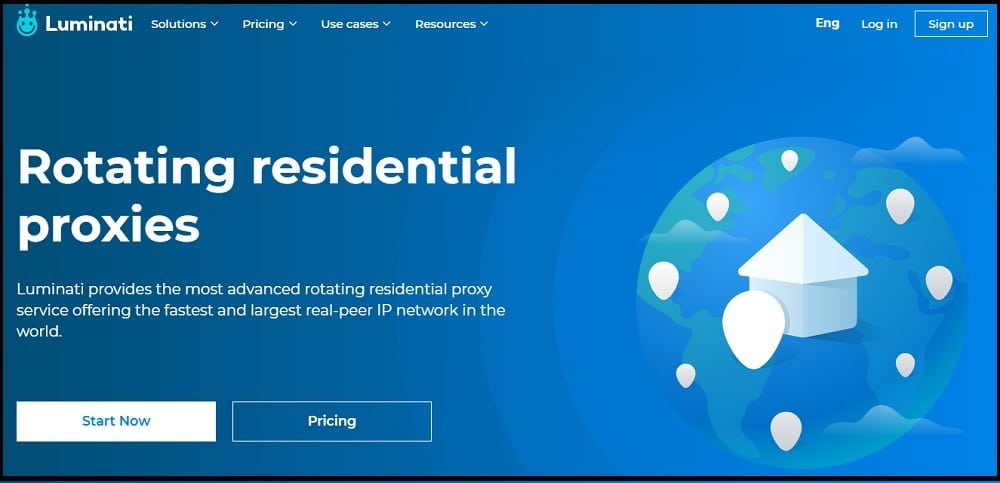 If you are looking for a premium German proxy provider, you should check out Luminati. The title of the largest proxy network can be clearly seen from the number of proxies they have, or in our case, German proxies. The pool has over 1.4 million IP addresses across the entire country. Having that many proxies throughout Germany mean that you can utilize the advanced geo-targeting options that Luminati has.
When you get a service from a premium provider, you should expect that the price will match the services, and the same applies here. The prices are among the most expensive ones you'll find in the proxy niche, but there are some good sides. The pricing structure is great, and the variety in packages enables you to get the one the suits you the best. The bandwidth is limited on all of them, and you can get a free trial for up to seven days.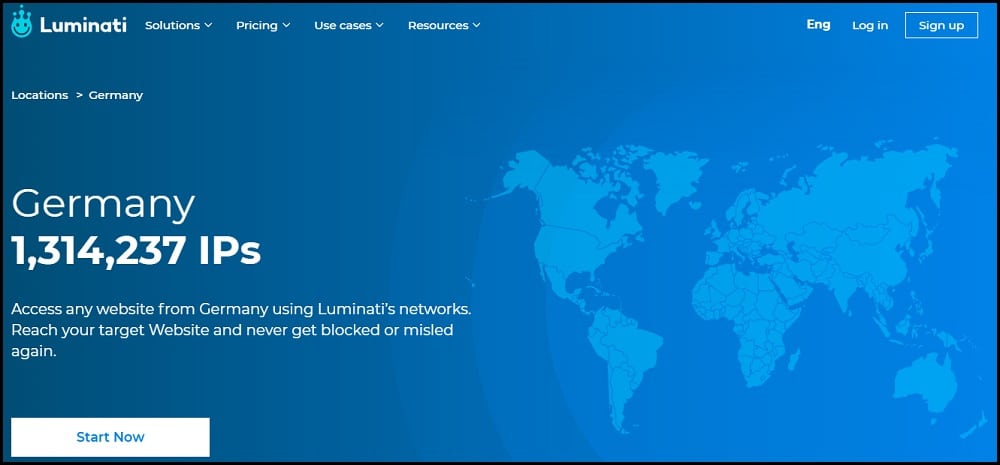 Pros
Seven-day trial option available
Largest German proxy pool
Option to get proxies from specific cities
Cons
Bandwidth is limited
Among the most expensive providers
---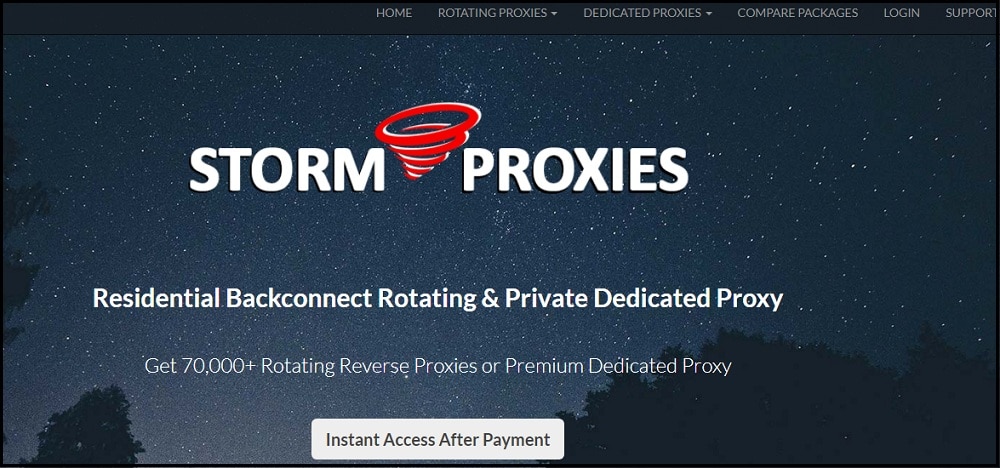 On the other side of the pricing range, we have one of the cheapest German proxy providers on our list, Stormproxies. Going for the more affordable providers often means that there will be some tradeoffs and, in this case, is the pool of proxies. They have over 40 thousand proxies in the US and Europe, and even though there are German proxies in there, the number is unknown, so you're going in blind.
With the size of the German proxy pool aside, Stormproxies manages to tick all the important boxes when it comes to a proxy provider. The set of features is basic, but you get them for a price much cheaper than the competitors, and unlike them, you have unlimited bandwidth with this provider. Considering everything, you shouldn't expect a free trial here, and there isn't one. You can only get a refund option that lasts for 24 hours.
Pros
Among the cheapest in the market
Bandwidth is unlimited
Cons
The number of available German proxies is unknown
---
Among the less popular providers on this list is Shifter. The reason for that is up until a few years ago, this proxy provider was known as Microleaves, and you can expect excellent performance from these veterans. Their pool of proxies has over 31 million proxies in every country in the world, meaning that you can get German proxies from them, but you don't know how many of those they have.
The proxy types that they offer are basic and special, and to get proxies from Germany, you will need to utilize the geo-targeting option. For that, you will need to get special proxies because the basic ones don't have that option. You have multiple options to choose how many proxies you want, and regardless of the number, all of them will come with unlimited bandwidth. Comparing the prices and the features, Shifter has a similar balance to Smartproxy, making them direct competitors. You don't get a free trial here, so your only option to test the proxies is with their three-day money-back guarantee.
---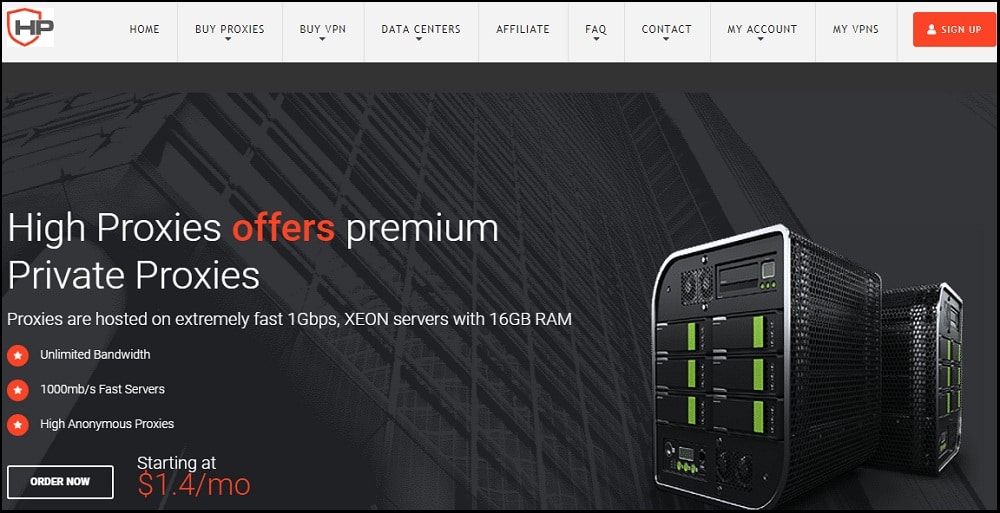 In specific scenarios, the residential and mobile proxies we talked about maybe too expensive and pointless to use. If that is the case, then you should check out a datacenter German proxy provider like Highproxies. They have one datacenter in Germany, located in Frankfurt that is the host of 3072 proxies. The number is not all that great, but remember, there is not a lot of request for datacenter proxies outside the US.
They offer shared or dedicated proxies, all wrapped in multiple packages with some degree of flexibility. The bandwidth is unlimited, and the server is connected to a gigabit connection. Considering that Highproxies is a datacenter proxy provider, don't expect to get a free trial to test the proxies. Instead, you can only ask for a refund within three days.
Pros
Variety in the packages
Affordable
Cons
No diversity in the locations
---
What are the laws for using German proxies?
If you are a non-german resident, it means that you should be looking at the laws in your country to find out if it's legal to use them. With the exception of China or Korea, proxy usage is not banned. The same goes if you are a German resident; Germany has no laws that forbid you to use proxies.
What kind of German proxies will I need to hide my real IP address?
The short answer is residential or mobile; the long answer is slightly complicated. When you are using a German proxy to hide your real location, the first thing you should check is what kind of proxy you need. Datacenter proxies are not as anonymous, and since they are already flagged as proxies, you may not have the experience you are looking for. Residential or mobile proxies are IP addresses from existing connections of real people, so to a website, it will look like some German resident is accessing it. The best way to solve the dilemma is to use providers that offer free trials and test if the proxies will provide you with the anonymity you are looking for.
Can I use the free German proxies for scraping?
Probably not. The first problem is that you will need to spend time gathering the German proxies. The next issue will be that you will need a manager to manage them, but considering how quickly they expire or get detected, you may not have a good enough experience. The final problem is that free German proxies are the easiest ones to detect, so your scraping project may get benched before it even begins.
---
Conclusion
Even though German proxies don't have a high demand like US proxies do, there are still quite a lot of providers that will offer them to you. The list we compiled consists of what we believe to be the best German proxy providers for you to choose from.
---
You may be like,
---