Are you looking for HTTP proxies to hide your local IP or scrape data? Check out our list of residential and datacenter proxy providers.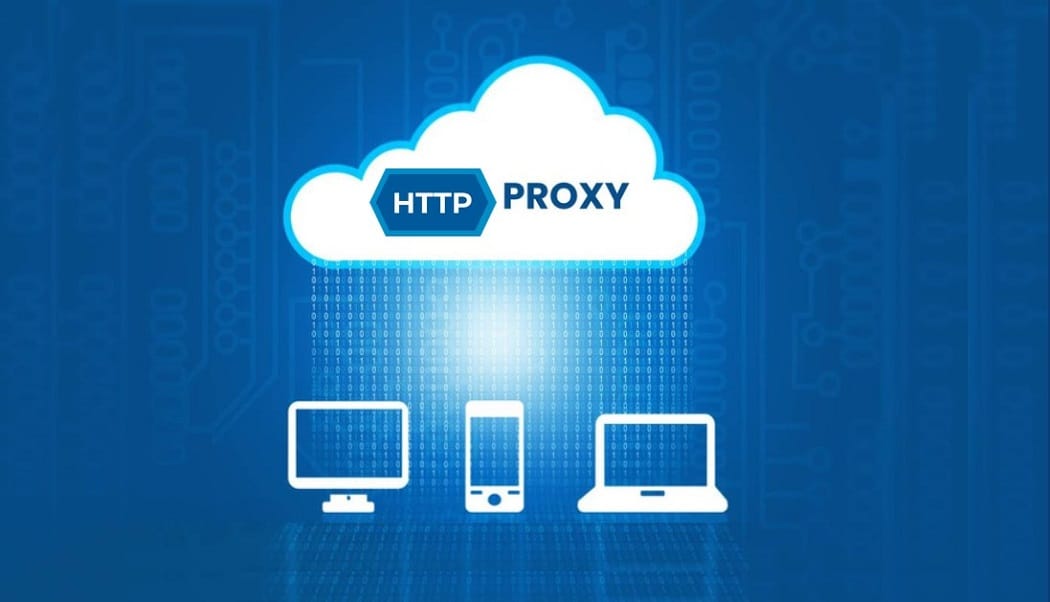 Proxy servers have been around since the begging of the internet. In essence, proxies are servers that act as a middleman between your device or network and the internet. When accessing a website, your device sends out requests, and they are routed through the proxy server – providing you with some additional security.
To use proxies, you need to buy them first, but from where? This article will cover the most popular and commonly used residential and datacenter proxy providers so that you can choose the best one for your needs.
Residential HTTP(s) Proxies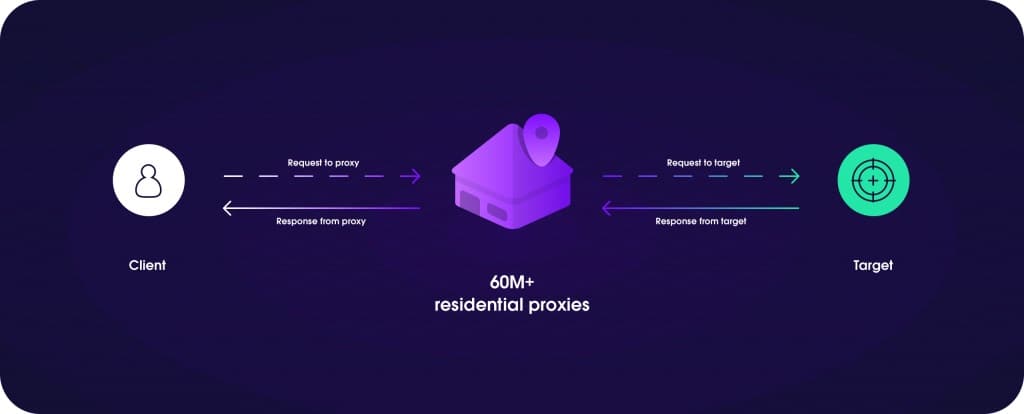 Residential IP Proxies are proxy addresses that are from other people's home internet connections. Proxy providers get these proxies in various ways and later sell them to you. The advantage of using this type of proxy is the fact that they provide the best possible anonymity without anyone getting suspicious.
The downside to these proxies is the speed and latency. Both will depend on the home internet connection where the IP address is, and you might get speeds that may be unusable.
---

In almost any list of suggested proxy providers, Bright Data will be the first or at least in the top three, and there is a good reason for that. Even though Bright Data has been around for a while, the main selling point of their proxies is the number of IPs in the proxy pool.
They have over 72 million proxy addresses available at your disposal in every country in the world, literally. If the country's name is on the map, then Bright Data has proxies there.
Just like any other company of this size, Bright Data sells several types of proxies, among which are the residential ones. You can get them in two kinds: rotating and static.

They offer more than 90K static residential IP. 
With every proxy package, you purchase you get access to their extraordinarily intuitive and easy to use packed with tons of features to cover all of your needs. In addition to that, you can also get a Chrome extension. The functionalities of the extension are a bit limited but will suffice for when you need to browse the internet anonymously.
A service like this one does not come cheap. Bright Dataoffers a wide variety of packages ranging from several hundred dollars up to several thousand. All packages can have access to all 72 million proxies, and the difference is in the amount of included bandwidth. In addition to that, you can get a 7-day free trial to test out their services to make sure that it is a provider that suits your needs.
In general, Bright Data is an excellent service.It takes a few minutes to set things up; you get proxies with exceptional speeds and uptime with flexible packages. If the price for the packages is within your budget, it is a proxy service that you should try.
---

This proxy provider is not around as long as Bright Data is, but it has managed to capture the attention of a lot of people over the past couple of years. A direct comparison with Bright Data might not be fair because Smartproxy does not exist as long. Regardless, they have managed to fair well regarding the number of proxies and locations.
The IP pool has over 10 million proxies in over 195 locations around the world. Do not confuse the locations with countries because they do not have proxies in every single country, and most of the proxies are in Europe and America.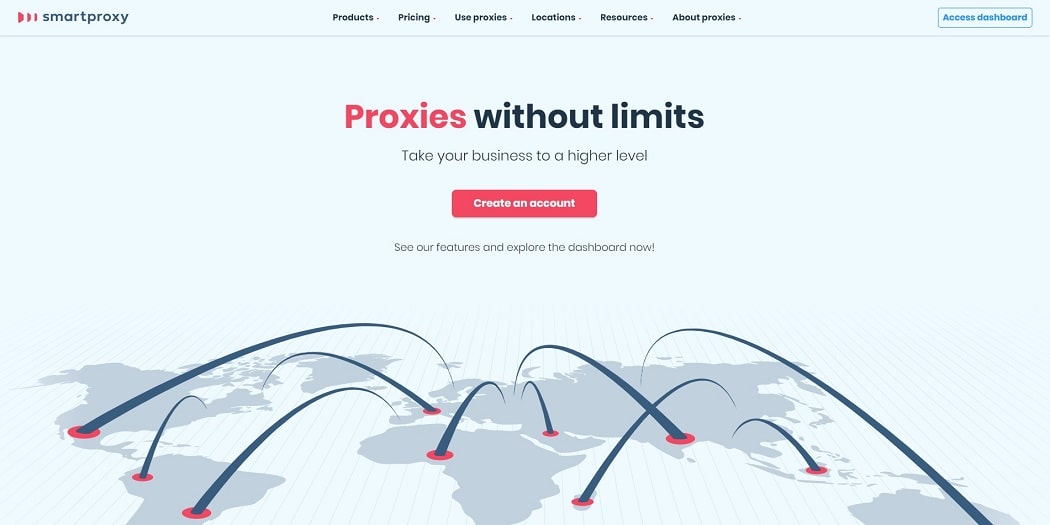 The pricing structurefor the residential proxies is similar to most of the other proxy providers, but compared to Bright Data, Smartproxy's prices are relatively lower,and there are some tradeoffs.
The packages come with unlimited threads and connections where you can access all 10 million proxies included in their pool, and the price for the packages range from bellow $100 to $600. The low prices mean that you will get the proxies for cheap, but you still lose some features compared to Bright Data. The biggest drawback is the speed and latency. Even though we are talking about residential proxies, the speeds will not break any records; they might even be slow at times.
If you want to test the proxies before making a purchase, you will not be able to. Smartproxy does not have a free trial option; instead, you can get a 3-day money-back guarantee.
Overall, Smartproxy is not a bad proxy provider. If slightly lower speeds and higher latency are okay for you, then it is definitely a provider you should consider.
---

Some residential proxy providers optimize the services for data scraping, others for online privacy, and IPRoyal provides a mix of all. Their residential HTTP(S) proxies are easy to use and successfully bypass online geographical restrictions undetected.
Casual Internet users will benefit from online privacy protection, more open and secure Internet access, and worldwide streaming content. With IPRoyal proxies, viewers can access Netflix, HBO, or YouTube global content restricted to a particular geographical region. Furthermore, IPRoyal's proxies are speedy enough for a lag-free streaming experience.
Simultaneously, businesses can use residential proxies for data gathering and marketing. IPRoyal's static residential proxies are optimized for social media marketing campaigns. They issue a static IP address per each proxy, and you can use them to operate multiple social media accounts without getting banned.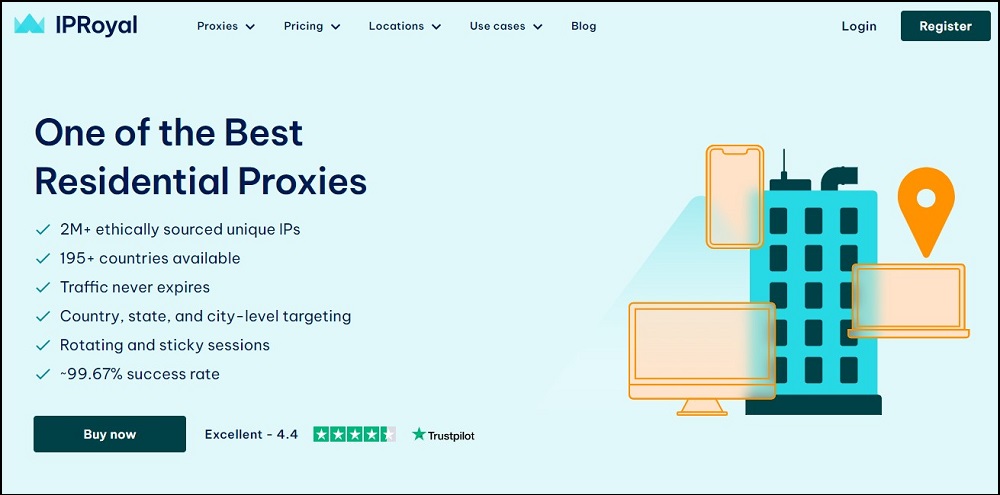 Data analysts can use rotating residential proxies to scrape publicly available web data. Combined with a scraper bot, proxies ensure the operations remain undetected by competitors or online CAPTCHAs and retrieve required information from the most challenging sources. It's worth noting that, unlike Oxylabs or BrightData, IPRoyal is not a data-scraping-oriented service. Instead, they provide sufficient features to allow effective data gathering at a budget.
Where this service truly shines is the flexible payment plans. Proxies for individual users have some of the lowest prices around and offer sufficient features for a safe and unrestricted online experience. Simultaneously, businesses can get very competitive prices if they make bigger orders.
Overall, it looks like IPRoyal aims to provide professional service for multiple use cases. Although without a free trial, you can pay only a few bucks to try them out and then make a purchase decision.
---

The last proxy provider on this list is the cheapest one. Being the most affordable, it means that most people would be quite a lot interested in buying a package. No matter how cheap proxies may be, you should expect that the provider will have some disadvantages.
The biggest downside to Stormproxies is the number of available proxies. They have over 40 thousand proxies located only in Europe and America. Compared to the other two above in this article, these have an IP pool, which is among the smallest from all competitors.
They make up the lack of proxies with the pricing plans. Having that list of proxies means that they cannot hold the prices high. On top of the low prices, the packages come with unlimited bandwidth.

Another downside to Stormproxies is the lack of a trial option and how limited the refund policy is. If you want to have the opportunity to utilize it, you can only do it on the five-port package, and you only have 24 hours to request for a refund. You still have a whole day to play around with the proxies, but it is less than what other providers are offering.
Even though Stomrproxies falls well behind the other two on this list, it is a contender worth mentioning. It is a provider that is oriented towards people on a tight budget.
---

NetNut is a company from Israel that offers special online helpers called proxies. They have different types of proxies like datacenter, rotating, static residential, and mobile ones. These proxies are necessary to complete a lot of professional tasks like lots of different businesses like ads, consulting, and internet services. NetNut wants to make sure your online activities are fast, reliable, and private.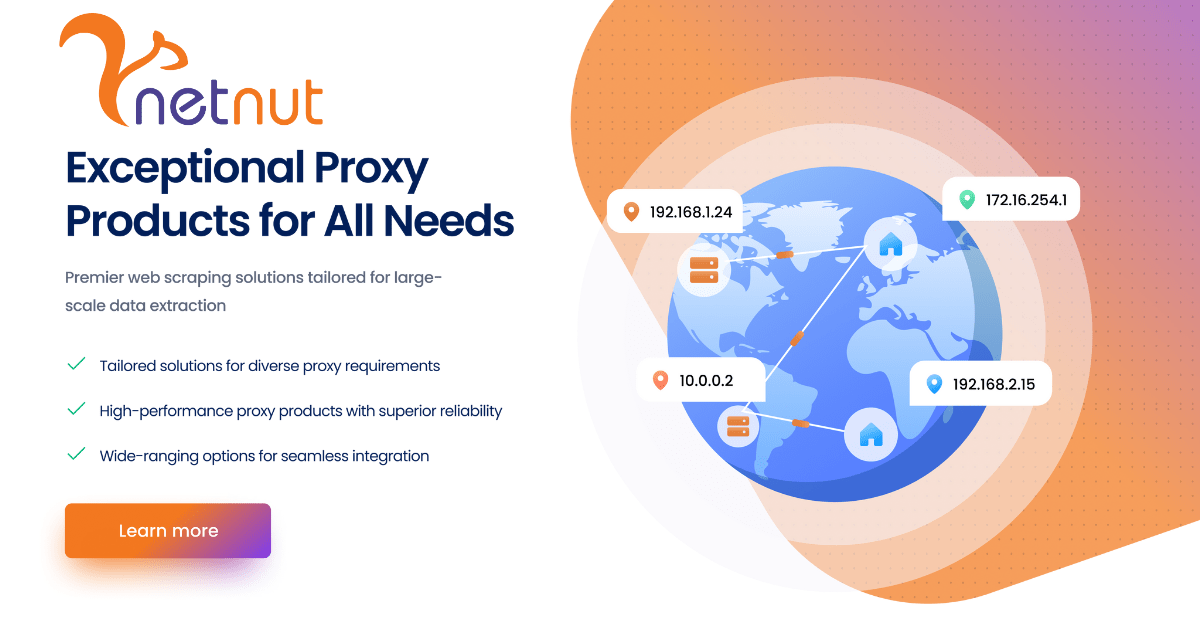 All of NetNut's proxy services work with a special system called HTTP(S) protocol. This is important because it helps computers and devices on the Internet talk to each other. This means when you use NetNut's proxies, you can do lots of things online like visiting websites, getting data, doing research, and even managing social media. It's like a safe and strong way to do things on the internet we know.
What we like about NetNut is that they took things further by incorporating a vital technology called TPROXY. TPROXY is to ensure their proxies work well in different scenarios and platforms. This helps them collect your data smoothly and more effectively, even on very restrictive and poorly coded sites. HTTP and TPROXY make for a special combination that works fast and well, making them great for getting information from the internet.
Last but certainly not least, NetNut has a very strong collection of IPs (Over 52 million). Among that, you get over 1 million static IPs that can allow you to visit and interact with sites that don't take too kindly with shared or rotating IPs. Spread across the globe, NetNut is an ideal HTTP service for those who want to reach every audience and market no matter the location in the world.
---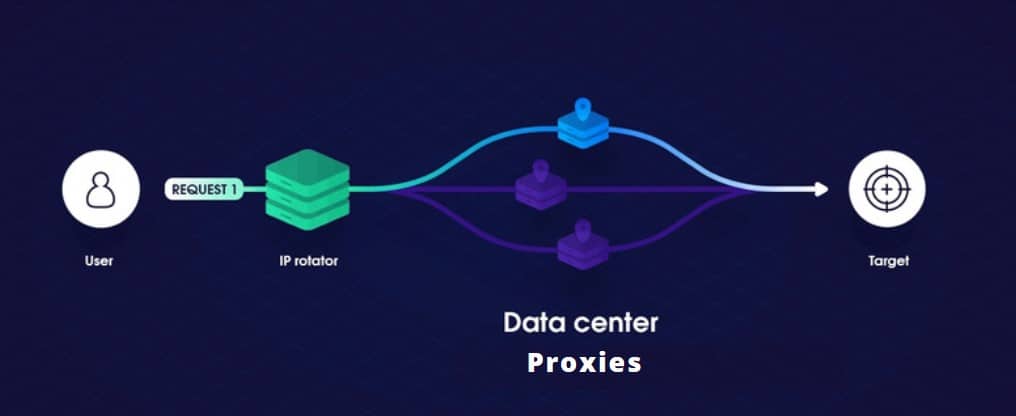 Datacenter proxies are IP addresses that proxy providers are purchasing from datacenters. These proxies are purchased in bulk, and the IP addresses are sequential, so the are some good news and bad news for using them.
The good news is that they are much cheaper than residential proxies, but the bad news is that they are nowhere near as anonymous. In a lot of cases, the proxies will already be flagged as such, and some picky websites will deny you access. Also, these proxies are limited by the speeds that the server offers, which ins most cases, is a gigabyte connection.
---

The next provider on our list today is the Proxy-Seller. This company gives customers private proxies and focuses on offering SOCKS5, HTTPS, and HTTP proxies under one roof. This is the best firm to check out when purchasing reliable HTTP proxies with good geo-location targeting features.
With this in mind, you can enjoy the value for your money to the fullest with a good technical support team available anytime. Regardless of what you have at heart, the team is available to help you.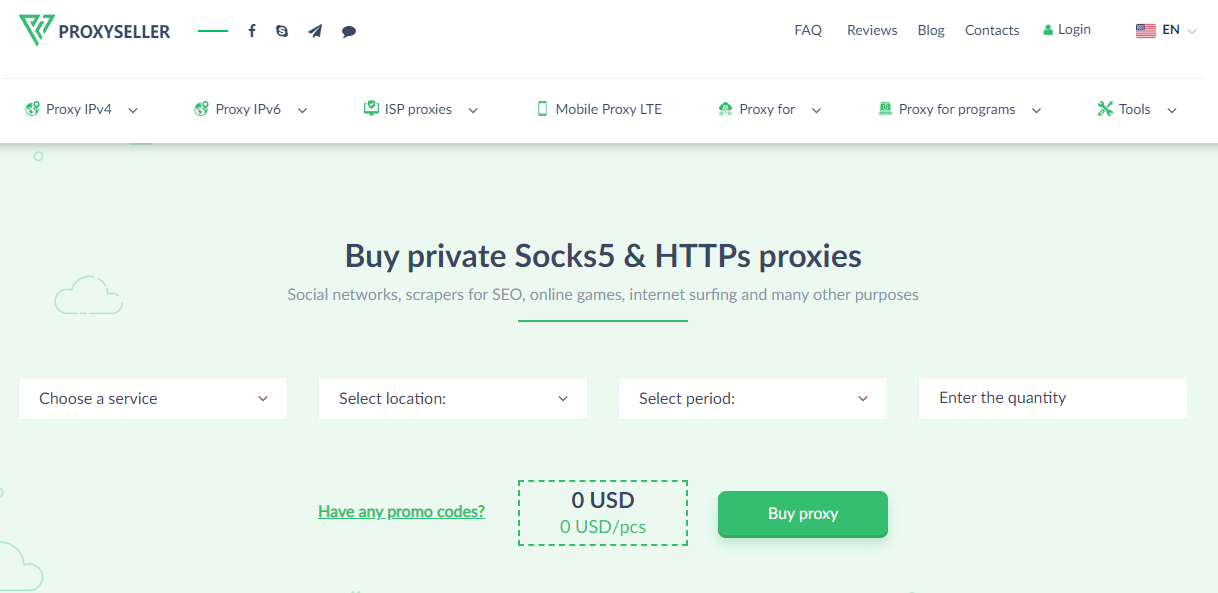 For all your HTTP proxy needs, the Proxy-Seller have you covered, and it's just a click away. The proxies have two-factor authentication, which indicates that the proxies are safe and secure for carrying out online activities. Above all, these HTTP proxies are cheap and fall within any of your budgets. However, remember that the longer the rental period, the cheaper the HTTP proxies.
---

The first datacenter proxy provider on this list is MPP. The company is not the most popular one, but it has a lot of features that make it in heright choice.
The company offers only datacenter proxies, and they have three types: dedicated, private, and shared. The list of locations is mostly in the USA and Europe, with 16 US cities and eight around Europe. The total number of proxies available in these locations is over 250 thousand, which is not all that bad.

All of their servers are connected.
The dedicated proxies come in a variety of sneakers, Pokémon Go, and ticketing proxies. Each of the three types come with four different plans and the option for a custom one.
Private proxies are the ones that you get an exclusive right to use as long as your subscription is active. For these proxies, you can choose from 11 pre-made pricing plans with the cheapest one offering only one proxy with no additional features like multiple locations or subnets. If none of the plans work for you, there is an option to get a custom plan.
The shared proxies are the cheapest types since you will not be the only customer of MPP that will be using them. There are seven plans to choose from, and an option to create a custom one.
All three types of dedicated proxies are setup instantly upon payment, and there are no additional setup fees. The proxies will be randomized each month, and will not be sequential. Accessing the service can be done from multiple locations, depending on the package you are using, and with all plans, you can access various server locations. In addition to that, there is unlimited bandwidth and a limitation of 100 threads per proxy, meaning that even with the smaller packages, you should be able to get the job done.
It is not all good, though. Even though the servers are connected to gigabyte connections, various speed tests show them providing below average results. Another downside is the fact that there is no free trial, only a money-back guarantee, but bear in mind that not all types of proxies offer it.
MPP is a decent proxy provider considering that the prices are relatively low, so you might be okay if you decide to purchase proxies from them.
---
High Proxies is another proxy provider offering several types of datacenter proxies. The list of locations is quite impressive. They have servers in 40 different locations giving you access to almost 100 thousand proxies, and all servers have gigabyte connections. The type of proxies that you can get is private, shared, social media, classified ad, and shopping proxies.
If you need proxies that only you can access and use, then you should look at the private proxies. App packages offer monthly randomization of the proxies, and all except the cheapest plan can access proxies from multiple cities and create multiple subnets.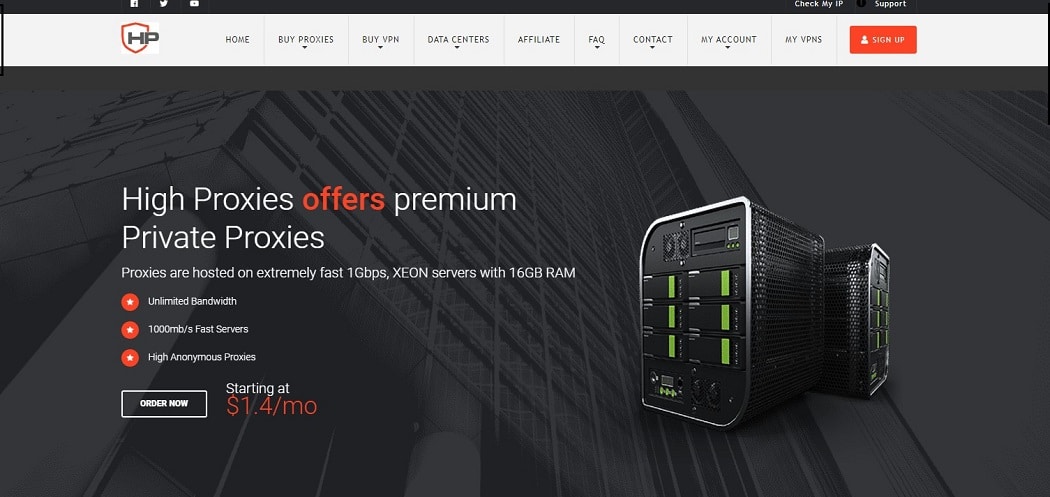 Next on the list are the shared proxies, which are cheaper, but you will be sharing them with other users. Unlike the private proxies, the locations of the shared proxies are limited to Dallas, Los Angeles, New York, and Buffalo. Apart from the difference in the number of proxies, every other feature is the same between the packages.
The social media proxies are specifically designed to access social media platforms through them without getting banned. Similar to the shared proxies, all pricing plans have the same set of features, and the difference is in the number of proxies you are getting.
If classified ad proxies are what you need, High Proxies has got you covered. Their proxies are designed to work with that type of website, but the list of sites you can use them is not available on the website. You can choose from six pricing packages,and no matter which package you go for, the proxies that you get to use are dedicated.
Shopping may be a way of life, but doing it without proxies can be a problem. High Proxies' four pricing plans will offer you a chance to get at least five proxies that are designed to work with Adidas, Supreme, or Footlocker, but not with Nike.
A trial option is not available for testing out the proxies, but you do get the opportunity for a refund if asked within three days of purchasing. To be eligible for a refund, you must not use the proxies for account creation.
High Proxies is an excellent proxy provider with a decent amount of proxies with a relatively good price that should fit your needs.
---

The last company in this list is a veteran in the proxy niche. Being around for almost a decade means that they have an excellent service to offer. An interesting fact is that they claim to have proxies in the US and Europe, but the location of the servers is not disclosed. Also, we cannot tell how many proxies they have in their arsenal. Good news is that you get gigabyte speeds.
Similar to the previous proxy providers on this list, BuyProxies offer several types of proxies – shared, dedicated, Ticketmaster, and shoe proxy.

The shared proxies can be used by a maximum of three users, and they are separated into six pricing plans. Apart from the number of proxies for each plan, the number of subnets also varies. As an alternative, If you do not like sharing,you can get one of six dedicated pricing packages.
Ticketmaster proxies are also available, and you have seven pricing packages to choose from. The cheapest one will get you 30 proxies, while the most expensiveoffers access to 400 proxies. Number of proxies aside, each plan also varies in the number of locations that you can get access to.
The sneaker proxies seem to be better than the ones that High Proxies offer. The exact list of sites that you can use the proxies is not disclosed, but Nike is available, which is nice to have. There are only three available pricing plans,and all have access to the same sites, so the difference is only in the number of proxies you get.
You will not be able to test drive the proxies because there is no trial option. You can only get a 24-hour money-back guarantee, which is not the most we have seen, but it is better than nothing.
Even though BuyProxies is not the most popular proxy provider, but it is a decent one. The price is not the cheapest on the market, but the fact that you get unlimited bandwidth makes an excellent choice for most people.
---
Proxy-IPv4 specializes in offering private IPv4 proxies tailored for various needs, including Traffic arbitrage, SMM, SEO, and PPC activities. Catering to a diverse clientele, they offer IPv4, IPv6, ISP, and Mobile proxies, ensuring that every customer finds a solution that fits their requirements. The pricing structure is transparent, with options available for short-term rentals with a minimum of 3 days, making it both flexible and cost-effective.
Not only does Proxy-IPv4 offer a wide range of network and subnet options, but they also pride themselves on their exceptional 24/7/365 support, ensuring that customers have answers to their questions any time of day or night. They are also versatile in their offerings, with special packages tailored for SEO tools like Google and Scrapebox, social media platforms including Instagram and Facebook, and even for specific tasks on sites like Amazon, eBay, and Netflix.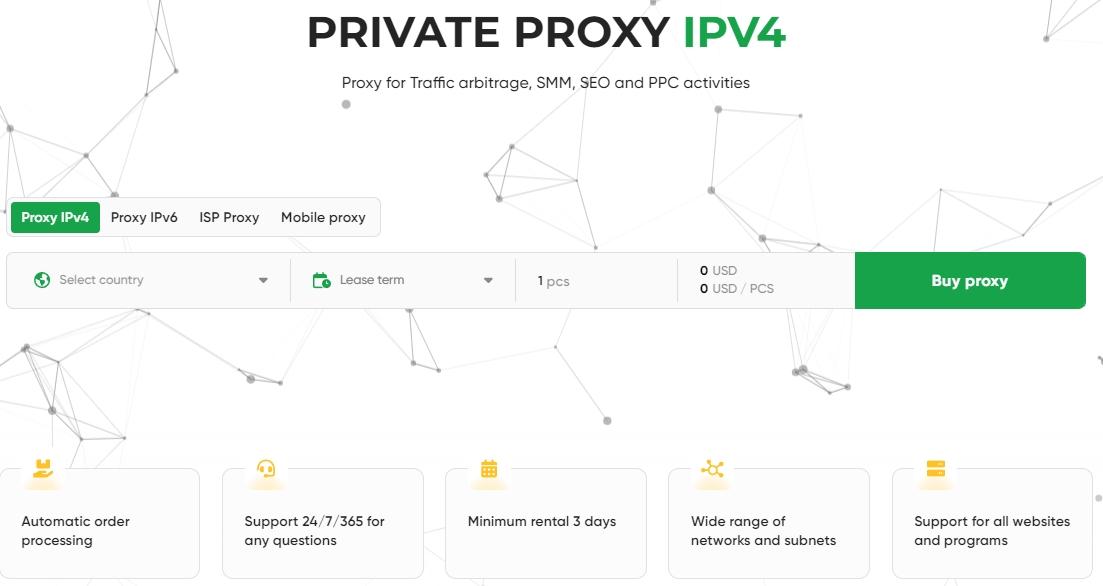 Reviews from satisfied customers on platforms like Sitejabber and Trustpilot attest to the quality and reliability of the service. Users frequently highlight the convenience, speed, and top-notch customer support provided by Proxy-IPv4. Whether it's the full automation of actions, a user-friendly client API, or the balance and auto-renewal features, Proxy-IPv4 consistently delivers an outstanding experience for its users.
Moreover, the platform guarantees the utmost privacy and security. Each proxy is private, ensuring users don't share their address with "unwanted neighbors." The firm commitment to ethical practices is evident, as they strictly provide IPv4 addresses for legitimate projects, steering clear of any illegal activities. With a focus on speed, and stability, Proxy-IPv4 stands as a trusted choice for those seeking safe, reliable, and profitable proxy solutions.
---
Frequently Asked Questions
What are HTTP proxies?

Hypertext Transfer Protocol or HTTP for short is a protocol for sending and receiving requests that handles the data and displays it for you formatted for you to be able to view it as intended. The protocol is mostly used for websites. Unlike other protocols, HTTP has the ability to view and interpret the data packets in order to be able to show it properly.
Are HTTP proxies legal and safe?
Yes and yes. There is no law that prohibits you to use HTTP proxies as long as you do not use them for something illegal. Regarding safety, HTTP proxies are generally safe. Most reputable providers have tons of security measures taken into place to ensure that the data sent through the proxy is safe and away from prying eyes.
What is the difference between HTTP and HTTPS?
HTTP and HTTPS both are the same protocol – hypertext transfer protocol. The difference between them is that HTTPS implements SSL encryption providing an additional layer of security. HTTP normally utilizes port 80, while HTTP uses 443.
---
Conclusion
There are tons of proxy providers available on the internet today. The ones we outlined in this article are not the only providers that sell proxies. You might even come to a situation where you will find a provider that better suit your needs.
---