Do you face any blocks or captchas while scraping SEO data or crawl the URLs with SEO Spider, Let me show you how to use proxies for SEO crawling tools.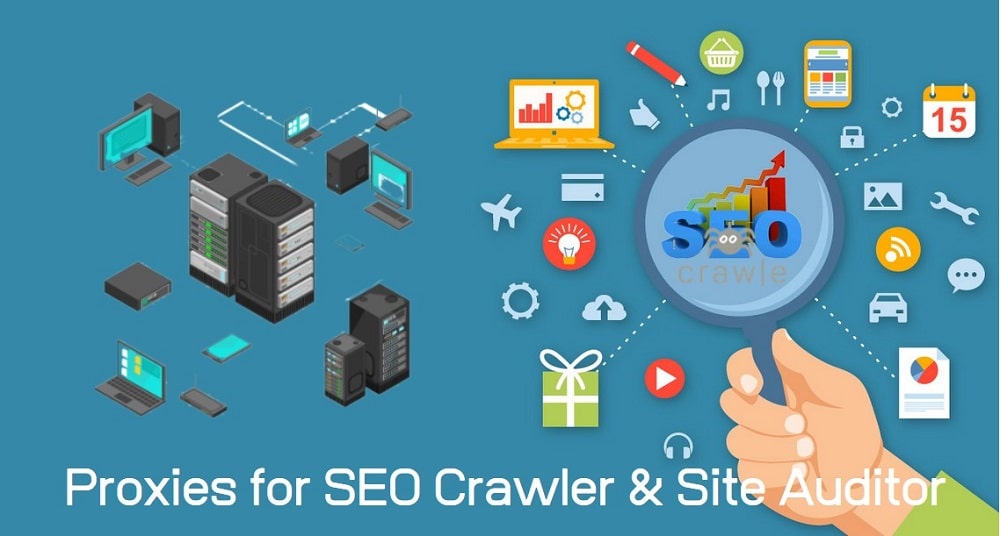 SEO or Search Engine Optimization is a technique used by experts and websites to make improvements to their content.
Many years ago, when the search engines were not all that smart, any kind of optimization was unnecessary. Today with implementing artificial intelligence with sophisticated algorithms, people need to make drastic improvements to their content.
Why might you ask? Several reasons actually. The quality and quantity of traffic play a massive role in how a search engine redirects people to your website. If your content is not right, you will not rank high on the result list. Another reason is the ads.
A lot of companies are paying to have their website show on top of a search engine. If your content is good and the search engine know that it will still show your result on top even if you did not pay for an ad.
People crawl to get an overview of what is currently on their website as well as to look into what their competitors have. When crawling through the data on a website, the tool can grab all kinds of data like headings, tags, internal and external links, and much more.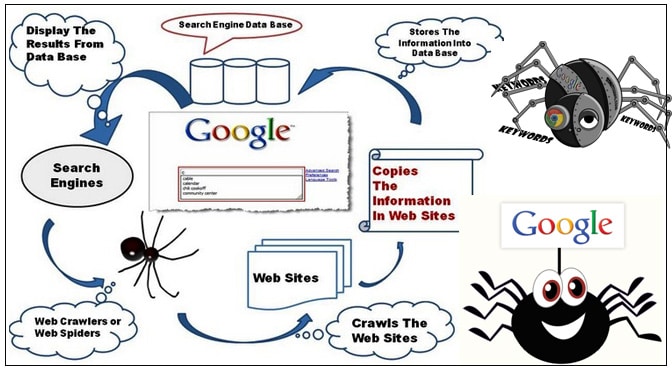 The point of all of this is for you to be able to analyze the data. Crawling through your website will give you an insight into how your content looks at the moment.
On the other hand, the data grabbed from your competitors that rank higher will show you in which sections to make improvements.
Most Popular SEO Crawlers
As the need for SEO crawlers grew, so did the companies that develop them. In the early days, there was only a handful, and today we have a choice of hundreds of them. Since we cannot cover all of them, here are the most popular and most commonly used SEO crawlers.
---
No matter how much you search, all lists of the best SEO crawlers start with Screaming Frog's SEO Spider. Unlike some of their competitors, their spider is a standalone application available for the three major operating systems. The Linux version is only available for Ubuntu.
The spider can crawl through a websites' URLs and will analyze the data and provide you with details and onsite SEO. They also offer a free account for 500 URLs. If you need more or want to get some extra features, you will need to pay for a package.
---
In the long line of popular SEO crawlers, we have to mention Sitebulb. What makes this piece of software stand out is the ready-made recommendations that will provide you with tips and tricks to improve your content and make it more optimized. It also has a very intuitive user interface with graphs, charts, and reports that will help you understand the recommendations.
Speaking of pieces of software, Sitebulb is only available for Windows and Mac. They also have a 14 day free trial with no limitations so that you can give it a test drive before you commit to paying for it.
---
Last but certainly not least is SEOPowerSuite. This software has been considered one of the most feature pack of all. It can track your ranks, search for backlinks, links management, and outreach, and, most importantly, full website analysis with content optimization.
SEOPowerSuite is available for Windows, Mac, and Linux, and it also has a free version. If you are opt-in for that, you will be able to use it for an unlimited number of websites and keywords, but not all features. If you want to have all or some of the features included, you will need to get the professional or enterprise package.
Most people might find it difficult to see a connection between a website crawler and a proxy, but there is one – and it is crucial.
When the tool crawls, it makes hundreds or thousands of requests to a website in order to get as much data as possible in the shortest amount of time. The server hosting the website might see that as a DDoS attack because all the requests are from the same IP address.
Once the server realizes what is happening, it will ban the website from making any more requests, and you will not be able to access it.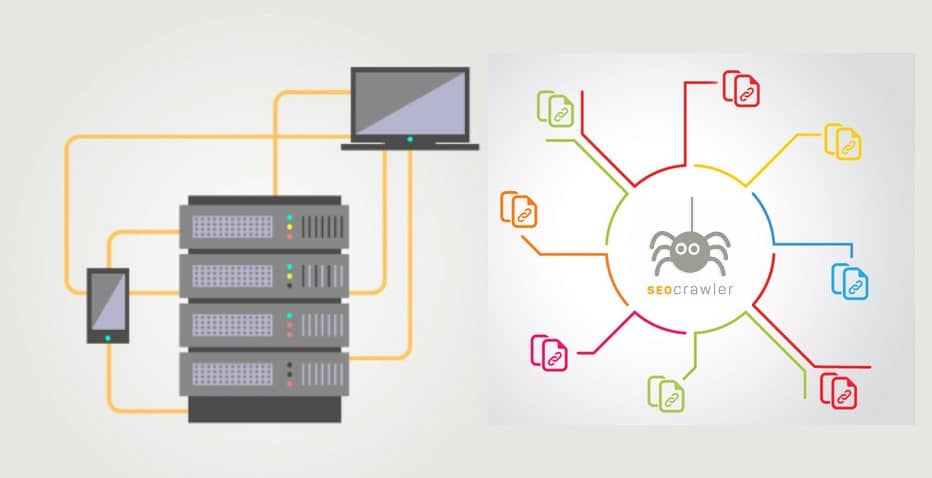 This is where proxies come into play. Proxies are IP addresses from servers all around the world. They work as a gateway between your computer and the destination server. You send out the request from your home IP address, which goes through the proxy and is then sent to the destination server. What this does is mask your real IP address with the one from the proxy. In return, you can make as many requests as you want without being detected.
As you may know, there are numerous types of proxies, and the most common ones are datacenter and residential. The datacenter proxies are a set of proxies purchased by the company selling them from an ISP, while the residential proxies are IP addresses from other people's home internet connections.
In recent years, proxy providers have started selling mobile proxies as well, which are more or less similar to residential, but the connection is through a mobile network.
Which is the best to use?
As we said, there are several types of proxies based on their type, capabilities, and speed is the price. Datacenter proxies are often the fastest of the bunch and the cheapest, but that also makes them the easiest to detect.
Residential proxies are IP addresses from people's home internet connections, so that makes them less likely to get detected. The same can be said for the mobile proxies, which seem to be even more resilient to detection. The downside is that these types of proxies are more expensive.
So now we answer the question, which type of proxy to use? Residential is the best choice, and there are two main reasons for that. First off, they are not as easy to detect. This means that the server you will be sending tons of requests to will not figure out that they are coming from the same person. The second reason is the price. Residential proxies are more expensive than datacenter proxies, but are also cheaper than mobile and provide a similar level of anonymity.
Ideally, when shopping for residential proxies, you would get rotating ones. These proxies are preconfigured by the provider to rotate at an interval, making your life easier, so that you do not have to do it manually.
Now let us look as some of the best residential proxy providers. Bear in mind that we will not be able to cover all of them. The internet has hundreds of them. To keep this article shorter than a book, we will be covering the popular good choices.
---

As a direct competitor of Bright Data, Smartproxy has been aiming to surpass them, and in some areas, they may have. Offering a pool of over 40 million residential proxy addresses seems like an excellent alternative. What sets them back is the lack of locations – they have proxies in the US and five other countries and offer city geo-targeting of only eight cities.
Feature-wise, they are as packed as they can be. The 99.99% uptime combined with the advanced rotation feature will make sure that all your proxies are doing their job and are rotating so that your crawler does not get detected. The speeds are not all that great but may get the job done.
When it comes to payments, Smartproxy does not offer a free trial. Instead, you have a 3-day money-back guarantee (unless you paid with BTC). As for the packages, they provide a decent diversity, and you get unlimited threads and connections, but get limited bandwidth. You can pay for more traffic if needed.
---

One of the most popular proxy providers out there is Bright Data. Being a relatively new company, they have quickly got their reputation on par with competitors that have excised much longer.
One of the reasons why Bright Data is the most sought-after proxy provider is the number of proxies. They have over 72 million residential proxies in almost every country in the world. That is much more than what some of their competitors offer. On top of that, they have an excellent set of features like unlimited rotation or geo-location, where you can get IPs from a specific city. Also, the proxies' speeds are fast, and the uptime is 99.99%.
Bright Data offers a wide variety of packages to accommodate most people's needs. Finally, if you are interested, you can get a 7-day free trial to test drive their proxies and decide if they would work for you.
---

Google is a platform that can make a lot of money for companies and individuals who know how to do SEO very well. But it's not easy to get your website to show up on the first pages of these search engine results. There are tools like Moz, Semrush, and Ahrefs that could help in that regard. However, the ultimate solution will be to pair those tools with NetNut's reliable static residential proxies, they become even better.
Sometimes Google asks you to solve CAPTCHAs or thinks you're a robot. This can be frustrating if you're trying to find a lot of information or doing serious SEO stuff. NetNut's reliable static residential proxies are made to help you get past CAPTCHAs because they are real IP addresses that shouldn't trigger anti-spam bots. This makes it easier to gather information and data from the internet without running into problems.
Sometimes, the internet or websites can be slow, now that can be annoying. But NetNut's special servers are made to be fast and smooth. This means you can handle a lot of tasks simultaneously. There's also an API to integrate with your browser that relays real-time information about your activities online. This is important because keeping track of data usage and other metrics is important to effectively maximize your SEO operations.
To get started, you can choose a plan that fits your needs. They have different plans with different amounts of data you can use each month. The Starter Plan gives you 20GB for $350 a month. The Advanced Plan gives you 50GB for $750 a month. And if you need even more, there's the Production Plan with 100GB for $1000 a month. These plans are geared towards a range of needs and requirements. To help you decide NetNut offers a free 7-day trial. You don't even need to use a credit card to try it out.
---

It will be a very big mistake on the list of the best SEO proxy providers, not to mention the Proxy-Seller. This is because, even though the proxy provider offers you the residential and private proxies, they also have the SEO- tasks targeted proxies on their platform.
This gives customers the go-ahead to get these Proxy-Sellers SEO proxies to carry out functions like scraping data, googling, and typically surfing the internet with search engines in mind. Speed is vital, and Poxy seller guarantees high anonymity, affordable pricing, and an impressive uptime of 99%, which means the SEO proxies have high connection speed.
Besides Proxy-Seller SEO proxies having good geo-location coverage, the proxies also give you large-scale scraping results in the shortest time and subnet support. Another thing so that the private proxies are compatible with not only IPV4 but also IPV6 devices.
The other unique thing about the company is that they have flexible pricing plans, and you can select a package based on your budget. Proxy-seller is the Big-G Stealth Extractor which we can add to this list because the company has the Proxy category targeting SEO tasks or purposes.
---

If you are on a tight budget but still need residential proxies, then Proxy-cheap might be the right choice. They have over 6 million residential proxies in over 127 countries but offer only country lever geo-targeting. The upside is that those 127 locations are scattered all over the globe, so you get a good diversity in locations.
When it comes to features, do not expect anything fancy. You get cheap rotating proxies in a simple and easy to use dashboard. Speaking of price, all packages offer the same features or locations. The only difference is the bandwidth, and you pay less per gigabyte if you get a bigger package.
One of the downsides is the speed and latency. During our review of the residential proxies, we came across very inconsistent speeds, with some of the proxies performing much better than others.
---

Among the many young companies on this list is Stormproxies. There is nothing that really stands out about this provider, their proxies just work.
As with all other proxy providers, there are good and bad sides. Among the many upsides is the unlimited bandwidth you get with all the packages. Speaking off, you have four main ones to choose from and two more a cheap one and one for the enterprise users that need more. You will not get a free trial to test out the proxies, but there is a money-back guarantee if you are not satisfied.
The performance of the proxies is average. The speeds are not breaking any records, but are far from the slowest we have seen.
---

The last proxy provider on our list is Proxyrack. Founded by one man, this company quickly grew into one of the top proxy providers on the internet.
The exact number of residential proxies is a bit confusing. On one place of their website, they say half a million, while in the pricing section, they say 5 million. The good thing is that the IPs are all over the world – America, Europe and Asia/Oceania. The good thing is that this is another cheap proxy provider.
The speeds and latency of the proxies is where we see why the price is lower than the competitors. The speeds are below average, and the latency is around 500ms, which is a lot even for a proxy. If you are after some fancy features, then Proxyrack is not the right provider for that.
Frequently Asked Questions
Can I get in trouble for crawling other websites?
Technically, crawling through websites is not illegal, so no one will sue you for that. On the other hand, not many people want others to poke through their websites, so crawl with caution.
Can I prevent others from crawling my website?
No. Your website and almost everything you publish on it is public, which makes it very difficult to protect yourself from others looking into your content. The only way you can add protection is to set up your server or website to look out for multiple requests from the same IP address.
Can I use datacenter proxies for crawling?
You can, but we will not recommend that. Datacenter proxies are much easier to detect because most of the IP addresses are already flagged as proxies, so a lot of servers will be able to identify them. You can try, but the success rate will be lower than with residential proxies.
Are mobile proxies better than residential?
Yes and no. Mobile proxies are a bit more challenging to detect than residential, but if you purchase proxies from a reputable provider, you should not have any problems with getting caught, however It's too expensive!
---
Conclusion
As we mentioned before, these are not the only proxy providers on the market – these are one of the most popular. You may be able to find a provider with proxies, features, and prices that suit your needs better.
Overall, if you need to crawl through your own or your competitors' websites, you will definitely need to find a proxy provider so that you can do the analysis much faster and without getting detected.
---
---