Need Pinterest proxies for Pinterest Bot? This post will help you find the best private proxies for the Pinterest automated tools!
So you've finally decided you wanted to tap into the unlimited potential of Pinterest? Good decision, Pinterest is one of the internets greatest resource. I wouldn't say it's as good as Twitter or Instagram. It still has a huge amount of potential to fatten your pockets.
If you stay with me throughout this article I will be teaching many things related to Pinterest automation.
Update: Now You can also use the residential IP proxies for Pinterest automation! You can get Millions of IPs only one proxy packages, Learn from here.
---
---
Why should I market on Pinterest?
As of 2013, Pinterest has 80 million users, a shocking 80 percent are women. The average age is around 20 – 30 years old. Pinterest has 2.5 billion page visits per month.
If that still didn't answer your questions just keep on reading. If you didn't think of a million products you could sell you're not a very good marketer. A little tip would be clothing and makeup, very easy to sell to this demographic.
There are thousands of reasons why you should market on Pinterest. One of the main reasons is that it has a low cost to get started on. Other platforms require way more spending to get the same traffic.
On the site, it mostly has users from the united states. The majority of them women & they share mostly food and drink content.
Now any marketer could see the potential in this. There are so many ways to monetize the platform and researching more on their demographic is only beneficial.
---
How to make money with Pinterest marketing?
One of my favorite methods of making cash on Pinterest was found on some webmaster forums. Why Pinterest is so good for making money is because of its demographic. Also, its ability to easily scale up the whole process. That is why we need private proxies because scaling would be impossible.
How these method works are basically selling stuff to your target audience. This method would work very well for you if you have a specific hobby you're passionate about.
Let's say you love fitness and everything related to being healthy. You have a chance to target a majority of women audience, in their twenties, who want to be fit, and attractive.
Did you get any ideas on what products to sell? I got a couple off the top of my head while writing this. What you need to do is get followers to your boards.
Your boards are going to contain everything that you're selling. Best way to do this is to follow and pin other users in your niche. The more you do it the more attention you get, and that means more traffic. We all know what more traffic means, and that's more conversions. Which equals dollars in your pockets.
This is why I stress so much that private proxies and automation is needed! How will you be able to follow Pinterest users all day? Do you know what would be way easier? Having 30 accounts follow Pinterest users while you sleep!

That wouldn't be possible at all without the use of private proxies and automation.
Below are the most recommended Pinterest Proxy Providers
Pinterest Proxy Service
Price
Feature of proxy providers
1 Proxie for 1 week - $1.07
1 Proxie for 2 weeks - $1.61
1 Proxie for 1 month -$2.14
Offer Socks5 and HTTPs Proxies
Cheap Private Proxy
Flexible Billing Mode
20 GB - $350
50 GB - $750
100 GB - $1000
Unmatched Global Coverage
Reliable Static Residential Proxies
Huge IP Pool
30 days – from $2.70/proxy
60 days – from $2.55/proxy
90 days – from $2.40/proxy
Unlimited bandwidth & threads
HTTP and SOCKS5 support
195 worldwide server locations
10 Proxies - $35.00
50 Proxies - $155
100 Proxies - $280
Special Pinterest Proxies Packages
Proxies are manual activation
Monthly Randomize and Multiple Subnets
10 Proxies - $22.65
50 Proxies - $86.00
100 Proxies - $169
Proxies good for Social media Marketing
Fast Squid proxy server
USA based Premium proxies
10 Proxies - $20.00
50 Proxies - $80.00
100 Proxies - $150
Dedicated HTTP/HTTPS Proxy Provider
API integration & Chrome Extensions
Fast and great customer support
So, The first thing you need though is proxies, and why you need them is so they don't connect your accounts. The IP address is the easiest way to track someone's internet activity. You wouldn't be able to spam Pinterest just from one internet connection. Youll be needing multiple and it will be impossible to do anything worthwhile on one connection.
---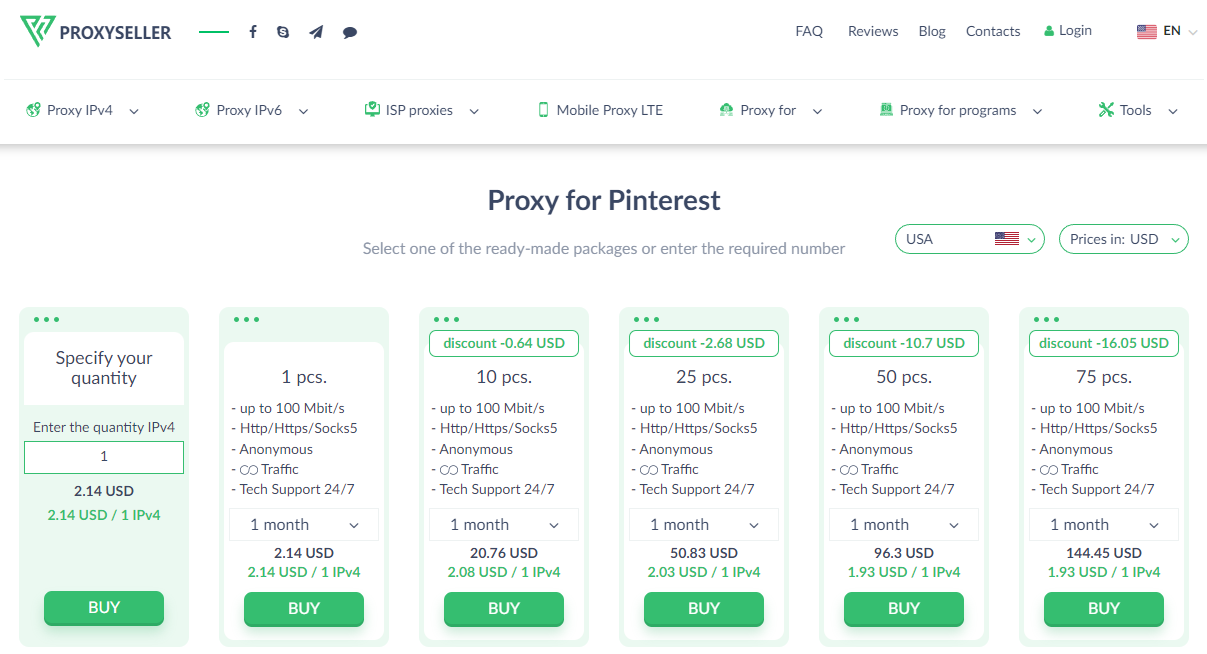 Proxy-seller private proxies for Snapchat are the newcomer to the proxy scene. With flexible billing options and high-quality performance, they offer excellent value for money and are a great option for both personal and business use.
They offer fast and stable connections with low latency and high speeds, starting at just $2.14 per month for a single Pinterest proxy. Users can enjoy the reliable performance and high-speed connections, perfect for using Snapchat and other social media platforms.
If you want to buy Proxy-Seller, you can read our review first!
---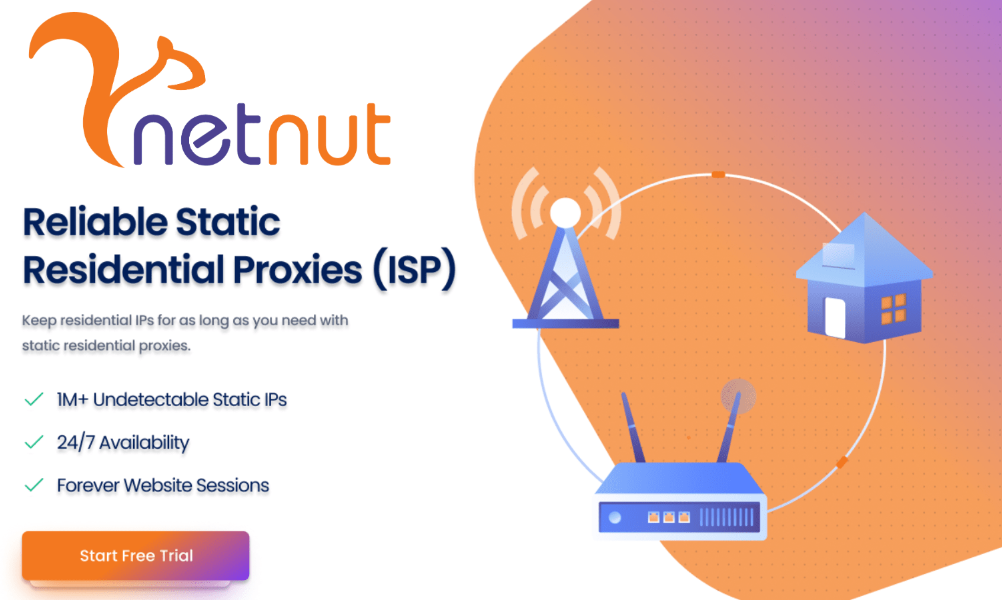 Pinterest isn't the strictest of platforms when it comes to bot and anti-spamming policies. But a service like NetNut's Reliable Static Residential Proxies will give you that bit of extra edge perfect for your Pinterest campaigns. With an extensive pool of over 1 million reliable static residential IPs distributed worldwide, NetNut makes it effortless for businesses and marketers to target specific locations and audiences with precision on the Pinterest platform.
NetNut's top-notch, reliable static residential proxies are some of the fastest proxies you'll ever experience. The speeds are unrivaled, empowering you to collect data like the pro you are with the fastest connectivity infrastructure behind you! Scrape the web and extract any web data at scale for market research, price alerts, and gaining a competitive edge on Pinterest.
Access a plethora of reliable static residential IPs with NetNut's premium servers providing one-hop connectivity and eliminating traffic flow bottlenecks. And effortlessly manage multiple Pinterest accounts and automation tasks. NetNut's shared reliable static residential proxies are fully optimized to allow you to harness the performance of your Pinterest campaigns. Work with maximum speeds for your pins and ads!
NetNut provides practical pricing plans suitable for various business needs and budgets. Whether you're a small business owner, a social media marketer, or a large-scale enterprise, NetNut offers pricing options that will not burn your pockets. You can data packages starting from $350 per 20GB monthly and even try them out on Pinterest for free for complete 7 days.
---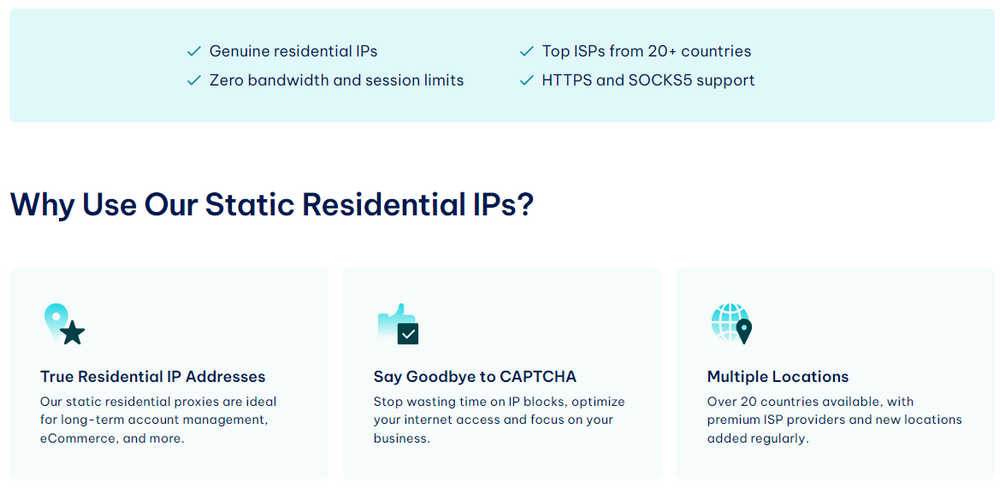 IPRoyal's proxies provide 99.9% uptime and sufficient online privacy features to manage multiple Pinterest accounts simultaneously or scrape its data without detection. They provide high-trust score static IPs with flexible payment plans – the more proxies you order for a longer time, the better the prices! Their residential IPs are ethically sourced from genuine physical devices, ensuring a smooth and consistent experience.
---

SSLprivateproxy – With private proxy costing $1.75 a month and I've personally never had any errors at all. One time I asked for a refund and they processed that hassle-free. This is a recommended provider for any projects you have.
Want to buy SSL proxies? Read our expert's review about SSLprivateproxy befor you buy!
---

buyproxies.org- Five proxies costing $10, 10 costing $20, 20 costing $40, 30 costing $50, 50 costing $80, and 100 costing $150. I have personally used this provider and had absolutely no issues.
If you want to know more about buy proxies, go to our full review here to know more detail of buyproxies.org.

---

High proxies- This is a personal favorite but isn't my main choice. I like to use a variety of proxy services for whatever project I have going on. While using this proxy service I've never run into any downtime. With the price of a proxy at $2.30 and 1000 costing $1400.
You can learn more about Highproxies.com and its overall pros and cons here.
---
What is a way to promote your business?
One of my favorite methods in Pinterest marketing is the Place pin. What place pins is a way for a business to geographically pin whatever you posted.
So what this means is you can create a board for a specific area! If you fail to see how this is a game-changer you're not a very good marketer.
---
Essential tools for every Pinterest Marketer
This tool is what makes or breaks whether or not you'll have money in your pockets. How will you ever know what works or what doesn't? Having more data on your target audience is nothing but beneficial for you. With Pinterest Analytics this makes the job so much easier.
What this is it a drag and drop software that makes creating images easier. It takes minutes to make the tall images all over Pinterest. This gives you a great chance to put your message out there for them.
This is one of my favorite tools and I will forever recommend it. What it does is automatically schedule content on your Pinterest account. That is the key to scaling up, private proxies and automation are what make dollars!
---
Final notes
You still have so much to learn and this article probably isn't enough to hold all the information. This is where you need to step up and start researching. I learned a lot from forums like digital point and blackhatworld. If you have seen any of those forums you would see where my information comes from.
Don't forget to get your private proxies, I laid out the best ones in the industry for you. If you already read the article you will understand why it needed. Also, take a look at the useful tools every Pinterest marketer needs I've compiled for you above.
Good luck on your journey to greatness and I hope you tame Pinterest!
---