Do you want to create multiple accounts on Tik Tok? Tik Tok automation is the next platform for social marketing! When talking about the "Automation", The proxies are 100% Needed! This Post I would like to discuss Tik Tok proxies!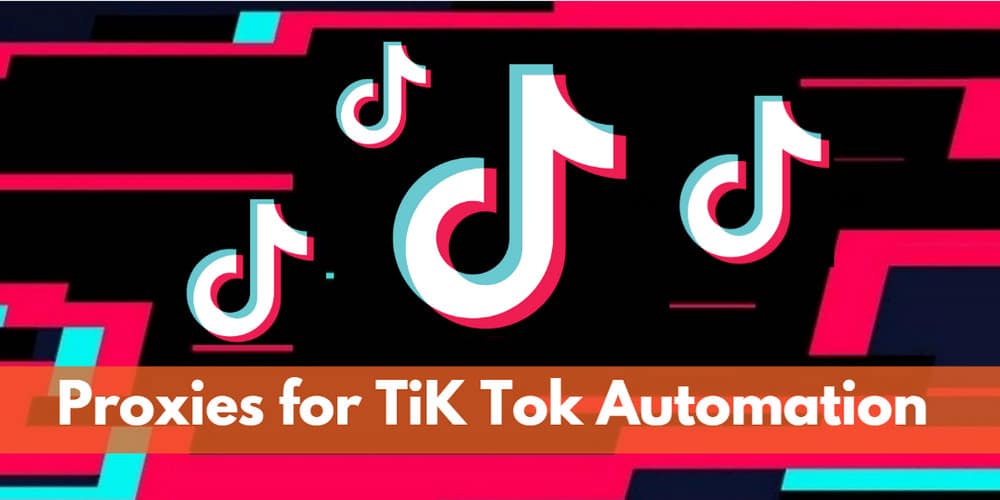 Instagram automation for marketing is declining, because of the "gold time" of IG automation is really passed, now IG becomes more and more strict, IG accounts are easily get banned or blocked! Luckily, Tik Tok is growing rapidly! If you can't beat IG, I would suggest you take your time to Tik Tok marketing!
Tik Tok took the world by surprise when it became the most downloaded app in the first quarter of 2018. Since then, Internet marketers have been looking for ways to build followership bases and go viral through automated means.
Tik Tok Need the growth now! So now it's good timing! We help them go growth much faster, isn't it?
Creating "fake profiles" seems to be the way to go. However, just like any other social platform, this is highly discouraged. If they discover you create accounts in number, all the profiles will be banned. How then would you do that without being caught?
The answer is through the use of Tik Tok proxies. I intend to make this article some sort of an ultimate guide to Tik Tok proxies. You will learn about what they are, what they are meant for, and where to buy them.
---
---
What is a Tik Tok Proxy?
Tik Tok proxy is an intermediary proxy server that routes their clients' requests to Tik Tok through other IP addresses other than the clients' IP addresses.
Because the request reaches Tik Tok through other IP addresses other than the IP address of the computer that initiates the request, users can afford to have more than one account.
Without using a proxy, if you try managing more than one account on the same computer, your accounts will be banned by Tik Tok. And if they suspect you're using a proxy to access their services, you might be denied access to your account.
However, unlike Instagram and the other popular social networking platforms, Tik Tok anti-spam is not yet sophisticated and smart enough to detect some of the smart proxies out there and as such, there are no specialized proxies in the market specifically made for Tik Tok to evade their anti-proxy system.
You can use the popular proxies out there. Saying this does not mean you should go ahead and use free proxies – No, that's not what I mean. What I mean is that most good proxies work perfectly with Tik Tok.
---
What Do Tik Tok Proxies Do?
Like I stated earlier, online marketers use automated tools to trend in other to gain followers and make money by leveraging their followership base.
There is no Tik Tok bot or Tik Tok automation tool that is solding in the marketing, So Now It's 100% the gold time for Tik Tok Automation!
They use these automation bots to create plenty of accounts that they would then use to heart videos. When these videos get more hearts, they get the chance to trend and for smart marketers, that's a chance to make some money there. The heart is Tik Tok's version of, "Like".

Proxies help them to conceal the real IP address of the computer that is being used for the automation thereby making it possible to send requests that seem to Tik Tok as coming from different computers or mobile devices.
This makes it possible to manage multiple accounts and evade Tik Tok's anti-spam detection systems. Even without using automation tools, you still need proxies if you plan to manage more than one account.
Why You Might Not Need Proxies for Tik Tok
If you plan to manage a single account, then investing your money on proxies for Tik Tok is a waste of money. This is because Tik Tok won't penalize you for having one account.
Interestingly, if you try automating that single account and you cross the limit, no amount of proxies will save the account – it will be banned. Proxies are only needed when you need to manage more than a single account, or If your IP is blocked by Tik Tok.
What are the best TikTok Proxies
Where Can I Get Proxies for Tik Tok?
As I stated earlier, Tik Tok is not strict enough now! So most paid proxies with good services will do. However, the level of trust Tik Tok has on proxies depends on their types. Let take a look at the types of proxies you can use for Tik Tok.
1. Private Proxies for Tik Tok <Now is the Best!>
Dedicated datacenter proxies are the cheapest proxies for Tik Tok. Interestingly, they are even the recommended solution because unlike other websites, Tik Tok is not yet strict and as such, going for the high-priced proxies such as residential proxies and mobile proxies is just overkill.
Private proxies will get the job done if you are careful with their usage and do not overstep your bounds. Let take a look at the 3 best private proxy providers for Tik Tok.
---

MyPrivateProxy is one of the best private proxies in the market. Interestingly, their proxies work perfectly with Tik Tok.
They have over 226,000 IP addresses distributed in 21 states in the US. Their proxies are reliable, secure, and cheap.
Aside from their servers in the US, they have added new ones in the UK, France, Ukraine, Australia, and Romania, Get more details here.
They provide unlimited bandwidth and their uptime has never been lower than 99 percent. Their private proxies are also some of the fastest in the industry.
---

Instant Proxies provides the cheapest private proxies that can be used for any social media automation. Interestingly, it is 100 percent compatible with Tik Tok.
It is not only compatible with Tik Tok, but your security is also guaranteed and their systems are reliable and designed not to fail.
One surprising thing about private proxies provided by Instant Proxies (Our review) is that despite their low price, they never leak IP addresses and they are as performant as the expensive options. They also have servers in different countries of the world.
2. Residential Proxies for Tik Tok – Bulk accounts choice
Residential proxies are some of the best proxies to use for managing multiple accounts on Tik Tok. This is because they are linked to residential IP addresses and are generally trusted more and as such, you can make use of this trust to your advantage by using them to create multiple accounts without being caught.
Unlike private proxies, you are quite sure your traffic cannot be discovered as a proxy originating traffic. This makes them expensive compared to private proxies.
However, using residential proxies for Tik Tok, for now, seems to be an overkill except if you want to bring down the risk of being banned down to a minimum. Below are three residential proxy providers that their proxies have been found to work perfectly with Tik Tok.
---

NetNut is another great proxy service provider we'll wholeheartedly recommend for your engagement on TikTok. Both their residential and datacenter proxies can be used to great effect for running videos and marketing campaigns on TikTok.
If you're aiming to boost your TikTok video promotions and make the most out of ad placements on the platform, NetNut's ISP proxies are the ultimate solution. Their advanced features and top-notch performance are the key to achieving impressive outcomes, especially for B2B, IT services, and large enterprises in the world of online video advertising and marketing.
With NetNut's ISP proxies, you get access to a huge collection of more than 52 million residential IPs scattered across cities worldwide. This broad coverage ensures that your TikTok video campaigns can connect with a wide range of audiences, no matter where they are on the planet. You can fine-tune your marketing strategy by targeting specific regions, demographics, or languages with ease, giving you a truly global TikTok engagement.
---

Looking forward to managing unlimited Tik Tok accounts?
Then Smartproxy can provide you with a large residential IP pool that will ensure your requests are never seen as coming from the same device.
With over 10 million residential IP in over 195 locations and about 8 cities, you have a variety of choices available to you. From Smartproxy, expect an uptime of about 99.9 percent, Get How it works and performance Here.
However, their bandwidth is limited. There are not as affordable as the proxies described above.
---

Shifter is another residential proxy service provider that their proxies work perfectly with Tik Tok.
Their backconnect proxies are over 31 million and they change the proxy you use every 5 minutes, Learn Performace of Shifter proxies Here.
They make use of real broadband digital cable residential IPs. From them, you can get both HTTPS and SOCKS proxies. They are also quite affordable compared to other residential proxies.
With them, you do not have to worry about bandwidth as they provide it without a cap on it. Their proxies are available worldwide.
---

Stormproxies only have HTTPS proxies, You can easily Click here to read our full review.
Fortunate enough, that only can be used for bulk account creation and management on Tik Tok.
If you subscribe to them, you will be given access to over 70,000 residential IPs that are rotated at intervals.
Their proxies are highly anonymous and fast.
3. Mobile Proxies for Tik Tok – Geek Choice
Mobile proxies reduce the risk of being banned on Tik Tok to almost zero. This is because Tik Tok does not link mobile proxies with any account because unlike residential proxies, mobile proxies are dynamically assigned to mobile devices when they need to connect to the Internet and are usually withdrawn afterward.
However, they are the most expensive type of proxies to use for your Tik Tok media campaign. Mobile proxy providers aren't much. However, out of the few available, some of them have proven to be best. Let take a look at them.
---

Proxy-Seller is a reputable provider of mobile proxies that offers the highest quality proxies on the market. One of its key features is IP rotation, which can be done either automatically or at a set time. The carrier's pool contains several thousand proxies.
Additionally, Proxy-Seller's mobile proxies support 15 countries around the world, allowing users to select the location that best suits their needs.
You can also choose different purchase plans according to your budget and needs, which can be said to save you money in disguise.
---

Bright Data is the first mobile proxy provider in the market, get our expert's complete review here.
Interestingly, they have the largest number of mobile IPs with their pool containing about 7.5 million mobile IP addresses.
Their proxies are available worldwide and you even have the chance of using city-specific proxies.
They are secure and reliable. However, their proxies are some of the most expensive in the industry.
---

AirProxy currently provides only 4G mobile proxies.
They also provide only Italian proxies. One thing I have come to like about AirProxy is that they dedicate a SIM card to you for the period you have a subscription active.
This makes their proxies highly functional.
However, it also makes them expensive that you wouldn't even look their way unless you need to reduce the risk of getting your Tik Tok account farms discovered to zero.
---

Updated: Based on our test, their Proxies are blocked by Tik Tok!
Just as its name implies, Proxy-cheap sells some of the cheapest mobile proxies in the market.
Interestingly, their mobile proxies have been made with the creation of multiple accounts on social media in mind.
This makes them perfect as Tik Tok proxies because multiple account creation is one of the major reasons for using proxies for Tik Tok.
Their proxies are only the US and EU proxies.
---

Here's a premium proxy provider where you can buy private proxies from. Yes, they have general private proxies but I will advise you go for their specialized social media proxies which in a way, are still private proxies.
Since Tik Tok is a social media platform, it should work better than the general proxies. With High Proxies, you are assured of enjoying a 99 percent uptime and an unlimited bandwidth.
Best still, their proxies are also cheap and affordable. You can enjoy up to 1Gbps from this proxy provider because of their high-grade infrastructure and the team of experienced professionals, Learn more about Highproxies and its overall pros and cons here.
FAQs About Tik Tok Proxies
Frequently Asked Questions and Answers About Tik Tok Proxies for Tiktok automation bot to get followers
Can I use free proxies for Tik Tok?
Honestly, you can't. Free proxies have been abused to the extent that websites block them by default. You also risk getting your accounts hacked or being spammed.
Can I use shared proxies for Tik Tok?
I have not tried it before but I would advise against doing that. This is because shared proxies are a target for spammers and hackers and you risk the chance of getting your system or accounts compromised.
What the popular Tik Tok automation bots to use proxies with?
For now, there is no publicly available bot for Tik Tok automation. Tik Tok as a platform has not released a public API yet. However, I am aware some Internet marketers pay software developers to build custom Tik Tok bots for them by reverse engineering their apps. Your only option is building a custom bot or wait until one has been made available.
Does Tik Tok Ban Accounts Easily?
Unlike other popular sites, Tik Tok does not ban account the way others do. However, if you're discovered to be operating more than one account, expect Tik Tok will ban your IP, so you need the proxies to get more IPs to avoid the Tik Tok IP ban.
Does Tik Tok allow the use of proxies for automation?
No, they do not and will get your accounts banned if they discover you are using a proxy.
How many proxies do I need per Tik Tok account?
You need only one proxy per account. This is why I recommend the use of private proxies because they are cheap and you can afford to have a good number of them.
How to avoid a ban while using proxies?
You need to avoid using more than one account on a proxy. Also, if you're using a tiktok automation bot, make sure you mimic human behavior. Don't go overboard sending plenty requests in a few minutes. If you're trying to follow people using a bot, have break periods as that's how humans do.
What are the types of proxies for Tik Tok bots needs?
HTTP/HTTPS proxies are the perfect proxies for Tik Tok, and socks 5 also is fine, but socks proxy usually cost more than HTTP proxy.
---
Conclusion
Tik Tok is just recently gaining ground in the heart of social media marketers. Unlike other social media platforms, it is less strict and as such, you can use cheap proxy servers with minimal side effects.
However, you still have to be careful as it is against their terms and conditions to use bots and proxies to create multiple accounts and carry out other automated actions.
---