Looking for the best proxies that you can pair with your Supreme bot? Here is our list of the top 10 proxy providers that you can use.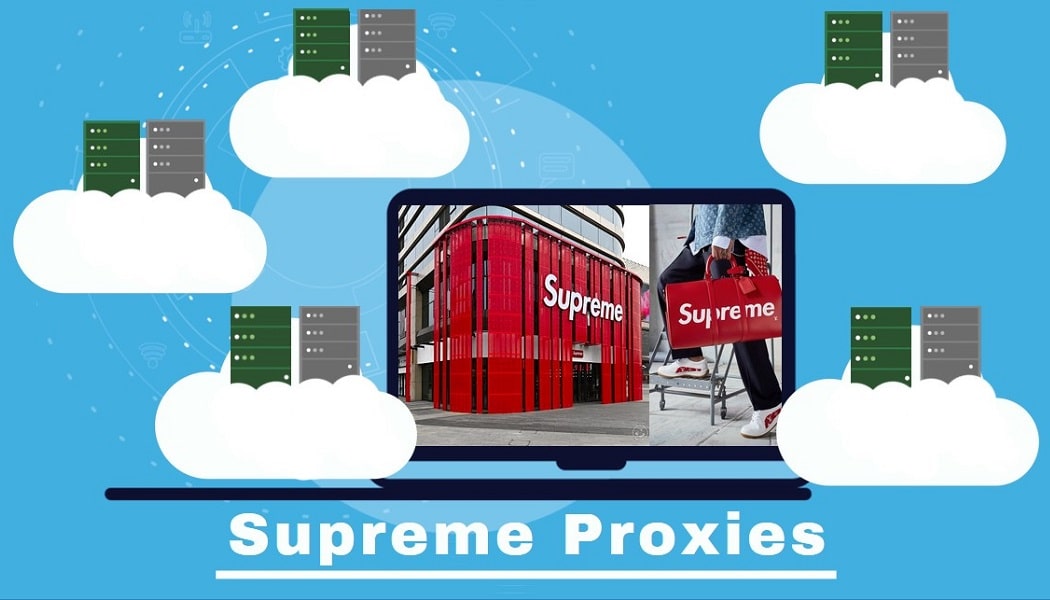 Existing for over 20 years, Supreme is one of the few retailers that people turn to when they want to get their hands on a limited-edition item. This favorite retailer quickly grew from a small skateboarding manufacturer in downtown Manhattan to a worldwide store that sells all kinds of goods.
For many years, people have been using bots to be the first to get their hands on some limited-edition item. Bots are doing their job, but something else is needed to be able to increase your chances – proxies.
Over the years, proxies have had tons of applications, and in recent years they have seen high demand in these kinds of bots.
Today's top 10 list will include the best residential proxies for Supreme, by our opinion, that you can use for your Supreme bots.
---
Best Supreme Proxies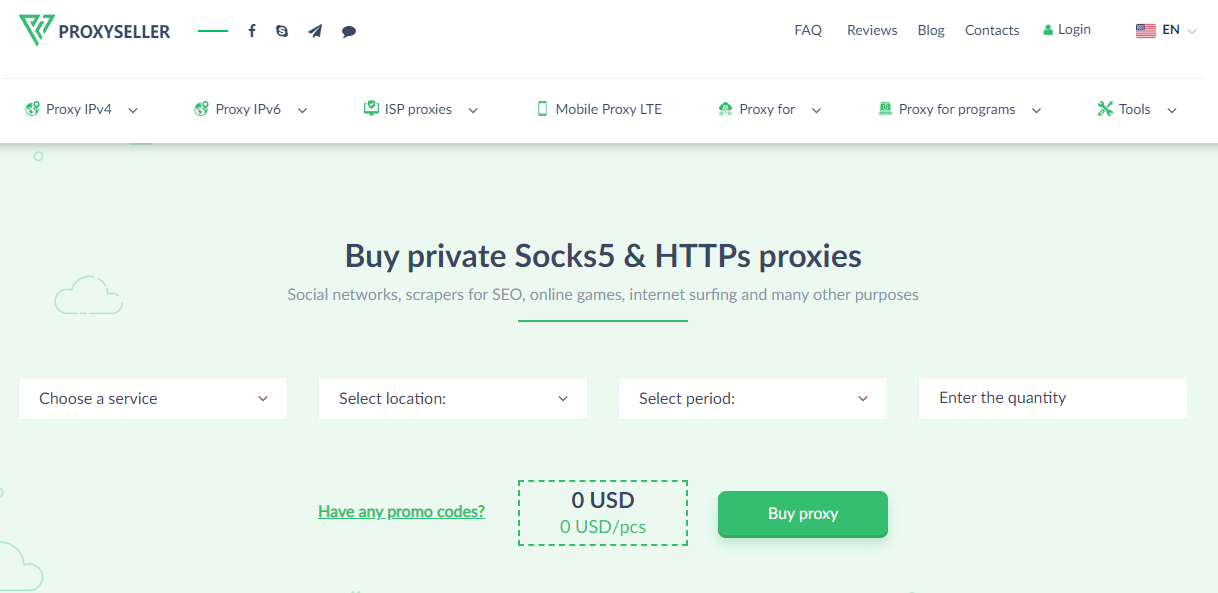 Proxy-Seller is a no-brainer Supreme proxies provider company on the market. As any customer can attest, the company offers one of the best Supreme proxies that come with many features, .surprisingly. However, the speed is guaranteed super-fast. These proxies are private but dedicated to a single user.
Proxy-Seller gives sneakerheads amazing location coverage with the option to target cities and access multiple subnets. Unlimited bandwidth and concurrent connection make these Supreme proxies one of the perfect choices to manage multiple accounts and increase the sneaker copping success rate.
Proxy-Seller offers tiered pricing plans to all customers. And it is because of this that the company has gained momentum in offering Supreme proxies to people worldwide. There is a large IP pool size to select from; hence reliable. Their private proxies are perfect for accessing the Supreme store and managing accounts without being detected.
Pros
Low pricing plans
Huge servers distributed in multiple countries
Offers smooth network connection
Perfect at managing various Supreme accounts simultaneously
Compatible with the Supreme bots
Cons
It is possible to be detected if misused.
---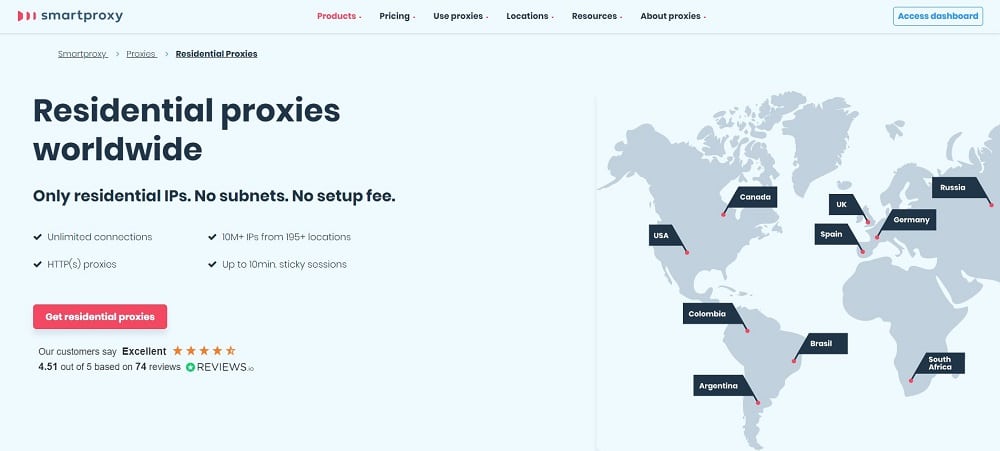 Smartproxy is a Supreme proxy provider that has grown quite rapidly in the last year. With an IP pool of over 10 million proxies in over 195 locations around the world, it is a decent contender that deserves to be on this list. The available countries are impressive, but unfortunately, if you need city-level geo-targeting, you will only have access to 8 cities, where 5 of which are located in the US. Also, the sticky session can be set to up to 10 minutes.
Regarding the pricing structure, you have the option to choose from several plans where you have limited bandwidth, but get access to all available proxies. Regardless of that, this Supreme proxy provider is among the most decently priced ones based on what is has to offer. What it does not have to offer is a trial option. Instead, you are left with a 3-day money-back guarantee.
Pros
Over 10 million proxies in over 195 locations
Cheaper than some competitors
Cons
No trial
Limited bandwidth
City-level geo-targeting limited to only eight cities
---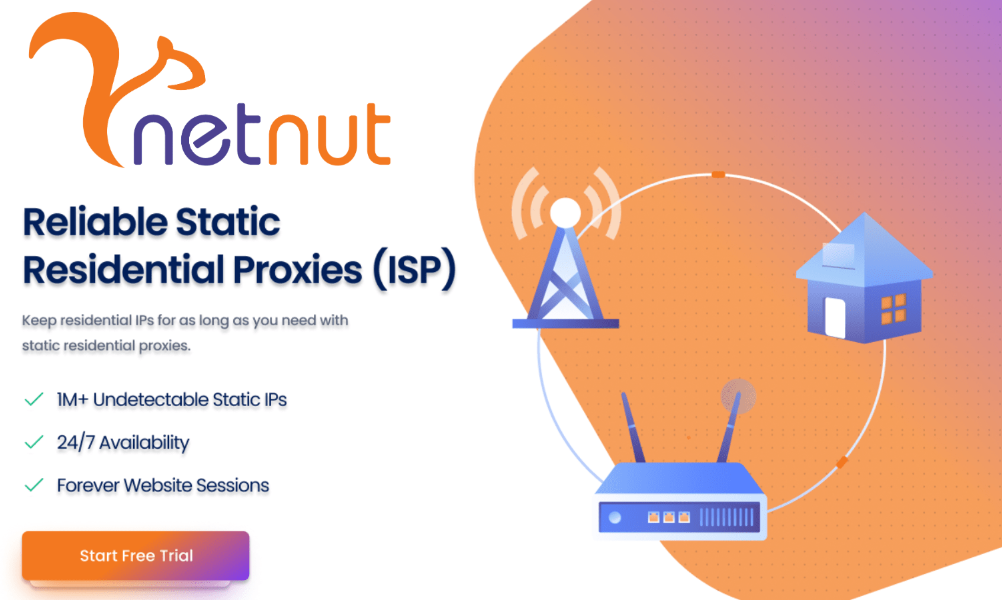 For all you sneaker enthusiasts and dedicated Supreme fans out there, you know the struggle of finding the right proxy service to score those latest releases from Supreme without the fear of account bans. If you're in search of a solid solution, consider checking out NetNut. Their residential IP proxy service is tailor-made for copping Supreme items online.
When it comes to copping, speed is everything. Luckily, NetNut's IPs optimized for Supreme are super speedy. Thanks to their lightning-fast one-hop ISP connectivity, you'll be the first to snag those Supreme items and secure your favorites before they vanish. Plus, if you're eyeing region-specific releases, don't worry – NetNut's global coverage ensures you can access proxies from anywhere around the world, so you won't miss out on any exclusive Supreme drops.
Concerned about bans and restrictions? You definitely should be. But with NetNut's static residential IPs, you can stay completely anonymous and avoid detection by Supreme's watchful bots. No more stressing over blocked IPs! And with concurrency support, you can cop even more using the same NetNut subscription. They'll switch up your IPs at the right moments to keep you hidden.
Successful sneaker copping happens day and night. With NetNut, you're covered around the clock – they promise 24/7 IP availability with no downtime. Their proxies are dependable and stable, ensuring a seamless copping experience without any interruptions.
It's time to invest wisely in your sneaker game. NetNut's SOCKS5-compliant static residential proxies are worth every cent. For just $350 per month, you'll get 20GB of bandwidth to cop sneakers and outsmart those Supreme bots like a true pro.
Pros
Over 1 million static residential proxies
99.9% success rates for Supreme copping
Free for 7 days
24/7 availability
Cons
The documentation isn't detailed enough
---

Formerly known as Microleaves, Shifter is a Supreme proxy provider that can go head to head with most of the competitors with ease. Offering over 31 million proxies in every country in the world, as they claim, it is easy to see why a lot of people choose them. Their lineup has basic and special residential proxies for you to choose, but for your Supreme bot, you should go for the special ones.
They have the option to geo-target any country and major cities, and they are designed to work with sites that the basic ones do not. The pricing is similar to Stormproxies. When you purchase a package, you are purchasing the number of proxies you intend to use, and you get unlimited bandwidth. You do have the option to test these Supreme proxies, but only if you make a payment first. There is no free trial, only a 3-day money-back guarantee.
Pros
Over 31 million proxies around the world
Geo-target any country and major city
---

Every list will start or include Luminati as one of the best Supreme proxy providers. Often praised as the proxy provider with the largest network, with Luminati, you will have over 72 million proxies in every country in the world. In other words, you can make your Supreme bot look like it is coming from anywhere you want it to.
The included proxy manager equipped with the advanced rotation option will add to the Supreme bot's ability to be undetectable. If you are a first time Luminati user, you might find the dashboard slightly confusing, but nothing to be alarmed about.
This Supreme proxy provider comes with all the bells and whistles and with a price tag to match. Comped to most of the providers available, Luminati is on the top when it comes to price, and unlike some competitors, they have limited bandwidth on their pricing plans. One thing that makes them stand out is the trial. They offer a 7-day trial to test out the proxies, which is more than what the others offer.
Pros
Over 72 million proxies in every country in the world
Limitless rotation and geo-targeting
7-day free trial
Cons
Bandwidth is limited
More expensive than competitors
---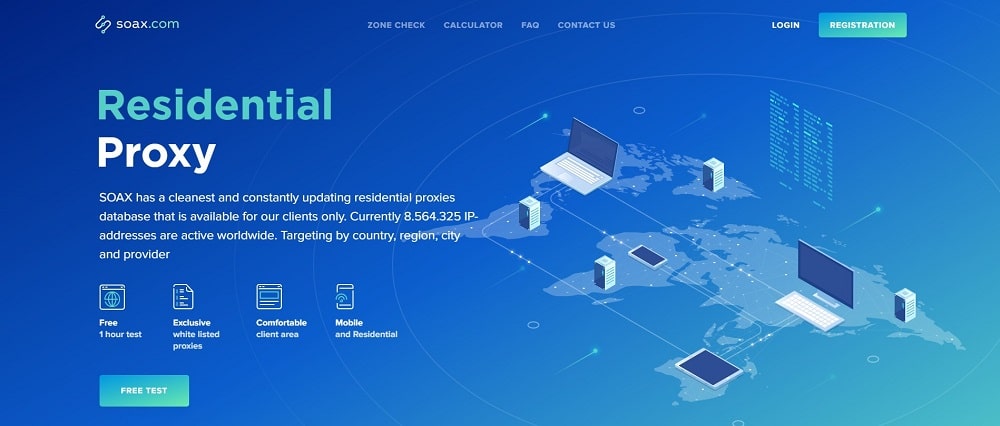 A name that you might not hear too often when it comes to Supreme proxies is Soax. It is understandable because it is a newer provider, but with the set of features, it is surprising. They have over 8 million proxies in over 120 countries across the globe, which come equipped with the ability to target a specific country, region, or city, depending on the availability.
Another thing that this proxy provider gets right is the pricing. First of all, they are cheaper than the competition. Next, you can purchase your Supreme proxies for the amount of time you need them to.
They have daily packages that you can extend up to three years. They charge you per IP address, and you have limited bandwidth on all of them. The trial option is quite short, though. You can only test a proxy for one hour, and they do not offer any kind of money-back guarantees.
Pros
Affordable
Option to purchase daily proxies
Cons
Trial limited to only one hour
Limited bandwidth
---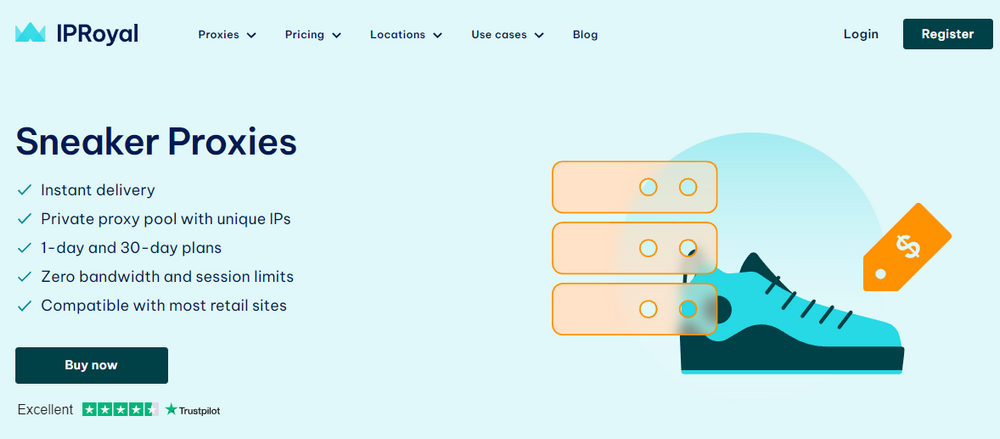 Next on our list of affordable Supreme proxy service providers is IPRoyal. They offer sneaker proxies in 30 worldwide regions, including the US, UK, Canada, France, Japan, etc. However, the city-level targeting is restricted to rotating residential proxy plans, but sneaker proxies can handle operations that don't require it.
Regarding pricing, you can get a sneaker proxy with unlimited traffic for as low as $1 per day, but like with most providers, better prices come with larger deals. Sneaker proxies will be immediately provided upon receiving payment and provide unlimited bandwidth so that you can get right away with your online business.
Lastly, there's an informative blog explaining everything there is about proxies, and the 24/7 customer support provides any additional assistance required. Although their sneaker proxies are of excellent quality, there's no refund policy, so make sure you place your order when ready to do some Supreme shopping online!
Pros
30 worldwide locations
Unlimited bandwidth
Affordable service
Cons
No refunds
No sneaker city-level targeting
---

Stormproxies is not the most common name on the proxy providers lists, but it is one worth mentioning. Despite the lack of popularity, it is a decent Supreme proxies' provider. Regarding features, do not expect too many. Stormproxies has over 40 thousand proxies available for you in the US and Europe.
The exact locations are unknown, but you should not expect a long list of available countries. With very little to offer, the prices for these Supreme proxies are cheap. Unlike other providers, you pay for the number of ports you will be using for which you get unlimited bandwidth. An option to test the proxies is available, but not as a free trial. Instead, you can get a money-back guarantee, which lasts only 24 hours.
Pros
Cheaper than other competitors
Cons
Not a lot of proxies available
US and Eu regions only
---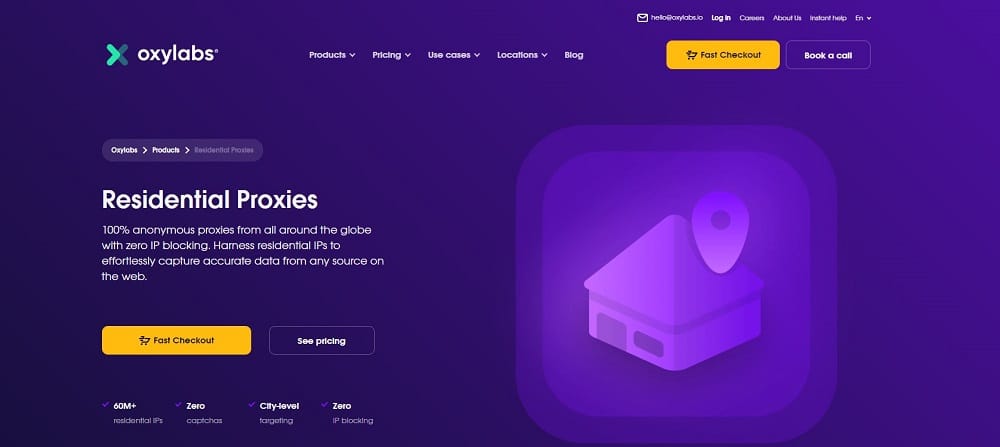 As a veteran in the field, Oxylabs is a Supreme proxy provider that has to be on any list. With over 60 million proxies available in their pool in, it is the closest that any other provider has come to Luminati's numbers. IP pool aside, they have residential proxies in every country in the world.
On top of the wide options of countries, you also have the option to choose a proxy from a specific city. The list of available cities is not disclosed, but they claim that you have access to all major cities. With an easy to navigate dashboard combined with all that you would ever need from a proxy provider, Oxylabs will be excellent for your Supreme bot. the pricing structure is identical to the one from Luminati.
You get packages that give you access to all proxies as well as the city-lever geo-targeting for a price slightly lower than Luminati. The trial period is also the same. You have seven days to test the proxies for free.
Pros
Easy to use dashboard
Over 60 million proxies all over the globe
City-level geo-targeting
Cons
Not a lot of proxies available
US and Eu regions only
---

Moving away from the expensive Supreme proxy providers, we come to Proxy-Cheap. As the name suggests, this provider's main selling point is the price. With an IP pool of over 6 million proxies in 127 countries in the world, it is a contender that can throw a punch to the more reputable competitors.
Having this in combination with random or sticky proxies is an excellent provider that supports dozens of Supreme bots. As we mentioned, the pricing is the main selling point, and with prices that are two to three times cheaper than Luminati or Oxylabs, it is easy to see why people use it, while still supporting the same pricing structure.
Even though the price is an advantage, the available payment options are not. Currently, you only have the option to pay with PayPal or with cryptocurrencies. A big downside is the fact that there is no trial option, and the refund policy is that they do not do refunds.
Pros
Cheap
A decent number of proxies in a lot of countries
Cons
No trial or money-back guarantee
---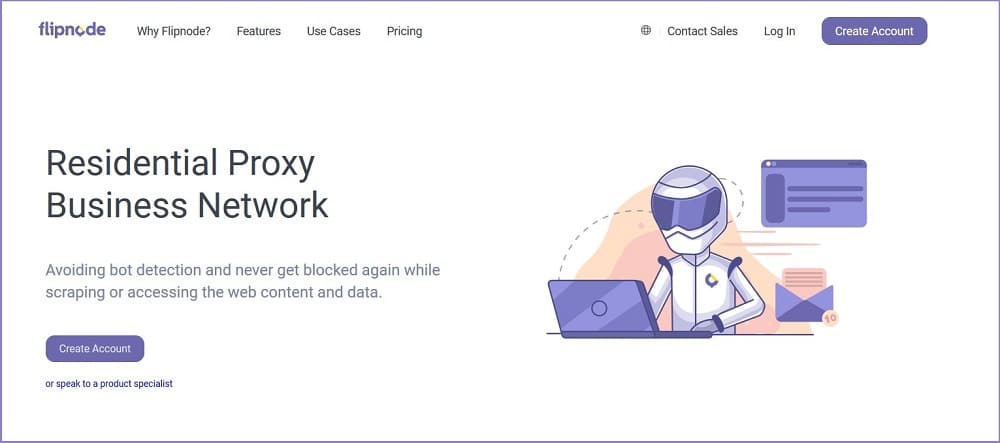 This is a Supreme proxy provider that often flies under the radar. Even though the popularity may be lower than other Supreme proxy providers on this list, Flipnode is an excellent choice. With over 10 million proxies in their IP pool across the five continents, it is a provider offering exceptional diversity.
Combine that with a dashboard that will provide you with an easy to set up proxies with automatic IP rotation, and you have the recipe for the perfect Supreme proxies. The pricing is flexible, and it allows you to choose to purchase as many proxies as you need.
The bandwidth is unlimited, but you do get some limitations if you register as an individual, not a business. One of the limitations is the trial. An individual can get 3-day money-back guarantee, while a company gets a 7-day trial.
Pros
Plenty of proxies in almost every country in the world
Easy to set up
Cons
The 7-day trial option only available for companies only
---

Moving away from the new contenders on this list, we get to Geosurf. This Supreme proxy provider has been around for quite some time, gathering a healthy number of satisfied customers. The number of proxies in their IP pool is bellow average, offering only over 2 million proxies in over 130 countries in the world that you can use on your Supreme bot. Regardless of that, you still get an easy to use dashboard equipped with tons of stats and reports to monitor your data usage.
Speaking of, the pricing plans, even though they are not the most expensive we have seen, there is a cap on the bandwidth. On the bright side, you get access to most proxies with the option of geo-targeting specific regions and countries. A trial version is available, but you are limited to only 24 hours with a bandwidth restriction of 1 GB. A refund option is not available.
Pros
Geo-targeting available
Proxies in over 130 countries
Cons
Trial limited to only 24 hours
Bandwidth limited
---

The last residential Supreme proxies come from RScocks. At first glance, this proxy provider might not seem like it could offer much, but that is far from the truth. With over a million residential proxies in their IP pool and a list of locations that are not outlined on the site, things do not seem too good. That changes when you reach the pricing structure. Unlike most of the Supreme proxy providers on this list, RSocks has the broadest range of plans available. Similar to Soax, you can get daily proxies, but you also have the option to purchase a certain number of proxies from a region of your choice or a mix of several or worldwide locations. On top of that, you also are flexible with the number of proxies you can get. A trial option is available, but the duration depends on the packages that you are going to get. On the other hand, a refund option is available, but there are a lot of terms that need to be filled to get it.
Pros
A plethora of packages with flexible options
Free trial
Cons
List of available countries is unknown
Not a lot of proxies available
---
Frequently Asked Questions
Are there free Supreme proxies?
Yes. It is possible to find some free Supreme proxies on the internet, but we would not recommend using them. Proxies from a reputable provider have some kind of security that protects your personal data. Free proxies will not be able to provide that.
How many Supreme proxies should I get?
It depends on a lot of things. Your bot might not support a lot of Supreme proxies, or will not be able to make simultaneous purchases, so you will not need a lot of proxies. Also, the budget plays a huge role. If you are on a tight budget, go for the providers that offer daily packages. That way, you will be able to get more proxies at the expense of the duration.
Can I use my bot without Supreme proxies?
You could, but it will have very little success. For one item, you might be able to succeed, but Supreme will block you if you start to make multiple orders of the same item.
Are Supreme proxies legal?
Yes and no. Supreme proxies are not illegal, so you will not get in trouble with the law, but Supreme and other similar websites are not too happy when people use bot and proxies to make purchases.
---
Conclusion
This concludes our list of the top 10 providers that you can go to get Supreme proxies. There are tons of others available on the market, so if these do not work for you, there are others that you can choose from.
With that in mind and your Supreme proxies purchased, you will be ready to get your hands on some sweet limited-edition items.
---