Getting a message that a YouTube video is not available in your country is nerve-racking. To bypass geo-restricted content, you need YouTube proxies. To help you in your search for that, we have compiled a list of the best YouTube proxies that you can find on the market.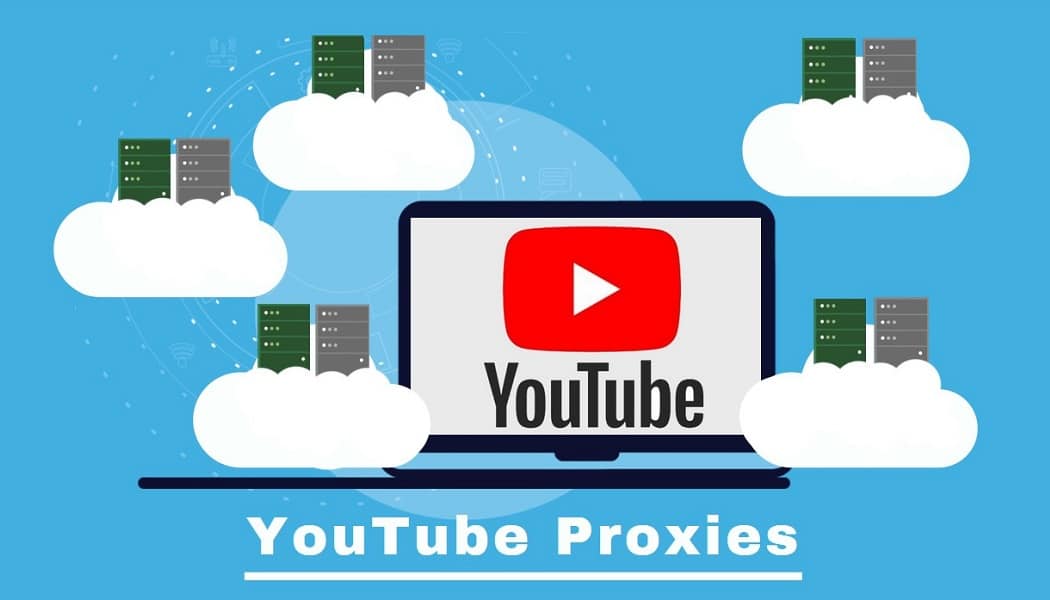 Ever since its release back in 2005, YouTube has been the go-to platform for video content. Even though the quality of the content in the early days was not something spectacular, over the years, as the popularity grew, so did the amount and quality of the content.
Something that people haven cringing about is the geo-restrictions that the platform presented some time ago. YouTube allows uploaders the freedom to make a particular video accessible only to people from a specific region. In contrast, others would get a message that the video is not available in their country.
The most popular bypass method for bypassing geo-restricted content is with proxies. They enable you to mask your home IP address, and to YouTube, it would seem like the person accessing the content is from the country where it is available.
In this article, we are going to outline the best YouTube proxies you can find on the market.
---
Best YouTube Proxies

Shifter used known as Microleaves, or previously known as Microleaves is not a YouTube proxy provider that is often found on the top of the best proxy providers list. Taking into consideration their heritage, this company offers a decent-ish balance between price and performance.
With a pool of proxies consisting of over 31 million IP addresses around the world, they claim every country, which means that you would have no problem with any geo-restrictions. Another thing that we rarely get to see is residential proxies dedicated to something. In Shifter's case, you have basic and special proxies, where the special ones are recommended to be used as YouTube proxies.
Another advantage is the advanced geo-targeting option, with the ability to choose the country or even city make it that much more attractive. The "decent-ish" part was referring to the price. Even though it is a bit on the pricy side, you are getting unlimited bandwidth with all proxy packages, so no worries on reaching a limit when streaming.
A downside is the fact that you do not get a free trial to test the proxies, but you can ask for a refund within three days of making the purchase.
Pros
Lots of proxies in all counties around the world
Unlimited bandwidth
Advanced geo-targeting options
Cons
No option for a free trial
Slightly pricy
---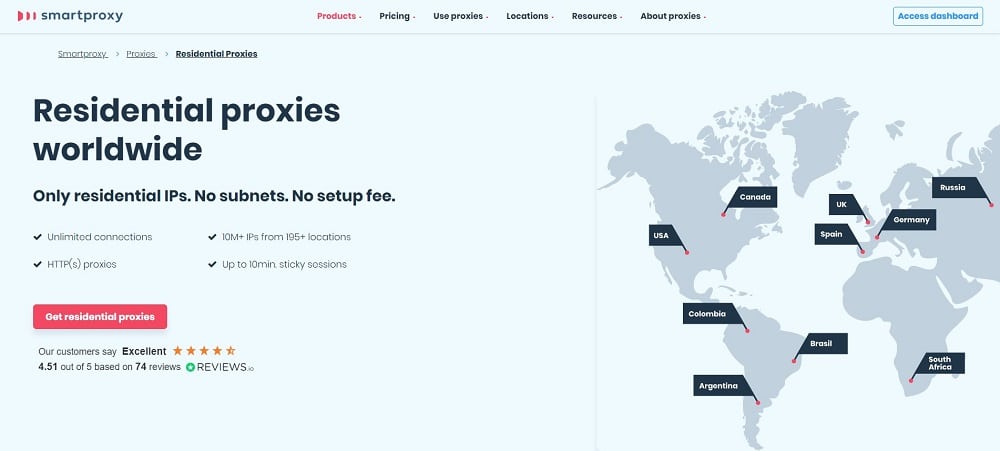 Often viewed as a direct competitor to Shifter, Smartproxy is another YouTube proxy provider that you should look into. The available proxies consist of over 10 million, which is less than Shifter but are more than enough for the job. The list of locations is not as extensive, but with 195 available locations around the world, geo-restrictions will not be an issue.
The geo-targeting is excellent; you can choose an IP address from anywhere that you need to, but you might feel a bit limited in the case of geo-targeting cities. At the moment, there are only eight cities available, and over half of them are in the US. A slight downside is the sticky proxies. You can set them up for a sticky session up to 10 minutes, meaning longer videos might be an issue.
The pricing plans for these youtube proxies are affordable and are separated by the amount of bandwidth you need so that you can access any of the available IPs. Identical to Shifter, you do not get a free trial option, so you will need to make a purchase and ask for a refund within three days.
Pros
More than enough proxies in a lot of locations
Affordable
Cons
All packages are with limited bandwidth
No option for a free trial
---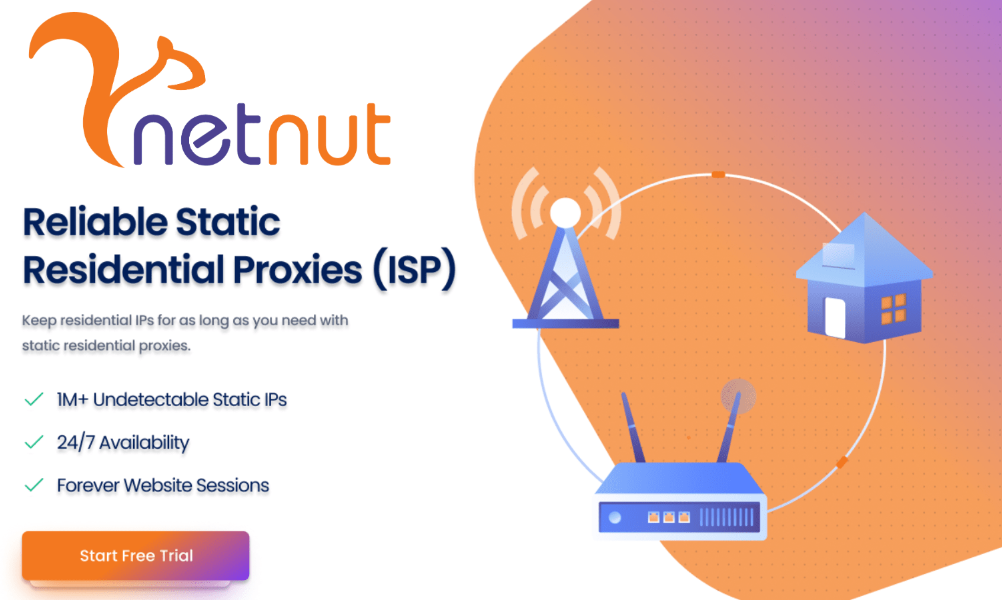 NetNut offers a dependable solution to fuel your YouTube video promotion and enhance your ad placements on the platform. By utilizing their advanced ISP proxies, you can elevate your B2B, IT services, or large enterprise's online video marketing efforts. Their residential proxies boast exceptional performance, ensuring outstanding outcomes in the areas of digital marketing, video streaming, and Promotions on YouTube.
NetNut has an extensive pool of over 52 million residential IPs scattered worldwide, NetNut's proxy service has unmatched coverage wherever you are as a business and wherever you intend to look for new leads. This expansive network guarantees that your YouTube marketing campaigns can effectively reach every market on the planet.
The ability to adapt your YouTube marketing strategy to specific regions, demographics, or languages is a golden opportunity that every marketing professional and business should capitalize on. NetNut as a dependable proxy service does everything right to enable you to succeed in that endeavor.
Because YouTube is a video platform, and thus, data-demanding, NetNut's high speed is of the essence to give you a seamless experience. NetNut's residential ISP proxies are consistently fast, ensuring data access without upsetting buffering or costly delays. And, annoying CAPTCHAs and bots can't detect them either. This makes the engagement and availability of your content a sure thing. And with 24/7 availability and zero downtimes, you can utilize every second to make an impact.
Commencing at just $350 for 20GB of bandwidth, NetNut presents pricing plans that are affordable and suited to businesses of all types, industries, and scales. There are a plethora of bigger plans with even more data allocations to fulfill even the most strenuous of needs.
To start, make the most of the 7-day free trial to experience the power of their ISP in action. As your data requirements and business expand, you can seamlessly upgrade your plan to accommodate your growing needs. Just register and get started – no credit card required.
Pros
Fastest Proxy on the Market
Lightning Fast Data Gathering
Unrestricted Browsing Experience
Worldwide Coverage with 24\7 availability
Flexible Pricing plans for different budgets and needs
Cons
Requires Email Upon Registration
---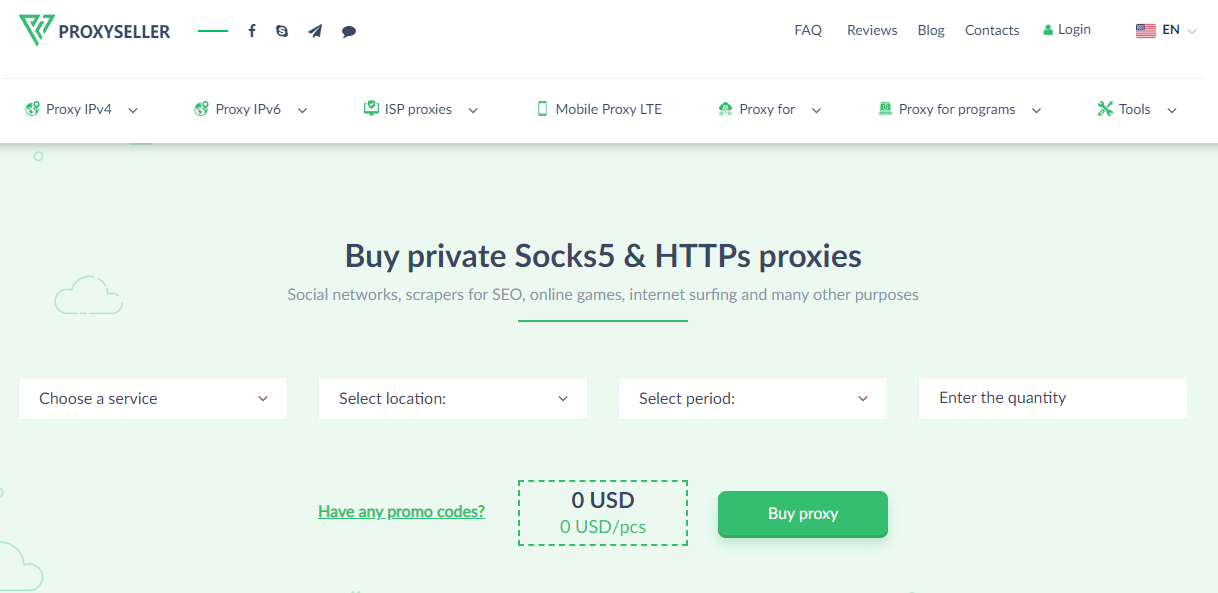 Though we have listed some of the best YouTube proxies on the market, we also found it a perfect move to bring in the Proxy-Seller. This company has none of the reliable private proxies curated perfectly to work as YouTube proxies.
The firm is trending because of its good location coverage, excellent response, connection speed, etc. At the same time, it has two authentication methods that mean you are secured and kept highly anonymous; it also gives you unlimited traffic, which is a good thing to achieve on YouTube.
You can also use these YouTube proxies to stream and access all geo-restricted content. Their pricing is flexible and cheap, starting from the weekly plan as we advance. But wait, the more you buy Proxy-Seller YouTube proxies for a longer period, the lower the price. You can capitalize on this and keep safe on YouTube as you enjoy these lucrative deals.
A Proxy-Seller ensures you bypass all the restrictions on YouTube set by administrators, country, or access targeted videos from a country. Increase your YouTube engagement while you promote the channel to go viral.
Pros
Offers remote proxy setting on TeamViewer
Bypassing all geo-restriction on accessing blocked contents
Increase YouTube engagement
Faster connection and response speed.
Lucrative deals to save upto 40% on packages.
Access to the private IPV4 and IPV6 YouTube proxies.
Cons
Might face issues with configurable and compatibility
An unknown quantity of IP addresses.
---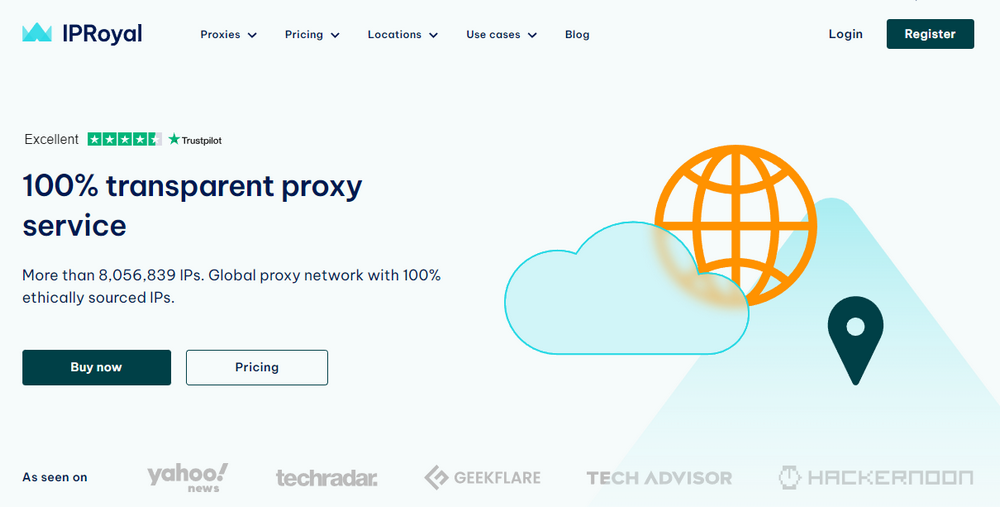 Picking a reliable YouTube proxy service is tricky since it requires outstanding connection speed for buffer-free streaming and robust anonymity features to avoid Google detection. IPRoyal combines speed with security, earning a spot on this list.
IPRoyal offers 8+ million proxy servers, out of which two million are residential.
Their rotating residential proxies are optimized for multiple YouTube account management and lag-free streaming – applicable to business and casual Internet users alike. Furthermore, YouTube is ridden with geographical restrictions, and IPRoyal proxies effortlessly passed the geo-block and unlocked worldwide YT content.
This service especially benefits businesses that order large bulks of proxy IPs for marketing operations.
IPRoyal offers flexible payment plans and reduces costs below the market average if you order a large amount of traffic. Moreso, rotating residential traffic never expires, so you don't have any time limits on when to use it. Combine these features with professional customer support, a helpful online blog, and a continuously expanding IP pool, and you get a worthwhile YouTube proxy service provider.
Pros
Very speedy proxy service
Rotating residential traffic never expires
Flexible payment plans
Cons
Requires email upon registration
Should have more mobile proxy coverage
---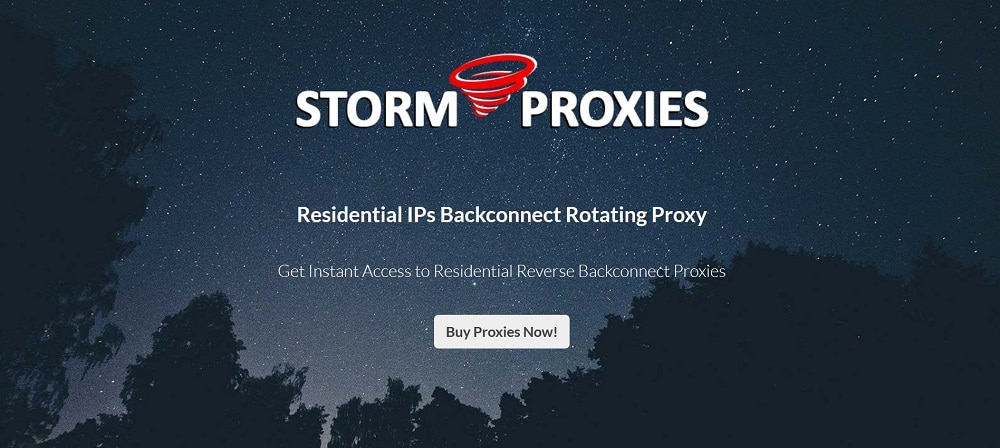 The last entry on our YouTube proxy list is Stormproxies. Most people would not consider this option unless absolutely necessary, but we feel that is should be mentioned. The proxy pool consists of only 40 thousand proxies in the US and EU. Compared to some of the other providers, this is far below average. Another thing we need to mention is that the list of locations is not available, so you will have to settle with knowing that the proxies are from the states and EU.
Here we see another proxy provider with an easy to use dashboard aimed at beginners, offering the basic set of features to get the job done. The prices are cheap, on par with Proxy-Cheap, but unlike them here, you purchase the number of YouTube proxies you intend to use while getting unlimited bandwidth on all of them. Considering that this is a low budget provider, a free trial is not available. The refund policy allows you to ask for it only within 24 hours.
Pros
Unlimited bandwidth available
Cheap
Cons
Limited amount of locations
IP pool has only 40 thousand proxies
---

Probably the cheapest YouTube proxies that you can purchase at the moment come from Proxy-Cheap. Regardless of the price, this provider still manages to provide the same if not more than other, more expensive choices.
Their pool of proxies consists of over 6 million proxies in around 130 countries, making a decent contender. The set of features might not offer anything flashy but are enough to enable you to bypass geo-restrictions. Another advantage is the simple and easy to use dashboard.
The pricing plans are where we start to see some drawbacks. You can get these YouTube proxies in a variety of pricing plans that differ in the included bandwidth but are identical in the features and the number of available proxies. Another downside to Proxy-Cheap is the fact that you do not get a free trial or a refund option, but considering how low the prices are, it is understandable.
Pros
One of the cheapest option available on the market
Decent sized proxy pool with a lot of available locations
Cons
Limited bandwidth on all packages
Payment options are limited
No free trial or money-back guarantee
---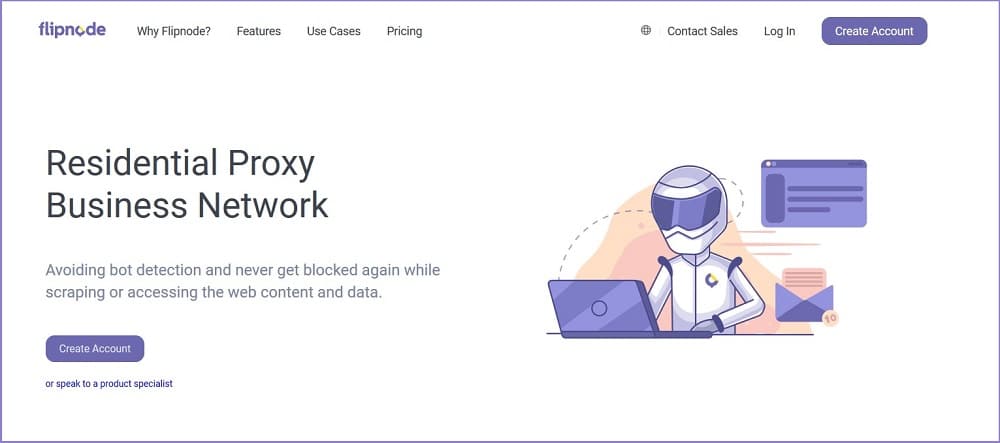 Going head to head with Smartproxy in regards to available proxies, we have Flipnode. They offer over 10 million YouTube proxies in all countries in the world, meaning that they are almost identical to Smartproxy.
Feature-wise the story is the same. You can choose between static and rotating IP addresses from a dashboard that is aimed mostly for non-advanced proxy users. What sets them apart from most of the YouTube proxy providers on the market is how their pricing packages are structured.
When making a purchase, you are purchasing the number of proxies that you think you will need, and with those, you get unlimited bandwidth. There is a small problem, though. Flipnode offers a different set of features, depending on if you are registering as an individual or a company. Among the few differences is that individuals can get a 3-day money-back guarantee, while companies have a seven-day free trial option.
Pros
Unlimited bandwidth on all packages
Proxies in every country in the world
Cons
Features vary depending on the type of user, individual or company
---
Frequently Asked Questions
Can I use YouTube without a proxy?
Yes. Quite a lot of the content that is uploaded to YouTube is available worldwide. You would need a YouTube proxy only when you want to access some content that is not available in your country.
Which are the best YouTube proxies?
We already outlined a few YouTube proxy providers that we think you should look at. Generally speaking, it would be ideal to use residential YouTube proxies because they are IP addresses from an internet provided intended for home use, so as far as YouTube is concerned, a real person will be accessing that content.
Read more, How to fake IP address
Are there some free options?
Yes, you can find some free YouTube proxies on the internet, but we would advise against using them. Performance-wise they would not be as good as the paid ones, and there is always the risk of your personal data falling into the wrong hands.
Can YouTube ban me for using a proxy?
There is a chance of that happening. YouTube is not too happy when people access their website through a proxy, so if they detect that kind of activity, you can get the proxy banned, and maybe even your account blocked. To prevent that from happening, make sure you are using high-quality residential YouTube proxies from reputable providers, like the ones we have mentioned in our article.
---
Conclusion
Geo-restricted video content on YouTube has been a problem for quite a lot of people for years. Ever since users started using YouTube proxies to bypass it, we began to see an increase in their demand.
If you are one of those that are looking decent YouTube proxy provider, we hope our list will provide some great choices. Bear in mind, these are not the only ones that offer suitable youtube proxies, so if you find others that work better for you, feel free to use them.
---