Combine your Nike bot with the best possible proxies for the best possible success. Check out our list of the best residential and mobile Nike proxies.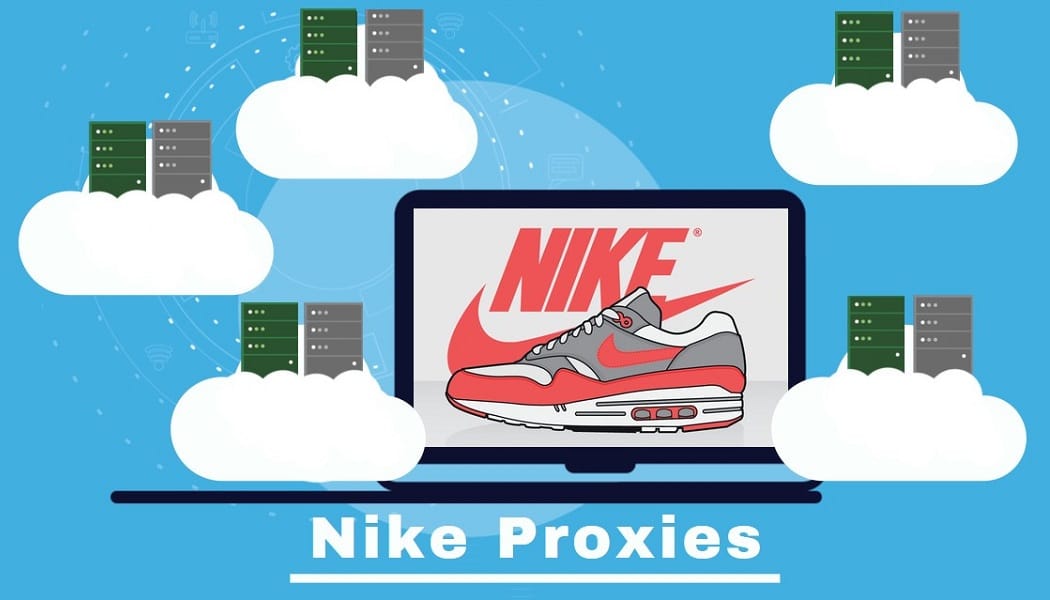 Nike's website has often been considered as one of the strictest online retailers when it comes to bots making purchases. This is the main reason why there are only a handful of bots that actually work. With bots aside, there is another essential aspect when it comes to coping an item from there – proxies.
Proxies play a crucial part in this relationship, enabling you to hide your home IP address and make it look like the bot is working from somewhere else. Another advantage they give is when you want to get multiple items. To Nike, this would seem like numerous people are trying to purchase it, when In reality, The Nike bot is doing that.
To aid you in your search for the best Nike proxies, we have compiled a list of the best residential and mobile proxies that you can pair with your bot.
---
Residential Nike Proxies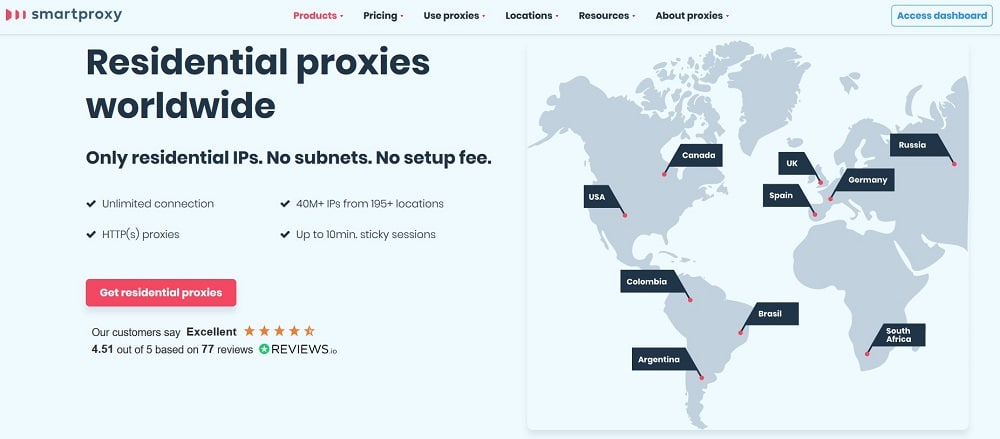 When it comes to Nike proxies, Smartproxy is often one of the first choices. Over the years, they have managed to get over 10 million proxies in their IP pool coming from all around the world, making them an excellent choice for most people. A slight downside in the geo-targeting sections is the fact that the city-level targeting is only limited to eight cities where over half of them are US-based.
Smartproxy sells these Nike proxies in a variety of packages, where all of them come with a limitation on the bandwidth, but you still get access to all proxies available in their pool. The prices are reasonable and will not empty your pocket, but you might not like the fact that there is no trial option available. Your only alternative is the 3-day refund that they offer.
Pros
Average price
More than enough proxies in a lot of countries
Cons
Bandwidth limited on all packages
Geo-target only eight cities
Trial option not available
---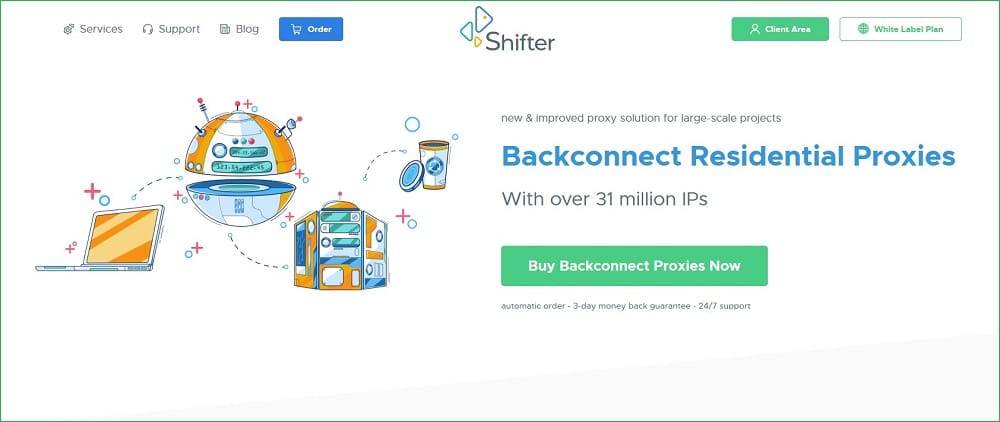 Previously known as Microleaves, Shifter is often considered one of the fastest-growing Nike proxy providers on the market. With over 31 million proxies in every country in the world, it is easy to see why it found its way on this list. Packed full of features like advanced control over the proxies, geo-targeting, IP rotation, and much more, make Shifter an excellent proxy provider.
When it comes to their pricing lineup, for Nike proxies, it is recommended to go for the special proxies. They offer the geo-targeting option, and they are designed to work with that kind of site. You get multiple options for the number of proxies you would need to buy, and all of them come with unlimited bandwidth. One downside Shifter has is the lack of a trial option. As an alternative, you have a 3-day money-back guarantee, which provides you with an option to test the proxies before committing.
Pros
Proxy pool with over 31 million proxies across the globe
Proxies designed to work with Nike
Geo-targeting
Unlimited bandwidth
Cons
Free trial option is not available
---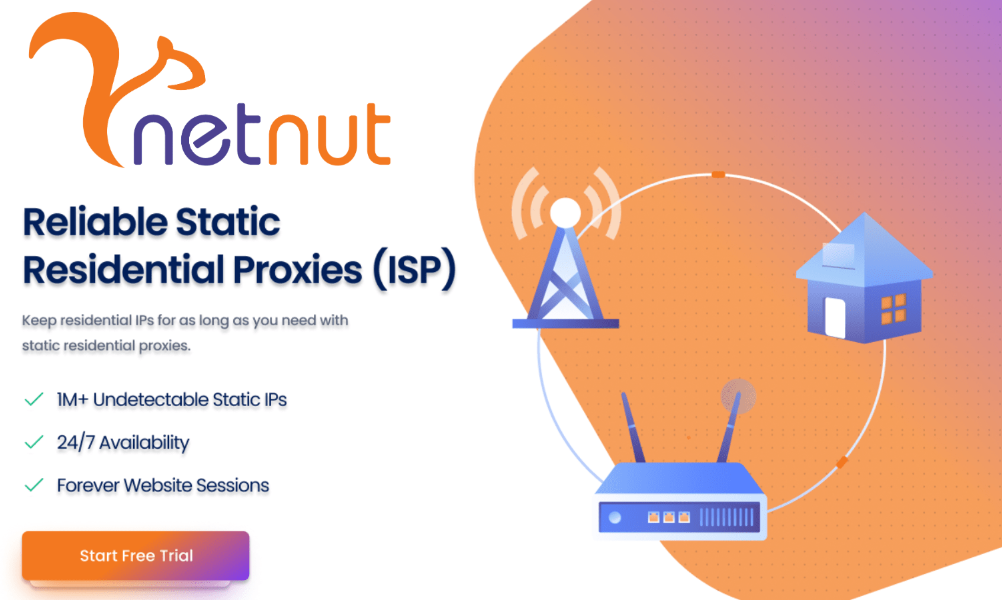 If you want those Nike shoes, you should invest in a premium residential proxy like NetNut.
NetNut has a huge collection of over 52 million residential IPs available in virtually every city in the world. With that many options, you're covered whether you're in the city or somewhere far away, giving you a head start when trying to beat your competition to those coveted Nike shoes.
The clue behind NetNut's proxies is a special setup (called one-hop connectivity) that makes them super-fast. They connect in a jiffy, so you'll have a good chance of getting to the price before someone else does. This puts you in front of the line when it comes to buying Nike shoes online.
A big obstacle in front of sneaker coppers is bots! But with NetNut in your corner, you won't have to worry about those Nike bots restricting or messing with your IP addresses. Unlike regular SOCKS proxies, NetNut's static residential proxies use real home IPs.
This means that online, you'll look just like an ordinary person, whether you're in the U.S., Europe, Asia, or Africa. These special static residential proxies are made to outsmart even the toughest Nike buying bots. Web security bots won't even know you're using a proxy, so you're safe from getting flagged, let alone banned.
You can start with NetNut's Reliable Static Residential Proxies for only $350 a month, and it comes with a 20GB data allowance. This is quite budget-friendly, especially when you consider what other similar companies are charging.
And if you're looking to step up your Nike sneaker copping game, there's the Advanced Plan available for $750. With this plan, you'll get a more substantial bandwidth of 50GB. And don't have to worry about going the extra mile because you're weary of exhausting your data.
There is an even cheaper alternative to those plans: the limited 7-day free trial. Don't hesitate to take advantage of this generous offer to experience the difference between copping sneakers with real mobile proxies.
Pros
1M+ static residential IPs
99.9% success rates for sneaker copping
24/7 availability
Free for 7 days
Cons
Email requirement for 7-day trial
---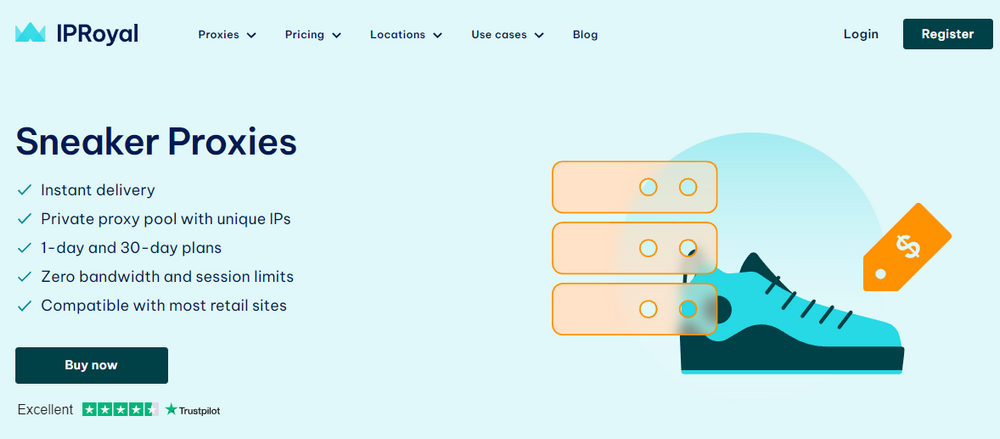 The next one on the list to grab those Nikes faster is IPRoyal. They are relatively new, which has the upside of offering excellent trust score IPs. Although their IP pool does not compare with Oxylabs or Bright Data, they do not hold back when it comes to quality and pricing. The sneaker plan starts from $1 per proxy with unlimited bandwidth, excellent uptime, and SOCKS5 protocol support.
Alongside sneaker proxies, they offer 2+ million residential IPs. The most popular option is a rotating residential proxy pool. Unlike most other proxy service providers, IPRoyal does not have a traffic expiration date, so you can use it months later when you require it and don't have to pay twice! The rotating residential proxies start from $1.75/GB of traffic.
Pros
Dedicated sneaker proxies
Unlimited bandwidth
Highly competitive pricing
Rotating residential traffic does not expire
Cons
No free trial
Registration requires email
---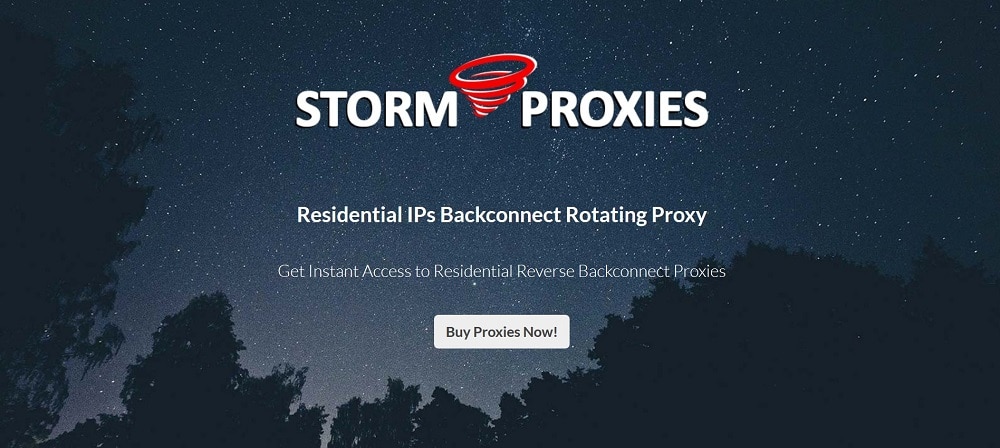 Moving over the opposite pricing spectrum, we come to Stormproxies. If you are looking for millions of Nike proxies, you will not find them here. The pool of available proxies consists of only 40 thousand IP addresses, which are in the US and EU, but the exact EU countries are not outlined. Being a relatively low budget provider, Stormproxies offers the basic set of features that you could expect.
You get easy to use and set up a dashboard with an automated rotation that will hold your IP for up to five minutes. A big advantage this Nike proxy provider has is the price. Compared to other providers, this one is cheaper, and for the price, you have the option to use all proxies, and you get them with unlimited bandwidth included. One downside is the fact that a free trial option is not available. Instead, you get a 24-hour money-back guarantee on the smallest package.
Pros
Unlimited bandwidth
Cheaper than most competitors
Cons
Only 40 thousand proxies
Proxies available only from the US and EU
---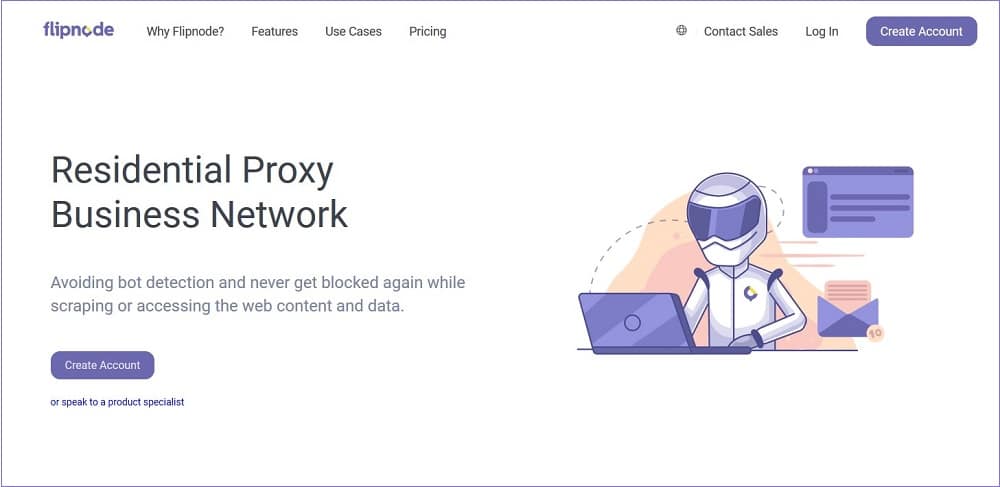 The last Nike proxy provider in the residential section is Flipnode. The company offers over 10 million proxies around the world, making it a decent contender that deserves to be mentioned. The list of features is not as extensive as other providers on this list, but it is more than enough to get things done. The automated rotation and geo-targeting, combined with an easy to use dashboard mean that anyone can use it.
When we come to the pricing, there are a few downsides. The prices are average, but you are getting a few extras if you sign up as a company. Apart from the unlimited threads, a company will also be eligible for a 7-day money-back guarantee. If you sign up as an individual, you will have to settle only for a 3-day money-back guarantee. The good news is that regardless of how you sign up, all packages come with unlimited bandwidth.
Pros
Easy to use
Over 10 million proxies all over the world
Cons
Individuals only get 3-day money-back guarantee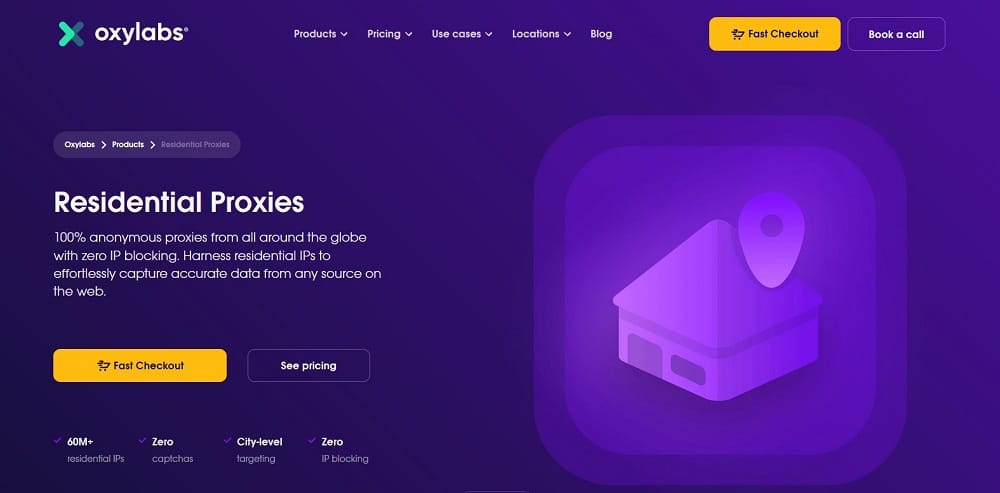 Often considered as a direct competitor to Smartproxy, Oxylabs is another provider on this list that you can get your Nike proxies from. The enormous pool of over 60 million IP addresses in every single country in the world makes this one of the largest proxy networks you can find out there. The good news does not end there. In a package with the huge IP pool, you also get the option to choose proxies based on country, city, or provider, as well as advanced control over the sessions for your proxies.
Regarding the packages, the prices are not the cheapest that you can find. You can get your Nike proxies from several offered pricing plans that are identical regarding the features they offer. All proxies will be at your fingertips, just as the custom geo-targeting. The limit for the packages is in the included bandwidth, which is limited on all of them. An advantage that Oxylabs has over Smartproxy is the available 7-day free trial to test the proxies before making a purchase.
Pros
7-day free trial
Over 60 million proxies in every country in the world
Cons
Limited bandwidth
More expensive than most proxy providers
---
Mobile Nike Proxies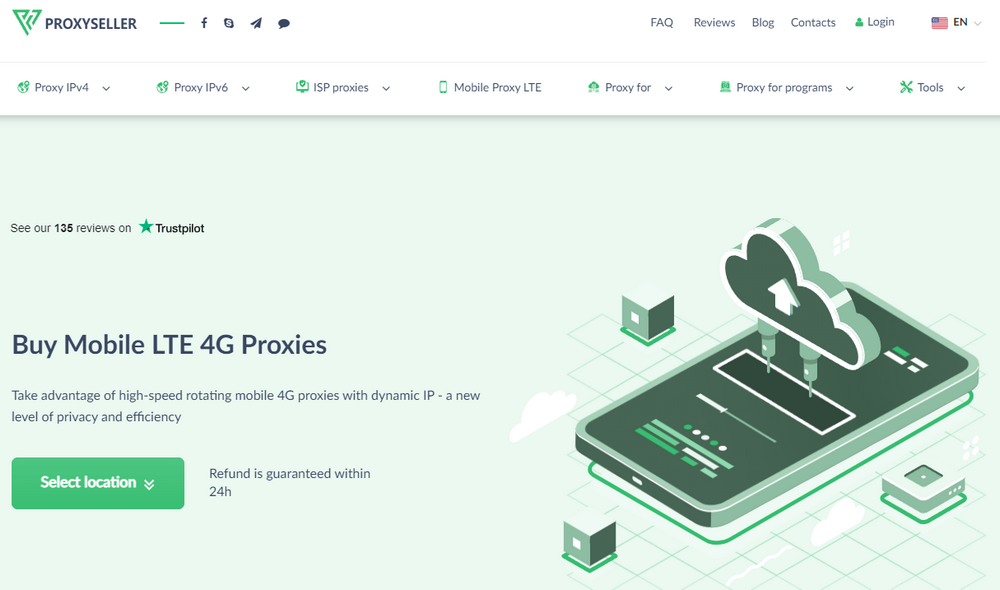 Because almost all the sneakerheads want to access the Nike latest drops, they need proxies to gain access and paste the checkout. Among the private Nike proxies we discussed, here comes the Proxy-Seller. Their mobile proxies are effective and give customers single access, high uptime, and fast Proxy delivery; these proxies are also compatible on all Nike sites and with Nike bots or related software.
On top of that, the Proxy-Seller Nike proxies support major protocols such as HTTP, HTTPS, and socks5 protocols, and you can select the pixies from over 300 networks with multiple subnets. This is the cheapest Nike mobile proxy on the market and guarantees exclusive access to the sneaker site. It is a trusted partner in private mobile proxies compatible with the Nike platform. The company has gained a strong reputation.
---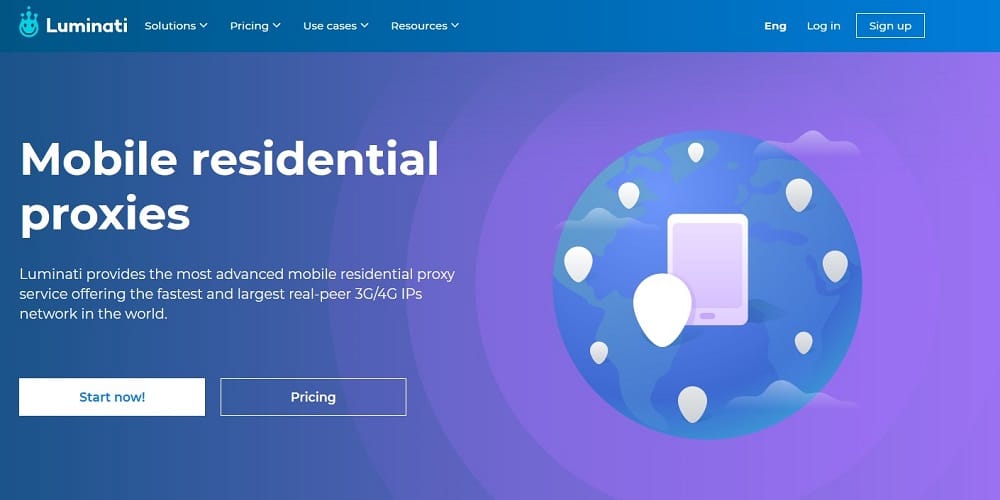 Probably the most popular proxy provider on the market today is Luminati. Giving you access to over 7 million mobile Nike proxies around the world, it is a provider with the largest mobile proxy network. The combination of 3G and 4G proxies and the option to choose proxies based on the location or the provider makes it an attractive choice.
The temptation will change when you reach the pricing section. There is a wide variety of available packages depending on the amount of bandwidth you intend to use, but the overall prices of all of them are among the most expensive we have seen. Prices aside, these Nike proxies will undoubtedly get the job done, and as a bonus, you have the option to give them a test drive for 7-days before deciding if you are going to make a purchase.
Pros
Biggest mobile proxy network available
Feature-rich
Cons
3G proxies in the pool
Expensive
---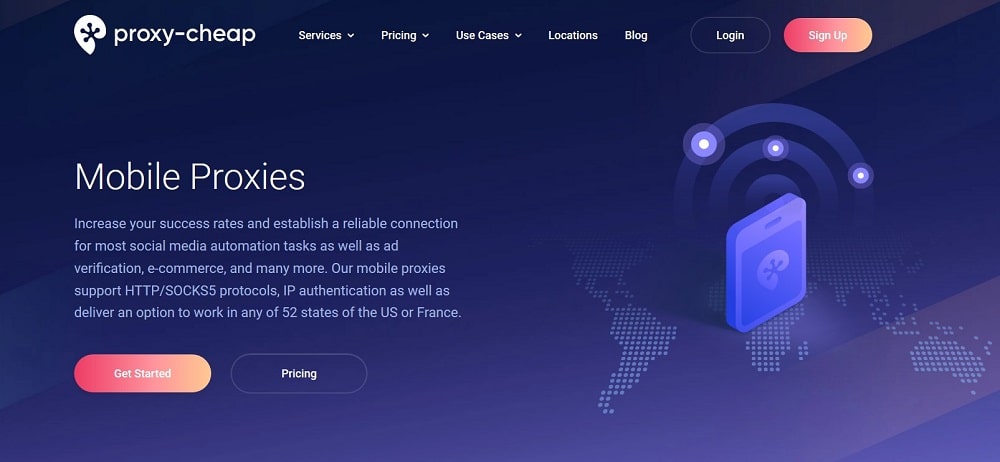 Pros
One of the cheaper options available
Only 4G proxies available
Bandwidth is unlimited
Cons
French and US proxies only
A trial or refund options are not available
---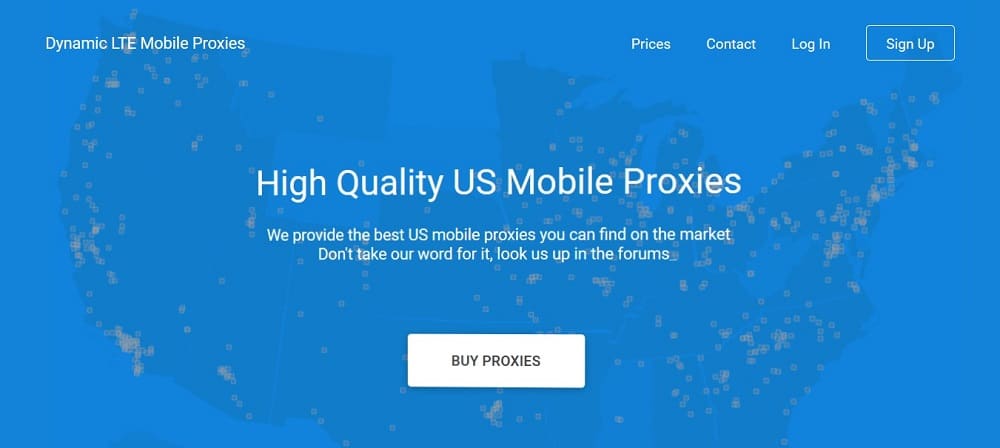 The last mobile Nike proxy provider is Proxy LTE. As the name might suggest, all proxies come with 4G speeds, so performance will not be an issue. One important thing is that all the proxies are from the US, so if you need Nike proxies from other countries, you should look elsewhere. The offered pricing packages will provide a lot of options to customize the proxies to your needs.
You have geo-targeting, and you can also choose which provider you want the proxies to be from. One thing that puts Proxy LTE above other providers is that you can purchase proxies on a daily basis. If you are going to test the proxies, you will not be able to get a free trial. Instead, you will only be able to get a refund within 24 hours of making the payment.
Pros
Diversity in pricing packages
Ability to purchase daily proxies
All proxies are 4G
Cons
Short refund period
Free trial option not available
---
Frequently Asked Questions
Residential or mobile proxies for Nike?
Both types of proxies are similar; the difference is the type of connection. Residential Nike proxies are from other people's home internet connections, while mobile Nike proxies are from mobile connections from people's 3G or 4G connections.
Is it better to use residential or mobile proxies for Nike?
Both types of Nike proxies will work as they should. Mobile proxies might be a little less detectable than residential.
Can I use a Nike bot without Nike proxies?
You could, but you would be reducing your chances of getting your hand on the desired item. Bots that are capable of multiple threads are recommended to be used with proxies so that Nike does not see that all requests are coming from the same person. If Nike finds out that you are using a bot, you will be blocked from accessing the website.
Will I get in trouble if I use Nike proxies?
No. the use of proxies is not illegal, so you will have no problem with that, more accounts mean more chance to cop sneakers.
---
Conclusion
Nike being the strict site that it is, means that when choosing the proxies, you should make sure you are getting the best Nike proxies there are. With our list of residential and mobile proxies, you will have no problem with that.
---