Are you in need of proxies from the smallest continent in the world? Our list of the best Australian proxies will help you decide which provider is the best for you.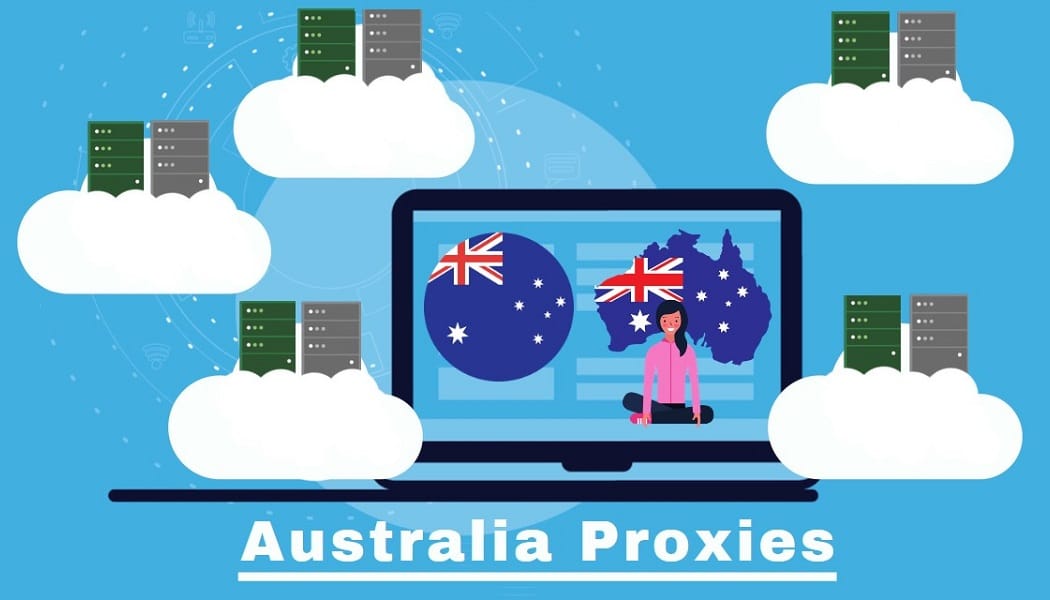 For many years proxies have played an essential role in many aspects of many businesses. The number of use cases is huge, and there are companies that cannot work without using proxies. Proxies for personal use were not very common, but in recent years that has changed.
One thing that hasn't changed and is steadily growing is the need for proxies from specific countries. For most projects, you may be able to get away with mixed proxies from multiple countries, but for some, you need something specific. Let's say you need proxies from Australia, but don't know where to start?
You can start with this article. We have compiled a list of what we think are the best Australian proxy providers in the world. We included several types of proxies, as well as free ones so that you have a wider choice.
---
With the number of proxies being used in the world today, getting ahold of a few free ones is not difficult. We found several websites where you can find them.
---
Finding the right Australian proxy provides that will fit your needs is not as easy as finding free ones, but it's still nothing complicated. The difference is that there are multiple factors that you should look at.
---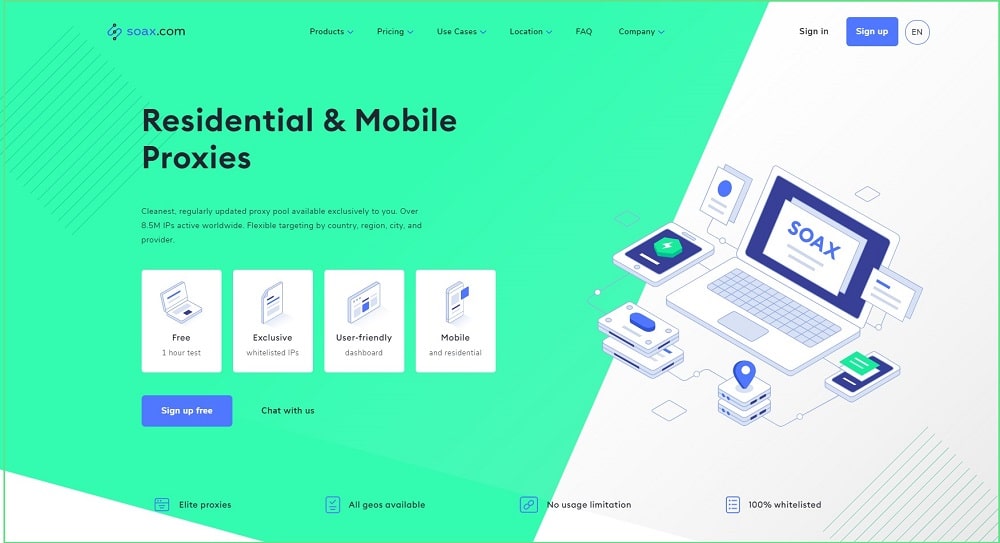 On the residential side of the proxies, we have Soax. This is a relatively unpopular Australian proxy provider, mostly because the number of proxies is not very impressive, and with almost 4 thousand Australian proxies in their pool, we can see why. The good news is that it is an affordable provider, so unless you need thousands of proxies, Soax will do just fine. While the prices for the proxies are affordable and you pay for the ports, not the proxies, there is another thing that makes this provider stand out.
Unlike most of its competitors, Soax gives you the option to purchase daily proxies, and it is a shame that not a lot of providers offer this. As with most residential proxies, you get limited bandwidth with the packages. The free trial option is available, but you only get one hour to test the proxies.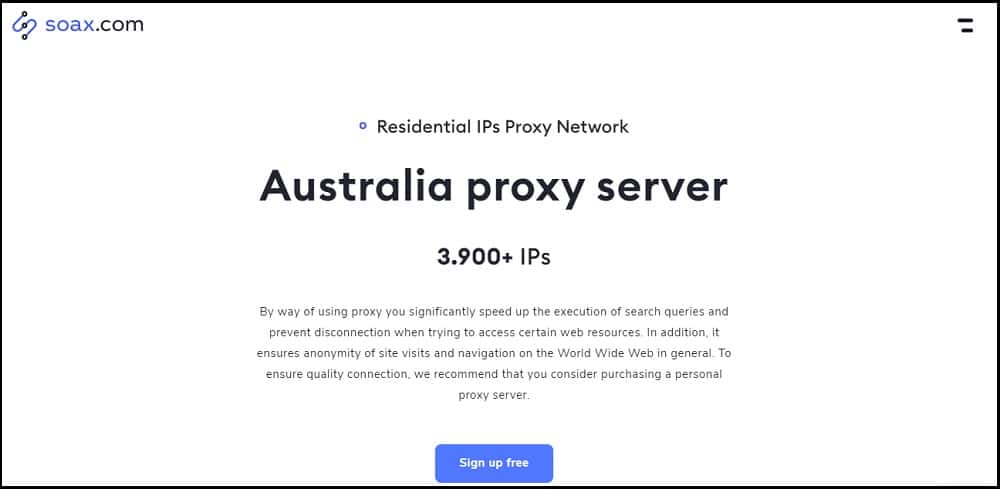 Pros
Daily proxies available
Balanced price and features
Cons
The free trial period is only limited to one hour
---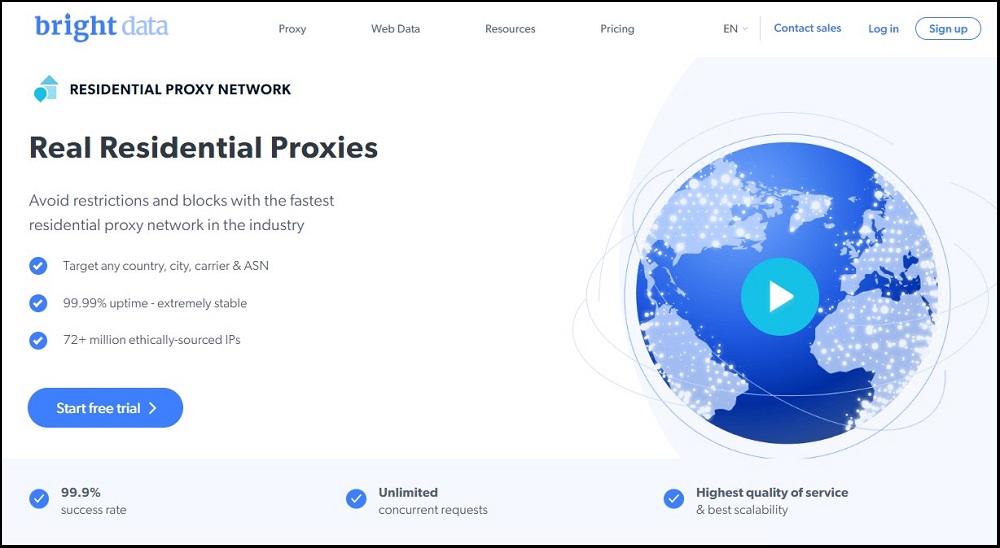 If you are looking for the most premium Australian proxy provider on the market, then Bright Data is the one to visit. In their pool of Australian proxies, they have over 343 thousand IP addresses, and they are a combination of residential, mobile of datacenter. When it comes to the price, Bright Data is expensive, which is what you'd expect from a proxy provider like this one. To be fair, the datacenter proxies are very affordable, compared to other providers.
Since you are paying top price for these Australian proxies, you should expect to get a lot of features. Among the best is the geo-targeting option that enables you to get proxies from a specific provider or city. If you are looking for unlimited bandwidth, you won't find it here. All pricing plans for all proxy types are with limited bandwidth.
There is some good news, though. You have the option to pay as you go and basically get daily proxies. The residential and mobile proxies come with a seven-day free trial, while for the datacenter ones, you get a bonus of $5 to purchase a few proxies.

Pros
The datacenter proxies are decently priced
Biggest proxy network on the market
Cons
Expensive residential and mobile proxies
Datacenter proxies don't come with unlimited bandwidth
---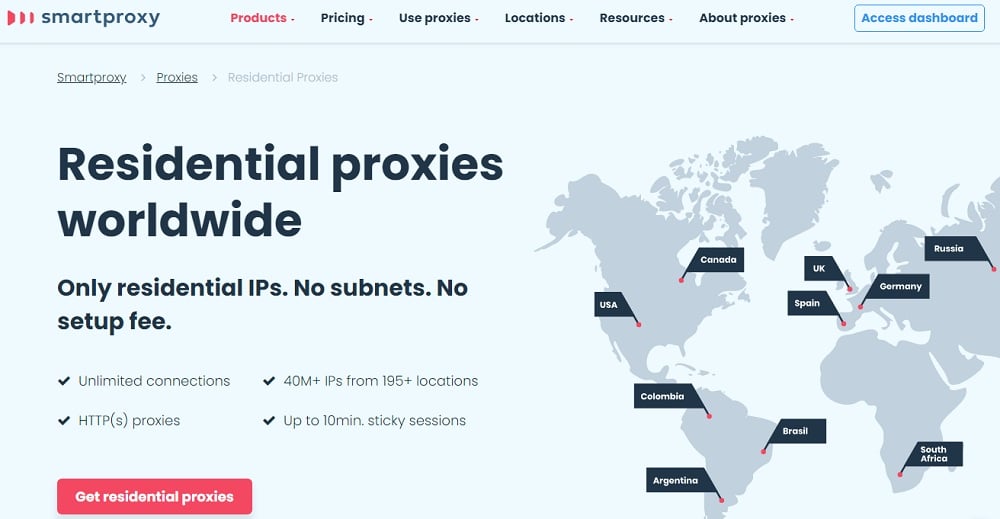 If Bright Data is out of your budget, but want more proxies than what Soax has to offer, then Smartproxy is a perfect choice. With this Australian proxy provider, you get a pool of over 30 thousand IP addresses, which is not a bad number. The proxies are decently priced, and with the number of packages they have, there is some variety. Considering everything, don't expect Smartproxy to offer tons of fancy features.
Their city-level geo-targeting only works in several cities, and most of them are in the US and EU, so it won't work here. You also get limited bandwidth on all packages, just like most residential proxy providers. Testing the proxies with a free trial option is not possible, so you will need to utilize the three-day money-back guarantee.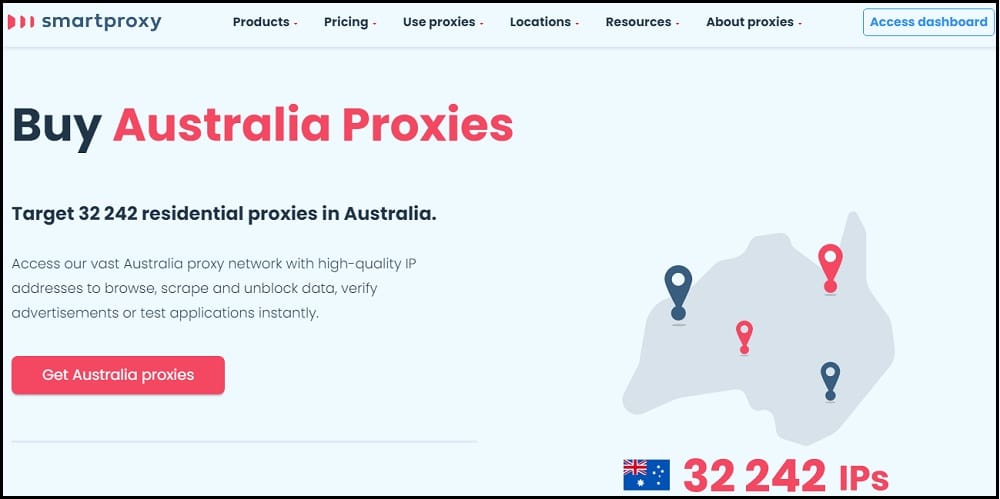 Cons
No trial or unlimited bandwidth
---
We are kicking off today's list with a datacenter Australian proxy provider, SquidProxies. The main thing that most people don't like about this provider is the fact that they have a list of the locations where they have proxies, but the numbers are not disclosed. For the Australian proxies, we know that they have them there, but we don't know how many there are. As for the other aspects, you get pretty much the same as with most datacenter providers.
The Australian proxies can be private od shared, and regardless of which you purchase, you get unlimited bandwidth. The pricing table is decent, and the prices are average, offering you to purchase a certain number of proxies and with that to get a certain number of subnets and cities you can target. Gigabit speeds come standard on all proxies. SquidProxies don't offer any kind of a free trial, to avoid abuse. Instead, you will need to purchase a package and ask for a refund if you're not satisfied.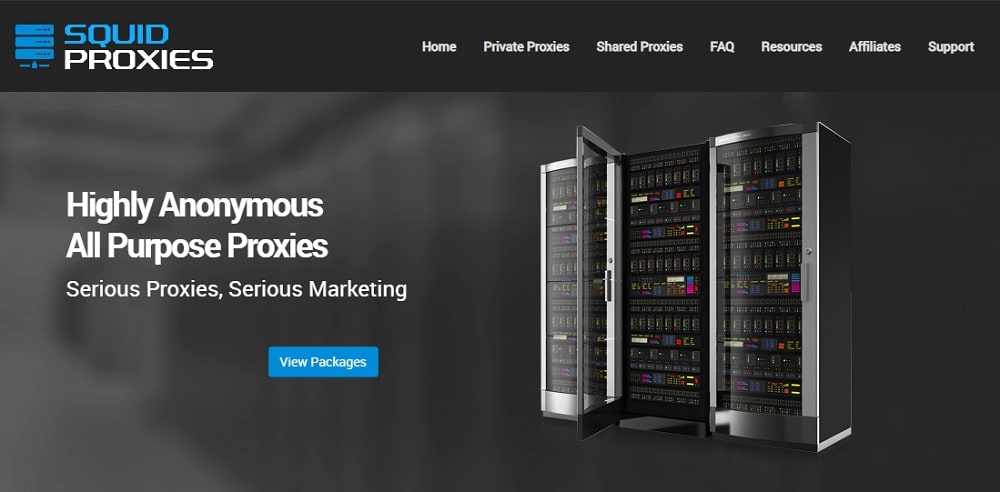 Pros
Decent pricing with multiple packages
Unlimited bandwidth and gigabit speeds
Cons
No info on how many Australian proxies they have
---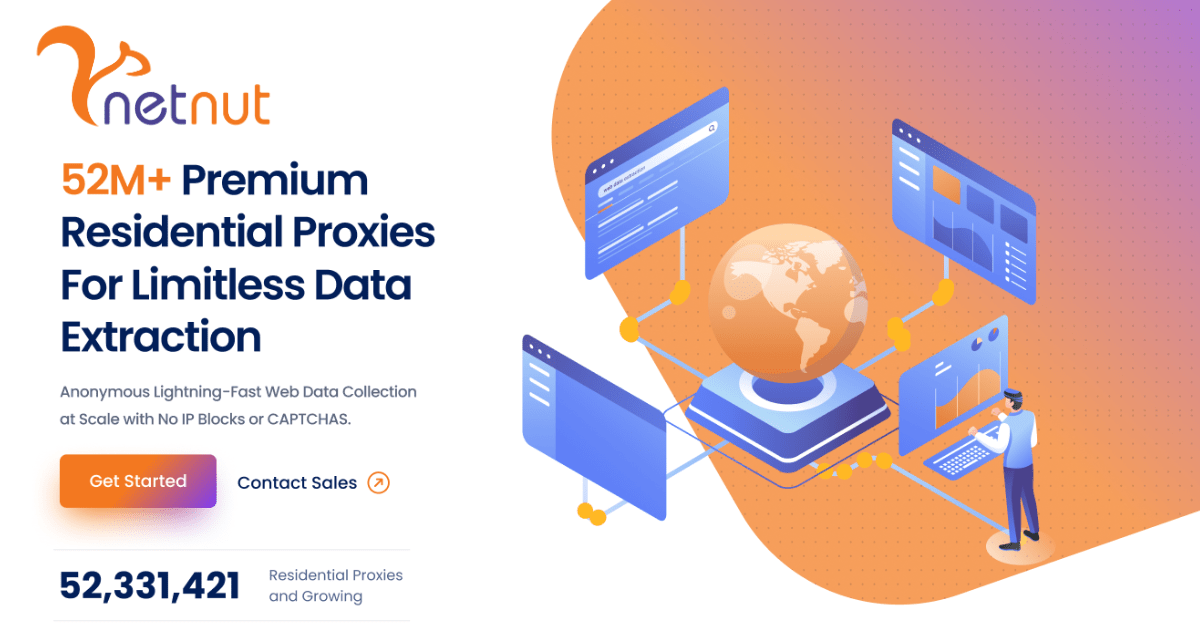 NetNut is one of the leading proxy providers in the world today. They have an enormous IP pool of over 52 million residential IPs scattered across the globe. Hence, it's no surprise that they have substantial IP distribution in Australia.
The exact number of their Australian IPs may not be revealed, but no doubt it will be in the hundreds of thousands. If you have been experiencing difficulty in accessing important data residing in Australia, NetNut ISP is a clear path to the solution that you seek.
Although we are talking about a geographically very large country, NetNut hundreds of thousands of IPs should grant you much-needed access to the web data of this major market.
Professionals like data analysts, software developers, and market researchers can confidently conduct their SEO monitoring, price comparisons, market research, or web data extraction, knowing that NetNut's static residential proxies are capable of providing the ammunition needed to carry out successful campaigns.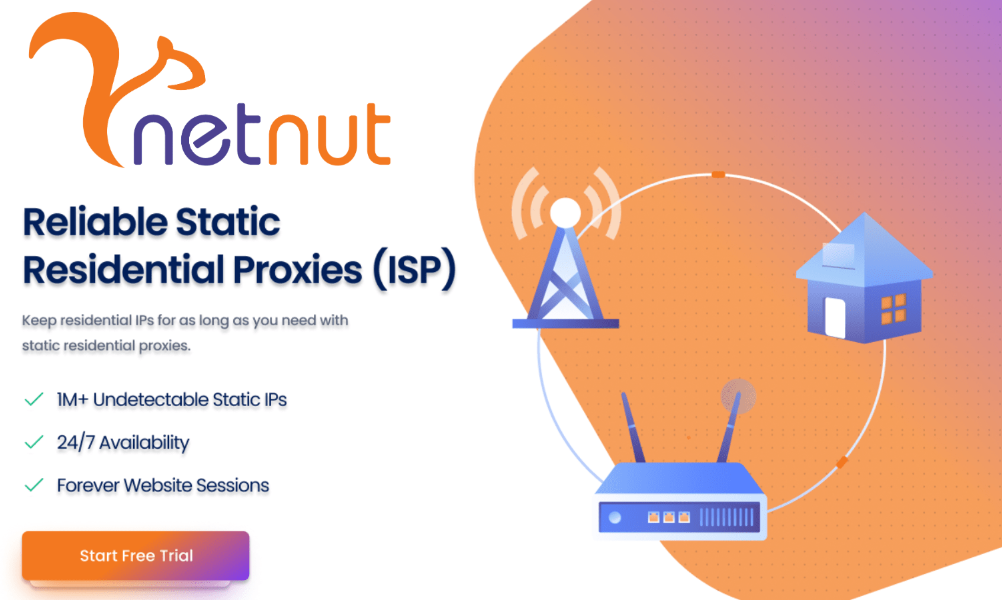 Using NetNut's Residential Proxies keeps your online actions hidden, making sure you're completely anonymous. NetNut's static IPs pretend to be the usual residential IPs of ordinary persons who use the internet in Australia. Hence, not even the really smart tracking systems can differentiate them apart. Spamming issues should be the least of your problems with a premium provider like NetNut.
For businesses and IT companies in search of reliable and efficient static residential proxies in the Australian market, NetNut presents an excellent set of bandwidth packages. Their competitive pricing allows you to choose one that aligns with your budget.
Start at $350 for 20GB per month, and increase in value for money as you move up the scale. The 7-day free trial is too good to ignore, too. We absolutely love a free trial and NetNut doesn't hold back with their generous offer for the residential proxies.
Pros
1M+ Static Residential IPs
Thousands of Australian IPs
Unlimited Concurrent Connections
Cost-effective Bandwidth Plans
7-day no-Credit Free Trial
---
If you are looking for an alternative to SquidProxies, one that tells you how many proxies they have, HighProxies is the right choice. They have one datacenter in Sydney, with decent hardware and connected to gigabit internet, meaning that speed will never be an issue. As for the number of Australian proxies, 1024, it is not a very high number, but should be adequate for most cases. The shared and private proxies combined with multiple pricing plans means that you get a decent number of plans to choose from, more or less in the same price range as their competitors. Similar to the previous provider, Highproxies doesn't offer a free trial option, and your only option is to purchase a package and utilize the three-day money-back guarantee.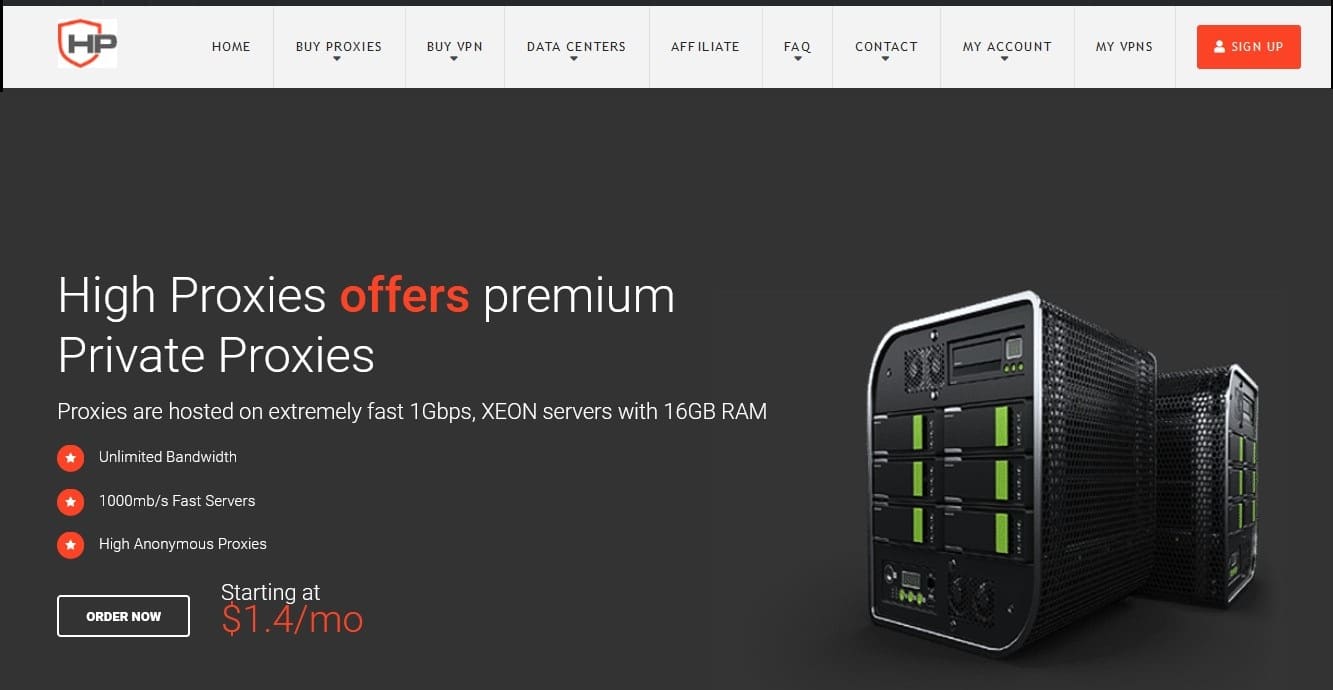 Pros
Competitive pricing
Bandwidth is unlimited, and speeds are excellent
Cons
Only one server in Australia with not a lot of proxies
---
FAQ about Australia Proxies
Which is the best provider for Australian proxies?
There is no best or worst; it all depends on what you need. There are premium providers that have bigger pools of proxies, advanced features, but cost more. If you are on a tight budget, then you have providers with fewer proxies that are also cheaper.
Are Australian proxies illegal?
The current laws in Australia don't say anything about the use of proxies, meaning that it is not illegal. For any legal issues, you should check the laws in your country, but overall, there is no law in the world that makes their usage illegal. The only problem you may have is the terms of services that the websites have. Some say that don't approve users accessing their websites with proxies.
Will my ISP know that I'm using Australian proxies and am I allowed to use them?
Your ISP knows everything that you do online. As long as your device is connected to the internet and there is some data transfer, you cannot hide what you do, even if you use Australian proxies. As for the proxies and if you are allowed to use them, that is something that will depend on the ISP. Almost all of them have different rules for the users, what they are allowed to do and what no, so you will have to check the terms of their service.
---
Conclusion
Australian proxies are not in very high demand, but regardless of that, there are still some providers that have proxies there. We compiled the list of the best ones, hoping that they will help you make the right choice.
---
You may be like,
---