Do you need proxies from the most populated Asian country in the world? We've got your back. Our list of the best Chinese proxy providers will help you make the right choice.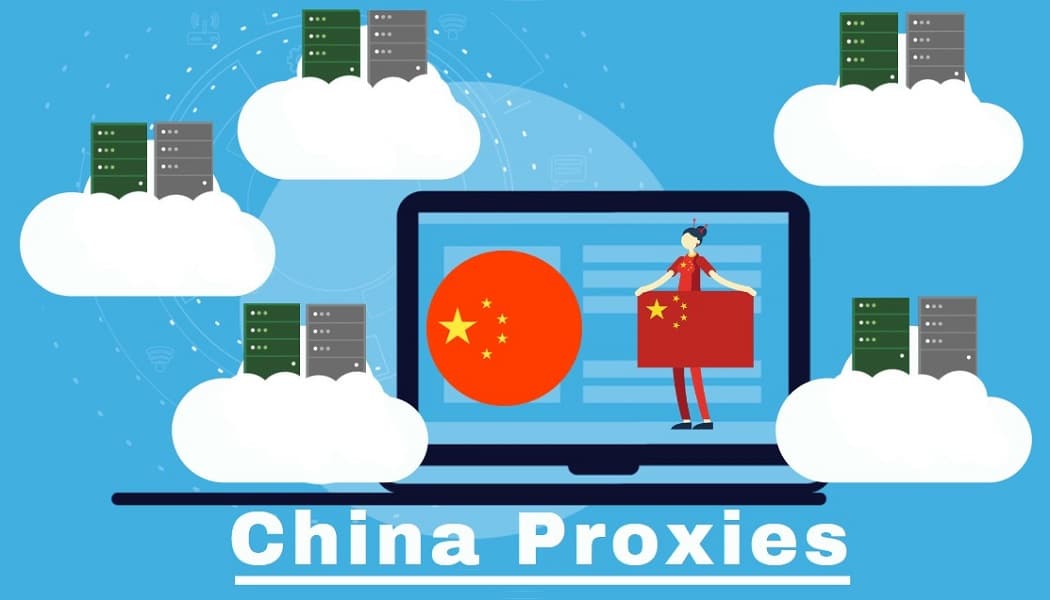 Over the past couple of decades, proxies have been increasing their demand, and more and more businesses start to rely on them. We have come to a point where even individuals find themselves in a situation where they cannot do something without proxies. Price checking, sneaker copping, scraping, you name it, proxies have tons of applications today.
With all of those applications, there comes a time when you or your business may need proxies from a certain location. The reasons for that vary but are mostly limited to geo-restricted content. Some countries have a higher demand for proxies, while some have lower. China, for example, is a country where you may think that the demand would be low and that you wouldn't find enough proxies, but that is not the case.
If you are in a situation where you need Chinese proxies, today's list of the best providers will help you find the one you're looking for. We also made a list of a few free Chinese proxies' websites.
---
It doesn't take a lot of effort to find free proxies, and the same goes for finding free Chinese proxies.
---
The free proxies were relatively easy to find, but when it comes to paid proxies, you may not have as much success as you may think. For that reason, we are going to combine the various types of proxies from the providers.
---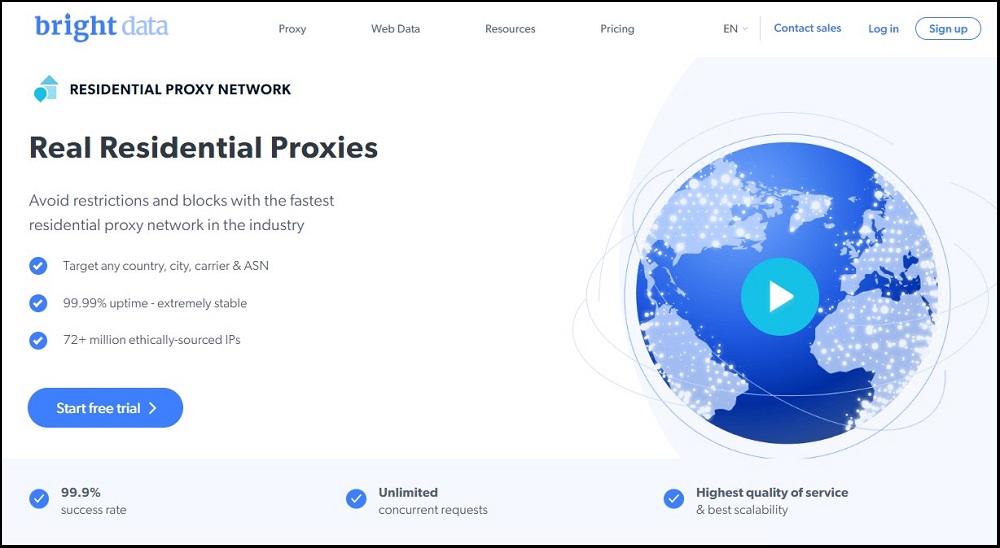 Bright Data is one of those proxy providers that have a little bit of everything, and the same can be said in the case of the Chinese proxies. With one of the largest proxy networks on the market, this Chinese proxy provider has a little bit of everything, and with a total number of proxies almost reaching 72 million, that is becoming clear.
Bright Data also has Chinese residential proxies, mobile proxies, and datacenter proxies is over 1 million. With all that you are offered, don't expect the price to be below. This Chinese proxy provider has one of the most expensive residential and mobile proxies on the market, and considering all it offers, you may find that it's worth it. On the other hand, the datacenter proxies, even though not the cheapest, are surprisingly affordable.
Feature-wise, you get quite a lot, which is why we mentioned that the high price tag might be worth it. You get one of the most advanced geo-targeting solutions, enabling you to get residential or mobile proxies from specific regions or providers. The bandwidth is limited for all types of proxies and packages, but you do get an option to test them before you buy them. For the residential and mobile proxies, you get a seven-day free trial, while for the datacenter proxies, you get a $5 bonus that you can use to purchase several proxies and test them.
Read more, Different between Datacenter Proxies and Residential Proxies 

Pros
Affordable datacenter Chinese proxies
One of the most advanced geo-targeting systems on the market
Trial or bonus option available to test the proxies
Cons
Residential and mobile proxies are expensive
None of the proxy types offer a package with unlimited bandwidth
---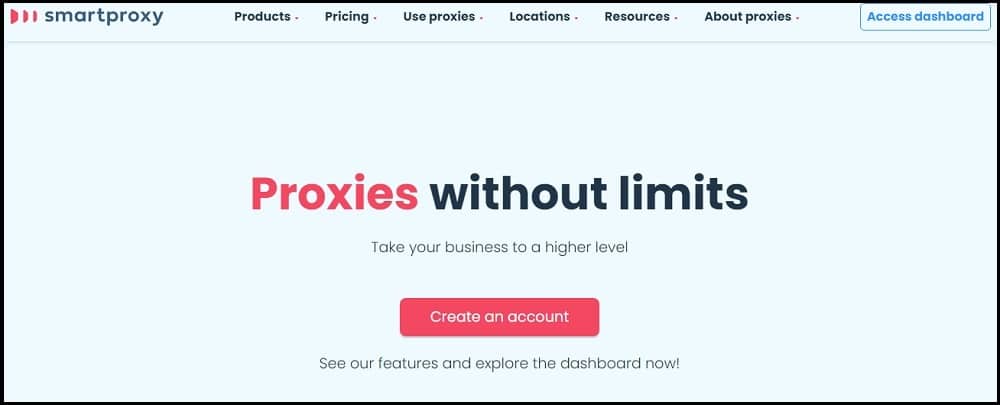 If you're looking for a Chinese proxy provider with a better balance between price and features, then Smartproxy is the one you should check out. The number of Chinese proxies in their pool is over 580 thousand, which is not the most, but certainly a lot more than some of the others. There is no advanced geo-targeting option, and they have a very limited number of cities that you can request proxies from. Unfortunately, no Chinese city is on the list.
The pricing for Smartproxy is adequate, if you take the features and number of proxies into consideration, so you are looking at a good bargain. One thing you should consider is that the bandwidth is limited for all packages and that you will not be able to test the proxies for free. You only have the option for a three-day money-back guarantee.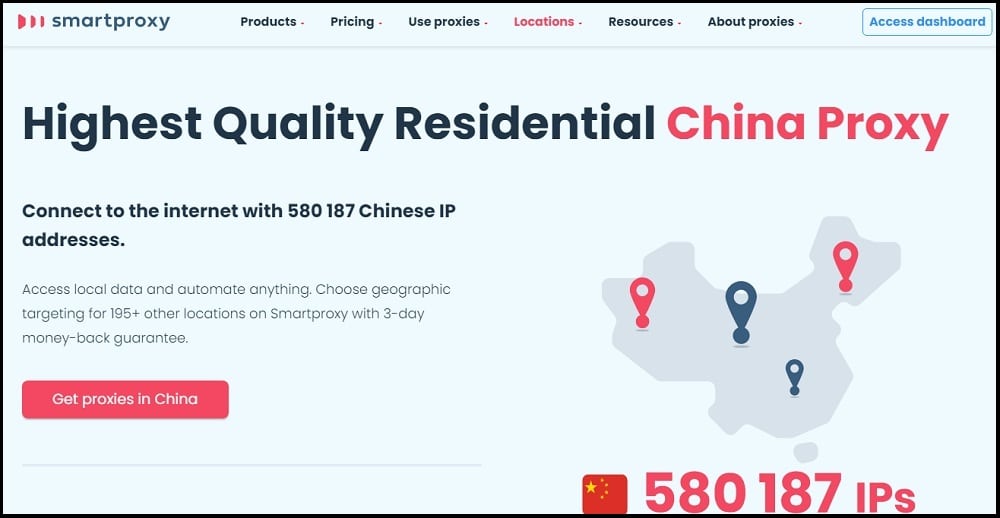 Pros
Excellent balance between price and features
Cons
Limited bandwidth and no free trial
---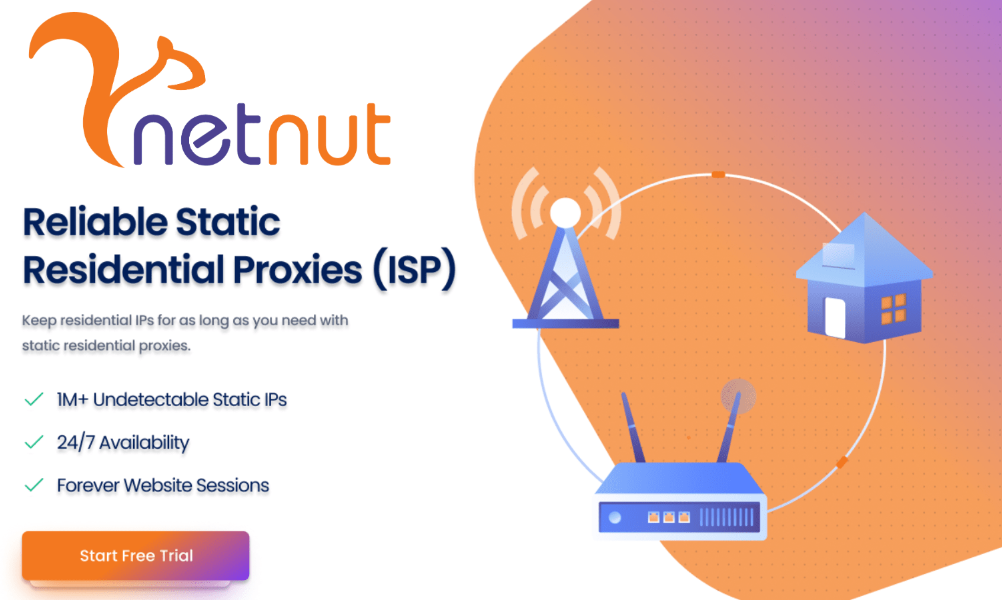 NetNut is one of the premium proxies that can give you unrestricted access to a vast network of IPs that operate both in China in particular and the globe in general. With a vast pool of more than 52 million residential IPs, including over a million static IPs, you can easily collect web data from any region, and so far it's located around the globe.
Despite China's perceived strictness when it comes to allowing outside parties access to some specific info, NetNut has a strong presence, allowing you to access web data just like you and your business are located there. You don't need to physically be in China to understand what people think about your brand. This helps you stay competitive by staying ahead of your competition and ultimately, the game.
Although we cannot confirm the actual number of dedicated Chinese IPs at this time, we can expect them to be around the hundreds of thousands, going by NetNut antecedent. This gives you unmatched access to one of Asia's and the world's most important markets and its web data. NetNut's Reliable Static Residential proxies are built to handle a range of tasks, like SEO, social media management, cybersecurity, threat intelligence, and web data extractions. With these proxies, you can secretly and securely explore China's online world, which is crucial for businesses looking to make informed decisions using data analysis.
For just $350, you get rewarded with a significant number of Chinese IPs, making it an appealing choice as you venture into the Chinese markets. There are also larger plans, like the $750 for 50GB plan and the master 250GB allocation. You can adjust your plan according to your needs with their flexible data-driven packages.
Finally, the 7-day free trial is simply the icing on the cake, it doesn't bet better than a premium proxy service giving you the opportunity to try out the service at no expense before committing to a paid package.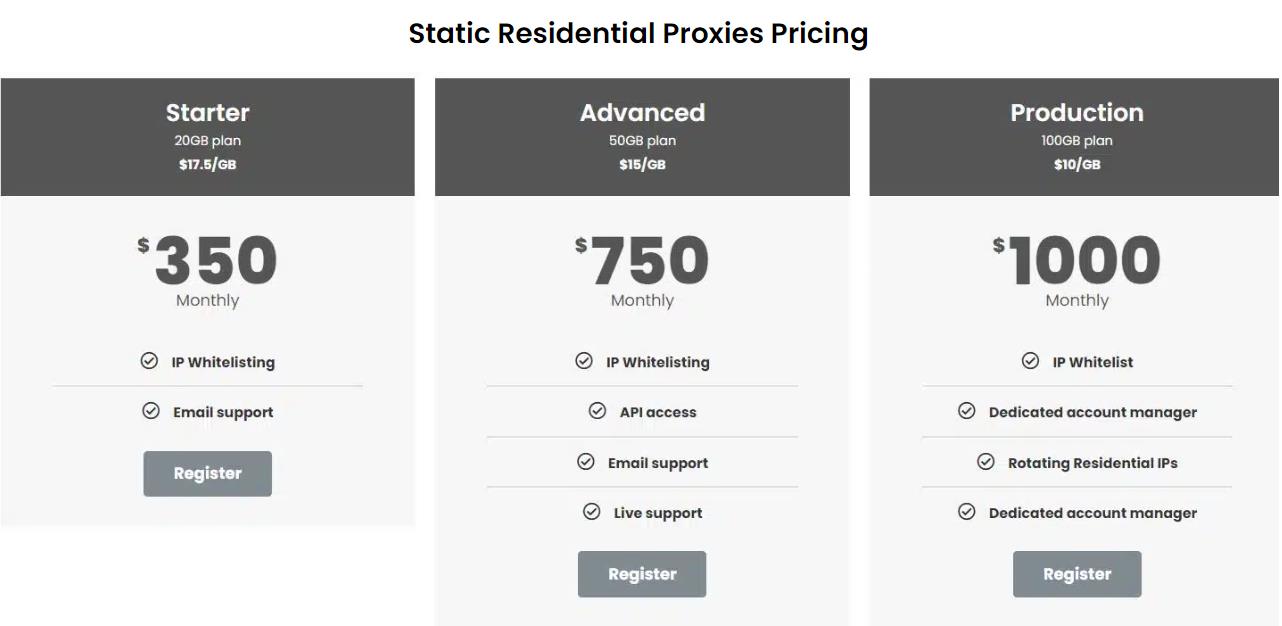 Pros
1M+ ISP IPs
99.9% success rates for sneaker copping
24/7 availability
Free for 7 days
Cons
The documentation isn't detailed enough
---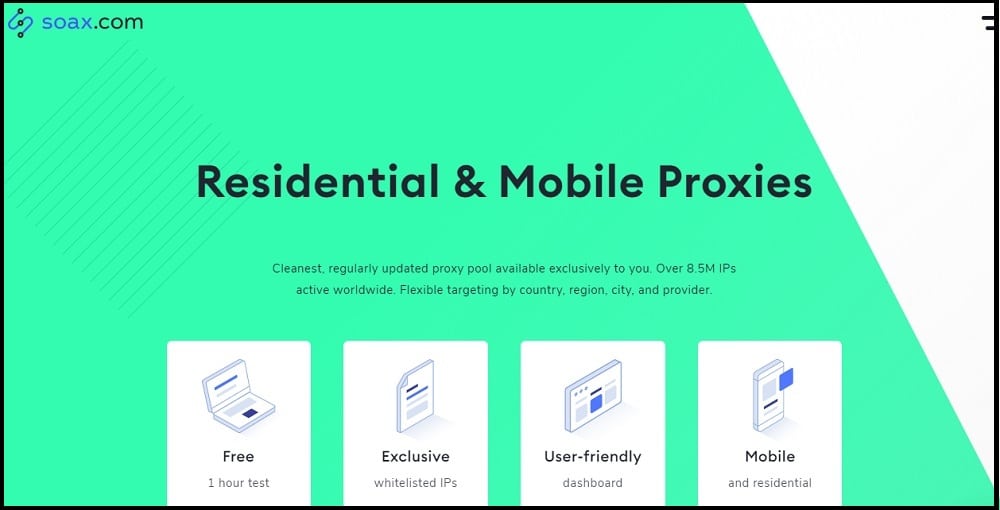 If you're looking for an even more affordable Chinese proxy provider than Smartproxy, Soax is the one you should go with. The number of proxies is significantly smaller, and with over 124 thousand proxies, it's far from the largest one we've seen. Pair that with the option to get proxies from certain cities throughout China, and you get a very capable and decent contender. The prices and the packages are also impressive, and there are some things that we wish other providers would implement.
For the first part, the packages are priced decently, and you purchase as many ports as you need. The advantage that Soax has is the ability to get daily packages, meaning that if you're copping sneakers, you don't have to purchase proxies for an entire month. You get a limit on the bandwidth and one of the most limited free trials on the market. The proxies are yours for only one hour.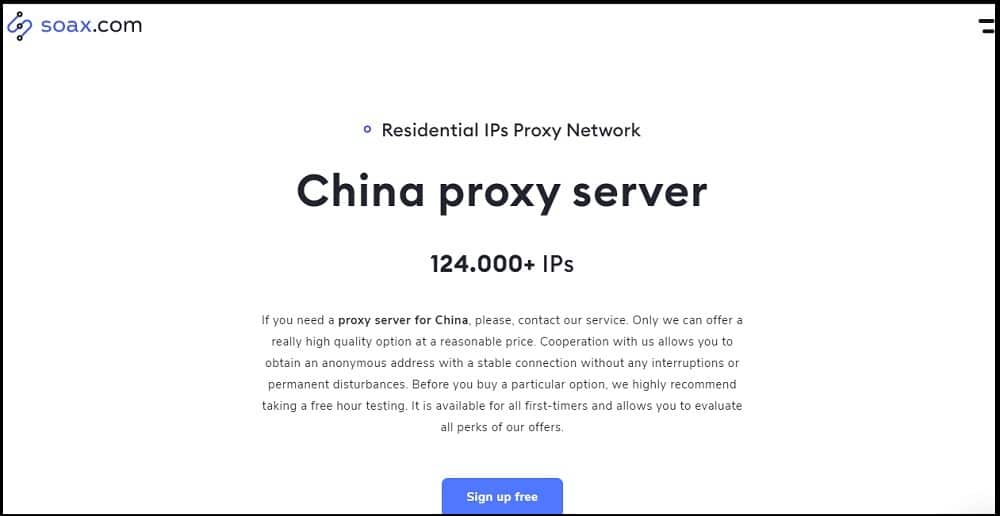 Pros
The pricing is competitive
Possibility to get daily proxies
---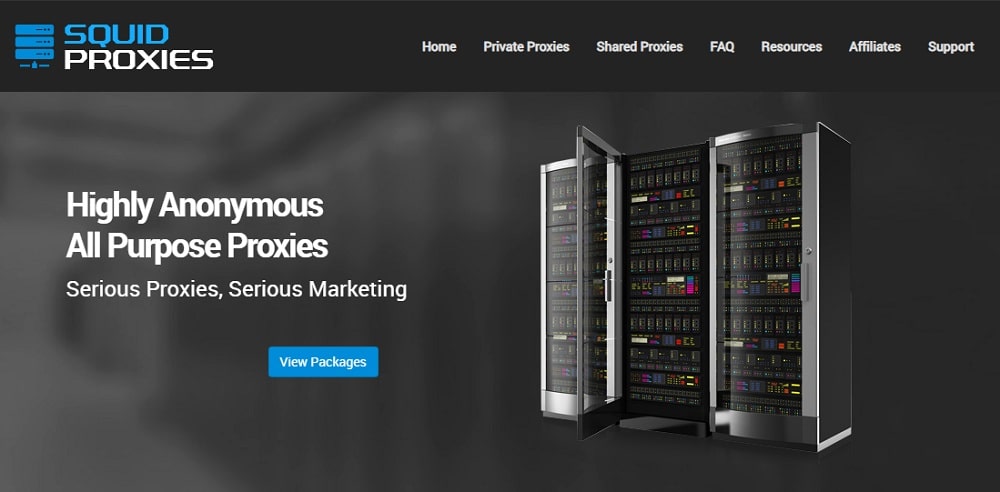 Not all proxy users need residential proxies, so the final Chinese proxy provider is a datacenter one. SquidProxies is one of those providers that claim to have something but don't disclose all the information required. In their list of locations, they claim to have proxies in China, but the number or the exact location of the datacenter is unknown. You can purchase private or shared proxies in various packages depending on the number of proxies you need.
Depending on the package size you get, the number of available cities and subnets is different. One thing that is not different is the bandwidth and speed, and all proxy packages come with unlimited bandwidth and gigabit speeds. Due to abuses SquidProxies had in the past, the free trial option is no longer available, and they recommend to purchase the smallest package and as for a refund within three days if you are not satisfied.
Pros
Affordable
Plenty of packages to choose from
Cons
The number of available proxies is unknown
---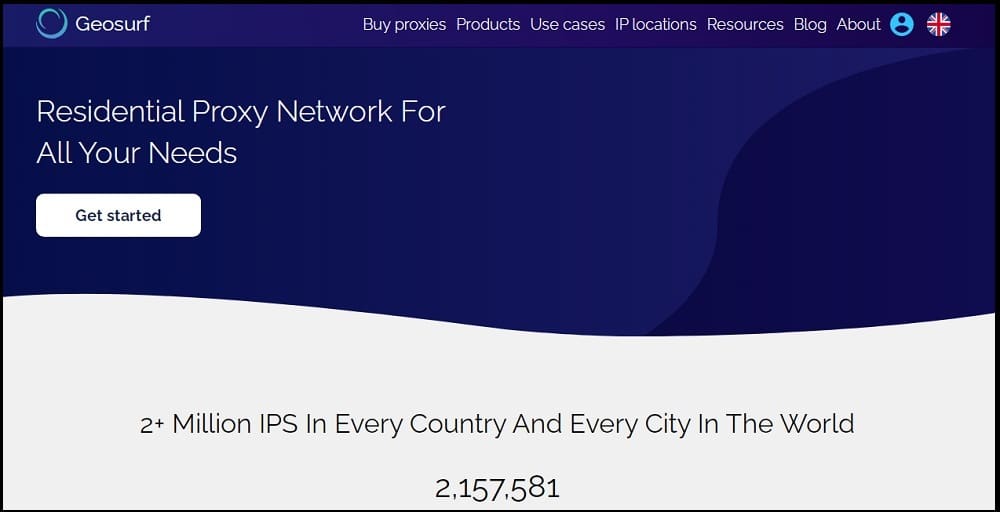 A completely opposite kind of Chinese proxy provider is Geosurf, and in some ways, it falls short behind Bright Data. The pool of proxies is the first segment. It has a little over 14 thousand Chinese IP addresses, which is not a lot but maybe enough to get the job done. Getting proxies from a specific location may not be as advanced, but it does exist, and it's a nice feature to have if you're looking to fine-tune the proxies.
One of the main advantages Geosurf has is usability, and it's one of the best. Unlike some of its competitors, the dashboard on this Chinese proxy provider is very clean and easy to use, making it perfect for novice users.
On top of that, you also have very detailed reports and graphs on your usage. Finally, we come to the bad side of Geosurf, and that is the price. Compared to some of the other providers on this list, this is a relatively expensive based on what you are getting from it. All pricing plans have limited bandwidth, and the free trial is among the most limited one there is. You have only 24 hours and 1 GB of bandwidth to test the proxies.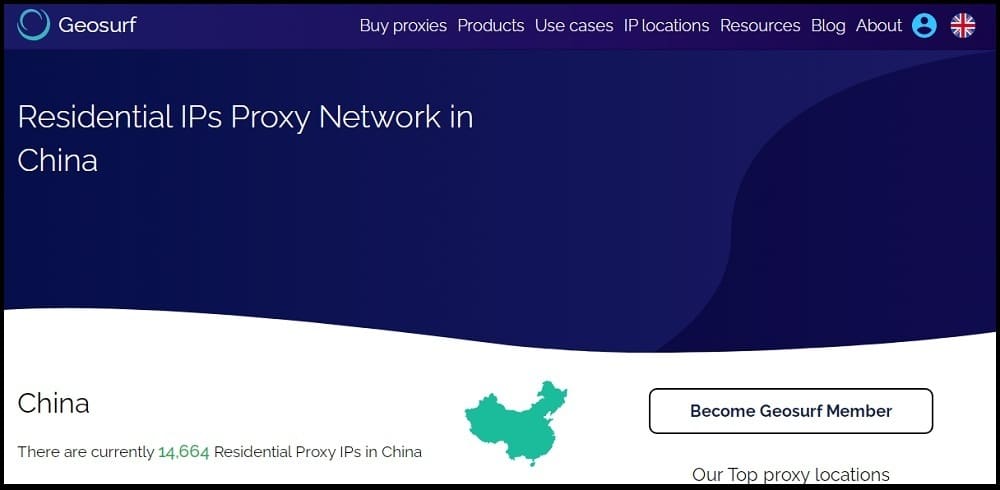 Pros
Easy to use
Free trial available
Cons
Not a lot of Chinese proxies
Trial limited to 1 GB of bandwidth
---
Can I use the free Chinese proxies?
The Free Chinese proxies are okay to be used, but the problem with them is the lack of security and performance. As a matter of fact, the same goes for proxies from any location. In regards to security, the free Chinese proxies are not controlled by a company that you are paying to, so you have no idea may have access and the data that will flow through it. On the performance side of things, most of the free Chinese proxies have the lowest speeds out of all proxy types. Overall, we would advise against using them, but there are some instances where you can get away with that.
Will I be able to access content limited to China only?
Yes. The main feature of proxies is to make it look like you are visiting a website from somewhere else. When you use Chinese proxies, the traffic from your device goes through the proxy server and is then sent to the destination server. When you reroute your traffic like that, the destination server sees the IP address where the requests are coming from, in your case, the Chinese proxy server.
Will Chinese proxies work in other regions?
Maybe and maybe not. China has a somewhat strict policy on what the residents can access. That is why some of the popular websites are blocked there, and they have their own alternatives. For example, Facebook is blocked in China, so if you use Chinese proxies and try to go on Facebook, you will be denied access. On the other hand, Weibo is a Chinese social media platform that you will have no problem accessing with your Chinese proxies.
---
Conclusion
Getting proxies from China may not be as easy and straightforward as you may think. Luckily, our list of the best Chinese proxy providers will help you make the right choice.
---
You may be like,
---