Growing an Instagram account by hand is not as easy as people think. So what can you do? You can read our list of the best Instagram bots for growing your account and decide which one would suite your needs.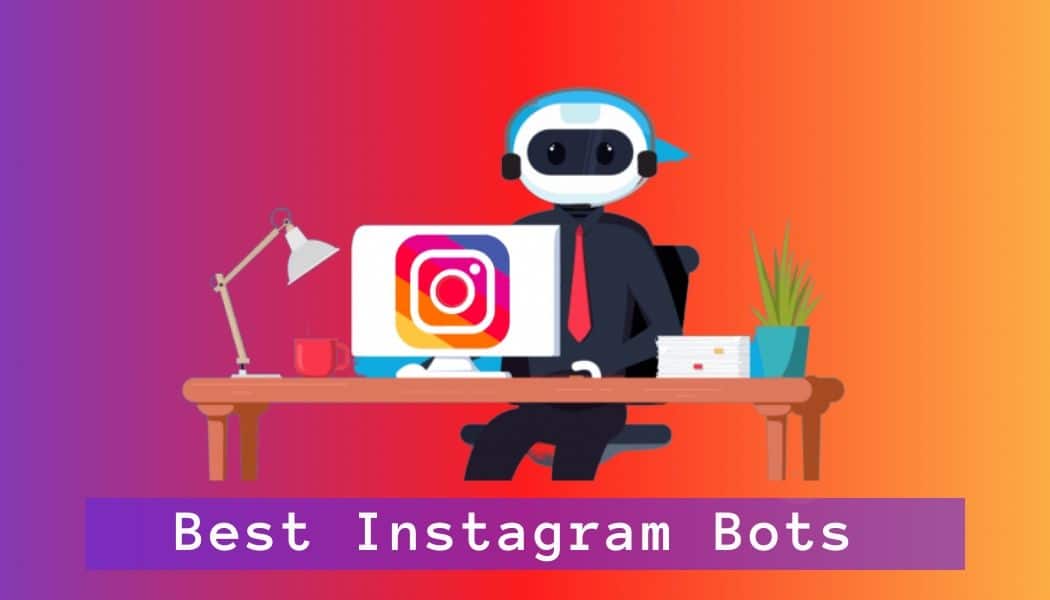 As Instagram grows, more and more companies that use it for their products or services find it an excellent platform to grow their brand and increase profits. Released back in 2009, this social media network quickly grew from a platform for posting selfies to a platform where companies can expand their business.
It may sound simple and easy to grow your Instagram account with lots of followers, but in reality, it is not as simple as that. Growing an account takes time, something that most companies do not have. Time is money, so they would go for the next best thing – an automated process that will help them grow the list of followers. Up until recently, the best you could do Is go for Instagress and just sit back and watch how the number of followers grows. Unfortunately, due to a violation of Instagram's terms, it was shut down. As a platform, Instagram is not too happy when someone is using a bot.
With Instragress gone, what are the options? Well, there are quite a lot more, and today we are going to talk about 11 alternative bots or services that you can use to grow the number of followers on your account.
---
The new Instagram bot we are going to present today is InstaChamp by MobileMonkey. Growing Instagram traffic is an uphill battle, especially when you are not a pro using a built-in follower base. Again, it is hard to respond to every DM or mention every story unless you are a robot.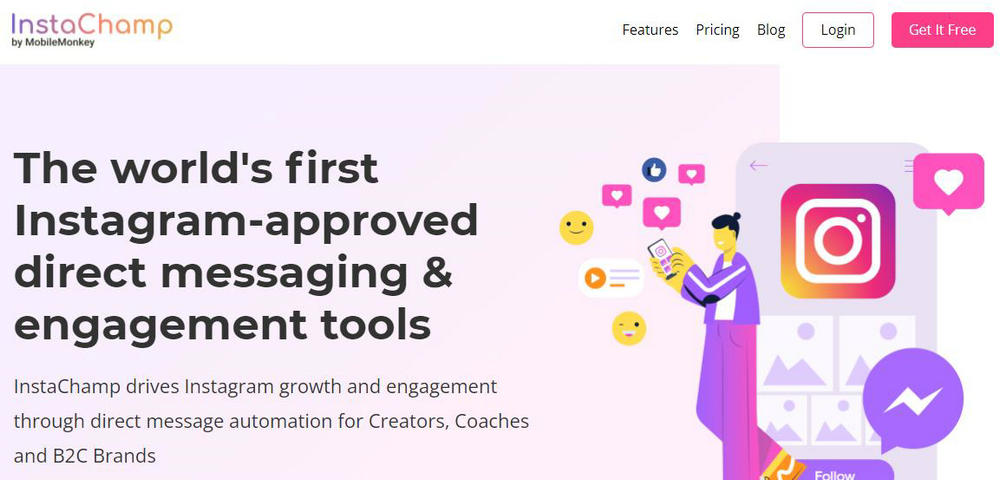 InstaChamp is a new Instagram-approved tool used for DM automation that boosts the brand to reach the target, drive followers, and increase the traffic to your website. There are several good reasons why you should consider purchasing this bot.
First, it's designed for content creators and b2b brands to improve engagement and Instagram conversion to monetize the platforms. Even though nothing in life is free, the only condition it doesn't apply is using InstaChamp by MobileMonkey. They offer premium and free tools that reply to every DM and story mentioned.
It is your time to try a helping hand because InstaChamp makes the process painless to grow your network with a powerful automation tool aimed at heightening your exposure. You can reach your business goals through Instagram like never before. You are excited, and they are excited; we agree. Secondly, InstaChamp is efficient in posting comments, and autoresponders send DMs to people that comment or anyone mentioning your keyword.
This bot is outstanding because, unlike other known tools, it is sanctioned officially by Facebook, which is the Instagram parent company. Rest assured that there is no day your account will be exposed to the risks of being banned because of automation. Rather, instaChamp accelerates your organic engagement. The Platinum package has a superpower over the free version and comes with more good stuff.
The most appreciated IG DM messaging tool is the drip marketing campaign. The software also comes with a big splash tool. You can filter the DMs to find your most important messages. Have this tool at your disposal. It is easy to use since it is rolling out now, and the developers deliver. In case you have any issues, contact the support team, who are available 24/7. MobileMonkey is happy to deliver the tool to users worldwide, and if traffic is your priority, MobileMOnkey will rock your world.
---
Inflact has often been considered a direct and best alternative to Instagress. Being on the market for around seven years, it has provided services to thousands of Instagram accounts in need of growth.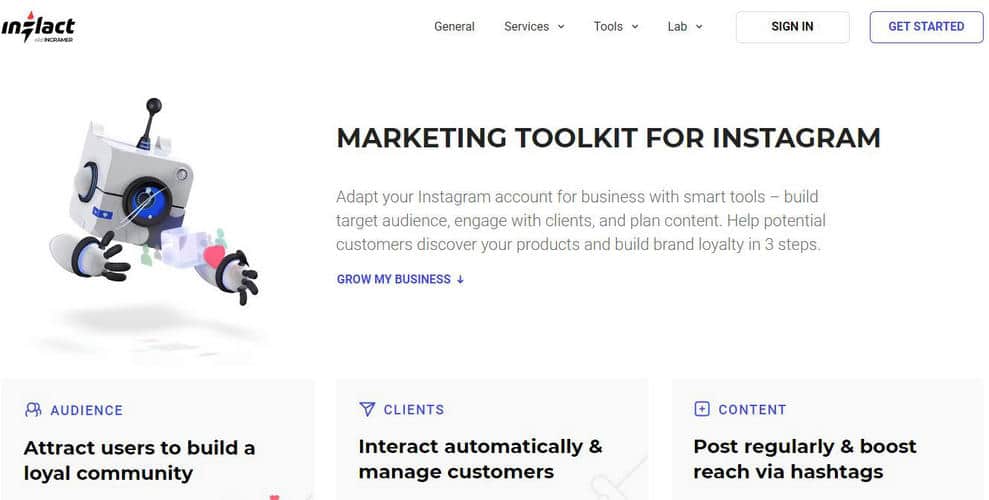 The reason why Inflact was considered a direct competitor to Instagress was the features, all 21 to be exact. They probably have the most features out of any other Instagram growth service on the market. The list includes the automation process for likes, comments, follows, and unfollows, as well as reports, hashtag generations, and a lot more. The service will do everything automatically; you would involvement in the process is minimal. Everything is run by a sophisticated artificial intelligence software that mimics a real human behavior.
Nothing in life is free, and the same can be said about Inflact. The good thing is that you have a lot of flexibility when choosing what you want to pay for. The offer comes in a package of three-time durations and four types of services. Basic, Direct, Scheduled Posting, and Hashtag Generator come in a variety of two weeks, one month, or three-month subscription durations.
You can combine which feature you want and pay only for that one for as long as you need it. the advantage is that no matter what you choose, you always get the full set of features included. The prices are not the cheapest on the market, but the flexibility is far greater than most of the competitors.
If you want to try the service before committing to making a payment is not something that you get here. Inflact does offer a free trial, but there are a lot of limitations, and you might not get the sense of how good the service is. Also, if you paid and decided that the growth is not per your liking, you will not be able to request a refund. The company uses VPNs for running things, and once they make a commitment to the VPN service, they cannon request a refund from them, so you will not be able to get one from Inflact.
---
We are kicking off this list with Social Captain. The company was founded in 2017 as an Instagram growth service with automation features.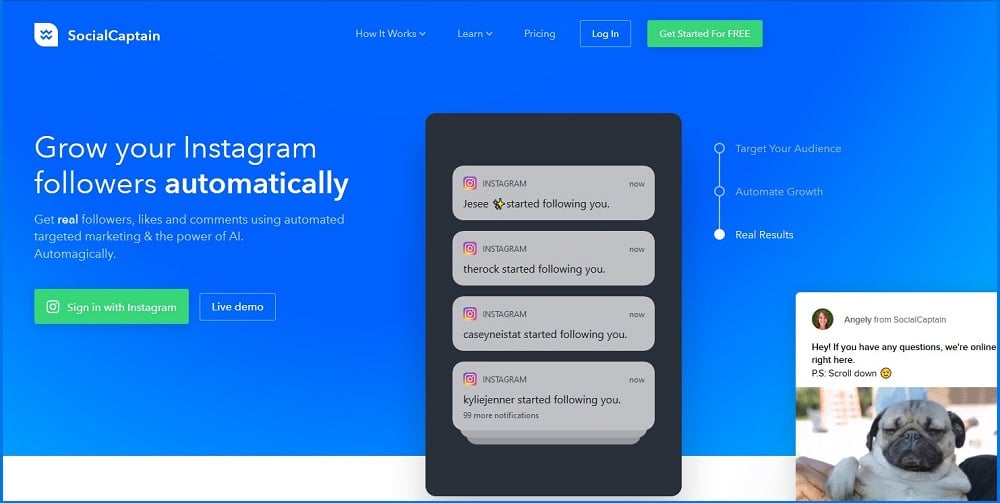 As with any other Instagram bot, Social Captain provides a service where everything is automated in a way that you do not need to lift a finger, and they claim that everything is organic. The setup process takes only a few minutes and requires only a little input from your end. Since it is an automation process, you will need to enter the locations, people, and hashtags that you are interested in so that the service knows what to look for. The dashboard is easy to navigate and simple to use, and they also have a demo dashboard set up so that you can get acquainted before you decide to make a payment.
Regarding the payment, Social Captain offers two regular packages and a turbo one. The regular packages all get the same features as live analytics, unlimited actions, smart automation. The only difference is the duration of the plan; one of them is on a weekly basis; the other one is monthly. There is another package – turbo. This one promises to grow your Instagram account ten times faster than the other two, and it has some additional features that the other two do not.
Paying for a service you are not sure would work is not smart, so Social Captain offers something that will help you. They offer a 24-hour free trial with no commitments, enough time to see if their growth service will have any effect.
---
We move the bots aside and head over to the social media management services. Social Sensei is a marketing agency that does provide automation services, but not for Instagram. Relatively young company founded in 2018, it was able to put itself on the radar as an excellent marketing agency for Instagram growth.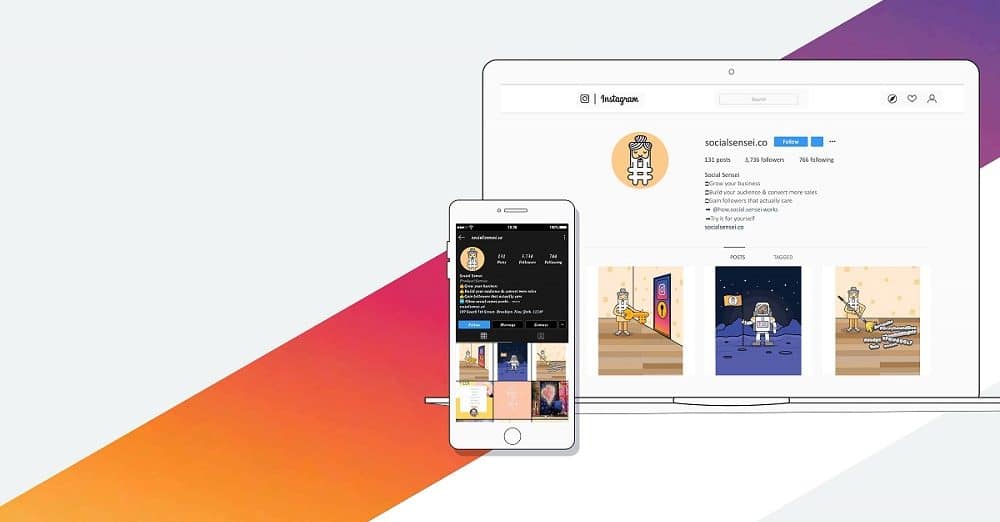 Social Sensei covers quite a lot of social media platforms, but not all get an automation feature. Instagram is one of those. The company will engage a social media manager to work with your Instagram account, putting his or her expertise to use by growing. To help them with that and to get better results, before you get on board with paying for a subscription, you will need to get in touch with one of their experts. The consultation will consist of you letting them know what you want and what you expect so that the manager knows how to run your account.
The pricing is where things start to become obvious why they are so good at what they do. For starters, they are not cheap, but it is to be expected. Social Sensei has seven pricing plans that you can choose from. Each of those comes with its own set of features that you will get. The first two plans, the two cheapest, do not have a setup fee, so you only pay for the monthly subscription. The other five have a fee, and it depends on the package you choose.
The features of each package are different, but so it the actual management and content creation. Some of the plans will offer you the ability to create your own content, while the managers take care of the rest, while others will have a social media manager working full time on your account with the content included. For the latter, you will not have to lift a finger; you just pay and watch the magic happen.
A free trial is an option that is not available. Real humans will be working on your account, so no company would put them to work for free. There is a refund option where your account can be run for ten days, and within that time frame, you have the ability to ask for a refund.
---
Going back to the bots, we are going to talk about Instavast. Founded in 2017, the company put itself on the radar as a relatively cheap Instagram bot offering a few free tools that most competitors charge for.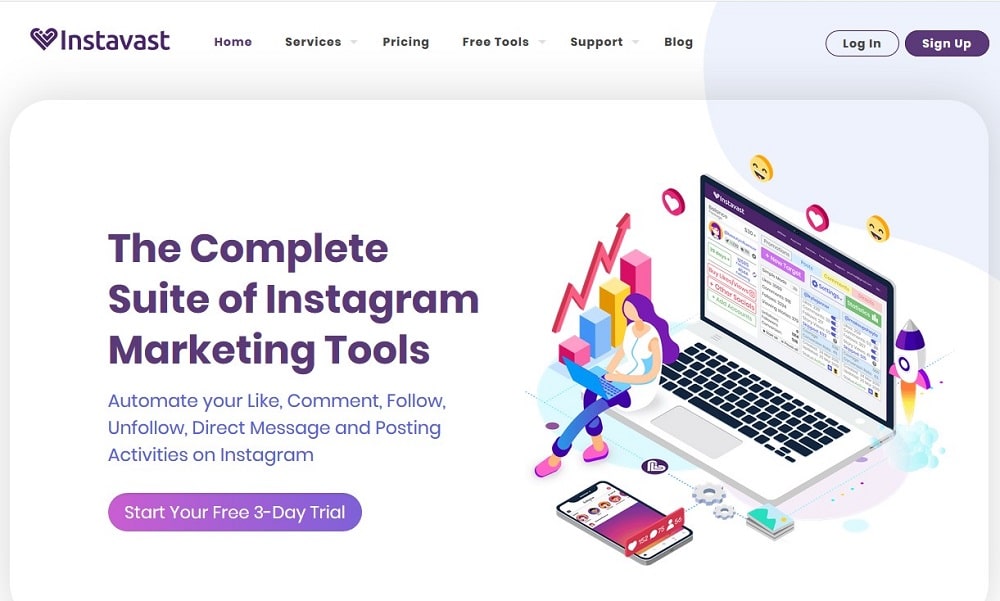 Instavast's setup process is simple and straightforward, and it takes only a few minutes. Once completed, everything is on autopilot, and the service will do the liking, commenting, following, messaging, and posting automatically. Being a bot, it means that you will need to create your own content and schedule it, but that is to be expected from a bot. Also, the bot will be able to do some smart targeting to make sure that it "reaches" the right accounts to help your Instagram grow better. On top of that, the dashboard has a section where you can overview all comments in one place, and if you want, you can buy likes or views for your posts.
An excellent addition is the free tools offered by Instavast. The hashtag generator can generate hashtags based on the content you want to put on Instagram, and that can be an image, URL, or a specific keyword. If you are not sure if a particular hashtag is banned, you can do that with the Instagram Banned Hashtags. This section has listed all the banned hashtags, including the ones with a temporary ban. The username to ID tool will enable you to convert up to 100 Instagram usernames into IDs and download them.
If you are paying for the service, you can use the converted usernames for custom targeting through Instavast's dashboard. Instagram downloader is a tool that allows you to download the media uploaded to a specific account. The media can include photos and videos, stories, or profile pictures. The local proxy is a standalone application that enables you to use your local IP address as a proxy when using Instavast's services. The software is available for all three major platforms.
Instavast offers four types of services for growing your Instagram account. The bot that automates the process, automatic messaging, tracking comments, and scheduling posts are individual features, and you can get only the ones that you need. All come with a monthly subscription, and the prices are for one account only. The good thing is that you can purchase multiple subscriptions depending on how many accounts you plan to run through their service. Additionally, you can purchase packages similar to a pre-paid that can be used for purchasing their services.
The good news just keeps on coming. Apart from offering relatively cheap service, you also have the ability to test drive the services for three days and see if they would work for you.
---
Just as the name would suggest, this is an automated bot explicitly developed for growing Instagram accounts. The interesting thing is that there is very little information available on this company, but we are mentioning it because it offers excellent services at an affordable price.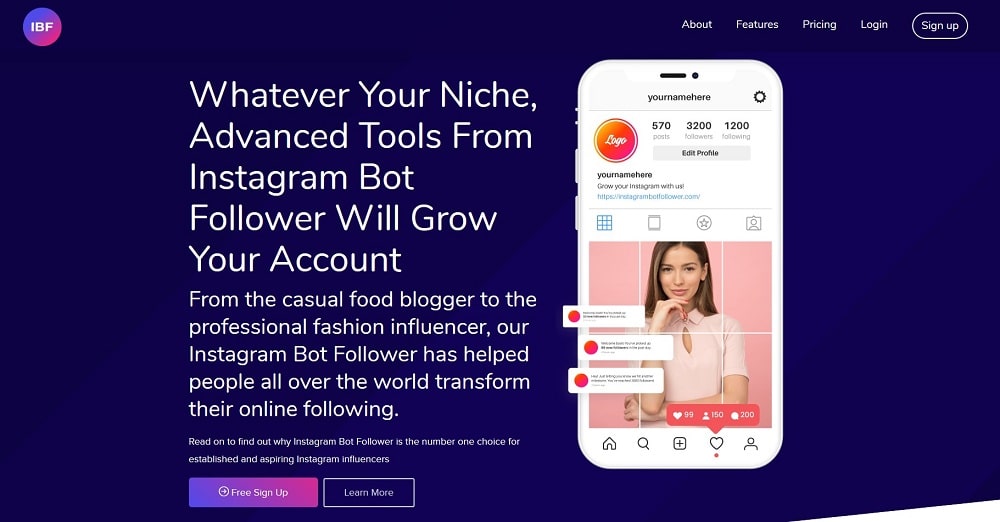 IBF manages to tick all the right boxes regarding features and offers a few that its competitors do not have. Among the regular automated features like follow and unfollow, like, comment and post, you also get the ability to link more than one accounts and manage them from the same place, mobile responsiveness, and emoji support. A new addition that is still in beta is HyperVote. The feature will enable you to automate the process of responding to polls, questions, and sliders on stories.
Most people think that feature-rich service is expensive, but IBF proves them wrong. You have four packages to choose from, all with a monthly subscription, where the cheapest one is for one account only, and it has some limitations regarding the features. The other three packages include all available features that the bot has to offer, and the difference between them is the included storage that you can use for your storing your content on IBF's servers. The maximum accounts that you can link to a single subscription are ten, and their website does not say anything about getting a custom plan if you need to manage more accounts.
Do you want a trial to test the service? You got it. IBF offers you to use their services for free for three days before deciding to pay for one of their packages.
---
We are sticking with the automation tools continuing with Instazood. The service has been around for about five years, and in that time, they have managed to make quite a lot of clients happy with their services for multiple social media profiles.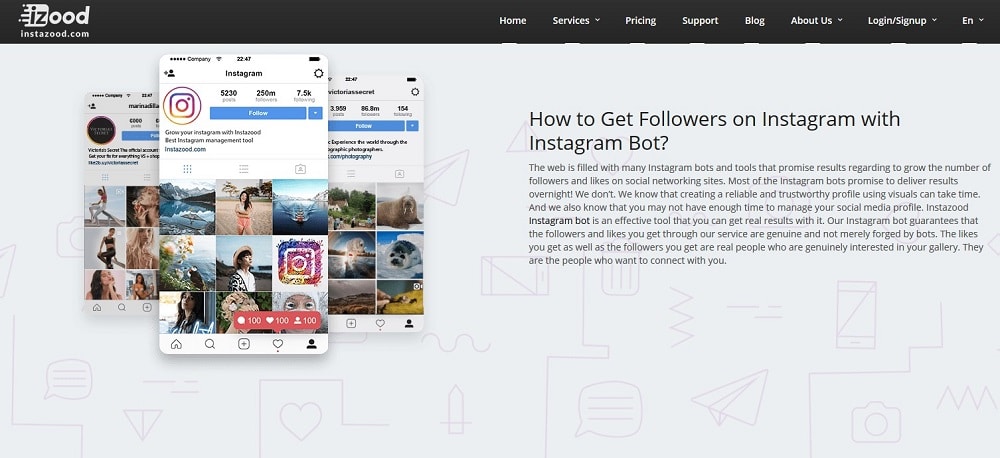 As any other serious company would, Instazood is regularly increasing the list of available features and platforms as the opportunity arises. The company offers several Instagram tools, Instagram bot, auto DM responses, and search tools. The bot provides all the automated features that any other bot would, likes, comments, and follows and unfollows. The service will target people, hashtags, and locations based on your parameters, and you can also customize how the bot behaves just like you would typically do.
The automatic DM feature provides the ability to welcome new followers automatically, send DMs to custom lists or all followers. Most people might find the search tools as something not worth paying for, but in reality, it is very much worth it. Unlike a regular search on Instagram, Instazood's search takes it to the next level and provides a lot more information.
The prices for these services are separated, each one comes as a different option, and there is not a lot to be said about the plans. Each service has only one pricing plan, and all of them are on monthly subscriptions. Essentially, you are paying for the full service per account, making this a simplified but effective way to pricing.
In addition to that, each one of the Instagram services gets a free trial period of three days in which you get the full set of features and no limitations.
---
The next few Instagram growth services that we are going to present are software-based. It means that everything is controlled from your computer, not a web service. The first on the list is Ektor. This is a relatively new software with a new approach to growing an Instagram account.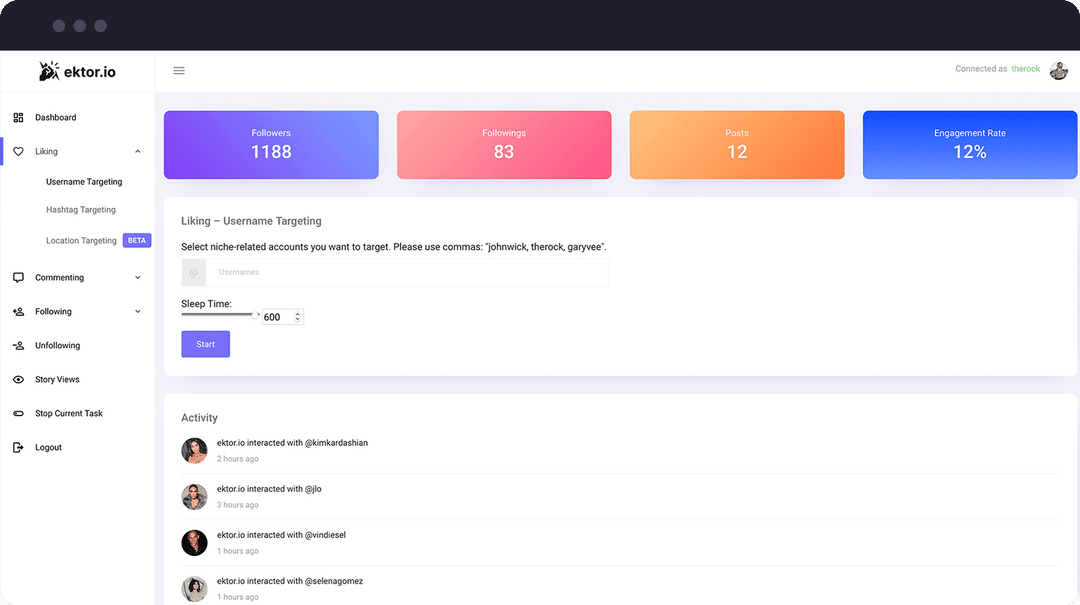 Using a software is not always a bad thing, and in general, you still get the same features as with a web service. Ektor's features are identical to the ones that the other Instagram bots offer. It can do everything automatically – like, comment and follow, and unfollow. In regards to targeting, it can target specific hashtags, locations, and people. One thing that is quite unique is the artificial intelligence facial recognition. It can recognize faces from posts enabling it to learn to behave more like a human.
Even though it is a software, you still need to pay for the services it has to offer. Ektor has three pricing plans, each one with a different set of features and limitations. Depending on the plan you choose, you can go up to three accounts with one subscription. Apart from that, you are limited by the number of likes, comments, follows, and story views per day. Only the most expensive package has unlimited story views, but everything else has a cap.
The software is available to be downloaded only for Mac and Windows. At the moment, there is no support for Linux.
Ektor does not offer a free trial, and the money-back guarantee is not what it seems. They claim that your account will not get blocked, and the refund will only apply if your account gets blocked.
---
Another alternative to what Ektor has to offer is Combin. The service has been around since 2016, and the developers are regularly working on adding new features.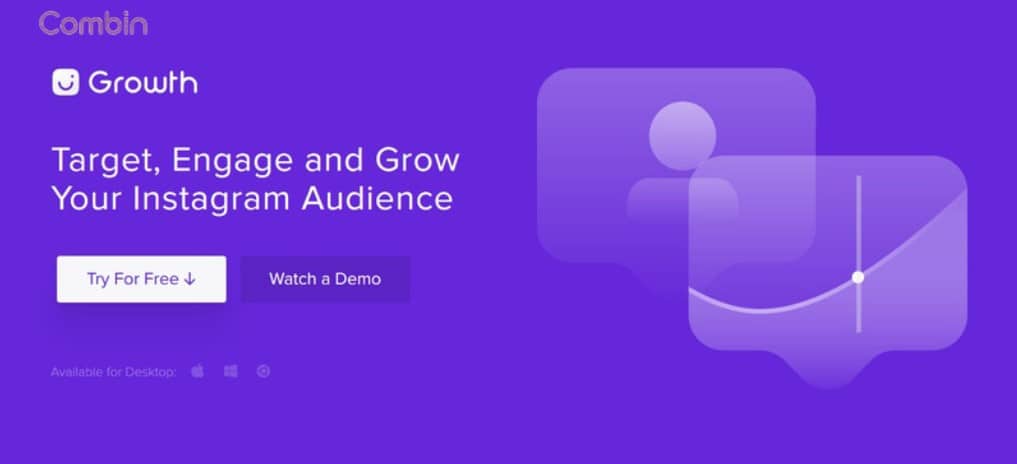 Even though we say service, Combin is still a company that offers its service through a software. Similar to all other automated services, Combin will work in combination with you to grow your Instagram account. The automation process includes standard features, just like any other service on the market. Behind all that automation sits an artificial intelligence that learns and improves the way it behaves, making it seem like a real human is doing everything.
The targeting system will "listen" to your requirements and target people hashtags and locations in a way that a person might not be able to. On top of that, the software includes quite a lot of analytics and reports enabling you to get a better feel of how your Instagram account is growing and at what rate. The software is available for all three major platforms, and the Linux version at the moment is only available for Ubuntu.
Regarding pricing, Combin is probably the champ among the other in this category. There are three pricing plans, and the cheapest one is free forever. Even though there are some limitations compared to the other two, it is an excellent way to test the service for free as long as you need it. The other two pricing plans are identical, and the only difference is the number of accounts you can manage. The cheaper one is for one account only, while the more expensive one is for five accounts with the ability to pay for an additional 10. Combin has announced that soon both paid options will receive auto-tasks and DM and comments feed features.
Even though there is a trial option in the form of a free package, there are still some cases when you are able to request a refund. All situations are where you are having problems with the service, but it is nice to know that you will be able to get your money back if something goes wrong.
---
This next one is a company that a lot of people know. The company has been around for roughly six years, and in that time, it has served many users and covers quite a lot of social media accounts.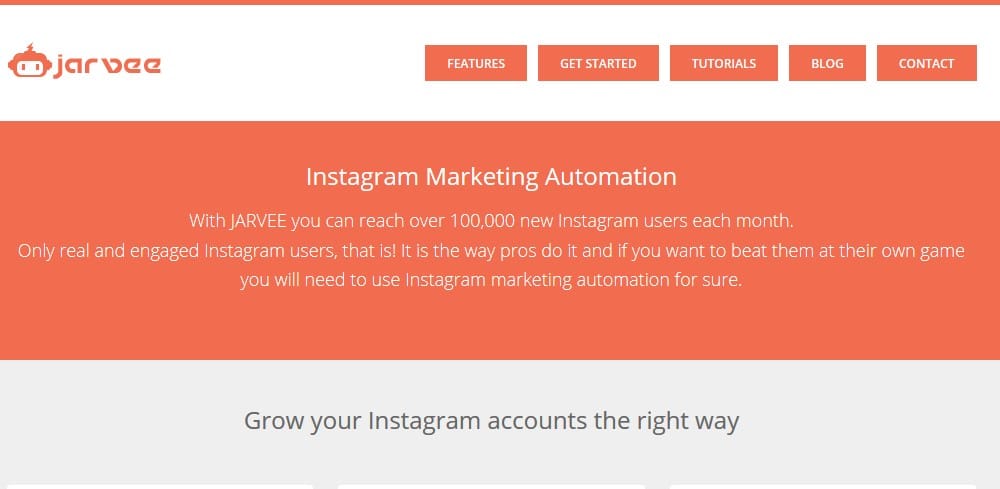 In the years that Jarvee has been around, the number of features has grown continuously, making it one of the most feature-rich growth services. Their Instagram growth features include conventional automation processes such as likes, follows, and unfollows.
Among the other goodies that you get from this service is a dashboard from where you can manage DMs and comments as well as stay in touch with your followers through automated DMs or doing it the old-fashioned way – typing it manually. Alternatively, you can also use the spin syntax feature to customize your replies. They will still be automated but will look a lot more human-like.
To prevent getting caught, if you are running multiple accounts from one location, Unlike other web bots, you have to use your own proxies, and it will use a unique one for each separate Instagram account.
Read more: Find the best Instagram proxies for Jarvee.
On top of that, you also have the option to import data from other tools, enabling you an easy transition. A downside to Jarvee is the fact that it is only available for Windows with no announcements that they are working on developing it for the other two operating systems.
The prices might seem high at first, but there is a reason for that. Unlike a lot of its competitors, Jarvee offers the pricing packages with all social media platforms included. It means that once you pay for a package, you can manage accounts from the top eight social media platforms. There are three pricing plans, and all of them come with the same sets of features.
The difference is the number of accounts you can manage. The cheapest one can hold up to 10 social media accounts, while the most expensive one can run up to 70 accounts. If you need more than 70, you can reach out to the sales department, and they will create a custom pricing plan based on what you need.
---
The last software and service for this list is FollowAdder. When visiting their website, you get a sense that you traveled in the 90s, and you will hardly find any details about the company, but there are a lot of satisfied customers, so it deserves to be here.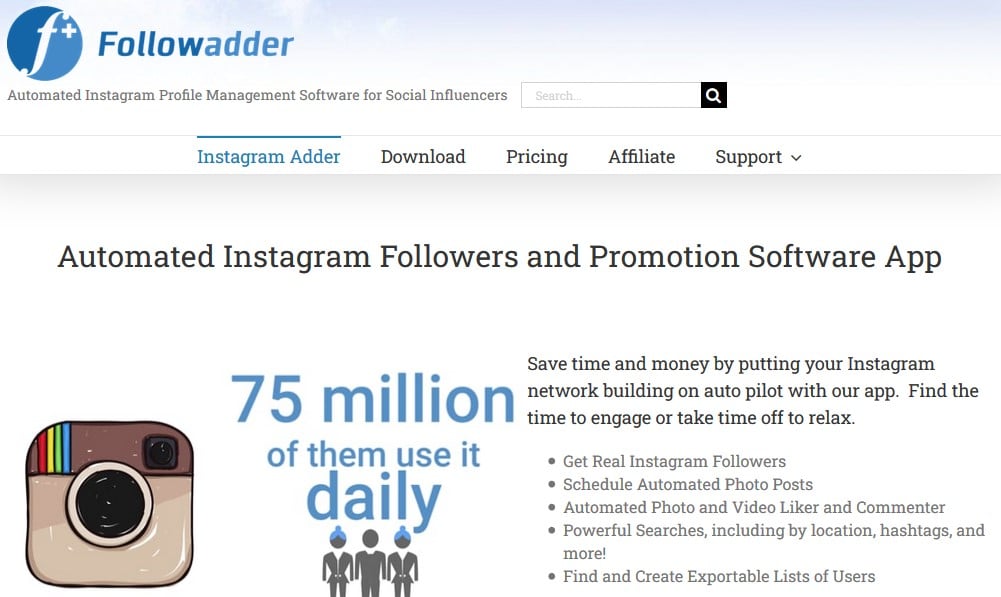 FollowAdder is a software that offers growth services for only one social media platform – Instagram. The features that it provides is not something that we have not seen before, but it covers everything that you might be looking for from a service like this one. The automated features include likes on photos and videos, follows and unfollows, comments and DMs. The targeting service dan target by location, hashtag, and people.
An excellent addition to a service like this one is the fact that there is a post schedule option that is not a separate service; instead, it is baked in with all the others. You can download FollowAdder for Windows, Mac, and Linux. Interestingly, the Linux version covers a lot of different distros like Mint, CentOS, Ubuntu, Debian, OpenSUSE, and Fedora. Another interesting thing is that regardless of which OS or distro you go for, all of them are for 64-bit operating systems.
When you get to the pricing page, you might be outraged by how high the prices are. The prices that you see are for six months; the monthly cost is written with small letters below the price. Regardless of that, all pricing packages include all features that FollowAdder has to offer, and the difference is in the number of Instagram accounts you can manage. The cheapest one can handle only one account, while the most expensive one is for 25 accounts. When you purchase a package, you get a complimentary ebook with tips and tricks for growing an Instagram account.
A free trial option is not available, but you can get a 7-day refund if the service does not meet your requirements and criteria.
---
FAQs About Instagram Bots
Are Instagram bots safe to use?
Most of them are. Almost all incorporate some kind of encryption so that no one will be able to see your password. When searching for a bot make sure that it is from a reputable company and it encrypts the login session.
Are Instagram bots legal?
There is no law that prohibits you to use an Instagram bot.
Can Instagram find out that I am using a bot?
Instagram bots have come a long way since the early days and are almost impossible to detect. Most of them are developed with artificial intelligence software that enables them to mimic human-like behavior.
What will happen if Instagram funds out that I am using a bot?
Worst case scenario, if Instagram finds out is that you will have your account suspended. It is not very often that they discover accounts that use bots, so in general, there would be nothing to worry about.
---
Conclusion
Instagram automated services and software have been around for a while now, and they do not show signs of slowing down. Growing an account manually is a tough job and requires time and patience.
If you are one of those people that do not have the time or patience, then one of the services in our list should be an excellent choice to grow your Instagram account with ease.
---