FoxyProxy is a easy-to-use proxy manager for browser extension support Chrome and Firefox, we make a list for best proxies classified by proxy protocol,and let me show you how to use proxies on FoxyProxy.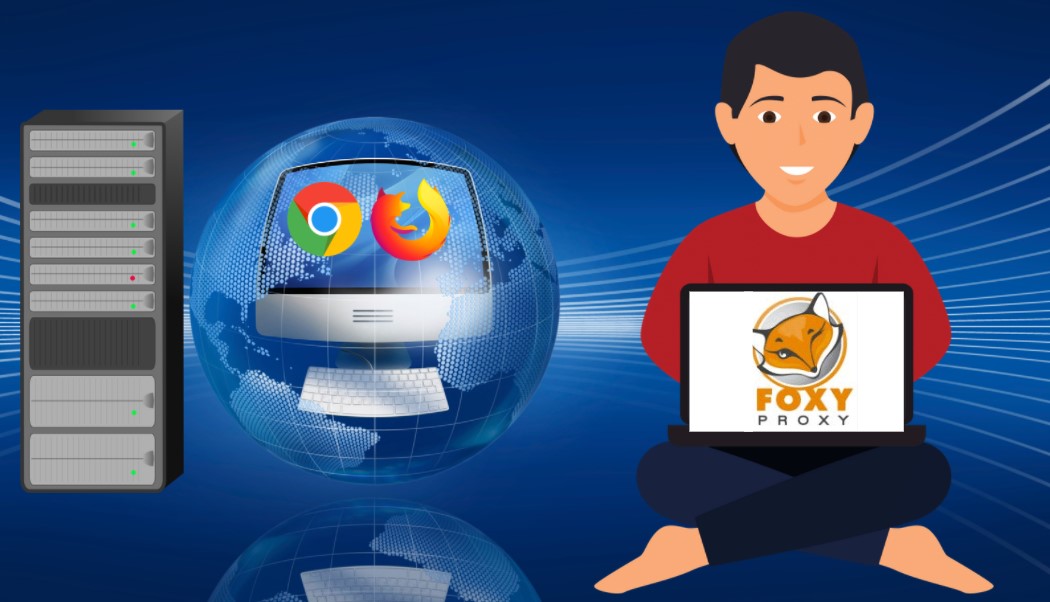 Proxies have slowly become a crucial part of our daily internet dealings. Whether we're using them to access some geo-restricted content or want to protect our anonymity, proxies are the first step we take towards those adventures.
In the early days, proxy setup was a process that wasn't something that a beginner user could do. Even though there were tons of guides, the process still seemed complicated. Things changed once proxy managers started to appear on the market.
Using a proxy manager means you won't have to change proxies manually or even set them up. It is a task for the proxy manager, meaning that you'll have a new proxy address with a click of a button.
Among the many proxy managers available on the market, the one that I'll be talking about today is FoxyProxy.
---
As I mentioned in the previous section, FoxyProxy is a proxy managed packed with plenty of features. Their goal is to provide beginner and advanced users the opportunity to take some of the tedious setup processes out of their hands. It may seem like something that wouldn't be of much use, but once you start using one, you'll know that it's worth it.
Unlike some of the managers you'll find, FoxyProxy is not a standalone application. Instead, you are looking at a browser extension, which can be either good or bad. The settings you'll be applying will only be for the browser and not system-wide.
It means that only your browsing activities will be covered by the proxies and not the rest of the applications. On a positive note, it means that FoxyProxy can be used on any device that has a supported browser. On a negative one, torrenting may be problematic.
For the sake of this guide, I presented FoxyProxy as a manager, but the service offers more than that. The company has been on the market for about 15 years, and apart from the manager tool, the primary offer is proxy and VPN services.
Getting proxies from FoxyProxy may be a good thing because you'll have everything in one location. With that said, what would you do if you already have proxies and just want a manager? The good news is the FoxyProxy works with any proxies you have. If you haven't chosen your proxy provider yet and want something different, stick around.
In the following section, I'll outline 6 proxy providers that you can combine with FoxyProxy.
---
Best SOCKS Proxies for FoxyProxy
---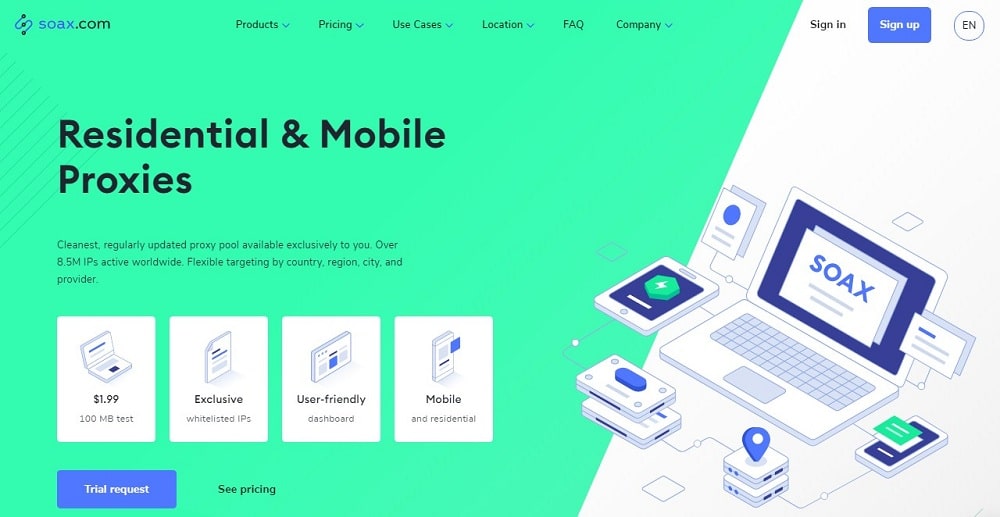 I'm kicking off the SOCKS proxies list with a provider that has an excellent balance between its price and offers. Soax isn't a provider that will break any records but has more than enough, even for the most advanced users.
There are over 8.5 million SOCKS proxies in Soax's pool that are located in over 195 countries worldwide. The number isn't the greatest, but there's a slight advantage. There are over 5 million residential and over 3.5 million mobile proxies mixed up.
Considering that you don't get the biggest proxy network globally, you won't have to pay a premium price. Soax has 8 pre-made packages where the main limitation is the included traffic. The remaining features are identical, and the amount of bandwidth and price per GB determines the price.
You can also create your own custom package with more traffic if you want to. Like most of its competitors, the biggest downside here is the lack of an unlimited package.
Some may rush to cheer at the sight of a trial, but things aren't as they seem. Yes, Soax offers an option to test the SOCKS proxies, and it's not free. You will need to pay $1.99 for a test account that you can use to see how the proxies work.
Pros
Over 8.5 million SOCKS proxies
Multiple payment options
Affordable
Cons
You'll need to pay for a trial package
Unlimited bandwidth isn't available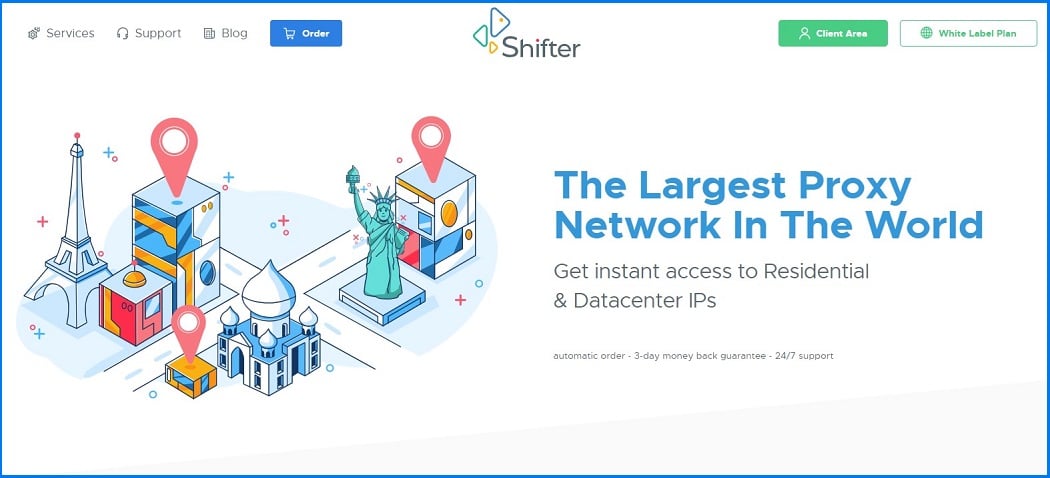 Next on the list is Shifter, an excellent SOCKS proxy provider that doesn't get as much attention as some of the others on the market. The flexibility and reasonable prices are only two of the reasons it found itself on this list.
Shifter has over 31 million SOCKS proxies in its pool, meaning that you have a lot more when compared with Soax. In terms of locations, the list isn't outlined on the website, but the company claims to have a proxy in each country.
Price-wise, things are a bit different than what you may be used to with other providers. For starters, there are two types of packages, basic and special. The difference between them is the sites with which they work. Basic proxies work with most sites, while the special ones are designed to work with websites like Google, social media, or sneaker sites. Based on this, you should choose the ones that would work for your use case.
Each one of them has 10 proxy packages for you to choose from, where you pay for the number of proxies. The thing that makes Shifter stand out from the crowd is that you get unlimited bandwidth on all SOCKS proxies.
A free trial option isn't available, which is a slight disappointment. The good news is that you have a refund option that you can utilize to test the proxies. Shifter offers a 3-day moneyback guarantee, meaning that there is an option to get your money back if the proxies don't perform well.
Pros
Unlimited bandwidth
IP pool has over 31 million SOCKS proxies
Plenty of packages to choose from
Cons
No free trial
Not the most affordable provider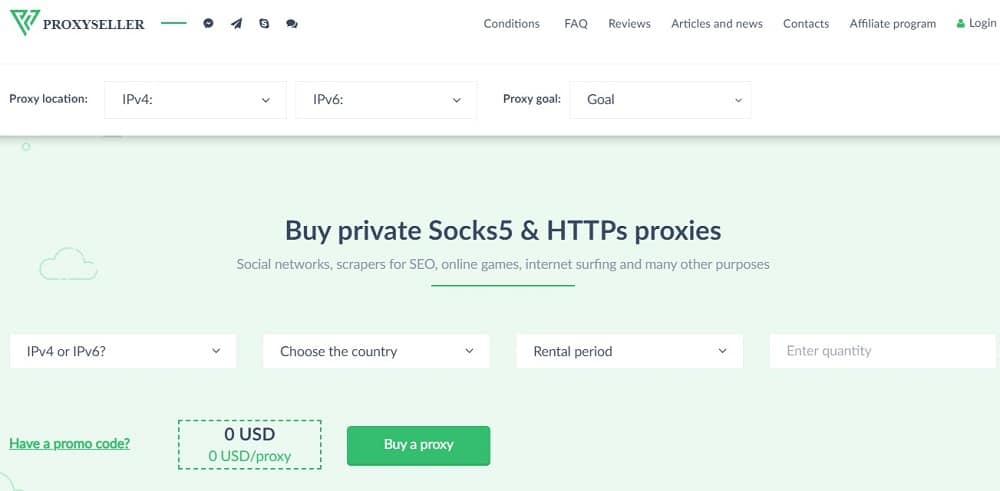 There are times when you don't need residential proxies for a particular application. In these cases, datacenter ones will do the trick, which is why I'm including Proxy-Seller. This is not a commonly known provider, but it's a good option for people that want decently performing proxies at an affordable price.
The biggest drawback of Proxy-Seller is the fact that the number of proxies is unknown. On a slightly positive note, the company outlines the available countries, and you have over 50 of those to choose from.
When it comes to features, the SOCKS proxies from Proxy-Seller don't offer anything new or flashy. You get IP addresses from servers connected to gigabit internet, meaning that speed and latency shouldn't be an issue. In terms of authentication, you have the option to choose between an IP whitelist or username and password.
Proxy-Seller has an excellent pricing strategy, offering a lot of flexibility, something you won't find with too many providers out there. You can customize a package based on your need by using 4 parameters: type, location, duration, and the number of proxies.
The duration of each package can range from 1 week to 12 months, and the price will depend on the number of proxies you get. Proxies from different countries will have different price. To get more discount, getting a package with a longer duration may be a good idea because the proxies will be cheaper.
As much as I can praise Proxy-Seller, I have to criticize the lack of a free trial. As a result, your only option to test the proxies is by utilizing the refund policy. The provider offers a 24-hour moneyback guarantee if the proxies don't perform as you need.
Pros
Gigabit speeds
SOCKS proxies from over 50 countries
One of the most flexible pricing
Cons
No free trial
The number of proxies is unknown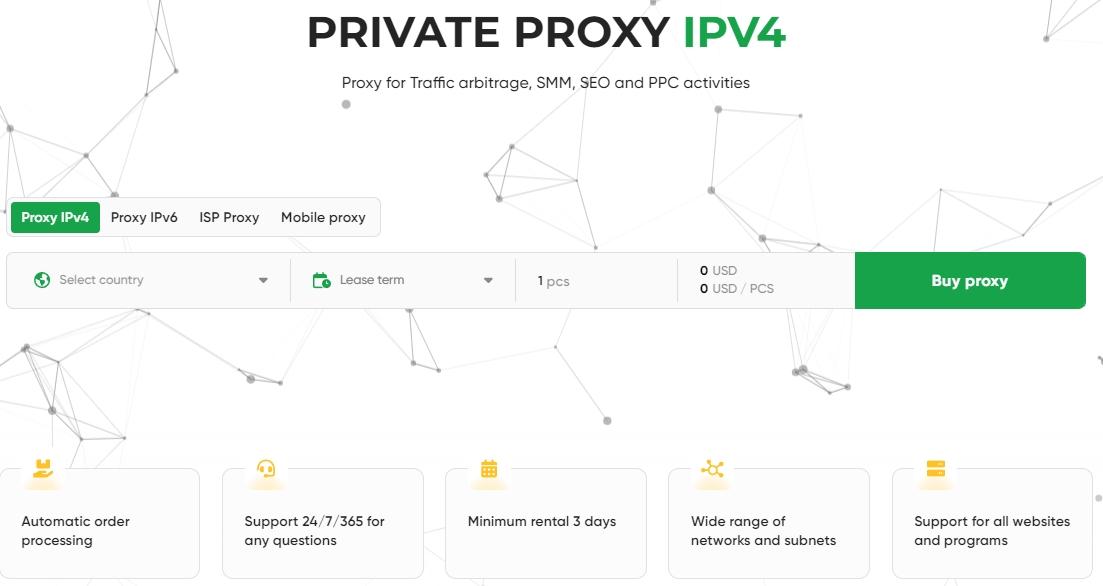 The Proxy-IPv4 service has more resemblance with the Proxy-Seller service than it does with the residential proxy providers discussed first. And when you need mobile proxies, ISP proxies, and even IPv6 proxies for the FoxyProxy tool, the Proxy-IPv4 service is a good choice. The noise around this provider is not much, as they don't spend more on marketing. However, it is a provider I have used, and the performance is stellar.
No doubt, as with the Proxy-Seller service, the number of IPs in its pool is unknown — and this can be a red flag to many. However, they have a good number of locations supported and a helpful customer support team. If you think the service will not have as many IPs as you need, I recommend speaking to their customer support agents beforehand to know if they have the number of IPs you need.
This proxy network will choose IPs from multiple subnets for you if you purchase a package. The speed you get from this provider makes it a good option for streaming and online gaming. Aside from SOCKS proxies, you can also get HTTP proxies from the Proxy-IPv4 service.
Pricing for their ISP proxies is quite flexible as you can purchase shorter period proxies starting from 3 days at $1.2. However, going for their 30-day proxies will put the price per proxy at $6 monthly, which makes it even more affordable. If you purchase IPs or for a longer period (90 days), you get a discount, too.
Pros
Good location support for an ISP network
Performance is high in terms of speed
IPs assigned to you are undetectable
Flexible pricing in terms of IP count and rental period
Cons
The number of IPs in the pool is not known
Does not offer a free trial period
---
Best HTTP Proxies for FoxyProxy
---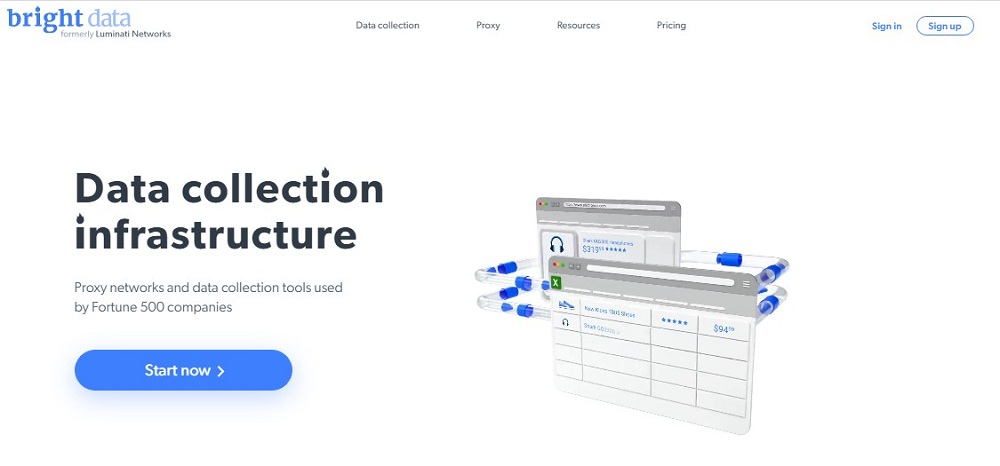 The name may not sound familiar if you've been away from the proxy world for a while. Bright Data was formerly known as Luminati, a proxy provider with one of the largest networks of IP addresses. Despite the rebrand, the company remains one of the best options for getting excellent HTTP proxies.
Bright Data offers you a pool of over 72 million HTTP proxies, which is more than twice as much as some of its competitors. As for the countries, there are IP addresses in over 195 countries worldwide, or in other words, in every country literally.
This HTTP proxy provider is considered a premium one, and with that, it means that you are getting some excellent set of features. One of those is advanced geo-targeting. While it's not something that unique to Bright Data only, you can fine-tune the IP address from a location that you need. Most providers offer country-based geo-targeting, while with Bright Data, you can even target specific cities.
These features are nice to have, but they aren't cheap. As things stand at the moment, Bright Data is among the most expensive providers on the market. With 3 pre-defined packages and 1 custom, you can be sure that you'll have a plan that will work for you.
Even though these are on a monthly basis, going for a yearly payment means that you'll get a discount. There is also an option for a pre-paid package, where you get as much traffic as you pay and use it when you need to. As flexible as this may sound, Bright Data suffers from the same issue that most residential proxy providers do – no unlimited bandwidth packages.
The good news is that there is an option to test the HTTP proxies for free. Bright Data has a 7-day free trial option, and it's a welcomed feature for a provider that's this expensive.
Pros
Free trial available
Pay as you use type of package
The biggest HTTP proxy network
Cons
Expensive (They add PAY AS YOU GO plan)
No option for unlimited bandwidth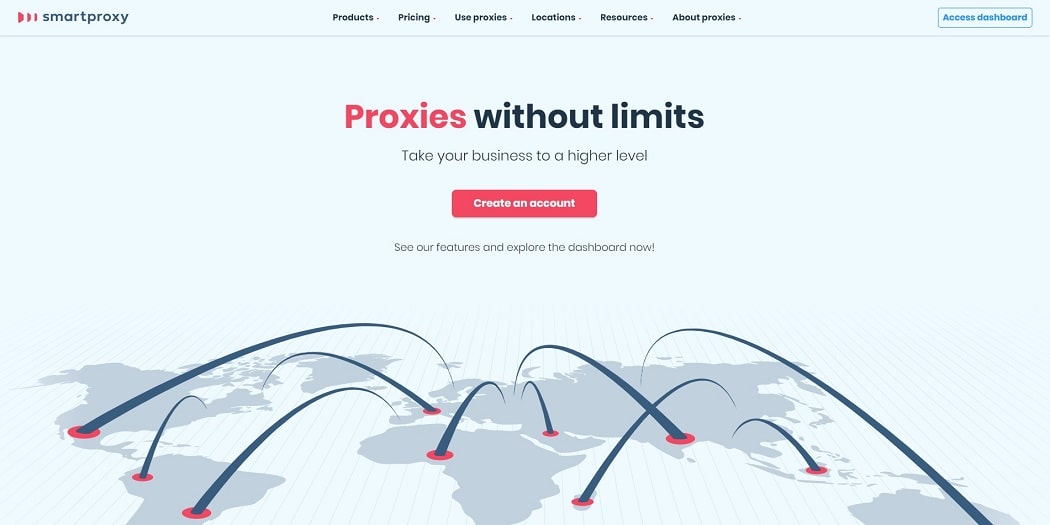 Next on the list of HTTP proxy providers is Smartproxy. This is a mid-range option, meaning that you get more affordable IP addresses but are losing out on some features. Despite that, you are looking at an excellent provider that won't disappoint.
The pool of HTTP proxies consists of over 55 million IP addresses, which isn't a bad number. Even though it's not as much as Bright Data, there are still plenty. In terms of location, it's a similar story as with the previous provider. The proxies come from over 195 countries worldwide, meaning that diversity won't be an issue.
When you look at the features, you'll see where most providers a falling a bit behind Bright Data. Geo-targeting is available, but you can only get proxies from a specific country. The city-level targeting feature is 8 cities and 50 U.S.states.
Pricing, as I mentioned, is more affordable, which is why Smartproxy is an attractive option. You can choose between 3 packages, which vary based on the amount of included bandwidth. There is an option to get more traffic if the largest package isn't enough, thanks to the custom option.
A free trial option is not available with Smartproxy. The provider only offers a 3-day moneyback guarantee, so there is a way to test the HTTP proxies, but you'll need to pay first.
Pros
Over 55 million HTTP proxies
The price per offer ratio is excellent
3-day moneyback guarantee available
Cons
No free trial
No option for unlimited bandwidth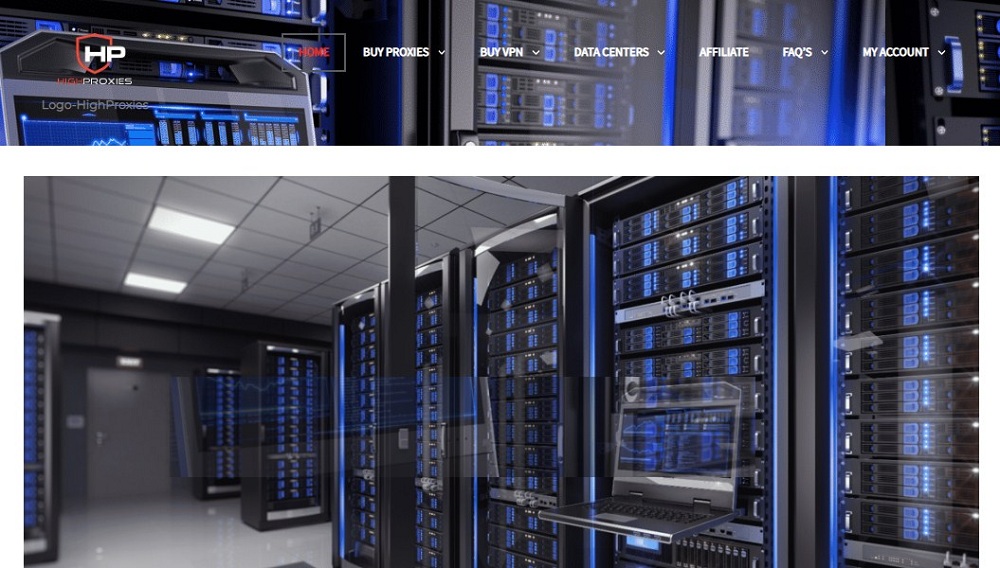 Like with the previous section, the last proxy provider is a datacenter one. HighProxies is a popular option in the HTTP proxy world, not due to something special that it offers. This provider manages to have its services packaged in a way that almost everyone can utilize it.
When it comes to the number of HTTP proxies, HighProxies isn't on top of the lists. The provider has only 85 thousand IP addresses in 39 countries. The number may sound much, but you should keep in mind that over half of the locations are across the US, and the rest are in Europe.
As for the features, it's a standard datacenter layout, so don't expect to get something unique. The servers are connected with gigabit connections, some of which are 3 gigabits. This is what makes this provider stand out from the crowd, speed, and stability.
The prices aren't the most affordable ones, but things aren't too bad. You have 9 packages to choose from where they differ in the amount of included proxies. All of them are on a monthly basis, and the biggest drawback here is the lack of a custom package. HighProxies offer up to 1000 HTTP proxies, and the only option to get more is by paying for another subscription.
Another disadvantage is the lack of a free trial. Even though the proxies aren't the most expensive ones, some might still want to test them before they pay. HighProxies has a 3-day refund policy, meaning that you can still try them and ask for a refund if they don't work as intended.
Pros
Fast and stable
9 pricing packages are available
IP whitelist and username and password authentications are available
Cons
No option for a free trial
There are other HTTP proxy providers with bigger IP pools
---
Setting Up Proxies with FoxyProxy
---
Considering that FoxyProxy is a browser extension, the installation process is quite simple. Navigate to your browser's extension website and install it through there. At the moment, the only supported browsers are Chrome and Firefox.
Since the process is similar for both browsers, I'll outline how to set it up on Chrome for the sake of this guide.
Once the add-on is installed, you'll need to click on the icon that appears on the top of your browser. From there, navigate to "Options."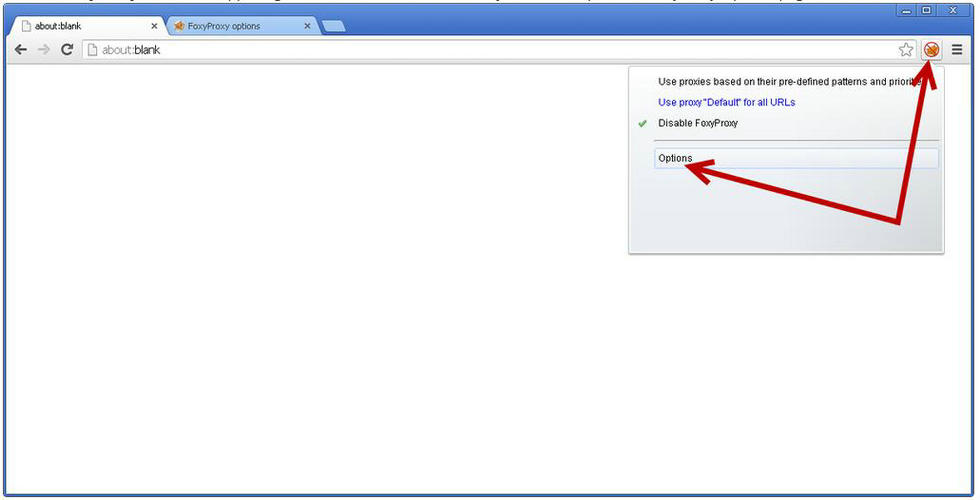 On the left side of the tab, click on "Add New Proxy," and a new tab will open.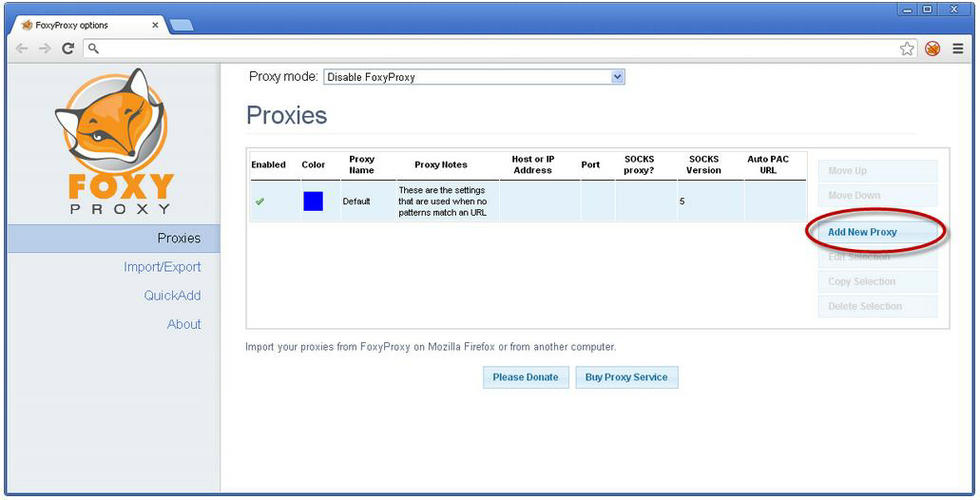 Navigate to the second tab called "Proxy Details" and ensure that "Manual Proxy Configuration" is selected. Here, you'll need to enter the hostname and port. Remember that the hostname can either be a URL or an IP address, depending on the proxy provider you're using. Alternatively, if you're using SOCKS proxies, you'll need to select the options below that. Once all the information is set, click on "Save."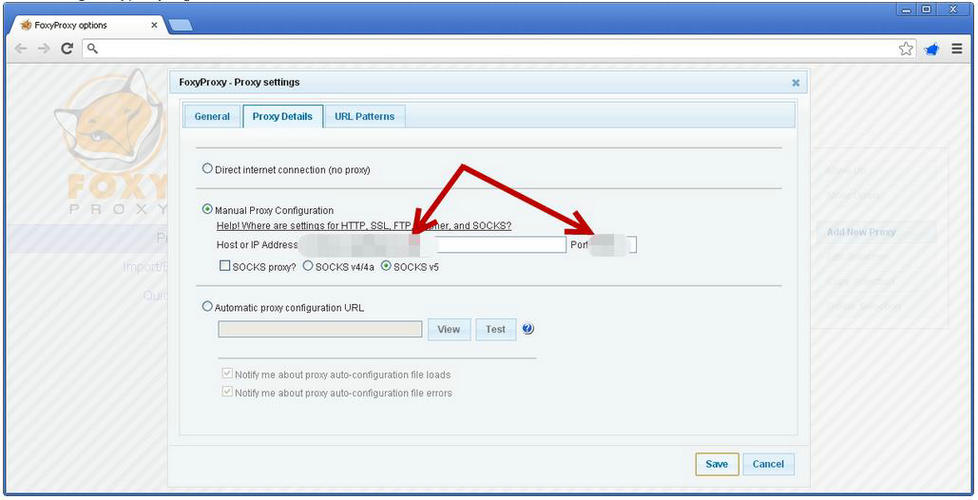 The menu will return you to the section with the list of proxies you have set. On the top under "Proxy mode," you'll need to select to use the proxy for all URLs.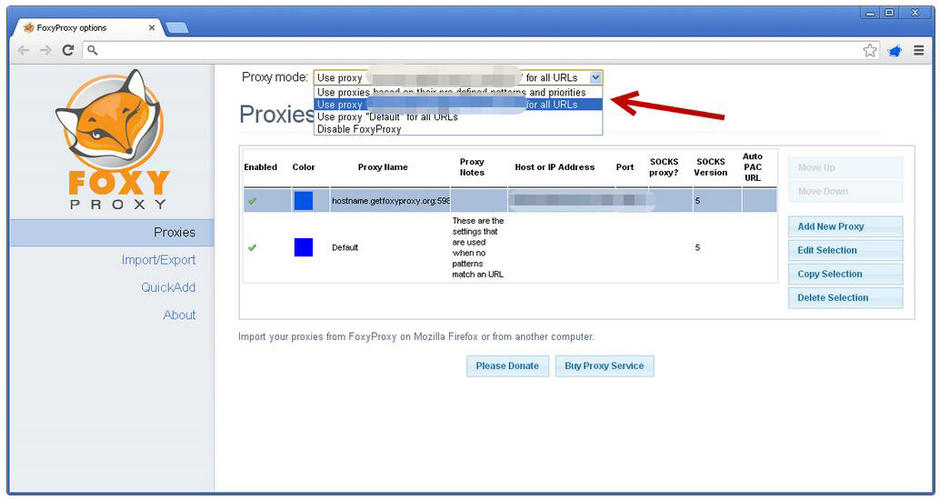 There are two ways to be authenticated when you use proxies: an IP whitelist or username and password. If the proxy provider you're using allows IP whitelisting, then that's an option you'll have to set in the dashboard. Going for the username and password route is a different story.
If your proxy provider enables you to authenticate with a username and password, then that is something you'll have to do when you first start using the proxy. Once you set it up, open up a website, and a dialog will open where you'll need to enter the credentials. The session will remain active for as long as you're using it unless the provider has a different set of rules in place.
As I mentioned previously, this is a guide for Chrome, but Firefox will work just the same. The difference is in how the settings are laid out. Other than that, everything else is the same.
---