Are you looking for an all-round proxy provider capable of offering you datacenter, residential or mobile proxies? Check out today's review of Astro Proxy to see if it's worth paying for its services.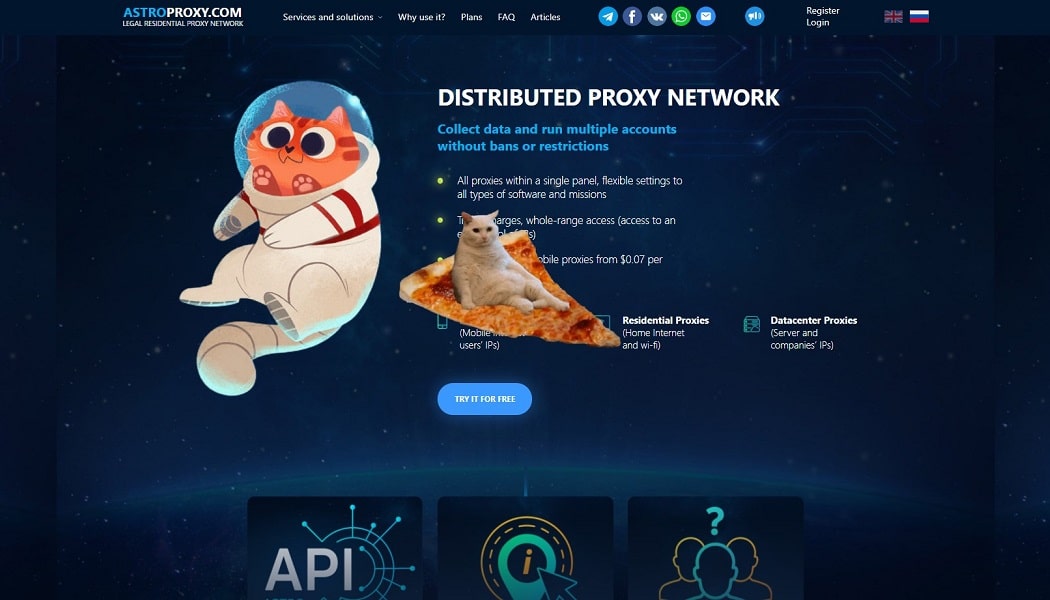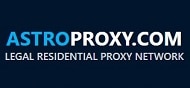 (4.2 / 5)
On the popularity scale, Astro Proxy is a provider that isn't too high up like some of the other ones I've been reviewing in the past. The provider appeared on the market in 2017, and despite being here for 4 years, it didn't manage to gain a bigger movement like its competitors.
Recommended for: Sneaker, Social Media & data scraping
Not a lot is known about Astro Proxy. It started selling proxies back in 2017, and the only piece of information known at the moment is that it's probably a Russian-based proxy provider. Despite the lack of information, some users have purchased them, and many others ask about this provider. Why? Because it's cheap.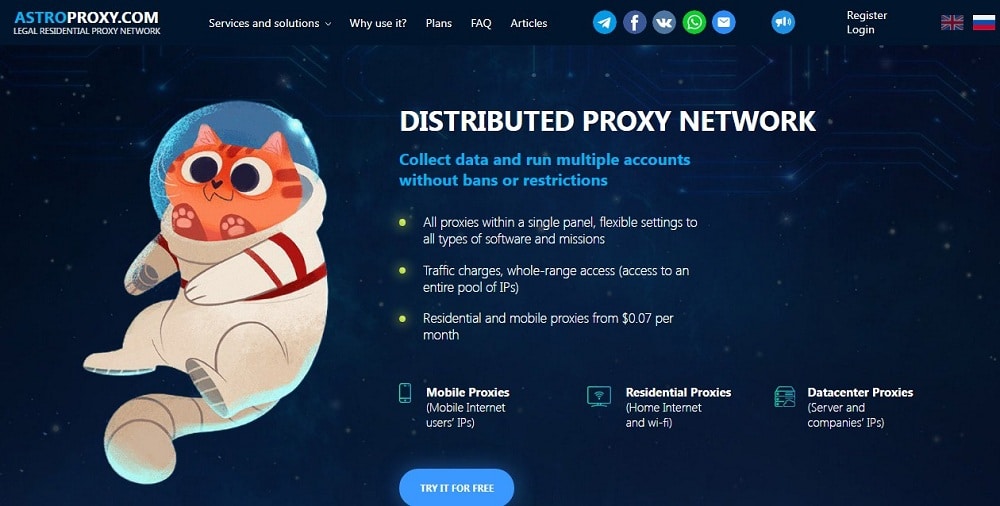 Cheaper services are often prone to bad performance, which is why I'm reviewing Astro Proxy today.
Looking at the prices, it's clear why people would want to get proxies from here. On top of that, it is a provider that has mobile, residential, and datacenter proxies, meaning that you can get everything you need in one place.
In terms of the size of the proxy pool, things are not all that transparent as you'd want them to be. Astro Proxy claims to have over 100 thousand IPs daily and over 1 million monthly. While that is not the highest number I've seen, the information from 2020 means that the numbers are probably higher today. As for the locations, it's not too bad. Don't expect too many countries on the list, but you will get proxies from the major countries across the 3 biggest continents.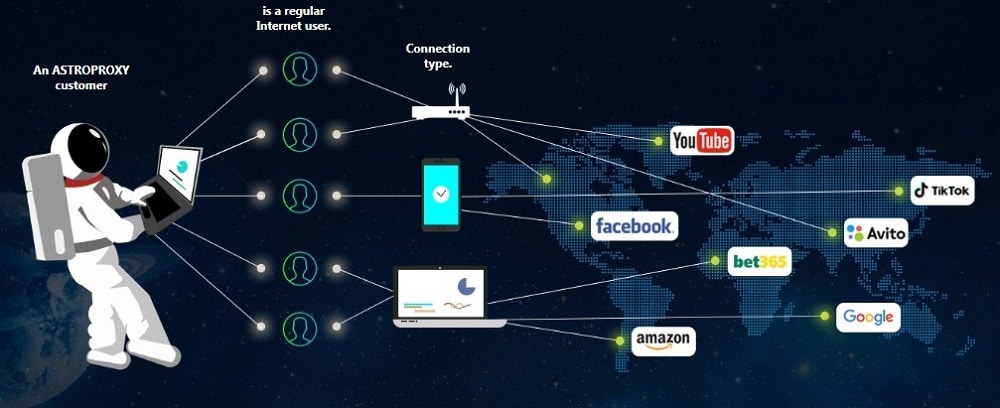 Overall, things are not all that bad, at least not on paper. A cheap proxy provider that has multiple applications is something you'd want. The biggest question I'm here to answer today is if Astro Proxy is worth it? Let's find out.
Pros
Affordable
IP and username authentication
Plenty of proxies
Work with social media and sneaker sites
Cons
No support
Paypal is the only payment method
Proxy Types, Features, and Pricing
Even though I won't be testing all proxy types that Astro Proxy has to offer, I will outline them for your convenience.
The choice is relatively simple, as there are no plans. The payment system is different from most of the other providers on the market. There are no pricing plans for a certain amount of proxies or ports. Instead, you only pay for the amount of traffic you plan to use and the number of ports. You pay per month, but there are two outcomes. If you spend the traffic, you can pay for more. On the other hand, if you don't use the traffic, you will be charged next month, regardless of how much of it is left from the previous month. The biggest downside to this will be for the datacenter users, as most of Astro Proxy's competitors offer relatively cheap datacenter proxies with unlimited bandwidth.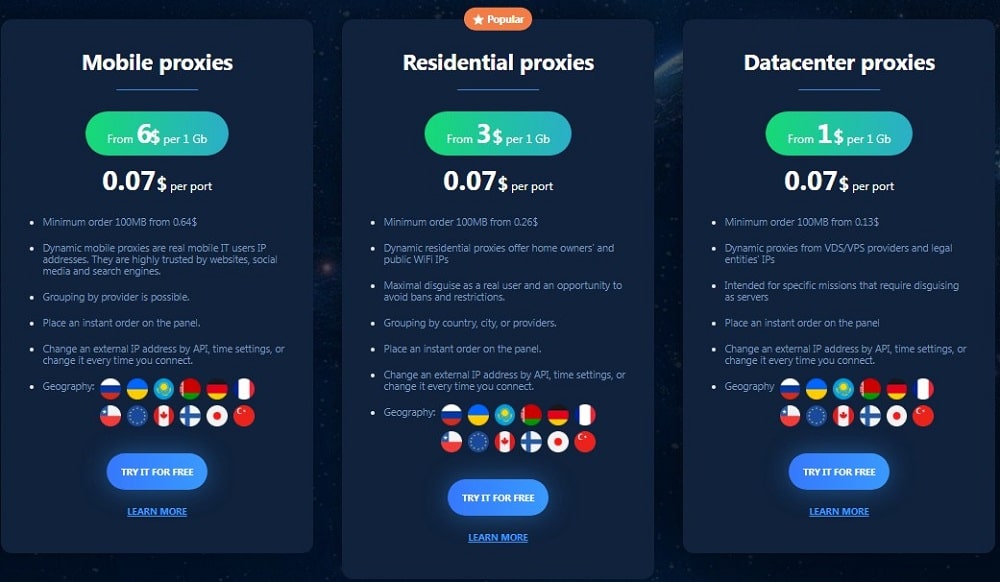 The main set of features is more or less identical across all 3 proxy types. The payments are instant, meaning that you can be up and running in a matter of minutes. With all proxy types, you get an option to change the rotation interval and use Astro Proxy's API. Keep in mind that static IP addresses are not available. Also, all proxies are HTTP/S and SOCKS compatible.
For the residential proxies, you have a geo-targeting option where you can choose IP addresses from specific countries, cities, or ISPs.
As for the price, the most expensive ones are mobile proxies which will cost you $6 per 1 GB. The residential ones are $3, and the datacenter are $1 per 1 GB. For all 3 of them, you need to pay $0.07 for each port you need to use.
Astro Proxy offers a free trial and not like what you'd expect. You will get $2 worth of funds on your testing account, which you can use to combine the package you want to test. The best approach to this is that the trial period starts from the moment you start using them. As long as no traffic is used, the trial doesn't start.
Location of Proxy Servers
The list of locations is not a huge drawback, but it may not be enough for some people. There is a nice variety of locations available in America, Europe, and Asia. There are 12 countries available, including Canada, Russia, China, etc. Astro Proxy also claims to have proxies in the EU, but not the specific countries. The biggest downside is that there are no US proxies available.
For my testing account, I decided to work with the residential proxies. I believe they are the most commonly used ones, and some providers struggle to keep them performing well.
The first test I did on Astro Proxy's residential IP addresses was the speed and ping tests. Residential proxies are not the best-performing ones in these tests but are favorable in situations where you need to be absolutely positive that you'll remain undetected. Lower speeds and higher pings mean that you may not have the best surfing experience, so Astro Proxy is a good option if you are willing to sacrifice that.
Speed tests with Astro ProxyDetails of the Speed Test
| IP of Rotating Proxy | Ping | Download | Upload |
| --- | --- | --- | --- |
| 45.76.227.176(No Proxy ) | 1 | 152.47 | 291.82 |
| 178.172.150.23 | 159 | 5.13 | 5.26 |
| 80.95.45.80 | 150 | 5.29 | 5.26 |
| 142.112.171.245 | 258 | 4.99 | 5.24 |
| 91.214.142.58 | 181 | 5.2 | 5.25 |
| 95.59.187.100 | 187 | 2.57 | 5.27 |
| 223.235.82.64 | 369 | 5.24 | 5.37 |
| 24.65.71.176 | 326 | 4.9 | 5.09 |
| 92.38.72.132 | 348 | 5.23 | 5.26 |
| 95.56.44.230 | 316 | 5.19 | 5.56 |
| 94.153.7.238 | 243 | 4.2 | 1.5 |
IP (NO PROXY):  45.76.227.176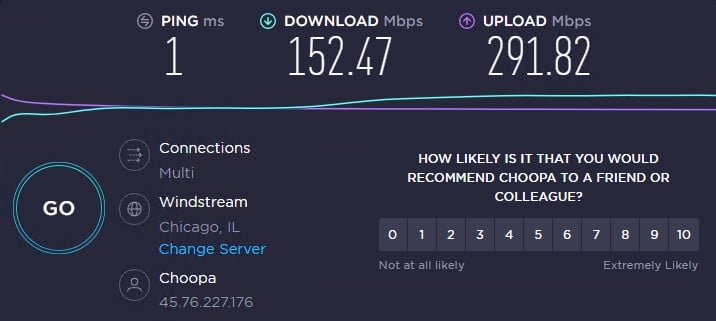 IP 1: 178.172.150.23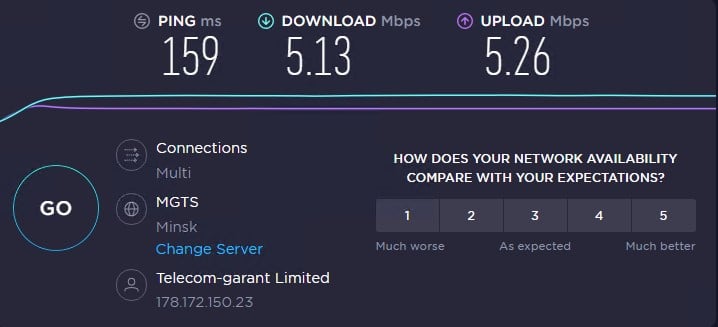 IP 2: 80.95.45.80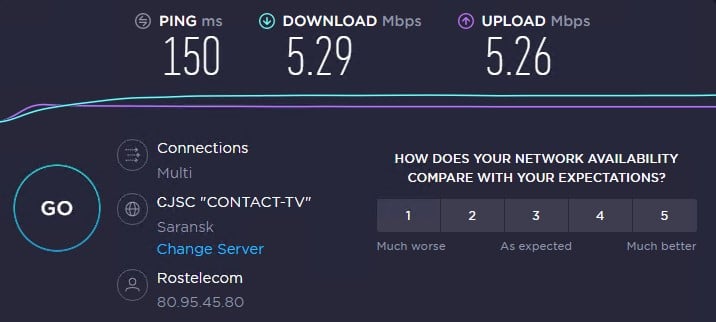 IP 3: 142.112.171.245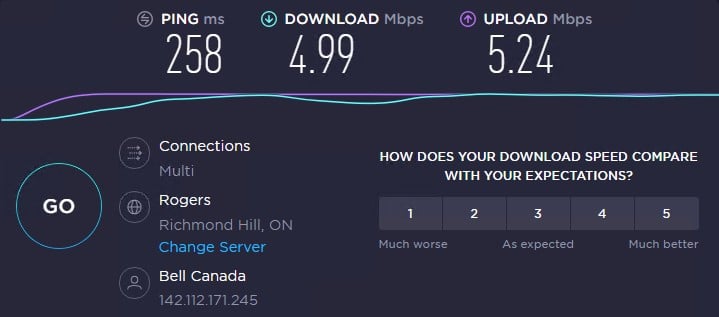 IP 4: 91.214.142.58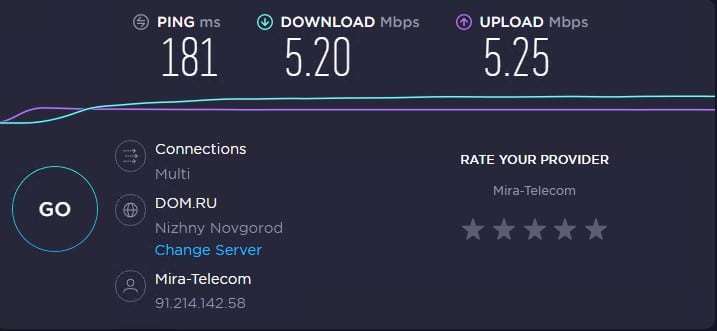 IP 5: 95.59.187.100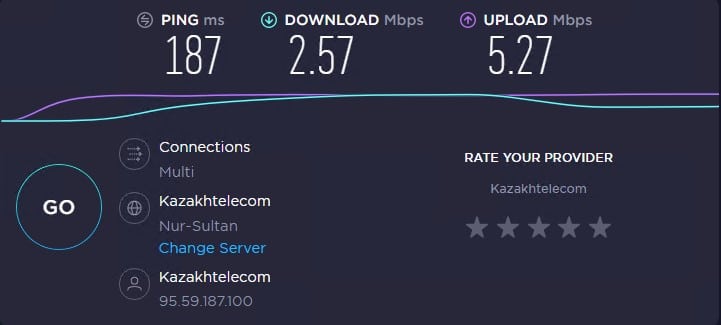 IP 6: 223.235.82.64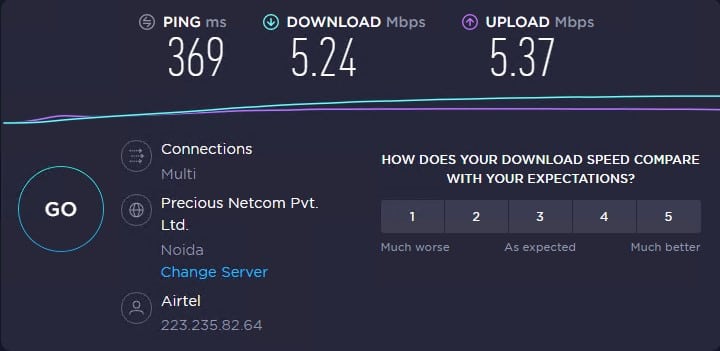 IP 7: 24.65.71.176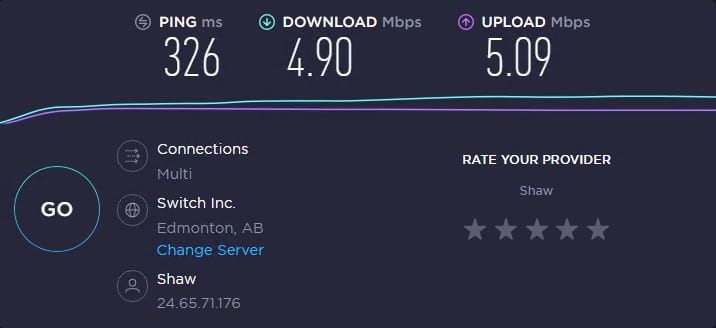 IP 8: 92.38.72.132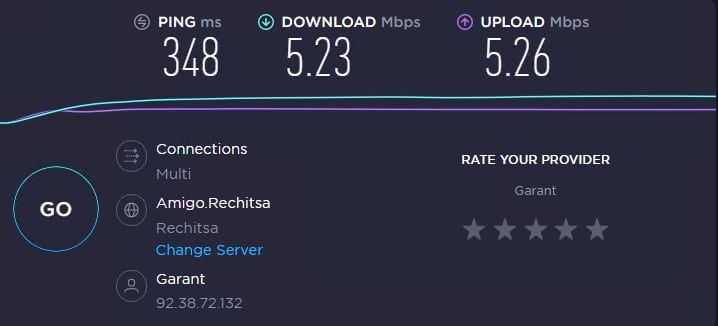 IP 9: 95.56.44.230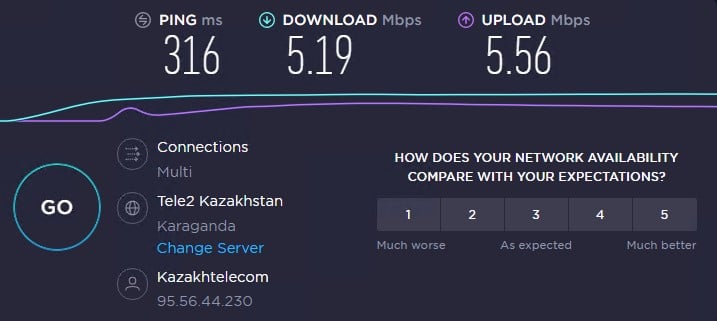 IP 10: 94.153.7.238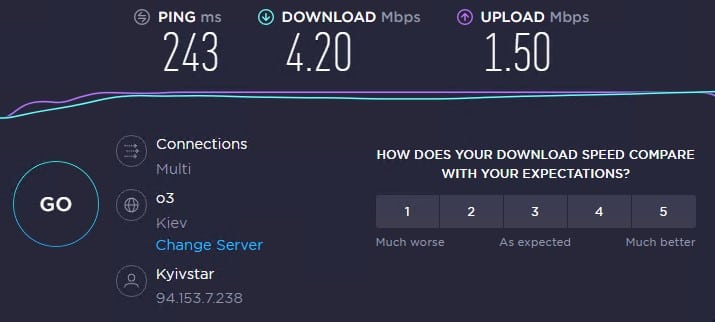 The results are not the best; I would say below average. While it is true that cheaper proxy providers cannot compete with the more expensive ones, these may not work in case you need to haul larger amounts of data.
Looking at the results, the ones that are below 200ms may be fine if the speeds were a bit higher. One good thing is that the download and upload speeds are fairly even, meaning that the inbound and outbound traffic will be equal.
While there are some applications where these speeds and latency will not be a problem for you, I was hoping I'd see some better results.
People who are using proxies often do that to bypass restrictions enforced by the websites or services. Whichever the case may be, you'd want your proxies to hide your original location while at the same time show themselves are good IP addresses.
ISP Test with Social ProxyDetails of the ISP Test
| | | | | |
| --- | --- | --- | --- | --- |
| IPs of Rotating Proxy | Hostname/IP | ISP/ASN | Country | Type |
| 45.76.227.176(No Proxy ) | 45.76.227.176.vultr.com | AS20473 – AS-CHOOPA | United States | Hosting, proxy or bad IP |
| 178.172.150.23 | 178.172.150.23 | AS49091 – ASTELGAROR | Belarus | Good IP (residential or business) |
| 80.95.45.80 | host-80-95-45-80.dsl.sura.ru | AS12389 – ROSTELECOM-AS | Russia | Good IP (residential or business) |
| 142.112.171.245 | bras-vprn-brfron8902w-lp130-02-142-112-171-245.dsl.bell.ca | AS577 – BACOM | Canada | Good IP (residential or business) |
| 91.214.142.58 | 91.214.142.58 | AS199820 – ASDYATLOV | Russia | Good IP (residential or business) |
| 95.59.187.100 | 95.59.187.100.megaline.telecom.kz | AS9198 – KAZTELECOM-AS | Kazakhstan | Good IP (residential or business) |
| 223.235.82.64 | 223.235.82.64 | AS24560 – AIRTELBROADBAND-AS-AP | India | Good IP (residential or business) |
| 24.65.71.176 | S0106889e684383d3.ed.shawcable.net | AS6327 – SHAW | Canada | Good IP (residential or business) |
| 92.38.72.132 | 92.38.72.132 | AS42772 – A1-BY-AS | Belarus | Good IP (residential or business) |
| 95.56.44.230 | 95.56.44.230 | AS9198 – KAZTELECOM-AS | Kazakhstan | Good IP (residential or business) |
| 94.153.7.238 | 94-153-7-238.broadband.kyivstar.net | AS15895 – KSNET-AS | Ukraine | Good IP (residential or business) |
IP (NO PROXY):  45.76.227.176

IP 1: 178.172.150.23


IP 2: 80.95.45.80


IP 3: 142.112.171.245


IP 4: 91.214.142.58


IP 5: 95.59.187.100

IP 6: 223.235.82.64


IP 7: 24.65.71.176


IP 8: 92.38.72.132


IP 9: 95.56.44.230


IP 10: 94.153.7.238

The results in this section should not be a surprise to anyone. Residential proxies are excellent at that as long as they are shown as good IPs, then you'll know that Astro Proxy offers excellent residential proxies.
To check how things stand globally, I took proxies from several different countries on each of the 3 available continents. All of them passed my test with flying colors.
The biggest test that any residential proxies will face is IP compatibility. I put each proxy through a series of tests trying to access some of the more strict websites on the internet. These types of websites don't want people with proxies accessing them, so they have air-tight mechanisms to prevent that. Despite those mechanisms, residential proxies should have no problem with them.
| | | | | | | |
| --- | --- | --- | --- | --- | --- | --- |
| IPs of Rotating Proxy | Instagram | pinterest | Ticketmaster | Craigslist | Nike | Adidas |
| 45.76.227.176(No Proxy ) | √ | √ | √ | √ | √ | √ |
| 178.172.150.23 | √ | √ | √ | √ | √ | √ |
| 80.95.45.80 | √ | √ | √ | √ | √ | √ |
| 142.112.171.245 | √ | √ | √ | √ | √ | √ |
| 91.214.142.58 | √ | √ | √ | √ | √ | √ |
| 95.59.187.100 | √ | √ | √ | √ | √ | √ |
| 223.235.82.64 | √ | √ | √ | √ | √ | √ |
| 24.65.71.176 | √ | √ | √ | √ | √ | √ |
| 92.38.72.132 | √ | √ | √ | √ | √ | √ |
| 95.56.44.230 | √ | √ | √ | √ | √ | √ |
| 94.153.7.238 | √ | √ | √ | √ | √ | √ |
Again, I'm getting a result that shouldn't surprise anyone. Every tested proxy managed to get access to every website I used in the testing. It means that Astro Proxy's IP addresses can be used for social media or sneaker sites without worrying about bans or lack of access.
Astro Proxy took a pre-paid style to its packages by providing you with some flexibility regarding how much you pay. Your billing cycle starts with you deciding how much traffic and ports you need. In other words, you have the most flexible packages out of all providers on the market.
Most proxy providers offer a free trial with a limited duration. Even though Astro Proxy's trial is also limited, you have the flexibility to create a package based on your requirements. Your test account will get $2 credits that you can spend as you need.
I feel like this is often left out by some proxy providers. Astro Proxy may not have the best in the business traffic usage monitor in the business, but it's more than some of the others are offering. It's a nice to have feature, considering that you are paying based on the traffic you intend to use.
The biggest reason for the slightly lower than expected speeds is due to the network. P2P network offers quite a lot of advantages over the traditional proxy networks that most providers use.
In the era where people use proxies to avoid getting tracked, no one wants to have their data harvested by the proxy provider. Astro Proxy is one of those that believe in the privacy that its users are requesting, so they have a no-log policy.
I have to admit that the dashboard does seem a bit outdated compared to some of Astro Proxy's competitors. Putting that aside, it's not a service that you'd have too much problem using or getting used to.
One section of the dashboard has detailed graphs where you can see how much traffic you used. The second section that you'd be using is the list of ports, where you have all the information related to your proxies.
Things are not too complicated to use, and you should be okay even if you're not a veteran in this field.
Astro Proxy offers you an option to authenticate either with IP whitelisting or username and password.  The way things are set, you can have multiple ports with different authentication methods, which is a welcomed feature. A slight downside is that you need to click around to reach the settings.
To change your authentication method, you need to navigate to your port lists. Locate the port, tick the box in the same row and click "Edit." In the bottom portion of the window are the settings you'd want to change for the authentication. On the left side, you can change the username or password, while on the right, you have whitelisted IPs. Unlike some providers, Astro Proxy has no limitations on the number of IP addresses you can whitelist. As soon as you update the settings, click "Save," and you'll be good to go.
Astro Proxy is a cheaper proxy provider that isn't very popular but shouldn't be discarded for that. Even though the speeds are not the best and some people may avoid it, there are still many positive sides to it.
Editor's Rating
Features

Pricing

Reliability

Support
Usability
This is Astro Proxy's biggest advantage. While it's true that there are proxy providers like Luminati that offer all 3 proxy types, it's a welcomed change to see the same approach with a cheaper provider.
By offering datacenter, residential and mobile IP addresses, Astro Proxy ensures that it can cover most proxy users' needs. You can use them for scraping, social media, sneakers, SEO, and much more on the usage side of things. Streaming and torrenting with these proxies may not be a good idea, especially with the residential ones.
Pricing
Astro Proxy is a very cheap provider; there's no question about it. There are some tradeoffs with that, but it is to be expected. The biggest advantage is the flexibility you get in creating your own package. You can pay for as much traffic and as many ports are you think you'll need in a month.
Reliability
For reliability, Astro Proxy's IP addresses performed as advertised. During my time with them, I didn't experience any significant issues that I wouldn't face with other providers.
Support
To be honest, I'm not sure how to categorize the support section of Astro Proxy. There are some good sides, but there are some negative ones.
On a positive note, you can reach out to them via an IM service to get help. At the moment, the supported services are Telegram, Facebook Messenger, and WhatsApp. In addition to that, you can also reach out via email, but unfortunately, there is no option to get phone support.
The second thing that I'm not a huge fan of is the lack of a knowledge base or a guide section. There is an extensive FAQ section where Astro Proxy answers most of the questions that newcomers may have. I would have like to see something a bit more guide-oriented to help newbies get on track.
Our Verdict
Astro Proxy is a decent proxy provider. It's not the best, not the worst, which puts it somewhere in the middle with the rest of the providers with their quirks.
The advantages start with the price, something I feel like I mentioned quite a lot in this review. Astro Proxy is a cheap IP provider with some of the most flexible pricing package you'll find. Set up the package as you need in terms of traffic and ports, and you're good to go. One thing that disappointed me a bit was the residential proxies' speeds. They may be fine for tasks that won't mind slower speeds or higher latencies; you may find some applications where they won't work for you. This is where the free trial comes into play. You can use $2 from Astro Proxy to make your own package and test out the service.
In general, I can't say I had a bad experience with this provider. I feel like most of the advantages outweigh the disadvantages, so if you think that Astro Proxy could be a good option, you should check it out.
User's Reviews & Rating
Stupid Proxy
Average rating:
0 reviews
---