Are you in need of proxies from a particular country? Is that country South Korea? IN that case, we got you covered. Our list of the best Korea proxy provider will help you choose which one to go for.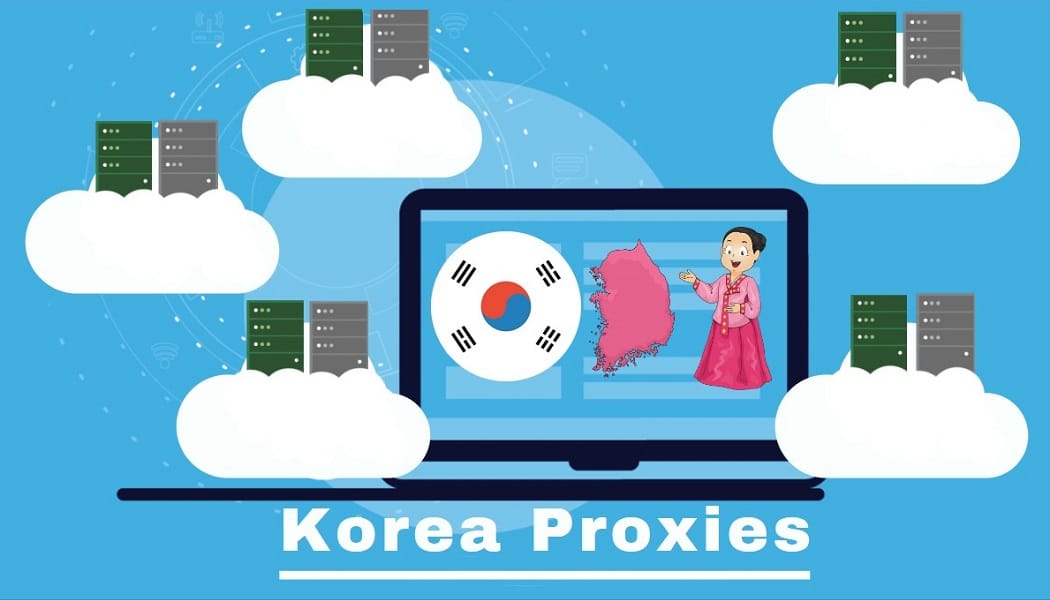 People that are in the proxy business often have some specific needs out of the proxies, like proxies from a particular country. No matter what the project is, if you don't find that kind of proxies, your project will fail.
Getting your hand on proxies from countries with higher demand is easy since almost all provider has them. When it comes to countries with less proxy demand, you may be in trouble, mostly because your choices are limited. With over 200 countries in the world, you cannot expect that every provider has proxies in every country, and that is the case with South Korea.
For today we have compiled a list of the best Korea proxy provides. We are also including websites where you can get the proxies for free.
---
Even though we mentioned that Korean proxies are not high in demand, there are still some websites where you can get some free proxies.
---
One thing that surprised us was that even though there aren't all that many providers that sell Korean proxies, the list is still not bad.
---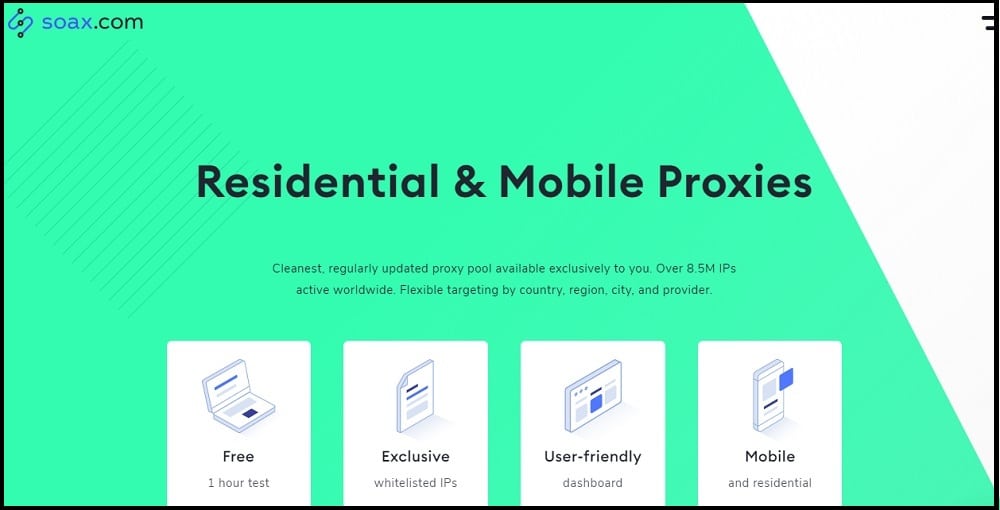 Soax is often not the first choice when it comes to proxy providers, but with the limited options, we had to include it. Surprisingly, Soax has a proxy pool of over 72 thousand IP addresses in Korea. The thing that's unsure is that some of these proxies are residential, and some are mobile.
Regardless of that, the pricing for these proxies is excellent and offers an ideal balance. The relatively cheap prices combined with the flexibility of the packages is what makes Soax a very compelling choice. The pricing plans provide the kind of flexibility that most of the competitors don't.
If Soax has proxies in multiple cities, you will be able to target a specific one, and in general, the packages can be purchased in days, meaning that daily packages are available. There is a downside to all of this. Their residential Korea proxies are with limited bandwidth, and while there is a trial, it is only limited to one hour.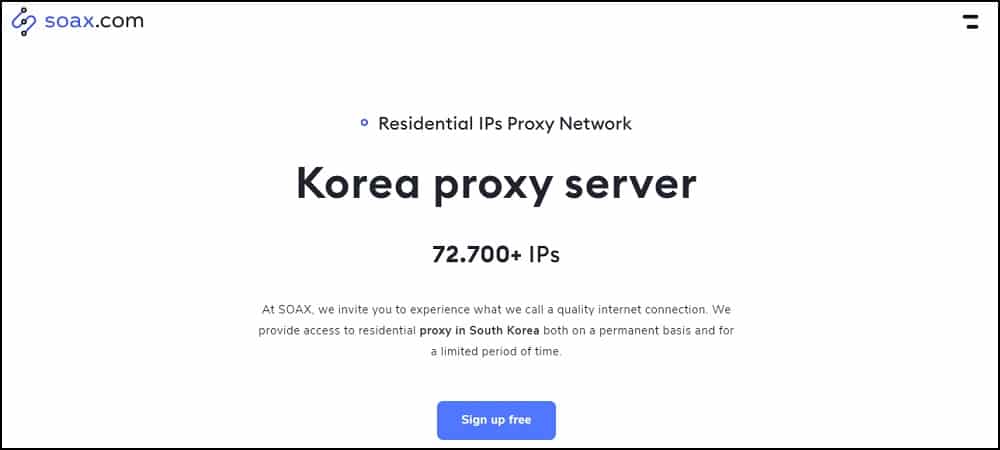 Pros
Affordable packages for the Korean proxies
Daily packages available
Cons
Limited bandwidth
One-hour only free trial
---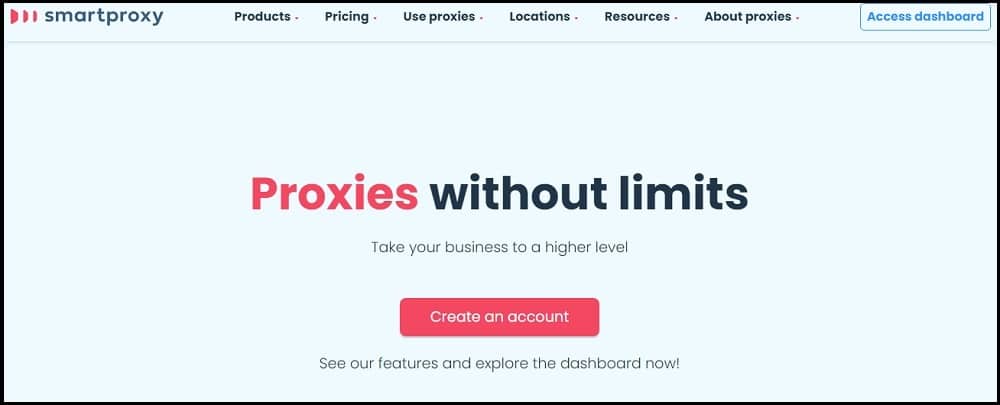 In the category of Korean proxies, as a direct competitor to Soax is Smartproxy. The proxy pool is almost on par with over 58 thousand proxies, and it is still more than enough for most people's needs. One area where Smartproxy falls behind is the geo-targeting, to be specific the city-level targeting. There are only several cities that you can get proxies from, but none of them are in Korea.
On a positive note, this provider offers its proxies with a very competitive pricing structure, where you have several pricing plans to choose from or a custom one if you need more. All of the packages are with limited bandwidth, and there is no free trial period. You can only get a refund, and that offer lasts for three days, which is reasonable.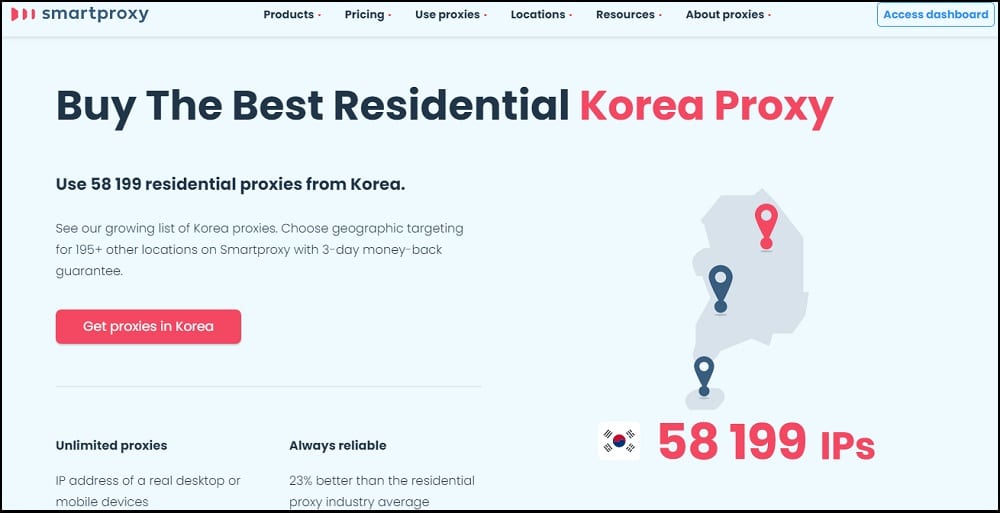 Pros
Affordable
A decent pool of Korean proxies
Cons
Bandwidth is limited for all packages
A free trial option is not available
---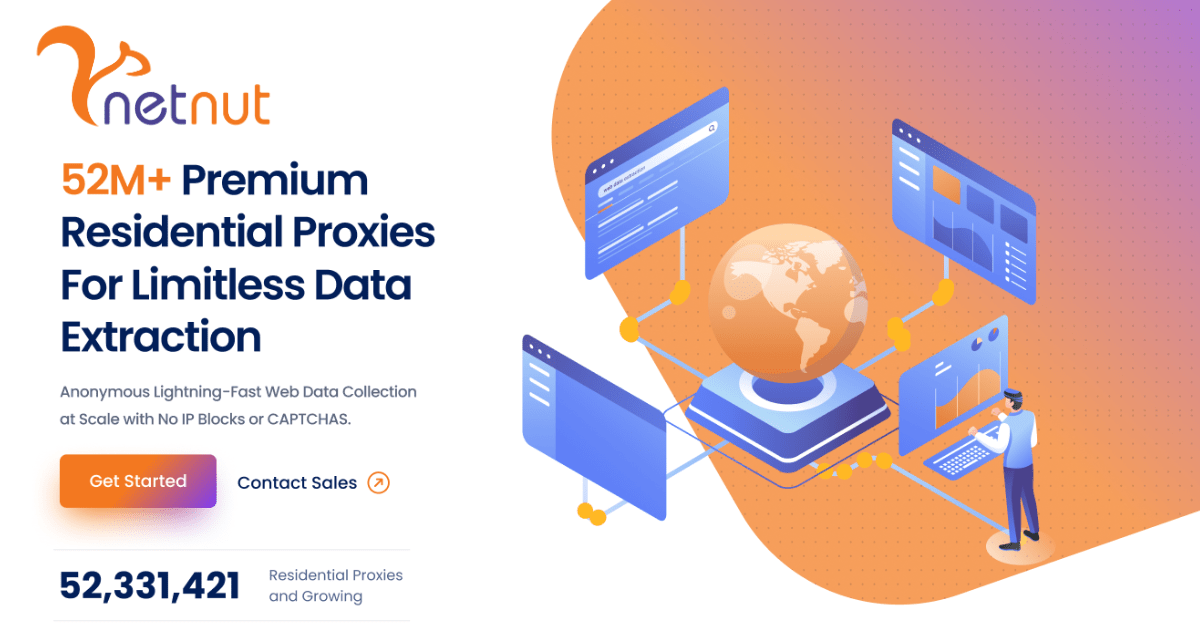 NetNut is one of the largest proxy services by IP count on the planet. It has over 52 million residential IPs across the globe. If you're facing challenges in accessing essential data in Korea that could give you a significant edge, NetNut is one of the best solutions we can recommend. Allow me to introduce NetNut's rather excellent Residential ISP, with a substantial number of dedicated Korean IPs in its vast pool.
NetNut proxies are a remarkable opportunity to tap into the web data of the Korean market unhindered. Whether you're a company or a researcher dealing with important tasks like SEO monitoring, price comparisons, market research, or web data extraction, your efficiency and productivity tools become much better with a reliable proxy network.
NetNut's residential proxies handle your online credentials safely and securely, safeguarding you from potential risks. NetNut's static IPs seamlessly blend with the residential IPs of genuine internet users in Korea, making them virtually indistinguishable, even for vigorously advanced bots and web securities.
This ensures you can go about your online activities without worrying about IP blocks or revealing your identity. You don't have to be in the country to access any information in Korea, and that's possible thanks to their undetectable Korean IP addresses.
For businesses and IT companies seeking dependable and efficient static residential proxies in the Korean market, NetNut is a strong contender. You'll be able to target specific cities and regions in the country.
Their competitive pricing options cater to various budgets and sizes of operations. Also, we are always up for the exploratory 7-day free trial. This trial is all you need to enjoy a first-hand experience of the service. NetNut strongly believes a trial will convince you. We can't disagree with them.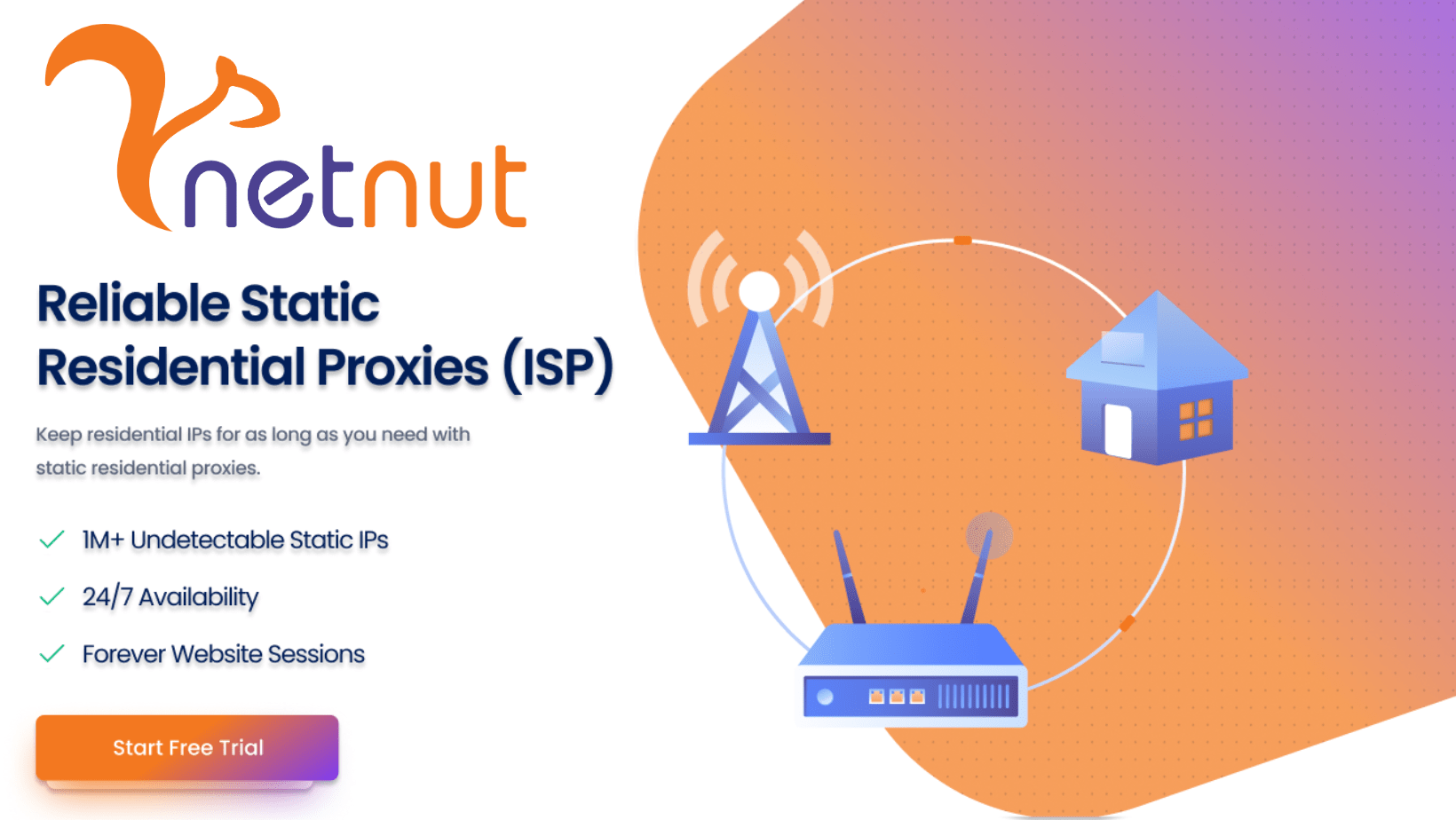 Pros
Thousands of dedicated Korean IPs
Incredibly proxy service
Free Trial for 7 Days Available in for Korean IPs
Easy integration with existing tools
Cons
Slightly underwhelming API Documentation
---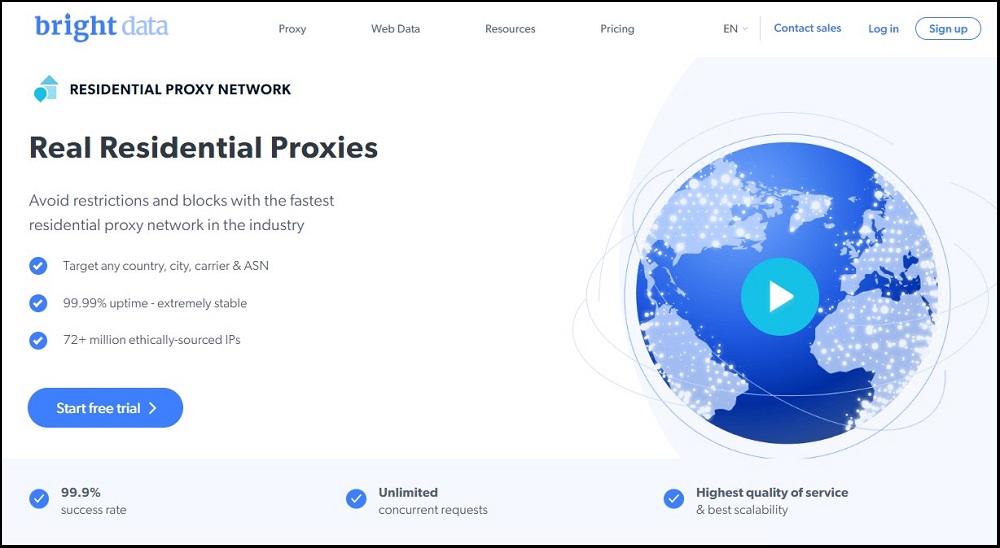 If you are looking to get your Korean proxies from the best provider, then you should look at Bright Data. The number of available Korean IP addresses is over 199 thousand, meaning that this is the most you will get from one provider. If getting proxies from a specific country is not enough for you, there is also the advanced geo-targeting that enables you to get proxies from particular cities or providers.
As you may have guessed, all of this does not come cheap. Bright Data, at the moment, is one of the most expensive providers available on the market. For the price, you get a proxy manager that may be a bit confusing if you never used it, as well as a limited bandwidth on all packages. The good thing is that there is a trial option where you have up to seven days to test the proxies for free.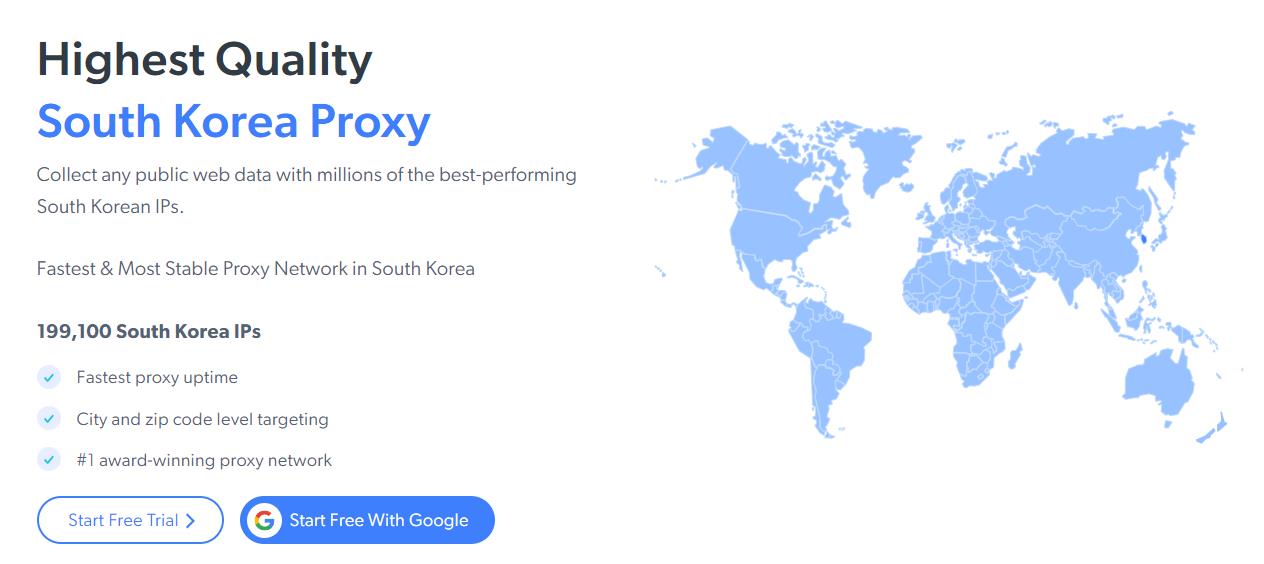 Pros
Largest pool of Korean proxies
Advanced geo-targeting available
Cons
Bandwidth is limited
Expensive
---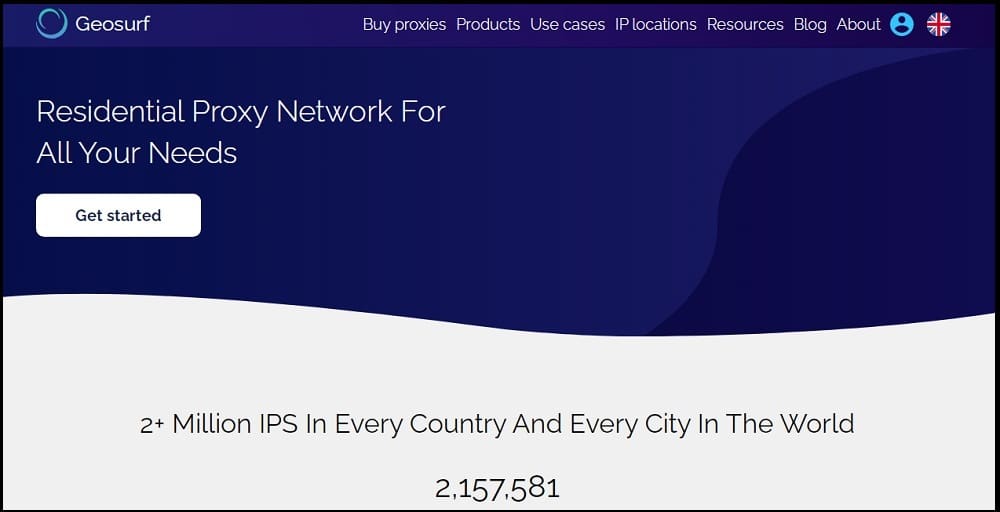 The last of the residential Korean proxy provider on our list is Geosurf. Overall, this provider is not the first choice for most people, but we included it so that you have more choices. The pool of Korean proxies has around 2500 proxies, which is not a lot, especially if you consider that this is not a cheap option. If you put that aside, Geosurf still has some positive aspects.
The city-level targeting option is a nice touch. It means that if they have a proxy in a certain city, you'd be able to use it. Another good thing about this provider is the dashboard that gives you detailed information about your proxy use. Also, it is very intuitive, so the first-time user will not struggle with it.
When we come to the price, we realize why people don't use it too much. Considering the available proxies, Geosurf is quite expensive, and all packages have a limit on the bandwidth. The good news is that there is a free trial option; the bad news is that it is limited to 24 hours and 1 GB of bandwidth.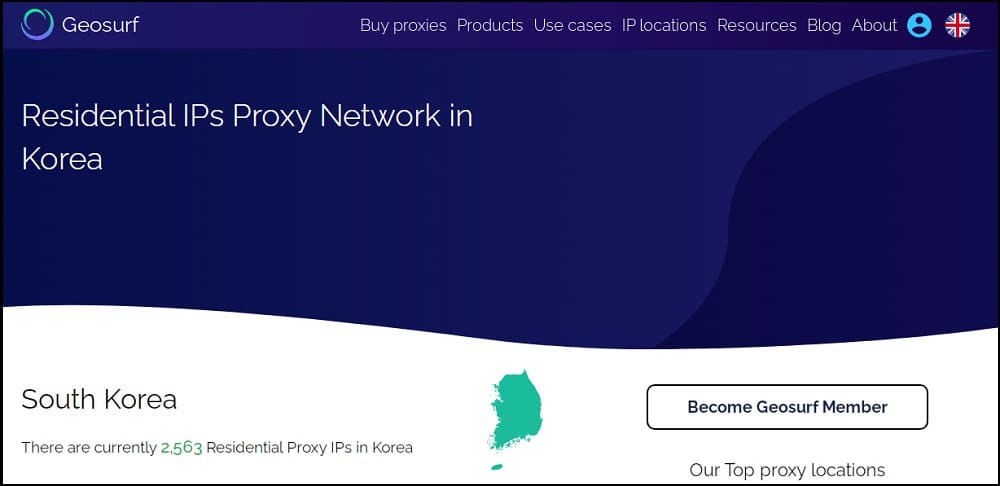 Pros
Novice users will be able to use it with ease
Cons
Expensive
Not a lot of Korean proxies available
---
Are there datacenter Korean proxies?
Yes. Even though we mostly outlined the residential proxies in this article, all providers on our list also offer datacenter proxies from Korea.
Can I find mobile Korean proxies?
Yes, some of the providers on this list, like Luminati, also offer mobile proxies in Korea.
Do I need to pay for the Korean proxies?
You can use the free Korean proxies from the links we included at the beginning of the article, but you shouldn't rely too much on them. Free proxies are IP addresses that are not "kept safe" by a company, meaning that you have no idea who is managing what is happening with it. In return, if you use the Korean proxy to send or receive sensitive data, it can easily get stolen. Also, free Korean proxies, as well as free proxies in general, are already flagged as proxies, so there's a good chance that you won't be able to use it at all.
Is it legal to use proxies in Korea?
Korea is one of the few countries in the world that has a law against using proxies, meaning that you shouldn't. Regardless of that, there are still people in Korea that use proxies, despite the rules, so if you intend to use them, you will be doing it at your own risk. As for Korean proxies in other countries, you will have no problem with them, because almost all countries in the world don't have any laws against using any kind of proxies.
---
Conclusion
Korean proxies are not the most sought out proxies on the internet, but regardless of that, we managed to compile a list of four providers. You may be able to find other providers as well, but we believe that the ones we outlined should work just fine for your needs.
---
You may be like,
---