Digital advertisement has begun to boom in the past decade or so, leading to classified ad sites to increase in popularity. Founded in 1995, Craigslist is one of the most popular ones you can find on the market.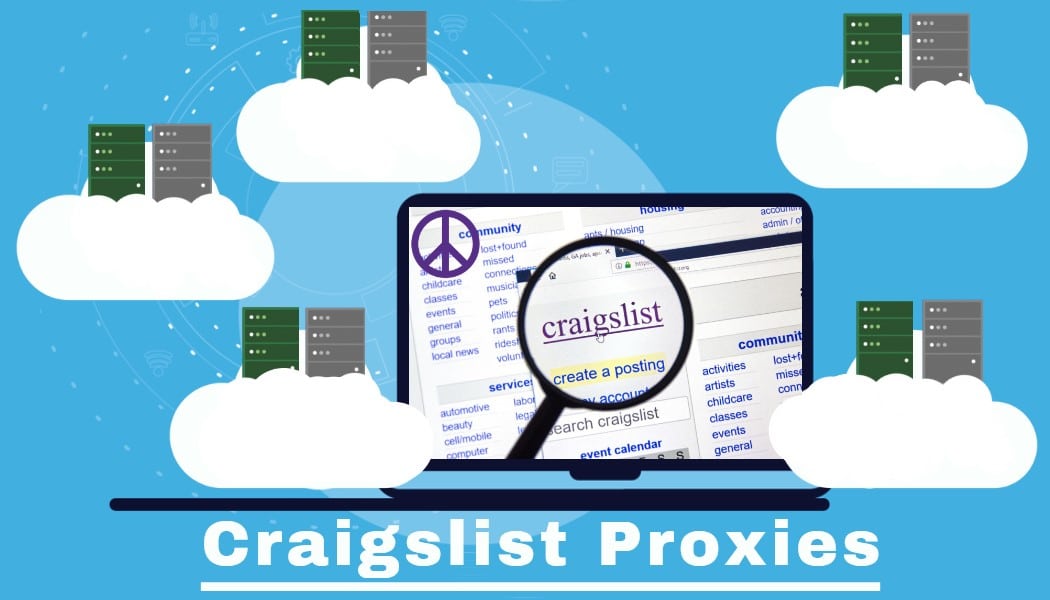 So, why would you need proxies for Craigslist?
There are two reasons.
The website monitors how many ads are being posted from a single IP address. If you go overboard, the website will ban your IP address, and you'll no longer have access to it. The second reason has a lot to do with geo-restriction. Craigslist will allow you to post from the city where the IP address is, meaning you cannot post from a different country.
To bypass both Craigslist restrictions, here are my picks for the best residential proxies to post ads.
The Best Proxies for Craigslist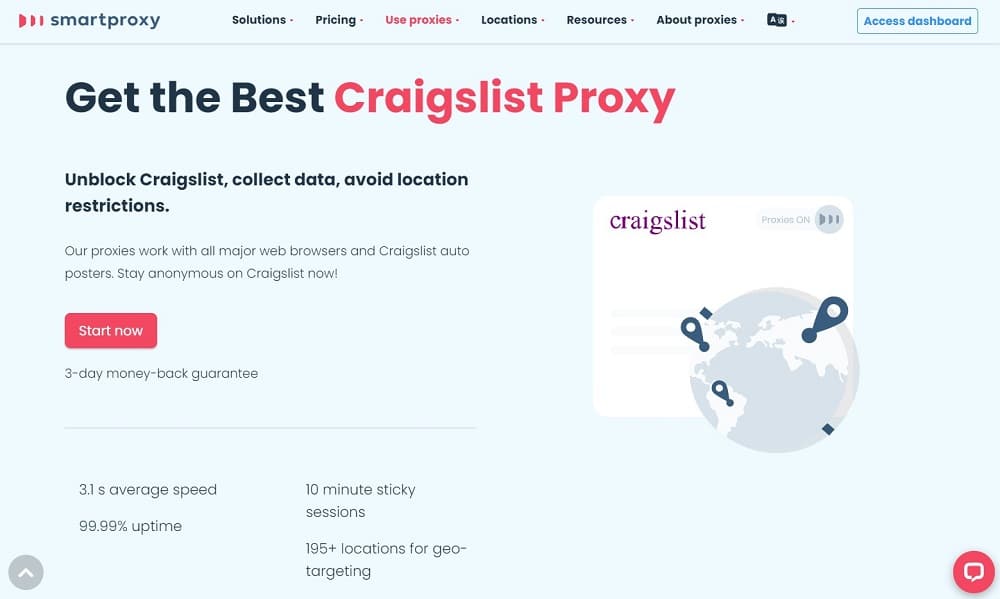 I'm kicking off this list with a proxy provider with a decent balance between price and offer.
Smartproxy has an IP pool of over 40 million Craigslist proxies located in over 195 countries worldwide. As a result, this will offer excellent diversity, and you will have no limitations when posting. The same applies even to smaller countries with not a lot of available proxies.
The prices for these Craigslist proxies are not too high, considering what you get. There are 4 pricing plans where 3 are predefined ones with the bandwidth that ranges from 5 to 50 GB. As for the last one is a custom-made one where you can modify it as you need it to be. Even though ad posting won't use too much bandwidth, I would have like to see a package with unlimited traffic.

Feature-wise, Smartproxy doesn't have anything flashy like some of the other providers on this list. However, country-based geo-targeting is available, and you may even manage to utilize the city-level targeting. The problem with it is that it's only limited to 8 cities.
Most people would want to test their Craigslist proxies before purchasing, but with Smartproxy, you can't. The only available option is to purchase a package and ask for a refund within 3 days if the proxies don't work as intended.
Pros
Plenty of Craigslist proxies
The IP addresses come from over 195 countries and regions
Great price per performance ratio
Cons
No way to test the Craigslist proxies for free
No package with unlimited bandwidth
---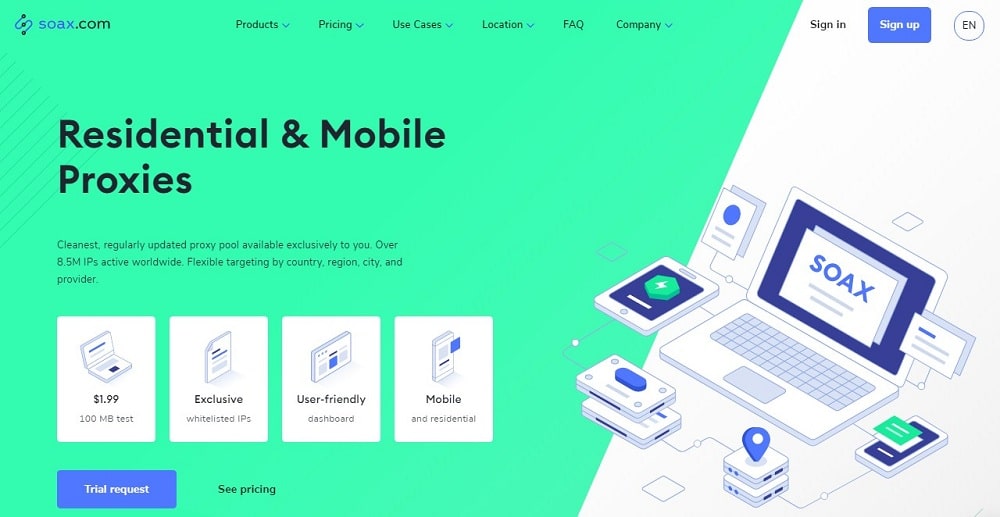 Continuing the trend of affordable Craigslist proxy providers, we reach Soax. It offers a bit less than the previous one, but it is also slightly more affordable, so the balance is still there.
Soax offers a pool of over 8.5 million Craigslist proxies from over 120 countries around the world. The good thing is that the proxies are a combination of 5 million residential and 3.5 million mobile proxies. These are not bad numbers, especially when you consider the price.
Speaking of, the pricing structure is relatively similar to the previous provider on the list. There are 4 packages, all of which have limited bandwidth, meaning that each one will give you access to the same set of features. The difference is how much the price per GB of traffic will be. Similar to Smartproxy, there is a package that you can customize to your needs. The story is the same here; you are left without an option for no limit on the bandwidth.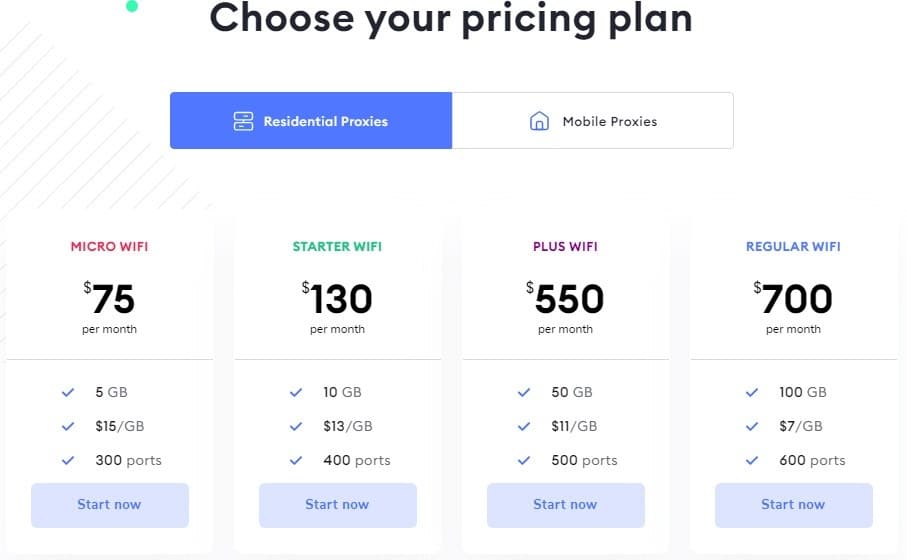 There are plenty of similarities between these two Craigslist proxy providers, which carry over to the trial. Soax doesn't offer a free trial as such, but there is a paid one. For $1.99, Soax will provide you with a test account for 3 days. During that time, if you have problems with the Craigslist proxies, you have the option not to purchase a full package.
Pros
5 million residential and mobile proxies
Variety of payment options available
Relatively cheap
Cons
No unlimited bandwidth
Trial is paid
---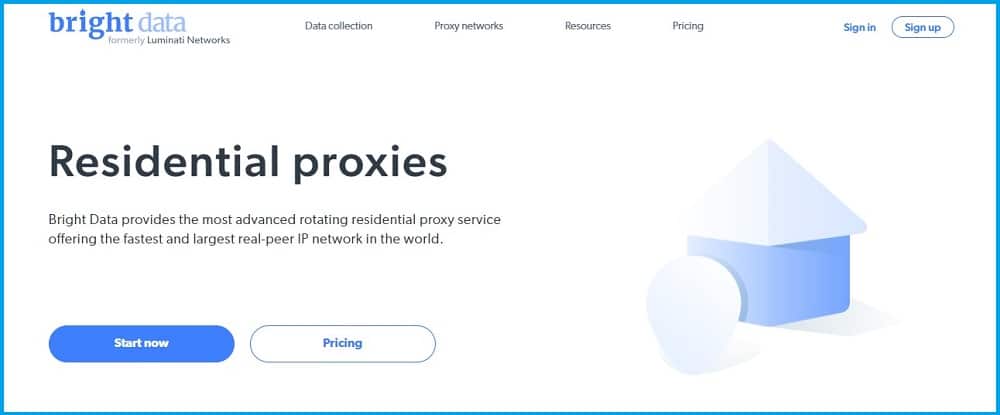 It may be a name you haven't heard before, but it's a big player in the Craigslist proxy universe. Until a few months ago, Bright Data was known as Luminati, a premium proxy provider with the biggest network in the world.
The pool of Craigslist proxies consists of over 72 million residential IP addresses in every country in the world. In other words, if the country exists, Bright Data has proxies in it. In addition, being a premium provider means that you get access to an excellent set of features, most of which you won't find with other providers. For example, this provider has one of the most advanced geo-targeting features, which can go as detailed as choosing proxies from a specific city.
Bright Data has premium features, and they don't come cheap. When compared to the rest of the bunch, this is the most expensive Craigslist proxy provider you'll find. All packages come with limited bandwidth but with no limitation on the rest of the features. You can get a discount if you decide to pay for an entire year in advance. An excellent option in terms of pricing is the pre-paid package, where you pay based on how much traffic you use without monthly commitments.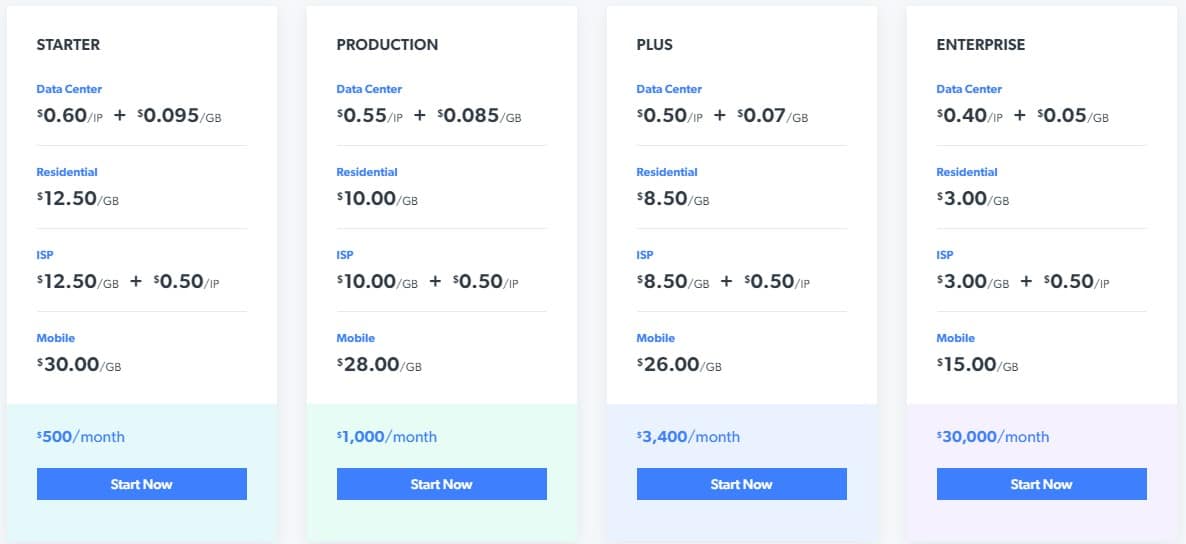 Considering how expensive Bright Data is, people wouldn't want to pay for something that may not suit their needs. The good news is that you get the longest free trial in the business. You can test the Craigslist proxies for up to 7 days before deciding if they are worth it.
Pros
7-day free trial
Pre-paid packages
Over 72 million residential Craigslist proxies
Cons
Bandwidth is limited on all packages
One of the most expensive providers
---

I often say that Shifter is a great proxy provider that doesn't get as much credit as it should. However, it has an excellent variety of features and offerings, making it better than some of the "popular" choices.
Shifter has an IP pool of over 31 million Craigslist proxies, putting it somewhere in the middle in terms of the size of the network. As for the location, there should be IP addresses from every country in the world, similar to Bright Data.
When it comes to pricing, Shifter starts to differ from most of the competition. There are two types of proxies on offer basic and special. One of the reasons you'd want Craigslist proxies is to have a geo-targeting option, which is available on the special ones.
Shifter sells its Craigslist proxies by the number of IP addresses you plan to purchase. As a result, you get unlimited bandwidth with all the features included in each package. The number of proxies ranges from 10 to 4000, and there are plenty of packages in between, offering a great variety.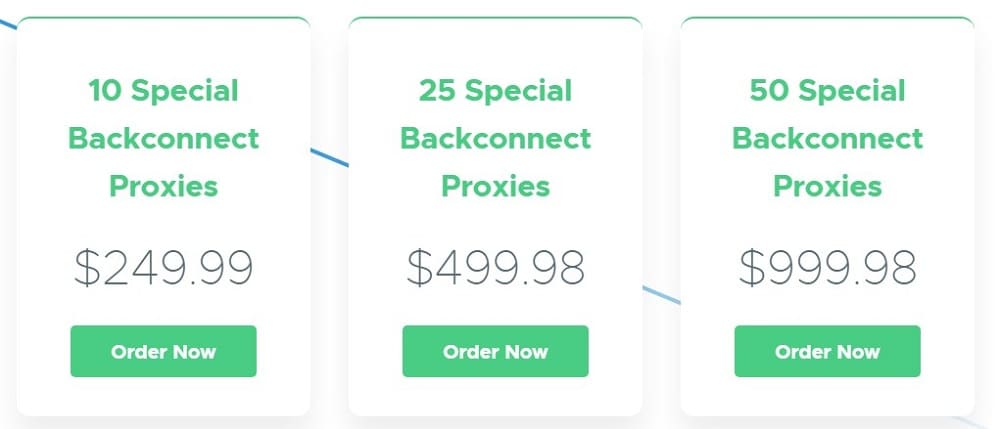 A big downside to Shifter is that there is no free trial to test the proxies. The only option is to utilize the refund option. Shifter offers a 3-day money-back guarantee, which is a good-enough option to test the proxies and ask to get your money back if they don't perform as needed.
Pros
Over 31 million proxies in every country in the world
No limit on bandwidth
Great variety in terms of pricing plans
Cons
There are some cheaper options available
No option to test the proxies for free
---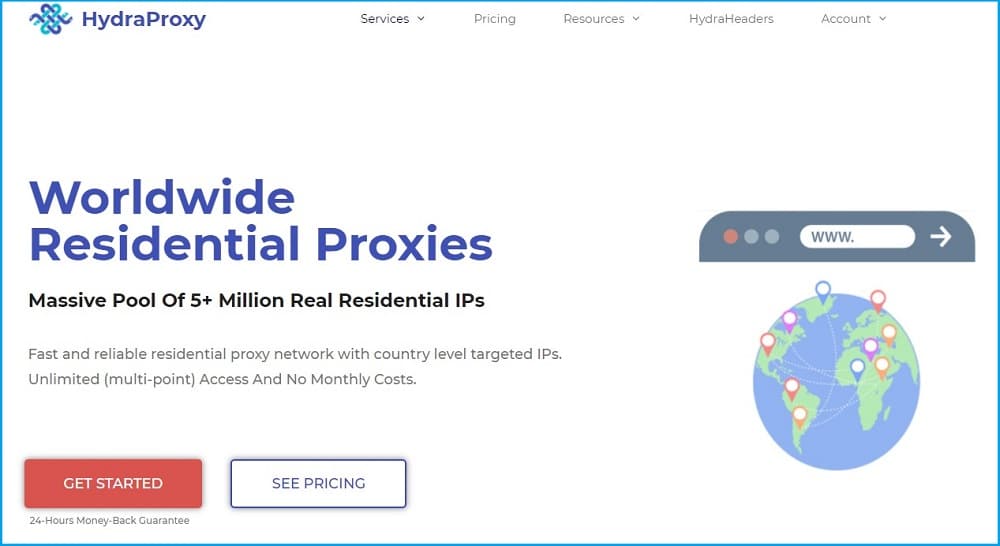 Last but not least, I'm ending this Craigslist proxy provider list with HydraProxy. Regardless of how good the provider is, there are some limitations that you should be aware of.
The first problem that you'll face is that HydraProxy has residential IP addresses in the US only. However, there are over 7 million Craigslist proxies, which is not a bad number. So if you're looking to post on the US version of Craigslist, this provider will be more than adequate for the job.
When it comes to the pricing structure, HydraProxy has an excellent advantage. Unlike most of its competitors, you don't have monthly commitments here, meaning that things are quite flexible. The 4 pricing plans are structured based on the included bandwidth you can use whenever you need it. There is a price difference, which depends on the amount of included traffic.
As for features, HydraProxy has most of what you may need for Craigslist. While the proxies are only based in the US, the geo-targeting option is still on the table. Additionally, when you create your account, you have the opportunity to choose the state that you want to use.
The biggest downside is in terms of the trial and refund options. For starters, there is no free trial option, so you are only left with the money-back guarantee. The problem with that is that it's limited to only 24 hours, which is not a lot when comparing HydraProxy to its competitors.
Pros
Proxy pool consists of over 7 million IP addresses
State-level geo-targeting
Pay as much as use
Cons
Proxies are from the US only
The refund policy is short and has plenty of conditions
---
FAQs about Craigslist Proxies
Why is geo-targeting important for Craigslist proxies?
Craigslist is a website that has sub-domains based on location. The website gets your IP address and redirects you to the sub-domain of your area or the closest one to it. Geo-targeting is crucial for those cases when you need to post an ad at a specific location. If your regular IP address is from that area, you won't have any problems; if not, you'll need proxies.
Is it legal to use Craigslist proxies?
Technically yes. At the moment, there are no laws that ban the use of proxies, so you shouldn't have any problems. Despite that, you should regularly check the laws in your country in case things change.
Can Craigslist know that I use proxies?
It depends on the proxies you use. Craigslist is very strict about proxy usage, meaning that if you use an IP address that's already flagged or not very anonymous, the website will know. In that case, you won't be granted access to it, and you won't be able to post your ad.
Datacenter proxies are cheaper. Can I use them for Craigslist?
You may find some providers that can promise datacenter proxies that work with Craigslist. However, as credible as it may sound, I wouldn't recommend using them mainly because datacenter proxies are not the best option if you need anonymity.
How to determine the number of Craigslist proxies that I'll need?
The number will depend on two things: the number of locations you'll need to post and how many ads per location. For example, if you need to post 10 ads on 2 areas, then you'll need a minimum of 20 proxies. Keep in mind that this is for the providers that sell Craigslist proxies by the amount and not the bandwidth.
I already have some mobile proxies; can I use them for Craigslist?
Yes. Residential and mobile proxies are very similar in terms of where they come from. Both are IP addresses that are assigned by ISPs to a customer. As a result, residential proxies are from home internet connections, while mobile is cellular. Both will work great as Craigslist proxies without any issues.
Why can't I use free proxies for Craigslist?
Free proxies have plenty of drawbacks, which is why I wouldn't recommend them at all. They perform significantly worse than residential or mobile proxies and are considered less secure. On top of that, you won't be able to find free proxies that are anonymous as residential ones. In other words, free proxies are the worst choice for Craigslist posting.
Conclusion
Craigslist is one of those problematic websites that have a bit tither rules than some of the others. To post an ad in a different area or post multiple ads, the website will enforce limitations, and you won't be able to do it. The best approach to bypassing these limitations is to use residential proxies.
In today's article, I've outlined my picks for the best Craigslist proxies that should suit most people's needs. As with most lists, these are not the only proxy providers you'll find. Each provider is unique, so the ones you find may suit your needs better.
---