Are you looking for the best one-stop shop for scraping and proxies? Check out our review of the recently rebranded Crawlbase to find out if it's a good option for you.
Thanks to the wonders of modern technology, tons of advantages make our lives easier. Some people use them for personal interests, while others look at them from a business standpoint. Regardless of which way you're looking at them, the advantages cannot be denied.
Scraping and proxies are a pair that often go together to ensure that you get the best possible results. You'd use the scraper to grab the data, but to avoid detection, you need proxies. Often with many services, you'll need subscriptions from two companies to get the complete package. With that said, there is another option.
Some companies offer multiple products, companies like Crawlbase. Don't worry if you don't know the name. The company was formerly known as ProxyCrawl, so today, we'll look at the refresh so that you can decide if it's worth it.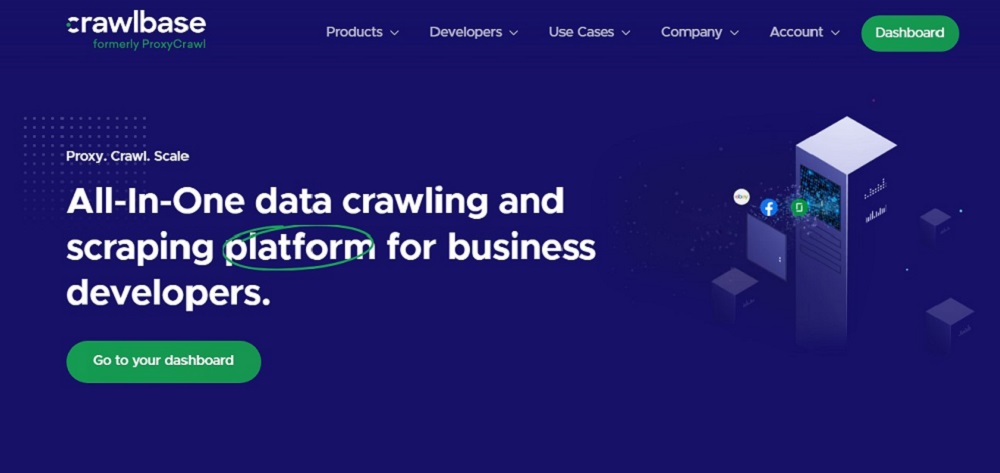 The company's new identity came near the end of 2022, but things didn't change much from what we previously knew. The company was founded in 2017 and relied entirely on remote teams to keep things running smoothly. As a result, there isn't a physical office, but it also means that there isn't loads of information on the company structure. Considering the proven success, I doubt this should be a massive issue for most people.
Despite the lack of information, the company has been doing pretty well for the past several years. With well over 500 remote employees and over 70 thousand clients globally, it's clear that we're not looking at a company with poor performance. The best part about it is that it offers multiple products, which is why it's one of the few one-stop-shop companies for multiple services.
Without further ado, let's look at what Crawlbase has to offer.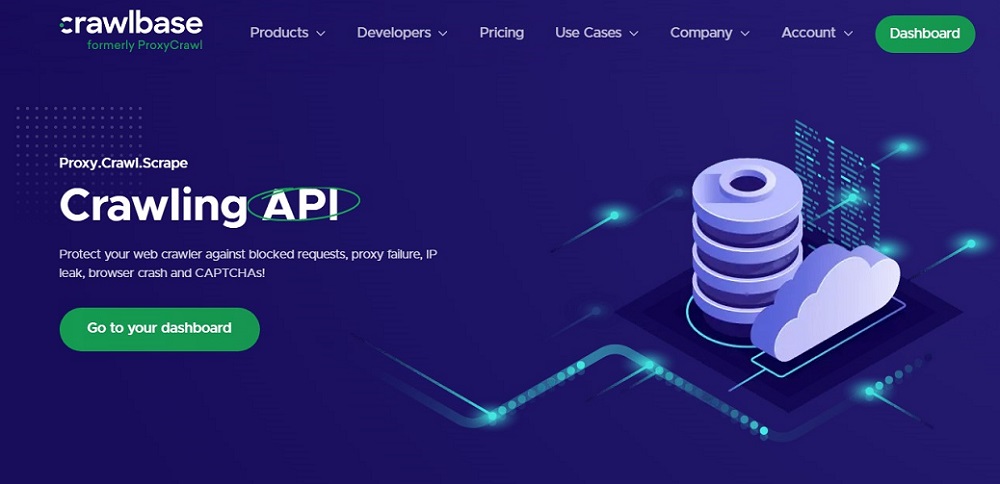 I'm starting with the most essential product Crawlbase has to offer, and that is the crawling API. This works like you'd expect from a crawler – to provide clean access to all the data you need. You can use the API to integrate it with the app of your choice and start grabbing data. The best part is that you won't have to worry about CAPTCHAs, IP leaks, browser crashes, and many other aspects you don't want. Crawlbase does all the setup, and all you need to do is call the API and let the service do the work for you. It can scrape pages built using JavaScript, Meteor, Angular, Vue, and many more.
The pricing structure is pretty simple to understand. You have two options – regular or JS pages and you're paying based on the number of successful requests. The regular pages start from 0.3 cents per request, while the JS ones are 0.6. Going for more pages means you'll pay less per request. Crawlbase offers a trial option for you to test out the API. You'll get 1000 free requests which I believe is enough.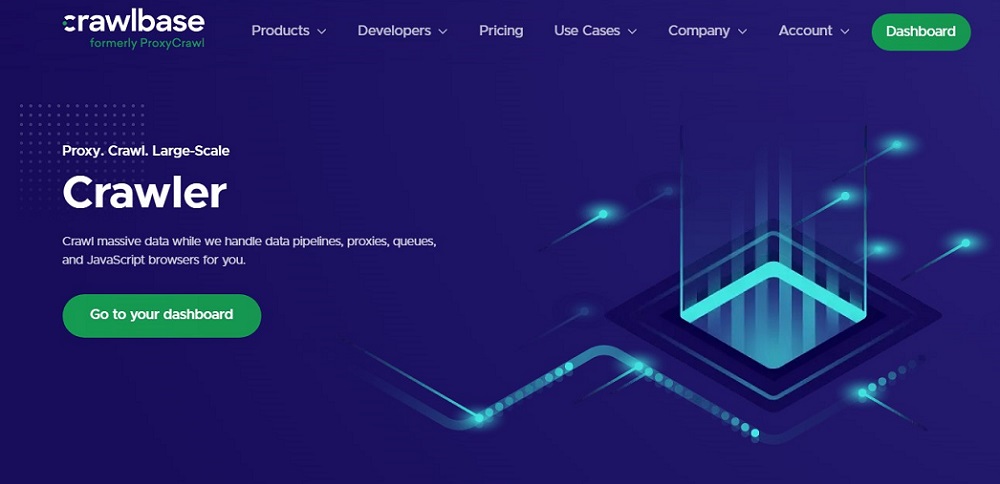 Even though the API is the backbone of the service, Crawlbase also has a dedicated Crawler that works with the crawling API. The idea behind this is to enable you as a user to use a graphical interface that will make your life easier. This is an ideal option for people with no coding knowledge that need some data scraped. It's an easy-to-use UI where all you need to do is to enter the websites and specify which data you need. Once you finish that, the Crawler will start communicating with the API to provide you with the data.
Considering that the Crawler relies on the Crawling API, the pricing structure is the same as before. This also means that you'll get 1000 requests for free as part of the trial Crawlbase offers.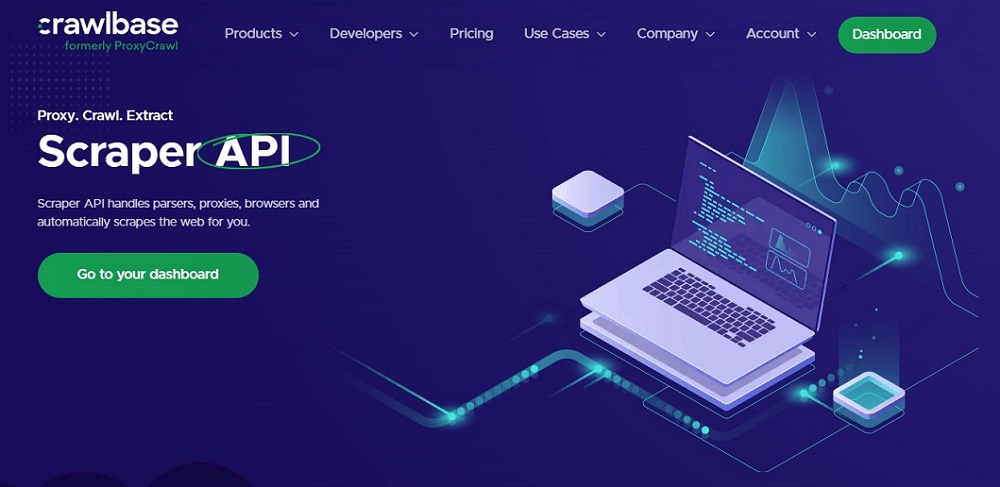 Similar to the crawling API, with the scraping one, you're working with the part of the service that covers the process of gathering the data. A product with unlimited bandwidth and a high success rate, the Scraper API won't leave you stranded when you need it the most. One aspect that deserves high praise is the type of scrapers. While most services offer generic APIs, with Crawlbase, you can get already-made scrapers. These cover sites like Google, Amazon, Facebook, Twitter, and many more.
The pricing structure with this product relies on packages, depending on what you need. There are 3 plans available, all of which come with different features. The smallest one won't give you access to premium proxies or JS rendering, while the largest one will. There are also variations in terms of the credits you'll get each month. Similar to the previous two products, the first 1000 credits are free, offering you an option to test the services without paying.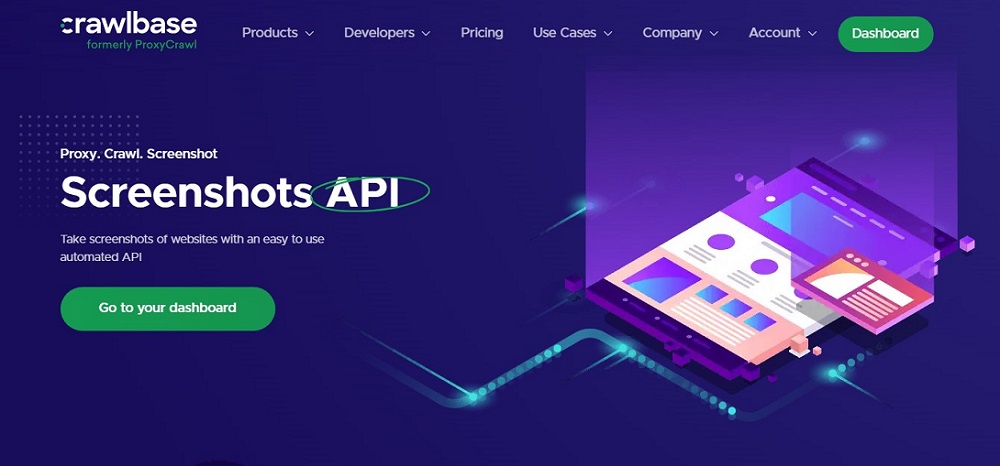 So far, the products we mentioned have relied on getting data from websites, but what if you need screenshots? Crawlbase has you covered with the Screenshots API. This is the service that will work based on your inputs and get you screenshots based on your needs. It can work with mobile or desktop devices and go with the viewport or full page mode. It relies on the Chrome browser to get you the screenshots in the resolution that you need. There is a built-in anti-bot detection that eliminates the chances of getting detected.
Regarding pricing, it's a similar story as with the Scraper API. You can choose between 3 pre-defined packages that vary in the number of credits and several other aspects. The first two packages, for example, don't give you access to Crawlbase's cloud storage to store the screenshots. A free trial is also available here, and it comes in the form of 50 credits.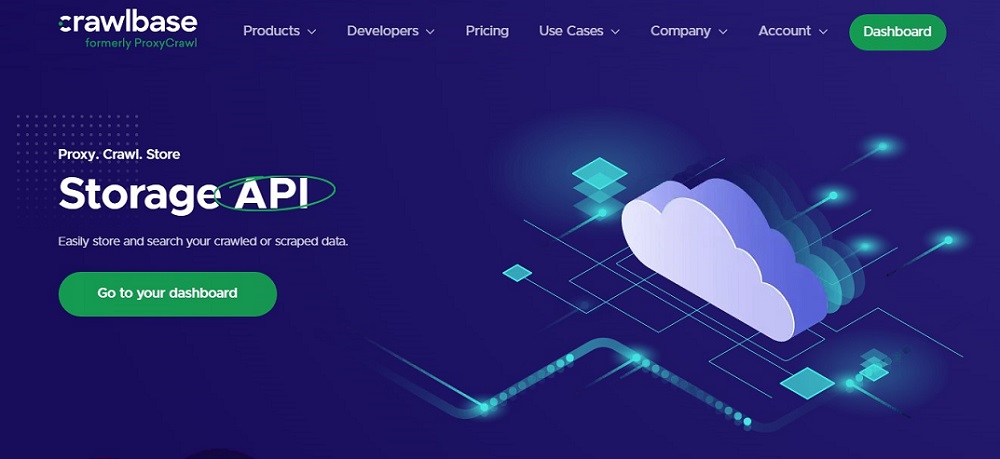 Grabbing the data is one thing, but storage is another. Many services offer scrapers, but not all of them provide where to store the data, something that Crawlbase does. The Storage API is essentially cloud storage that you can use to store the data there automatically. It's designed so that you can search through it quickly, making the entire project more streamlined. The best part about this product is that it's scalable, meaning that you can upgrade the storage whenever you need it.
With this product, you have 4 packages depending on your needs. The smallest package is free, but it's the most limited. It can serve you well as a trial option, but you'll need to go for the paid ones for larger projects. The remaining two packages offer more in terms of requests and retention periods. There is also a custom package, where you can get as much as you need with almost no limitations.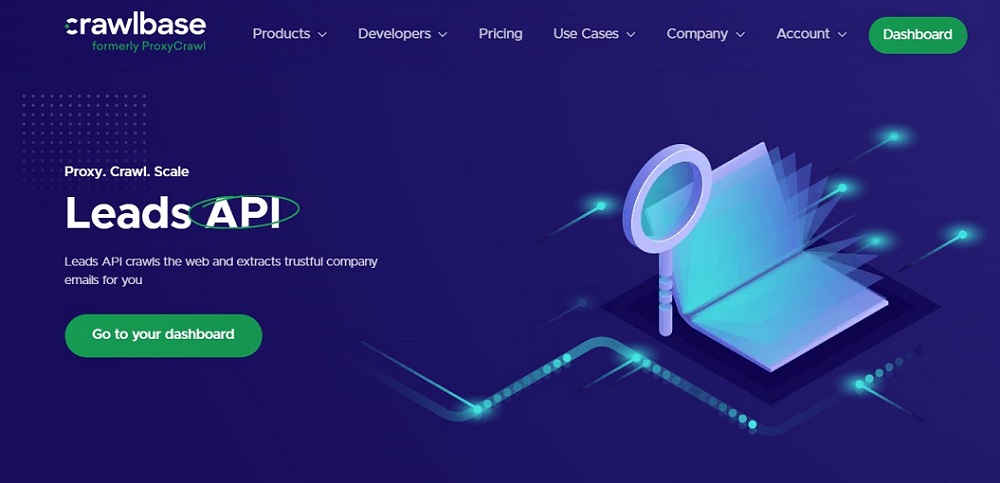 Business-oriented projects often rely on high-quality leads to get things done successfully. This is where the Leads API comes into play. Crawlbase designed it to get accurate email addresses from over 1000 pages, so you won't find yourself in a situation where you won't find any info. The service is also backed by AI, which determines the best contact person for a specific situation. There's also an option to use the Leads Finder, which is similar to the Crawler. The interface relies on the API, and all you need to do is enter the domain.
For the pricing, there are 4 pre-defined packages that vary in what they offer. The smallest package is free, giving you access to 100 credits. Most people will use this as a free trial option to test out the service. The paid packages offer a decently wide variety of options, ranging from credits to extended lookups and the type of support you'll get. Additionally, if you need more monthly leads, Crawlbase can make a custom package for you.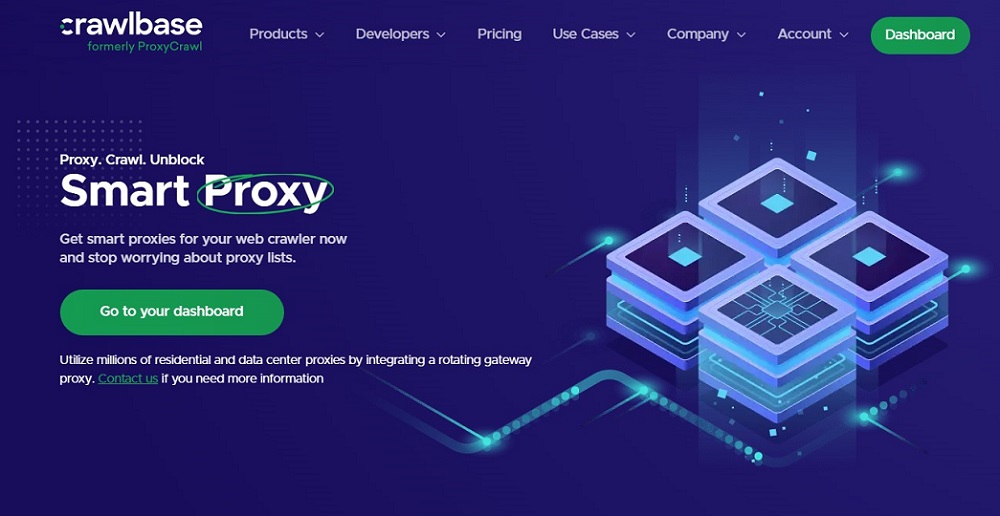 Even though Crawlbase integrates proxy usage in its other products, the company also offers its Smart Proxy product. This service is for those that need proxy addresses for various other situations. The company offers unlimited bandwidth and an option to customize the geo-location, enabling you to fine-tune. Backed by AI, the company aims to ensure you get the fastest and most accurate results, depending on the use case. There are over 1 million proxies in over 45 countries, which is a decently flexible offer.
There are 3 packages for this product with a wide variety in what they offer. You can get a different number of threads, credits, rotations, number of proxies, and more. There is also a free package, which is technically a free trial. You're getting it for a month, and it's not overly limited, so you can test the service to the fullest extent.

With the products out of the way, let's look at how easy it is to use the service. Considering the wide range of products, there is a variety of how easy it would be for you. The first thing we need to discuss is your programming knowledge. Most of the API services are for people that know how to use them. With that said novice scrapers with no coding knowledge can utilize the other services that rely on Crawlbase's APIs.
For each product, the interface is minimalistic but offers all the necessary information you need. Depending on which one we're talking about, the information will vary. With the APIs, you'll have a graph outlining the usage, informing you of how much you have left for this month.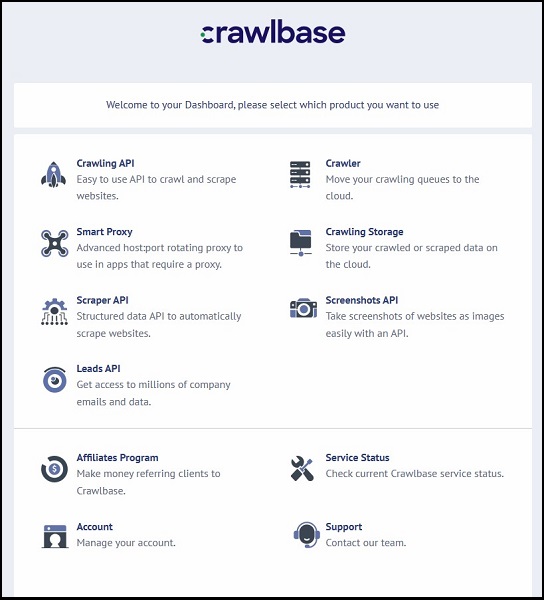 The result of all of this is a service that can be used by both sides. Crawlbase made the dashboard to be intuitive and easy to get around, so you won't be spending too much time trying to figure out how things work. In the dashboard, you'll also find the documentation which will help you in case you get stuck.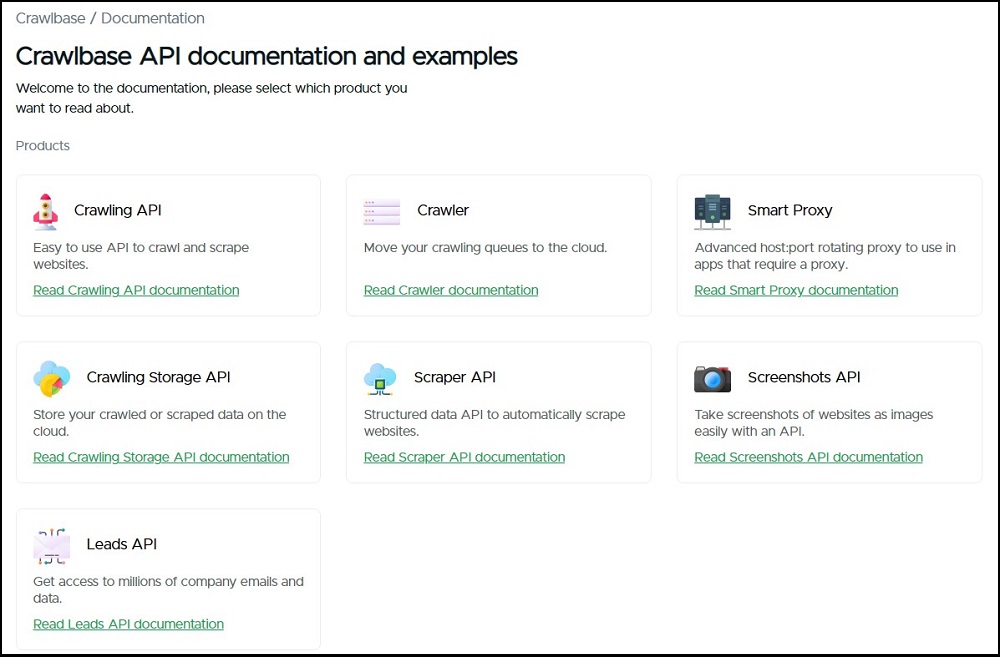 Speaking of documentation, let's talk about what Crawlbase offers for those that need help setting things up. Even though the documentation section is available on the dashboard, you can also access it from the public website, so you won't need an account. In my opinion, this is a good way to go through the service and see how it would work before you even start considering getting a package.
In the documentation section, there is a separate sub-section for each product. This makes it easy to navigate and find what you need. The best part about this is that there are examples for each product that should help you better understand how to use them.
There is also an FAQ section with a similar structure as the documentation one. Every product is in a different section enabling you to navigate easily. You can also search for keywords and find an answer to a specific question sooner.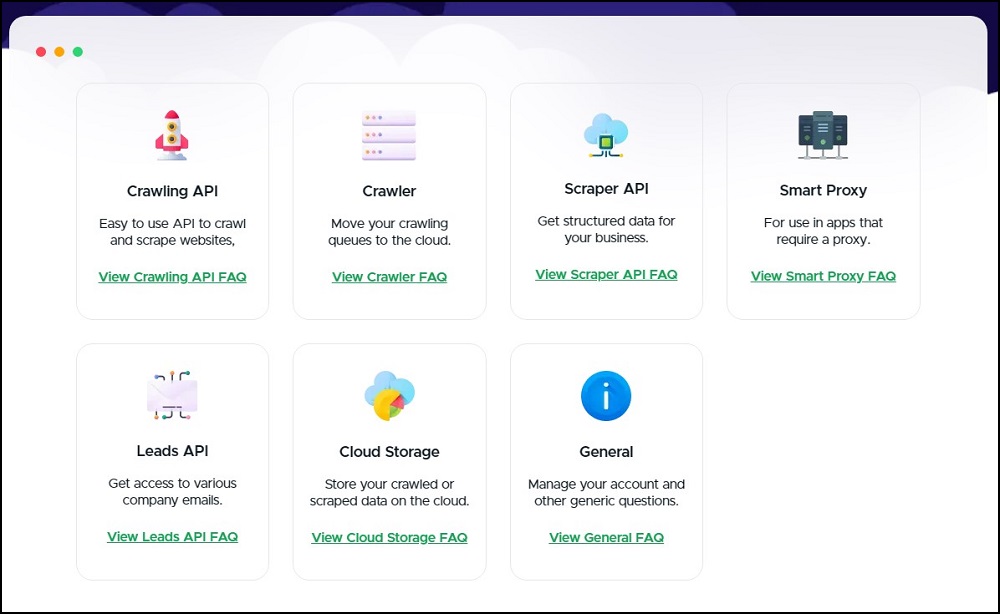 As for support, your options are limited. There is no phone or live chat support, so your only option is to go for the "Contact Support" section in the dashboard. This is essentially an email system, and depending on the package you're using, you may need to wait a bit for an answer. The more expensive packages have premium support, so those accounts will usually be the first in line for getting a response.
There are tons of crawling, scraping, and proxy services on the market, making this a competitive niche. We were already impressed with what Proxy Crawl offered, and things have only improved since the rebrand. The overhaul isn't just visual, but it's also functional.
Crawlbase is a service that we would recommend. It's far from the most expensive option on the market, and when you consider what it offers, it's positioned as an excellent bang for the buck. Considering the wide range of products and pricing options, it's a service aimed at expert coders and novice scrapers.
Features

Pricing

Reliability

Support
There are some drawbacks, and the biggest one I see is in terms of support. Don't get me wrong, the company offers a lot of information for you as a customer, and you won't have any issues in most cases. With that said, I would have liked to see a phone or live chat support.
At the end of the day, despite a small critique on my end, I'd recommend Crawlbase to anyone that needs that kind of service.
User's Reviews & Rating
Stupid Proxy
Average rating:
0 reviews
---