Do you need affordable proxies from a provider that doesn't have tons of limits? It seems that Geonode could be a possible solution for you, so we're doing a review on it.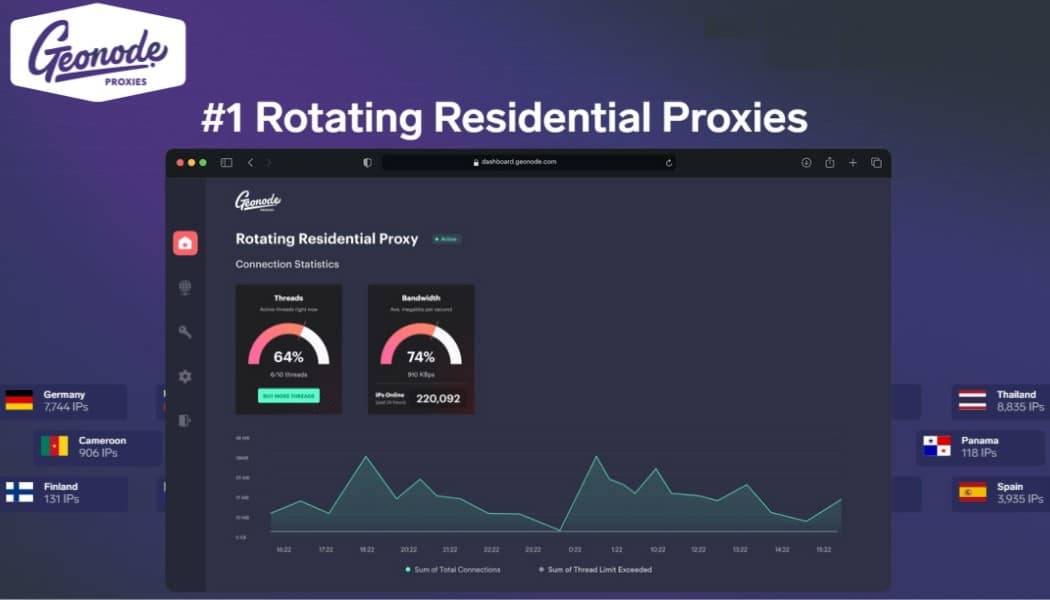 As the internet evolved, certain services became necessary for us users to have a smooth experience. Among the many are proxies, those middle-man IP addresses that help us do all sorts of stuff online. Regardless if we are scraping Google, bypassing Netflix's geo-restrictions, or just want to hide our IP address, a proxy is the way to go.
The increase in the need for proxies meant that more and more providers would become available on the market. Among the plethora of options, today I'll be looking at Geonode.
The provider has a lot of claims about its proxies, but can it live up to them? Let's find out.
Recommended for: Market research, SEO & price comparison
Don't feel bad if you haven't heard of Geonode before. It's not a very pronounced company and doesn't get on too many top lists. I cannot claim what the reason for that is, but today I'll see if it has something to do with what it offers and the performance.
Like with most proxy providers, you won't find tons of information about it. Geonode is a relatively young proxy provider that is based in Singapore. The company's main and only service is residential proxies. This isn't something unheard of, but one thing that makes it stand from the crowd is that all packages are unmetered. Yes, if you want residential proxies with no bandwidth limitations, Geonode could be a good option.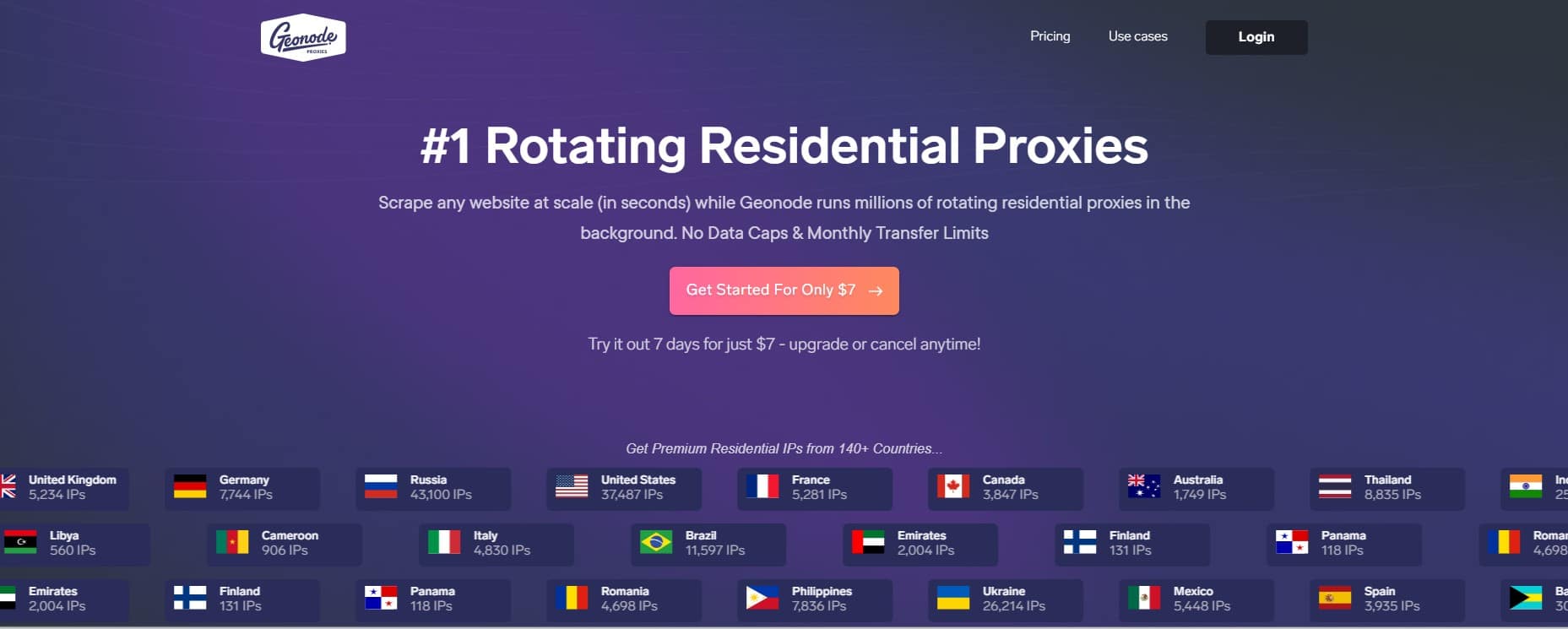 Unlike many less popular proxy providers, Geonode is forthcoming about its offerings, which is a big plus. When I say forthcoming, I mean that we know the number of proxies and locations. There are over 2 million proxies in roughly 140 countries. It may not be as big of a network as Bright Data, but you shouldn't have any problems.
The proxies are neatly packaged into multiple pricing plans where you can access the entire pool, but you will have a limit on the number of threads. Another good thing is that the prices are generally reasonable when you consider that there's no limit on the bandwidth.
So far, Geonode seems to be an excellent option, but to give you an in-depth review, I had to test the proxies. I got my hands on several of them and put them to the test.
Before I dive into the results, let's take a look at what Geonode has to offer.
Pros
Option to authenticate with IP whitelisting and username and password
Over 2 million proxies in over 140 countries
Unlimited bandwidth
Affordable
7-day paid trial
Money-back guarantee
Plenty of packages
Cons
High latency
Average speeds
Proxy Types, Features, and Pricing
As a residential-only proxy provider, you shouldn't expect to get anything else from Geonode.
The pool of proxies has over 2 million IP addresses that come from over 140 countries. There's an interesting animation on the website which shows you the number of proxies in each country. With this many countries to choose from, geo-restriction will not be a problem. You can say that the proxy pool isn't the largest on the market, but you should be fine even if you want to scrape data.
The main focus of this provider is unlimited bandwidth. If you are familiar with the proxy world, you will know that residential proxies often come with limited bandwidth. The ones that do have unlimited bandwidth are pretty expensive, something that Geonode seems to have remedied.
Few proxy services offer residential IP proxies with unlimited bandwidth, such as Shifter, Stormproxies, and Proxyrack.
The provider boasts quite a lot about how cheaper the proxies are, which, as I mentioned, is quite unique. There is a section on the homepage where Geonode compares its pricing plans with other providers. When compared to even the cheapest popular options, you are still paying less. As a bonus, this is compared with Smartproxy's limited package.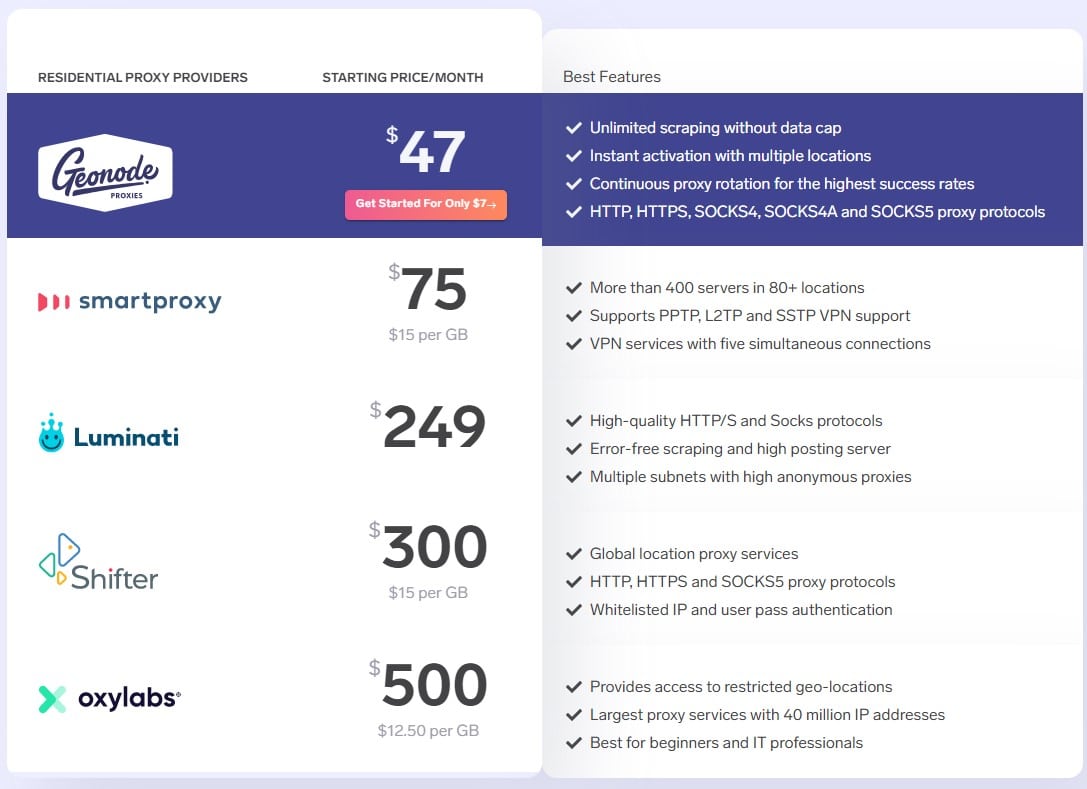 Considering that you are getting residential proxies with no cap on bandwidth, the use case list is huge. You can verify ads, monitor SEO, scrape data, compare prices, whatever your heart desires.
Despite being a cheaper option, Geonode offers a paid trial. Unlike Bright Data which will provide you with a 7-day free trial, Geonode gives you full access to everything for $7, and you have 7 days to test things out. It's not a free trial, but it's a better option than some providers that don't offer a trial at all.
On top of that, there is also a refund option, where you can ask to get your money back if Geonode doesn't fulfill its obligations.
Location of Proxy Servers
Being transparent with some crucial information is a vital aspect of every proxy provider. Not outlining the number of proxies or the locations makes you think there's something to be hidden. The good news is the Geonode isn't secretive about its pool of proxies.
At your disposal, there are over 2 million proxies, which isn't a lot. There are providers with a lot more proxies, but on the other hand, there are more popular options with far less. Overall, I'd put it somewhere in the middle. In terms of location, Geonode offers a lot. There are over 140 countries on the provider's list, meaning that you have all continents covered.
Depending on your use case scenario, the speed and latency may be crucial. To be honest, in most cases, you'd want higher speeds and lower pings to ensure that things run smooth and fast.
I took 10 proxies from Geonode and put them to the test. The provider doesn't have any claims about blisteringly high speeds or ultra-low pings, and considering that I'm testing residential proxies, I don't expect the results to wow me.
Speed tests with GeonodeDetails of the Speed Test
| IPs of proxies | Ping | Download | Upload |
| --- | --- | --- | --- |
| 45.76.27.214 (No Proxy) | 100 | 44.09 | 211.26 |
| 39.175.90.9 | 769 | 2 | 7.93 |
| 222.98.172.207 | 432 | 7.42 | 6.29 |
| 183.101.220.243 | 446 | 12.02 | 5.75 |
| 174.106.49.243 | 567 | 7.2 | 9.38 |
| 223.206.35.143 | 428 | 8.13 | 12.13 |
| 194.15.57.112 | 352 | 10.5 | 1 |
| 42.3.162.63 | 459 | 21.65 | 16.87 |
| 60.127.49.123 | 2363 | 20.56 | 5.82 |
| 184.22.161.39 | 589 | 15.65 | 1.52 |
| 14.201.96.82 | 921 | 26.42 | 13.63 |
IP (NO PROXY): 45.76.27.214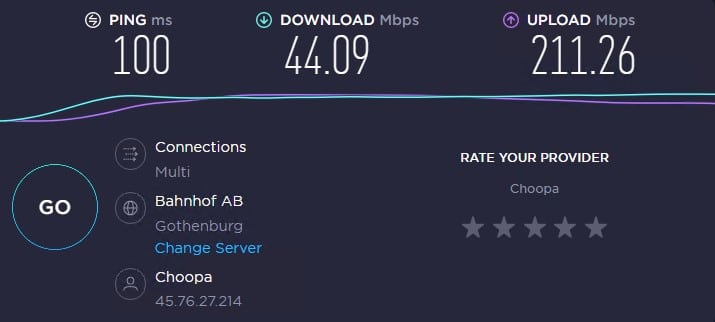 IP 1: 39.175.90.9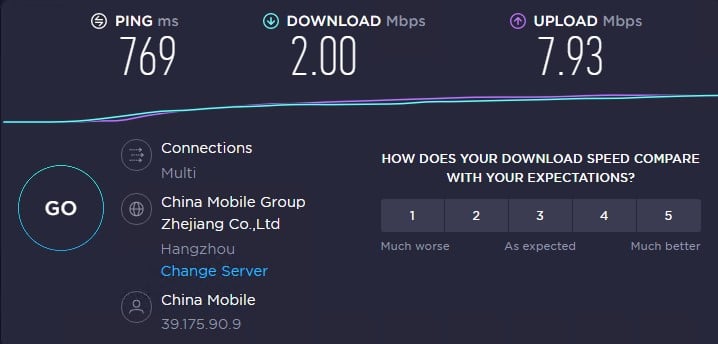 IP 2: 222.98.172.207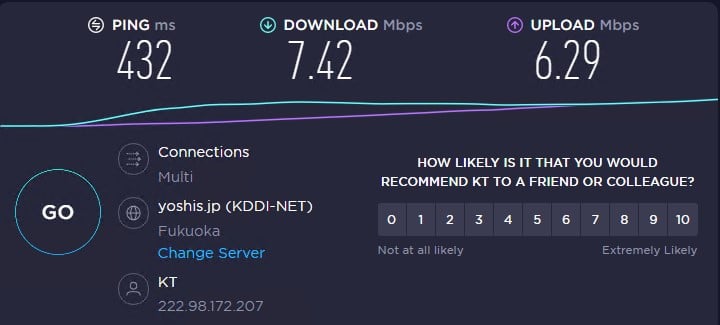 IP 3: 183.101.220.243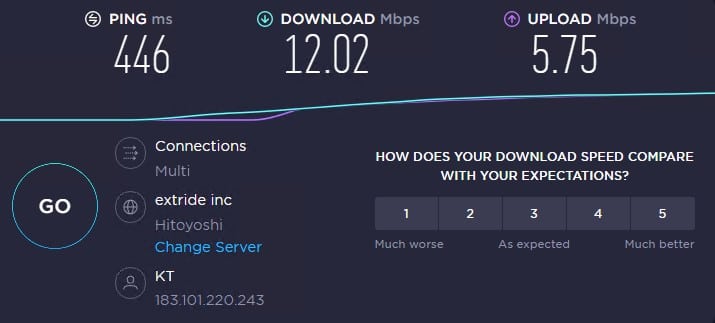 IP 4: 174.106.49.243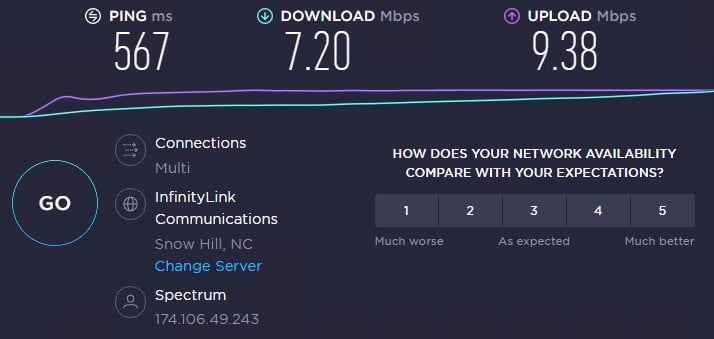 IP 5: 223.206.35.143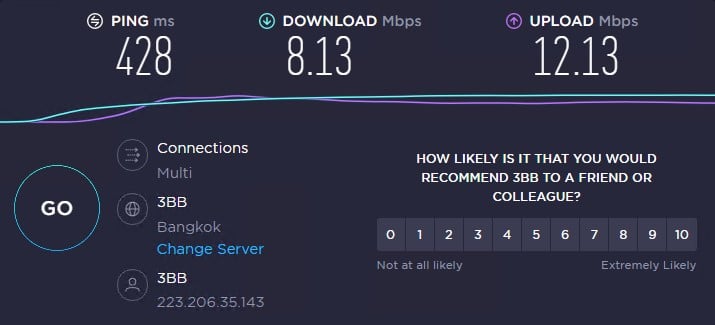 IP 6: 194.15.57.112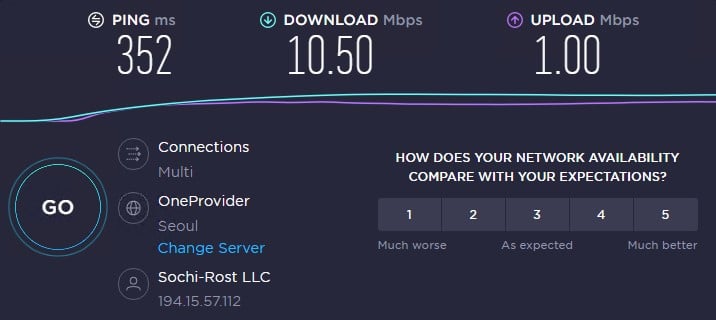 IP 7: 42.3.162.63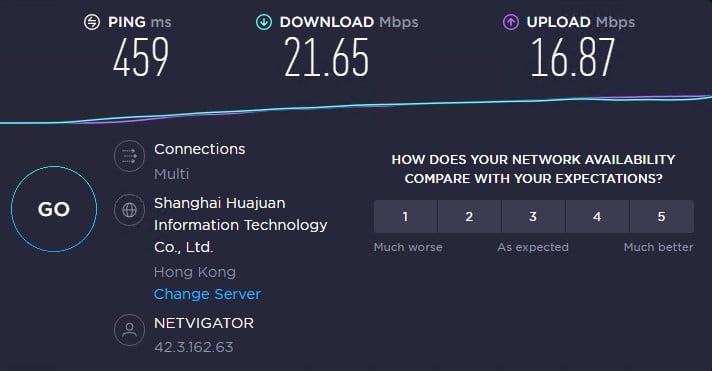 IP 8: 60.127.49.123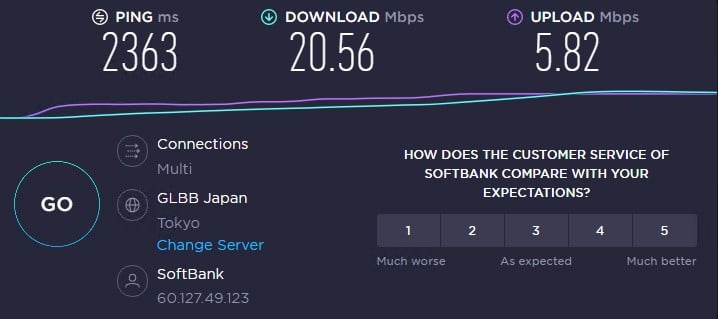 IP 9: 184.22.161.39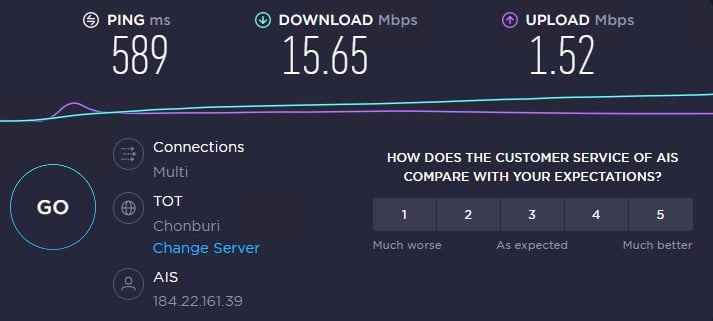 IP 10: 14.201.96.82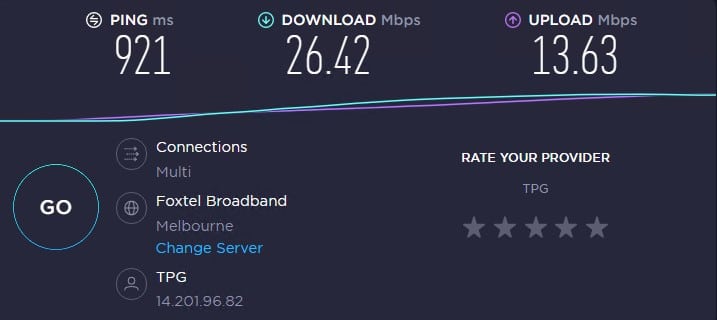 Looking at the table, I have to say that I'm not impressed, but I'm also not surprised by the numbers. Residential proxies suffer mostly from the speed that the IP address has from the ISP at its source. As a result, you can get some not-so-good speeds, and you can sometimes get excellent ones.
Geonode seems to have a little bit of both. One of the addresses managed to get a speed of 2 Mbps which is relatively low but should be fine for scraping. On the other hand, there are several of them that go above the 20 Mbps mark.
On the upload side of things, it's a similar story, but the speeds aren't as spread out. The lowest one is 1 Mbps, and the highest is almost 17.
The biggest problem is the latency. Having pings that are in the mid 3 digit mark is not a very good sign. One even managed to reach over 2000ms which is a very poor result.
The results are okay-ish but are not the best in the industry. You will get the job done as long as you keep in mind that things may take slightly longer. To be fair, these are only 10 proxies, so the others may perform better.
GEOlocation Test / ISP Test
Geo-location is crucial when using proxies because you'd want the IP addresses to be identified correctly. Regardless If you're bypassing geo-restrictions or verifying ads, you need IP addresses that won't be identified as such.
To ensure that Geonode's proxies are good in this regard, I tested the same 10 proxies from the previous test.
ISP Test with GeonodeDetails of the ISP Test
| | | | | |
| --- | --- | --- | --- | --- |
| IPs of Rotating Proxy | Hostname/IP | ISP/ASN | Country | Type |
| 45.76.27.214(No Proxy) | 45.76.27.214.vultr.com | AS20473 – AS-CHOOPA | United States | Hosting, proxy or bad IP |
| 39.175.90.9 | 39.175.90.9 | AS56041 – CMNET-ZHEJIANG-AP | China | Good IP (residential or business) |
| 222.98.172.207 | 222.98.172.207 | AS4766 – KIXS-AS-KR | South Korea | Good IP (residential or business) |
| 183.101.220.243 | 183.101.220.243 | AS4766 – KIXS-AS-KR | South Korea | Good IP (residential or business) |
| 174.106.49.243 | cpe-174-106-49-243.ec.res.rr.com | AS11426 – TWC-11426-CAROLINAS | United States | Good IP (residential or business) |
| 223.206.35.143 | mx-ll-223.206.35-143.dynamic.3bb.in.th | AS45758 – TRIPLETNET-AS-AP | Thailand | Good IP (residential or business) |
| 194.15.57.112 |  194.15.57.112 | AS39284 – SR-AS | Russia | Good IP (residential or business) |
| 42.3.162.63 | 42-3-162-063.static.netvigator.com | AS4760 – HKTIMS-AP | Hong Kong | Good IP (residential or business) |
| 60.127.49.123 | softbank060127049123.bbtec.net | AS17676 – GIGAINFRA | Japan | Good IP (residential or business) |
| 184.22.161.39 | 184-22-161-0.24.nat.tls1a-cgn02.myaisfibre.com | AS133481 – AIS-FIBRE-AS-AP | Thailand | Good IP (residential or business) |
| 14.201.96.82 | 14-201-96-82.tpgi.com.au | AS7545 – TPG-INTERNET-AP | Australia | Good IP (residential or business) |
IP (NO PROXY): 45.76.27.214

IP 1: 39.175.90.9


IP 2: 222.98.172.207


IP 3: 183.101.220.243


IP 4: 174.106.49.243


IP 5: 223.206.35.143

IP 6: 194.15.57.112


IP 7: 42.3.162.63


IP 8: 60.127.49.123


IP 9: 184.22.161.39


IP 10: 14.201.96.82

As residential proxies, the results above should not be surprising.  The main reason you'd be using residential proxies is that they are more difficult to detect, and you'll be successful at your activities. I compared what Geonode said about each IP address and compared it with the results I got. For all 10 proxies, the information was a match, so all of them pass perfectly.
If you are after some content or restricted website in your country, then it is essential to have good proxies. The reason for this is that some websites are pretty strict about who can access them. Since they are aware of the existence of proxies, some mechanisms are put in place to chase them. As a result, even with a proxy, you may have some difficulties getting access to those sites.
Geonode offers residential proxies, meaning that they would be perfect for these scenarios. The sites I'm using are some of the strictest ones on the market, and getting access to them with any proxy can be problematic.
| | | | | | | |
| --- | --- | --- | --- | --- | --- | --- |
| IPs of Rotating Proxy | Instagram | pinterest | Ticketmaster | Craigslist | Nike | Adidas |
| 45.76.27.214(No Proxy) | √ | √ | √ | √ | X | √ |
| 39.175.90.9 | √ | √ | √ | √ | √ | √ |
| 222.98.172.207 | √ | √ | √ | √ | √ | √ |
| 183.101.220.243 | √ | √ | √ | √ | √ | √ |
| 174.106.49.243 | √ | √ | √ | √ | √ | √ |
| 223.206.35.143 | √ | √ | √ | √ | √ | √ |
| 194.15.57.112 | √ | √ | √ | √ | √ | √ |
| 42.3.162.63 | √ | √ | √ | √ | √ | √ |
| 60.127.49.123 | √ | √ | √ | √ | √ | √ |
| 184.22.161.39 | √ | √ | √ | √ | √ | √ |
| 14.201.96.82 | √ | √ | √ | √ | √ | √ |
No surprise here; all proxies had no problems accessing each website. It means that Geonode provides real residential proxies, unlike some providers that seem to do some mix and match and give you datacenter proxies.
Having no limitations on traffic is not uncommon in the proxy world. What is uncommon is having no limit on the bandwidth with residential proxies. The reason for having these kinds of limitations is because these are proxies from people's homes or offices.
Having no limit on usage means that the node may suffer problems with the ISP leading to overcharges or reduced speeds. The good news is that Geonode doesn't have those limitations, which puts it high on the list in my book.
This is not a feature that I mention often, but in the case of Geonode, I have to make an exception and with good reason. The affordable packages aren't something new but, combined with the previous point, make this provider an excellent choice. If you look at the comparison table on the website, you will see that the prices are even lower than its competitors with limited bandwidth.
IP Whitelist and Username and Password Authentication
Having the option to choose between whitelisting an IP address or using a username and password is what every provider should offer. Depending on where and how you want to use the proxies, both options are available to you. You can whitelist up to 20 IP addresses, meaning that you can use them in multiple locations without worrying about entering the credentials.
I have to admit that this is not a free trial, but it's still a cheap way to test the proxies. Geonode offers a 7-day trial package for $7 without any limitations. It means that you are getting the full experience, but only for a week. This is an excellent way to test out the proxies before you opt-in for any of the larger packages.
It seems like having plenty of options to choose from is becoming a rare occurrence. Most providers will offer a handful of packages, leaving you in a bad spot if you need something in between. Geonode has 11 packages, all of which have unlimited bandwidth but are limited by the number of threads. You can go from 10 threads on the lower end of the spectrum up to 20 thousand.
Sticky or Rotating Proxies
There are various scenarios for when you need to use proxies, and depending on them, you may need sticky or rotating proxies. The good news is that Geonode offers both. You can either have a single session for a longer time or use a new IP address on each request. This is an excellent feature for people that need proxies for multiple use cases.
When it comes to using its services, Geonode is relatively easy to use. I like the fact that you have plenty of information in terms of your usage and spend bandwidth. Despite not being limited, some of us want to keep track of it, and it's a nice thing to have.
On the left, you have the navigation panel, and each section is simple and pretty self-explanatory.
I have tested plenty of providers, and some of them should take note from Geonode for developing a clean and simple dashboard.
The authentication can be achieved by whitelisting an IP address or entering the username and password. If you go with a username and password authentication, you will be using the same password as the one you use to log in to the dashboard. You will only need to get the username, which can be found in the same section where you will whitelist your IP addresses.
To get to that section, click on the key-shaped icon on the left navigation panel. You will be directed to a section with several fields. The first one is your Geonode username which you will be using with your password. If you decide to go with the whitelist option, you will need to enter the IP addresses in the field below.
Since both work simultaneously, you can have them set up and use which one you feel would suit you. The upside to this is that you don't need to make any changes to the settings.
I started off the review thinking that Geonode would be just another okay-ish cheap proxy provider. In the end, it's a provider that I'm happy with. It's not the best of the best, and there are some kinks, but the overall experience was positive.
Features

Pricing

Reliability

Support
Verdict
I was a bit skeptical, but Geonode proved to be a decent proxy provider. There are a few negative sides to it, but you are generally looking at a solid option if you want residential proxies with no bandwidth limitations.
Usability
Residential proxies can be used for anything, and the same goes for Geonode. These types of IP addresses are very flexible and can be used in a plethora of applications. You don't get tons of proxy options as with other providers, but that doesn't make it a bad option.
Combine this with the fact that you get an easy-to-use dashboard and the ability to use the proxies however you want, which means that Geonode is among the more flexible providers.
Plus, you also have tons of pricing options, meaning that there's a package for anyone's needs.
When it comes to usability, I have no complaints and can only praise Geonode.
Pricing
The price is the star of the show, and Geonode nailed it. You get decent residential proxies for a very affordable price, something that other providers cannot provide. The prices start from $47 for the package with 10 threads and go up to $8,000 for the 20 thousand thread option.
Reliability
Cheap services or products are often associated with low quality, which you won't experience with Geonode. During my time with the proxies, I experienced no problems, something you'd want to see.
Support
Do you probably think that due to the low prices, the support will be terrible? Not exactly.
Geonode has a phone and email support, something that similarly priced providers lack. In addition to that, you can even pay them a visit to their office in Singapore. This is something that you see with the premium proxy providers.
For people that don't know how to use the system or want to see if they can solve the problem themselves, there's the FAQ section. There is an extensive list of questions answered in-depth. A live chat option isn't available, but you can reach out to them via Facebook.
Our Verdict
With over 2 million residential proxies in over 140 countries, Geonode cannot brag about the size of the pool. In my opinion, it's just average, which doesn't make it a lousy provider. Yes, there are some with lots more IP addresses, but at the end of the day, you cannot use all of them, so nothing to worry about.
Offering residential proxies is one thing, but offering them with unlimited bandwidth and at an affordable price is something that Geonode is good at. Prices are way below the competition, so it's a provider that would be a good option for people with a tighter budget.
As for the tests, the ISP and geo-location tests were not a problem, but there was a slight one with the latency. The speeds weren't particularly impressive, but it's not as bad as the ping. Several hundred milliseconds of latency means that things won't move as fast as you want them.
Geonode offers an option to test the proxies without paying for a whole month or the full price. It's not a free trial, but it's better than nothing. On top of that, you also have a money-back guarantee if there's a problem with the service.
To sum things up, Geonode is an excellent provider, as long as you can go over the speed and latency. TO be fair, considering the price you're paying, you shouldn't expect things to be perfect. As things stand, Geonode is a good option if you want to save a few bucks or have a tight budget. With that said, you should keep in mind that you will need to make some compromises in terms of performance.
User's Reviews & Rating
Stupid Proxy
Average rating:
0 reviews
---