Are you looking for proxies that can offer some of the highest speeds on the market? Check out today's list containing the 15 fastest proxy providers.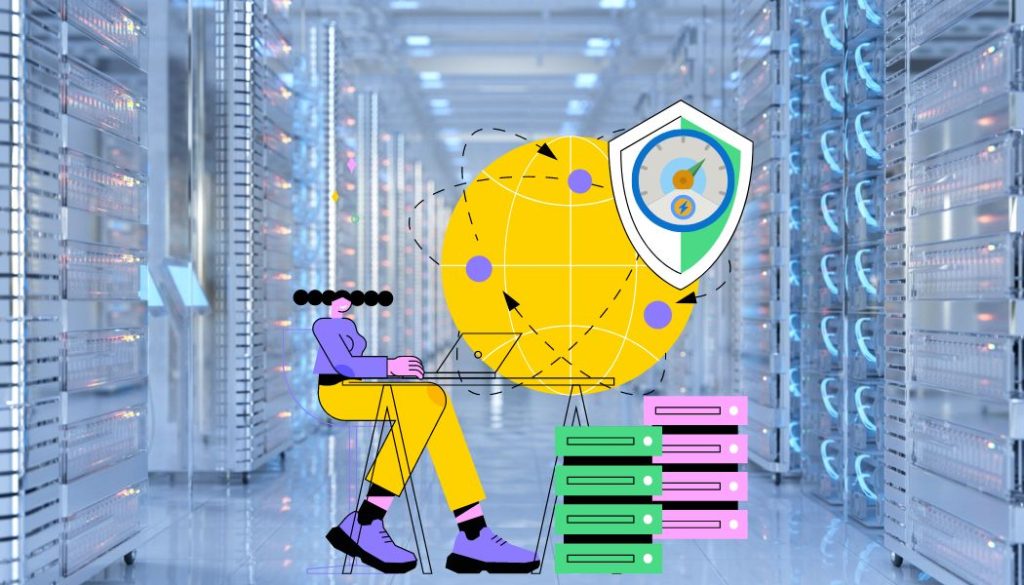 Over the years, proxies have become an intricate part of our daily lives. Whether you're using them for personal use like copping sneakers, or you own a marketing company and doing research, proxies are the first thing you'll need to have.
In the early days, things weren't as good as today. The number of providers wasn't as extensive, and the overall performance wasn't as good as today. As the internet evolved, so did the proxies; today, we have many providers offering very good-performing proxies.
If you have even the most basic knowledge, you'll know that there are 3 types of proxies – datacenter, residential and mobile. To cover as much as possible, the list will include providers that cover the datacenter and residential proxies. So far, I haven't found a mobile proxy provider that can offer massive speeds.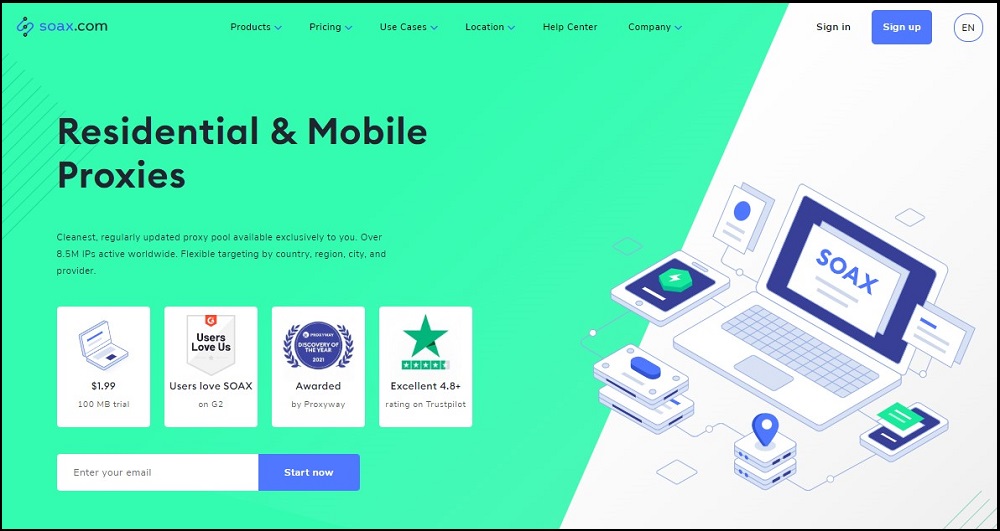 Soax has managed to position itself as a provider capable of delivering excellent performance at a more affordable price. Unlike the providers I mentioned so far, this one doesn't offer datacenter proxies yet. There is an announcement that we should see them as a product soon.
The company's residential IP addresses come from over 170 countries, and the pool has over 5 million fast proxies. Residential proxies often come in packages limited with the bandwidth, so things are the same here as well. The smallest package is limited to 8 GB of traffic and 300 ports and will set you back $99 per month.
A free trial isn't available with Soax, and the refund policy is slightly different. There isn't a strict period in which you can ask for a refund. Instead, you can get your money back if the service doesn't provide consistent performance.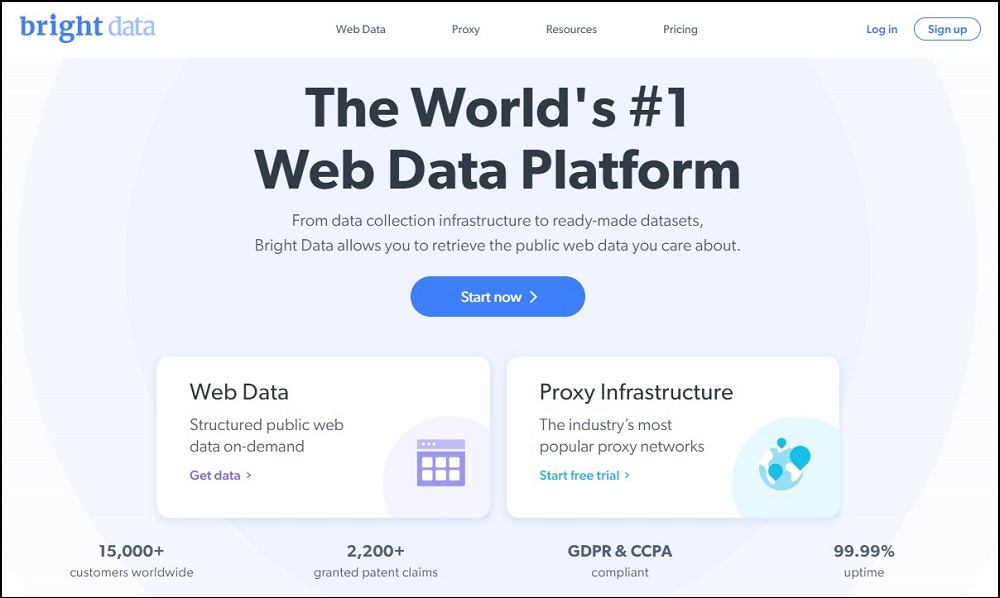 This is probably the most popular provider on the list. If you haven't heard of it, the company got rebranded a while ago and changed its name from Luminati to Bright Data. For a long time, it held the record for the provider with the largest network.
Speaking of networks, Bright Data has a pool of over 72 million IP addresses from every country in the world. This option gives you access to plenty of features, like advanced geo-targeting, while getting excellent speeds and low latency. The prices are a bit on the pricy side and come with limited bandwidth. For a price of $500, you get the smallest package, but you also have the option to get a pay-as-you-go package. With this, you will pay $15 per used GB of traffic.
People that need some more flexibility in terms of included bandwidth should check out the datacenter proxies. Bright Data has over 1.6 fast datacenter IP addresses from plenty of servers worldwide. As good as this may sound, they aren't the cheapest option on the market. The packages start from $500, which you pay based on the number of proxies.
The best part about going for Bright Data is that you have a free trial, so you'll know what you're paying for. There is a 7-day free trial, giving you plenty of time to test the proxies before you pay for them.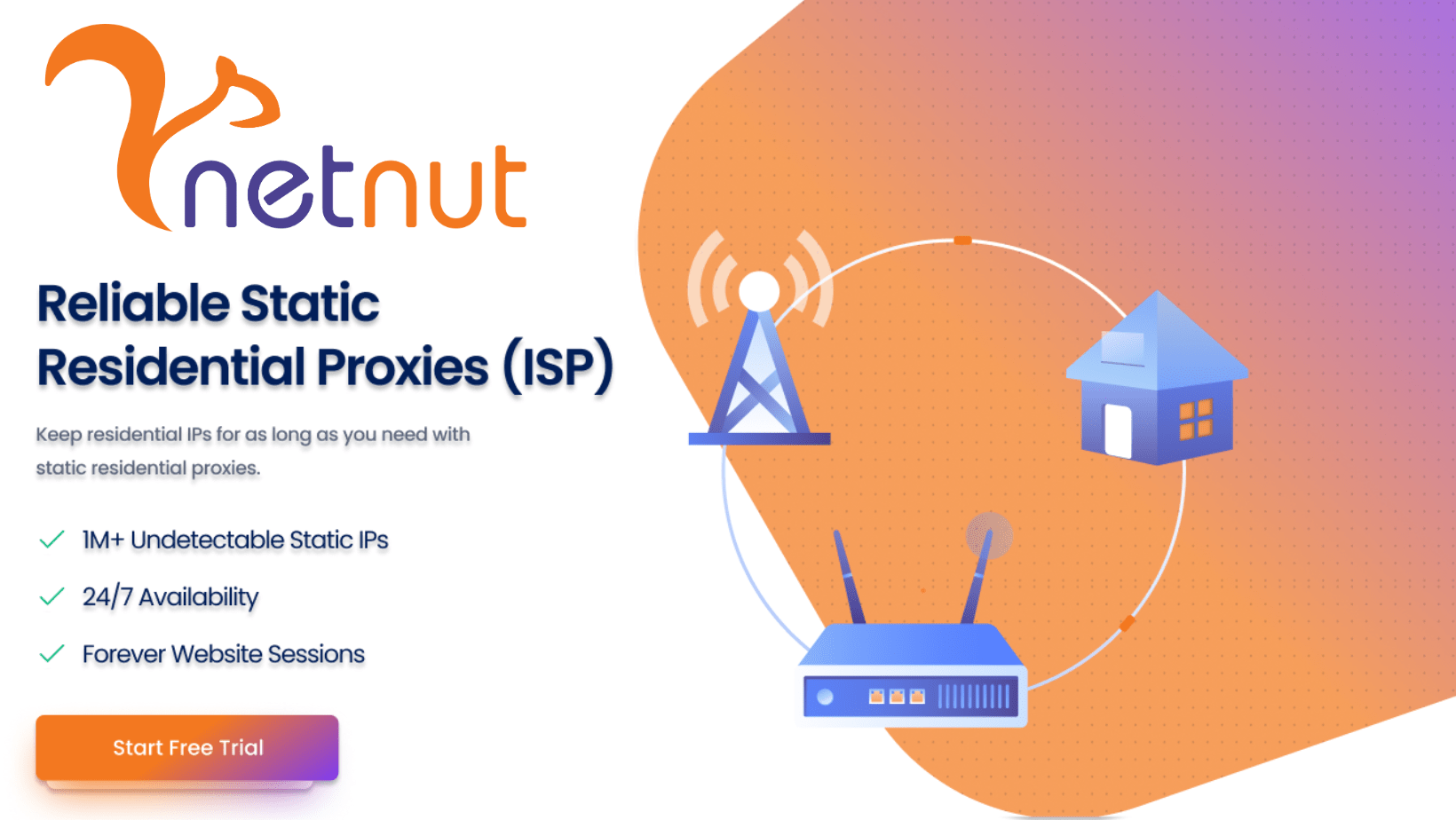 The online world is full of valuable information, and those who can gather insights from it gain an advantage. If you want to extract data from the internet effectively, residential proxies can help you do that. Proxies act like helpers that allow you to collect information from websites without any obstacles.
But what happens when you need very fast network speeds to get work done? Then you need an equally very proxy service to match. You want NetNut's highly scalable proxy network for optimal performance. Their blazing-fast proxies boast 99.99% uptime and a global reach. Their undetectable nature ensures you experience zero IP blocks or CAPTCHA hindrances.
NetNut has a big collection of over 52 million IPs that make your web scraping and data extraction happen smoothly. The ability to spring up multiple connections simultaneously allows you to effectively utilize the power of the network. Whether you're checking search engine rankings, looking at ads, doing market research, or getting information from the internet, NetNut's proxies can handle it all.
Don't worry, you get the same level of speed and performance no matter the plan you're on. Whether that be the paid plans or the 7-day free trial. This way, you can see how well it works before spending money. Their plans offer good value as you choose bigger ones. It's a smart choice for pros, businesses, and companies who want to use a truly fast proxy network to power through their web scraping activities.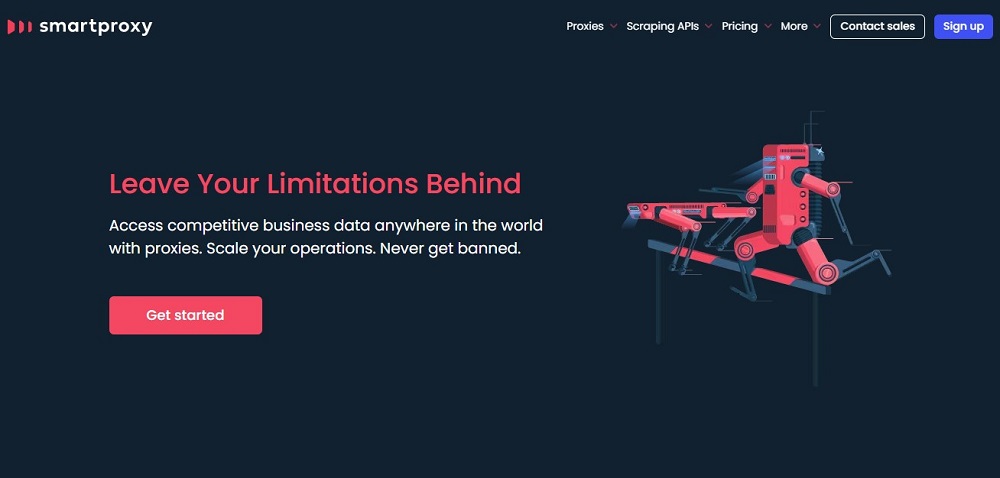 Smartproxy is a provider that is very similar to the previous one. It's been on the market for a long time and has established itself as an excellent option if you're looking for fast proxies.
While it may seem like a weak offering, the datacenter proxies aren't a poor choice. Smartproxy only has datacenters in the US, and the number of IP addresses is unknown. The good thing is that thanks to the gigabit connections, speed shouldn't be an issue. I have to say, a significant drawback is that the packets come with limited bandwidth. The smallest one is $30 and comes with 50 GB of traffic.
For the residential side, things seem better. Smartproxy has over 40 million IP addresses in 195 locations worldwide. This means that flexibility and speed shouldn't be an issue for you. Like most of its rivals, the bandwidth is limited, and the packets are structured accordingly. The cheapest one is $75 giving you access to bandwidth of 5 GB.
Smartproxy offers fast proxies, but unfortunately, it doesn't offer a free trial. Your only option is to get a package and ask for a refund within 3 days if the performance isn't per your requirements.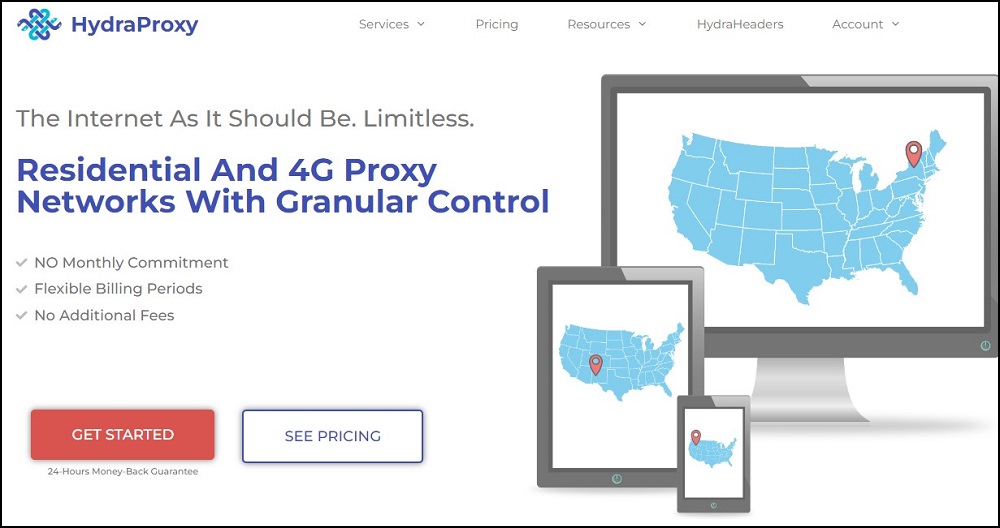 Considering that there are loads of options, HydraProxy is one that doesn't cover all the basics like some of the prominent names on the list. That said, it covers the most critical aspect, fast proxies.
The residential proxies HydraProxy offers are decent, and the pool isn't too terrible. There are over 5 million fast IP addresses to choose from, and based on the company's claims, they are all over the world. For the pricing packages, things are a bit different, but things are covered similarly. Since the bandwidth is limited, you will have access to the entire pool, so you're paying based on the amount of bandwidth you purchase. You can go as low as 1 GB which will set you back $5, and the best part is you don't have a monthly commitment.
These kinds of providers rarely offer a free trial, and that's the story with HydraProxy. You have the option to go for the 24-hour refund policy, but the conditions aren't too flexible, so you may not get your money back.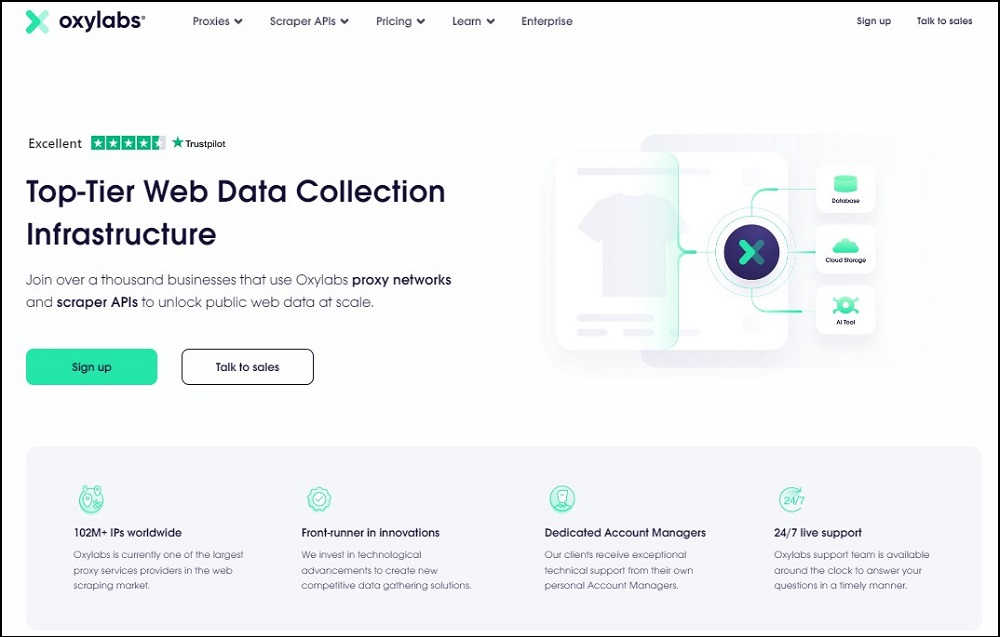 In the world of proxies, Oxylabs is a company that has been on the market for a long time. That, plus the fact it delivers some fast proxies, means it managed to remain on the top. The best part is that it offers both types of proxies, so it's a one-stop shop for most people.
On the residential side of things, Oxylabs has the largest network, consisting of over 100 million IP addresses. As for location, you can choose any country in the world, so flexibility isn't an issue. Residential proxies rarely come with unlimited bandwidth, so it's the same with this provider. The prices start from $300 per month, which gives you traffic of 20 GB.
If datacenter proxies are what you're after, Oxylabs has got you covered. The company offers over 2 million datacenter IP addresses from multiple servers worldwide. Speed won't be an issue, as all datacenters are connected with gigabit connections. Price-wise, $180 is the cheapest package to give you access to 100 IP addresses from the US or 60 from other countries.
Since it's not cheap, Oxylabs offers a free trial, enabling you to test the speeds. If you're a company, you can test the proxies for 7 days, while individuals will get only 3 days.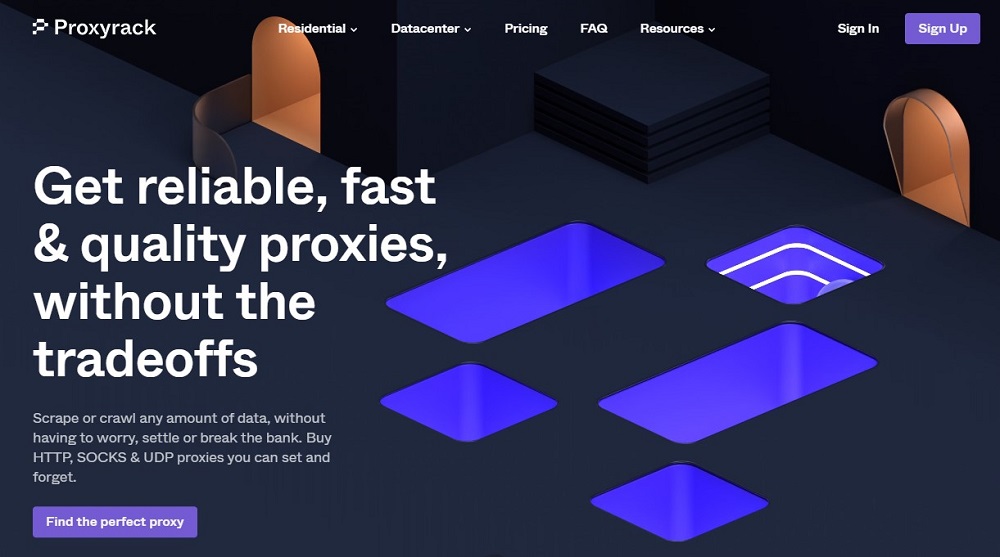 This is a provider that doesn't find itself on too many lists. Proxyrack has some decent features, and the most important one is that it offers pretty fast proxies.
Proxyrack's residential proxies cover a network of over 5 million proxies in many countries worldwide. While the list of features is pretty standard for a residential provider, there is one thing that most of its rivals don't offer – unlimited bandwidth. There is an option to get a package as low as $65 with a limit on the number of ports. If that isn't what you're after, for $50, you can get a package with 10 GB of bandwidth.
In the datacenter corner, Proxyrack has things stacked based on the location you need. On the one hand, you have over 20 thousand worldwide proxies starting from $50. On the other hand, the US datacenter proxies come from a pool of over 10 thousand, and the prices start from $65. In both cases, you get unlimited bandwidth and excellent speeds.
While I would have like to see a free trial, Proxyrack doesn't offer it. Instead, you can pay for a 3-day test package that costs almost $14.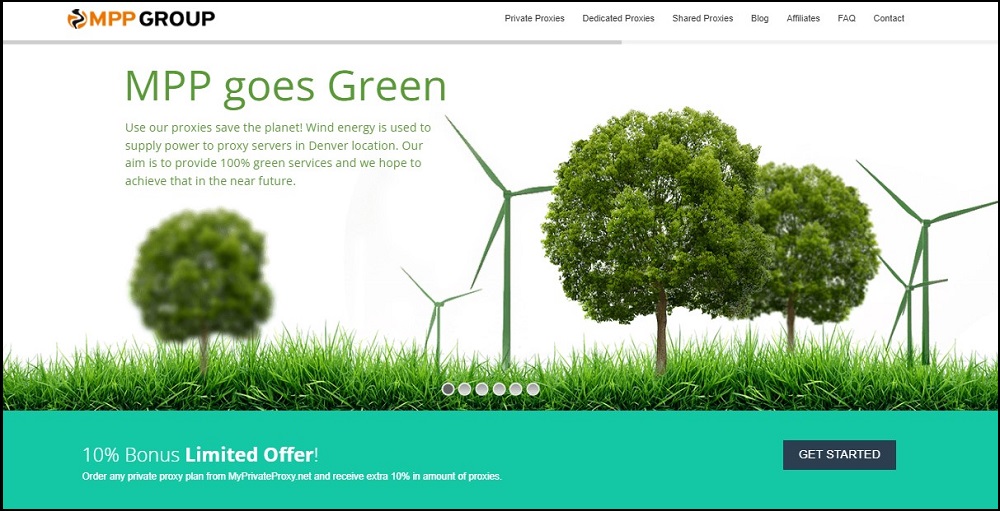 When we talk about datacenter proxies, we have to mention a veteran in this area. MPP is a provider that has positioned itself as an excellent provider with fast proxies and plenty of flexibility.
MPP has a massive pool of over 300 thousand IP addresses in almost 39 datacenters. 27 of those are located in the US, while the remaining 12 are in Canada and Europe. Similar to the previous provider on this list, regardless of what you choose, the bandwidth is unlimited. The pricing structure is also very flexible, and you can get as little as a single IP address for $2.49. The more proxies you get, the price per proxy becomes cheaper.
One thing that MPP often gets critiqued is the lack of a free trial. It means you'll need to purchase a package and have 3 days to ask for a refund if it doesn't perform as you need to.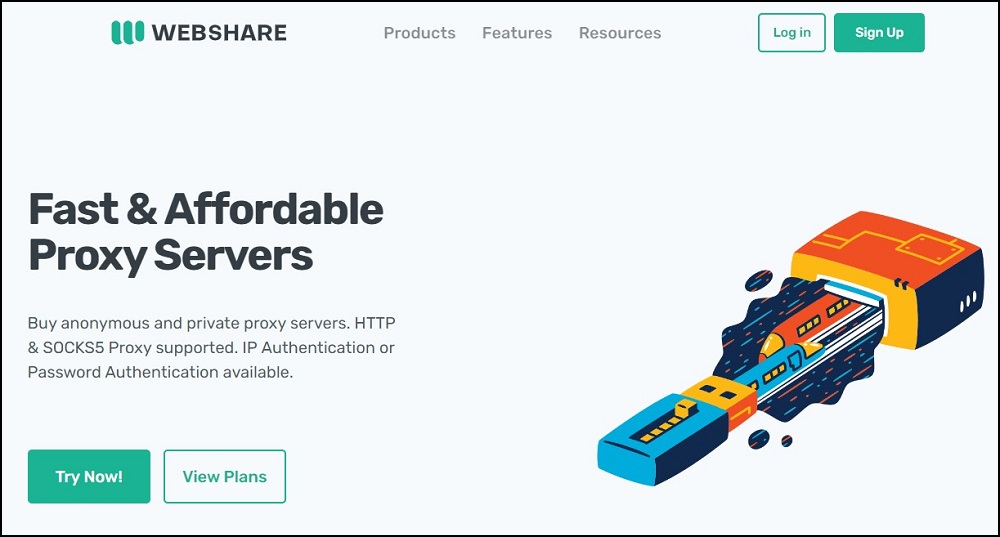 Considering that there are proxy providers that have been operating for over a decade, WebShare can be viewed as a young one. The company has been around for several years, but it has emphasized speed and reliability since day one.
There isn't a lot of information about the number of IP addresses, and all we know is that WebShare covers 24 countries. It's not the most flexible or forthcoming, but it covers the main aspect most people want – speed. The prices start from $2.99 per month, giving you access to 100 proxies with no limit on the bandwidth.
Besides the datacenter proxies, WebShare recently released another product – residential proxies. Similar to the datacenter proxies, there isn't much information about the numbers regarding pool size and locations. Despite that, the company claims to have plenty of fast IP addresses in multiple locations worldwide. The best part is that, unlike most residential providers, this one has no limit on the bandwidth. As a result, you're paying based on the number of proxies you're getting, and the smallest package comes with 25 IP addresses and costs $105.
WebShare has another trick up its sleeve, and that's the free account. It gives you an excellent option to test 10 proxies before making a purchase. There are some limitations, but it's still more than enough for testing.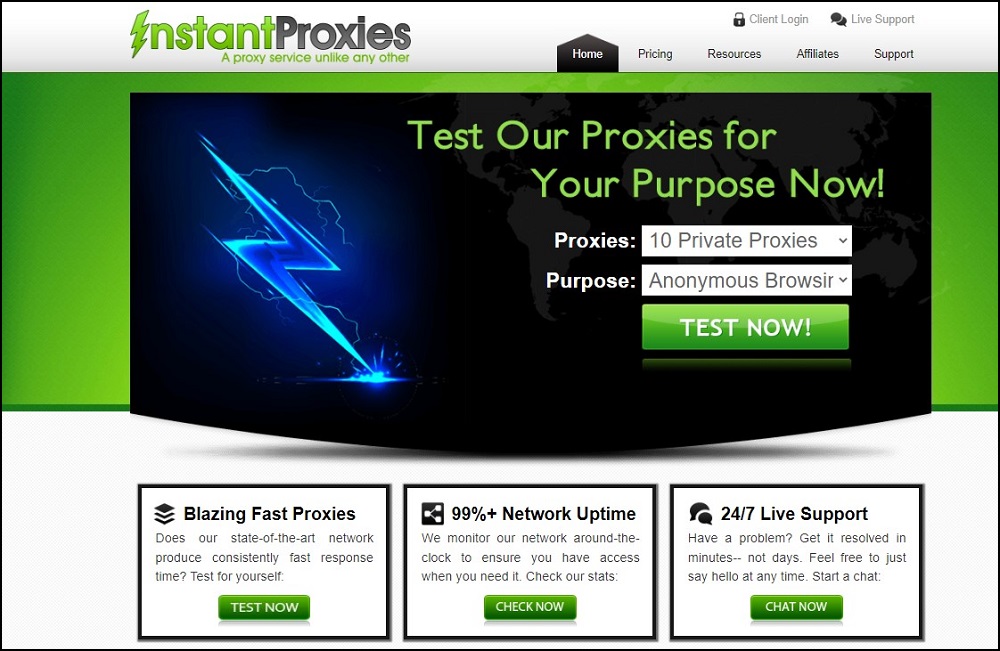 Speed is crucial, and this provider claims to deliver on that front. InstantProxies is a company that can offer datacenter IP addresses with excellent speeds, and as the name suggests, you get them instantly.
In terms of the numbers, the pool size is unknown, so we have no idea how many proxies the company has. On the location side of things, the number of datacenter remains a mystery, but we know that they are in the US and Canada. Since we're talking about datacenter proxies, the bandwidth is unlimited, and the packages are structured based on the number of IP addresses you're getting. The smallest package is with 10 fast proxies for the price of $10 per month.
As good as things sound, a slight drawback is that InstantProxies doesn't offer a free trial. On a positive note, there is a refund policy that lasts up to 7 days, giving you more than enough time to test and decide if you'll continue using the service.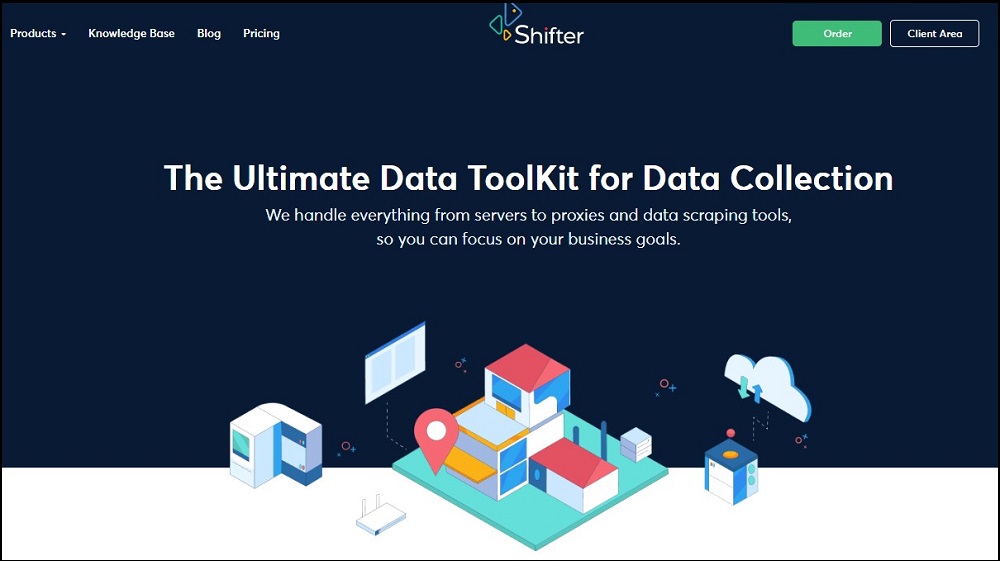 In the world of proxies, some seem like the underdogs but still play in the big league. Shifter is one of those providers, meaning you can get fast proxies without too many compromises. The best part is that you can choose between residential and datacenter proxies.
The star of the show is the residential proxies, getting access to over 31 million IP addresses. As for the location, there are some claims about having proxies in every country in the world, but the list isn't available on the website. One of the main features that make this provider stand out from the crowd is the unlimited bandwidth. These kinds of residential proxies don't come too cheap. The smallest package for the basic proxies comes at $299 for 25 IP addresses. For the same price, you can get only 10 special proxies designed to work with specific sites.
In terms of datacenter proxies, you don't get as much in terms of numbers. Shifter doesn't outline the number of IP addresses it has, but it states that they are only in the US. With gigabit connections on each datacenter, you can be sure that the speeds won't be an issue. For the pricing, things start from $25 for 5 dedicated proxies or $30 for 10 IP addresses.
Shifter seems to be perfect until you reach the trial option or the lack thereof. With no free trial, you are limited to using the 3-day money-back guarantee if the product doesn't perform as you need it to.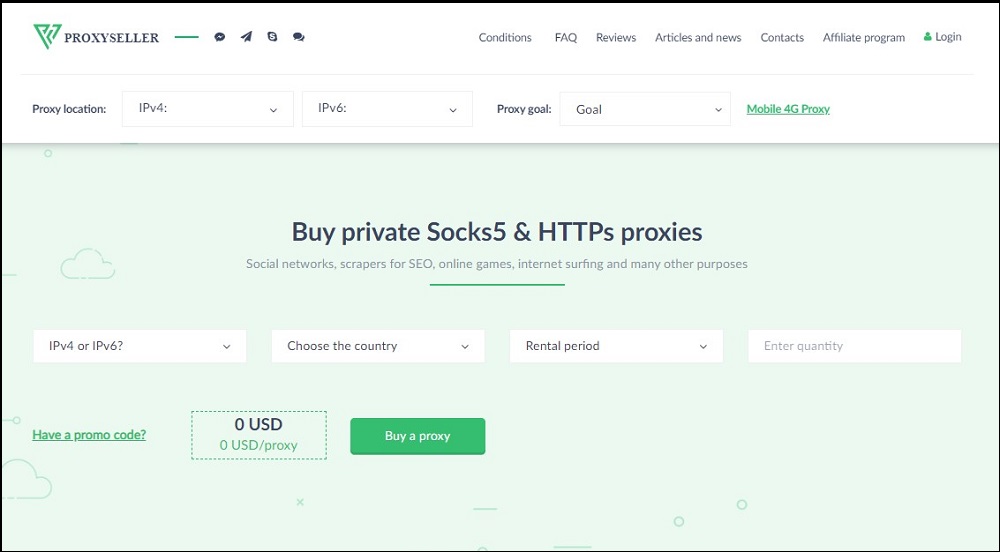 At first glance, Proxy-Seller seems like a provider that could barely cover your needs, but that is far from the truth. People that look for fast datacenter proxies will be very satisfied with this company.
One thing that I would have liked to see is the number of proxies in the pool that Proxy Seller has. On the positive side, there are over 50 locations to choose from, so flexibility won't be an issue. The packaging is also a bit different than most of its rivals. You're paying per proxy, and you get as many as you need. As for the price, that will depend on the location. For example, an IP address from Belarus is $0.86, and the price for a UK one is $2.77.
The proxies are affordable, and there isn't a limit on the bandwidth, but there also isn't a free trial. Proxy Seller has a refund policy, enabling you to ask to get your money back within 24 hours, which isn't the longest in this industry.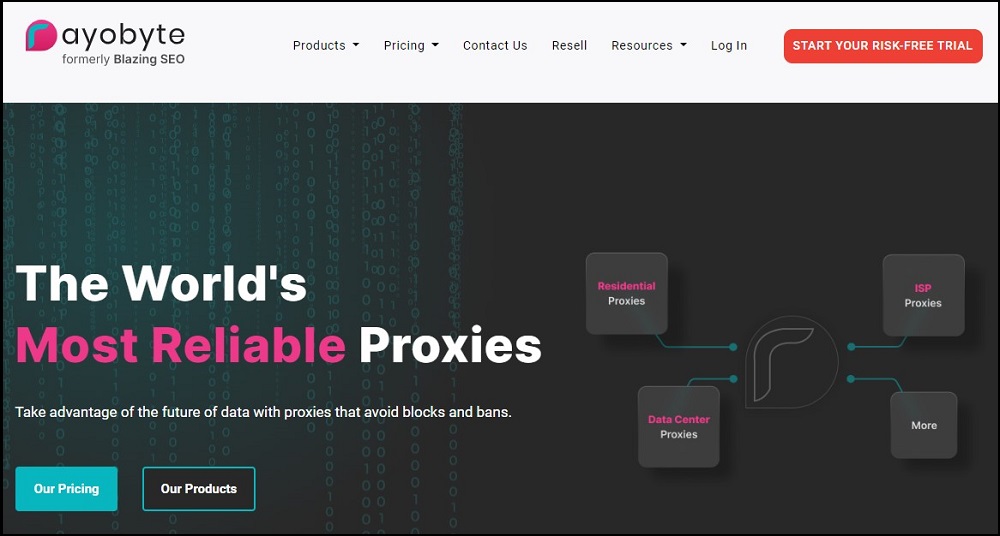 When it comes to datacenter proxies, Blazing is one that is near the top as it can offer you fast IP addresses. Looking at the numbers and what this provider offers is one of the main reasons why it's included on this list.
Unlike residential proxy providers, datacenter ones don't offer millions of IP addresses. Blazing Proxies has over 300 thousand fast proxies from 27 countries across the globe. It's not the most flexible but should cover most people's needs without too many issues. As a datacenter proxy provider, apart from fast proxies, you should also expect to get unlimited bandwidth. Depending on the type of proxy you get, the prices can range from $0.80 to $5 for a single IP address.
Surprisingly, things are pretty positive regarding the trial, as Blazing Proxies offers a free way to test the proxies. The period lasts 2 days, giving you plenty of time to test the proxies and see if the speeds match your expectations.
In the proxy world, SquidProxies is a provider that gets a lot of backlash for not being very affordable. Regardless of that, today, we're talking about fast proxies, which is what this provider offers.
There is a similarity between this provider and a few others, and that's the lack of information. SquidProxies doesn't outline the number of IP addresses it has in its pool. We only know that there are 19 datacenters worldwide, so you're looking at decent flexibility in terms of location. For the price, you are looking at paying $24 for the smallest package of 10 proxies.
In the testing department, SquidProxies disappoints a bit. There is no free trial option, so your only alternative is the 7-day money-back guarantee.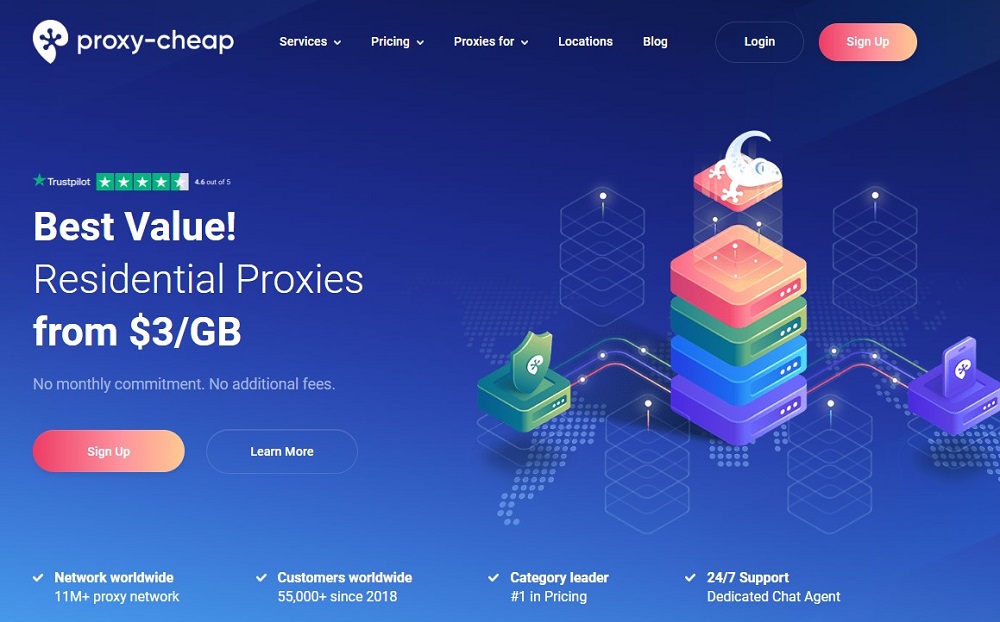 The last fast proxy provider on today's list is also one that is advertised as being affordable. Proxy-Cheap has been a favorite, with people looking to save a few bucks without compromising on performance.
With a pool of over 7 million IP addresses, Proxy-Cheap isn't a service that will leave you wanting more. The location list comprises around 130 countries, so variety shouldn't be a massive issue for most people. Like with most residential providers, the bandwidth is limited, so you'll be paying based on the amount of bandwidth you want. There are 3 tiers, based on the amount, and the smallest one covers from 1 to 50 GB. In this one, the price for every GB used is $4.99.
Things are looking good also in the datacenter department. Proxy-Cheap has over 900 thousand IP addresses from plenty of locations.
In the world of datacenter proxies, High Proxies is a provider that gets high remarks. The company has set up an excellent network with fast servers, meaning that you'll be getting fast proxies.
As I mentioned, with High Proxies, you can only get datacenter proxies. There are over 70 thousand of those to choose from that come from 33 servers. For the most part, they are located in the US, with a handful in Canada, Australia, and Europe. It may not be the most flexible provider, but the gigabit connections on the servers will ensure that you're getting fast speeds.
The best part about going for High Proxies is that you have no limit on the bandwidth, so you'll be paying based on the number of IP addresses you get. There is a single IP package for the price of $2.30, and you will pay less per proxy by going for the larger packages.
Most of you would have liked to see a free trial, but High Proxies doesn't offer one. There is a 3-day refund policy, meaning you can ask to get your money back within 3 days if you're unsatisfied with the performance.
---
FAQ
Q. What type of datacenter proxies are the fastest?
To ensure that you're getting the best possible performance of a datacenter proxy, you should look at dedicated or private ones. Both are the same, but companies name them differently. The idea is to have the proxies all to yourself. With shared proxies, the performance will be reduced based on the number of people that use them.
Q. Are datacenter proxies faster?
Datacenter proxies are the fastest of the bunch. Unlike residential or mobile proxies, with these, you are getting IP addresses directly from a server without too many limitations. This bypasses any restrictions that ISPs have on residential and mobile proxies.
Q. Why are residential proxies faster than mobile ones?
The main reason why I didn't mention any mobile proxies is that they are still not very fast. Yes, there is 5G, but the technology isn't as widespread, so don't expect to find these kinds of proxies any time soon. Also, mobile proxies will vary in speeds depending on the device's location. With residential proxies, you're getting consistent speeds, which in some cases may be slower than mobile ones, but at least the results will be consistent.
Q. Are free proxies fast?
No, free proxies may be acceptable to open a website blocked in your region, and that's as much as you'd be able to use them. There are loads of problems with these kinds of proxies, and one of the most important is the performance. They don't perform nearly as good as even the worst paid services, often providing slow speeds and high latency numbers.
---