Affordable proxies with decent performance are hard to find. Lucky for you, HydraProxy offers that, and today you'll get a chance to look at the review.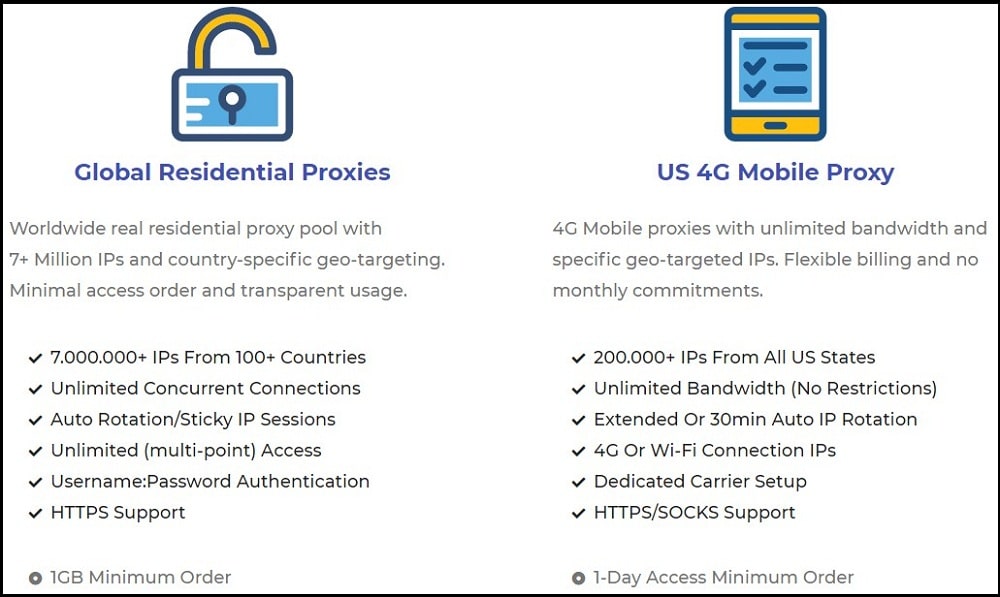 In the world of proxies, finding a decent provider is not as easy as it may seem. While most of them have some claims about speeds and stability, not all of them manage to deliver on that. However, HydraProxy is a residential and mobile proxy provider that seems to tick most boxes and, on paper, looks like an excellent place to get your proxies. Despite that, I've gotten my hands on a few proxies from there and put them to the test.
Recommended for: Social Media, ad verification & scraping
HydraProxy is the type of provider that doesn't get as much attention as the big players in the game. The problem is that it can easily trade blows with the popular ones, which is one of the many reasons why I'm doing this review.
Like most providers, HydraProxy boasts its features on its websites, oping to draw customers' attention. The company doesn't claim that it has the best proxies, which is something I like. In this line of business, the best it can do is filter out the bad performing ones and nothing more.
In terms of features, HydraProxy has quite a lot to offer. It has over 7 million residential proxies from over 100 countries. For mobile, all proxies are 4g, and there are over 200 thousand of them.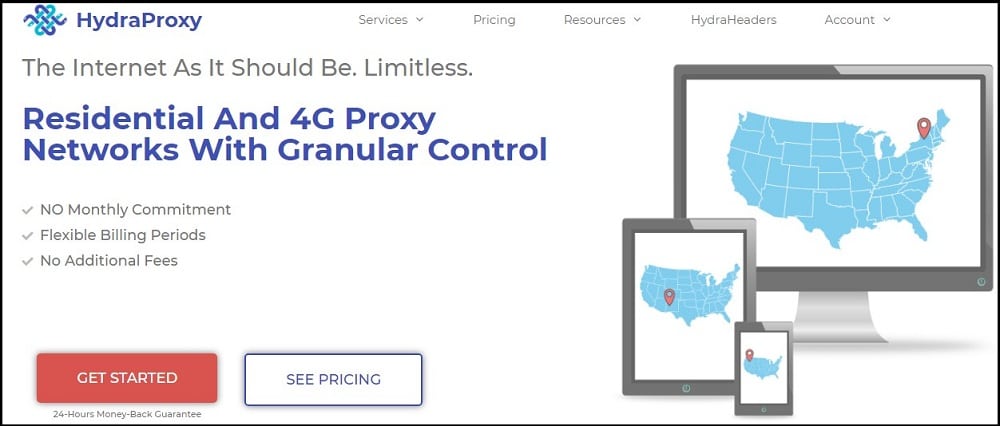 You will see plenty of "Unlimited" on the website, but unfortunately, none of it refers to the bandwidth. So while you have no limit on the concurrent sessions and ports, the traffic is limited, at least for the residential proxies. The most surprising thing about HydraProxy is that it offers mobile proxies with unlimited bandwidth.
For both types of proxies, you have the option to fine-tune the location and set the proxies to be rotating or sticky, based on your needs.
The way things look, HydraProxy seems to be a decent provider, at least theoretically. To see how well the proxies perform in practice, I got several and tested them out.
Pros
Unlimited bandwidth on mobile proxies
Flexible packages
Option to get daily packages
24-hour moneyback guarantee
Over 7 million residential and 200 thousand mobile proxies
Cons
Higher latency
Limited bandwidth on residential proxies
Proxy Types, Features, and Pricing
On the surface, many may say that HydraProxy doesn't have a lot to offer, but that is not the case. While the numbers may not be on par with providers like Luminati, things are not as bad as you may think.
On the residential side of things, you get over 7 million proxies from over 100 countries. The list of locations covers the 3 major continents, which should be more than enough for most applications. Unfortunately, you won't get city-level targeting like some of the other providers I've reviewed in the past.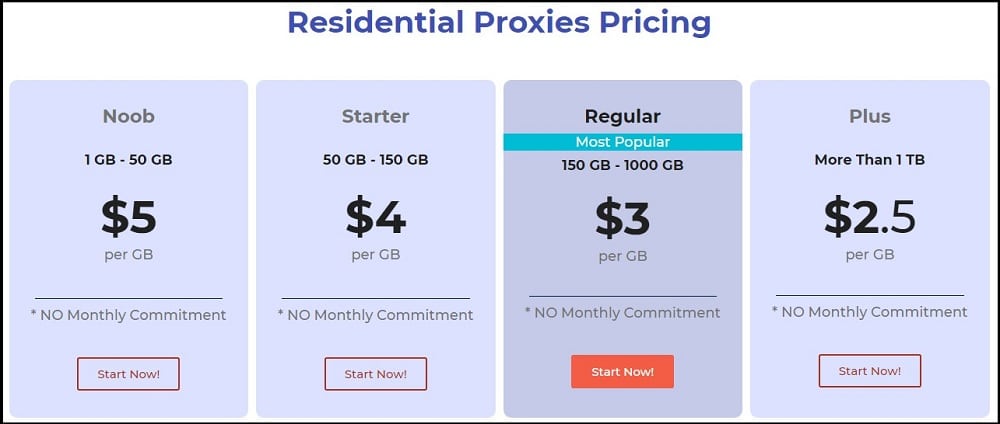 The pricing structure is pretty basic and easy to understand. With no monthly commitments, you pay as much as you use. As for the difference in pricing, that depends on the traffic. The most expensive is $5 is for packages that are up to 50 GB and drops to $2.5 if you plan to go over 1 TB of traffic.
Many people ask for static proxies, which is something that HydraProxy doesn't have. So instead, the best you can do is use the sticky sessions or the rotating option, depending on what you need.
A similar story is with the mobile proxies. They come in a variety of rotating and sticky sessions, which should suit most users' needs.
In terms of the pool of proxies, HydraProxy has 200 thousand mobile proxies, but all of them are from the US only. While I would have like to see a bit more diversity in terms of location, US mobile proxies are not a bad option. The proxies currently in the pool come from AT&T, Verizon, and T-Mobile.
If you need to be specific with the proxies, you can go for IP addresses from a particular state. The good news here is that there are proxies from every state in the US. The best part of HydraProxy's mobile IP addresses is that there is unlimited bandwidth.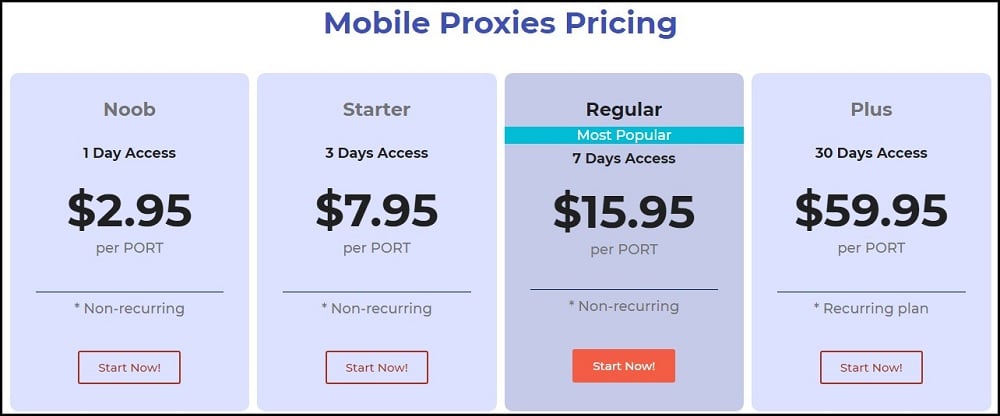 The pricing structure is similar to the residential proxies, and the most significant difference is in the number of ports and the duration. For example, you can get proxies for 1, 3, or 7 days where the packages are non-recurring and one monthly package where you will get charged each month. You get one access IP for each port, so essentially you are purchasing the number of proxies you intend to use.
Overall, the pricing for HydraProxy is not terrible. While it's not the cheapest provider on the market, it still falls in the category of affordable ones. However, one thing that lacks is a free trial, something that most competitors have. As a result, your only option to test the proxies is to purchase a package and as for a refund within 24 hours.
Location of Proxy Servers
To be honest, the location of proxies that HydraProxy offers is kind of a mixed bag. On the one hand, it has over 100 countries to choose from for the residential proxies, but only 1 as a source of the mobile proxies.
Those 7 million IP addresses that HydraProxy has come from over 100 countries, including the US, Canada, most European countries, Russia, India, and more. For the most part, the proxies are from Spectrum, Comcast, and CenturyLink.
The mobile proxies are a different story. All 200 thousand of them are from the US only, from all states, and come from providers like T-Mobile, AT&T, and Verizon.
HydraProxy doesn't have some bold claims about being the fastest proxy network on the planet, and that's a good thing. However, having realistic expectations are essential for a good experience. Expecting fast speeds and low latency and getting the opposite is a recipe for lousy service.
To test if HydraProxy's IP addresses are any good, I got my hand on several residential ones and put them to the test. Residential proxies depend primarily on the internet connection at the host, so the speeds can vary quite a lot.
Speed tests with HydraProxyDetails of the speed test
| | | | |
| --- | --- | --- | --- |
| IPs of Rotating Proxy | Ping | Download | Upload |
| 45.76.59.4 (No Proxy ) | 1 | 131.97 | 314.57 |
| 67.1.176.202 | 354 | 15.92 | 6.38 |
| 24.47.51.186 | 292 | 17.72 | 28.99 |
| 69.144.91.149 | 616 | 5.54 | 73.78 |
| 113.162.151.31 | 560 | 36.24 | 107.19 |
| 146.4.20.186 | 445 | 37.67 | 31.77 |
| 201.152.193.83 | 180 | 46.22 | 6.99 |
| 190.237.33.83 | 427 | 30.09 | 9.61 |
| 185.124.230.226 | 136 | 7.76 | 8.72 |
| 80.194.167.190 | 569 | 35.57 | 31.78 |
| 190.79.72.89 | 429 | 44.93 | 52.47 |
IP (NO PROXY): 45.76.59.4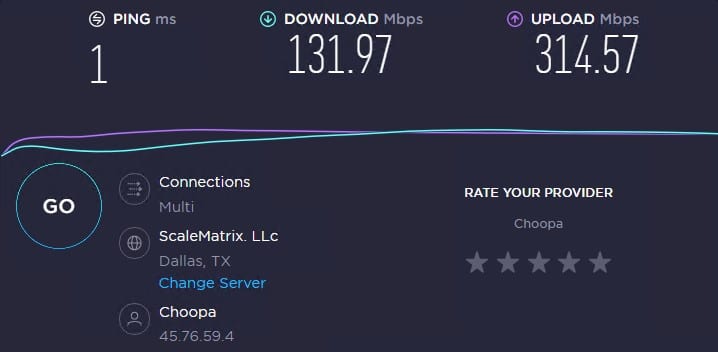 IP 1: 67.1.176.202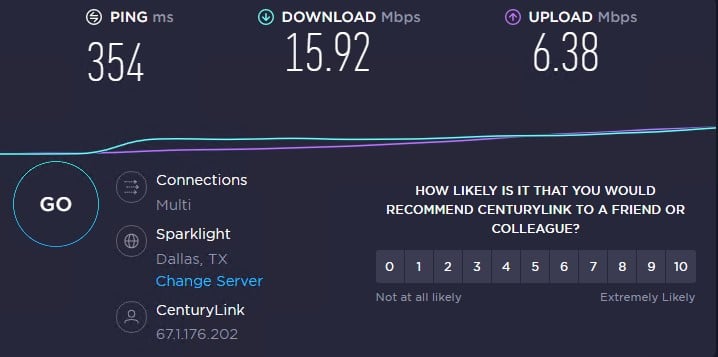 IP 2: 24.47.51.186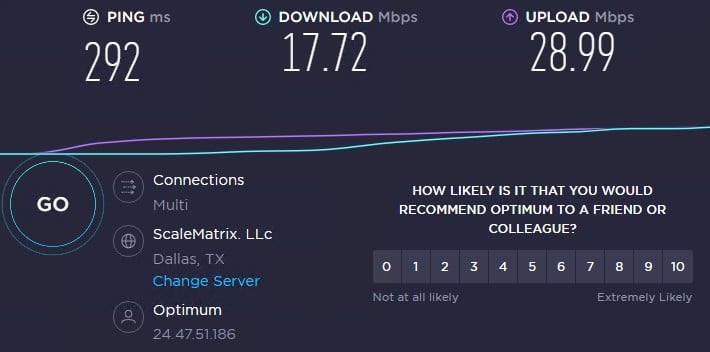 IP 3: 69.144.91.149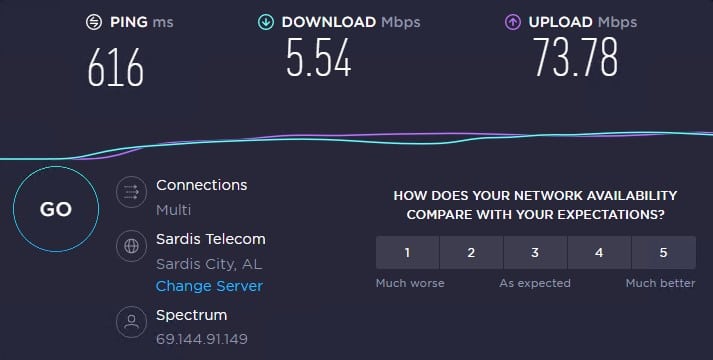 IP 4: 113.162.151.31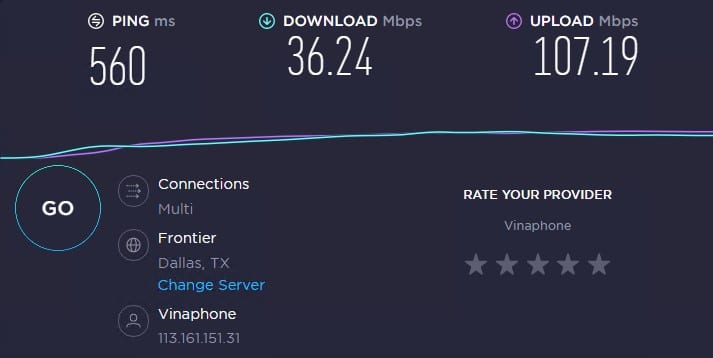 IP 5: 146.4.20.186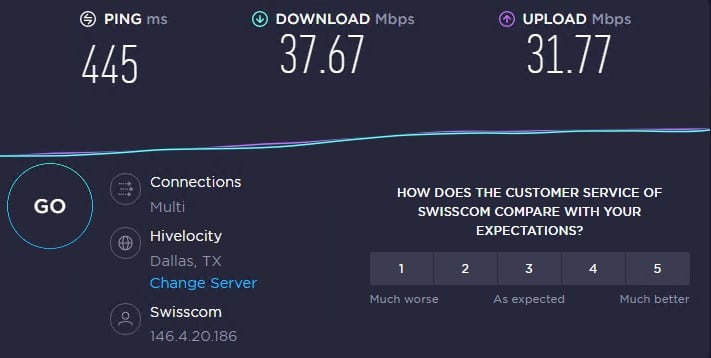 IP 6: 201.152.193.83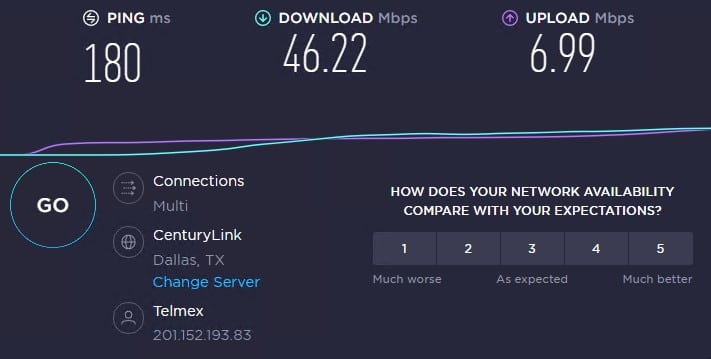 IP 7: 190.237.33.83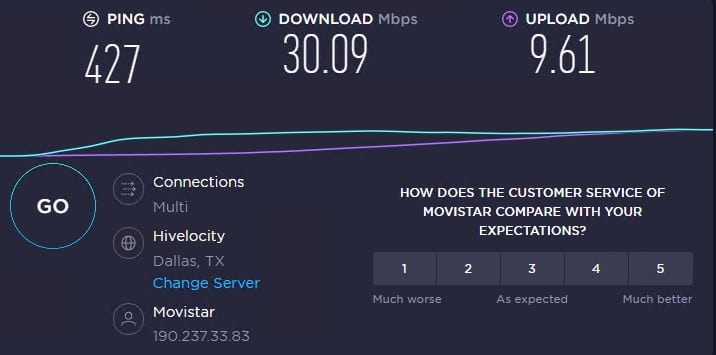 IP 8: 185.124.230.226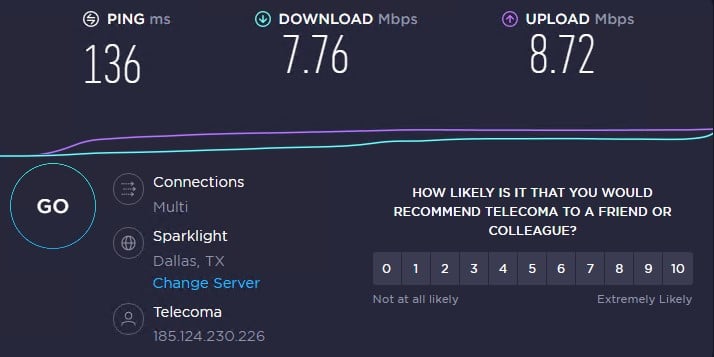 IP 9: 80.194.167.190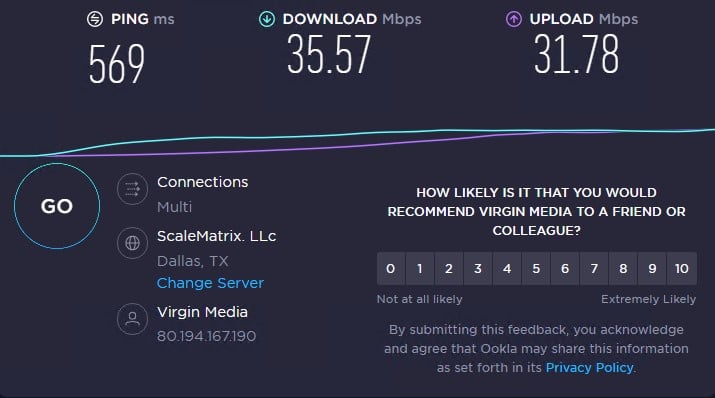 IP 10: 190.79.72.89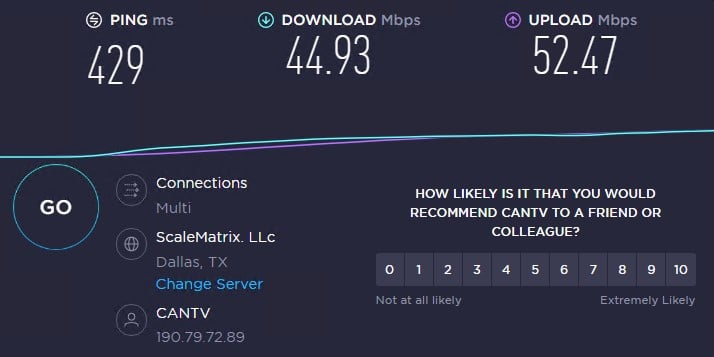 The results are not exactly the best or something that I would consider good, but they are not terrible. The biggest problem with the results above is the latency. That is the time it takes for the packets to make a round trip to the destination and back. It is no secret that proxies usually have higher latency, but the ones I've tested were too high. As you can see, 3 of the proxies shown latency of over 500 ms, which is a lot. Out of all tested IPs, only two seemed to perform decently with latency below 200 ms.
As for the speeds, those results are a bit better. Unlike some of HydraProxy's competitors I've tested in the past, most proxies fall in the double-digit category. This can be attributed to a slower connection at the node, so it's nothing that the company can do about it.
Overall, the speeds are not awful, and you can get a lot of things done. What is concerning is the latency, which in all results is relatively high.
In recent years, geo-restriction has become a severe problem for individuals or companies, as they find themselves in a situation where they cannot access a website or service due to their location. Proxies remedy this problem, but the biggest issue is with the type of proxies and how well they can mask your original IP address and, with that, your actual location.
HydraProxy has residential and mobile proxies, meaning that you should get excellent anonymity and access any service without any restrictions. To see how good they perform, I've put the residential proxies to the test.
ISP Test with Social ProxyDetails of the ISP Test
| | | | | |
| --- | --- | --- | --- | --- |
| IPs of Rotating Proxy | Hostname/IP | ISP/ASN | Country | Type |
| 45.76.59.4 (No Proxy ) | 45.76.59.4.vultr.com | AS20473 – AS-CHOOPA | United States | Hosting, proxy or bad IP |
| 67.1.176.202 | 67-1-176-202.tcso.qwest.net | AS209 – CENTURYLINK-US-LEGACY-QWEST | United States | Good IP (residential or business) |
| 24.47.51.186 | ool-182f33ba.dyn.optonline.net | AS6128 – CABLE-NET-1 | United States | Good IP (residential or business) |
| 69.144.91.149 | host-69-144-91-149.static.bresnan.net | AS33588 – BRESNAN-33588 | United States | Good IP (residential or business) |
| 113.162.151.31 | static.vnpt.vn | AS45899 – VNPT-AS-VN | Vietnam | Good IP (residential or business) |
| 146.4.20.186 | 186.20.4.146.static.wline.lns.sme.cust.swisscom.ch | AS3303 – SWISSCOM | Switzerland | Good IP (residential or business) |
| 201.152.193.83 | 201.152.193.83 | AS8151 – Uninet | Mexico | Good IP (residential or business) |
| 190.237.33.83 | 190.237.33.83 | AS6147 – Telefonica | Peru | Good IP (residential or business) |
| 185.124.230.226 | 226.230.124.185.rightside.ru | AS12737 – RIGHTSIDE16 | Russia | Good IP (residential or business) |
| 80.194.167.190 | cpc120598-sutt6-2-0-cust189.19-1.cable.virginm.net | AS5089 – NTL | United Kingdom | Good IP (residential or business) |
| 190.79.72.89 | 190-79-72-89.dyn.dsl.cantv.net | AS8048 – CANTV |  Venezuela | Good IP (residential or business) |
IP (NO PROXY): 45.76.59.4

IP 1: 67.1.176.202


IP 2: 24.47.51.186


IP 3: 69.144.91.149


IP 4: 113.162.151.31


IP 5: 146.4.20.186

IP 6: 201.152.193.83


IP 7: 190.237.33.83


IP 8: 185.124.230.226


IP 9: 80.194.167.190


IP 10: 190.79.72.89

The proxies used for this test are residential, and the results are just as they should be. Each tested proxy showed from the location that HydraProxy claimed that it is, meaning that you won't be getting any surprises. In this department, this provider performs as it should, and I'm guessing you should expect the same results with the mobile proxies.
Despite the wide usage of proxies, plenty of websites don't like people accessing them with proxies. So they have pretty good security measures that sniff out proxy addresses and block access.
Residential proxies are pretty good at avoiding these kinds of restrictions and work with some of the strictest websites, but I have found some that didn't perform as advertised. For example, to check HydraProxy's IP addresses, I've put them against strict websites like Adidas, Craigslist, and several others, and the result is below.
| | | | | | | |
| --- | --- | --- | --- | --- | --- | --- |
| IPs of Rotating Proxy | Instagram | Pinterest | Ticketmaster | Craigslist | Nike | Adidas |
| 45.76.59.4(No Proxy ) | √ | √ | √ | √ | X | √ |
| 67.1.176.202 | √ | √ | √ | √ | √ | √ |
| 24.47.51.186 | √ | √ | √ | √ | √ | √ |
| 69.144.91.149 | √ | √ | √ | √ | √ | √ |
| 113.162.151.31 | √ | √ | √ | √ | √ | √ |
| 146.4.20.186 | √ | √ | √ | √ | √ | √ |
| 201.152.193.83 | √ | √ | √ | √ | √ | √ |
| 190.237.33.83 | √ | √ | √ | √ | √ | √ |
| 185.124.230.226 | √ | √ | √ | √ | √ | √ |
| 80.194.167.190 | √ | √ | √ | √ | √ | √ |
| 190.79.72.89 | √ | √ | √ | √ | √ | √ |
This is how the results should look. Every IP address got access to each website with no problems. In this regard, HydraProxy's IP addresses perform just as advertised.
Unlimited Bandwidth for the Mobile Proxies
Considering how much bandwidth is being used today, having proxies with unlimited one is one of the best things you can get. The best thing about it is that HydraProxy offers its mobile proxies with no limit on the bandwidth, which is pretty rare these days.
When you're purchasing proxies, you'd want to have as much flexibility as you can, and HydraProxy can deliver that. There are several packages for residential proxies that depend on the amount of traffic you need. You can get proxies from 1 to 7 days for the mobile ones or a recurring package for an entire month.
I have to admit, there are some proxy providers with a bit better geo-targeting options, but that doesn't mean that HydraProxy is terrible at it. With residential proxies from over 100 countries, you have the freedom to choose the proxies from the country you need. For the mobile proxies, you can select them from a specific state since they are only from the US. In both cases, city-level targeting is not available. While it's not a dealbreaker, it's nice to have.
24-Hour Money-Back Guarantee
Not being able to test a few proxies for free is the worst part of any provider. With that said, a refund policy is a nice thing to have, and HydraProxy manages to balance things out. Although you may find some providers with a longer timeframe, I believe that 24 hours should be enough for you to test the proxies and determine if they are good enough.
I often end up reviewing proxy providers with pretty vague dashboards that lack information about your usage. While HydraProxy is not the most detailed one, it's better than nothing. It is primarily a good feature considering that the residential proxies have limited bandwidth, and you'd want to keep an eye on your usage. So on the top of the dashboard, you also have a usage statistic, where you can see how much of the total bandwidth you've spent.
HydraProxy is among the easiest providers I've used in the past. The dashboard has a clean and modern design, and everything is clearly laid out. You can purchase additional packages or bandwidth straight from there and be up and running in a manner of minutes.
I can't say that it's a lousy dashboard. There are some features missing that are present in other providers, but I can't criticize HydraProxy too much on this point.
One of the biggest drawbacks of HydraProxy is the authentication limitation. At the moment, you can only authenticate with a username and password. Although it's not a dealbreaker, and I have been using that approach for years, some people don't want to fiddle with that.
As for the actual authentication process, it's pretty simple. From the main dashboard window, scroll down to the proxy package you want to use and click on "Manage Access." This will lead you to the management page of the package, where you can see the username and password.
From that point on, the usage will depend on how you use the proxies and where you need to enter the login credentials.
HydraProxy is one of those providers that I would really like to recommend to most people, but I just can't. You won't find a perfect provider, you can be sure of that, but HydraProxy has some weak points that make it less attractive to some people.
Editor's Rating
Features

Pricing

Reliability

Support
Usability
Don't get me wrong, HydraProxy is a provider with many applications, as long as low latency and higher speeds are not essential. Having residential and mobile proxies means that you will have no problem unlocking any kind of restrictions that websites or services may have.
With more than enough packages and flexibility, HydraProxy will be able to accommodate most people's needs. The set of features for both types of proxies is different, so you should know which ones you're getting. For example, the mobile proxies come with unlimitedbandwidth, but you are limited to US IP addresses only. On the other hand, you can get residential proxies from over 100 countries worldwide but will be limited with the bandwidth.
There are plenty of use cases for HydraProxy, like ad verification, brand building, SEO; you may even have some success with streaming. However, keep in mind that you may struggle with lower speeds or high latency, so I wouldn't recommend HydraProxy for that.
Pricing
As I mentioned in the beginning, HydraProxy is considered an affordable proxy provider, considering what you get, especially in terms of mobile proxies. Relatively cheap mobile IP addresses with no limit on the bandwidth is something you don't see every day in the world of proxies. As for the residential ones, the price per GB is about average but still competitive when compared with other providers.
Reliability
HydraProxy was slightly disappointing in the speed and latency, but in terms of reliability, things were perfect. In the past, I've come across providers that sell residential proxies that didn't perform well in the ISP and website compatibility tests. The ones I got from HydraProxy passed both tests with no problems, meaning that reliability will not be an issue.
Support
When it comes to supporting, things with HydraProxy are not so good. Unregistered users can either send an email or ask any questions they have on Twitter. Registered ones have both of those options and a live chat session that isn't 24/7.
I would have preferred to see a phone or any kind of VOIP support. Even a live chat that is available 24/7 would have been nice.
The good news is that the FAQ section is pretty extensive and will cover most questions that users ask.
Overall, the support is not the worst, but I believe that it could use some work.
Our Verdict
HydraProxy is one of those providers that are good in some areas but fall short in others. There is plenty to like about this provider and a few things to criticize.
When you look at the pool of proxies, things are not too bad. With 7 million residential proxies in over 100 countries, combined with over 200 thousand mobile proxies from every US state. What's weird is that the mobile proxies come with unlimited bandwidth, while the residential ones have no limit on pretty much everything except the traffic.
Geo-targeting is also available, and you can fine-tune the locations, but unfortunately, you can only select per country or state, not by city. As for the rotation, both types of IPs can be set up to be rotated or sticky.
On two out of the three tests I usually do on all proxies, the ones from HydraProxy performed excellently. All IP addresses were identified as good, and each one managed to access the strict sites I usually use.
The third one was not very successful, especially in terms of latency. The speeds were not the best ones in class but should get the job done; the biggest problem was the high ping on some of the tested IP addresses. Seeing results with latency over 500 ms is not a good sign. It means that whatever you are doing will take much longer.
To see if the proxies are good for you is possible, but not as a free trial, only with the 24-hour money-back guarantee.
Overall, HydraProxy is not a bad choice, but you should consider the slightly high latency. If that is not a problem, then this provider could be an excellent choice.
User's Reviews & Rating
HydraProxy
Average rating:
0 reviews
---