Need the Moblie or 4G Proxies? Proxy-Cheap is one of the many proxy providers offering real mobile connect proxies from mobile network operators like Verizon, AT&T, Do their mobile proxies are really work well? Let's find out!
Existing a little less than a year, Proxy-Cheap is a proxy provider that has gotten a lot of attention, which is no surprise. Offering several million mobile proxies for a low price is something that people tend to notice.
Recommended for: Social automation, Ad verification & Market research
It is not often that we see a proxy provider that exists less than a year, but manages to get so much popularity. Proxy-cheap is the provider in mind. Having over 6 million IP addresses, including mobile, residential, and datacenter in 127 countries in the world, is impressive. Combine that with a price that is quite a lot cheaper than some of their competitors, and you have a recipe for the perfect proxy provider.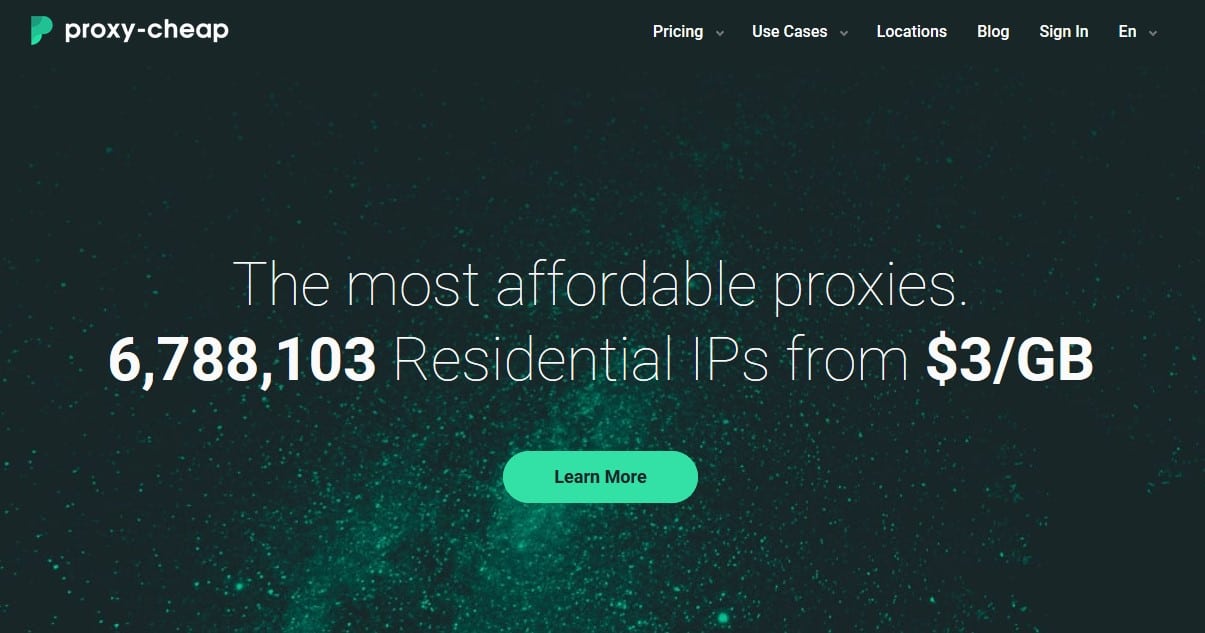 On today's list of reviews, we are going to take a look at Proxy-cheap and their proxies. The number of available proxies, combined with the competitive prices, makes this a provider that you should not disregard. Combine that with the location of the IP addresses, and it seems that they have ticked every box.
As we mentioned in the intro, Proxy-cheap offers three types of proxies: mobile, residential, and datacenter. In this review, we will only be looking at the mobile proxies and putting them to the test.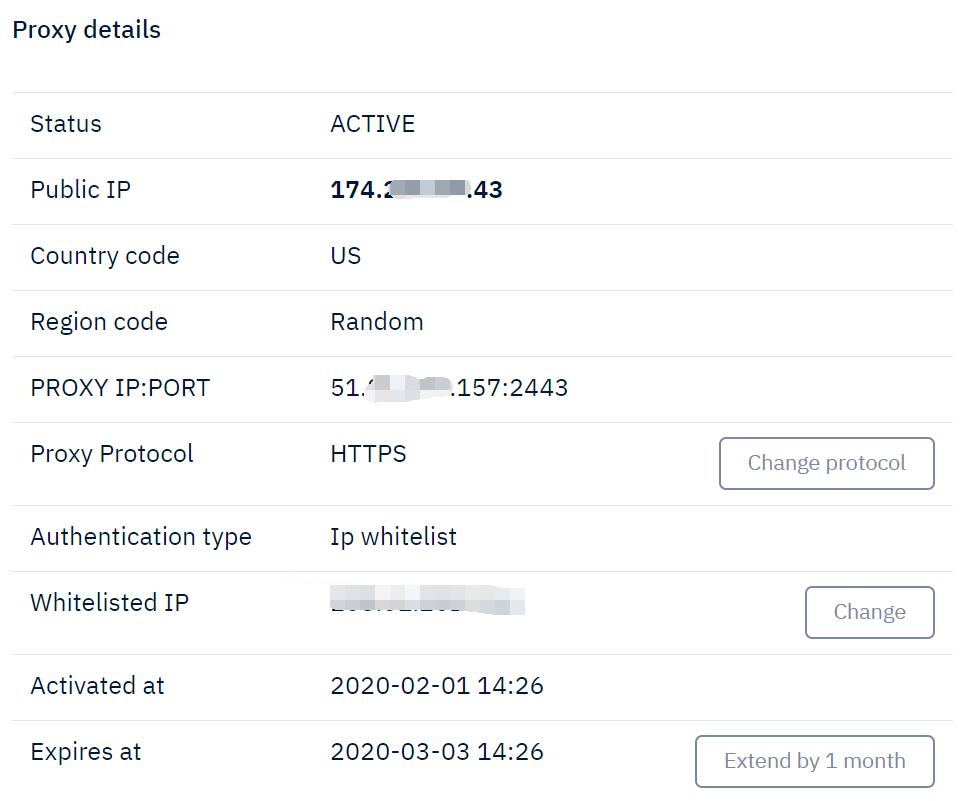 Let us dive in and see if that is true.
Pros
Decent amount of proxies
Easy to use dashboard
Unlimited bandwidth
Instant access after payment
Cons
Limited payment methods
Few functions for Mobile Proxies
No trial
Proxy Types, Features and Pricing
the mobile proxies are what the name suggests, IP addresses from mobile providers that are assigning to 4G users on a mobile network. Proxy-cheap only offers two packages of this type of proxies – France and the US region. Do not let the European region misguide you; they do not have addresses from other EU countries.

Both plans come with unlimited bandwidth, and the price shown is per proxy address. If you buy more addresses, you get a certain discount, depending on the number of proxies you get. One advantage the US package has over the European one is that you can target specific locations within the states. In other words, you can get addresses from a specific state.
One downside is that you can only pay with PayPal or with cryptocurrencies, something that might put some people off.
If you want to get mobile proxies from Proxy-cheap, you will be limited to France or the US. The exact number of proxies is unknown because they only state the total number of proxies they have, so we cannot be sure how many you would be able to have. If we take into consideration that we are talking about mobile proxies, then the number would not be all that great, maybe several hundred thousand IPs.
Ping Test & Proxy Speed Test
A proxy provider can make all the claims it wants, but at the end of the day, the test is what determines if their proxies are good or not. We put the speed and latency of Proxy-cheap's proxies to the test to see if we can recommend them.
The speed of the proxies is the amount of data it can pass through it in a second, while the latency is the time it takes for that data to get from the source to the end-point and back. Ideally, the speed should be higher, and the latency lower.
Before we started testing the proxies, we ran a test without a proxy to have a reference speed and latency results, so that we have something to compare the other results with. All of our tests are run on speedtest.net.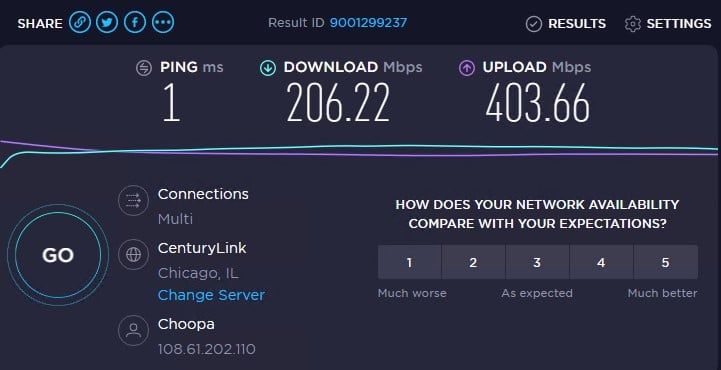 With the baseline determined, let us take a look at the speed and latency test of the proxies.
Speed tests with Proxy-CheapDetails of the speed test
| IPs of Rotating Proxy | Ping | Download | Upload |
| --- | --- | --- | --- |
| 108.61.202.110 (no proxy) | 1 | 206.22 | 403.66 |
| 172.58.21.252 | 406 | 0.94 | 5.26 |
| 107.77.198.136 | 365 | 0.12 | 0.09 |
| 174.231.128.164 | 342 | 0.94 | 0.94 |
| 174.255.133.49 | 344 | 0.96 | 1.83 |
| 172.58.101.22 | 301 | 0.82 | 5.35 |
| 172.58.43.182 | 377 | 0.97 | 8.14 |
| 172.58.38.251 | 391 | 0.75 | 1.11 |
| 24.237.158.22 | 491 | 0.79 | 14.67 |
| 172.58.59.92 | 279 | 0.95 | 14.5 |
| 174.237.137.227 | 342 | 0.94 | 0.97 |
IP 1: 172.58.21.252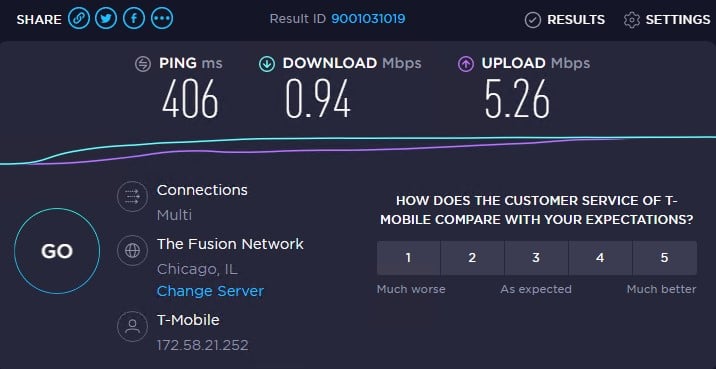 IP 2: 107.77.198.136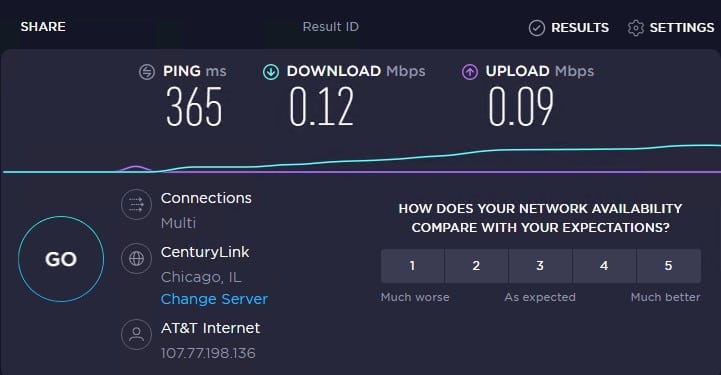 IP 3: 174.231.128.164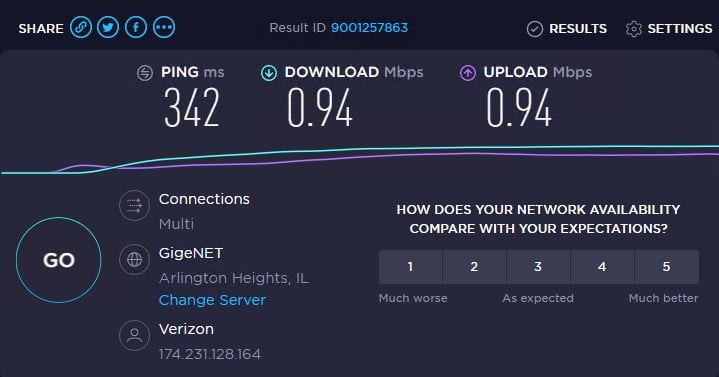 IP 4: 174.255.133.49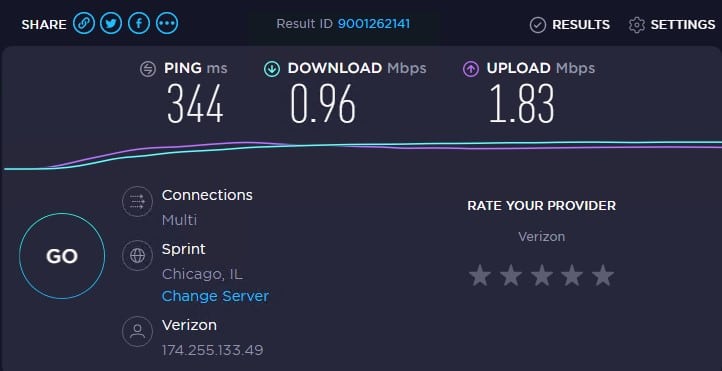 IP 5: 172.58.101.22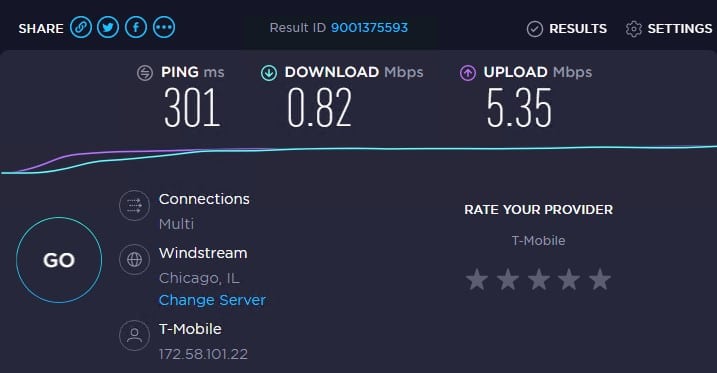 IP 6: 172.58.43.182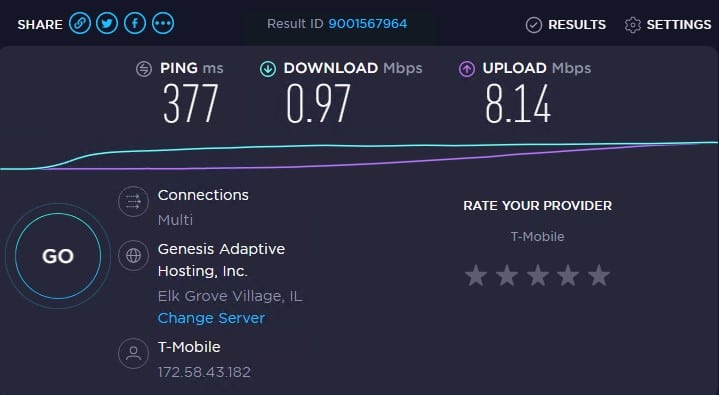 IP 7: 172.58.38.251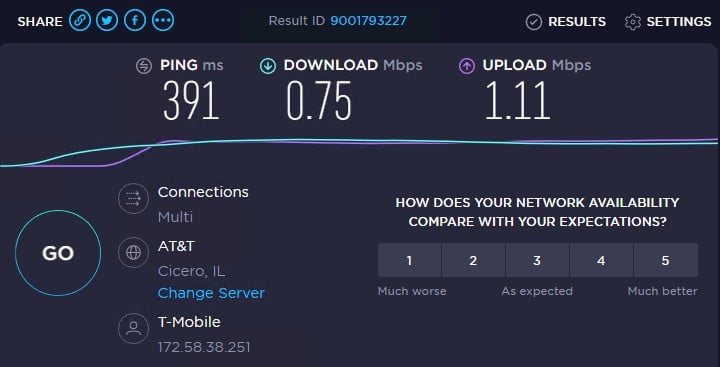 IP 8: 24.237.158.22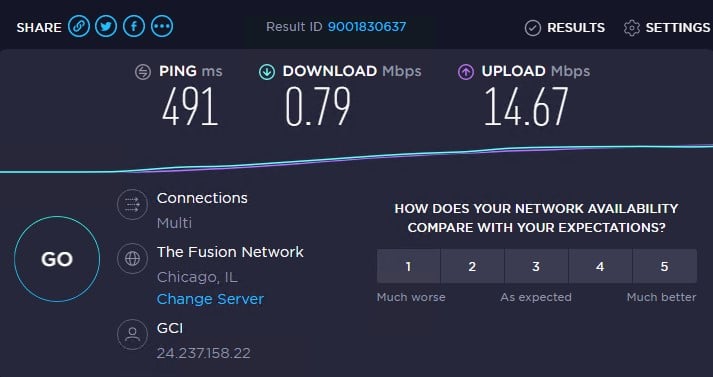 IP 9: 172.58.59.92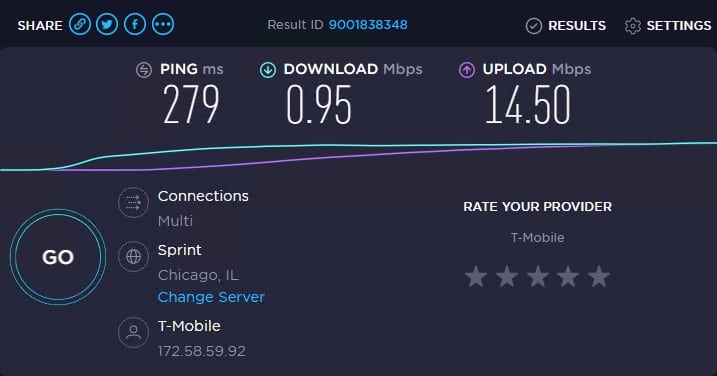 IP 10: 174.237.137.227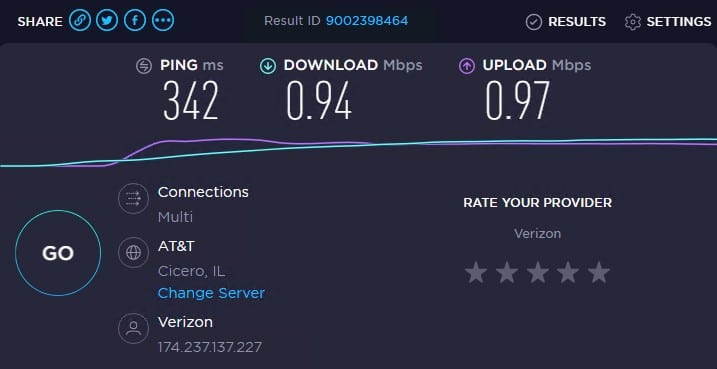 If we take into consideration that we are testing mobile proxies, the speeds are not all that bad. On the other hand, all of the proxies should be 4G, so we can say that the speeds are not all that great.
Almost all 4G proxies are slow, Personally, I don't think it's a big issues.
We have seen better results in other competitors. If we look at the latency column, things are not improving. There is barely any result below 300 milliseconds, with one result reaching almost 500. The good news is that we do not see unfinished results, so even the speeds and latency are terrible, they are stable.
Regardless of how fast or slow proxies maybe, if they are identified as proxies, then they would not be of use to you. We put the mobile proxies from Proxy-cheap through our geolocation test, so see how good they are.
Proxy-Cheap ISP Test Details of the ISP Test
| | | |
| --- | --- | --- |
| IPs of Rotating Proxy | Hostname/IP | ISP/ASN |
| 108.61.202.110 (no proxy) | 108.61.202.110.vultr.com | AS20473 – AS-CHOOPA |
| 172.58.21.252 | 172.58.21.252 | AS21928 – T-MOBILE-AS21928 |
| 107.77.198.136 | 107.77.198.136 | AS20057 – ATT-MOBILITY-LLC-AS20057 |
| 174.231.128.164 | 164.sub-174-231-128.myvzw.com | AS22394 – CELLCO |
| 174.255.133.49 | 174.255.133.49 | AS6167 – CELLCO-PART |
| 172.58.101.22 | 172.58.101.22 | AS21928 – T-MOBILE-AS21928 |
| 172.58.43.182 | 172.58.43.182 | AS21928 – T-MOBILE-AS21928 |
| 172.58.38.251 | 172.58.38.251 | AS21928 – T-MOBILE-AS21928 |
| 24.237.158.22 | 22-158-237-24.akdigitel.static.gci.net | AS8047 – GCI |
| 172.58.59.92 | 172.58.59.92 | AS21928 – T-MOBILE-AS21928 |
| 172.58.120.217 | 227.sub-174-237-137.myvzw.com | AS22394 – CELLCO |
IP 1: 172.58.21.252


IP 2: 107.77.198.136


IP 3: 174.231.128.164


IP 4: 174.255.133.49


IP 5: 172.58.101.22


IP 6: 172.58.43.182


IP 7: 172.58.38.251


IP 8: 24.237.158.22


IP 9: 172.58.59.92


IP 10: 174.237.137.227


The results should not surprise anyone. Mobile proxies, if they are good, should not be detected by proxies at all. After all, one of the reasons they are the most expensive is the fact that they are almost undetectable. If we take a closer look at the ISP/ASN column, we see that the addresses are from T-Mobile, Cellco, AT&T, or GCI – all providers that offer mobile services and all of them in the US.
IP address compatibility Test
Speed and location will mean nothing if you cannot access specific sites. Some of the more popular sites are strict about what kind of IP address can access it and from where. We took Proxy-cheap's mobile proxy addresses from both previous tests and put them to the test against some of the strictest websites.

| | | | | | | |
| --- | --- | --- | --- | --- | --- | --- |
| IPs of Rotating Proxy | IG | Pin | TM | CL | Nike | Adidas |
| 108.61.202.110 (no proxy) | √ | √ | √ | √ | √ | X |
| 172.58.21.252 | √ | √ | √ | √ | √ | √ |
| 107.77.198.136 | √ | √ | √ | √ | √ | √ |
| 174.231.128.164 | √ | √ | √ | √ | √ | √ |
| 174.255.133.49 | √ | √ | √ | √ | √ | √ |
| 172.58.101.22 | √ | √ | √ | √ | √ | √ |
| 172.58.43.182 | √ | √ | √ | √ | √ | √ |
| 172.58.38.251 | √ | √ | √ | √ | √ | √ |
| 24.237.158.22 | √ | √ | √ | √ | √ | √ |
| 172.58.59.92 | √ | √ | √ | √ | √ | √ |
| 174.237.137.227 | √ | √ | √ | √ | √ | √ |
*IG – instagram, CL – Craigslist, Pin – Pinterest, TM – Ticketmaster
Here we have results that should also come as no surprise. All proxies had no problems accessing all the sites we tried them on. We even had no problems with Ticketmaster – a website notorious for very strict policies when it comes to proxies. These results show that we really had good proxies that are undetectable.
Something that should be among the most important things with a proxy provider is the support. Proxy-cheap offers a 24/7 live chat support, so if you ever get in a situation where you need help, you will have your problem solved instantly, instead of waiting for an email response.
This is something we do not see every day. In a world dominated by IPv4 IP addresses, it is refreshing to see a provider offering IPv6 proxy addresses. Bear in mind that only their datacenter proxies are IPv6, the rest are IPv4.
A feature we keep seeing more and more with proxy providers these days. You can use Proxy-cheap's referral program to earn some bonuses that you can later use to buy more proxies. The program works on percentages.
The dashboard is clean, but the lack of features or options might make you think that it is more complicated than it really is.
Note, other mobile proxies providers are usually rotating the IP every 3 or 5 minutes automatically, proxy-cheap offer their mobile proxies that sticky the IP address until the connection is down! This is much better for account management.
Login to the dashboard and from the left navigation panel to go proxies. Then from the main page, go to mobile proxies, and there you have everything that you will need to set up or change.

If you click on the gear icon on the right side, you will see the details of your proxy, as well as change the proxy protocol and the authentication settings.
Speaking of authentication, the mobile proxies from Proxy-cheap can only be authenticated with a whitelisted IP address.
To add or edit a whitelisted IP address, you will need to go in the settings of the mobile proxies and click on "Change" in the row where it says "Whitelisted IP." If you already have one set up, you will see it displayed there. Once you enter the new IP address, click on "Update," and the changes will take effect almost instantly.
Proxy providers always have something good you can tell about them. The same goes for Proxy-cheap. In some segments, it falls short, but it excels in others.
Editor's Rating
Features

Pricing

Reliability

Easy to Use

Support
Usability
You will have no problem using Proxy-cheap's proxies. They are easy to set up, and the dashboard is simple and easy to get around. There are only a handful of options and settings that you can change, so you will not need a tutorial on how to use it. As soon as you get the proxies, you can start using them.
Pricing
They are cheap. Proxy-cheap has one of the lowest prices in the proxy provider category, so that is a big upside. You are getting mobile proxies, so do not expect to get them for a few cents per address. But even with that in mind, the mobile proxies that they offer are among the cheapest on the market.
Reliability
During the time we spent testing the proxies, we had no problem with them at all. People online that have used them also reported no problems, so so far, so good for Proxy-cheap in the reliability department.
Support
One of the selling features that Proxy-cheap advertises on their website is their 24/7 live chat support. Having that means that you will always get a live person to talk to you about a problem you have with your account or proxies. They have a knowledgebase which does not contain anything that a user might need, so that is a bit disappointing.
Verdict
Proxy-cheap, as we keep mentioning in this review, is among the cheapest proxy providers on the market at the moment. They have been around for less than a year and are far from the perfect service, but they are more than adequate for most people. The number of mobile proxies is unknown, but selling them cheaper than other companies' residential proxies tells a lot. The speeds and latency is not something that will win them the first price, so if you need to move a lot of data around with your proxies, you should look elsewhere.
One thing I do no like is their mobile proxies do not offer IP rotation options! Except that, the quality of the proxies is excellent, so if you can get over the waiting, you should give Proxy-cheap and chance and see if they would work for you. Before you do, bear in mind that they do not offer a trial, so be prepared to pay for their proxies if you want to test them.
User's Reviews & Rating
Proxy-Cheap
Average rating:
0 reviews
---