Are you a regular shopper on Supreme? Want to be a more successful shopping streak? Check out our list of top 10 Supreme bots that will help you with that.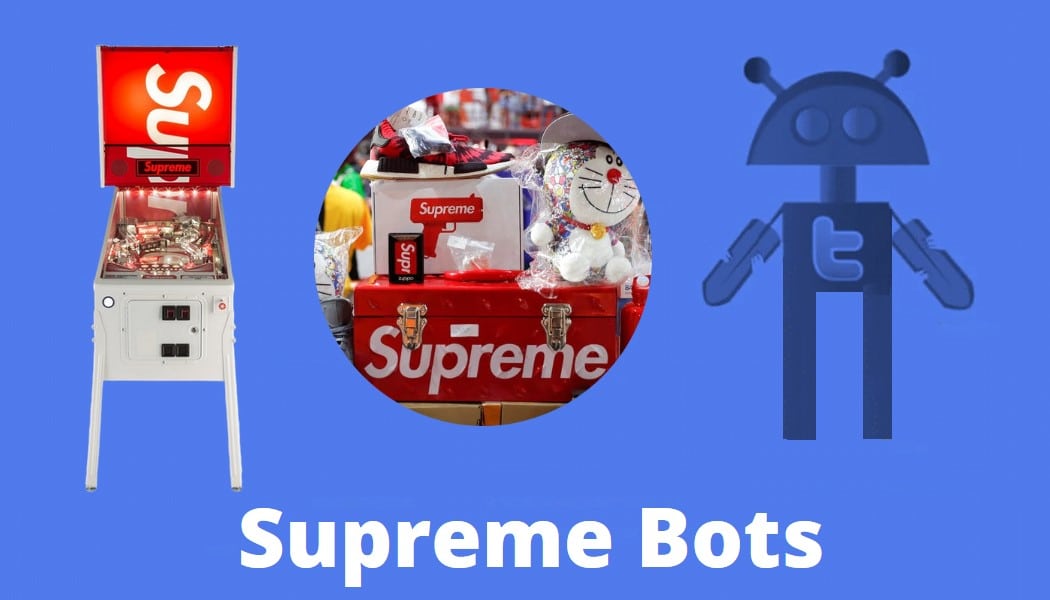 Founded in the mid-90s, this American brand that manufactures and sells clothes and accessories has quickly grown from a small skateboarding shop to one of the most popular retailers in the world. Despite the popularity, unlike the other brands, Supreme only operates out of 12 locations.
One thing that Supreme is famous for is that the items they sell are in very limited supply causing a high demand for low stock. As a result, if you want to get your hands on an item, you will have to wait for the official release and try to be quick when making the purchase.
As a response to that, developers have developed Supreme bots. the purpose of these bots is to take away the hassle of purchasing, automate it and go it for you. The main advantage is that a bot is a software that can run things much faster than you. Also, once the bot is up and running, you will not need to move a finger to make a purchase.
With that in mind, in this article, we are going to outline the top 10 Supreme bots that you should look at if you want to have more success when shopping on Supreme.
---
Best Supreme Bots
One of the products in Another Nike Bot's lineup is its Supreme bot. Equipped with multithreading capabilities able to run multiple email accounts at the same time, ANB's Supreme bot is a popular choice in this category.
The proxy support, link monitor, auto-retry as well as the browserless or express checkout are among the key features of this bot. There are two major downsides to this bot. The price is not all that high, but you are limited to only ten accounts, and on top of that, you get a piece of software that is long overdue for an overhaul.
Pros
Works well with Supreme
Full of features
Cons
User interface outdated
Limited to only ten accounts
Read more, The Best Nike Snkrs Bots for copping sneaker online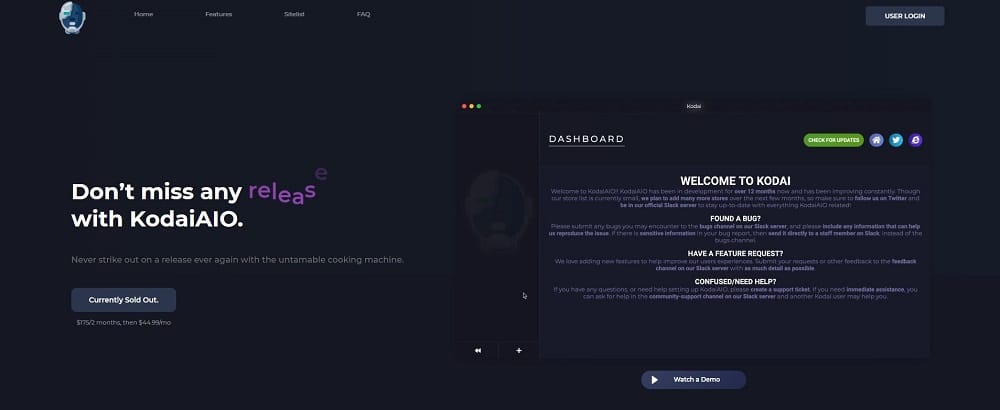 Kodai AIO is an all in one bot that may not be everyone's first choice but is still a decent Supreme bot. The set of features is not something that gets people excited, mostly due to the fact that they are basic. You get support for proxies, an algorithm that can solve CAPTCHAs, select size all neatly wrapped in a dashboard that not only looks good but is also easy to use and navigate.
Unlike most of the bots on the market, Kodai AIO is a Supreme bot that has native support for Windows and Mac. Another advantage this bot has is the pricing. Instead of a 6-month or a year license, you can pay for the first two months and then renew monthly.
Pros
Easy to use and navigate
Pricing structure better than competitors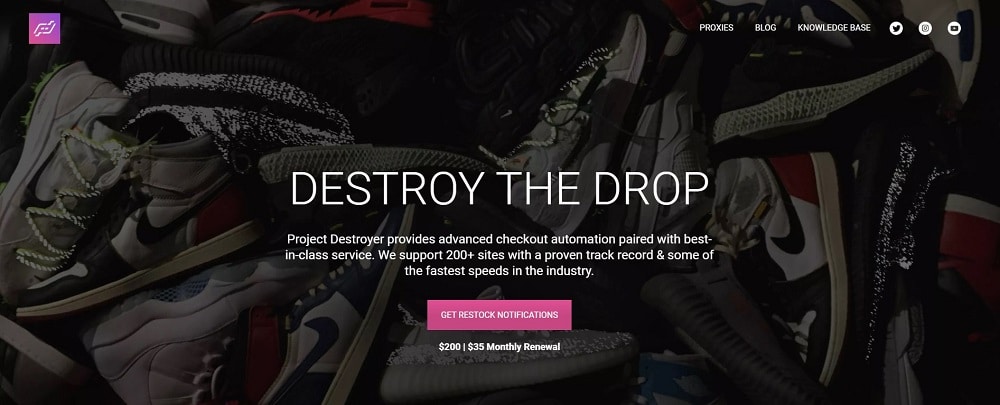 Continuing with the list of all in one bots we come to Project Destroyer. Compared to Kodai AIO, project destroyer is superior when it comes to features. Apart from the regular features like proxy support and CAPTCHA solving capabilities, Project destroyer also incorporates cookie jar for harvesting cookies from websites you want to purchase from as well as a waterfall monitor that helps prevent detection and ban.
An interesting piece of information is that Project Destroyer supports Supreme in the US, UK, and JP, but not in the EU. This Supreme bot works on Windows, and for Mac, you will need to run it from a virtual machine.
Pros
Competitive price and pricing structure
Elegant dashboard
Cons
Mac version runs from a virtual machine
No support for Supreme EU

All in one bots have grown in popularity in the past few years, and the same can be said for CyberSole. With the ability to create an unlimited number of tasks backed up by the ability to utilize multithreading for even faster purchases, CyberSole is an excellent Supreme bot. the higher price tag is often justified by the additional features that you get with this bot. They include CAPTCHA solver, a mode for waiting for restocks, and a lot more. But this is where things start to go downhill. They claim that their bot supports Supreme, but that only applies to the US and UK regions. Also, the bot will only run on a Windows computer.
Pros
A lot of advanced features
Elegant design
Cons
Not the cheapest on the market
EU and JP regions not supported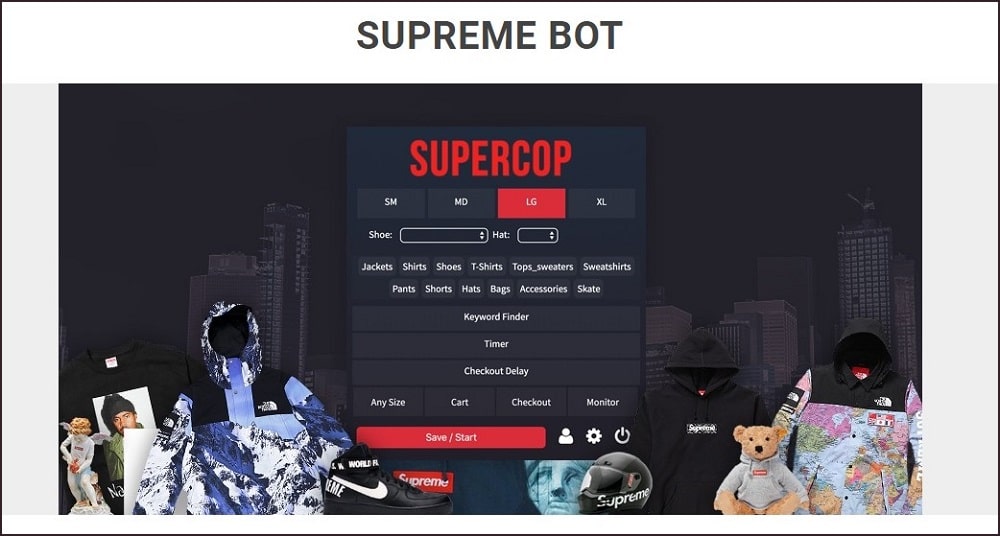 Unlike CyberSole, SuprCopBot has a lineup of several bots, among which is the Supreme bot. Another thing that distinguishes this Supreme bot from most of the others is that it is a Chrome extension that you can run it on any computer that runs the browser. Regarding features, it does not disappoint.
The list includes size selector and purchase of the next available size, keyword lookup, timer and delay, proxy support, and a lot more. Most people will be surprised by the price, but there is a twist. Even though the price seems cheap, the license will only be valid until the end of the season. For the next one, you will need to renew it. even though they claim worldwide support, there is no support for the Supreme EU region.
Pros
Offers features that other bots do not have
Cons
Seasonal license
No support for EU region
This is another Nike bot with an all in one bot available in its lineup. BNB's AIO is a bot similar to the other all in one bots on this list; it supports Supreme purchases. The price is fair and competitive compared to the others, but the list of features lacks some of the advanced ones that other bots offer.
You do get the option to create an unlimited number of accounts, paired with a Supreme keyword finder, CAPTCHA solver that can run automatically and manually as well as a browserless checkout. In the supported region's department, we finally see the EU regions supported, but not the UK. This Supreme bot can only run on a Windows machine.
Pros
Competitive price
Supports Supreme EU region
Cons
Interface is outdated
No support for Supreme UK region

Plugged is a Supreme bot with a twist that you probably do not expect. Plugged has two Supreme bots – one that works on Windows and Mac computers, and the other one is an app for iPhones. Regarding the features, both bots implement the same set of options that will ensure a successful Supreme purchase.
You have the option to create an unlimited number of tasks that you can schedule so that the bot can run when the item is released. There is also a mode for restocking in case you missed the drop. For the other features, you get proxy and discord support. The desktop and mobile Supreme bots work with the US and EU regions, and for the price, it is a bot that should not be overlooked.
Pros
Windows, Mac and iOS native apps
Elegant design
Cons
Only Supreme US and EU are supported

ForceCop is a Supreme bot that is quite often viewed as a competitor to Plugged. The reason for that is the option to use it on a mobile device. On the other hand, unlike Plugged, ForceCop's desktop bots are not standalone applications; instead, they are Chrome extensions. On top of that, ForceCop also offers iOS and Android applications. The set of features also do not disappoint.
You get automatic add to cart and checkout, size selector, manual CAPTCHA, keyword finder, all wrapped in a fluid and intuitive design. The price is not the most expensive that we have seen, and the license will need to be renewed each season. Unfortunately, ForceCop supports Supreme US/CA, UK, and JP.
Pros
Android and iOS app
Easy to use and elegant design
Cons
Available as an extension only for Chrome
No support for Supreme EU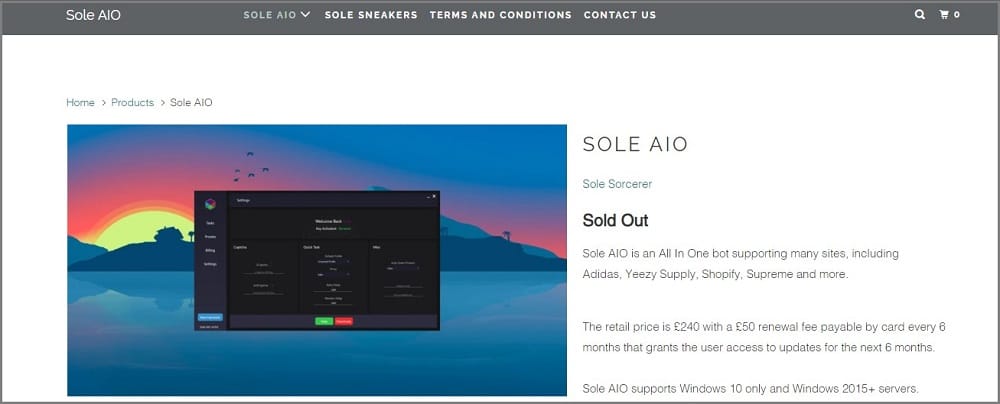 Among the most popular all in one bots that work with Supreme is Sole AIO. The overall price to performance is decent, which is why this can be a great Supreme bot.
Feature-wise it is not the richest one, offering only the basic features to get the job done. They include automated add to cart and checkout, CAPTCHA solver, proxy support, and a few other options. The supported Supreme regions cover only America and Europe, and the application can only be installed on a Windows computer.
Pros
Competitive price
Sleek user interface
Cons
No support for Supreme JP
Offers only basic features

Last but not least, in our list of Supreme bots is Superbot. This is a bot dedicated to being used only for making purchases from Supreme. One thing that they advertise on their website is how fast the bot is. This is due to the way it is developed and the ability to utilize multithreading to make sure that the purchase process is as fast as possible.
Among the other features you get size and color selector as well as the ability to purchase any size, the bot can monitor for restocking. The developers of this Supreme bot have announced that they will be implementing proxy support in the near future. With the price tag that is not the cheapest, at the moment, this bot is a decent contender, but far from the best. Since the bot is a Chrome extension, you can use it on any computer that supports the browser.
Pros
One of the fastest bots in the business
Cons
Available as an extension only for Chrome
No support for proxies
Frequently Asked Questions
Can I buy from Supreme without a bot?
You can ana a lot of people are trying to make a purchase with the traditional way, but in most cases that is not successful. Bots are software developed to work faster than humans, and with that, they are able to make the purchase much quicker than you.
Is it legal to use Supreme, and will I get in trouble for using one?
From a legal point of view, bots are permitted to be used, but all bots are violating the terms of service that Supreme has. Wanting to provide all customers with equal advantage, they discourage the use of bots. If by any chance, you are discovered that you are using a bot, the worst that may happen is to have your IP address banned.
If you are using a proxy server, then you have nothing to worry about, but if you are using your home IP address, then it will be banned, and you will have no access to Supreme.
Can I resell items purchased on Supreme?
Yes. Supreme will have no idea that you bought something from them and resold it to another person. This is a common practice for people looking to earn extra cash. The morality of these steps is debatable, but at the end of the day, Supreme will not be cross with you for reselling an item because they will not know that you have done that.
Which is the best Supreme bot?
That is individual. Each bot incorporates a unique set of features, prices, and supported sites, which means that there are no two bots alike. The real question you can ask is which is the right bot for you. The answer to that question is something that you should answer. We outlined the details of each bot, with the pros and cons, so it is up to you to decide which one would work the best for your needs.
---
Conclusion
Even though Supreme is not available in hundreds of regions in the world like other retailers, people are still interested in making purchases from there. Our list of the best Supreme bots is going to be enough to get you started with what could be the best Supreme bot for you.
---