Ever dreamed of getting your hand on a limited-edition Nike sneaker? With our list of the best Nike bots you can increase your chances of owing what you always wanted.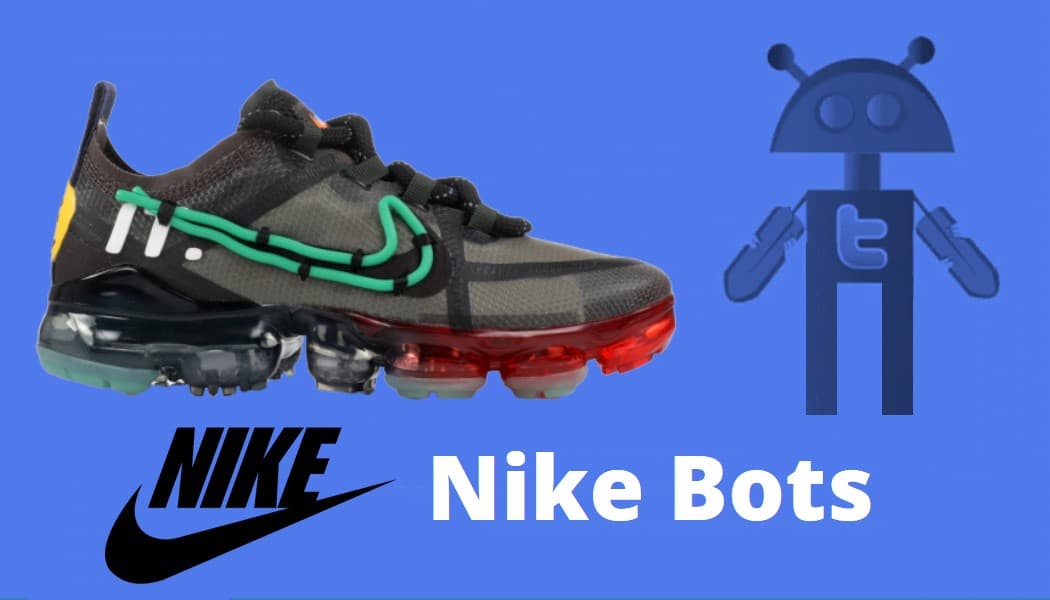 Formerly known as Blue Ribbon Sports, Nike is an American corporation working on design and manufacturing of sports equipment. In their existence of almost 60 years they have been one of the two most popular brands that people turn to when in need of sneakers. Things get much more heated when Nike decides to release a limited edition.
In the case of a limited-edition product, Nike will get more people interested in the product than the actual number of products made. In those cases, the ones that make the purchase earlier are the ones that will be lucky. About a decade ago the shopping was coming down to speed of the user, but today, bots are taking over the process.
Nike bots are software developed to improve the purchasing process and decrease the time it takes to complete it. Since the software can move and react much faster than any human would, bots are starting to dominate the copping process of sneakers, regardless if it is from Nike or any other retailer. Equipped with tons of features these bots are striving to be the best at what they do and are in constant competition to be the fastest and most successful one.
If you are new to this field it is very likely that you do not know which bot to use or where to look for. Unlike most of our top lists, this one will be with only five entries. The reason for that is that Nike is rather strict and not too many bots have been able to work successfully on Nike. Let us begin with our list of top five Nike bots.
---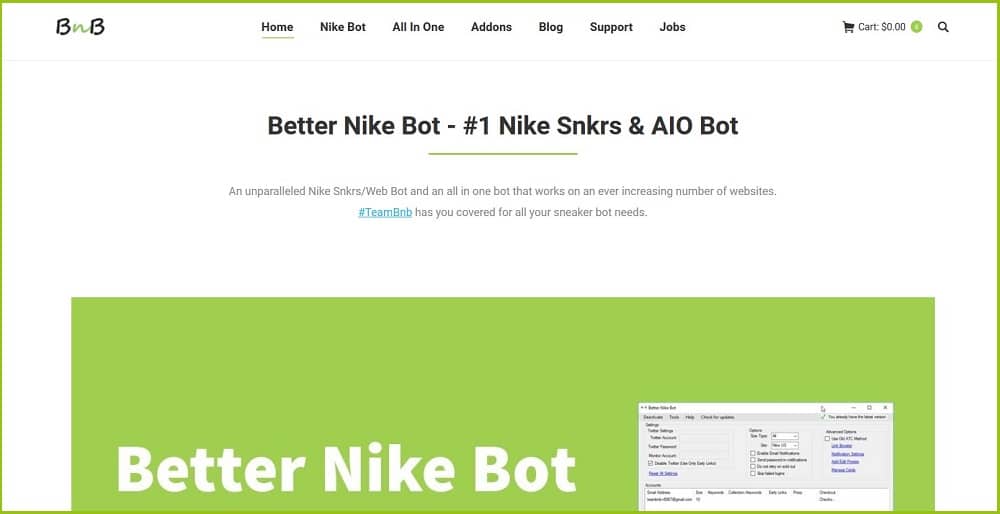 We are kicking off the list with Better Nike bot which is often considered as a decent Nike bot. BNB has a few things worth mentioning and all are reasons enough to get this bot on the list. Priced slightly lower than most of its competitors, this Nike bot offers the ability to create unlimited number of accounts, check the accounts in bulk or individually, support proxies, and quite a lot more features.
The checkout for the products is browserless, but only for the US region. To speed things up during the checkout process, the bot can utilize multi-threading – to make sure you are among the first to make the purchase. Speaking of regions, BNB provides support for 14 Nike regions and the application can only run on a Windows machine.
Pros
Competitive price
Packed with features
Cons
Not a lot of regions supported
User interface could use an update
---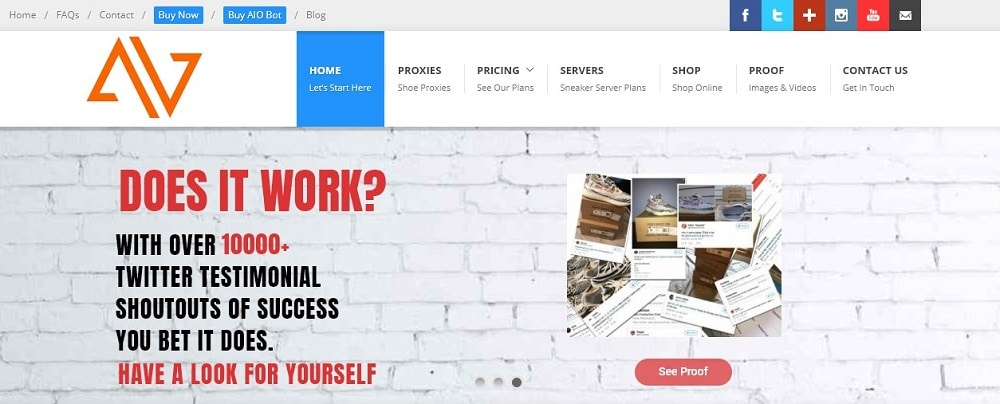 The next bot on our list is Another Nike Bot, literally. ANB has always been looked at as a competitor to BNB, so we had to put it in the list. The features list is somewhat identical to BNB. This Nike bot uses multi-threading technology to improve purchasing speeds. Speaking of, the entire purchasing process is automated and you are limited to create a maximum of 500 tasks. The bot also comes with a proxy tester, discord support, and a scheduler all wrapped in an easy to use interface.
The list of supported regions is almost on par with BNB. It supports the US and EU regions completely as well as a few countries in Asia and Australia. ABN can run with no problem on Windows and Mac computers.
Pros
Wide range of Nike supported regions
Feature-rich
Cons
Pricy
Outdated user interface
---
An entry in this list that most people would not believe it is here. Ghost SNKRS is a Nike bot that should not be left aside. With a price that can compete with most of the other more popular bots, Ghost's Nike bot provides a basic set of features that should suffice for most cases.
The set of features includes an account manager for creating and verifying unlimited number of accounts, order checker for tracking your orders, pre-cart process which adds the item to the cart before the official release, notifications, proxy support, and a few others. Ghost SNKRS supports 18 Nike regions which is not the most of what we have seen, but it is more than enough. Most of these bots will only work on Windows, but this bot works on Windows as well as a Mac computer.
Pros
Elegant and easy to use interface
Windows and Mac native support
Cons
Offers only the basic set of features
---

The next Nike bot on this list is EasyCop bot. Unlike some of the other bots here, this is not a dedicated Nike bot, but the list of features makes it an excellent choice for people looking to cop from Nike. The list of features is decent and manages to cover all the important parts. EasyCop incorporates multi-threading technology to ensure that it manages to make the purchase as fast as possible.
The checkout process is all done automatically and you are able to create an unlimited number of tasks. The link monitor will provide you an early link so that you can be prepared for the next release, while the CAPTCHA solver will make sure to avoid any obstacles between you and your favorite pair of sneakers. The price for this Nike bot is average and for that you get a bot that can work on Windows and Mac computers and support all EU Nike regions, as well as US and JP.
Pros
Unlimited tasks
Windows and Mac native app
Cons
Only supported region in Asia is Japan
---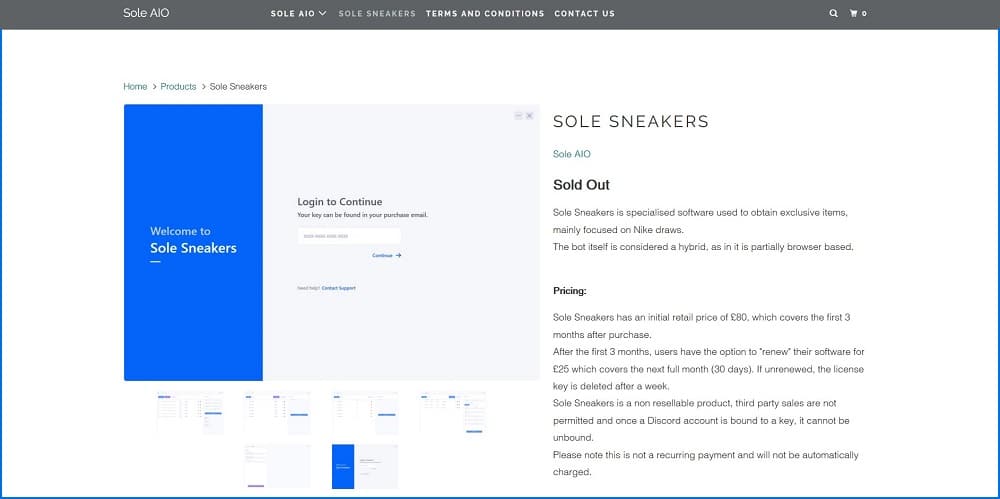 The last Nike bot on today's list is Sole Sneakers. This a separate product than Sole AIO and only works as a dedicated Nike bot. With support for 34 regions around the world, this is by far the most widely supported Nike bot we have seen. On top of the excellent support, there is also the price, which is not the cheapest, but if you take into consideration the rest of the features you get it is a good bargain.
The set of features include proxy support, multi-threading for faster checkout, auto retry in the event the page crashes or the item is no longer in stock as well as avoid CAPTCHA barriers. As much as we want to praise this as the best Nike bot there is one big flaw – it only works on Windows computers.
Pros
34 supported Nike regions
Lots of features
Cheaper than some of the competition
---
FAQs About Nike bots
Why are there so little bots for Nike?
The main reason for the lack of diversity when it comes to Nike bots is the fact that they have incorporated some very strict anti-bot measures that make things difficult for developers looking to create a Nike bot. There still are a few, but unlike Adidas bots, the number of Nike bots is not that great.
Is it allowed to use a Nike bot?
It is not forbidden. Nike, as well as most of the other retailers, do not encourage the use of bots to make purchases, so if you get caught you will be banned. if you use proxies, then this will not be a problem, if you are using your home IP address, then you will not be able to access Nike from your home.
What are the chances of making a purchase with a bot and how to increase them?
There is no precise answer to this question. The chances of making a successful purchase vary on numerous factors and no one can say for sure how big your chances are. If you want to increase them, there are a few things that you can do. Make sure to use bots that support multi-threading to improve the performance of the bot. You should also use proxies that are sold specifically to work with Nike bots and are in the region where you want to make the purchase from.
---
Conclusion
Nike is among the strictest website when it comes to people making purchases with a bot. Regardless, there are still a few companies that have managed to develop bots that can work successfully with Nike and manage to make a purchase. If you ever need a Nike bot, check out our list and head over to Nike to cop your favorite item.
---