Despite not being the world's most popular proxy provider, 911 S5 was a provider with a large user network. Unfortunately, the service is shutting down, so what are the alternatives?
Many people turn to proxies when they want anonymity. Sure, there are plenty of options, but not all are good or can provide a decent service. One of the rare options that did that was the 911 S5.
As a residential SOCKS5 provider, this service didn't outline much information regarding its pool size. We knew it had millions of IP addresses and constantly worked on filtering out the poor performers. As for locations, the proxies came from over 190 countries, which is a very wide coverage.
Unlike most providers we know today, 911 S5 was a service that came in the form of Windows software, making things a bit complicated. Though veterans were fine with it, novice users often got stuck. On the positive side, the pricing structure was quite different.
911 S5 offered residential proxies and charged based on the number of proxies, meaning you had no bandwidth limitation. In addition to that, there was no monthly subscription, meaning you paid for the proxies and had no limitation on the duration you'd use them.
It seemed like the perfect provider, but unfortunately, as of the 28th of July, 911 S5 is shut down. It means that all of its services are already terminated. Naturally, if you relied on proxies, you are probably looking for an alternative, and you're in luck.
Today's list will include alternative residential providers that you can turn to. Most of them won't offer the same features as the 911 S5, as that was a pretty unique option.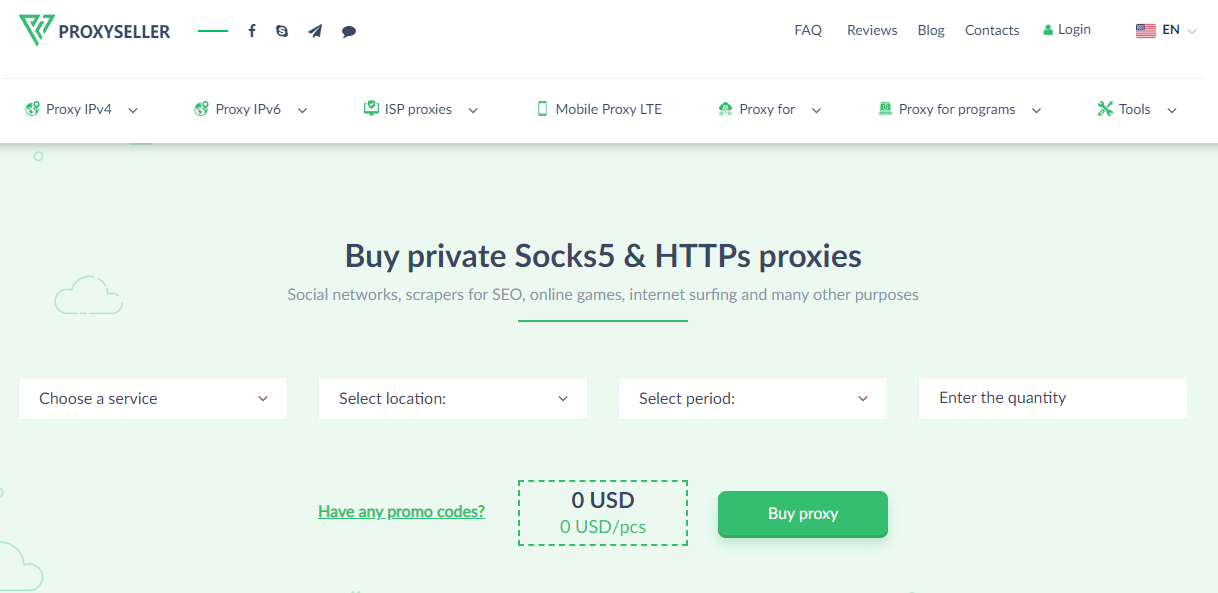 Continuing the list with another name that doesn't get on many popularity lists. Proxy-Seller seems to fly under the radar, but it's a solid option for many people looking for datacenter proxies with excellent performance.
The area where Proxy-Seller isn't so great is the number of SOCKS5 proxies or the lack thereof. There is no mention of the pool size, which is why some people may be afraid to use it. It's not all negative, though, as the provider does well in terms of locations. There are over 50 locations on the list, meaning there's a decent amount of flexibility.
When it comes to paying, the pricing structure is a bit different. Unlike most providers, with Proxy-Seller, you're paying for the number of proxies based on the location. It means that if you're looking for Belarus proxies, you'll be paying $0.86 per IP address. On the other hand, UK proxies will set you back $2.77 per IP address.
Proxy-Seller does many things right, but the biggest problem is the lack of a free trial. The slight positive thing is that there is a refund policy. Unfortunately, it's limited to only 24 hours, which may not be good enough for some people.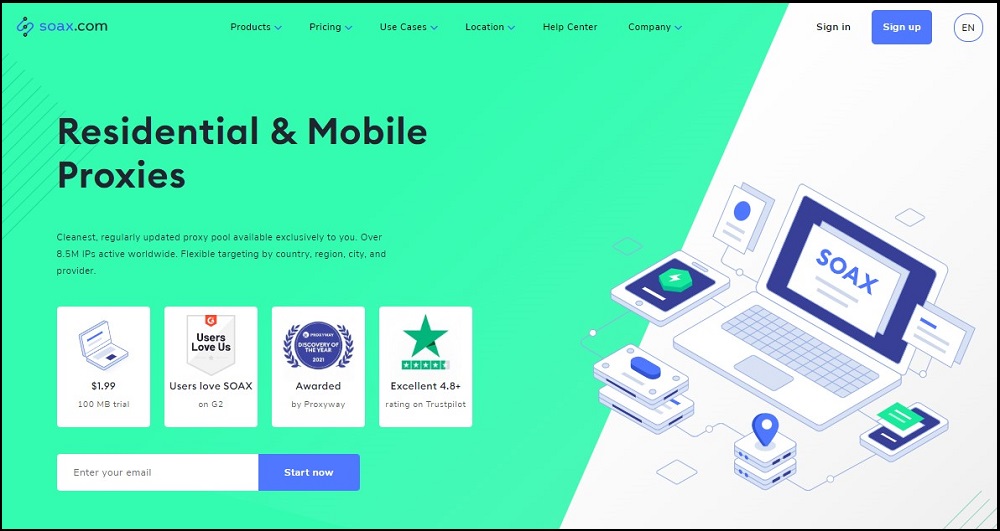 Another prominent name in the proxy industry is Soax, which is an excellent alternative to 911 S5 for getting SOCKS5 proxies. Even though it's not as big as some of the larger providers, it's still a very solid option.
Like with the previous provider, you have two options to choose from – residential and mobile proxies. Both of these combined make up for over 8.5 million IP addresses located in around 120 countries. While it's not the most flexible option, it's also not the most limiting one.
In the pricing department, Soax takes a standard approach for both types of proxies. The packages range from $99 to $700 for the residential and mobile proxies, and the only difference is in the amount of included bandwidth. With this, you can expect a different price per GB, while the number of available ports on each package for both types of proxies is the same. If none of these work, you can reach out to the sales department and as for a custom package.
While most providers offer a free trial, Soax offers a paid trial. It will cost $1.99 and will give you a test account with 100 BM of bandwidth. While it's not the most flexible one, it should be enough to test if the proxies work as intended.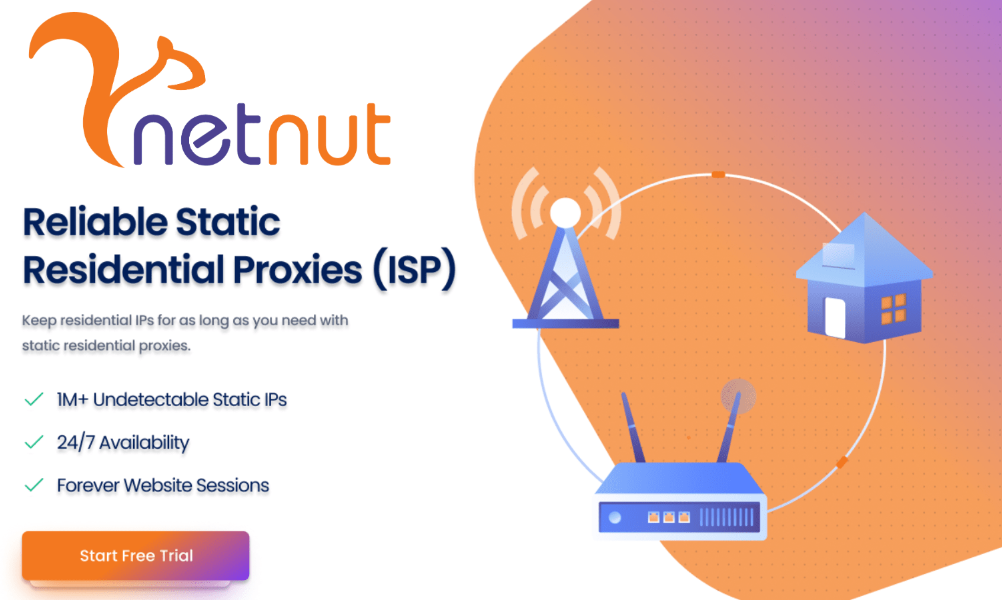 If you're searching for a reliable alternative to 911. re's SOCKS5 proxy, NetNut has the perfect solution. NetNut's static residential proxies offer great performance and dependability, making them a smart choice over regular SOCKS proxies.
NetNut's static residential proxies are fully SOCKS5 compliant, which means they provide strong security and support advanced ways to prove who you are. This is better than the older SOCKS4 proxies. Using SOCKS5 makes things like connecting to the internet and moving data around faster and easier. It's great for things like getting information from websites, collecting data, and using a VPN to stay private online.
What makes NetNut's static residential proxies special is that they use IPs from people's homes, not just the usual ones from websites. They have over 1 million of these special IPs from around the world. This means you can connect to websites from different places without any trouble. You can get the data you want from different parts of the world without any problems.
Switching from regular 911 proxies to NetNut's modern SOCKS5 static residential proxies can make your online actions look more normal and less likely to be found out or stopped by websites. You can try this out with NetNut's 7-day free trial. You'll see how easy and safe it is to use the internet with these special IPs from different countries. And if you're a small or big business, you can choose from different paid plans that fit what you need. It's a great way to make your online activities better and safer.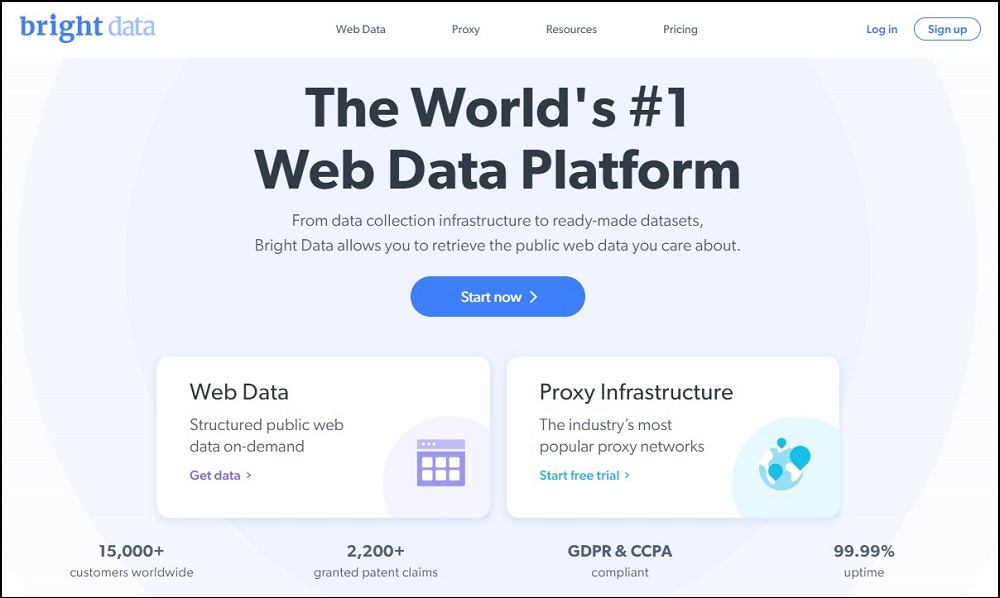 Finally, we come to one of the biggest names in the proxy industry – Bright Data. The company was previously known as Luminati and continued to grow after the rebrand.
Technically, Bright Data doesn't offer the standard SOCKS5 proxies that most of the other providers do. Instead, you can set up the dashboard to work with that protocol, and you're practically getting the same thing.
As for the pool of proxies, Bright Data has over 72 million IP addresses in over 195 countries which is an excellent number. When you consider the number of countries, you're looking at one of the most flexible providers on the market.
Price is an area where Bright Data isn't near the top, as it's considered as not the most affordable option. You have 4 packages to choose from, and since the bandwidth is limited, you're choosing based on the amount of GB you want to get. If you need more, you also have the option for the custom package, where you can get as much traffic as you need. The company also offers a pre-paid package, where you avoid the monthly fee and pay as much as you spend.
The higher price also means that you'll be getting plenty of features. Besides the security ones that Bright Data has incorporated, there's the star of the show – geo-targeting. Thanks to how the network is set up, you can choose based on a country, city, or provider, so you can fine-tune the location based on your needs.
Unlike most of its rivals, Bright Data does offer a trial, and it's an extended one. You can get a test package for up to 7 days giving you plenty of time to test and learn how it works.
You probably didn't expect this, but the list starts with IPRoyal. The reason for doing this is that I'm a fan of non-popular proxy providers that deserve to be known, and this is one of them.
Looking at the pool, IPRoyal isn't a terrible choice as it offers over 2 million SOCKS5 proxies. With that in mind, it's important to note that you have SOCKS5 support only for residential and datacenter proxies. In terms of locations, it depends on the type of proxies. The residential ones come from over 180 countries, meaning flexibility is excellent. As for datacenter ones, you're looking at only 6 countries, which isn't too bad, but it's a bit more limiting than some other providers.
Looking at the packaging options, again, you have two roads, depending on the type of proxies you want to get. On the residential side of things, you're paying for the amount of bandwidth you need. The lowest you can go is 1 GB which costs $4, and for packages over 1 TB, you'll need to reach out to support. For datacenter proxies, you are paying based on the number of IP addresses you're getting, meaning that the bandwidth is unlimited. The minimum number of SOCKS5 proxies is 5, and like with the residential ones, you can go above 50 if you reach out to the sales department.
A negative side of IPRoyal is the lack of a free trial or a refund policy. This means you'll need to pay to purchase the proxies and won't have an option to get your money back.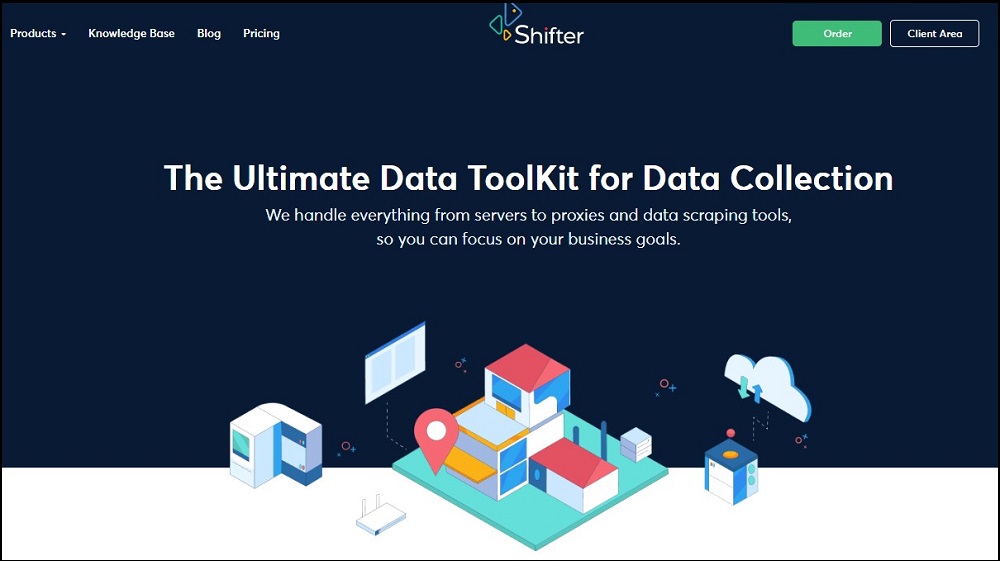 In the world of proxies, there are providers that aren't like the previous one but still offer excellent anonymity. Shifter is one of those that enable you to have similar features like 911 S5, but with a few minor differences.
In terms of offerings, Shifter has a pool of over 31 million IP addresses worldwide. The number of countries is unknown, so we'll have to take the company's word for it. To be fair, that's a lot of proxies, so I believe you can get them from many countries.
The main feature that sets Shifter from the rest of the pack is that it that as a residential provider, you're looking at unlimited bandwidth. You have plenty of packages to choose from, and there are two types of proxies you can get – basic and special. Each type has 10 packages to choose from, depending on the number of proxies you need. The basic ones are cheaper and more generic, while the special ones are designed to work with special sites like social media, sneaker sites, and more.
The basic proxies start from $149 for 10 IP addresses, while the special ones are $299 for the same number of proxies.
While it may seem like Shifter is perfect, there are some drawbacks. The provider doesn't offer you an option to test the proxies for free, meaning you'll need to pay and test the system. If you're unsatisfied with the product, a 3-day refund policy enables you to get your money back.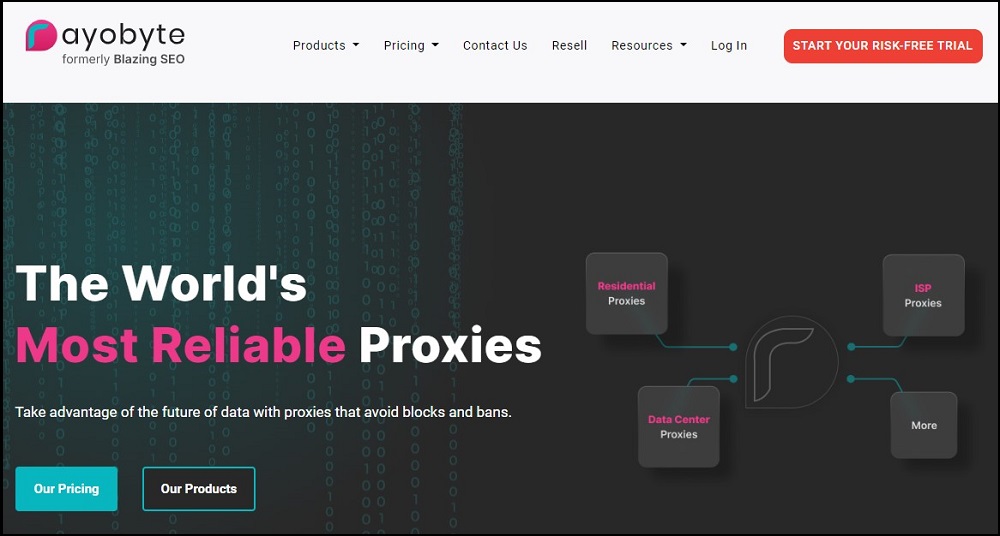 Let's say you don't need residential proxies, and you feel like datacenter ones can do the job. In this case, Rayobyte is one of the providers you should look at.
When you compare this provider with something from the residential range, you may think it lacks pool size. While that may seem so, datacenter providers rarely offer millions of IP addresses. Rayobyte has a pool of over 300 thousand IP addresses, which is not bad. On the location side of things, it's a bit limited, but with 27 countries, you shouldn't have a massive issue finding what you need.
The set of features include most things that any datacenter provider will have to offer. You're paying based on the number of proxies you're getting, meaning that the bandwidth is unlimited. As for the price, it varies based on what kind of proxy you're looking to purchase and will cost from $0.8 to $5
Something that many datacenter providers don't offer is a free trial. Luckily, Rayobyte has a 2-day free trial, which is more than enough to give the proxies a proper testing before purchasing a package.
The main priority of Privateproxy when it comes to SOCKS5 IPs is to deliver servers exactly in accordance with the customers' requirements. Here, we definitely talk about the "quality over quantity" approach.
Whenever you want to use a proxy to bypass geo-restrictions during your scraping missions, you want not only to have a vast pool of IPs to choose from but also a guaranteed live tech support to help you if something goes wrong. This is exactly where Privateproxy takes the lead with its seasoned team of qualified account managers to guide you through the process. And, for the customers it means the availability of the right IPs at the right time to complete their missions.
As for the pricing, Privateproxy offers packages of static SOCKS5 proxies starting from $9 per month for 3 IPs with unlimited connection and unmetered bandwidth. You can go with 5, 13, 30, 50, etc. IPs for $15, $29, $59, $99 respectively and order a custom package with unlimited number of proxies.
In fact, Privateproxy's customers have the ability to choose between supported protocols. The provider supports all major demanded locations across the Globe. And as for the use cases, they range from social media scraping for lead generation and ad verification to buying rare clothes and footwear collectibles online.
Privateproxy also offers trials on its SOCKS5 and HTTP proxies for its corporate users. The duration of the trial spans from one day to a week depending on the use case scenarios.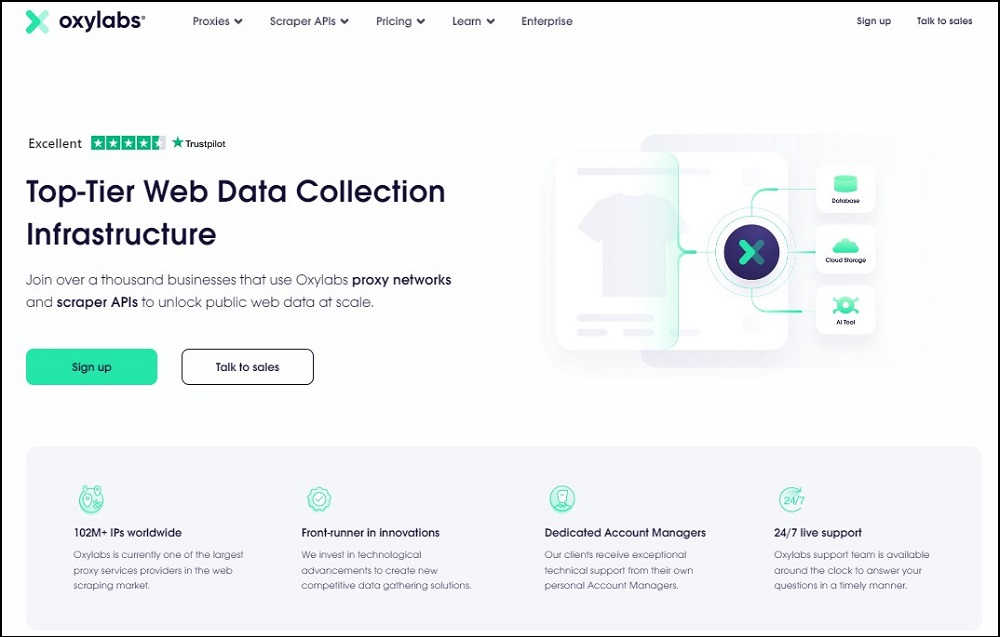 We've been mentioning Oxylabs in plenty of residential lists as a provider with the largest pool of proxies, but it's a different story in this one. While this provider can offer a lot, in this regard, it's not as massive as usual.
In terms of offering, Oxylabs has over 2 million SOCKS5 proxies in 188 countries. The pool may not seem like much, but most people won't need millions of IP addresses, so you'll be fine. The good thing is that the flexibility is excellent, and with that many countries, you won't be limited by the location.
As far as features go, providers like Oxylabs offer a lot, so it's not lacking in that department. You're getting fast and reliable proxies from a pool that gets cleaned up, constantly removing proxies that perform poorly and adding new ones.
Packing is a different story when compared with other types of proxies you can get from Oxylabs. There isn't a pricing structure here, and you'll need to reach out to the sales team to get a quote. The only limitation here is that the minimum number of proxies you can get is 100.
Unfortunately, for the SOCKS5 proxies, Oxylabs doesn't offer a free trial. Instead, you have the 3-day refund policy, which comes with some conditions to get your money back.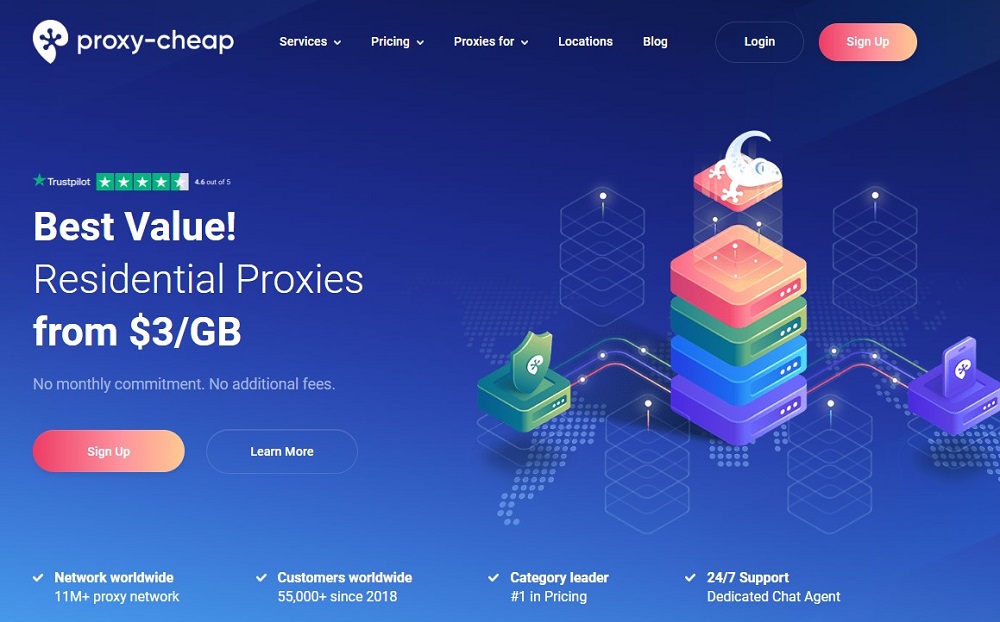 Next up on the list is Proxy-Cheap, a provider offering more than you'd think. Unlike the previous one that offered a special package for SOCKS5 proxies, here, things are a bit different.
On the datacenter side of things, we have a pool of over 900 thousand IP addresses which is a massive jump over some of its rivals. Proxy-Cheap has IP addresses in almost all countries worldwide, but not all have datacenter proxies. With that said, the flexibility is still there.
The pricing is also decent, and the smallest package you can get will give you 1 IP address for the price of $1.99. With it, you're getting two types of authentication and, like most datacenter providers, unlimited bandwidth.
Proxy-Cheap also offers you SOCKS5 mobile proxies that can be either 3G or 4G. In this category, the numbers look great, and you have access to over 1.2 million mobile proxies. With that said, the location options are limited, and you can get these proxies from 3 countries: the US, Lithuania, and France.
A rare sight in the mobile proxy world is unlimited bandwidth, and Proxy-Cheap offers that. There are 3 packages, and the difference between them is the location of the proxies. The US proxies are $50 and are 3G only, while the French and Lithuanian ones are 4G and cost $80 and $50, respectively.
One area of Proxy-Cheap that many people aren't massive fans of is the lack of a free trial. There is a refund policy, but like with most providers, there are some conditions attached to it.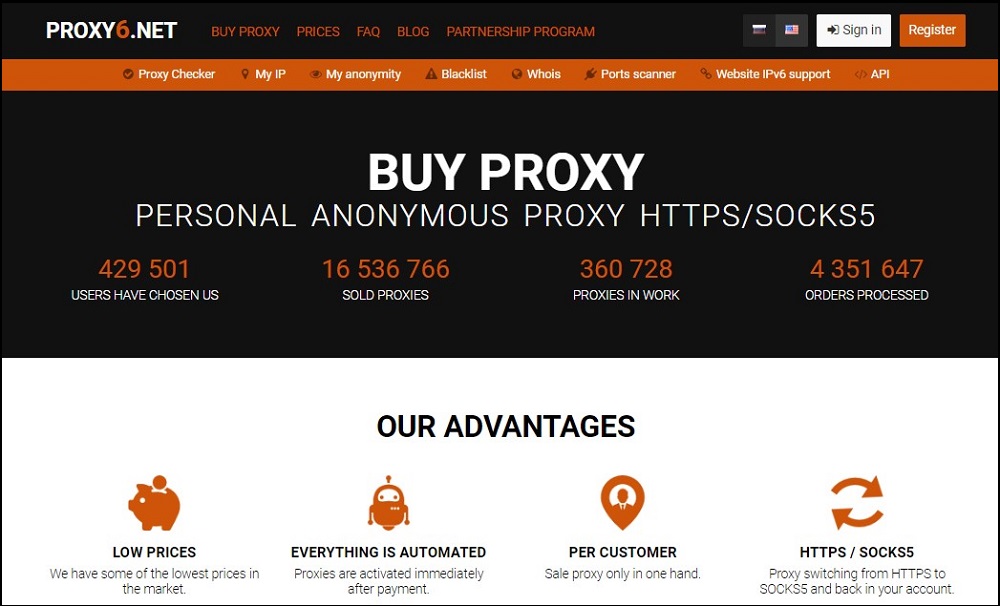 Going back to the datacenter providers, we have Proxy6, a small little company that offers a lot, but there are some shortcomings as well.
Proxy6 doesn't outline the exact number of SOCKS5 proxies, which some people may not like. I would typically agree with that, but it's difficult to do when considering that the pool is constantly refreshed with new IP addresses.
The location is where things get a bit interesting, as the numbers differ. If you go for the IPv4 proxies, you can choose them from 40 countries, which is quite flexible. On the other hand, IPv6 proxies come from just 10 locations.
Pricing is the weakest point of Proxy6, as it's not a very affordable SOCKS5 provider. The price and duration depend on the type of proxy you need to get. IPv6 proxies can be purchased for 3 days, and IPv4 come with monthly commitments only. Like with most providers, the more you pay for a service, the cheaper it gets.
One thing I would have liked to see with Proxy6 is a free trial, but unfortunately, there isn't one. The company only offers a 24-hour money-back guarantee, which isn't the longest one in this industry.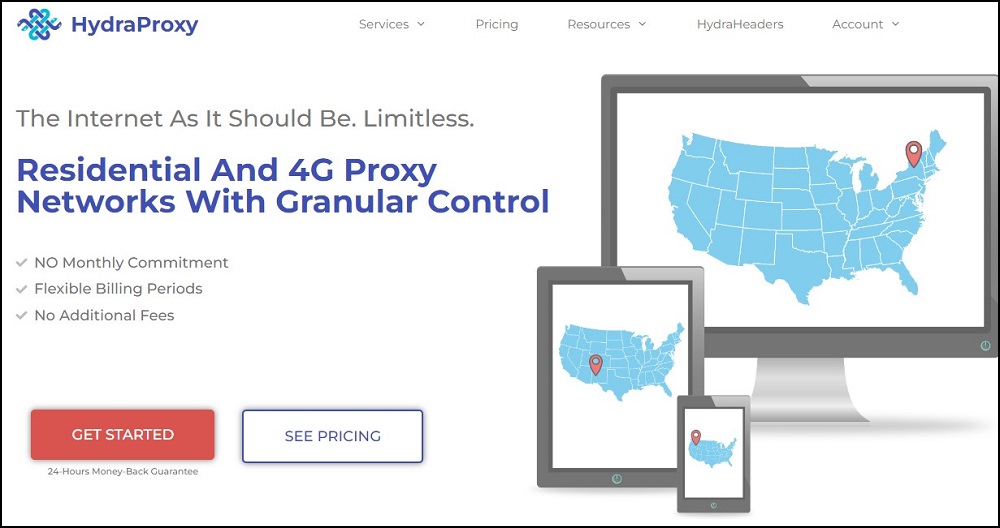 So far, we've been talking about worldwide SOCKS5 proxies, but what if you need something local, like the US? Good news – Hydraproxy has got you covered.
The company has 200 thousand IP addresses in its pool which is impressive, considering that the only location on offer is the US. This makes it a very solid choice if you want local proxies.
When it comes to what is on offer, there are two options – static or US proxies, and this is where people get confused. The static proxies are worldwide, but there isn't any information on the number of IP addresses or their locations. All we know is that they come with unlimited bandwidth, which gives this provider a great advantage.
For the US 4G proxies, the pricing is based on the number of ports, meaning that you're getting unlimited bandwidth even in this case.
Hydraproxy does a lot of things right, but one thing I don't like is the lack of a trial option. There is the money-back option, but it's limited to only 24 hours, which isn't all that much.
est problem is the lack of a free trial. The slight positive thing is that there is a refund policy. Unfortunately, it's limited to only 24 hours, which may not be good enough for some people.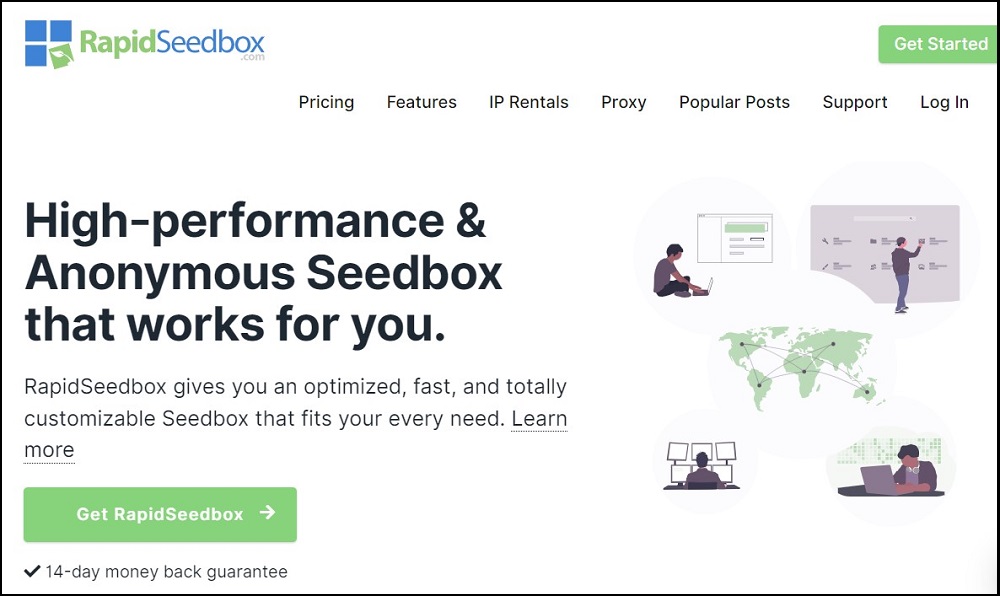 I'll end this list with a SOCKS5 provider with datacenter proxies. Even though RapidSeedbox has multiple products, the one I'll be talking about is the datacenter IP addresses.
When you look at the website, you'll think, "what's so good about this provider?" RapidSeedbox has no information about the number of proxies it has in its pool. On top of that, the number of locations is very limited, covering 3 countries in Europe and the US.
RapidSeedbox may lack in the pool department, but it does well in terms of price. Considering that there are two types of proxies to choose from, you should expect to get different prices for each. The IPv4 proxies can go as low as 1 IP address all the way up to 500. On the other hand, the IPv6 ones go from 100 to 10 thousand addresses.
As far as features go, you're getting the standard stuff. You're getting datacenter SOCKS5 proxies with unlimited bandwidth at an affordable price.
Like most datacenter providers on this list, RapidSeedbox doesn't offer a free trial. The good news is that there is a 24-hour money-back guarantee, but it's not the most extensive option.
Similar Socks5 Proxies like 911 S5 have shut down!
RSocks (Closed)
Updated, Rsocks.net Closed on July 2022, you can find rsocks alternatives here.
Continuing the list with another name in the proxy world that doesn't get on many lists. RSocks is an excellent SOCKS5 provider many people overlook for the popular companies.
Looking at the pool, the offering isn't too terrible. RSocks offers over 3 million IP addresses, more than some of the other providers on this list. A downside is that the number of countries is limited to only 50, so you don't have much flexibility.
Many go for providers with unlimited bandwidth, and RSocks can deliver on that front. Regardless of which package you get, you'll have no limit on the traffic you use, giving it an advantage over some of its rivals.
Speaking of packages, this is one of the most flexible providers out there. With 85 packages, you can fine-tune and get a package that exactly fits your needs. You can choose the type, duration, and plenty of other aspects, so you won't be paying for something you won't use.
Another good news with RSocks is that there is an option for a free trial. The best part is that, unlike some of its rivals, you will get a handful of SOCKS5 proxies to test without a time restriction.
VIP72 (Dead)
The VIP72 PROXY has a monthly subscription plan that offers 250 proxies for $30. You can select from three different payment plans: a weekly plan costs $9, a monthly plan costs $25, and a yearly subscription plan costs $265. To test its service, you can pay a demo fee of $1. Once you're satisfied, you can purchase unlimited proxies for $33. Vip72 PROXY accepts Bitcoin, WebMoney, Perfect Money, and Liberty Reserve as payment methods.
Another great feature of this VPN service is the high level of anonymity it offers. It uses SOCKS5 protocol to hide your IP and offers up to 30436 IP addresses. If you're worried about data collection, you can choose a VPN service that supports OpenVPN. The VIP72 VPN service does not provide a mobile app but works with all the major operating systems and Linux and Windows. The app also offers a FAQ session, but there are no direct chat options.
While VIP72 has some great features, it falls short on the details. The proxies are subpar and slow, making web crawling difficult. Their website is unprofessional, and links to other services are broken. You also have to download a third-party application to use VIP72. There is no free trial, and you'll need to use your credit card to sign up. The service costs $1 for the first month.
It supports a variety of system platforms, including Windows, Mac, and all types of virtual machines. It can also be used to access websites that are restricted or blocked on your computer. You'll also benefit from the privacy provided by VIP72's security system. It's worth looking into if you want to enjoy unlimited access to the web. When you're looking for an alternative to a traditional proxy service, consider the benefits of VIP72 PROXY.
Learn more,
Luxsocks
Luxsocks is also closed! you can find Luxsocks.ru alternatives here.
You probably didn't expect this, but the list starts with Luxsocks. The reason for doing this is that 911 S5 was oriented towards anonymity, so most people would be looking for that.
Luxsocks doesn't offer a lot on the features side of things, so don't expect wonders. You get all the basic features from a provider that wants to keep things tight and anonymous. The pool of proxies has 25 thousand IP addresses, which is not a lot. What this provider lacks in the offer makes up in terms of pricing and flexibility.
You have the option to get as many proxies as you need, and you have no monthly commitment, so it's very similar to 911 S5. As good as this sounds, there is a drawback. Luxsocks charges a fee for registration, which is the company's way of keeping the number of users tight. On the bright side, you have no limit on bandwidth, and the proxies deliver some excellent speeds.
Even though you're getting those funds in the form of a credit on your account, the lack of trial of a refund option is the main reason why Luxsocks isn't a very commonly mentioned provider.
---
911 Proxy FAQs
Why I Can not login in 911.re?
The reason for this is that on July 28th, the proxy that we were using to access 911's website was shut down. This is bad news for all of our users who are still trying to stay connected with 911.
Why 911 S5 shut down?
Their website noted that 911 S5 was hacked in early July. Hackers exploited an application programming interface (API) that deals with topping up accounts. The hacked service has since been down. Until the hack was discovered, the S5 was working as it should. Its users were unaware that the service was down.
What is the best proxy service alternative to 911 proxy?
There is no clear answer to this, it depends mainly on your needs. If you need a great residential proxy network, the brighdata, soax, and smartproxy are the best 911 alternatives solution. If you need anonymous socks5 proxy, proxy-seller, Rayobyte and proxy6 are the proxy solution.
---