Are you looking for ways to scrape Facebook, but don't know where to start? Our list of the best Facebook scrapers has you covered, outlining the best services for the job.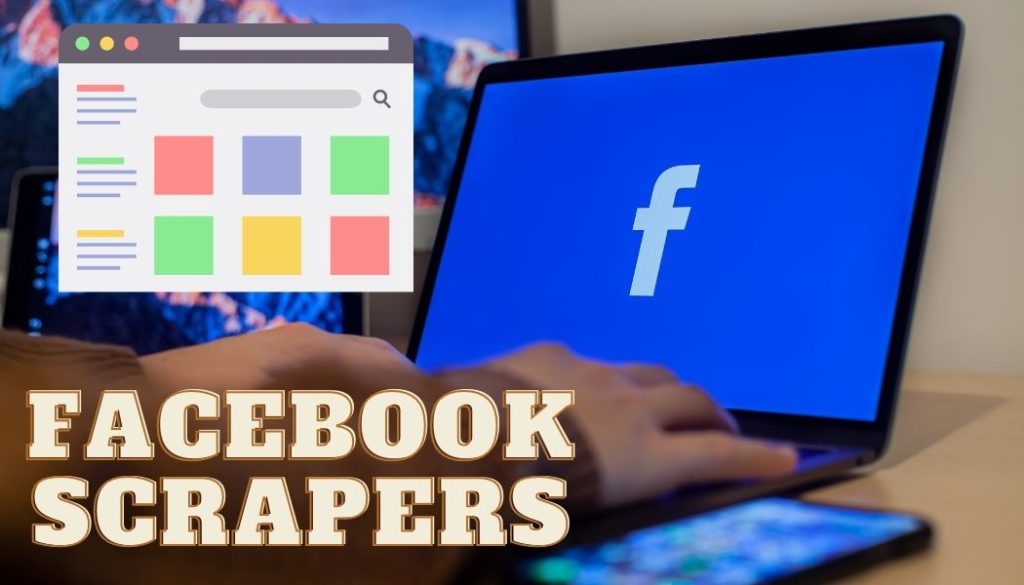 Scraping has become a popular activity on the internet in recent decades. Most people rely on this to gather data they'll later use for other applications. This sounds simple, but there are some problems.
Scraping data isn't a simple process. Even though it is straightforward, it takes time if you do it manually. Good news is that there are services for that called scrapers.
You can scrape from any website these days, including social media. Facebook is among the most popular platform, so it's the one that most people would want to scrape.
If you're in this position, stay tuned for our picks of the best Facebook scrapers on the market.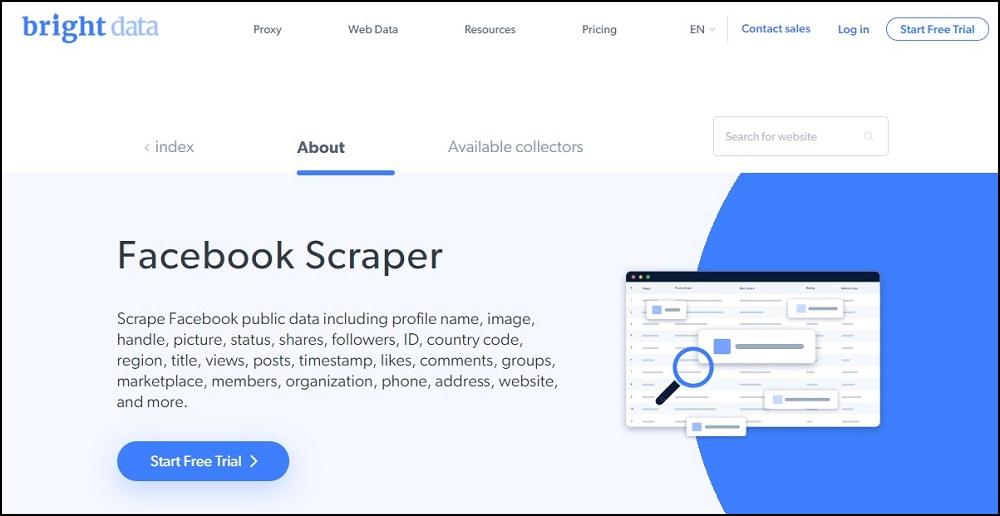 I feel like I always start with Bright Data when I make these lists and for good reason. It's one of the best providers on the market, offering multiple products, including the Facebook scraper.
With Bright Data, you have multiple ways in which you can approach your project. If you're a beginner in the field, you can rely on the pre-made functions that should help a lot. Advanced users can fine tune the scraping process and customize it to their needs.
We often mention Bright Data as an expensive service and the same goes for the Facebook scraper. You can go for one of the 2 predefined packages, or ask for a custom one. Alternatively, there is a pre-paid package, where you pay as much as you scrape.
Being an expensive option means that many people would want to try it first. The good news here is the Bright Data offers a free trial.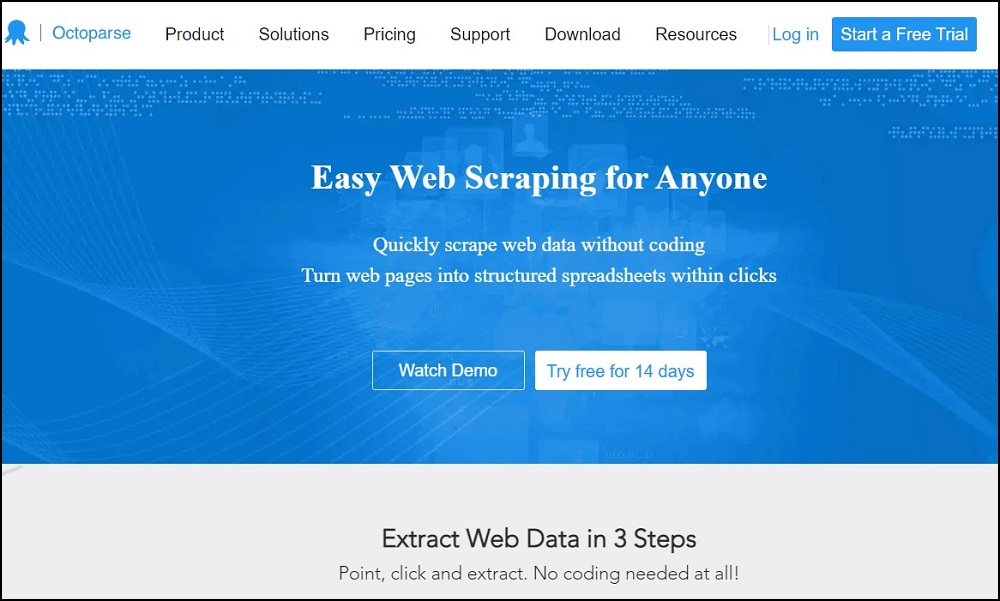 Octoparse is a name that's very popular in the scraping industry. The service has been on the market for several years, offering excellent products to its customers, including a Facebook scraper.
The main selling point of Octoparse is that it's aimed at novice scrapers. This means that you don't need to have any coding knowledge to use the service. You'll get access to an easy-to-use interface where you just need to choose which data you want.
Octoparse isn't a rudimentary Facebook scraper, so there are some useful features. You need to point it to several data sets and the service will figure out what data you need. Unlike some of its rivals, this is an online service, so you won't need to worry about running the scraper from your computer. Being 24/7 online means that the scheduling is very flexible. With that said, you'll need to download the tool to manage the Facebook scraper.
When it comes to pricing, there are a few packages available, but I would have liked to see a bit more flexibility. The good news with this Facebook scraper is the free package. There aren't too many options with this one, but it's enough to be used as a free trial.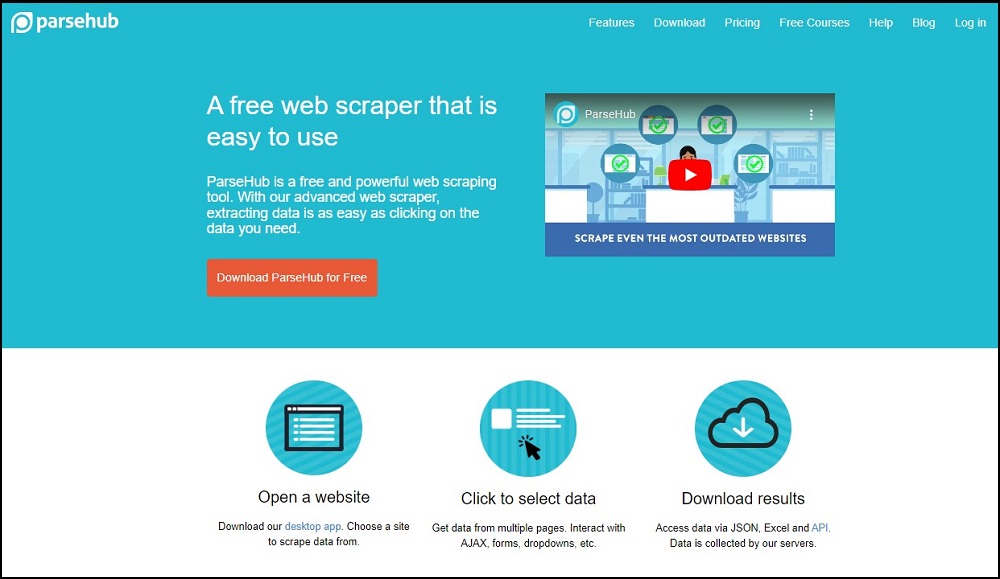 Next on the list is another service that you can use for scraping Facebook. ParseHub is a free tool, so it should be on your list if you're after a budget-friendly option.
Things don't differ too much between ParseHub and the previous two Facebook scrapers I mentioned. The service relies on your inputs about which data it should grab and once you're done with that, it can start scraping. It's possible to schedule it at a certain time or certain intervals. All of this makes it an excellent option for people with no coding experience.
A crucial aspect of any scraper is to remain hidden and ParseHub does that well. There is a pool of proxies for this application and with every pass, the service will use a different IP address. As a result, Facebook will be unaware of your scraping adventures. Even though it's a cloud-based solution, to use it, you'll need to download the tool. The good news is that it's available for Windows, Linux and Mac.
ParseHub is a free Facebook scraper, but that's not the complete story. The package is free, but there are limitations. If you're willing to pay, there are two additional packages you can choose from.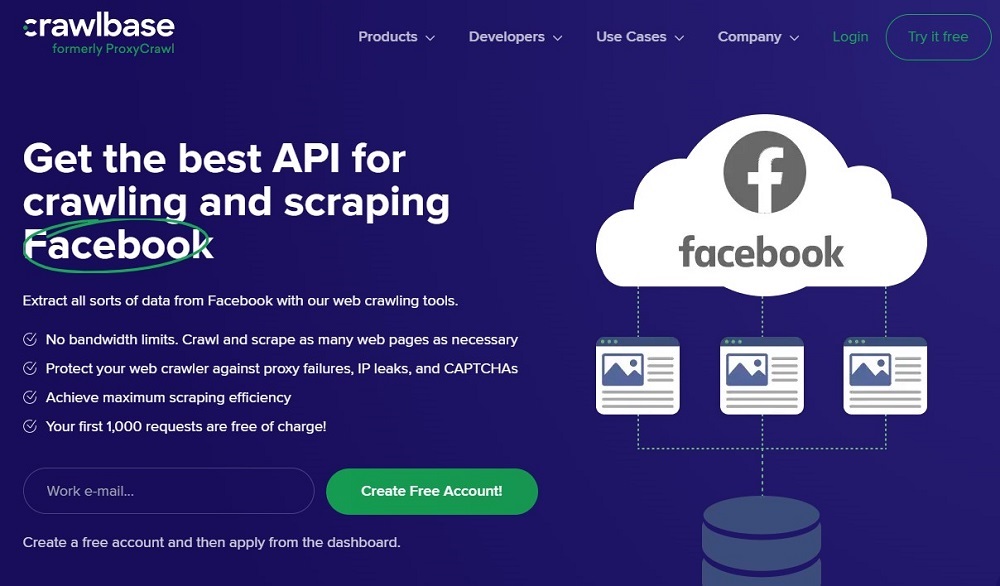 If you're a veteran scraper, the name may not be familiar. That's because we previously knew Crawlbase as ProxyCrawl. Regardless of the rebranding, this is another universal scraper that can be used on Facebook.
With this service, we're diving into deep waters. While the previous Facebook scrapers were aimed at beginners, Crawlbase is an advanced tool. To use it, you will need some coding knowledge. It may seem scary for some, but it can be a powerful tool if you fine tune it. In a worst-case scenario, there is a team of expects that will help you in case you get stuck.
Like most of its competitors, Crawlbase is a cloud-based Facebook scraper, so there are plenty of advantages. It runs off servers, so there's no lack of computing power. The data can be stored directly on the cloud without it taking up storage on your computer. The service has dedicated proxies to make the process anonymous.
The best part about Crawlbase is that the pricing structure isn't a monthly commitment. Instead, you're paying per request and you can cancel at any time. Also, to get an idea of how things work, you get the first 1000 for free.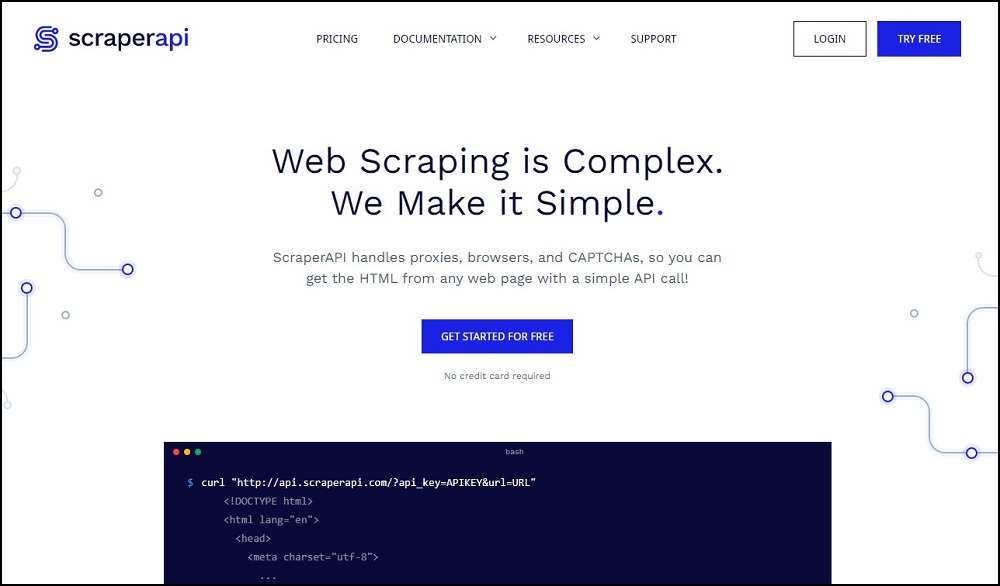 In many ways, ScraperAPI is a Facebook scraper that combines the best of both worlds. While the previous scraper was for developers only, with this one you have the option to choose how you want to use it.
Novice scrapers will be glad to know that there is an interface that they can use. It's a similar approach to some of the first scrapers I mentioned. You select the data and the service automatically identifies what you want and starts scraping. For a more refined experience, developers can access the API and use it as they please.
A massive advantage with this Facebook scraper is that it's a cloud-based service. The result of this would be the ability to have it running whenever you need to. To ensure complete anonymity, ScraperAPI relies on residential proxies. Thanks to those, Facebook will remain unaware that you're scraping data off it.
A powerful Facebook scraper like ScraperAPI doesn't come for free. There are a few packages to choose from, but the best part is that there's a free option to test it. It's limited, but it should give you an idea of how the service works and if it will be useful to you.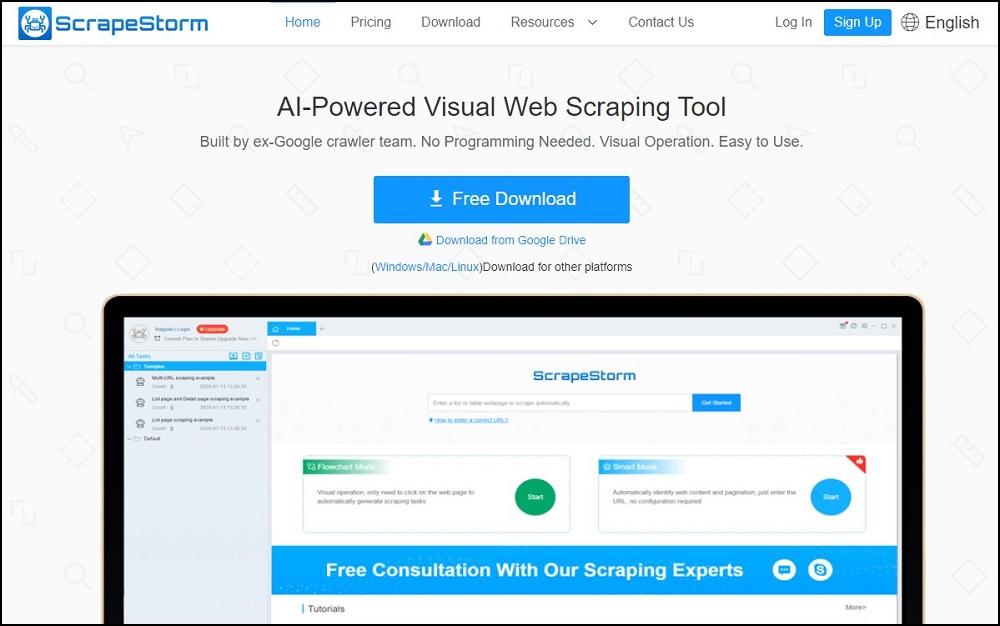 With this Facebook scraper, we're returning to the options made for beginner scrapers. ScrapeStorm is an excellent Facebook scraper that will cover most people's need, as long as they're not looking for something overly specific.
The main selling point about this Facebook scraper is its ability to make scraping easier. ScrapeStorm is a point and click service, meaning that no coding knowledge is needed and you can start scraping in a few minutes. There is an AI behind the entire process that identifies the data you may need. It's an excellent starting point and you can refine it based on your needs.
With ScrapeStorm you're getting a simple to use interface where most people can get accustomed to quickly. Once you select some data blocks, the AI takes over and determines what you need. Like most of its rivals, the proxy support is there and you have the option to choose between the IP addresses from the service or to use your own.
ScrapeStorm offers several packages to choose from, depending if it's a personal of enterprise scraping project. The best part is that there's a free package with no time limitation. As good as it sounds, there are some limitations in terms of how much you can scrape.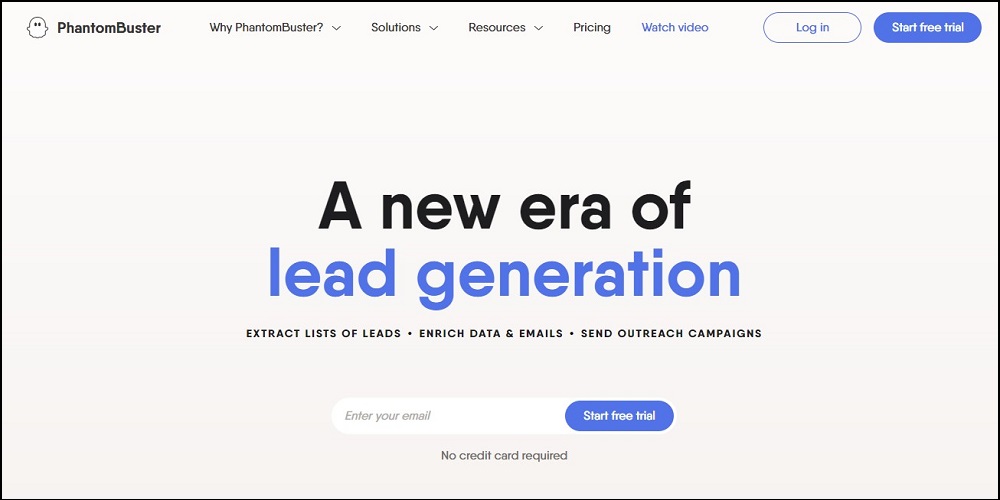 Until this point, we've been talking about Facebook scrapers that require you to "show" them the info you need. With PhantomBuster, things are different, as the service is set up to grab all data from locations that you specify.
There are 3 phantoms – group members, profile scraper or URL finder. The idea of these is for you to enter some basic information like group or profile URL and the tool would extract as much data as possible. Regardless of which one you choose, there's no coding knowledge required and you can get the data exported in several formats, depending on your needs.
One thing that some people have criticized with PhantomBuster is the lack of proxies. Most of its competitors use them, but with this service, you'll need to get your own. Recently, the company announced that it's partnering up with Bright Data and offers it as a source of excellent proxies.
PhantomBuster offers a wide range of services, but regardless of that, the pricing is the same for all. Essentially, you're paying based on the execution time and you have 3 packages to choose from. To test how the service works, you have a trial package with 2 hours of execution time, which I believe is plenty to test how things work.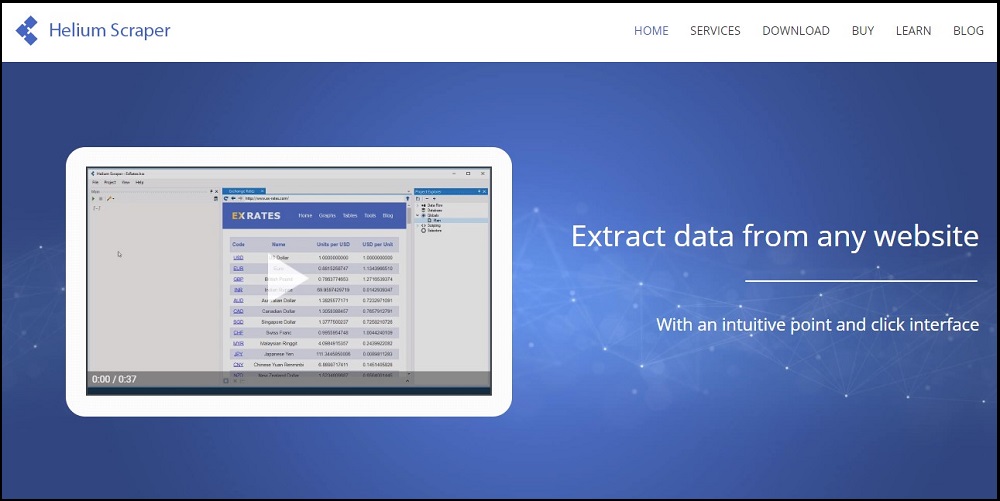 We're moving away a bit from the cloud-based Facebook scrapers and we'll talk about a tool you'll need to install locally. Helium Scraper is a tool designed to scrape any website, so Facebook won't be an exception.
The thing that makes Helium Scraper like the rest of the pack is it's easy to use. It relies on an interface, where all you'll need to do I select the data you want the tool to grab. Once that's done, you can set up the rules and leave the tool to run in the background.
For the basic use cases, Helium Scraper will enable you to grab the data and export it in a wide range of formats. Advanced users will be happy to know that there are some features like SQL generation, API calling or JavaScript support that can make the Facebook scraping process even more refined.
The pricing for the Helium Scraper is simple. It's a onetime payment where you're paying for the license and get all the features. The number of licenses and the duration of the support defined the packages and upgrade. You can also download the tool for free and get to work with it for 10 days with no limitations in terms of the features.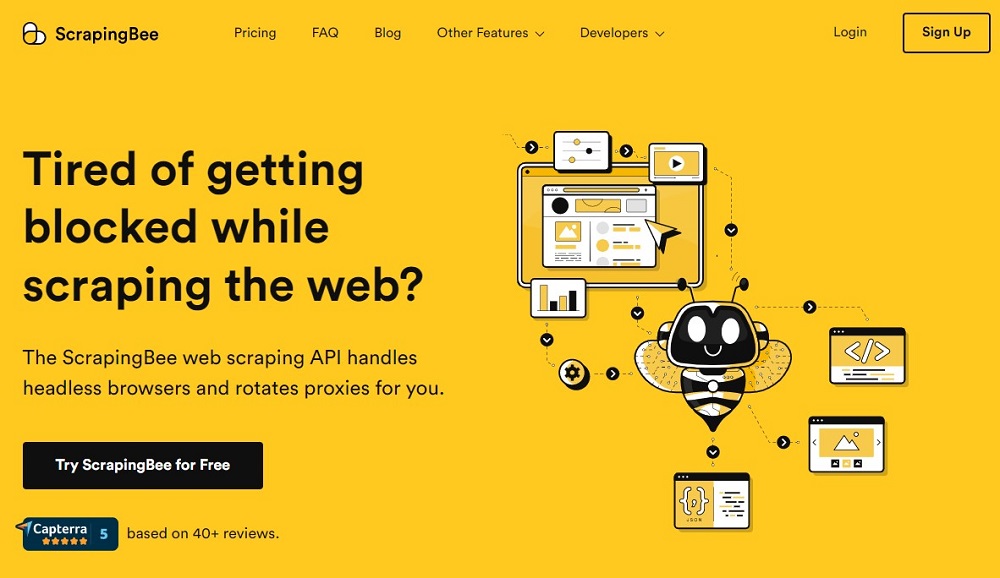 Bees aren't after honey, some of them are after data and with ScrapingBee, you can grab Facebook data. This scraper can be used on any website, like most of the services on this list, but for this application we're looking at it as a Facebook scraping option.
The idea behind ScrapingBee isn't too different from what some of the other services on this list offer. You can grab almost any piece of data from Facebook with ease and have it exported in a range of formats that you can later use in various scenarios.
One of the main things that a Facebook scraper needs are proxies and ScrapingBee has you covered. The service relies on its own proxies to provide anonymity. It will rotate them to ensure that Facebook doesn't know that you're trying to scrape it. It's an excellent way to continue the project without getting banned.
As for the pricing structure, there are 4 packages that differ based on the number of API credits, concurrent requests and some administrative features. Some may say that ScrapingBee isn't a cheap Facebook scraper, which is why have a free trial with 1000 API calls to test how it works.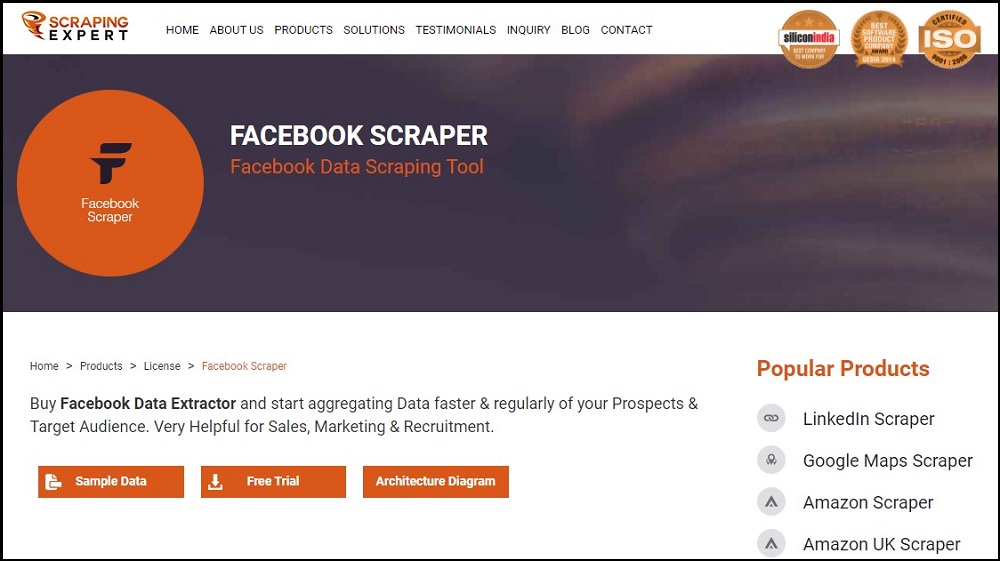 The last entry on this list is another service that offers multiple products. Among the plethora of options you can get with ScrapingExpert is the Facebook scraper that grabs all the data you'll need for various projects.
With ScrapingExpert, you'll have access to a tool that can grab data usable for multiple applications. For the most part, this Facebook scraper will get profile information, ranging from personal and contact ingo, as well as some of the additional stuff we put on our Facebook profile.
If you decide to go with this Facebook scraper, you'll need to get proxies. While the service is equipped to rotate the proxies you have, you will need to get them separately. There is some configuration involved and you will need to refine the search results, but once you do that, the service will bring in more and more data. One thing that makes ScrapingExpert different from most of the services on this list is that it's a standalone tool, but it only works on a Windows computer.
ScrapingExpert works with licenses, but they aren't a onetime payment. You can rent this Facebook scraper for a month or an entire year. Even though it isn't the most expensive tool on the market, having a free trial is a welcomed option. It will enable you to test it before paying.
Q. How to tell if I need proxies for my Facebook scraper?
That will depend on the Facebook scraper you plan to use. Some of them have their own proxies, while others only offer the service to rotate them, but you'll need to purchase them separately. To ensure that you're not making a mistake, check each service and see if the proxies are included in the package.
Q. What type of proxies will I need for a Facebook scraper?
Facebook is a site with some very strict policies about proxies. As a result, you won't be able to get the job done with any proxies you'll find on the internet. For this application, I'll advise you to go for residential or ISP proxies. They are essentially IP addresses from home or office connections, so Facebooks will look at them as regular users.
Q. Will free proxies work with Facebook scrapers?
Probably not. Most free proxies are datacenter ones, so Facebook will already have them flagged, so you won't have too much luck with that. In addition to that, these proxies aren't very secure, meaning that any sensitive data that flow through them could get compromised.
Q. Are there any free Facebook scrapers?
ParseHub is technically a free Facebook scraper, but the service outlines that the free package comes with some limitations. With that said, completely free scrapers don't exist and even if they do, I wouldn't classify them as safe or recommend them for professional use.
Considering that Facebook is one of the most popular social media on the internet, it shouldn't come as a surprise that many people want to scrape data from it. There are countless applications and use cases for that data, but to get it, you need a suitable tool for the job.
If you're in that situation, today's list of the best Facebook scrapers should get the job done for many personal or corporate use cases. Most of them aren't free, but it's better to pay and get the data quickly than do it manually and spend weeks or months on it.
---