Do you want to compile a list of free proxies without doing it manually? Our list for today consists of 10 proxy scrapers that you can utilize to get an extensive list of proxies in no time.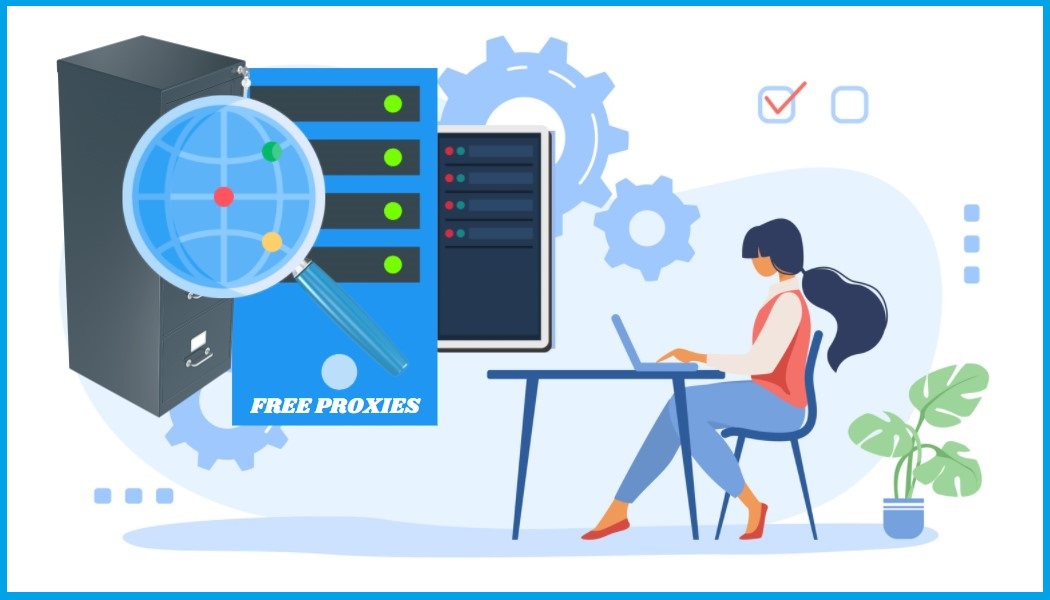 Proxies have been around for quite a long time, and their use cases are constantly increasing. Scraping, managing multiple social media accounts, or browsing anonymously are only a handful of applications. I often advise people to purchase proxies to ensure that things run as smoothly as possible. Paid proxies are generally safer to use and should perform better.
With that said, there are some cases where free proxies may get the job done, especially if you're not too worried about the data that passes through them. On the other hand, if you've never used proxies before and want to learn how things work, the free ones may be a good option.
Let's say you want to scrape some random website to see how the scraping bot works. For that, you'll need plenty of proxy addresses, in which case, getting them manually may take some time. Lucky for you, there is a solution for that.
Proxy scrapers are not something revolutionary, and we've been using them for quite a while. Being able to grab available proxies from a website in a few minutes is an excellent service, and in today's article, I'll outline 10 for you to choose from.
Best Proxy Scrapers for Free Proxies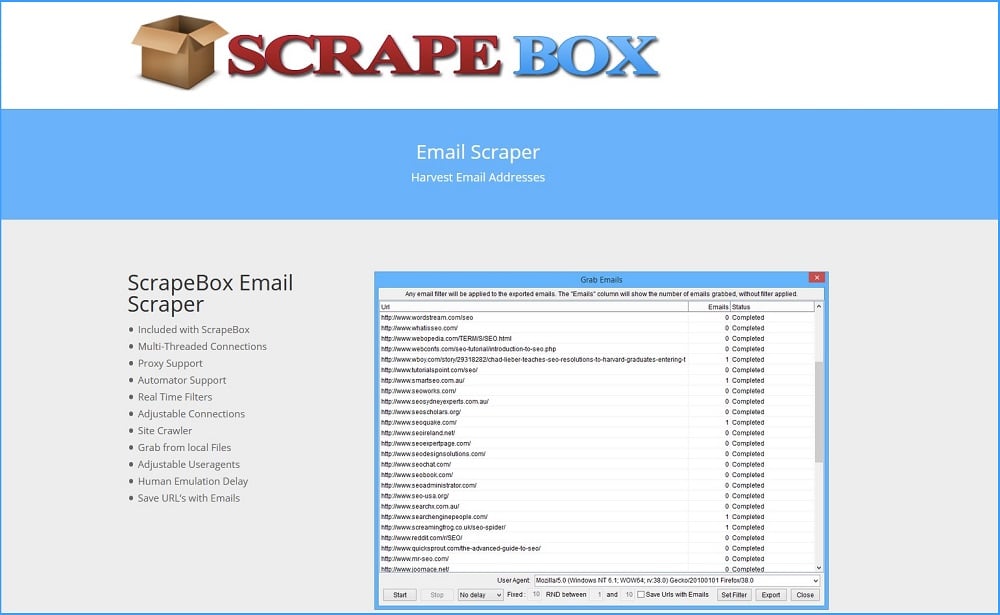 ScrapeBox is the type of tool that has multiple applications in the scraping world, making it an excellent one-stopshop for many people. Among the various features and applications is the proxy scraper.
The tool ships out the proxy scraper as part of the tool, so you won't have to bother downloading another tool or setting things up. Within the scraper, there is also the option to test the proxies so that you can filter them out based on your needs. The filter parameters are country, port, and speed.Even though the scraper uses its own URL to test the proxies, you have the option to add a custom one that you want to be used during the testing process.
Equipped with multi-threaded connections, ScrapeBox can gather the proxies in a shorter amount of time, thanks to its ability to make multiple passes on a single run. The tool already has 22 sources built-in, but you also have the option to add new ones yourself.
If you are looking for a free proxy scraper with this many features, you should look elsewhere. ScrapeBox costs $197, and the good news is that it's a one-time payment, and you own a lifetime license to use it. This includes updates and addition for new features. The tool runs on Windows and Mac only.
Pros
ScrapeBox offers plenty of features
22 available sources
Built-in tester
Cons
Not the most affordable option
It doesn't work on Linux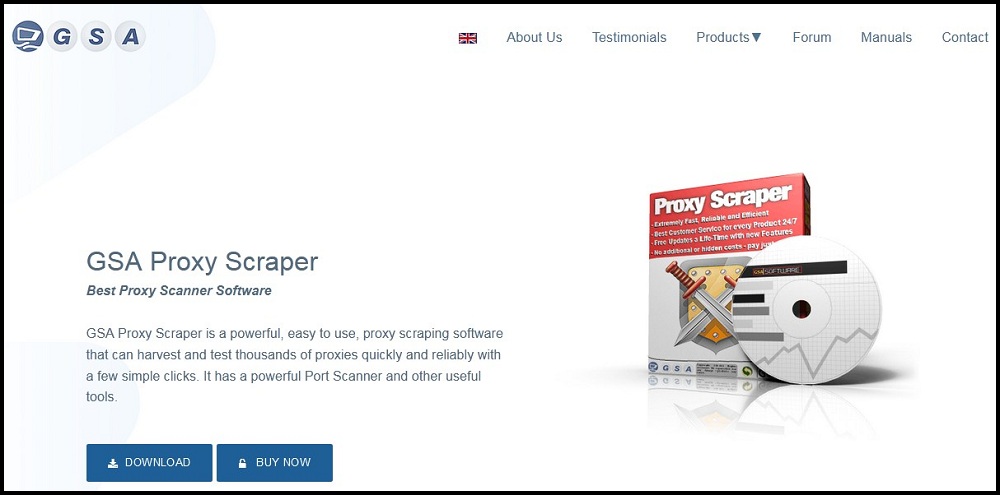 Next on the list is GSA Proxy Scraper, a tool that isn't as popular as the previous one but is still an excellent choice if you want to snatch free proxies.
GSA offers several tools, but there are standalone, meaning that in this case, you are only getting the proxy scraper. It is designed to gather IP addresses very quickly, meaning that you won't have to wait for hours or do it manually. Within the tool, the developers implemented thousands of free proxy sources, meaning that you probably won't need to add other sources. Despite that, the option is available, so you can add your own sources if you need to.
Even though the tool has a specific application, there are a few more features included in it. Like the previous one, a proxy tester is included to see how well the free proxies perform. Once the testing process is completed, you can filter the proxies and export the list to be used in other tools.
An advantage that GSA Proxy Scraper has is the free trial. You have the option to test the tool for up to 5 days, with some limitations, before you decide if you want to purchase it. As for the price, GSA Proxy Scraper will set you back $97, making it more affordable than the previous one.
Pros
Reasonable price
Thousands of sources
Free trial is available
Cons
Only supports Windows
Additional tools are sold separately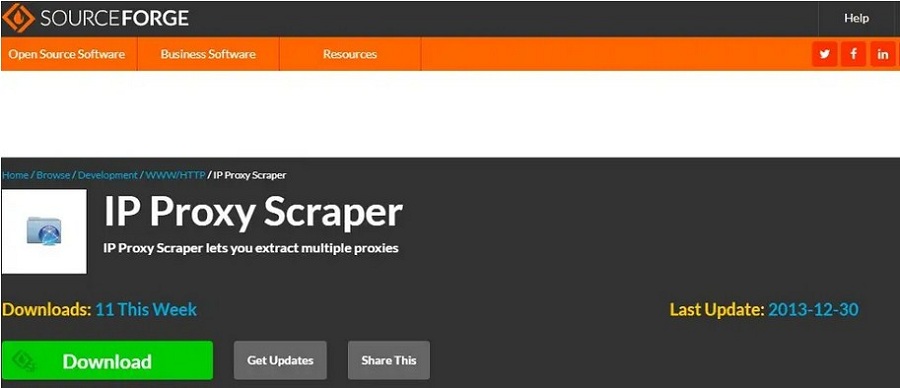 This is probably the least known proxy scraper on the market. IP Proxy Scraper doesn't offer some of the fancy features that other tools do. Instead, it's a simple and lightweight tool that can help you get proxies and ports from websites.
Since the goal of this tool is to provide the bare necessities for proxy scraping, don't expect too much. Enter the websites you want the tool to scrape and let it run. The speeds aren't blisteringly fast, so you may have to wait a bit longer if there are more websites or more proxies.
Unlike the previous two, you won't have the option to test the proxies, meaning that you'll need to find other ways to do that. Lucky for you, I've already made a list of the best proxy checkers, so it may come in handy in this case.When it comes to exporting or filtering, that's not available. IP Proxy Scraper only allows you to select the exported proxies and paste them in wherever you need to use them.
Surprisingly, the list of supported platforms includes Windows and Linux, but keep in mind that you'll be running IP Proxy Scraper from the terminal if you're a Linux user. Price-wise, the tool is free, so it's an excellent option for people who don't need many features.
Pros
Free
Linux and Windows support
Lightweight
Cons
It has only basic features
No option to export or test proxies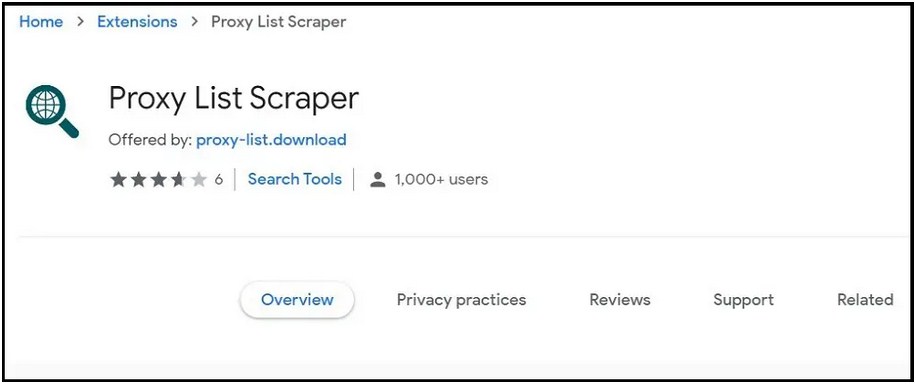 Moving away from the standalone applications, we reach a browser extension. Proxy List Scraper is a simple Chrome extension that enables you to grab proxies and ports from a website that you have open.
In many ways, Proxy List Scraper reminds me of a web scraper. To grab proxies and ports, you'll need to have the website open so that the tool can do its job. It may sound like a long process, but due to the way it works, it shouldn't take you long to grab the proxies from a certain website.
This does have its advantages, but there are also some disadvantages as well. Proxy scrapers in this format are quite easy to use but lack some features. A proxy tester doesn't come baked-in to the scraper, meaning that you'll have to use an external one. You also won't have the option to sort the proxies. The only options are to copy the proxies or save them in a TXT document.
As most Chrome extensions are free, you can use Proxy List Scraper without paying a cent, which is a nice touch.
Pros
Free
Quick and easy to use
Works with other Chromium-based browsers
Cons
No Firefox support
It has only the basic features

Somiibo is one of those tools that exist but isn't getting the attention it deserves. Even though it's advertised as a social media automation platform, the proxy scraper is part of the tool, meaning that you can use it for multiple situations.
The first thing worth mentioning is the pricing. Somiibo is a tool that has a free and paid option for its services, but the proxy scraper is free. You can use it to grab HTTP or SOCKS proxies, meaning that you can cover a broader range.
As for the features, there are plenty of those that can make your proxy scraping easier. To get as much of it as possible, you can set up Somiibo to work with multiple accounts and with multiple settings. On topof that, you can also schedule each one of them to work whenever you need it to.
To make your life easier, Somiibo doesn't require you to enter sources. Instead, it searches the internet for the best sources and grabs the proxies. Thanks to the multi-threaded technology, you can get the proxies very quickly.
Pros
Free to use
Preloaded sources
Easy to operate
Cons
It lacks some premium features
No proxy tester included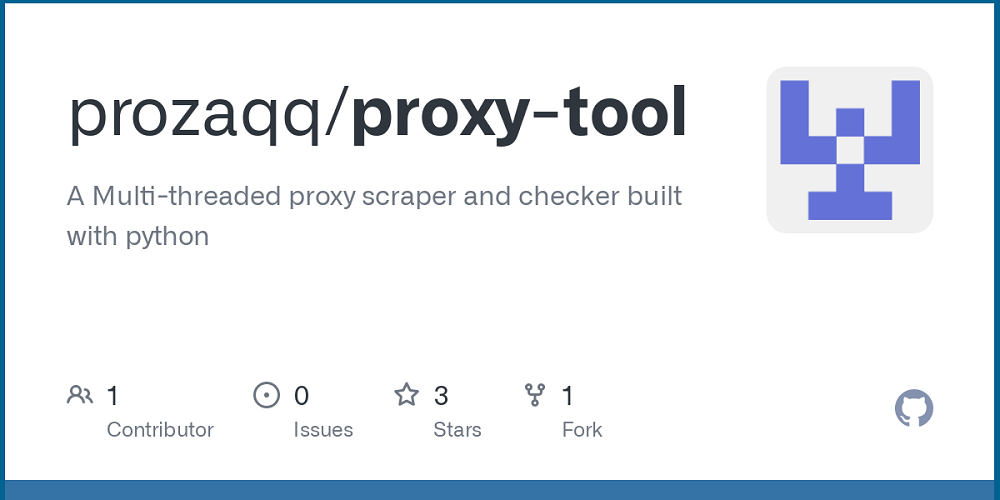 So far, the proxy scrapers have been ones that can be used even by beginners, but this one is a bit different. Proxy Scraper and Checker is a command line-based tool, so you should keep that in mind before you decide to go with this one.
Proxy Scraper and Checker is a python tool, meaning that as long as you have all dependencies installed, you can run it on anything you want.
On the features side of things, this scraper has two of them – scraping and checking. The scraper is designed to run through 6 websites for free proxies and grab over one thousand IP addresses in less than 2 seconds. With that said, a slight downside is that you cannot add your own sources.
The proxy checker option is pretty basic but gets the job done. You will need to call on the exported list of proxies, and the tool will run them for you. One thing to keep in mind is that it only checks HTTP proxies and removes the dead ones.
Pros
It can run on any device that supports python scripts
The tool of free
It can scrape over one thousand proxies in less than 2 seconds
Cons
Not aimed at beginner users
a limited list of sources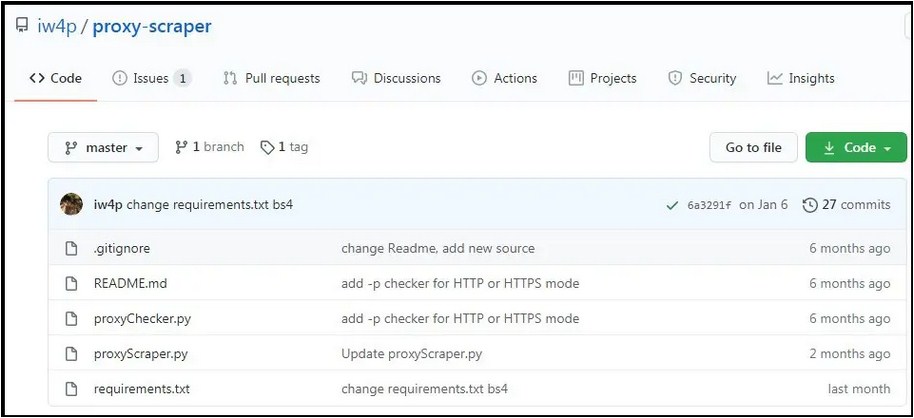 This tool is very similar to the previous one in the way it works. Proxy Scraper is a PHP scraping tool that doesn't have anything fancy. It's just a simple proxy scraping library. Despite being a "simple proxy scraping library," Proxy Scraper is a very powerful tool. Not too many people will be able to use it, but those who do will find it excellent.
Since the sources aren't pre-developed in the script, you'll need to add them yourself. It may seem like a fuss, but you are in control of which sites you want the script to scrape from.
A positive side is that Proxy Scraper has a validator. It won't run a full test on the proxies but will check if they are working. The biggest downside is that you won't be able to export the proxies, so you'll have to copy them from the console.
Pros
Very quick
Built-in validator to remove non-working proxies
You choose the sources you want the scraper to grab proxies from
Cons
It runs from the terminal
No option to export the proxies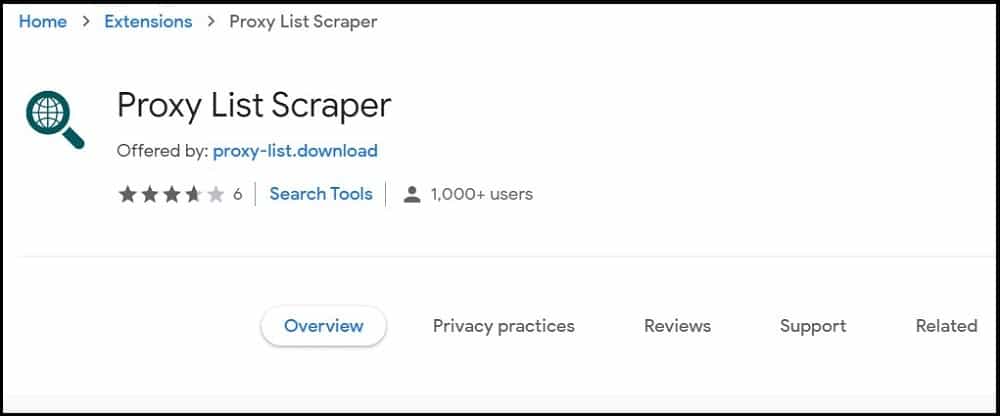 Moving on with the list, we have another python script capable of scraping free proxy websites. Proxy List Scraper may seem similar to the previous options I mentioned, but there are a few differences.
The first one is the checker or the lack thereof. Proxy List Scraper doesn't have a proxy tester or checker. On the scraping side of things, this tool has 10 sources for you to choose from or scrape from all. The good thing is that it's designed to grab multiple types of proxies, so you can expect your list to contain HTTP and SOCKS proxies.
There are a few downsides to this tool, though. I already mentioned the lack of a tester, meaning that you'll have to rely on an external one. On top of that, an export option also isn't available, so you'll have to copy and paste the proxies in a document manually.
A slight advantage is the chrome extension. Essentially, it works like the python script, but you won't have to bother running it from a console. The set of features is the same, including the advantages and disadvantages.
Pros
Lightweight and fast
Chrome extension is available
Grabs proxies from 10 sources
Cons
You won't be able to add additional sources
No option to export the proxies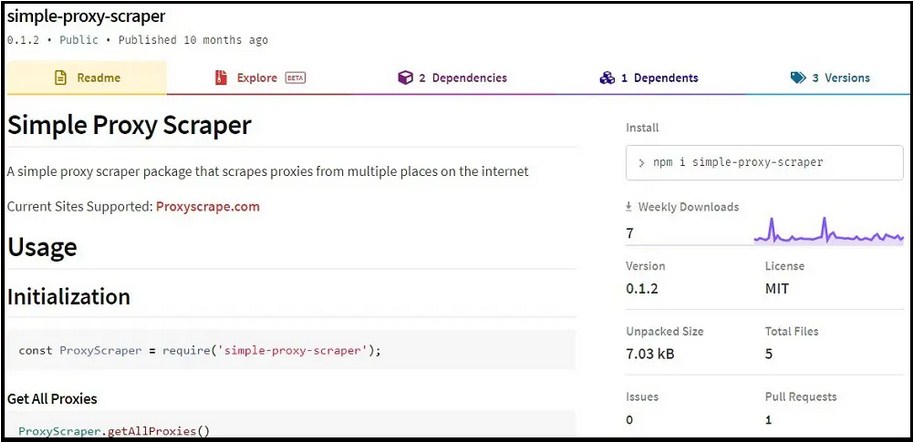 As you can guess from the name, you are looking at a simple proxy scraper. Like several of the previously mentioned, Simple Proxy Scraper is a console-based tool, so you should expect some limitations.
When I say limitations, in terms of this one, I mean quite a bit. The biggest one I see at the moment is the lack of sources. Simple Proxy Scraper only grabs IP addresses from one source, which can be pretty limiting.
The list of features is pretty basic, so don't expect anything fancy. You have the option to choose the type of proxy you want to scrape, as well as the type of anonymity. There is also an option to select the country you need and if you're going to get proxies that have SSL or not.
Like most console-based proxy scrapers, Simple Proxy Scraper suffers from the lack of an export option. The only way to get the proxies is to copy them from the console and paste them into a document.
Pros
You can run it on any device with python support
Fast
Flexibility to choose the type and location of the proxies
Cons
No export option
Not the best choice for novice users

When it comes to the simplest proxy scraper in the world, ProxyDB takes the crown. Unlike the previous tools in the list, this web-based proxy scraper is the easiest to use option on this list.
Essentially, you have two fields – the one where you enter the list of websites you want the proxies to be scraped from and the results field. You can enter up to 10 sources, click a button, and the scraper will start to do its thing. It will pull all the available proxies in the IP:port format in the field on the right, and it will do that fairly quickly. The good thing is that the list of sources is not baked-in, meaning that you can run multiple scrapes and get proxies from as many sources as you want.
The biggest advantage to ProxyDB is that it can work on any device that has a browser, so the list of supported platforms is endless. With that, there are some downsides. Like some of the console-based proxy scrapers, this one doesn't have an export option, meaning that you'll have to copy the list manually. With this, you also lose the option to filter or sort the proxies within the scraper itself.
Another disadvantage the ProxyDB has over some of the apps I mentioned is the lack of a proxy tester. The tool will only scrape the IP addresses but won't be able to check if they are working or check the speed and latency. To get that info, you'll need to use a separate proxy checker.
Pros
Works on any device with a browser
It can grab proxies from as many sources as you want
Decently fast
Cons
You won't be able to export the proxies
ProxyDB doesn't come with a built-in proxy checker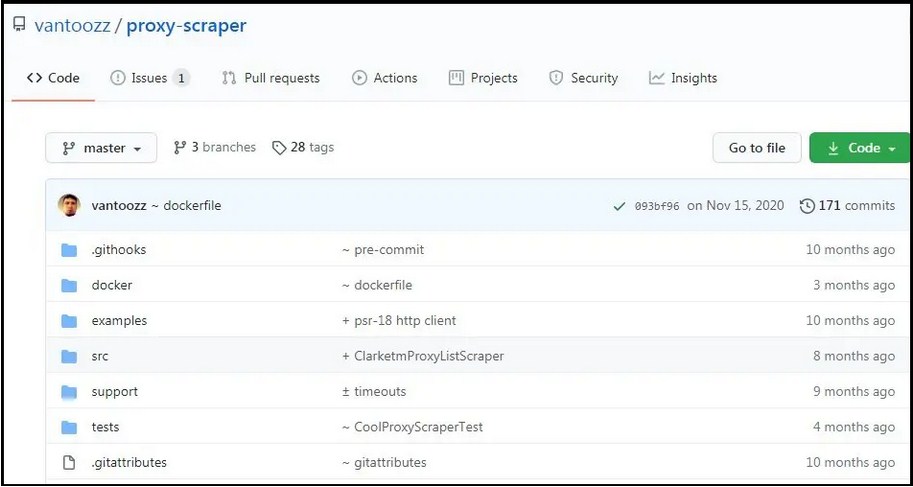 The name may sound generic, but this is another one of those fast but slightly complicated proxy scrapers. It is a Perl script, meaning that even though it is a powerful tool, the setup process isn't as simple as installing a program.
These programs are excellent because you can run them on most operating systems as long as the dependencies are met. The downside to this is that setting up the environment takes some knowledge or a lot of googling.
As for the scraping part, things are more or less in line with the previous tools I mentioned. There are multiple sources that the developer put in, but the problem is that you won't be able to change them unless you decide to alter the code. During the search, you have the option to specify 3 parameters: type, level, and agent. With that said, I would have liked to see an option to specify at least the location.
You can use Proxy Scraper to grab the IP addresses, and the tool will be able to export the proxies in a text document. The biggest problem with it is the fact that it doesn't include a proxy tester, meaning that you'll need to use another service for that.
Pros
Free
Able to get proxies relatively fast
You have the option to search based on several parameters
Cons
Proxy checker not included
Not the simplest too to set up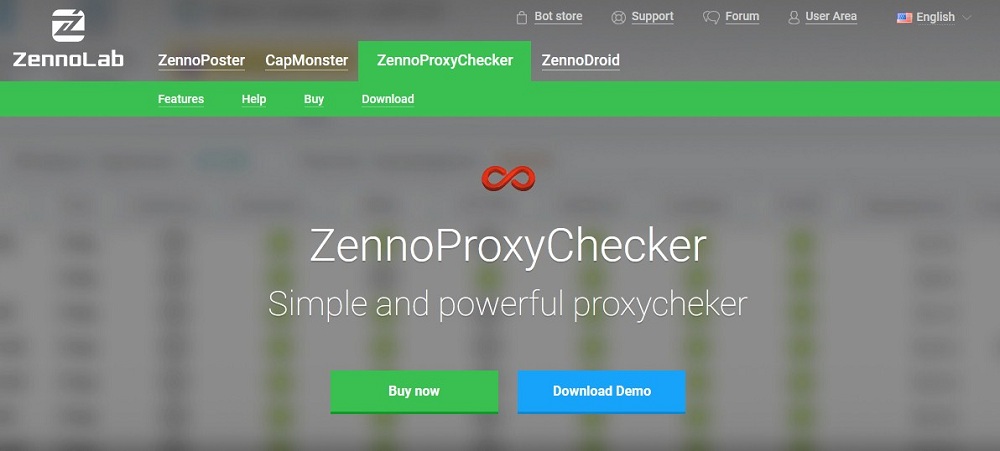 The last proxy scraper on the list is ZennoProxyChecker, which is an excellent paid option to get free proxies. Even though the tool's primary task is to check proxies, there is also a scraper built-in, so it's a one-stop-shop for finding and testing proxies.
ZennoProxyChecker has several proxy sources already loaded in, meaning that if you can get started even if you don't know any sources. The good thing is that you can already add more and get more proxies. Naturally, once the scraping process is complete, you can export the proxies, meaning that you will have them ready for whatever you plan to use them.
Considering the name, Zenno's tool can also check the proxies and filter out the bad ones. Like with most proxy checkers, it will check the proxy protocol, speeds, location, SSL, and a few other things. All of the details will be outlined in a table, and you can filter out the proxies based on whatever you need them before exporting.
Initially, when you look at the price, ZennoProxyChecker seems affordable, but it's not as simple as that. Yes, the tool is on the cheaper side, and for $47, you get 6 months of free updates. To continue receiving updates, you'll need to pay $10 twice a year. If you decide not to pay, the tool will remain functional, but you won't get access to new features.
Pros
Included proxy checker
Ability to add custom sources
Unlimited threads
Cons
Weird pricing structure
Works only on Windows
1. Is it legal to scrape free proxies?
Yes, scraping free proxies is completely legal. All proxies are listed on various websites where users can get them without paying or registering, so scraping them with a tool is the same as grabbing them manually by copying and pasting them in a document.
On the scraping side of things, in general, scraping is not illegal. Some websites have certain protections against people scraping content from them, but at the moment, almost all countries consider scraping to be legal. With that said, I would recommend double-checking your local laws if you live in an area where things are a bit tight.
2. Will free proxy scarpers perform worse than the paid ones?
It depends on multiple factors. The goal of the tools is to extract the data from websites that provide free proxies. In general, they should all get the job done similarly and will differ by the time it takes them to do so. Some may be faster, others may be slower, and at the end of the day, you can easily test the free ones. As for the pad ones, some of them have a trial or demo option to test before purchasing.
3. Where can I find additional sources?
Even though most scrapers come with a list of sources included, you also have the option to add your own. Since there are many options, you can check out my list of the best free proxy websites. If you want more, Google always has the answer.
4. What kind of proxies can I expect to get, and what would their performance be like?
For the most part, you will be looking at datacenter proxies. As you may know, datacenter proxies are known to have excellent speeds and low latency, at least the paid ones. The free proxies won't perform as well, and in some cases, they may even be unusable.
5. Can I use free proxies to scrape websites?
It depends on which sites you want to scrape. Even though most sites have some kind of scraping protection, proxies are a good way to mitigate that issue. The problem is that some websites, like social media ones, are notorious for being difficult to scrape, so I recommend residential or mobile proxies for that. Other websites aren't as strict, and you may be able to scrape using free datacenter proxies.
6. Are free proxies safe to use?
To be honest, I'm not a massive fan of using free proxies, and security is one of the reasons. Since there isn't a company that's monitoring them, the traffic runs through unsecure nodes. As a result, some personal information may be leaked. With that said, first-time proxy users can try using free proxies for scraping or general browsing, as long as they avoid entering login credentials, personal information, etc.
---