There are plenty of affordable proxy providers, but not all are good enough to be even considered. Today we'll look at an affordable proxy provider that's been on the market for over a decade to see if it's worth it.
The competition in the proxy industry is fierce. There are tons of options to choose from, ranging from the cheaper providers ranging all the way to the expensive ones. Having that wide range means that there is a range in performance. We hold the expensive options as the best, but that doesn't make the affordable ones poor options. Often, we see many cheaper providers delivering excellent results, making them an excellent bang for the buck option.
In the affordable segment, the provider we've chosen for today has been around for a while. FineProxy has been around since 2012, so we can safely say that it's been long enough for the team to know how things should work. With that said, can it deliver?
Recommended for: Scraping, Anonymity & Bypassing restricted websites
FineProxy is one of those providers that often flies under the radar. The website isn't the fanciest, and you won't see tons of ads, which is probably the main reason why most people don't know about it. To be fair, we're not here to talk about marketing, so let's see what this provider offers.
As far as offerings are concerned, FineProxy deals only with datacenter proxies. I wouldn't classify this as bad because we have reviewed plenty of datacenter providers in the past. Considering that we're talking about these kinds of proxies, you won't have too much luck with copping sneakers, but they'll be more than enough for scraping or browsing anonymously on some websites and even use with some social media platforms.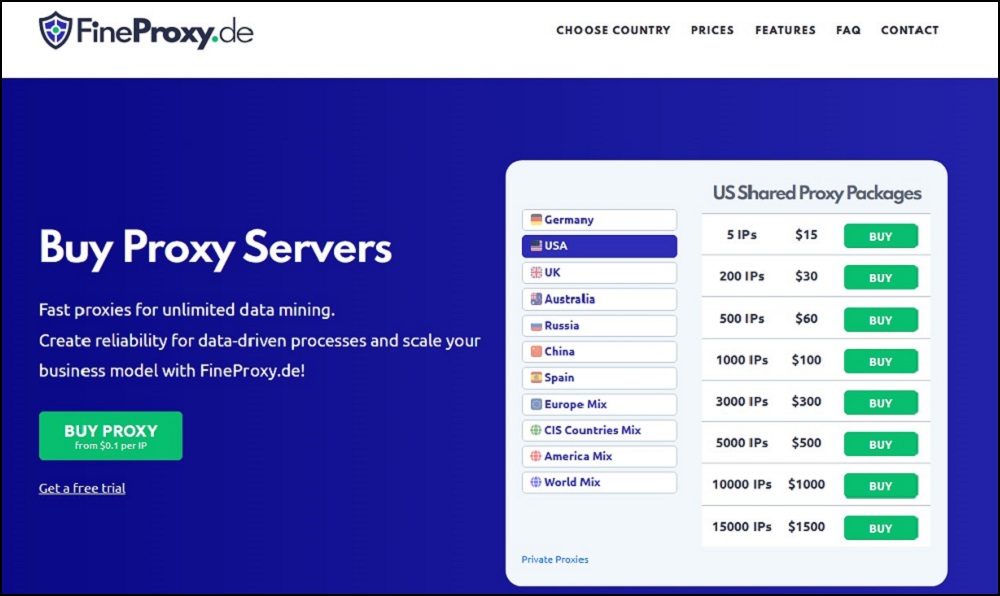 One aspect that may put people off is the lack of information. FineProxy doesn't outline the total number of proxies in its pool. It may seem bad, but when you consider the size of some of the packages, you'll conclude that it doesn't lack in this regard.
Another redeeming aspect of FineProxy is the number of available locations. There are plenty of locations to choose from, offering excellent flexibility. There are 12 countries if you're after the individual packages, but the company has proxies in other parts of the world, so you aren't too limited.
Pros
Affordable
Flexible packages
Unlimited bandwidth
Tons of locations around the world
Free trial available
Two types of authentication
Cons
A limited number of locations for private proxies
The performance of the shared proxies is average
Free trial limited to only 1 hour
Proxy types, features, and pricing
So, I already mentioned this in the introduction, but let's go over it again. FineProxy can offer you datacenter proxies only, which isn't a negative side. There are tons of providers on the market that have the same product on offer, so it's not a downside.
The only thing worth mentioning is that FineProxy doesn't outline the number of proxies. It's a dealbreaker for me because I cannot see how the numbers compare with the rest of the competition. With that said, considering that there are packages with 50 thousand IP addresses, it's not too bad.
Speaking of packages, let's look at the pricing structure of FineProxy. You have several types of packages you can get. If you're going for the individual country ones, then you have multiple packages for each, depending on the number of IP addresses. There is also an option for mixed proxies that come in 4 flavors: America, Europe, World, and CIS, covering multiple countries of each region. Finally, there are private proxies, where you pay for a single IP address.
As good as this sounds, there is a slight twist. The number of minimum proxies you can get depends on the location. If you're after 1 private IP address, your options are limited to the USA, Germany, Russia, and Ukraine, costing you $5. These are the private proxies where you get better performance because only you will use them.
The shared proxies come in a much more flexible format, offering larger packages and more locations. There are more packages to choose from with individual countries or a mix. You can get as little as 5 shared IP addresses from the US, depending on the location. The rest of the countries or mixed packages come with more.
Overall, the flexibility is there, but it doesn't apply to all types. For some countries, you'll have multiple packages, while for others, you'll be limited to only one.
Locations of proxy servers
Now let's talk about locations, and there is a variety here. If you go through the website, you'll see that most of the packages are from 12 countries, which doesn't sound like much. With that said, with some of the packages, you have access to far more locations which you won't be able to get in the individual plans.
As part of the mix packages, you can get proxies from 4 regions across the world. The America Mix covers the continent, but it excludes the USA. This means the IP addresses are from Canada, Mexico, Brazil, etc. On the Europe side of things, you have countries like Netherlands, UK, Poland, Czechia, France, Germany, Sweden, Austria, Spain, and Norway. CIS or Commonwealth of Independent States will offer IP addresses from countries like Russia, Ukraine, and Belarus. Finally, the worldwide mix cover countries from across the globe.
Companies can make all sorts of promises, but that won't mean anything if they cannot deliver on the promised performance. To see how well FineProxy does, we ran a few proxies through our usual tests to see how they do. Remember that even though these are datacenter proxies, the company doesn't make any promises regarding the highest possible speeds.
IPs of proxies
Ping

 

Download
Upload
Unloaded
Loaded
185.14.194.23
191
224
8.6
23
212.115.51.238
234
241
5.5
17
185.14.194.113
186
358
6.7
24
37.44.252.119
238
241
6.5
22
185.14.194.95
186
342
8.0
7.7
85.202.195.87
242
249
6.2
3.8
84.54.58.89
198
209
7.2
6.4
185.14.194.49
190
213
7.1
7.6
37.44.25.139
240
262
6.1
4.5
84.54.58.51
209
253
7.7
7.3
103.27.2.205

VPS IP

267
275
41
62
The numbers don't seem very good, but I've seen a lot worse. Most proxies have latency between 200 and 250ms, with only two going over 300. An important thing to note here is that only with two of them, the difference between loaded and unloaded was greater. The others showed a minimal increase, which is a very good sign.
As for the speeds, I wouldn't classify them as the best. They range from 5.5 to 8.6 Mbps for download, and there aren't massive differences between them. On the upload side of things, we see significant differences. The lowest is 3.8, and the highest is 23. Considering the speeds, FineProxy won't be categorized as a leader in the industry. With that said, these aren't private proxies, so we shouldn't expect miracles. During testing, they were stable and showed no signs of weakness, so most people will be fine.
The most important thing to note here is that the proxies we tested are shared, meaning the performance won't be the same. If you want better performance, you'll have to consider the private proxies.
Details of the speed test
Speed test without proxy:
IP (NO PROXY): 103.27.2.205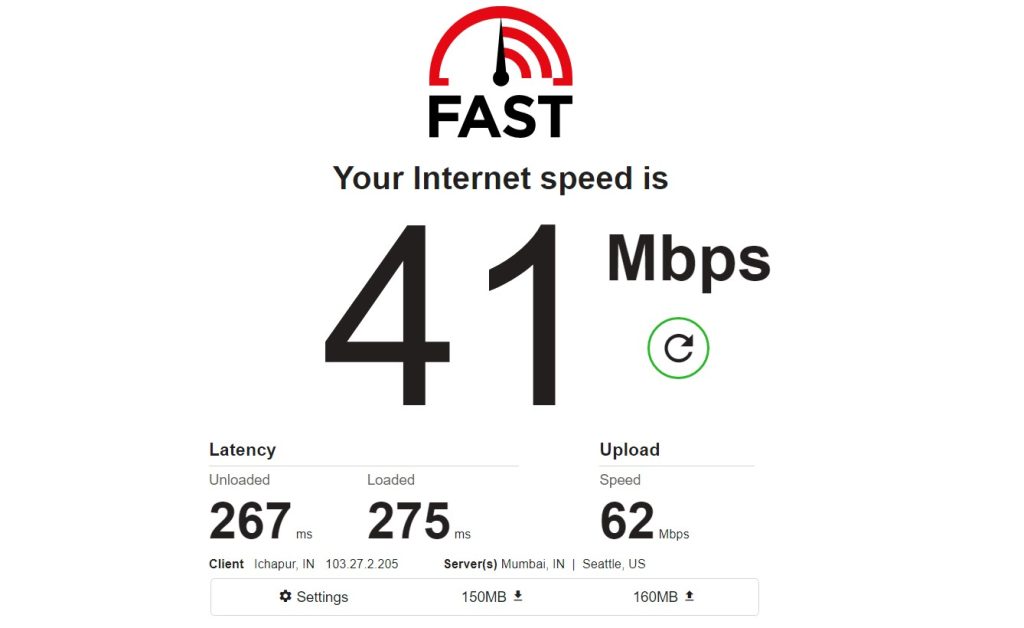 IP 1: 185.14.194.23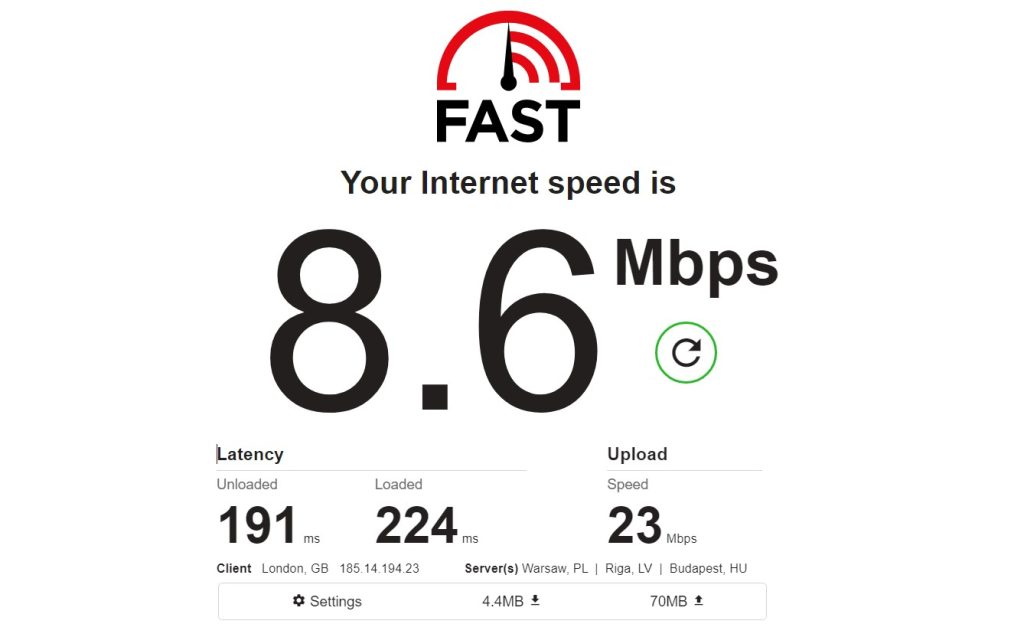 IP 2: 212.115.51.238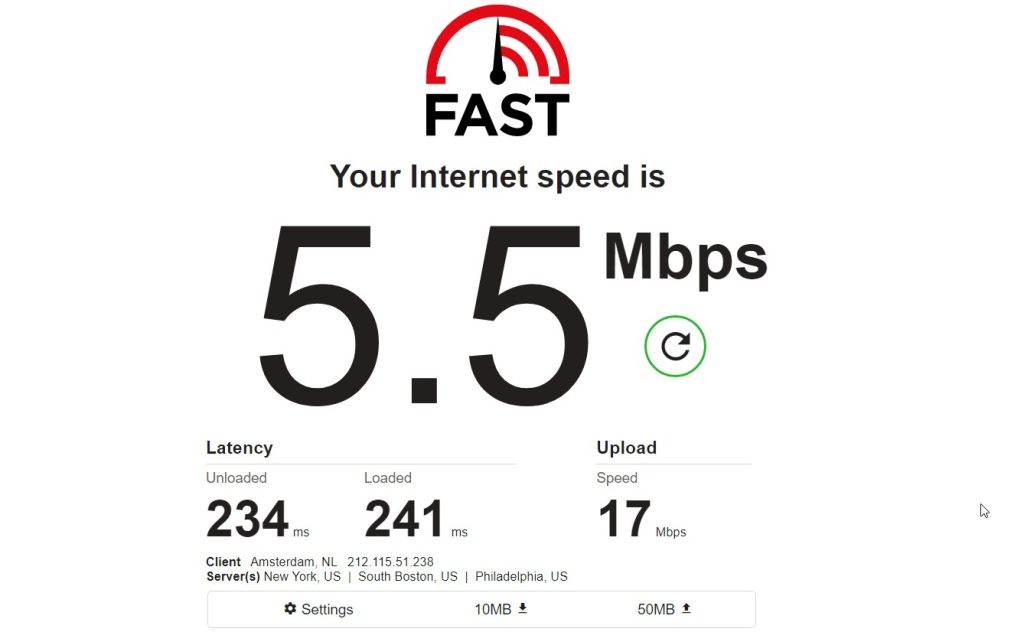 IP 3: 185.14.194.113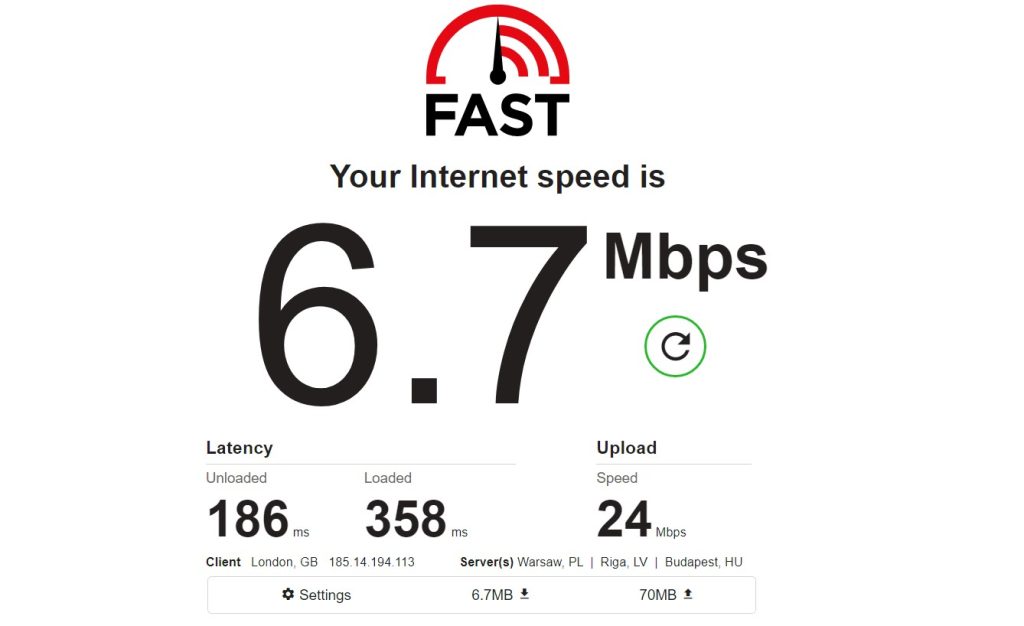 IP 4: 37.44.252.119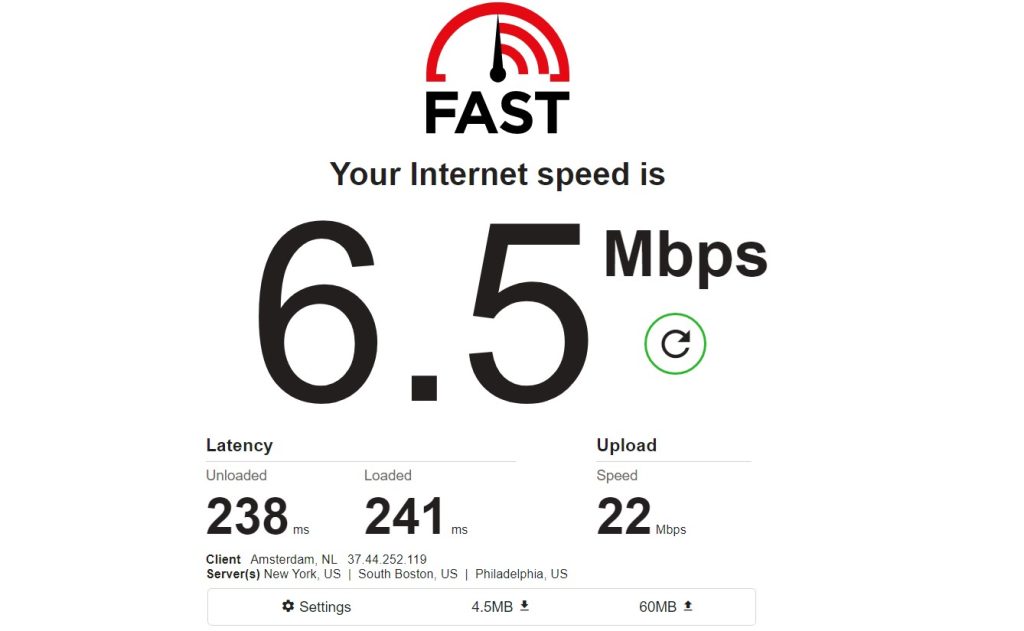 IP 5: 185.14.194.95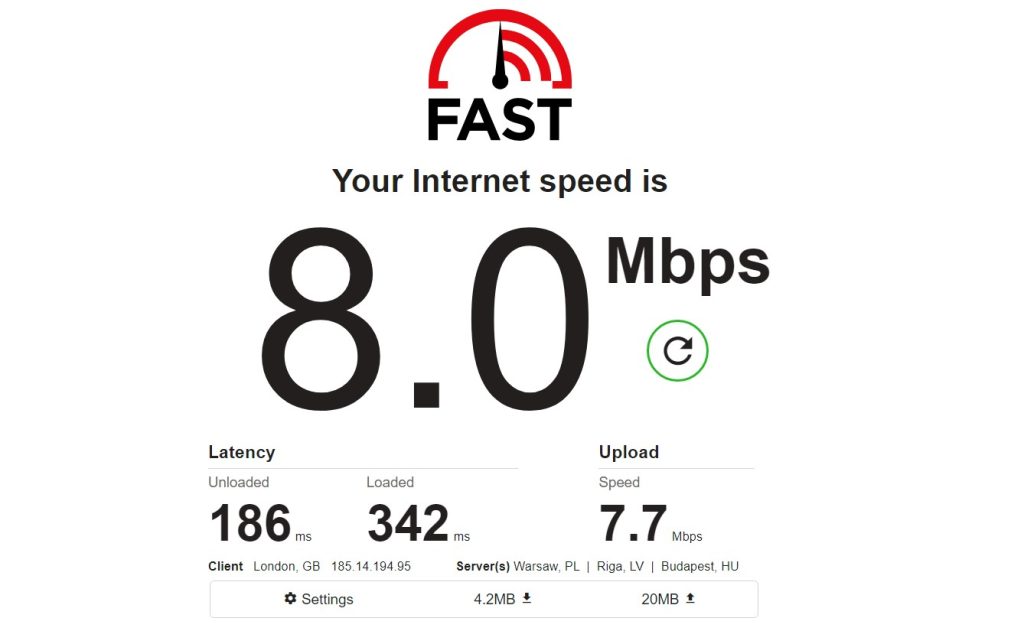 IP 6: 85.202.195.87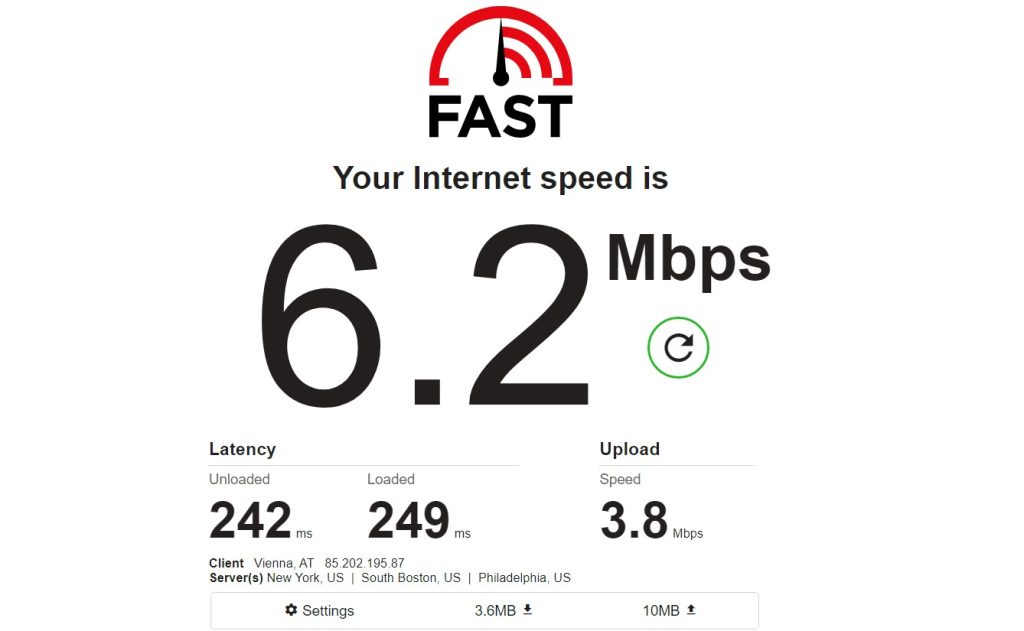 IP 7: 84.54.58.89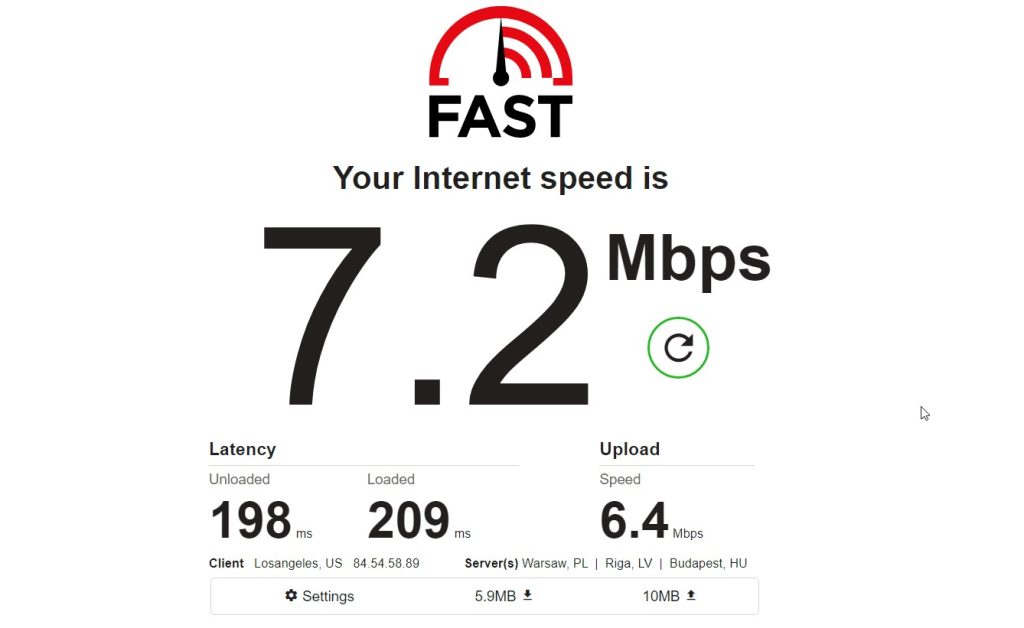 IP 8: 185.14.194.49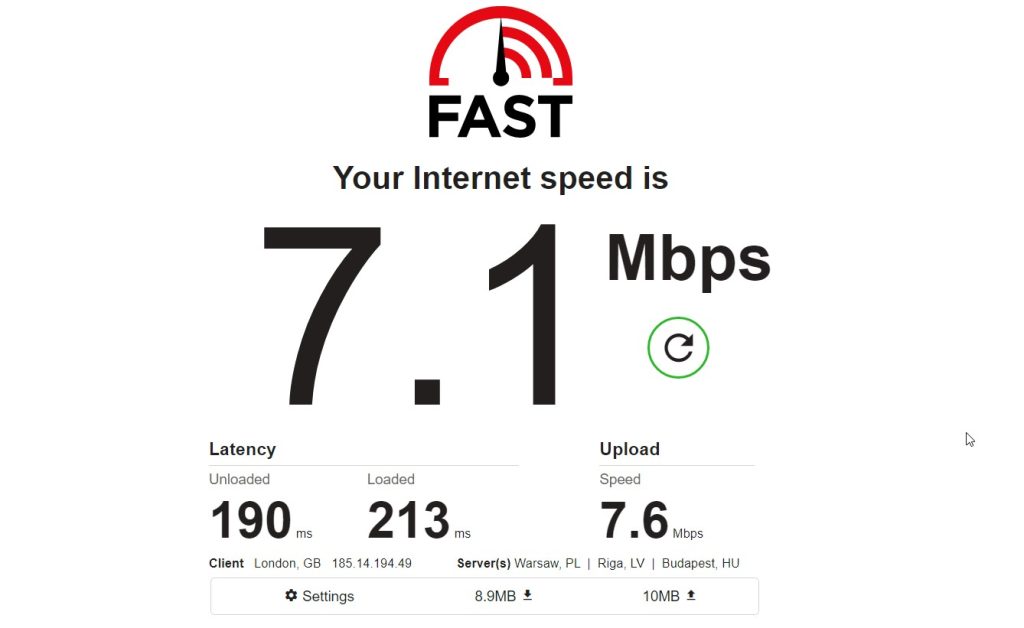 IP 9: 37.44.25.139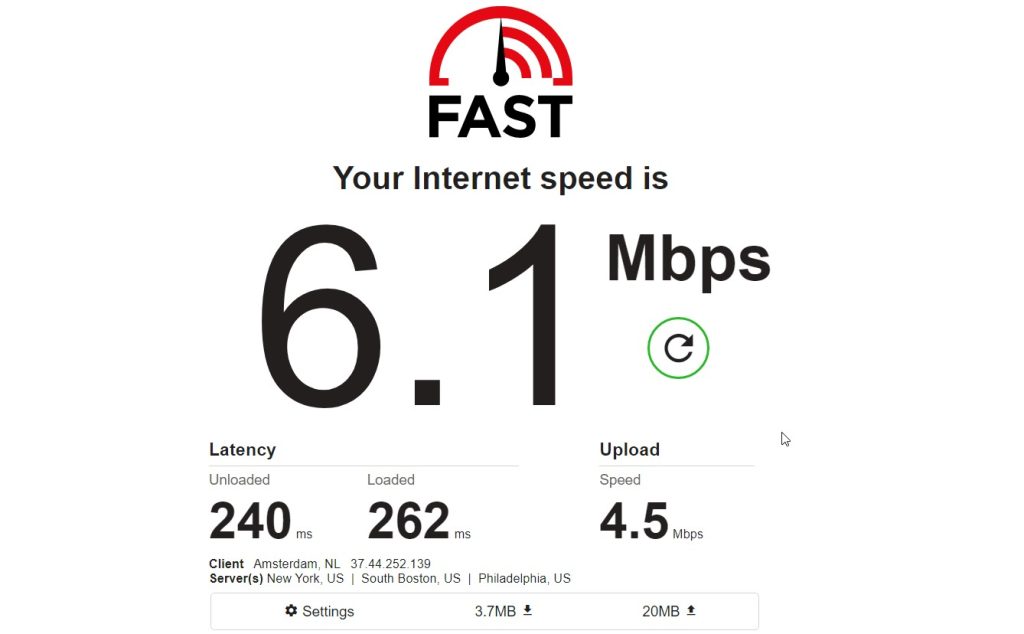 IP 10: 84.54.58.51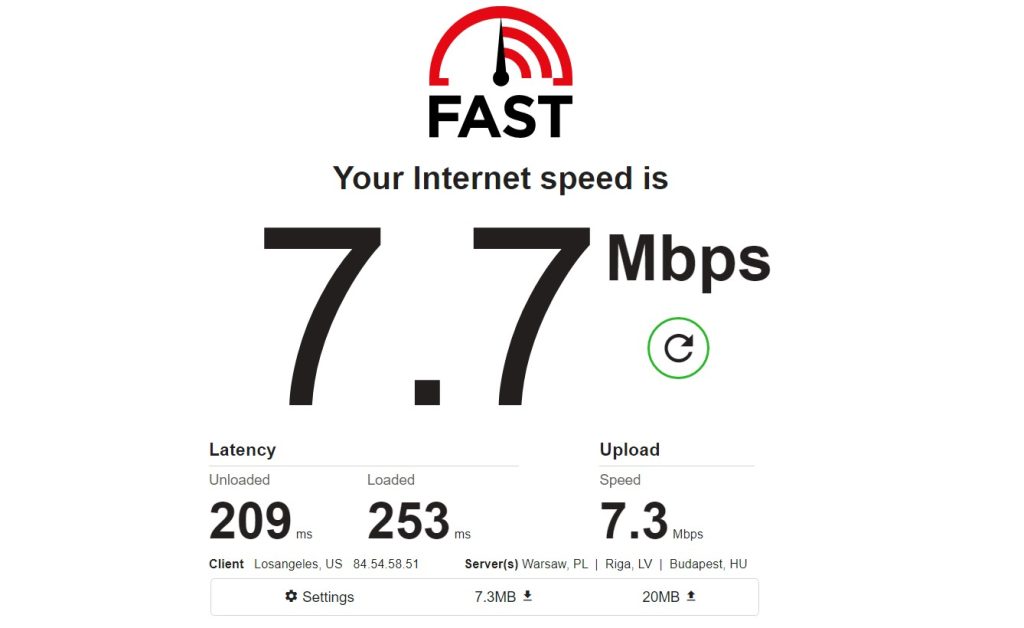 GEOlocation Test / ISP Test
There are situations where you may need proxies from a certain location. All companies offer that, but the proxy needs to be from the exact location the company specified. Considering this, we ran our ISP test on FineProxy's IP addresses to see how they performed.
IPs of proxies

 IP2Location

 

ipinfo.io

 

185.14.194.23
Location: Kharkiv, Kharkivska oblast, Ukraine

ISP: ATOMOHOST LLC

Location: Kharkiv, Kharkiv, Ukraine

ISP: BTT Group Finance Ltd

212.115.51.238
Location: London, England, United Kingdom

ISP: TrafficTransitSolution LLC

Location: New York City, New York, United States

ISP: PureVoltage Hosting Inc

185.14.194.113
Location: Kharkiv, Kharkivska oblast, Ukraine

ISP: ATOMOHOST LLC

Location: Kharkiv, Kharkiv, Ukraine

ISP: BTT Group Finance Ltd

37.44.252.119
Location:  Amsterdam, Noord-Holland, Netherlands

ISP: Atex LLC

Location: New York City, New York, United States

ISP: PureVoltage Hosting Inc

185.14.194.95
Location: Kharkiv, Kharkivska oblast, Ukraine

ISP: ATOMOHOST LLC

Location: Kharkiv, Kharkiv, Ukraine

ISP: BTT Group Finance Ltd

85.202.195.87
Location: Tallinn, Harjumaa, Estonia

ISP: TrafficTransitSolution LLC

Location: New York City, New York, United States

ISP: PureVoltage Hosting Inc.

84.54.58.89
Location: London, England, United Kingdom

ISP: LIR LLC

Location: New York City, New York, United States

ISP: BTT Group Finance Ltd

185.14.194.49
Location: Kharkiv, Kharkivska oblast, Ukraine

ISP: ATOMOHOST LLC

Location: Kharkiv, Kharkiv, Ukraine

ISP: BTT Group Finance Ltd

37.44.25.139
Location: Velke Mezirici, Kraj Vysocina, Czech Republic

ISP: Matrigo s.r.o.

Location: Velké Meziříčí, Vysočina, Czech Republic

ISP: Matrigo s.r.o.

84.54.58.51
Location: London, England, United Kingdom

ISP: LIR LLC

Location: New York City, New York, United States

ISP: BTT Group Finance Ltd
Things aren't as impressive here as I was hoping to be. Half of the proxies were spot on, giving similar results in both tests. Unfortunately, the other half showed variations, which isn't a good sign. With those, we're looking at two different countries. To be fair, these are part of the mix package, so if you're getting that, you probably won't be too concerned with this.
IP address compatibility Test
Getting access to some websites that are blocked in your region is one of the reasons why you'd want proxies. FineProxy sells datacenter IP addresses, so my expectations aren't high for this test. We rarely see this kind of provider offering results similar to what residential proxies can do.
| | | | | | | | | | | |
| --- | --- | --- | --- | --- | --- | --- | --- | --- | --- | --- |
| IPs of proxies | IG | TW | Pin | YT | AZ | G | Netflix | CL | Nike | Adidas |
| 185.14.194.23 | √ | √ | √ | √ | √ | √ | √ | √ | √ | √ |
| 212.115.51.238 | √ | √ | √ | √ | √ | √ | √ | √ | √ | √ |
| 185.14.194.113 | √ | √ | √ | √ | √ | √ | √ | √ | √ | √ |
| 37.44.252.119 | √ | √ | √ | √ | √ | √ | √ | √ | √ | √ |
| 185.14.194.95 | √ | √ | √ | √ | √ | √ | √ | √ | √ | √ |
| 85.202.195.87 | √ | √ | √ | √ | √ | √ | √ | √ | √ | √ |
| 84.54.58.89 | √ | √ | √ | √ | √ | √ | √ | √ | √ | √ |
| 185.14.194.49 | √ | √ | √ | √ | √ | √ | √ | √ | √ | √ |
| 37.44.25.139 | √ | √ | √ | √ | √ | √ | √ | √ | √ | √ |
| 84.54.58.51 | √ | √ | √ | √ | √ | √ | √ | √ | √ | √ |
| 103.27.2.205 VPS IP | √ | √ | √ | √ | √ | √ | √ | √ | X | √ |
*IG – instagram, TW – Twitter CL – Craigslist, Pin – Pinterest, YT – YouTube, AZ -Amazon, G – Google
To my surprise, all the proxies passed the test without any issues. Despite offering datacenter proxies, FineProxy offers quality proxies that aren't easy to detect, meaning that you can use them for social media or sneaker sites. Keep in mind that the site we're using are some of the stricter ones on the internet, where a bad proxy doesn't work.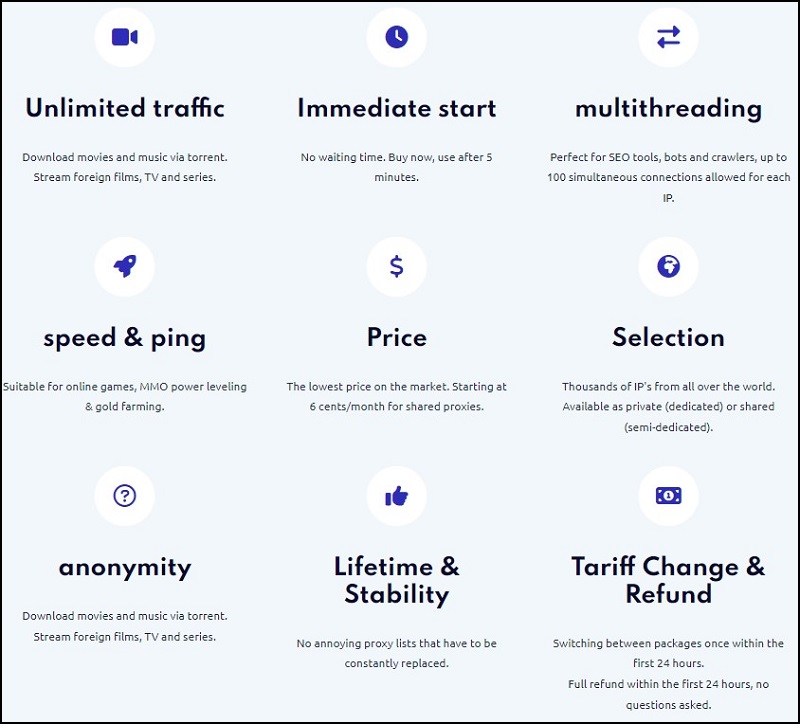 Many aspects make FineProxy a solid choice, but most people will find the unlimited bandwidth attractive. Having no cap on the traffic you use is excellent, meaning you won't have to worry about going overboard. This is one of the main reasons this provider is a good enough option for torrenting.
Flexibility in terms of the packages is a good way to attract customers. I've seen a lot of providers with a handful of options that are good eighter for smaller or larger projects. FineProxy covers both aspects, allowing you to get as little as 1 IP address, perfect for personal use. On the business side, you can scale up to 50 thousand proxy addresses.
While the number of proxies in the pool isn't disclosed, the list of locations is. Depending on the type of package you go for, you'll have 12 countries to choose from if you're going for a specific location. Additionally, there is a list of a lot more countries that FineProxy can offer. As a result, the flexibility is excellent, especially if you need geo-targeting the most.
Depending on the use case or your budget, you may want to get the project completed without spending too much. The good news is that with FineProxy, you won't be paying too much. The private proxies aren't the most affordable ones on the market but are still considered cheap. For the shared ones, in the worst-case scenario, you'll be paying $3 per IP address from the US. Going for other countries or larger packages means the price per proxy reduces.
The best way to test out a service without paying is a free trial, which FineProxy offers. It takes a few minutes to sign-up, and you'll get 50 mixed proxies to test things out. A slight downside is that the trial period lasts only 1 hour. It's not terrible and will give you enough time to see how the service performs.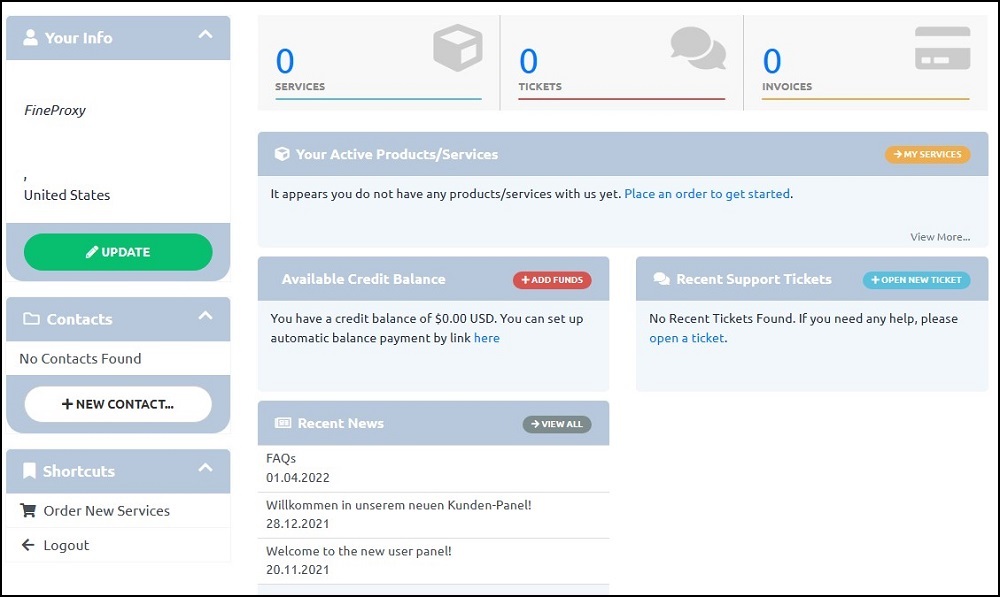 In terms of using FineProxy, things are relatively simple and easy to use. It doesn't have a lot of menus and options, meaning that everything is in one place, making things easy to get around.
On the top of the dashboard, you have the main navigation from where you can navigate to your services and billing or use the support if needed. On the top is a search bar, enabling you to go through the site's support section in case you need any help.
Under the services section of the dashboard, you have two options – reviewing your active services and ordering new ones. If you want to get a new package, the left side of the navigation gives you access to the location options, while in the middle, you can choose which package you want to get.
Going through the services is simple and enables you to get all the information you need in a single place. They are outlined in a list, so you'll need to click on the one you need at the moment. From there, you can bind an IP address and download the list of IP addresses.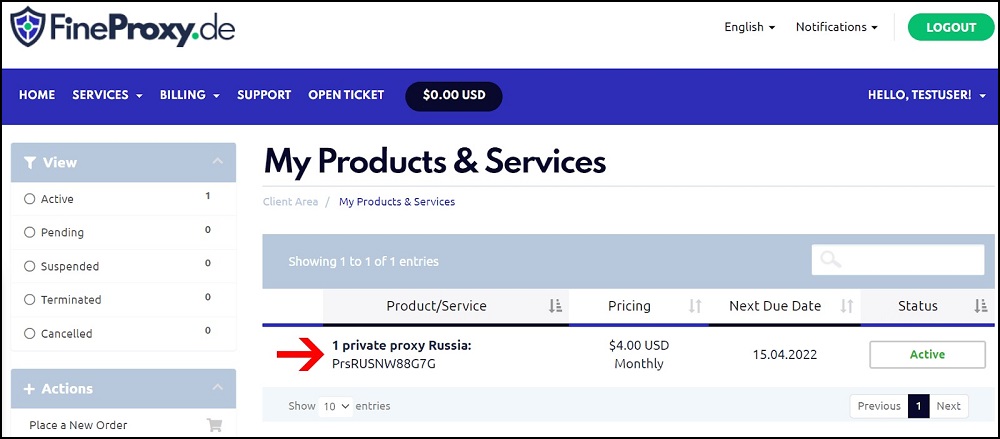 The best part about FineProxy is that you can choose how you want to authenticate to the service. It means that IP binding and username and password authentications are available, so you choose the one that suits you the best.
You'll need to navigate to the My Services area to bind an IP. From there, find the service that you want and click on it. Once the new section opens, you'll find the area where it says Binding IP, and enter your current IP address or the one where you plan to use the proxy.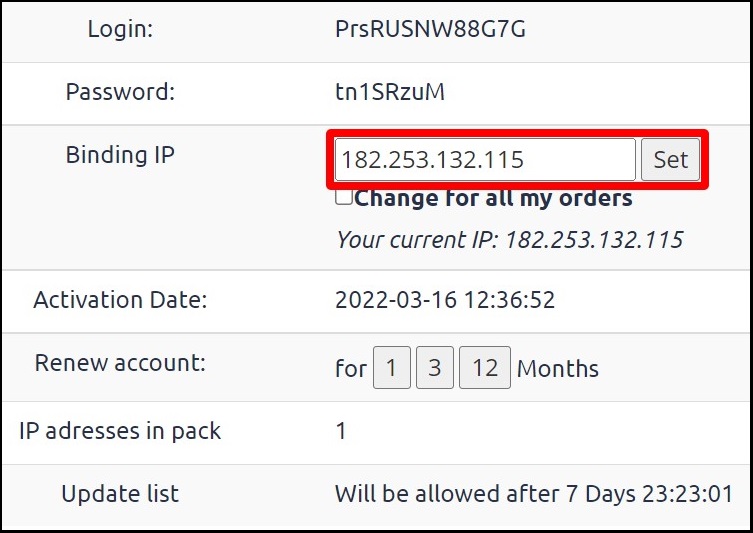 If you're going for the username and password authentication method, then you won't need to change anything. You'll be using the Login and Password information from the same menu, and you'll be good to go.
Once you set up everything, you can scroll down and download the list of IPs. Remember that you'll need to download the correct file for the authentication method you want to use.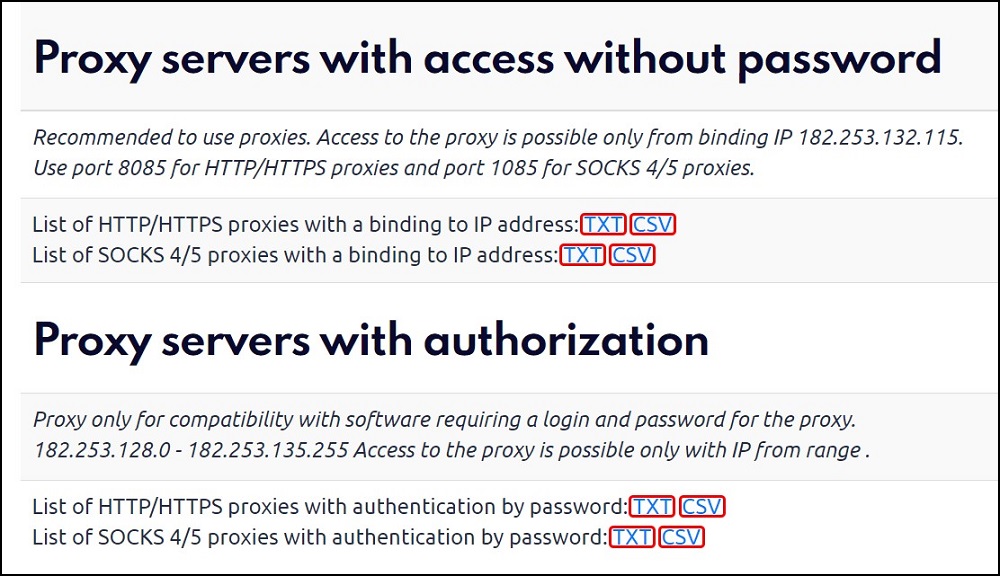 FineProxy isn't the most popular option on the market, and if you ask me, it's a shame. The service may not be the absolute best at what it does, but it does it decently well. In addition to that, it's priced reasonably, so it should be an attractive option for many people.

As a datacenter proxy provider, FineProxy won't be that one-stop-shop most people want, which is fine. Not everyone needs multiple types of proxies, so if you're looking for a datacenter one, this is a solid option. On the usability side of things, this service won't be a headache for anyone.
The dashboard is easy to navigate, and you won't have any problems figuring things out. In the worst-case scenario, the knowledgebase has many guides to help you get started. You may not get the best-performing proxies on the market, but I wouldn't complain at this price point.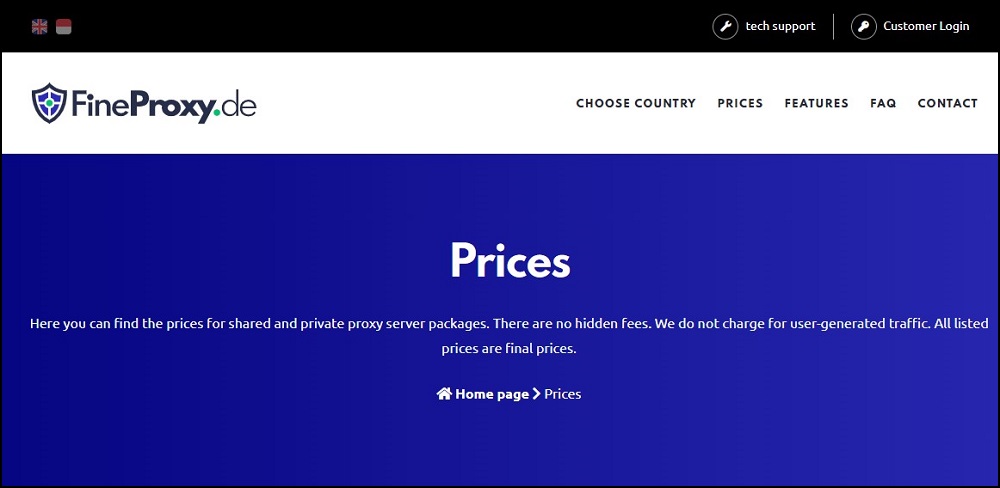 There is a big variation in the prices per IP, and it will depend on multiple factors. The shared proxies are more affordable than the private ones, so that may be one factor you should consider.
The most expensive proxies that FineProxy offers are dedicated ones. You can only get 1 IP address from only 4 countries; regardless of which one you go for, the price is $5 per proxy.
For a cheaper option, you have shared proxies with various prices and package options. Depending on the country, you can get several hundred IP addresses and go up to 50 thousand on selected packages. The prices vary, so you should check out the pricing page on FineProxy's website.
I slightly critiqued the speeds we gut during testing, but that doesn't mean the service is unreliable. The proxies did their job as intended and provided us with excellent testing conditions without any issues. During that time, the dashboard was online and available to us, and we didn't experience any difficulties at any time.
The support is one area of FineProxy where I'm hoping to see some improvements in the future. There is plenty of information available, but the contact options feel a bit limited.
If you're looking for support on the website, FineProxy has more than enough. There is an FAQ and a knowledgebase section, which include plenty of articles that will help you if you have any questions.
In some situations, your question may not be answered, at which point you'll need to reach out to support. Currently, the only option FineProxy offers is a ticketing system, which is technically an emailing option. There isn't a phone or a live chat option, which I would like to see implemented at some point.
Editor's Rating
Features

Pricing

Reliability

Easy to Use

Support
The perfect datacenter provider doesn't exist. Some may make bold claims, but there's always something that messes up that perfect picture. FineProxy doesn't make the boldest claims, so I won't be too harsh about its offerings. They are solid and won't cost you an arm and a leg.
We don't know the exact number of proxies, but when you look at some of the larger packages FineProxy offers, you can tell that it's not a massively small one. You can choose the IP addresses from 12 countries or go for a mix that covers one of 3 regions and one with proxies from across the globe.
The shared proxies won't deliver super-fast speeds, but for most use cases, they will be fine, especially if you're looking at FineProxy as an option for scraping. In some instances, you may encounter slight issues with the locations, but if that's not your primary concern, then you'll be happy with the service.
You're getting all of this wrapped in multiple packages that are relatively affordable. I say relatively because there are cheaper options, but they also perform much worse. On the other hand, more expensive ones don't perform all that better. FineProxy is in the middle, offering a nice balance between performance and price.
If you're unsure about this service, the free trial is an excellent way to see if it will work for you. FineProxy will give you 50 IP addresses to play with, but you must do that within the hour. It's not the longest free trial in the world, but it's better than nothing.
As a whole, FineProxy is a provider that gets the job done. It's not the one with the flashiest website or the boldest claims. Instead, it offers what it says and does that without a massive strain on your budget.
User's Reviews & Rating
FineProxy
Average rating:
0 reviews
---