Have you come across Surge Proxy and wondering how it works and its level of performance? Well, here is a review with detailed info about this sneaker proxy provider.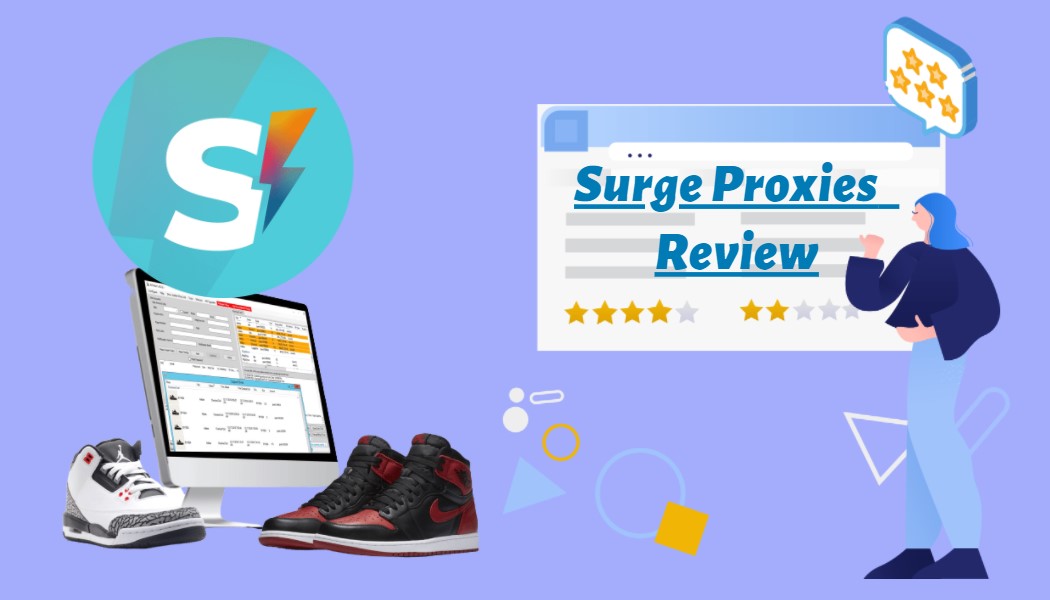 Proxies become an essential asset when copping sneakers, especially limited-edition releases that are in high demand. The proxies enable you to change your IP and buy as many sneakers as possible and in real-time. They also ensure you appear as a regular visitor, which means sneaker sites will not block or ban you.
Surge Proxies is one of the proxy providers that promise many such attractive features. They are among the top proxies in terms of speed, reliability, and ease of use. But do they offer all they promise on their website? Continue reading for more.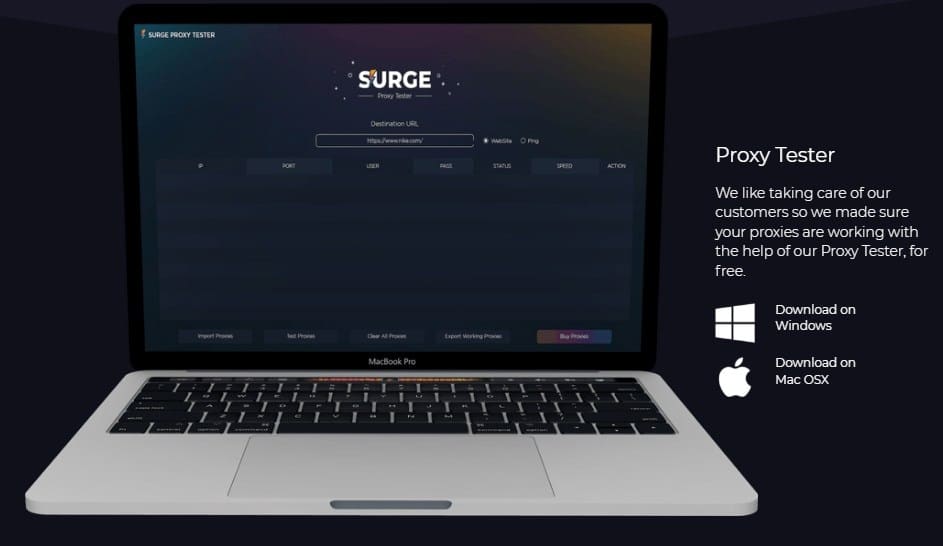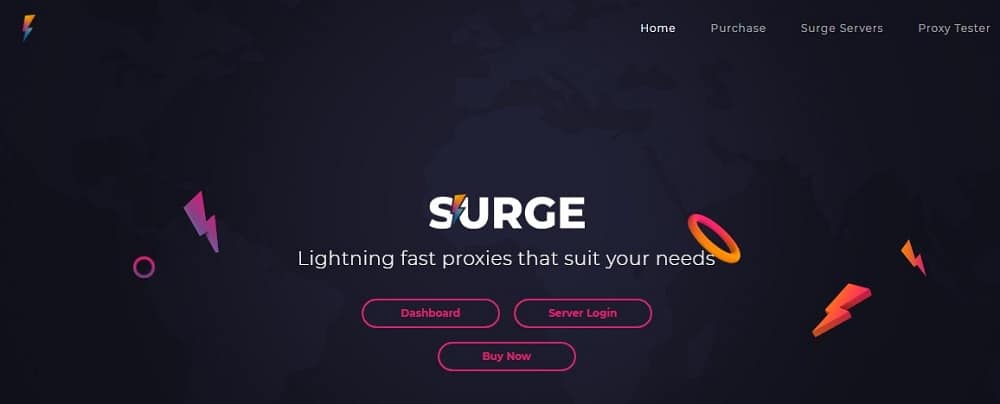 As earlier stated, Surge Proxies claim to offer many essential proxies for sneaker copping. True to their word, their proxies are of exceptionally high speed and maintain an excellent on-session connection. This means you easily log into your accounts and check out in a breeze.
The performance of these proxies is also very dependable and stable. In all sessions, you can be assured of an over 99.9% connection rate. This speed is contributed significantly by their high-performance servers that provide over 1GBPS connection.
Moreover, they offer flexible payment plans, including a 24-hour data plan. For such kinds of plans, you can be assured of getting quality services irrespective of your budget. They also have very professional and responsive customer support. However, for you to use their proxies, you need to have a Discord account.
Pros
Fast Speed: They offer lightning-fast speed that ensures you stay connected even when running many tasks.
Instant Delivery: After buying any of their proxy plans, you can start using them immediately. You don't have to wait for manual activation.
Highly Reliable: These proxies are very reliable and sourced from trusted ISPs.
Flexible Plans: You get to choose from many data plans, which include daily and weekly packages.
Easy-to-Use dashboard: They offer an easy-to-navigate interface that is favorable for new users.
Suitable Device Compatibility: The proxies are compatible with both Windows and Mac devices.
Cons
Authentication: They only offer username and password authentication. It would be better also to have IP authentication features.
No Refunds: The company doesn't offer refunds for any plans purchased. You, therefore, need to be careful when choosing a data plan.
Surge Proxies Types and Pricing
The price is one of the essential aspects to check when choosing a proxy provider. So, how do Surge Proxies charge for their packages? Below is a breakdown of all their data plans and pricing.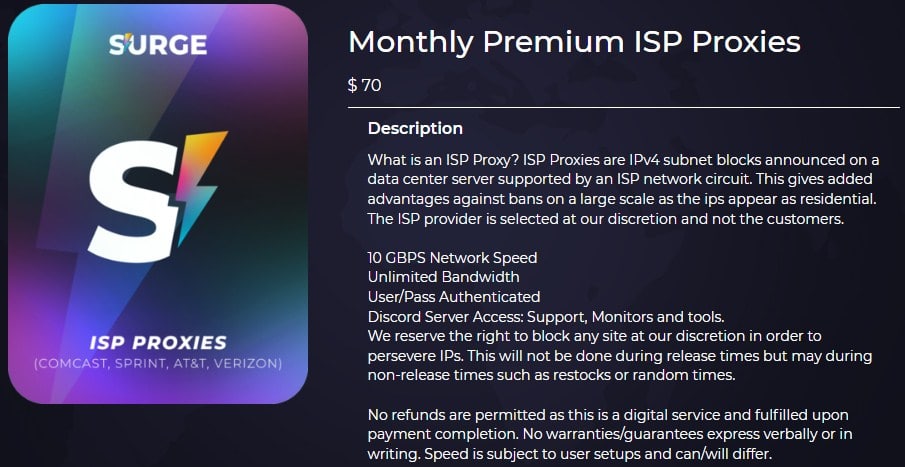 Residential proxies are among the best plans they offer. It comes with sticky IPs only and 60-day validity. In addition, it has a custom configured list for geo-targeting and an improved success rate. These proxies come with a user/pass authentication mechanism, which makes them easy to use.
It also has a vast pool of over 20 million IPs. These are IPs from reliable ISPs and are not shared. The starting price for this plan is $17/2GB for 60 days.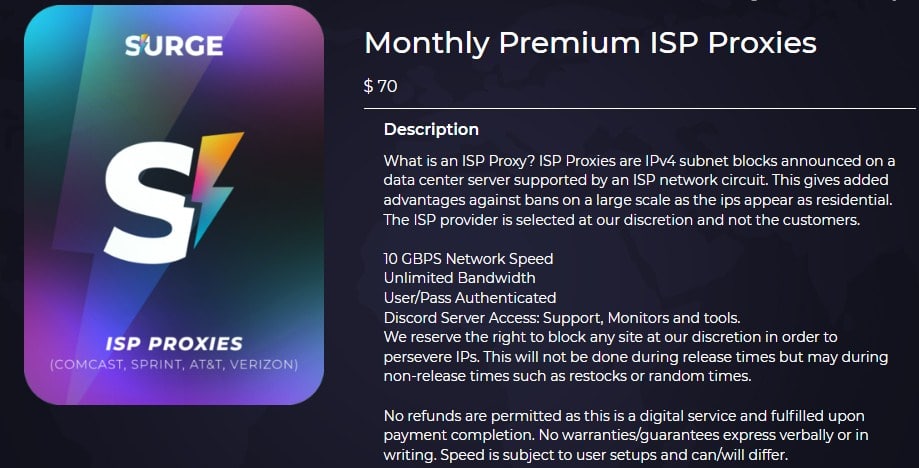 ISP plans are datacentre proxies that come with IPv4 subnet blocks. They are supported by ISP networks which make them more secure to use. This feature gives the proxies an upper hand from being banned and blocked by sneaker sites. Furthermore, they come over 10GBPS speed making them easily bypass bot-filters.
These proxies come in two packages; the weekly premium and the monthly premium proxies. The weekly package is the cheapest going for $32 /25 proxies.
Location of Proxy Servers
Surge Proxies has its ISP proxies only in Ashburn, Virginia. This is the only location for their datacenter proxies, which is not convenient for a sneaker proxy. They also have residential proxies but do not give any information about their locations. Most customers say that this is one of their biggest let-downs.
Features of Surge Proxies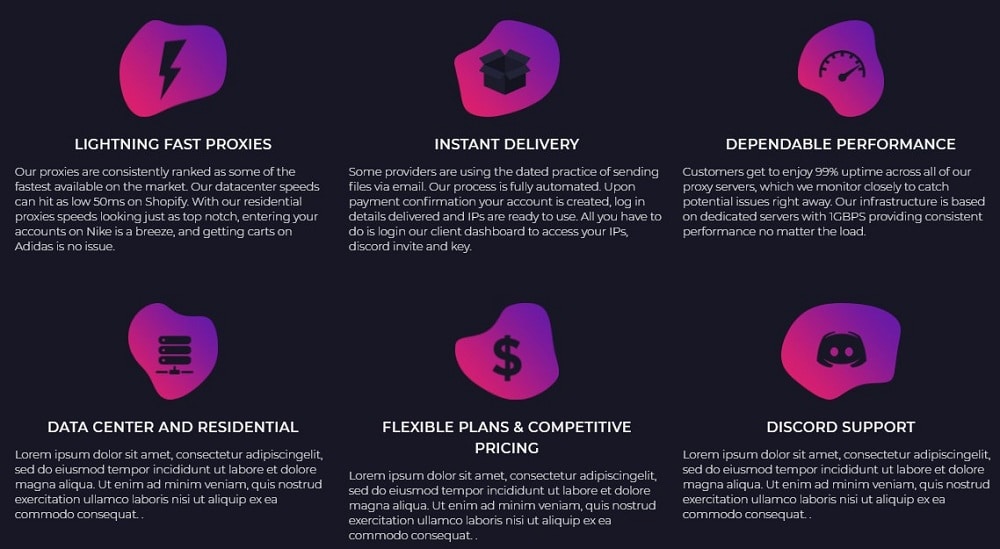 Customer support is among the best features in Surge Proxies. They give real-time responses to queries and are very professional. For you to get help, you should contact them using their Discord account. You should be able to receive some feedback within a few minutes or an hour at most.
On the downside, Surge Proxies do not offer a refund. This means that once a payment is made, you will either use the proxies or be at a loss. To avoid this, you should ensure to be keen on every detail before purchasing a proxy plan.
Although they lack rotating session features, they provide for sticky sessions. This means you get a specific IP per session and change it once done. However, they do not specify how long each sticky session lasts. But apparently, it doesn't affect the copping success rate of your tasks.
It's no doubt that having a proxy provider with a suitable IP pool size is excellent. This enables you to have as many IPs as possible for your copping activities. Surge Proxies brag of having over 20 million IPs, which is very efficient for successful copping.
They are only for username and password authentication. This feature means you only need to insert your email or username and password for you to log in. Although IP authentication is excellent for proxy providers, Surge Proxies do not have this feature.
Surge Proxies offer a wide variety of proxies with good speed and connectivity. They have a user-friendly interface that new users can easily use. However, they also have a lot of flaws that make their services not to be very sufficient.
Features

Pricing

Reliability

Support
Some of these limitations include few locations for their proxies. They don't even give info on the site of their residential proxies. In addition, they do not offer refunds, and neither do they have IP authentication. With that in mind, we wouldn't recommend this proxy for a severe sneakerhead. But if you are a beginner, you can take your chances.
User's Reviews & Rating
Stupid Proxy
Average rating:
0 reviews
---