Based on lots of proxy users report about Froxy to me, also with bad reviews on trustpilot, show Froxy provides very poor proxy service providers and bad customer support service, did not respond to your queries, and made false claims about 24/7 support. Furthermore, their proxy service was found to be subpar and hard to receive a refund.
Beware of Froxy: A Warning from Experience
The support is abysmal, the proxies run slow, and they seem to be merely resellers with their gateway server suffering from significant latency.
As an affiliate of theirs, I've witnessed them partake in numerous unpalatable actions, such as changing the affiliate link without any notification. They misappropriated my traffic. I can firmly state that this is not a trustworthy company, that is an absolute certainty.
Opting for this proxy provider would be a grave error.
Our team ran a check on all Froxy's proxy IPs and shockingly, they matched exactly with SOAX's IP pool, even down to the identical IPs. I'm not referring to similar IP ranges here – these are the very same IPs!
The recurrence of such redundancy in services is a letdown. When I mention a 'new' IP, I'm drawing a parallel to the situation where you switch your mobile device's flight mode on and off, and the carrier assigns a new IP within the same range.
Thus, it seems as though Froxy is essentially reselling SOAX's IPs.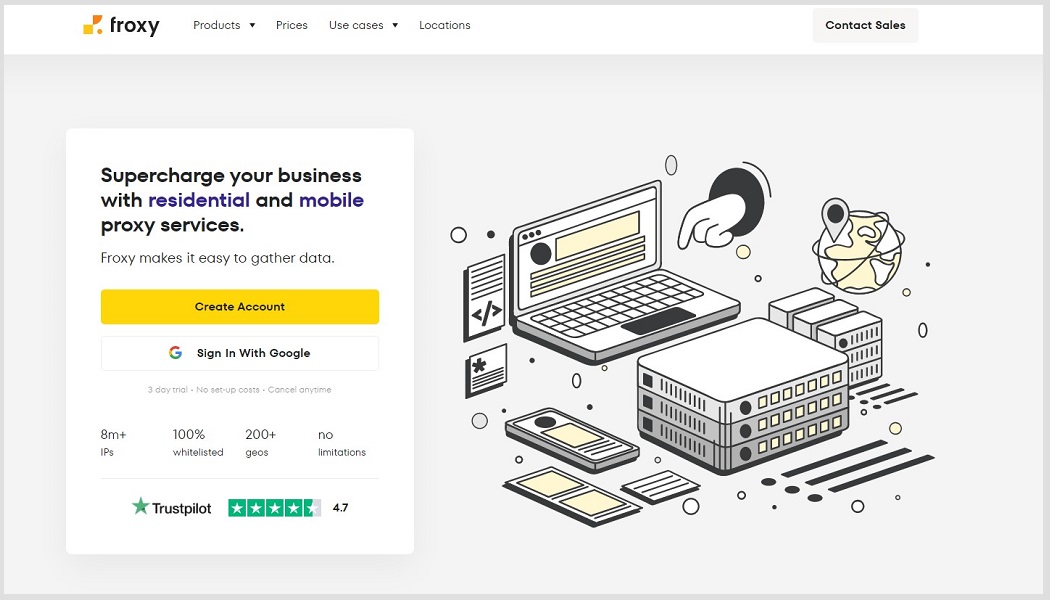 Over the years, proxies have become an essential part of our daily routines. To be fair, many people have no need for proxies and know nothing about them. On the other hand, people rely on them, regardless of whether it's for managing social media accounts or accessing geo-restricted content.
These services enable us to mask our original IP address and get access to something that would otherwise be unavailable to us. Unlike the early days of the internet, there are plenty of proxy providers out there, and the one I'll be reviewing today is Froxy.
There are many claims, some of which seem a bit bold, but how good are the services that Froxy offers?
Recommended for: Scraping, Price Monitoring & Market Research
Froxy is a proxy provider you probably won't find on too many lists these days. The reason for that isn't because the service is terrible, it's because the company was founded a few months ago. Based in Estonia, the provider launched its services in September 2021, so the user base is still a bit on the thin side.
On the positive side, the provider is trademarked by Wergames, a software consulting and development company with over a decade of experience. That should count for something, and we should be getting a decent product, right?
Looking at the website, it's clear the Froxy has many features that make it a good option, at least on paper. One thing I like is that unlike some of its competitors, most of the information you'd want to see is available. When I say information, I mean the number of IPs and locations, and with over 8 million proxies from over 200 locations, the numbers aren't bad at all.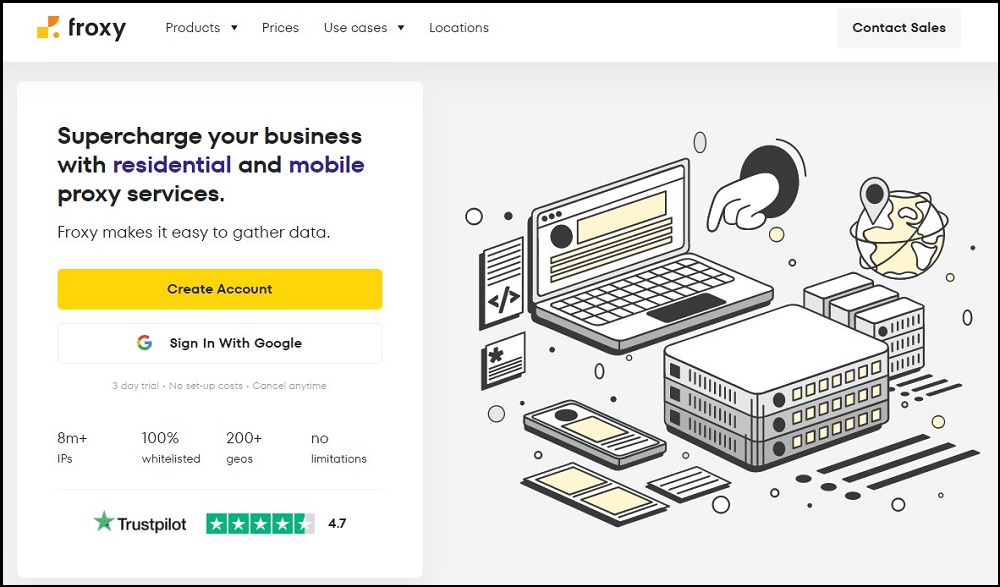 Considering that Froxy offers mobile and residential proxies, the number of advertised IP addresses is for both types of proxies, making it similar to Soax, a provider I've reviewed in the past. Even though you aren't getting a network as big as Bright Data, it's not a particularly small one either.
Each proxy type comes with a different set of pricing plans, making Froxy a pretty flexible provider. The geo-targeting includes countries and enables you to target a specific ISP, which is a nice touch.
The limitations are as you'd expect, in the residential and mobile cases, you are getting access to the entire pool, but you have a limit on the bandwidth. As for the rest, it's the usual stuff – auto-rotation, no blocked IPs, 99.9% uptime, more or less similar to the promises that most proxy providers have to offer.
Pros
Two types of authentication
The proxy pool consists of over 8 million IP addresses
Proxes come from over 200 locations
Decently priced
Flexible packages
Cons
Ping is higher than some
Trial is paid
No option for unlimited bandwidth
So far, Froxy seems like a good option capable of delivering proxies that can be used in multiple scenarios. Let's dive in a little deeper and see what makes this provider tick.
Proxy Types, Features, and Pricing :
Having a proxy provider that offers multiple services is a good thing. You won't have to hop from one provider to another if you need multiple services, which is good.
Froxy has a pool of proxies consisting of over 8 million residential proxy addresses, which is decent, considering that it's not a provider that claims to be the best in the industry. I mentioned Soax in the introduction, and both providers are quite similar in terms of what they have to offer. A slight advantage that Froxy has is in the number of locations. With over 200 countries to choose from, you have a bit more flexibility.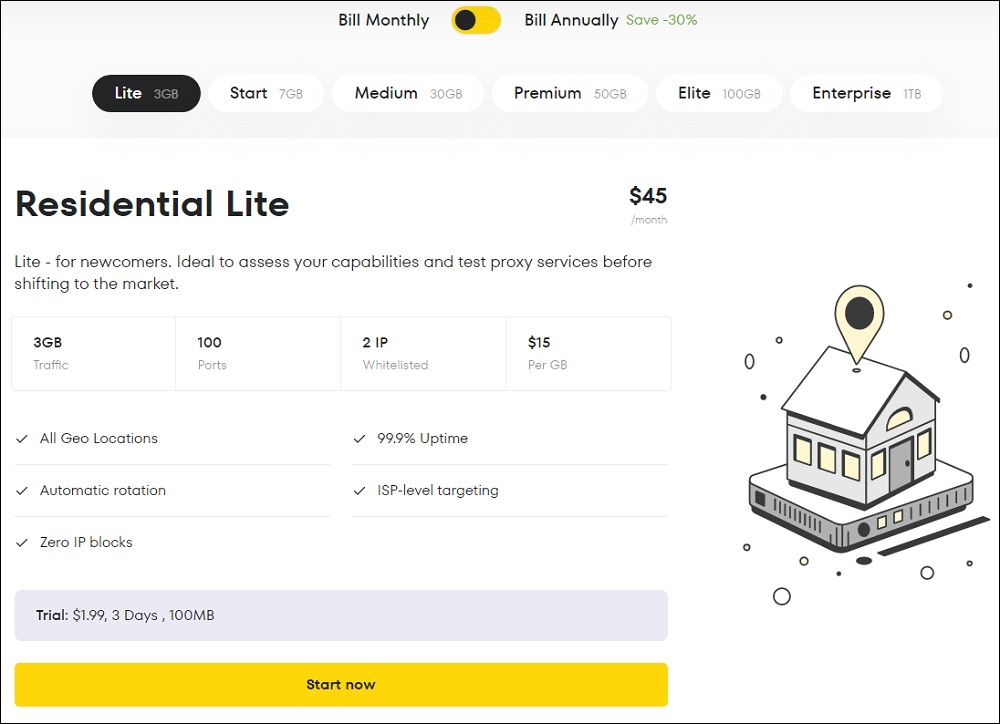 When we talk about a pool of over 8 million IPs, it's important to note that it's for both the residential and mobile proxies. Froxy doesn't mention how many proxies have for each type. On the flip side, the pricing structure is very flexible, meaning that anyone can find what they're looking for. For each type of proxy, there are 6 packages, depending on the amount of included bandwidth.
You can get the residential proxies for as little as $45 per month with a 3 GB included bandwidth and go as high as 1 TB for $2000. The mobile proxies are a bit more expensive, which is to be expected. They range from $40 for the 1 GB package to $1000 for the 50 GB package.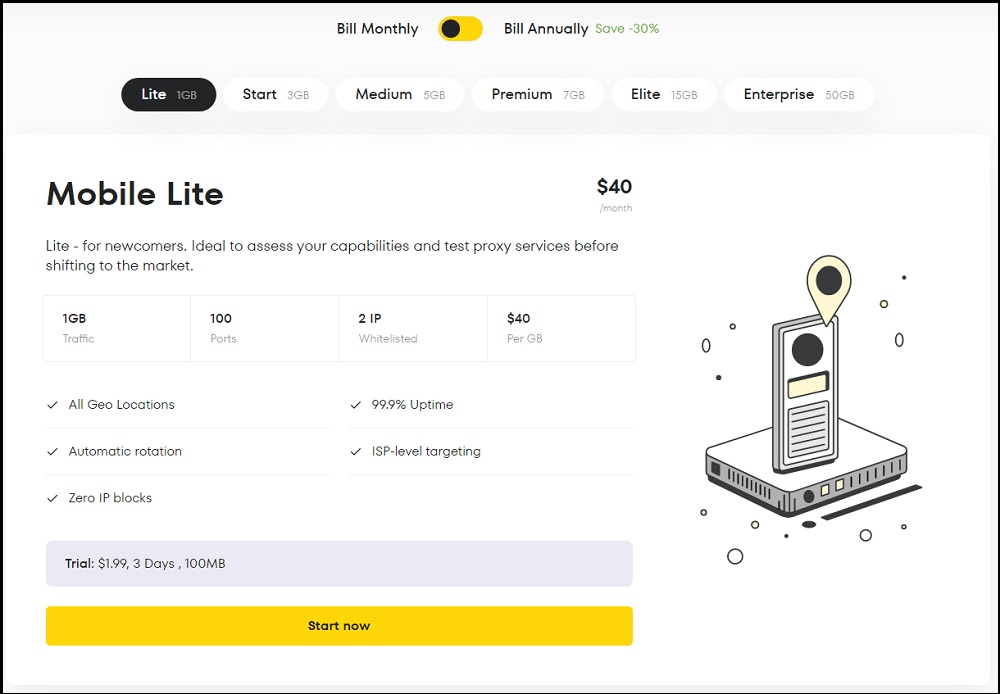 Looking at the prices, Froxy is a provider that's a tad cheaper than Soax, which is what makes it an attractive option.
Another difference between each package is the number of IP addresses you can whitelist and the ports you'll get. For all packages, regardless of the type of proxies, you will be getting a similar set of features, which include full access to all locations and a service that will rotate the proxies automatically.
Froxy has a combination of 3G and 4G proxies for the mobile proxies, which probably depend on the location you're getting the IP addresses from.
When it comes to testing, Froxy took a page from Soax's book and decided not to offer a free trial. Instead, you have the option to get a trial package for $1.99. This gives you full access for 3 days, but the bandwidth is limited to 100 MB.
Overall, Froxy seems to know what it's doing, and its offerings are on par with some of its competitors in this segment.
Locations of Proxy Servers
Having a wider range of locations to choose from is always an advantage, and Froxy nailed that, and on top of that, the list is available on the website. The provider gives you access to over 200 countries and regions, meaning that you'll probably have no issues getting an IP address.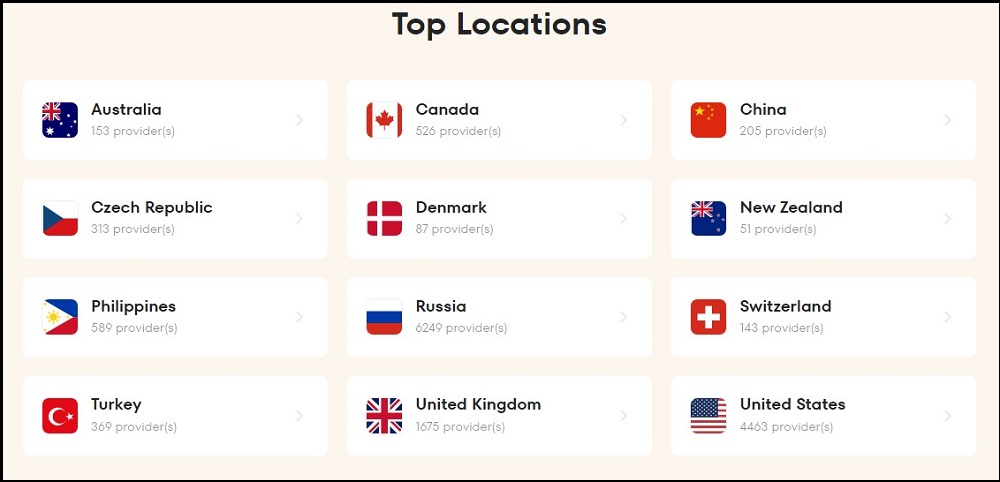 When you go into a certain country, you'll have a list of the cities and the providers that Froxy has IPs from, which gives you a detailed view of what you're about to get. You can see the list of providers the company can offer proxies from in each town. Naturally, bigger countries like the US gives you access to more IP addresses.
Ping Test & Proxy Speed Test
Like always, we got our hands on several proxies and put them to the test, and in this case, the speed and latency test. Ideally, the results we'd want to see are higher speeds and lower pings. Considering that we're looking at residential proxies, we shouldn't expect datacenter-like speeds. On the other hand, Froxy claims that it offers excellent speeds, so let's see what the results have to say.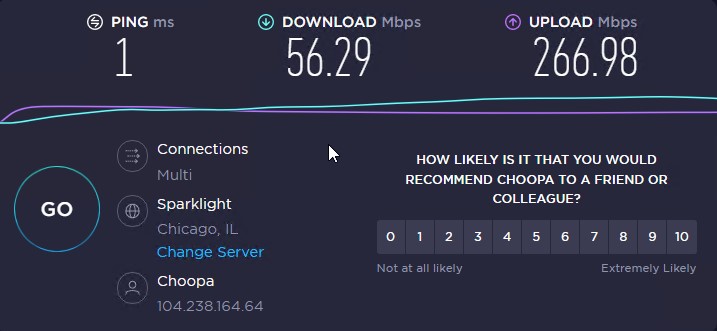 The numbers in the chart seem all over the place, which is normal. Considering that there is a considerable variety in the internet speeds people have at their homes, consistency isn't something we'll be getting. As for the actual speeds, things aren't terrible, but I've seen better.
They should be more than enough for scraping or general browsing, ad verification, and similar activities. This isn't a particularlt good option for streaming mainly because the speeds aren't too useful for that.
Speed tests with flipnode Details of the speed test
| IP of Rotating Proxy | Ping | Download | Upload |
| --- | --- | --- | --- |
| 104.238.164.64 (no proxy) | 1 | 56.29 | 266.98 |
| 36.78.93.164 | 558 | 4.75 | 1.67 |
| 189.202.71.55 | 338 | 1.83 | 21.07 |
| 181.65.105.20 | 347 | 40.52 | 0.38 |
| 180.253.8.88 | 788 | 4.23 | 0.74 |
| 31.29.193.31 | 760 | 2.65 | 2.02 |
| 123.136.203.201 | 717 | 5.7 | 3.54 |
| 45.235.54.145 | 345 | 11.56 | 12.26 |
| 176.194.194.207 | 560 | 5.88 | 46.43 |
| 61.94.143.144 | 554 | 5.29 | 10.33 |
| 46.227.25.65 | 830 | 13.34 | 19.86 |
IP 1: 36.78.93.164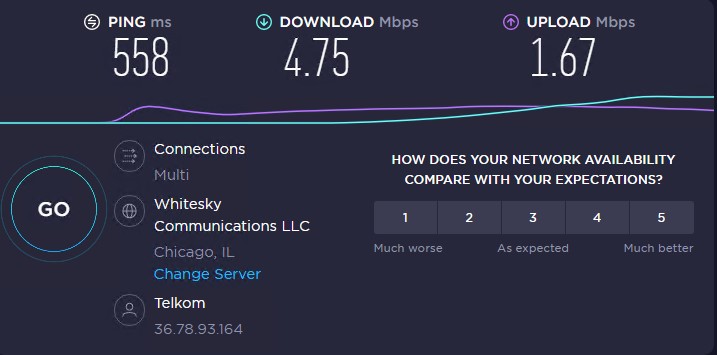 IP 2: 189.202.71.55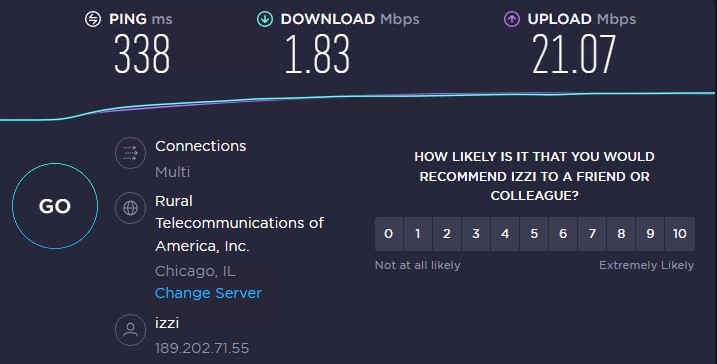 IP 3: 181.65.105.20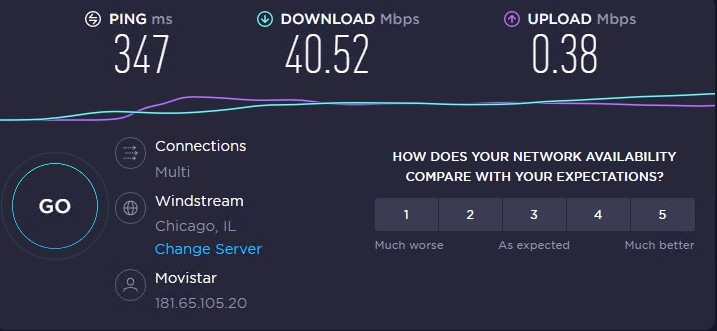 IP 4: 180.253.8.88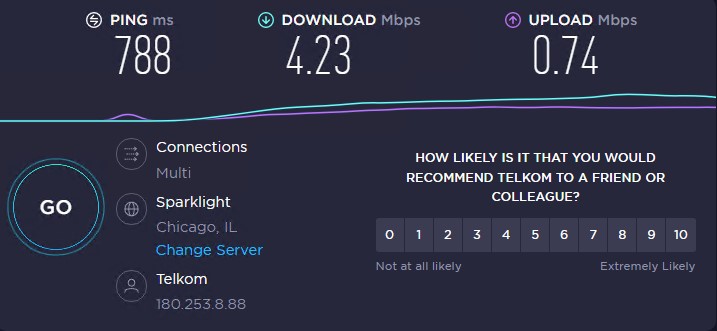 IP 5: 31.29.193.31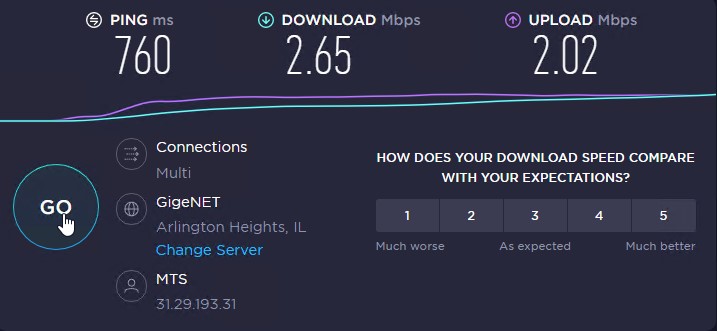 IP 6: 123.136.203.201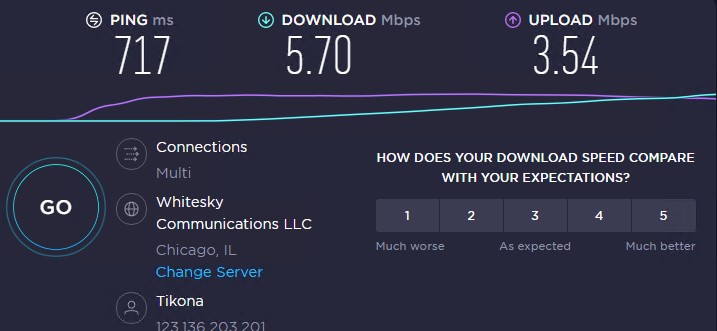 IP 7: 45.235.54.145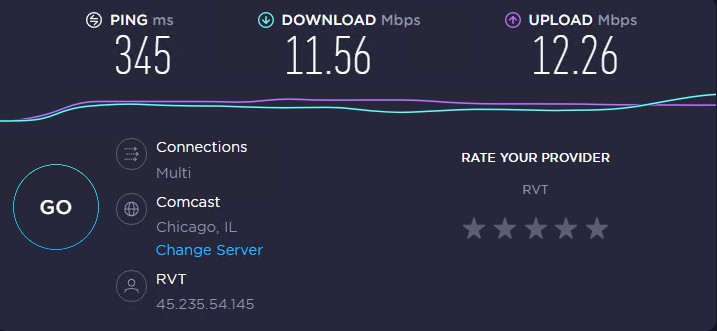 IP 8: 176.194.194.207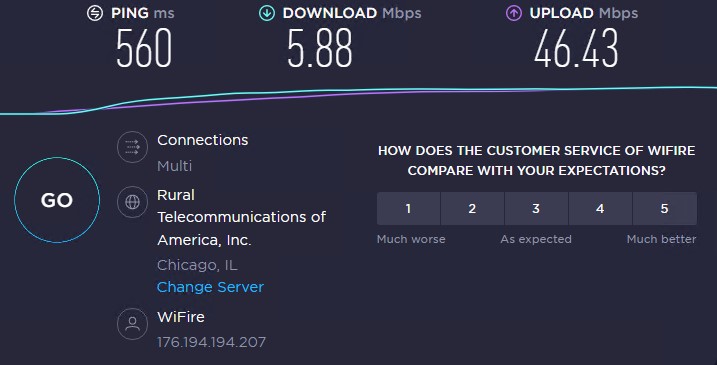 IP 9: 61.94.143.144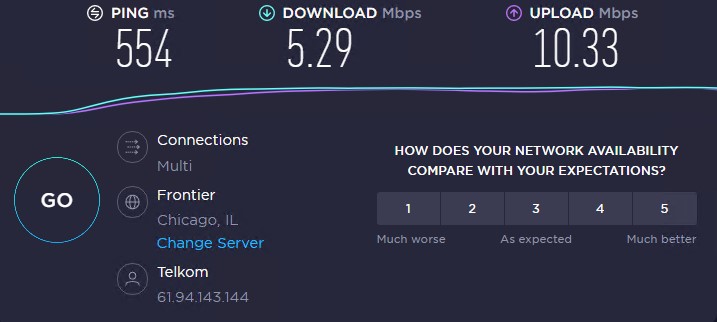 IP 10: 46.227.25.65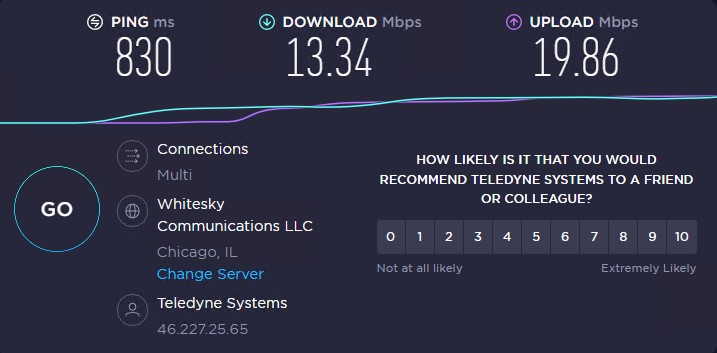 Latency is a different story, and in this case, it can pose a slight problem. Froxy's IPs ranged from around 340 to over 800 ms of ping, which is not very low numbers.
The higher ping means that the response times will be higher, resulting in a longer time it would take you to scrape data or wait for a page to load. The proxies are usable but not the best-performing ones.
Geolocation Test / ISP Test
In some cases, the location of the proxies plays an essential role in our online activities. In some cases, when we use proxies, we need them to be precise, and from the country we're paying for. To ensure that Froxy's IP addresses are correct, I tested them and verified their location.
ISP Test with FroxyDetails of the ISP Test
| | | | | |
| --- | --- | --- | --- | --- |
| IP of Rotating Proxy | Hostname/IP | ISP/ASN | Country | Type |
| 104.238.164.64 (no proxy) | 104.238.164.64.vultr.com | AS20473 – AS-CHOOPA | United States | Hosting, proxy or bad IP |
| 36.78.93.164 | 36.78.93.164 | AS7713 – TELKOMNET-AS-AP | Indonesia | Good IP (residential or business) |
| 189.202.71.55 | 189.202.71.55.cable.dyn.cableonline.com.mx | AS28554 – Cablemas | Mexico | Good IP (residential or business) |
| 181.65.105.20 | 181.65.105.20 | AS6147 – Telefonica | Peru | Good IP (residential or business) |
| 180.253.8.88 | 180.253.8.88 | AS7713 – TELKOMNET-AS-AP | Indonesia | Good IP (residential or business) |
| 31.29.193.31 | 31.29.193.31 | AS29190 – OVERTA-AS | Russia | Good IP (residential or business) |
| 123.136.203.201 | 123.136.203.201 | AS45528 – TIKONAIN-AS | India | Good IP (residential or business) |
| 45.235.54.145 | 45.235.54.145 | AS268207 – RVT | Brazil | Good IP (residential or business) |
| 176.194.194.207 | ip-176-194-194-207.bb.netbynet.ru | AS12714 – TI-AS | Russia | Good IP (residential or business) |
| 61.94.143.144 | 61.94.143.144 | AS7713 – TELKOMNET-AS-AP | Indonesia | Good IP (residential or business) |
| 46.227.25.65 | 65.25.227.46.sub.tsl.ru | AS41789 – TELEDYNE-AS | Russia | Good IP (residential or business) |
IP 1: 36.78.93.164

IP 2: 189.202.71.55

IP 3: 181.65.105.20

IP 4: 180.253.8.88

IP 5: 31.29.193.31

IP 6: 123.136.203.201

IP 7: 45.235.54.145
IP 8: 176.194.194.207

IP 9: 61.94.143.144

IP 10: 46.227.25.65

One of the reasons you'd want to get residential proxies is that they are undetectable. Unlike datacenter ones that are almost always flagged as proxies, residential ones are treated as regular users, so they are popular. The table above shows that all proxies are acting like regular ones, so Froxy passes this test.
IP address Compatibility Test
Even in cases when you're using residential or mobile proxies, you may find yourself in a situation where you may not access some websites.
To avoid users accessing them with proxies, they implement stricter rules and block access if they notice a user trying to access them via a proxy. I ran the proxies I got from Froxy through the standard compatibility test to see if they work as advertised.
| | | | | | | |
| --- | --- | --- | --- | --- | --- | --- |
| IP of Rotating Proxy | Instagram | Pinterest | Ticketmaster | Craigslist | Nike | Adidas |
| 104.238.164.64 (no proxy) | √ | √ | √ | √ | √ | √ |
| 36.78.93.164 | √ | √ | √ | √ | √ | √ |
| 189.202.71.55 | √ | √ | √ | √ | √ | √ |
| 181.65.105.20 | √ | √ | √ | √ | √ | √ |
| 180.253.8.88 | √ | √ | √ | √ | √ | √ |
| 31.29.193.31 | √ | √ | √ | √ | √ | √ |
| 123.136.203.201 | √ | √ | √ | √ | √ | √ |
| 45.235.54.145 | √ | √ | √ | √ | √ | √ |
| 176.194.194.207 | √ | √ | √ | √ | √ | √ |
| 61.94.143.144 | √ | √ | √ | √ | √ | √ |
| 46.227.25.65 | √ | √ | √ | √ | √ | √ |
Froxy offers residential proxies, and based on the results above, the company isn't lying about it. All IP addresses could access some of the strictest websites on this list without any issues.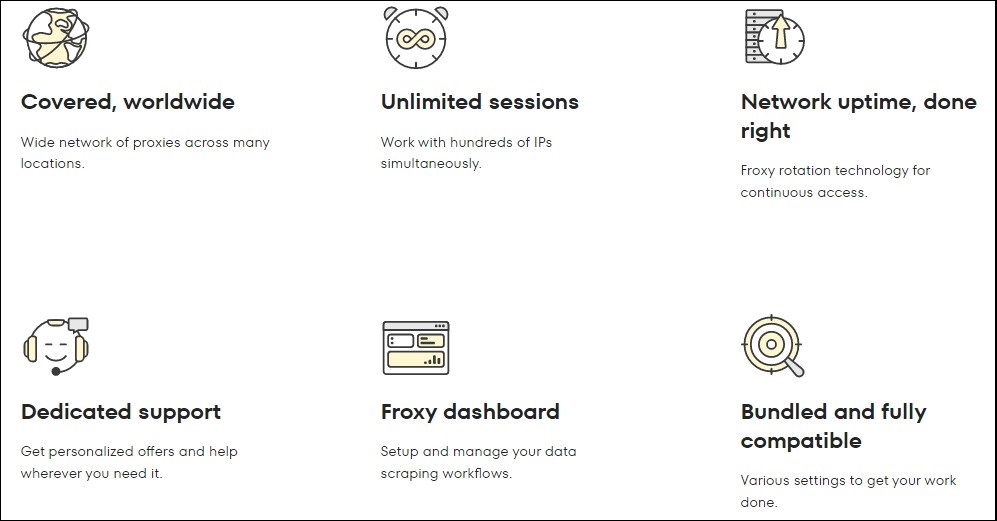 Mobile and residential proxies
To be fair, this isn't something unique that Froxy offers, but it's a feature worth mentioning. The company has residential and mobile proxies in its lineup, making it an excellent option for people looking to get both of them if needed. The exact number of each isn't known, but both combined make up for over 8 million IP addresses.
A wide variety of location options
A proxy provider that offers geo-targeting is top-rated because users can get IP addresses form the countries they want. Unfortunately, not all of them offer a wide variety of countries, making them a poor option. The good news is that with over 200 locations on its list, Froxy is an excellent option giving you a great variety to use proxies from wherever you want to.
Dual authentication options
Whenever you use proxies, you'll need to authenticate to the service, so having the option to choose is excellent. Froxy offers two authentication types– whitelisting or with a username and password. This is excellent because people can choose one depending on whether they are using it in a single location or are constantly moving.
Do not support rotate IP each request, So It's a disadvantage if you want to find the proxies for web scraping.
Flexible packaging options
Even though Froxy isn't the most flexible provider in terms of packaging, I believe it does a great job. For each proxy type, you have 6 plans that vary depending on the included bandwidth, available ports, and the number of IP addresses you can whitelist.
There is an additional discount if you're willing to make a yearly commitment, and you can reach out to the sales team and get a custom package. On the downside, there is no option for a package with unlimited bandwidth.
While Froxy limits the bandwidth and ports you can use, the number of sessions is unlimited. As a result, you can work with multiple IP addresses at the same time.
Most proxy providers aim to make their services available to the customers, making them easy to use. Froxy is one of those providers, and the company managed to make a dashboard that would be simple so that even novice proxy users would manage to figure out how it works.
In the main dashboard window, you have the active packages with some details about them, like price, included bandwidth, and date of expiry. Upon clicking on the active package, you will be directed to the details where you can make some changes or get some information. Note that if the package is grayed out, it means that it's expired, and you'll need to renew it.
All the information and settings are there when you go into a package, so you won't have to navigate throughout the dashboard.
You can change the location and ISP settings and export the list of proxies or copy the login credentials. This is where you can also whitelist your IP addresses and get an overview of how much traffic you spent and the time remaining before the package expires.
Froxy is a service that offers two types of authentication, and both of them are easy to set up.
For the username and password authentication, both are in the package information, meaning that you'll just need to copy them and enter them in the service you plan to use. If you need the whole string with the proxy server and port, then there is a third field that generates all of them, which you can copy and use it wherever you need to.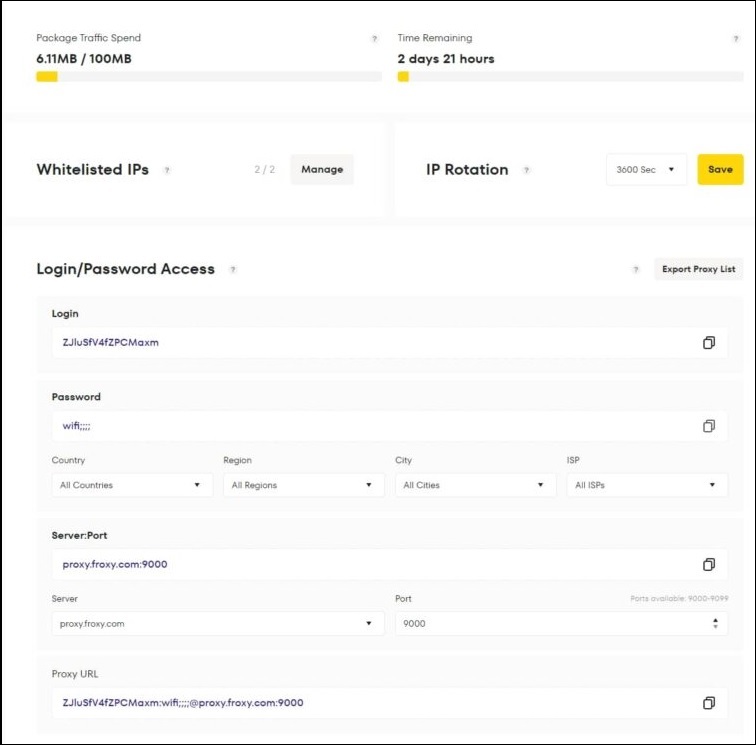 If you want to whitelist IP addresses, you'll need to click on the "Manage" button in the Whitelisted IPs section. You have two options here, you can either type in the IP address manually or click on the icon on the right, and your current IP address will be pulled. Once you do that, you can click on the save, and the changes will be in effect instantly.
As a new player in the industry, Froxy seems to tick many boxes, and even though it has some drawbacks, I wouldn't classify it as a terrible option.
Features

Pricing

Reliability

Easy to Use

Support
Usability
As far as usability goes, Froxy is a provider that won't let you down, as long as the latency isn't an issue for you. All proxies I god worked without any issues, and as you can see from the tests above, the proxies are as the company claims they are in terms of location and type.
To get them, you have a flexible pricing structure that should suit many people. Adding a custom package and an option to test them without paying for an entire month is also a nice touch.
Once you get them, you'll have a very easy-to-use dashboard that won't confuse even proxy newcomers.
Pricing
Froxy is a provider positioned somewhere in the more affordable segment of the market. The residential proxies range from $45 to $2000, while the mobile ones are from $40 to $1000. In both cases, you are looking at a reasonable price per performance ratio, and you can even get them at a discount if you pay annually.
Reliability
Reliability is a critical feature most people are after, and I'm happy to report that Froxy delivers on that front. I had zero issues with the IP addresses during testing and had no reason to reach out to the support team.
Support
Speaking of support, Froxy covers most of the basis, so you won't have too many issues in this regard. An FAQ section covers the most common questions that customers or potential ones may have. As a bonus, there is also an online chat and email support. While I would have like to see phone support, this set of options isn't terrible.
Our Verdict
Considering that Froxy is still an infant in the proxy world, I was quite surprised by how well things worked. It's far from the best in the business, but at the end of the day, it doesn't claim to be. The "Best-in-class proxy services" slogan on the website is true, but up to a point.
As far as offers go, Froxy is an excellent option. There are over 8 million residential and mobile proxies coming from over 200 countries, meaning that you have a lot of IP addresses and a very flexible list of countries. With its class, I'd say that it ranks pretty high, considering the price and its position on the market.
One of the key features that Froxy has is its affordable price. It's by no means the cheapest provider I've seen, but considering what you're getting, it strikes a pretty good balance. Regardless of what type of proxies you're willing to get, the bandwidth will be limited, but the number of sessions isn't. A trial is available, but it's not a free one. You can get a test package for $1.99, including 100 MB of traffic and a 3-day window to use it.
In 2 of the 3 tests I did, Froxy passed without breaking a sweat. The geo-location and compatibility both went smoothly, so this provider gets A+ for that. One area where it didn't fair too well was the latency. All proxies have considerably higher pings when compared with the results of its direct competitors.
It may not be a deal-breaker for some, but it's worth mentioning. On the speeds side of things, the proxies delivered mixed results and were within the range of what residential proxies can provide.
To sum things up, Froxy is a surprisingly good provider, despite not being on the market for too long. It delivers excellent results in some areas but not so good in others. As long as the latency isn't an issue for you, then I believe that this provider is an excellent one for you.
User's Reviews & Rating
Froxy Proxy
Average rating:
0 reviews
---