In an era where people rely on proxies, getting them from a good provider is essential. With the reputable names aside, what about the lesser-known companies like NinjaProxy? Is it good enough or should you go for another one?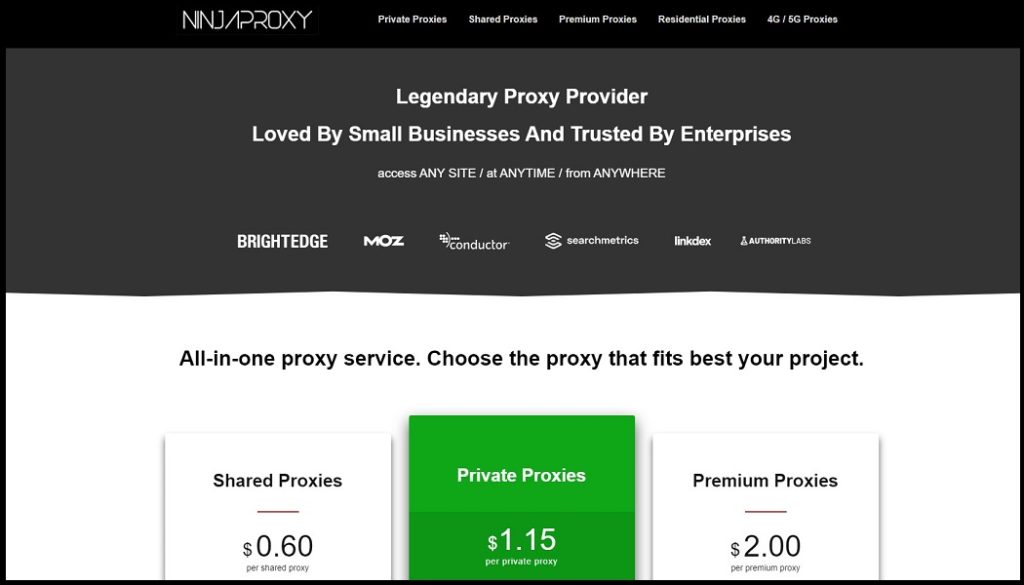 In a world dominated by online services, there are some situations where we rely on some of them. A common one that we often mention is proxies, which can help us do many things. Regardless of whether we need them for anonymity or work-related reasons, it's essential for us to use good proxies. As the need for them increased, so did the number of providers, offering a lot of flexibility. There are tons of companies to choose from, and the one we'll be talking about today is NinjaProxy.
Most people may not have heard of it, which is a surprise. NinjaProxy has been on the market for well over a decade, providing its services to many clients. Having a company survive in this market for that long usually means that it's good. Nonetheless, we'll still review it and see if it's worth considering.
Recommended for: Brand Protection, Managing Social Media Accounts & Ads
Most of the providers we're reviewing offer one type of proxies, which can be a limiting factor for some people. Naturally, people will already know what type of proxies to get, but sometimes, it can help to have an option that's a bit more flexible.
With NinjaProxy, you are looking at that kind of flexibility, and you can get multiple types of IP addresses. This provider covers datacenter, residential, and mobile proxies, which is on the same level as those reputable brands we praise as the best.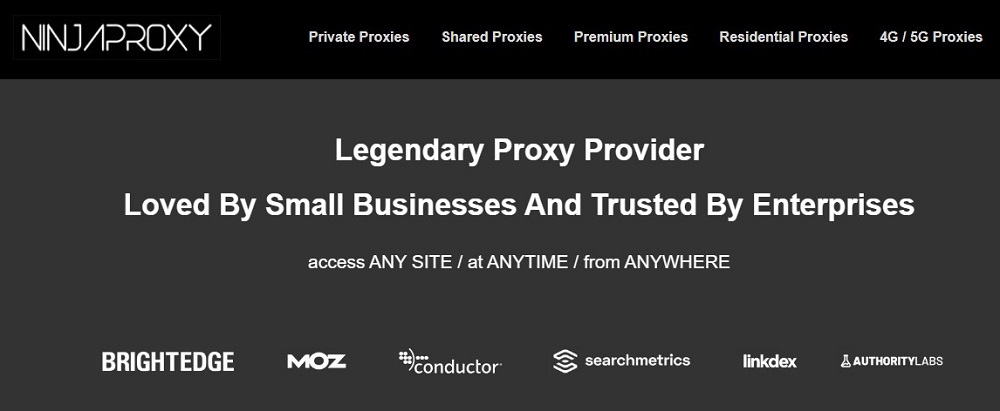 Many of these lesser-known providers don't outline a lot in terms of what they offer, but that's not the case with NinjaProxy. The company has over 2,000 servers and over 30 datacenters across the world. This translates into over half a million proxies, which isn't a terrible number, as we've seen smaller proxy pools.
So far, NinjaProxy seems like a very solid choice, especially when you consider that the company advertises itself as an affordable option. All of this is on paper, so let's dive into what this provider offers and how it performs before we can conclude.
Pros
Up to 10 IP addresses for whitelisting
Affordable
Unlimited bandwidth
Multiple authentication methods
Multiple types of proxies
3-da moneyback guarantee
Cons
No free trial
Latency is higher than some of its competitors
The help center section needs more content
Proxy types, Features, and Pricing

As we mentioned in the introductory part, NinjaProxy has multiple types of proxies, so let's look at each one and outline what they offer.
On the datacenter side of things, we have 3 types of proxies: shared, private, and premium. The pricing structure for all 3 is identical, and the smallest package starts from 10 IP addresses, with the largest one containing 1000 proxies. As for the price per proxy, the shared ones are the cheapest because multiple users can use them at the same time. Next are the private proxies, which are yours for as long as you're paying for the subscription. The most expensive are the premium IP addresses, which NinjaProxy claims are virgin.
In terms of features, there is a slight difference between each one. The shared proxies come from a pool of over 225 thousand IP addresses from 50 datacenters worldwide with locations in the US, CA, UK, and EU. With the private proxies, you're getting over 300 thousand IP addresses from 70 datacenters. It includes the same locations as before, but here, you can also get proxies from AU. Finally, the premium proxies come from a pool of over 75 thousand IP addresses covering the same locations as the shared proxies but from 20 datacenters.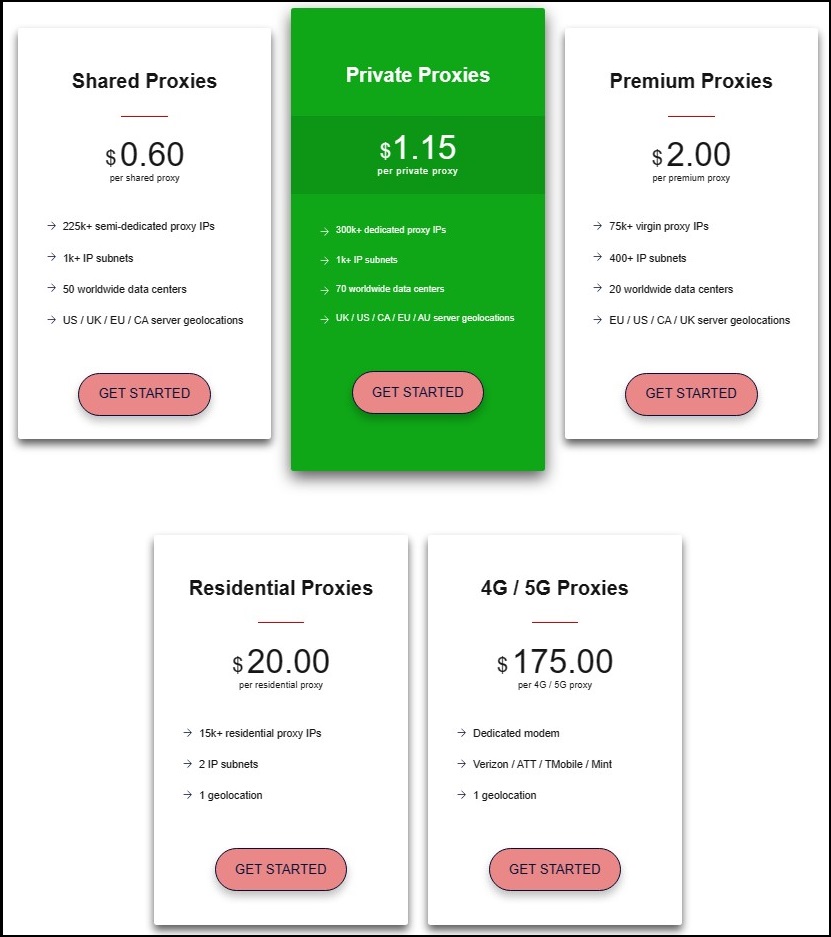 Next, we have the residential proxies, which have a different pricing structure. Unlike the datacenter ones, you can get as little as 1 IP address and go up to 100 with several other packages in between. There are 19 countries to choose from, most of which are in the EU, but you can only get the IP addresses from 1 location. The pool of proxies contains over 15 thousand IP addresses, which is decent.
Finally, there are the mobile proxies. Unlike many of its competitors, NinjaProxy offers 4G and 5G IP addresses, which is a rare sight these days. There's no information about the pool size, but the company claims to have multiple locations to choose from. You have 3 packages to choose from, 1, 5, and 10 IP addresses, and you'll get the proxies from random available locations.
Locations of proxy servers
Speaking of locations, many providers don't outline that information, but that's not the case with NinjaProxy. The company isn't the most diverse one on the market, but it covers all the popular locations people would want. Depending on the type of proxies, you're looking at IP addresses that are mainly from USA or EU. With some, you can get locations like the UK or AU.
The biggest drawback here is the lack of Asian countries. On a positive note, you have the option to go for certain providers with residential proxies, covering companies like Sprint, Comcast, Lumen, and many more.
Ping Test & Proxy Speed Test
So far, it doesn't seem like NinjaProxy has a lot of drawbacks, but now, let's put the proxies to the test and see how well they perform. To get a feel of how everything works, we got 1 proxy from each type, so we have datacenter, residential, and mobile proxies.
In these tests, we check out the download/upload speeds and the latency. They won't be on the same level as your home internet connection, but let's see how close they are.
IP
Ping fromLos Angeles, USA
(ms)
Ping from London, UK
(ms)
Ping from Quebec, CA
(ms)
89.x.x.246
NA
NA
NA
107.x.x.122
NA
NA
NA
50.x.x.23
NA
NA
NA
Speed tests with ProxyWowDetails of the speed test
| IPs of proxies | Ping | Download | Upload |
| --- | --- | --- | --- |
| 89.x.x.246 | 521 | 56.28 | 58.43 |
| 107.x.x.122 | 876 | 1.73 | 13.54 |
| 50.x.x.23 | 510 | 83.44 | 63.12 |
Speed test without proxy:
IP (NO PROXY): 103.xx.xx.200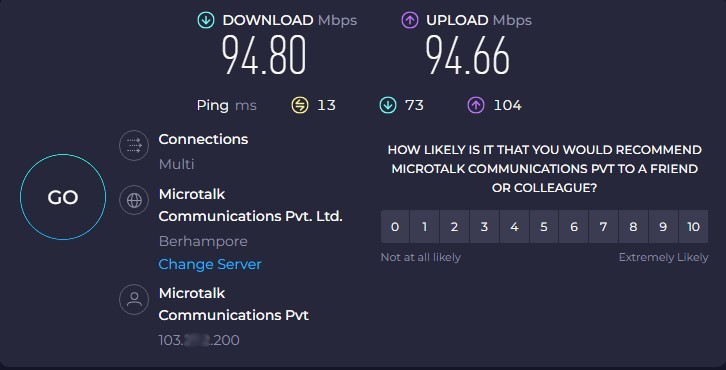 IP 1: 89.xx.xx.246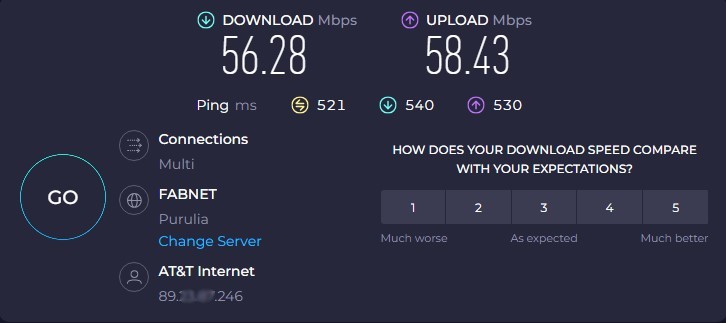 IP 2: 107.xx.xx.122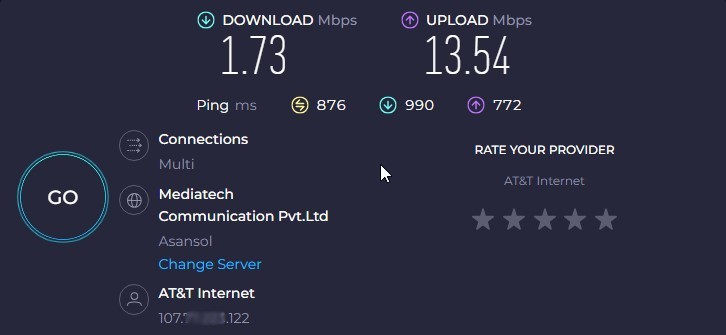 IP 3: 50.xx.xx.23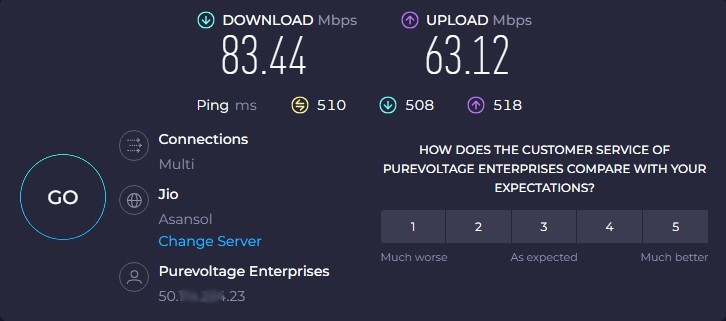 Let's start off with the impressive numbers first. The first and third IP addresses are residential and premium datacenter proxies, respectively, and the speeds are excellent. To be fair, in some cases, you may be limited by the connection you have at home or at your office. These are excellent numbers. The second IP address is the mobile one, which isn't as high, which is a bit disappointing. They're not the worst results we've seen, but we hope other proxies perform better.
Now let's mention the numbers that may be a bit concerning for some people – the latency. The residential and datacenter proxies were hovering around the 500 ms mark, while the mobile IP was almost as high as 900.
If you're not after proxies with blisteringly fast latency, then we believe the speeds make up for that.
GEOlocation Test / ISP Test
There are use-case scenarios where the location of the proxies can be crucial. This is why it's important to get proxies from a reputable provider that stands behind the claimed location. To see how NinjaProxy does, we put the 3 proxies we have to the test.
IPs of proxies

 IP2Location

ipinfo.io

89.xx.xx.246
Location: Baltimore, Maryland,USA

ISP: AT&T Services Inc.

Location: Baltimore, Maryland,USA

ISP: AT&T Services, Inc.

107.xx.xx.122
Location: Brockton, Massachusetts, United States

ISP: AT&T Mobility LLC

Location: New York City, New York, United States

ISP: AT&T Mobility LLC

50.xx.xx.23
Location: New York City, New York, United States

ISP: Delta Centric LLC

Location: New York City, New York, United States

ISP: PureVoltage Hosting Inc.
Like with the previous test, we have two proxies that show excellent results and one that's not so good. The datacenter and residential proxies show the same location, with the datacenter one showing different ISPs. This isn't an issue as long as the location is a match.
The mobile proxy doesn't do so well. As you can see, the ISP is the same, which is good, but the location isn't. Both results show two different states with a distance of over 200 miles. It's not what you want to see if you're after specific geo-targeting.
There are plenty of reasons why people get proxies, and one of those is the ability to bypass certain restrictions. Some websites are strict about proxies and usually block them, leaving you with no access. A good proxy can fool the system, and you'll have full access to the website. We tested the 3 proxies from NinjaProxy to see how they perform against some of the strictest websites on the internet.
IPs of proxies
Instagram
Twitter
pinterest
Youtube
Amazon
Google
Netflix
Craigslist
Nike
Adidas
89.xx.xx246
√
√
√
√
√
√
√
√
√
√
107.xx.xx.122
√
√
√
√
√
√
√
√
√
√
50.xx.xx.23
√
√
√
√
√
√
√
√
√
√
103.xx.xx.200

(VPS IP)

√
√
√
√
√
√
√
√
√
√
We were expecting these results, but it's still worth discussing them. Residential and mobile proxies rarely have problems accessing these websites, but the biggest surprise was the datacenter proxies. Yes, these are premium and, therefore, virgin, but we've seen some that didn't do well in this test.
Seeing all 3 proxies getting access to all the websites we tested is a good sign, and it means that you won't have any issues accessing any website.
Whenever we talk about datacenter proxy providers, we mention the unlimited bandwidth as something normal, so people expect to see that. With NinjaProxy, the thing worth praising is that the company also offers unlimited bandwidth on the residential and mobile proxies. This is a relatively rare sight in this industry and a welcomed change. You won't have to worry about using up the bandwidth and ending up paying more than you initially thought.
5G is a relatively new technology, and many mobile providers still don't have those speeds, so most of the proxy providers still go with 4G proxies. With NinjaProxy, you have the option to get 5G IP addresses, which offer greater speeds than the 4G ones. Keep in mind that there's a mix, and the type of mobile proxy you'll get greatly depends on the location and the ISP.
In the world of proxies, you expect to have some limitations whenever you pay for a service. In many cases, that's the bandwidth, something you won't have a problem with when going for a package from NinjaProxy. Regardless of which package you choose, all of them have unlimited bandwidth. As a result, your only concern will be how many proxies to get.
We often say you'll need to pay more if you want a high-quality product. That's true in many situations, but we wouldn't say the same for NinjaProxy. Sure, the proxies may not be the absolute best in the industry, but the fact that they're more affordable than the premium providers makes them a good choice. You're getting a very good balance between the performance and the price you pay.
If you've ever used proxies before, you'll know how essential a proxy refresh can be. Your IP address may get banned or have some issues, so you'll need a new set of IP addresses. NinjaProxy offers this, and there are two options, depending on the type of proxies. You can either request a refresh before your next billing cycle or the process is completed automatically.
Two authentication methods
We talk about proxy providers a lot, and we often mention the authentication method. Some offer only one type, which can be a drawback for some people. With NinjaProxies, you get both. You can authenticate using a username and password combination or with an IP whitelist.
Up to 10 whitelisted IP addresses
Speaking of flexibility with authentication, being able to whitelist multiple IP addresses is a good thing to have. You may use the proxies at the office and at home, and you'd want to have them working in both places. NinjaProxy offers up to 10 whitelisted IP addresses, meaning that you can use the services on up to 10 locations before you start considering using the username and password method.
3-day money-back guarantee
Being able to test a service before paying for it is a nice feature. Unfortunately, NinjaProxy doesn't offer that, but it does offer the next best thing. There is a 3-day money-back guarantee with this provider, meaning that you can get a full refund if the proxies aren't working as you need them to.
NinjaProxy is one of those simple proxy providers with no fuss, making it easy to use. The dashboard is pretty simple, and there aren't too many menus you'll need to go through to get to what you need.
The main navigation with the account, API, and billing sections is on the left. When you log in, you're automatically sent to the account section, where you have a few options to tinker with, all related to the proxies' usability.
There are 3 sections on the account page. The first one is the list of IP addresses giving you access to the proxy and the port. If you have one of the larger packages, you can download the list with or without the login credentials.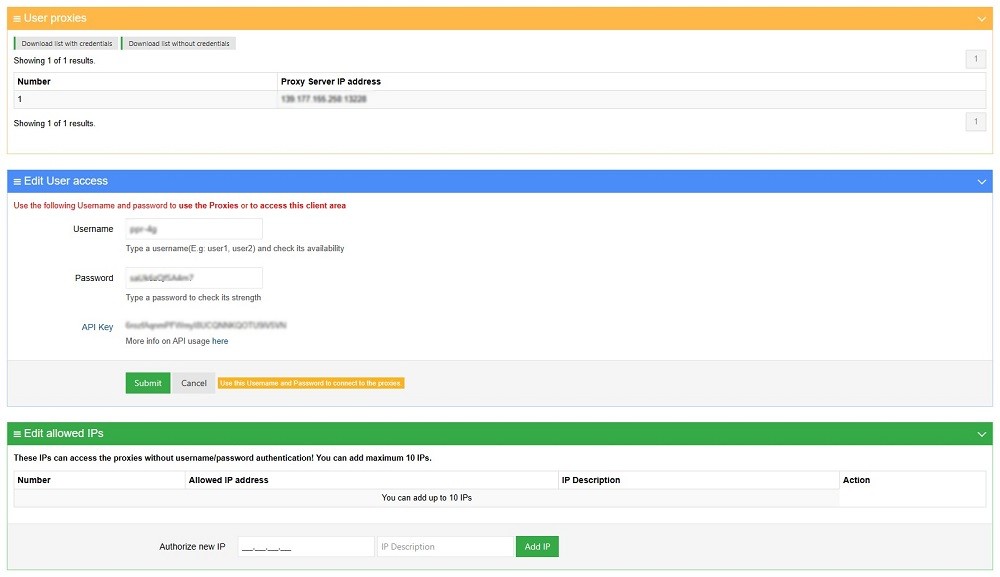 The next part is for the login credentials. You're using the same information for logging into the dashboard and to authenticate the proxies, and you have the option to change both of them, something that isn't available with some of NinjaProxy's competitors.
Finally, we have the IP whitelist section where you can add the IP addresses you're using, so you don't have to rely on the username and password. A nice feature here is that you can add a description so that you know which IP address is which.
As we mentioned, there are two types of authentication, so let's go over both. Once you create the account, you should first login to the dashboard and set things up. If you plan to use the username and password authentication method, then you don't have anything to do. You'll be using the ones you used to log in to the dashboard.
If you plan to use the IP whitelist feature, then there are a few steps involved. Log in to the dashboard and scroll down to the bottom of the account section. The website will automatically read your current address, so all you need to do is add an IP description and click on "Add IP." The IP address will show up in the list above it, and you can add 9 more IP addresses where you plan to use the proxies.
Despite being on the market for a long time, NinjaProxy doesn't have the popularity of some of the other providers we often mention. It's a shame because we believe this is an excellent provider that does many things right and you'll be perfectly happy with it, as long as you're prepared to overcome some slight drawbacks.
The usability is a key aspect whenever we talk about proxies. You'd want to pay for the service and start using it immediately without fiddling with the settings. This is exactly what NinjaProxy offers. Once the payment is completed, you'll get your login credentials, log in to the dashboard, and you can start using the service in a matter of minutes.
The dashboard is simple, and you won't have many issues figuring things out. For the simplest tasks where you need just the proxies, everything is in the account section, and it won't take more than a minute to figure out what's what. For advanced use cases, you'll probably need to head over to the API section, which is pretty simple.
Overall, you won't have any problems with NinjaProxy, at least in terms of using the proxies and figuring things out.
NinjaProxy advertises itself as an affordable proxy provider, and we agree with this statement. It's not the cheapest one on the market, but it's a bit below the average, offering lower prices than some of its rivals.
The cheapest type of proxies you can get are the shared ones, where you'll be paying less than $1 for an IP address. Naturally, the mobile proxies are the most expensive ones, with the remaining datacenter and residential being somewhere in the middle.
Reliability is crucial when you're using proxies, especially if we're talking about business-related projects. NinjaProxy works great, and we didn't experience any issues with them. The dashboard was always available, and the proxies performed as expected, with no downtime.
The weakest part of NinjaProxy is the support, but not in all areas. You have 3 support options: live chat, email, and help center. The live chat option is a very nice feature because you can get an answer immediately, even if you're not a customer. It's a similar experience with the email option, but we recommend using that for some more complicated questions or certain problems with the service.
Lastly, we have the help center, which is the problematic part of NinjaProxy. Unlike its rivals, which have an extensive database of articles that can help potential or existing customers, this provider doesn't offer a lot. There's the list of datacenters, the money-back guarantee terms outlined, and how to set up proxies on Opera. We would like to see more guides and answered questions here.
Editor's Rating
Features

Pricing

Reliability

Easy to Use

Support
If you're after the perfect proxy provider, you should know you won't find it. Even the popular options we often praise as being the best have some drawbacks, so it's only natural to expect something similar with NinjaProxy. Looking at it as a package, there's a nice balance of things, and we believe that most people will be happy with what it offers.
The performance of the proxies is quite good, at least in terms of download and upload speeds. The mobile proxy we tested didn't do so well, but we hope it was the case with only one IP address. One thing you should keep in mind is latency. The proxies didn't show the fastest response time, so there could be a handful of projects where these proxies won't be the best choice.
One thing that NinjaProxy does well is the price and the structure. There are multiple packages to choose from, especially with the datacenter proxies, which are quite affordable. We wouldn't exactly classify them as the cheapest, but they are on the lower end of the range. It means that this provider will be a solid choice even if you're on a tight budget. A slight drawback here is that there isn't a free trial, but there is a money-back guarantee. You can test the proxies and have up to 30 days to ask for a refund.
The support is an area where NinjaProxy does well and not so well, depending on what you're looking at. There is live chat and email support, which is nice, depending on what kind of help you need. The disappointment here is the help center section of the website. There are only 3 articles, and only 1 is an actual guide, while the others are informative.
As a package, NinjaProxy is a provider that offers a lot. Sure, there are some things that aren't perfect, but it makes that up with an excellent set of features and a competitive price. If you feel like the latency won't be an issue, we recommend giving this provider a test run. In a worst-case scenario, you can always ask to get your money back if things aren't working as needed.
User's Reviews & Rating
NinjaProxy
Average rating:
0 reviews
---