Does your project require you to scrape LinkedIn but don't know which proxies to use? Today's list will cover 6 of the best proxy providers for your LinkedIn scraping tasks.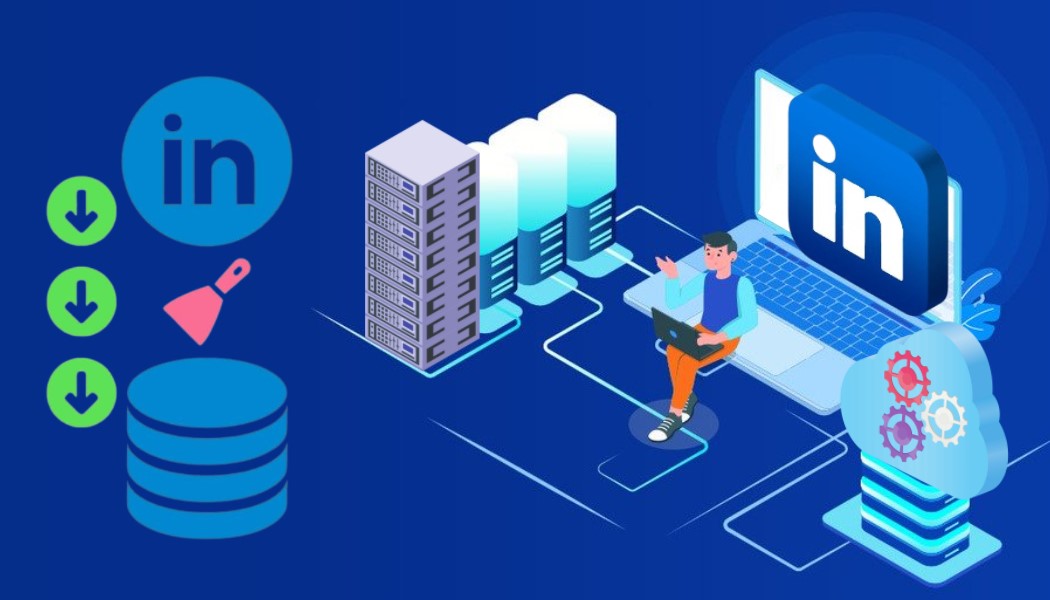 Scraping has changed quite drastically over the past decade or two. In the early days, we were forced to scrape things manually, selecting the content we needed, and by copying and pasting, we'd get the information. The process was long, tedious, and repetitive, so a solution was required.
That led to the development of scraping bots, which significantly cut the time by being able to do the same task but much faster. A human may need several minutes to get data from a single page, while a scraper can do it in milliseconds. Scrapers quickly gained traction, but there was a problem.
Some websites were able to detect when a scraper was running and started banning them. In most cases, the banning process was on the IP address where the scraper was running, at which point proxies came into play. Being able to change the IP address enabled scrapers to work without interruptions.
One of the many websites that have these kinds of protections in place is LinkedIn. The social media platform made for professionals is an excellent place to get tons of data on people you need for various reasons. To achieve that, you'll need a good scraper and proxies, which brings me to today's topic.
In this article, I will outline my top 6 picks for the best proxy providers that you should use when scraping LinkedIn.
5 Best LinkedIn Proxies for Scraping LinkedIn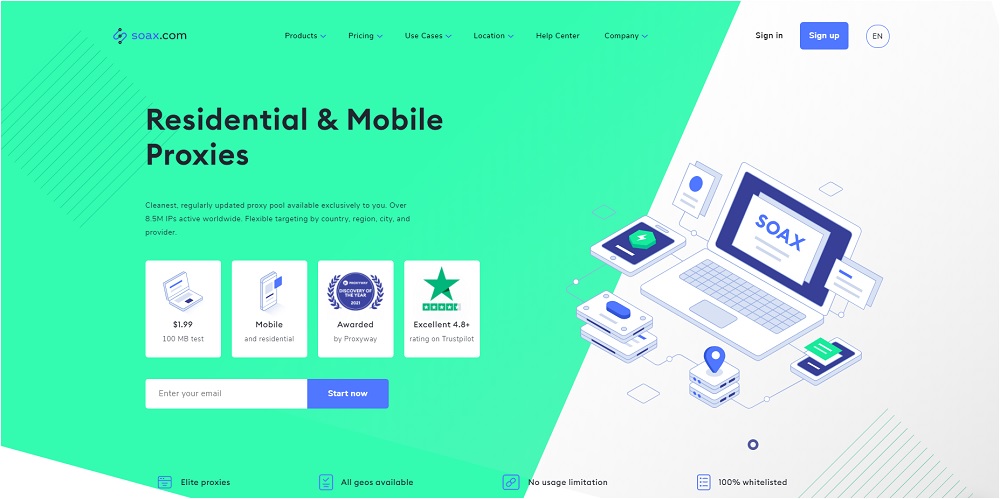 Next up is Soax, another excellent LinkedIn proxy provider that offers a great balance between price and performance. It won't be able to compete with the best of them, but it makes that up with the lower price tag.
There are over 8.5 million LinkedIn proxies in Soax's pool which may not seem like much. The advantage this provider has is that those proxies are a combination of residential and mobile. It has over 5 million residential IP addresses and 3.5 million mobile ones. In terms of locations, there are over 120 countries on the list, which isn't too bad.
You get all of this nicely wrapped in an affordable package, which is why I've included Soax in this list. There are 4 pre-defined plans where the entire pool is at your disposal, and they are limited by the amount of included bandwidth. The last package is a custom one, where you can get a bigger limit if you want to. With that said, an option for an unlimited package isn't available.
Soax gives you the option to test the LinkedIn proxies, but it isn't free. The trial costs $1.99 where you get several IP addresses to determine if they are a good option for you.
Pros
Cheaper than some of its competitors
Over 8.5 million residential and mobile LinkedIn proxies
IP addresses come from over 120 countries
Cons
Trial is paid
Bandwidth is limited on all packages
---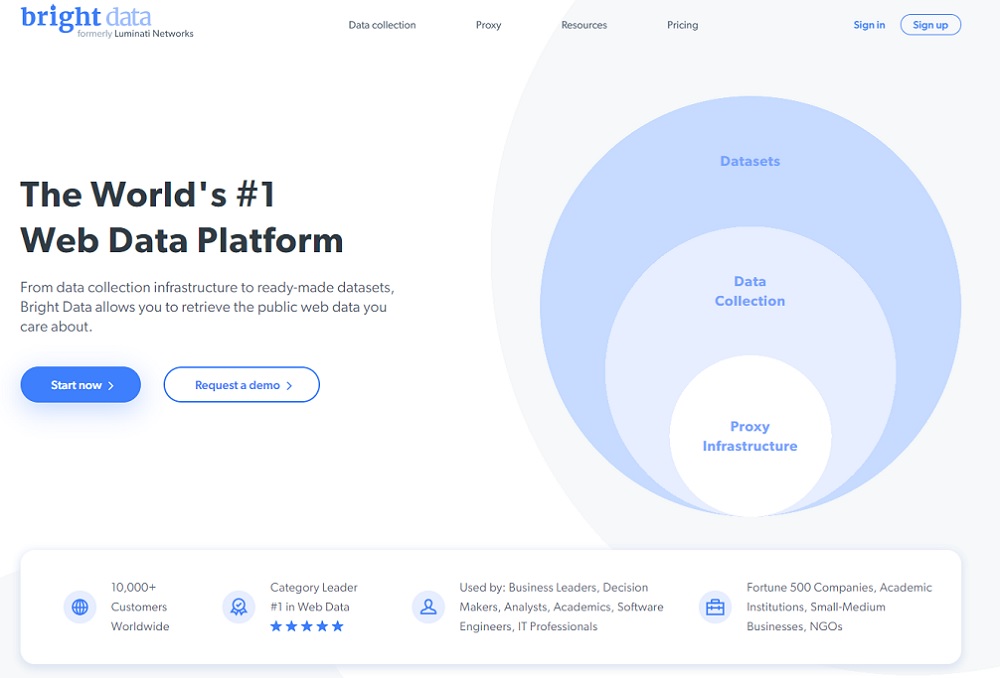 In the world of proxies, Bright Data is the one that needs no introduction, as it is known as the proxy provider with the biggest proxy network. Previously known as Luminati, this is an excellent Linkedin proxy provider, as long as you are okay with the prices.
The largest pool of LinkedIn proxies means that you will have access to over 72 million IP addresses. That gets combined with the fact that Bright Data has proxies in every country in the world, which is what makes it the best option.
When it comes to features, you won't find them to be lacking. Geo-targeting comes pretty standardly on all providers, but Bright Data takes that up a notch. On top of the country-based targeting, you also have the option to choose LinkedIn proxies from a specific city or a provider.
Prices aren't the strongest suit with this provider, as it's considered to be among the more expensive ones. The proxies are structured into 4 pricing plans that depend based on the amount of included bandwidth. A custom option is also available for people that need more traffic included. Plus, Bright Data offers a pre-paid package, where you won't be obligated with monthly commitments.
Considering the price, Bright Data offers a way to test the proxies for free. There is a 7-day free trial available which is undoubtedly industry-leading.
Pros
Free trial available
Flexible packages with an option for a pre-paid one
The largest poll of LinkedIn proxies
Cons
Expensive
No unlimited bandwidth
---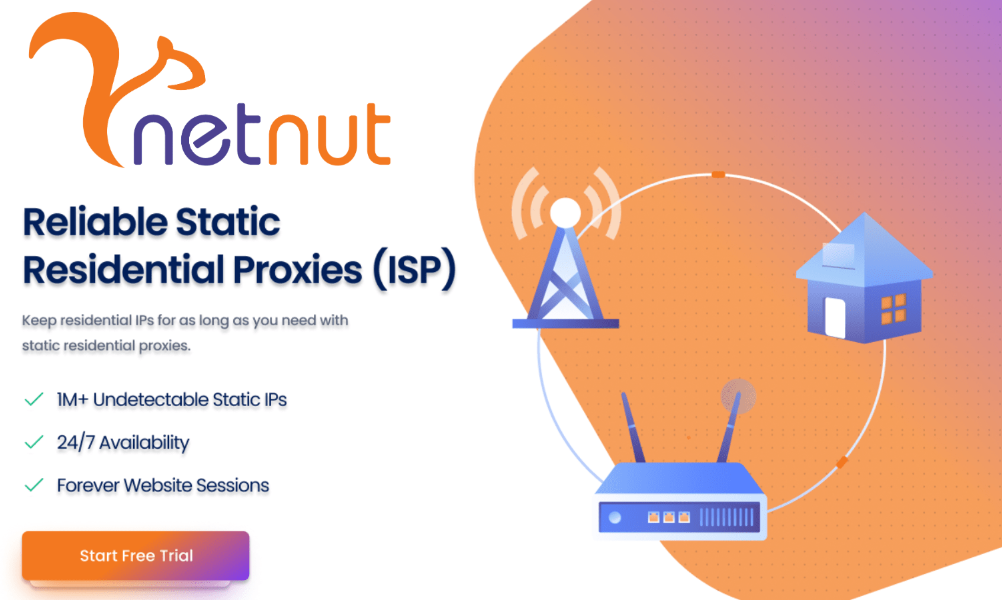 For data miners and analyst, it's clear that some web platform holds more valuable insight than others. LinkedIn data is one of the most comprehensive and insightful ones you can get, simply because of the caliber of professionals and companies who maintain profiles on the platform. And in this era when companies favor data-driver decisions, a reliable and global proxy network is essential if you're ever going to get all the data you need to draw the right conclusions.
NetNut's reliable static residential proxies is one of our top recommendation for businesses and professionals aiming to extract data from LinkedIn without facing detection or IP bans. Their global assignment of over 52 million IPs empowers you to navigate LinkedIn from any corner of the world, just like a local user. No more barriers or limits. This capability can be a game-changer for companies and market research analysts, helping them harness LinkedIn's vast potential for seamless business operations. You retain control over your web data for as long as needed. Say goodbye to interruptions and obstacles while collecting data or launching essential campaigns on LinkedIn.
Thanks to its one-hop ISP connectivity, NetNut's proxy service operates at remarkable speed. This translates to stable and smooth connections, enhancing the efficiency and effectiveness of your data scraping and marketing campaigns on LinkedIn.
NetNut's ISP proxies prove beneficial for a variety of tasks crucial for a successful LinkedIn strategy. Whether it's SEO monitoring, ad verification, market research, social media management, or targeted ad campaigns, NetNut's versatile ISP proxies can handle all aspects of your LinkedIn advantages. Their not-shared proxies empower you to gather the insights necessary to outshine competitors and optimize your advertising returns.
You have the flexibility to choose from a variety of bandwidth allocations. If you opt for the Starter plan, you'll be investing $350 and in return, you'll receive a substantial 20GB of data to work with on LinkedIn. Alternatively, you may decide to go with the Advanced Plan, priced at $750, offering a generous 50GB of data for your usage.
The best part in our opinion is that NetNut offers a 7-day free trial so you can test them out. This way, you can confidently select the plan that perfectly matches both your data requirements and budget after those 7-days learning about the best bits of the proxy network.
Pros
Get static residential IPs with worldwide ISP assignment.
100% anonymity, unmatched speed, and 24/7 availability.
Access ISP proxy network for a variety of use cases.
Flexible pricing plans to fit your budget and needs.
Cons
For a fairly straightforward API, the document can be better.
---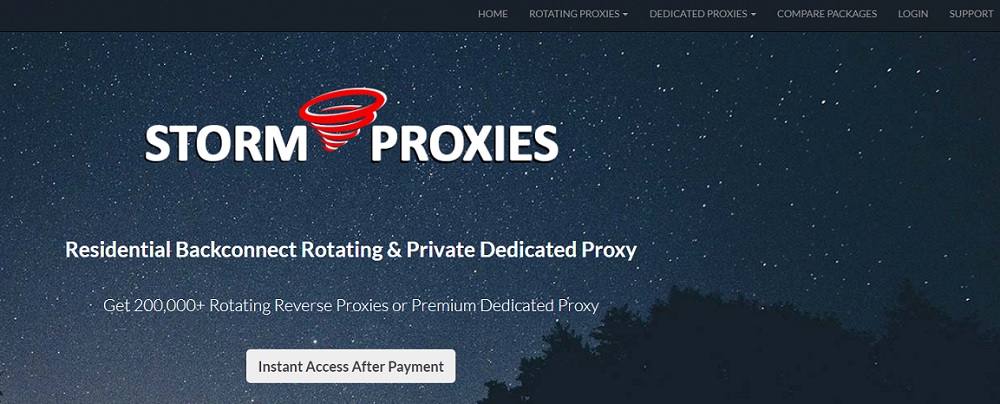 This provider has often been considered as the underdog because it doesn't offer as much as some of the others do. Despite that, Storm Proxies has a few aces up its sleeve, which is why it may be a good option for LinkedIn proxies.
The biggest downside to this provider is the size of the pool. With only 70 thousand IP addresses, this is the smallest number of proxies out of all providers on this list. Plus, the locations are limited to the US and the EU only, which isn't a very positive thing.
As for the features, don't expect something like the most expensive options. Storm Proxies offers a geotargeting option despite how limited it may seem. One thing that makes it stand out from the crowd is the unlimited bandwidth. The lack of limitation on the traffic means that this provider has an advantage with certain people.
Another advantage is the price. Since the offering from Storm Proxies isn't industry-leading, the prices are quite affordable. There are 6 packages that give you access to the entire pool of LinkedIn proxies and the unlimited bandwidth I mentioned. The difference between them is the number of ports you get for each package, so that is the deciding factor of the price.
Things aren't so positive in terms of a trial. Storm Proxies doesn't offer an option to test the proxies for free, so you'll only have the refund policy. The problem with it is that the money-back guarantee is limited to 24 hours only.
Pros
Very affordable
Plenty of packages to choose from
Each package gives you access to the entire pool
Cons
Only 70 thousand LinkedIn proxies
Location limited to the US and EU only
---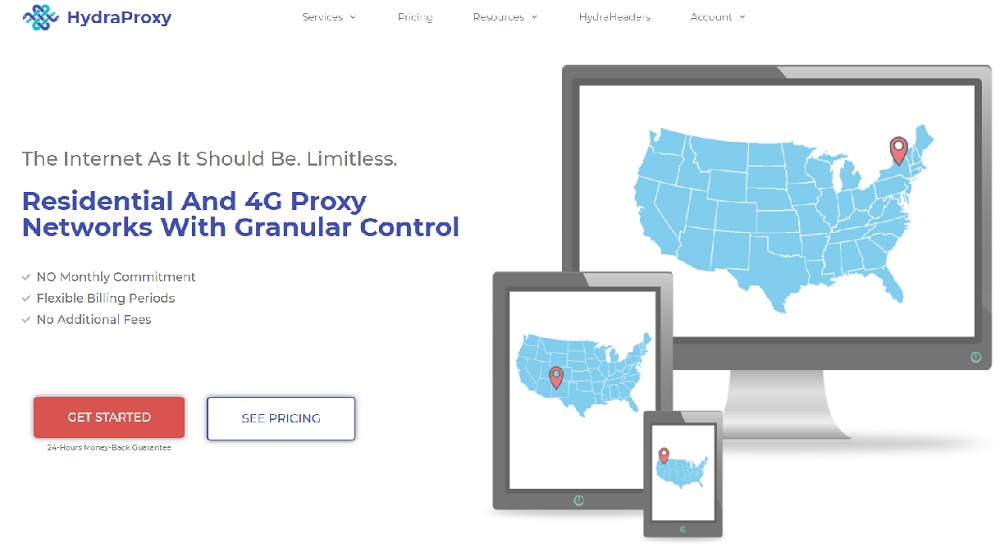 Another LinkedIn proxy provider that offers mobile IP addresses is Hydraproxy. There are some limitations if you decide to go for this one, but it's not an option that you should disregard.
On the poolside of things, Hydraproxy offers only around 200 thousand LinkedIn IP addresses. This may seem like a small number, but keep in mind that the only location available is the US. In other words, as long as you're okay with US-based proxies, you shouldn't have any problems with this provider.
Hydraproxy offers a pretty standard set of features, so it's more or less similar to the other providers. Geo-targeting is available, and you can choose the state where you want the proxies to be from during the registration process.
In terms of packaging, Hydraproxy has one advantage that makes it a good choice. Unlike most of its counterparts, this one doesn't have plans with monthly payments. Instead, you have 4 packages that are based on the included bandwidth, and you pay as you use them.
Getting a chance to test the LinkedIn proxies isn't possible due to the lack of a free trial. Instead, Hydraproxy has a money-back guarantee that can be requested within 24 hours of purchasing.
Pros
Plenty of US mobile proxies
State-level geotargeting is available
Packages aren't with monthly commitments
Cons
US IP addresses only
The refund policy is only 24 hours
---

I'm ending this list with Shifter, a popular proxy provider that can offer excellent LinkedIn IP addresses. The provider has a great balance between what it offers and how much it costs.
The pool of LinkedIn proxies consists of over 31 million IP addresses, meaning that you won't have to worry about not having enough of those. As for the locations, Shifter doesn't outline the list of countries, which is a slight downside. On the other hand, with that many proxies, I doubt that you'll have problems getting one from the country you need.
Having no limit on traffic is one of the best features that Shifter has. This means that you won't have to worry about paying extra in case you use the included bandwidth.
As for the prices and packaging, Shifter takes a different approach. There are two types of proxies, basic and special and they differ based on the websites that they can access. For LinkedIn usage, I recommend going for the special proxies, which can be purchased by one of the 10 available packages. Each one has no cap on the bandwidth, so you are buying based on the number of IP addresses you plan to use.
The positive things end there and take a turn for the worse when we reach the trial. Shifter doesn't allow you to test the LinkedIn proxies for free, and your only option is the 3-day refund policy.
Pros
A large pool of LinkedIn proxies
Bandwidth is unlimited on all packages
Plenty of pricing plans to choose from
Cons
Not the cheapest option on the market
Free trial isn't available
1. Is it legal to use LinkedIn proxies?
Proxy usage, in general, isn't illegal, so the same goes for LinkedIn. At the moment, there aren't any laws that prohibit the use of proxies in most countries, so you should be good to go. With that said, check your local laws before you purchase the proxies.
2. Can LinkedIn tell if I'm using proxies?
For the most part, no. The whole point of using LinkedIn proxies is to ensure that the service isn't aware of that so that you can scrape. If the website finds out that you're using proxies, it will ban the identified IP address, and you'll need to replace it with another one.
3. Is LinkedIn scraping illegal?
Technically it isn't. Even though LinkedIn, like most websites, doesn't want people to scrape data from them, the actual process won't get you in any trouble with the law.
4. Which are the best proxies for scraping LinkedIn?
When you scrape a website, it's crucial to use proxies to avoid detection. Sites like LinkedIn are strict about what kind of IP addresses can access them, which is why residential and mobile proxies are ideal. With these, LinkedIn will treat them as regular users and won't start banning them. Datacenter proxies won't be able to provide that kind of anonymity.
5. Are there free LinkedIn proxies?
I often say that you shouldn't use free proxies for various reasons, and the same applies here. The first issue is that they aren't as anonymous, and LinkedIn will know instantly and start to ban them. The second problem with free proxies is that they aren't as secure. You won't know who's controlling the node at the actual proxy, meaning that you risk getting your data leaked with a third party.
---