(4 / 5)
Microleaves Proxies is one of the popular residential backconnect proxy providers who also offer private dedicated proxies.
Their high anonymous HTTP/HTTPS dedicated proxies are suitable for web scraping and SEO bots. Read our full review of their private proxies.
Recommended for: SEO bots, Web Scraping.
Due to recent increased demand for private proxies for many online businesses, a lot of proxy services are providing dedicated datacenter private proxies.
But not all proxy services offer the same set of facilities. Some services even offer packages tailored to some specific usage. So, it often becomes very confusing for a person who is just getting started with proxies.
To help out people with choosing the right proxy service for their needs from a long list of proxy services, we have reviewed most of the popular private datacenter proxy services currently in operation. In this review article,
We will focus on the datacenter proxies offered by the popular residential proxy service Microleaves Proxies. Although they are mainly a residential proxy service provider, they also have a subdivision for private datacenter proxies.
Microleaves Proxies is one of the leading backconnect residential proxy services. To test if their private datacenter proxies are equally good, we decided to review their private proxies service and compare it with other top tier providers. Microleaves Proxies offer high anonymous HTTP/HTTPS proxies for their private datacenter proxy service.
Microleaves mainly is a residential IPs proxies provider, The dedicated proxies are not the star product of their company if you want to find the other top-level private dedicated proxies you can visit Here.
To review the service of Microleaves Proxies, we bought their package of 5 private dedicated proxies and used the proxies for a whole week.
While reviewing, we focused on the quality of the proxies based on some test parameters and how user-friendly the service is. Based on our review, we have summarized our findings in the following table.
Pros
High anonymous private HTTP/HTTPS proxies.
Replacement of proxy IPs is possible every month.
Instant delivery of proxies.
3-days refund policy.
Two type of authentication method available – username-password verification and IP authorization.
Cons
Relatively higher ping.
No trial period.
Low download speed.
Dedicated proxies are available in one location only – New York, USA.
Price per proxy is the same for any package size.
Username and password authentication is not available.
Type of Microleaves dedicate proxies
Microleaves Proxies offer both residential proxies and datacenter proxies. Among their datacenter proxies, they offer both private proxies and shared proxies.
Their high anonymous private datacenter proxies are for HTTP/HTTPS only whereas the residential proxies also offer SOCKS 4/5.
The private proxies are for general purpose using, and they do not provide specialized packages either. The packages start at $12.5 for 5 proxies and go up to 500 proxies at $1250.
Unlike most businesses, they do not offer any reduction in price when purchased in bulk numbers. The full pricing plans of Microleaves Proxies are given below.
| Number of proxies | Monthly price | Price per proxy |
| --- | --- | --- |
| 5 | $12.5 | $2.50 |
| 10 | $25 | $2.50 |
| 25 | $62.5 | $2.50 |
| 50 | $125 | $2.50 |
| 100 | $250 | $2.50 |
| 250 | $625 | $2.50 |
| 500 | $1250 | $2.50 |
Locations of proxy servers
Although Microleaves Proxies have hundreds of thousands of residential IPs, they have one of the least diversified proxy server locations that we have tested as of yet. In fact, they only offer proxies in Buffalo city in New York, USA.
Due to this single server location, the proxy service will be practically useless if you need to use that to avoid geo-restrictions or appear to be visiting a website from multiple locations.
This also means that the proxy IPs will probably be sequential although they claim otherwise. Our geolocation test also shows that all the proxy IPs allotted to us were from New York. You can find more about that in our proxy locations test.
Proxies Speed Test & Ping Test
To test the proxy quality, we conducted several tests to determine the connection setup time, speed of the connections, location masking, and website compatibility.
We purchased a package of 5 private datacenter proxies from Microleaves Proxies and put them to these tests. You can read the detailed discussion of our test methods and the results below.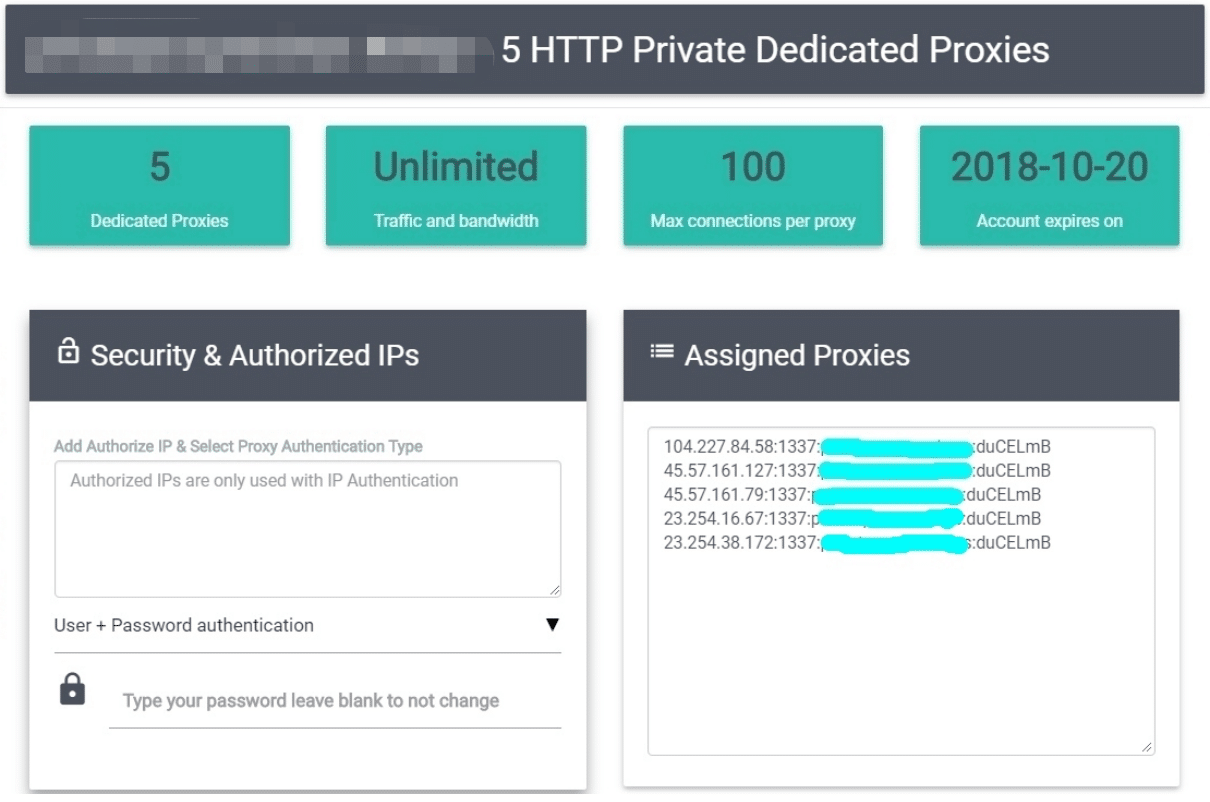 Speed Test:
One of the primary parameters while choosing a proxy is to check whether the service has good bandwidth speed so that the user is not impeded due to slow connection speed.
Microleaves Proxies claim their speed to be of 1 Gbps, which should be more than enough to ensure high-speed connection for the users. Unfortunately, after verifying the speed using the online speed testing tool speedtest.net, we found the proxy connection speed to be much slower.
The 6-8 Mbps speed may be okay for general browsing, web scraping, SEO softwares and so on, but it is very low for any kind of heavy-duty activities such as streaming, file sharing, and similar other uses.
Speed test without proxy:

Microleaves Proxy Speed test resultsDetails of the speed test
| IPs of proxies | Ping (MS) | Download (Mbps) | Upload (Mbps) |
| --- | --- | --- | --- |
| Without Proxy | 12 | 88.89 | 206.5 |
| 104.227.84.58 | 35 | 8.24 | 25.9 |
| 45.57.161.127 | 57 | 8.15 | 17.27 |
| 45.57.161.79 | 46 | 8.18 | 14.21 |
| 23.254.16.67 | 36 | 6.64 | 32.01 |
| 23.254.38.172 | 24 | 6.68 | 31.65 |
IP 1:  104.227.84.58

IP 2:   45.57.161.127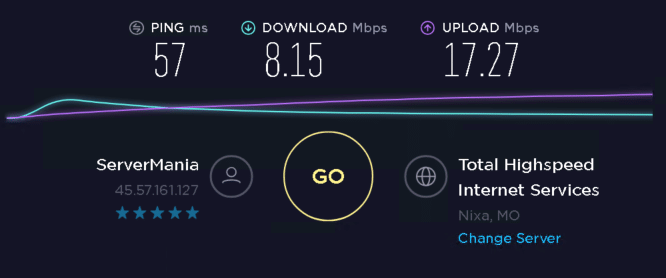 IP 3:   45.57.161.79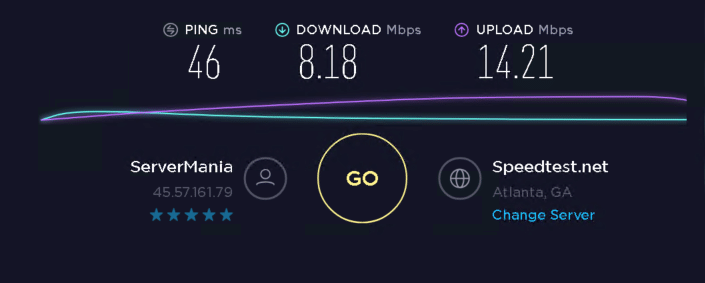 IP 4:   23.254.16.67

IP5: 23.254.38.172

You can compare the speed to other dedicated proxy providers like Myprivateproxy, instant proxies, and Highproxies.
Ping Test:
To determine the quality of any proxy, one of the critical factors is to test the response time of the server. This tells us how fast a server can respond to your queries to deliver you the data regardless of connection speed.
This response time is known as ping and is calculated in milliseconds. The lower the ping, the better a connection is said to be. This usually depends on how far the target server is situated since traveling long distances takes longer time.
To perform this test, we used a popular online ping testing tool, whoer.net which checks the ping of a server from various locations. For our analysis, we chose to measure the ping from three important locations, namely, Georgia (USA), Quebec (Canada) and London (UK).
But to our disappointment, Microleaves Proxies did not perform well since all the proxies have high ping which will have an adverse effect on your entire proxy experience.
All the proxies are from the same city and hence have very similar ping. We also threw in the ping from our speed test result for comparison, which calculates the ping from their nearest server. But even so, the ping is much higher than average. You can see the result yourself from the table below.
IP
Proxy location
Ping by Speedtest.net
(ms)

Ping from Georgia, USA
(ms)
Ping from London, UK
(ms)

Ping from Quebec, CA
(ms)

104.227.84.58
NY, USA
35
66.7
79.7
18.3
45.57.161.127
NY, USA
57
66.4
79.6
18.4
45.57.161.79
NY, USA
46
66.4
79.6
18.3
23.254.16.67
NY, USA
36
66.4
79.9
18.4
23.254.38.172
NY, USA
24
66.5
80
18.3
Hiding your own location and appearing to be from somewhere else is one of the key applications of proxy services. So, the more locations a proxy service can provide, the better it is for the user. Testing the locations provided by the proxy service is hence of high importance.
To check whether the proxies provided by Microleaves Proxies really do appear to be from the specified server location, we tested the geolocation of the proxy IPs. It turns out that, all the proxies are from a single location in New York, USA. Microleaves Proxies also mentions this on their website that their private proxies are from New York only.
Since the proxies are from the specified location, we can assume the test result to be good. But the lack of diversity of locations and sequential IPs are very disappointing. See the test result for yourself.
IPs of proxies
Location Provided by Microleaves Proxies
IP2Location
ipinfo.io
104.227.84.58
NY, USA
Location: New York City, New York, USA

ISP: Comcast Cable Communications LLC

Organization: Not Available

Location: Buffalo, New York, USA

ISP: B2 Net Solutions Inc.

Organization: Comcast Cable

45.57.161.127
NY, USA
Location: Buffalo, New York, USA

ISP: ASSISTANCE 4 ALL Inc.

Organization: Not Available

Location: Kansas City, Missouri, USA

ISP: B2 Net Solutions Inc.

45.57.161.79
NY, USA
Location: Buffalo, New York, USA

ISP: ASSISTANCE 4 ALL Inc.

Organization: Not Available

Location: Kansas City, Missouri, USA

ISP: B2 Net Solutions Inc.

23.254.16.67
NY, USA
Location: Buffalo, New York, USA

ISP: Letter Communications

Organization: Not Available

Location: Buffalo, New York, USA

ISP: B2 Net Solutions Inc.

23.254.38.172
NY, USA
Location: Buffalo, New York, USA

ISP: Frontier Communications

Organization: Not Available

Location: Buffalo, New York, USA

ISP: B2 Net Solutions Inc.

Organization: Frontier Communications

104.227.84.58
NY, USA
Location: New York City, New York, USA

ISP: Comcast Cable Communications LLC

Organization: Not Available

Location: Buffalo, New York, USA

ISP: B2 Net Solutions Inc.

Organization: Comcast Cable
So far, Microleaves Proxies have not done well in any of the tests we performed. Our last hope was that their proxies might be compatible with popular websites and will pass our IP compatibility test with flying colors.
But again to our disappointment, none of the proxies had access to the social media sites. The proxies also couldn't access the sneakers sites, but that can be exempted since Microleaves Proxies mentioned this while purchasing the package. See the test result below.
| | | | | | | | | | | |
| --- | --- | --- | --- | --- | --- | --- | --- | --- | --- | --- |
| IPs of proxies | IG* | TW | Pin | YT | AZ | G | Netflix | GL | Nike | Adidas |
| 104.227.84.58 | X | X | X | X | √ | √ | √ | √ | X | X |
| 45.57.161.127 | X | X | X | X | √ | √ | √ | √ | X | X |
| 45.57.161.79 | X | X | X | X | √ | √ | √ | √ | X | X |
| 23.254.16.67 | X | X | X | X | √ | √ | √ | √ | X | √ |
| 23.254.38.172 | X | X | X | X | √ | √ | √ | √ | X | X |
*IG – Instagram, TW – Twitter, Pin – Pinterest, CL – Craigslist, YT – YouTube, AZ -Amazon, G – Google
Features of Microleaves Proxies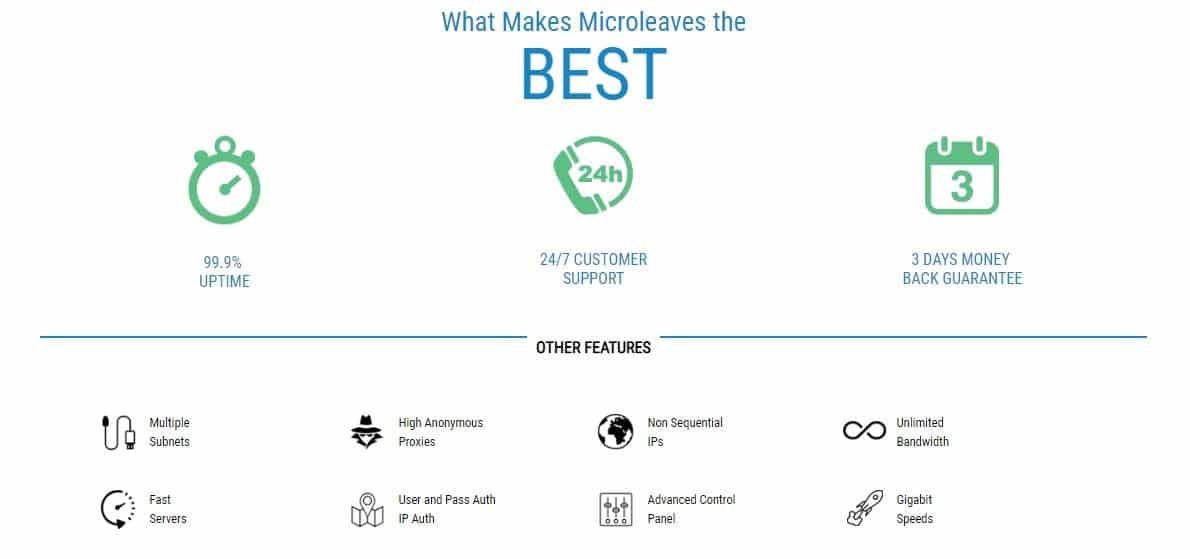 Highly anonymous HTTP/HTTPS proxies
The private dedicated proxies offered by Microleaves Proxies are classified as high anonymous. So, your IP address will remain undisclosed to the sites you are connected to. Instead, their proxy IP will act as a mask and the website will see the proxy IP.
Dual authentication method
Microleaves Proxies allows you to authenticate your proxy usage in one of two ways. You can use either authorize your current IP address or verify the Username-Password you set in the control. Both methods have their own benefits and having both the options to choose from is a useful feature.
Microleaves Proxies support monthly refreshing of the allotted proxy IPs. You can submit a ticket to the support center requesting a refreshing of the proxies. It would've been better if the process could be done from the control panel.
A very useful feature of Microleaves Proxies is the API, which can be used in a number of bot software to automatize the proxy configuration. You can find the API of your proxies from the control panel.
Microleaves Proxies have a fancy website that is easy to navigate as well. The landing page has all the information you should need to get started with their service, and if you have even more questions, you can visit their Frequently Asked Questions section.
Signing Up for Microleaves Proxies
You can choose a dedicated private proxy and then proceed to payment in no time. They accept Paypal for both recurring and non-recurring subscription. They also accept payment via Bitcoin when you're paying for a non-recurring plan.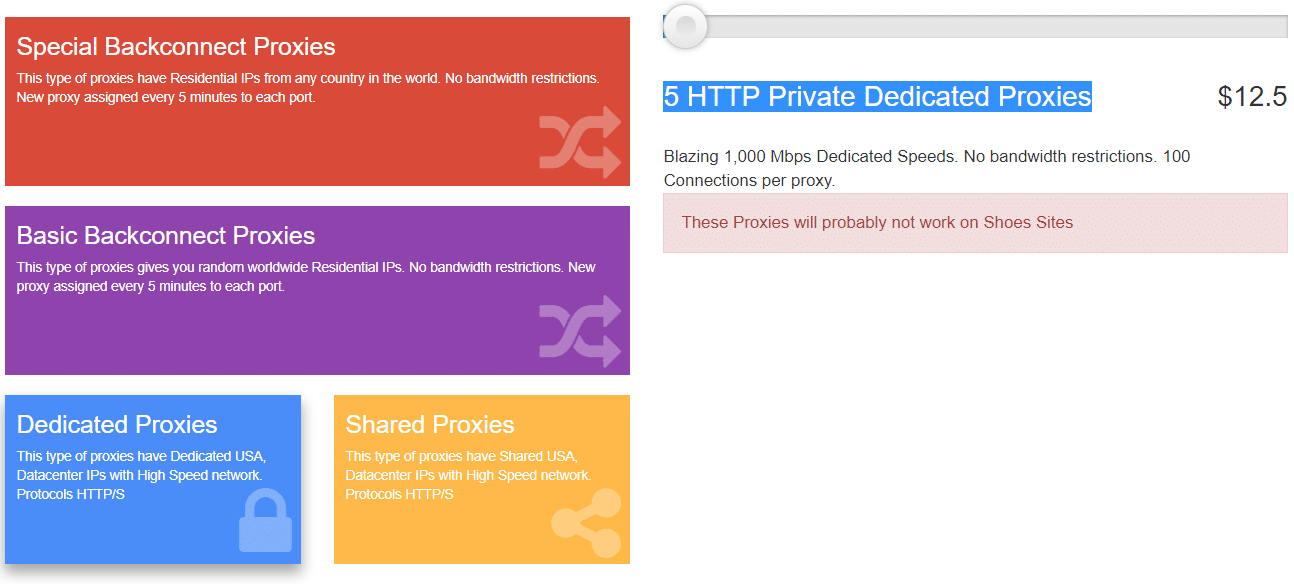 Microleaves Proxies supports two methods of authentication – authorizing IP address and username-password verification. You can alternate between the modes from the control panel at your convenience. You are allowed to have a maximum of 100 connections per proxy, but they do not specify if there's a limitation of the number of devices or IPs you can authenticate.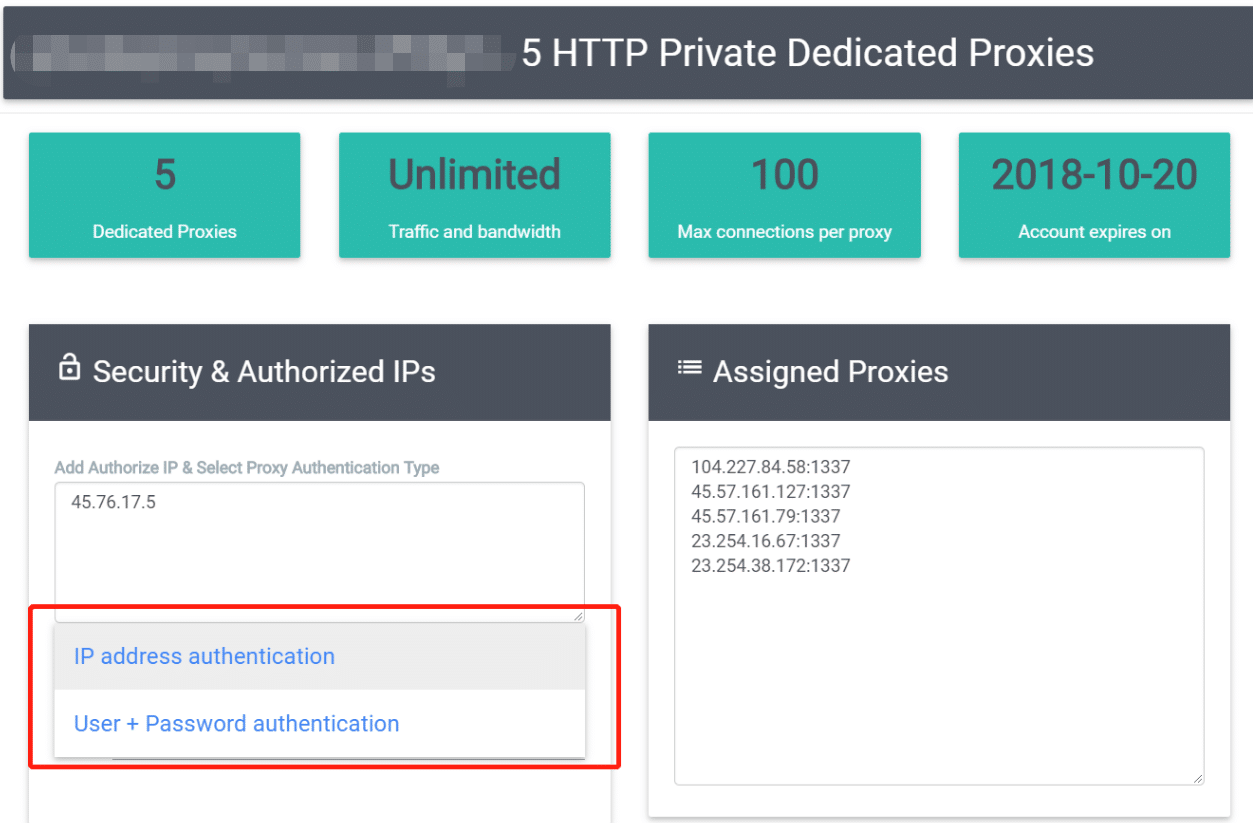 Using a proxy also requires you to configure the software you want to use the proxies in. The configuration can be done from the settings or control panel of the respective software, whether it's a web browser or a bot. To use the proxies with a bot, Microleaves Proxies lists the proxies in IP:port:username: password format, which can be downloaded as text from the control panel of Microleaves Proxies.
Editor's Rating
Features

Pricing

Reliability

Easy to Use

Support
Microleaves Proxies is one of the prominent residential proxy providers. However, after our thorough review, we feel their datacenter proxies are not ready for businesses yet.
Although they have excellent customer service, their proxies are slow and lack a variety of locations which are essential while choosing a proxy provider. The general-purpose proxies are also not compatible with social media which makes it unsuitable for social media marketing purposes as well.
The proxies can be used for some bot applications, but we would recommend you test the proxies by purchasing a small package initially.
We hope Microleaves Proxies will have a closer look at their datacenter proxy service and expand the features to accommodate the needs of the end-users.
User's Reviews & Rating
Microleaves (dedicated Proxies)
Average rating:
0 reviews
---