Buying shoes was a simple task. You just go to a shop or a mall, try on different pairs to suit your size. The prices were reasonable and you required your parents' approval and money to buy your desired pair of sneakers. But times are changing. Now it is a big deal to buy Adidas shoes.
Buyers are willing to spend quite a huge amount of money to buy the best brand such as Adidas Yeezy and Jordan. Now you are willing to spend big bucks and buy the best merchandise. The Internet has just changed the entire method of shopping. The internet has made shopping a global business. Sellers are from one end of the globe and the buyers are on the other end. Goods are sent through ships and other means of transport to reach buyers and payments are made through the internet.
Limited-Edition Sneakers
But with limited-edition sneakers, deals are clinched on a different scale. Limited-edition sneakers are a big craze that people are willing to spend huge money on. Brands like Adidas come in limited-edition shoes that make a person crave to own a good pair of Adidas sneakers.
Yeezy 350 Boost is one such limited-edition product from Adidas. Retailers and middlemen try to get as many of the products as they can. As they sell the product along the line, the price gets shooting up and reaches an exorbitant rate, by the time it reaches the user. Sometimes, users are not able to get them even at such exorbitant rates. It is in such situations that proxies make their presence felt.
AIO Bot, created by Another Nike Bot has many features, to provide the best results with an ease-of-use experience. Hot releases such as the Adidas, Yeezy Boost 350 and the Nike Shattered Back Boards are a big fantasy for shoe fanatics who want to stand ahead in the loop of fashion. There is no need for you to do anything, AIO Bot does the entire task of buying the shoes for you, and without you doing a single task. You can get your hands on limited-edition products without having to pay exorbitant prices. Now you have two options: You can either use the product and enjoy the brand new product in the market and be the envy of everyone around you, or you can further sell it to others and make a handsome profit. Proxies do it for you. AIO Bot does the entire job of buying, without you having to lift a finger.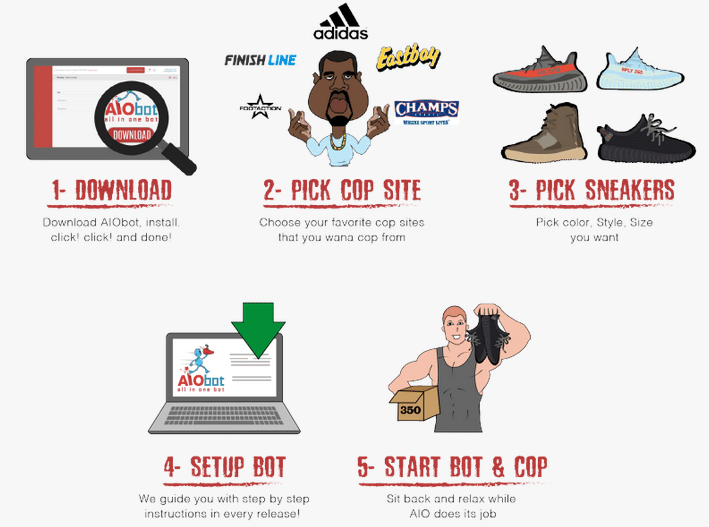 Proxies
Need-to-Know Basics of Proxies Before You Can Make the Big Purchase

The proxy is a part of the internet that acts as a middleman connecting your computer to another computer. They help you connect your computer anonymously. They also hide your IP address, traffic habits, and location. They also have a bunch of other uses. They are commonly used by sneaker enthusiasts. These enthusiasts can use this system to leverage the anonymity that comes with proxies. Normally retailers limit the number of shoes a person can purchase.
With the help of proxies, this limitation can be overridden. Another common solution that users opt for includes accessing and purchasing through multiple accounts that behave as if they are being accessed from several locations. This gives the pretense that there are several people behind all these accounts when in fact there is only one.
Proxy Ping – Ping with your Proxy
Having a proxy can also be compared to having to deal with a barrier so that the internet can pass through it. It causes a small delay which causes the transactions to lengthen. A longer duration is required for the connection to be completed and also for accessing the website.
The reaction time of the computer also correspondingly increases.  The reaction time of the computer is known as computer ping time.  In case the proxy is hosted by a good provider, you can probably expect a minimal delay. You know the proxy is excellent when the ping time is only 10 to 50ms. However, when the proxy is cheaper, from less renowned, there is a risk of longer ping time as well as security issues that could occur especially when there are transaction processes involved.
Proxy Location – Where are you?
The location of the proxy and the ping time are in a way related to each other. When computers are closer to each other physically, they can communicate that much faster with each other.  Proxy providers often give the users the freedom to choose the location that they would like to use for their proxies. This technique is used nowadays commonly for users to direct their traffic in the desired direction.  In case you can get a proxy close by, that increases the speed, making it faster than the competing bots which try to access the system from a longer distance.
By using WHOIS search, it is a possibility to search for public information that is associated with a web domain. Certain domains are also known for providing WHOIS protection. In this case, while it is possible to see the pertinent data and location, the name and addresses of the users will not be visible. This database is accessed by typically any WHOIS Search.
Lately, companies that offer proxy services seem to be on the rise. There has been an increase in the proxy supply as the proxy supply seems to be going downward. From the consumer end, not only is it reducing the cost, it is also made accessible.
Another cause of this dip in pricing is that the tech-enthusiasts seem to have gained knowledge on how to create and maintain their own proxies. Not only does it require technical skills, it also requires advanced knowledge. But it is highly cost-effective.  All associated costs are reduced when the proxy cost is cut down, and the profit potential correspondingly increases.
There are Lots of different types of proxy servers, For proxies for the AIOBOT, I would like to mainly discuss those three proxies,  datacenters proxies, residential proxies, and Public proxies.
The age of public proxies is over. This is because those who used public proxies have dwindled away into being nothing, thanks to the subnet bans. The public is used by anyone.  They are also not operated by an ISP.  This results in a collection of people who do not care about privacy using it.  Some activities, however, cannot be done without anonymity. Activities like SEO related activities and bot activities are better when they are obscured behind a veil called anonymity.
Datacenters proxies are now widely used and quite popular, the Datacenters proxies.
Why do you need a Dedicated Proxy?
Dedicated Proxy is a proxy that is private and can be used according to your wishes.  Proxies cannot be banned from using. Usually, non-private proxies usually contain other users as well and they could intercept internet traffic.
It is especially dangerous when credit card data is sent over the internet. With a dedicated proxy, the internet connection is fast and it is entirely anonymous and expensive. Some commonly used proxy providers at the commercial level are MPP, YPP, and ACT.
Private Proxy Service
Price - Month
Feature of proxy providers
25 Proxies - $39
100 Proxies - $135
500 Proxies - $625
Unlimited Bandwidth for web scraping
For Social Media accounts management
Dedicated Datacenter IPs and located in US
1 Proxie for 1 week - $1.07
1 Proxie for 2 weeks - $1.61
1 Proxie for 1 month -$2.14
Offer IPV4 and IPV6 Proxy
Cheap Private Proxy
Flexible Billing Mode
10 Proxies - $23.70
50 Proxies - $87.50
100 Proxies - $165
Dedicated Proxies for Sneakers
143,360 Data Center IPs located in US and EU
24/7 Support and Fast Proxy Delivery
10 Proxies - $22.65
50 Proxies - $86.00
100 Proxies - $169
Good for the Social such as Followliker
Fast Squid proxy server
Proxies for Craigslist
10 Proxies - $24.00
50 Proxies - $87.00
100 Proxies - $160
Fast dedicated proxy speeds
Proxies are delivered automatically
Unlimited Bandwidth
$250/month
$125/month
Affordable dedicated mobile proxy
Multi-country package
Unlimited threads
10 Proxies - $29.97
50 Proxies - $99.97
100 Proxies - $199
YPP Proxy Support Socks5 protocol
24-hours free proxy trial
Dedicated Data center IPs
10 Proxies - $22.65
50 Proxies - $86.00
100 Proxies - $169
The proxies good for Instagram
Work well on social networks
Data center loated in US and UK
Some of the datacenter proxies are also commonly spotted, blocked and protected by retailers.  These proxies have been detected and banned by some of the retailers who recognize the cloud service providers, that why the residential proxy is active now.
At this junction, the third proxy called residential proxy comes into play.  The IPs and the ISPs are tied down together. ISP is the carrier for the service, such as AT&T, Time Warner, Comcast and so on.  Not only do these companies own blocks of IP, they also distribute it to users.
Why do you need a Residential Proxy?
Residential proxies are made much more reliable as they are backboned by the ISPs.  The shoe companies, commonly, do not block an IP address they recognize as a residential proxy.  BOT activity from a residential proxy usually does not garner any unnecessary attention.
This is why it is better to go for residential proxies when making purchases like  Adidas and Yeezy shoes. Data centers are banned very easily. And in the activity of hundreds of thousands of IPs, from the retailers to the personal buyers, the activity of the bot is easily overseen. And there is a risk of banning the wrong user, because of a suspicion. This is a mistake that makers do not normally do. Banning a subnet could result in disruption of genuine connections, and identifying one specific IP address is tedious and time-consuming.
Residential Proxy Service
Price
Feature of proxy providers
40 GB cost $500/mo

Over 40 million Residential IPs
Business proxy network
Luminati Offer 7 days free trial
20 GB costs $200/mo


40 million IP pool
24/7 Live Customer Support Chat
3-Day Money Back Guarantee
5 GB with 300 port cost $75/mo
8.5 million IPs active worldwide
ISP-level targeting
Supports Over 120 Countries

25 Special Ports $249.99
Offering Residential IPs
Large P2P proxy network
3 Day Money Back Guarantee
10 Ports cost $90
40,000 IPs in rotating pool
2 Days Money-Back Guarantee
Unlimited bandwidth
The downside on the residential proxies is the speed of proxy..which are slower than Dedicated Proxies, It's hard to say who is better, if the Dedicated Proxies are not banned by the websites of the retailers, I suggest use the Dedicated Proxies, If banned you have to use the Residential Proxy.
AIOBOT Guide
Once you have your mindset on owning a pair of the latest sneakers, what does an ordinary person do? He will wait for an opportunity to buy the shoes online. The moment the sale is on, you will try to enter into the competition with others, to buy your dream shoe, but most often, you will find that your dream zone has sold out.
The "Sold" card just crops up immediately and you are dismayed. How is it possible for the shoes to get sold immediately? Is there no solution to enter the race? Yes, it is possible to be a part of the buying group if you have AIO Bot. People use the proxies to buy as many sneakers that they can lay their hands on. Proxies mask the IP address and you can buy the sneaker even without giving your identification. With rotating proxies, you will get your IP address rotated for every 20 minutes and you can buy from many retailers using your new IP that gets rotated and updated.
The AIO adds the shoe on release. It may be your favorite Yeezy Boost 350 or the Yeezy Boost 950 or any other sneaker that is in limited edition. Don't worry if the website crashes, AIO BOT continues its work, it keeps trying to add to cart, while you have a small snooze, as the sale is usually done midnight. You may try a few times and get frustrated. But AIO BOT does not consider it an ordeal. It just tries till it succeeds and till the task is accomplished. Once the shoes are added to cart, you will get a notification, either by SMS or email. Yes. You will get the great news that the deal is done.
AIO BOT is suitable for the elite few people who love a sneakerhead and have an awesome sneaker collection. if you are wide awake, waiting for the great release of Yeezy Boost or Jordan shoes, then AIO is a definite 'must-have' for you.
Preparing for the Purchase
Once the news is out, that the sneaker sale is coming, you have to plan out your purchase. See the location of the launch. Get proxies for those locations. Input the settings. Now you can get your sneakers from across the world.
Keep your proxies ready. You can also make a test on your proxies so that the proxy is ready when you are on your purchasing spree. You can also save up on time if the information is loaded, as time is of utmost importance.
You should try to have multiple proxies so that you can have several IP addresses to make your purchase. They will also serve as backup proxies.
Your proxies should be really fast. Time is of the essence and having fast proxies is important if you want to walk around with your very own limited-edition Adidas on your foot. Public proxies are much slower, it would be best to own private proxies that are faster and more reliable. Private proxies are more secure. As the sale involves using your credit card, you will need to protect yourself from hackers. With private proxies, sensitive information is always safer.
Make sure about the timing of the sale. The products get sold out almost immediately and timing is most important
Similarly, the time zone in various parts of the world is different. The launch time for each location such as London, New York, and California will be different. Ensure that you have the launch timing for each location to get your shoes from different zones.
Limited-edition Adidas shoes are not launched every day. Make sure that your proxy works fast. Make sure that the entire process is smooth. Use a good private proxy that works fast so that you can pick up a number of shoes. You need them to show off your latest pair of shoes and the extra pairs can be sold off for a huge profit. Make the entire shopping experience a grand one with a monetary benefit and an experience that you are proud of by wearing the best and latest shoe in town.
Copping the Sneakers
Aio Bot to Bypass All Traffic during release
There are different shoe sites. You have an option to visit as a guest. There are sites that do not support guest check out. If the guest uses the FootLocker, it would not work. Generate your guest account If you already have an account, you just have to give your password and you can start. The positive KW is xxx, put your size 10.5, the shoe is linked to Adidas. The early link is the shoe. So for Adidas, the like to the shoe is going to be the early link. Copy-paste it into the link. Page monitor put the keywords.
The shoe is going to be released
Click on the details. Mention the size, Copy paste early link. Manage your task. Have the proxies ready and have them tested beforehand. Make sure about the timings and the location. Have billing information ready. Right-click on the civil space and save. Have credit card details ready. If you have multiple accounts, use them wisely with different addresses. You can enable Manual checkout or Auto checkout. The auto-checkout makes the information visible.
How to Set up Proxies.
Proxies are important for Adidas. Adidas banned IPs. If you have proxies already, you can purchase or you have to configure proxies. Copy-paste the proxies into the normal proxies to split them and monitor proxies.
Proxies are very expensive. Proxies are made for shoe releases too. When you have 20 proxies for 60 dollars, they are the normal rate. But when you get 30 proxies for 2 dollars they are not to be trusted as they are not dedicated proxies.
Create Test
Click on the button- create text. Queue all the tasks made. Use Captcha solver, click on tools and open captcha solver and for Adidas. Run these tests during the release. Run the captcha solver. Have everything ready prepared to cop your sneakers.
Deeds Test
Start all the data login, prepare them, keep solving them, now shoot one into the cart. Solve the captcha solution, keep ongoing. Once you are successful in copping a sneaker, there is a green highlight. It ensures that you were able to cop. Click on the check cart and it will send it to the actual Adidas website.
The How, When and What Questions
While making your purchase, your actual IP will have to be clocked so that your website will not get banned. There are different types of proxies such as dedicated proxies, residential Proxies and shoes proxies which mean proxies tested for special websites of retailers.
You should know the rate of proxies. Some are over-rated while some are under-rated. You can choose dedicated proxies that provide 20 to 22 proxies for $65. If you are getting cheaper proxies, you should remember that they are not reliable and will not work. Proxies are generally expensive. Once you decide on buying Adidas sneakers, you will have to decide on the options available. First understand the location, which site to pick, the website, the location, etc. Purchase your proxies and have them ready.
Test
Test your proxies before making the purchase. Sometimes they may be banned and your proxies may be dead. In such situations, they will not work and the message "Access denied" flashes. You will lose out on the opportunity to purchase your desired pair of sneakers. Copy-paste and test the proxies. Some will work and some will not work. They turn off the activation of the proxies. Use help tab. The green text shows it is bad.
Billing Information, Multiple Payment Methods, Auto or Manual Checkout
When you click on the Manage Billing, the menu will pop out and you have to choose the New Billing Information. Fill all the information about the credit card and the billing address.
The information is saved and it appears on the list. Multi billing information is set in the same method. You then select a single billing profile and "ADD", assign it to your account. You can also create 2 or 3 accounts and load them with different billing information. When you "Manage Billing task" the list of the created billing info, will be displayed.
Billing Information when you use Multiple Credit Cards
If you are using multiple credit cards, keep your billing information ready. If you have the same billing information, you can cop only a single pair of shoes per website. Even if you have 2 or 3 credit cards, your website will be recognized. If the billing shows that you have copped more than one pair, your account will then be banned. So when you use multiple credit cards, make sure that the billing address varies from the second payment information. You can also manage to bill of tasks, if you are not able to provide different billing tasks. You can check out once per website on the task, you will not cop more, by accidently building the same address.
Auto Check-Out or Manual Check-Out
You can then use the Auto check-out or the Manual check-out. Some users have found that auto check-out is preferable to Manual check out. If you are using Manual check out, sometimes you will lose your card, as the actual website takes a long time to load. When you manually cart a shoe, it sometimes does not appear in the cart when you go to the task. It also involves a lot of work. The auto checks out, however, does the entire work for you. With the bot doing the work, your sneaker gets carted without any hassle.  Now you can proudly wear your Adidas or Nike sneaker.
The Final Preparations for Purchase of Shoes
What you have to do before the release of the shoes. You have to set up task with early links and keywords. There are a few instructions to be followed as last minute preparations.
Remember that you can take only one task as a proxy. When you are purchasing your Adidas pair of sneakers, you have to make a guest account and mention your size. You can use the early link. Get the keywords, while in the process. You can seek the help of AIO bot to help you out. The item number is the PID number. You can keep adding more by adding more guest account and providing the size number.
You can also setup Adidas on other websites. There are many US proxies that are not banned by Adidas. You will have to keep adding the billing details when you create tasks. You can start the tasks when the spash page is live. You will have to keep the bot running until the bot checks out. You can understand that the sale is over only when Adidas tweets that the limited-edition shoes are sold out.
Once done, you can check out manually or through the Auto check-out when the shoes are added to the cart. But it is best to use the auto check out as there are no chances of the order getting canceled. Sometimes, the manual check-out has chances of getting the order canceled from the cart. Remember that you should use proxies to remove all chances of getting banned.
Select the working proxies by testing. Save select proxies. link the credit card. Enable auto check out to link the credit card to the task. Checkmark the boxes, so that you cop only one shoe per website. You can add by using the guest account.
Put in the keywords in the page monitor
5 to 10 minutes earlier, splash page, easy supply. The task has to be kept running until somebody says that they are sold out. Greenlight says that it is
Note to Make Purchases by your Mobile Phone
When you are busy concentrating on various issues regarding the purchase of your sneakers, you need to be prepared for the big day. Much preparation has to be done to get you ready for your purchase. Getting the proxies ready, knowing about the location, the time zone, etc. But the most important factor to be considered is to make the purchase only using the mobile phone.
DO NOT use iPad or other devices, other than the mobile device to buy a pair of sneakers. You should not use a computer or any other device while making the purchase. In case you bot a pair of sneakers, it will become a void contract if the order is placed on any other device than a mobile phone.
Final Words
Are you all set to cop your Adidas sneakers? Make sure that you have your proxies ready and usable to cop your first pair of the limited-edition sneakers and take note on,
Important Factors to be considered while Copping a Sneaker
You can get your shoes everywhere. If you have more locations, the chances of getting them are higher if you have many locations. For UK locations, you will require UK proxies and US proxies for US locations, If you are interested to cop your Adidas UK sneaker, you will need the IP address of proxy server located in the UK, Also When you use the EU or the UK ordering, you will require the form of payment that is used there. This will prevent cancellation issues
Make sure that you have registered online your multiple prepaid cards for use in your bot. Privacy can help to create multiple cards that can be easily used on the bot. As transactions are not seen from the bank account, there will not be an issue with it.
If you have coding skills, you can create your own bot, update it and it will do the work for you. Otherwise, it would be better to buy a bot.
You can have any bot such as ANB, HS, EC, BNB or Supreme. All the bots work fine. The best bot to cop off footsites is Foot sites that are dominated.
Proxies that are from YPP also work on supreme.
You cannot bypass the Adidas splash page as you may get banned. The next best thing is to have proxies that can switch between locations or a VPN to do the job.
You can get bots when they are sold cheap. EasyCop was available for #50, during their anniversary deal. ANB AIO is easy to use. You can get the 20 slot bot, which is more than sufficient for individual use.
Having an early link increases your chances of copping. You can also use many proxies and many tasks to increase your chance to win.
As far as early links are concerned, the apps to scrape such as Screaming frog, gScrape and HypeSniper provide something for their users.
The task is created inside a bot and is a single action. You can use it for one item of one size only. You can have multiple tasks to increase the copping number.
While comparing between the VPS and the dedicated server, you can choose the dedicated server for better performance.
Windows Dedicated servers are compatible with the AIOBOT, If you are unable to have a dedicated server for monthly, you can order Hourly, Hourly options are provided by Amazon and Vultr.
Copping a sneaker is not a tough job, if you are aptly prepared. Enjoy your sneaker and your online purchase and have a wonderful time enjoying your copping experience using proxies.
---