We DO not recommend you use limeproxies! Our project was destroyed by their Bad Proxies! 100% stay away! [Updated Dec 11, 2019]
Recommended for: Classified Ads website & Craigslist Marketing
Out of many proxy services currently operating worldwide, it's often very hard to choose the right proxy service that is suitable for one's needs. While some proxies are suitable for specific tasks, sometimes general purpose proxies are required for diverse tasks. Since it's often not possible to test out proxies beforehand, it may get very hard to verify whether a proxy service is suitable for you.
In this review series on private proxies, you can find the best match for your needs. Today, we will discuss our experience of using Limeproxies for over a week and how well it performed during the test period.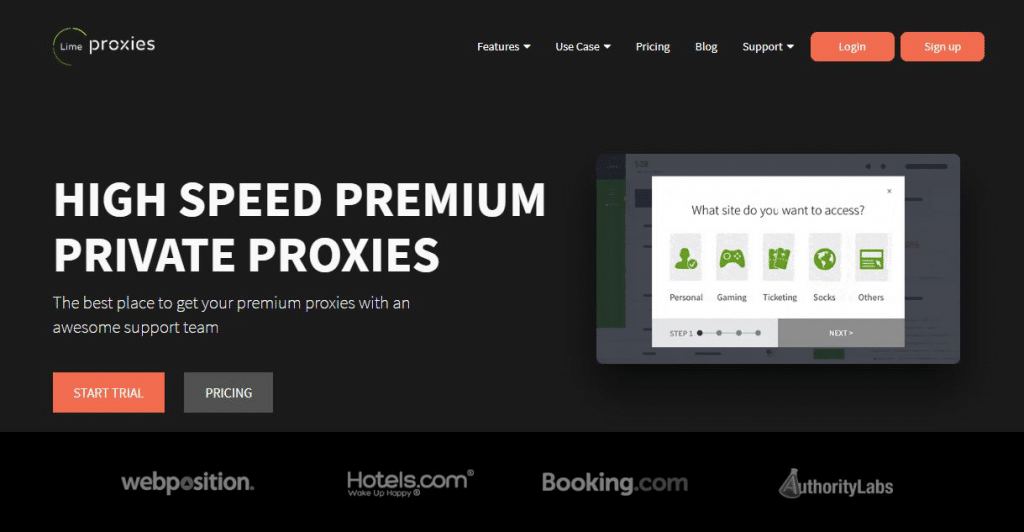 Limeproxies has been around for quite a long time and they have become a renowned name in the proxy business. Although they have a pretty good reputation and mostly positive feedback from the user community,
We decided to buy a private proxy package from Limeproxies and test the proxies. After performing several tests and using the proxies for quite some time, we have chalked out some pros and cons of the service for you to check at a glance.
Pros
Fast and dedicated HTTP/HTTPS/SOCKS datacenter proxies.
Instant delivery of HTTP/HTTPS proxies.
IP based authentication, username authentication is available on demand.
Dedicated proxy control panel.
3-Days money-back guarantee with an option to test one proxy before buying.
Very quick and responsive customer service. Technical assistance is provided 24/7.
A vast network of more than 40 proxy servers worldwide, along with options to set up custom locations.
On-demand IP refreshing for premium proxies.
Up to 25 IPs can be authenticated at the same time. So, the proxies can also work with dynamic IP.
Several payment methods are accepted.
Up to 100 concurrent connections.
Lets users test proxies for free.
Cons
Many websites such as emailing, sneakers, e-commerce, scrapeboxes are not accessible.
There is a total bandwidth usage limit.
Unlike most proxy services, Limeproxies don't offer shared proxy.
But In fact, all their proxies are the shared proxies!
All of their proxy packages are for single users only and are not shared with anyone else. So, there should not be any complications regarding IP blocking or ban due to the misdeeds of others.
Limeproxies offers two different dedicated proxies, private proxies, and premium proxies. Premium Proxies have 1gbps dedicated bandwidth speed to ensure a fast connection. They also come with virgin IPs that are not previously used so there's almost no possibility of banned IPs. On the contrary, private proxies have a mere 100 Mbps bandwidth speed and use recycled IPs. Although they don't mention it on their page, we have found the allotted bandwidth for premium proxies to be 500GB per month. We assume this is much less for private proxies.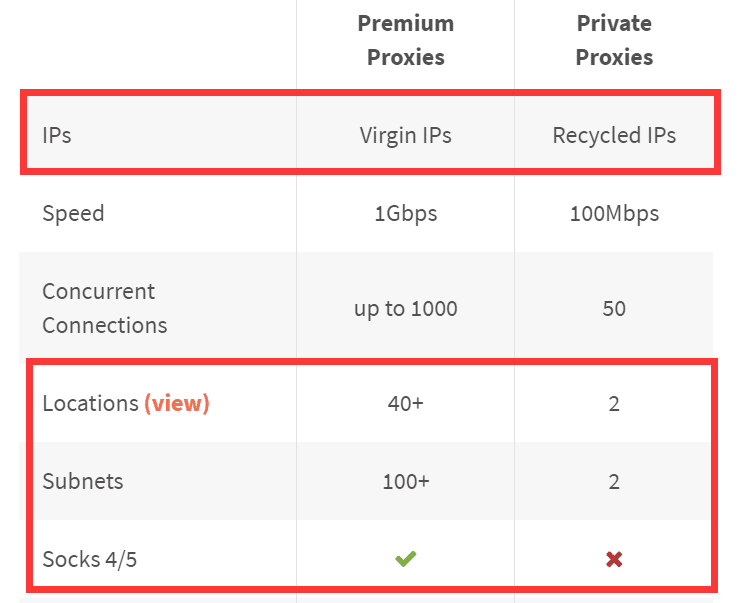 Among specialized proxy packages, Limeproxies offers four types of packages for premium proxies. These are Ticketing proxies, Gaming proxies, Classified Ads proxies and SOCKS proxies. All premium proxies have the option to enable SOCKS5 from the control panel. On a side note, Limeproxies does not offer Sneakers proxies and will not give a refund if proxies are bought for the sole purpose of sneakers sites. You can read their refund policy here.
Price and feature comparison of various plans offered by Limeproxies:
Limeproxies has a comparatively more expensive pricing plan than many other proxy services. But there goes a saying, you get what you pay for. And for Limeproxies, their excellent service makes up for the expensive price.
Both private and premium proxies offer a single IP package and both are priced at $9.99 USD. However, they offer a 50% discount and the packages are offered at $4.99 USD. 50% discount is available to all private proxy packages as well. The largest private proxy package has 2500 proxy IPs and is priced at $1750 USD per month. On the other hand, a maximum of 1000 proxies are available as a package and is priced at $1500 USD per month.
Another very appreciable thing about Limeproxies is, you can test a proxy for free for 2 days before buying any package. And even after you buy a package and later found the proxies to be not working properly, you can ask for a refund within 3 days of your purchase.
Private proxies plansPremium proxies plansTicketing proxies plans
| No. of IPs | Number of cities | Number of subnets | Price (USD) (Billed monthly) |
| --- | --- | --- | --- |
| 1 | 2 | 5 | $4.99 |
| 10 | 2 | 5 | $9.99 |
| 25 | 2 | 5 | $24.99 |
| 100 | 2 | 5 | $99.99 |
| 250 | 2 | 5 | $249.99 |
| 500 | 2 | 5 | $499 |
| 1000 | 2 | 5 | $750 |
| 2500 | 2 | 5 | $1,750 |
| No. of IPs | Number of locations | Number of subnets | Price (USD) (Billed monthly) |
| --- | --- | --- | --- |
| 1 | 1 | 1 | $4.99 |
| 10 | 3 | 6 | $50 |
| 25 | 4 | 10 | $100 |
| 50 | 6 | 14 | $150 |
| 100 | 8 | 20 | $300 |
| 250 | 10+ | 25 | $600 |
| 500 | 10+ | 30 | $1,000 |
| 1000 | 10+ | 50 | $1,500 |
| No. of IPs | Number of locations | Number of subnets | Price (USD) (Billed monthly) |
| --- | --- | --- | --- |
| 250 | 3 | 1 | $499 |
| 500 | 3 | 2 | $999 |
| 1000 | 3 | 4 | $1,999 |
Locations of proxy servers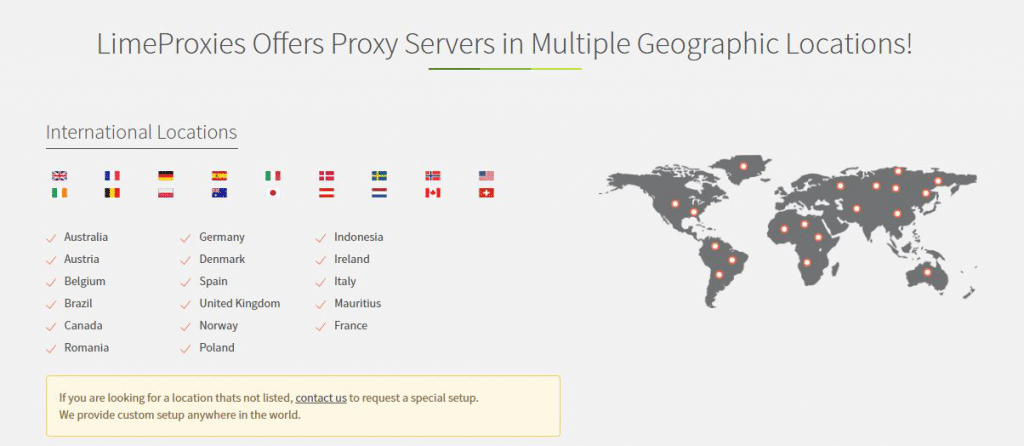 So far we have tested, Limeproxies has the most diverse proxy server locations. With more than 40+ locations, Limeproxies has got very good coverage all over the world. They also support establishing custom locations should the user need it. You can ask for setting up a custom location for a small setup fee per location by contacting the support.
Apart from the USA, Limeproxies has data centers in Australia, Austria, Belgium, Brazil, Canada, Denmark, France Germany, Indonesia, Ireland, Italy, Mauritius, Norway, Spain, Poland, Romania, United Kingdom, China, India, Japan, Korea, the Netherlands, Singapore, South Africa and many more, that are continually being added to the list.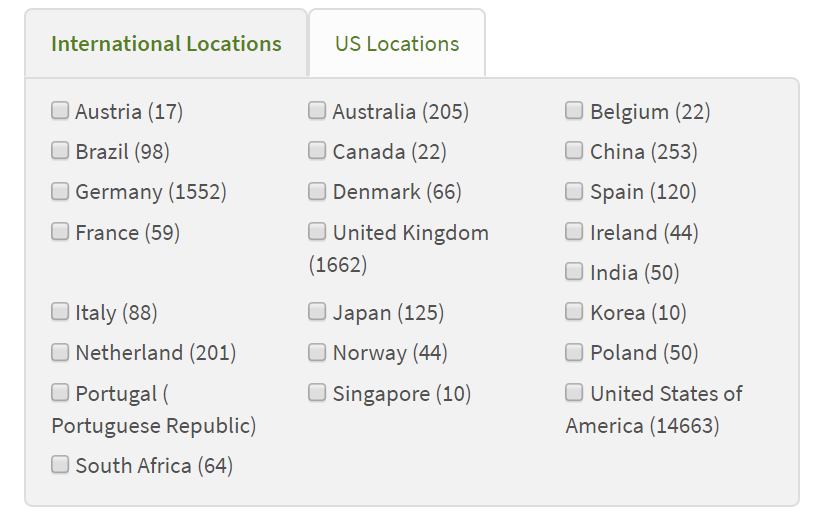 We purchased 10 premium proxies from Limeproxies to perform several tests. At the first test, we tested the ping of the proxies using whoer.net. The result is satisfactory as the ping is somewhat on the positive side. A great advantage of Limeproxies is that, due to their diverse network location, it is almost guaranteed to have some near the desired website's server location. This will in terms ensure a very fast connection with low ping. This is evident from our test results. The proxy locations that were nearer to the test locations had a significantly lower ping which is suitable for most of the businesses. You can see the test results below.
| IP | Location Provided by LimeProxies (via MaxMind Geo) | Ping from Georgia, USA | Ping from London, UK | Ping from Quebec, CA |
| --- | --- | --- | --- | --- |
| 31.220.8.99 | Newark (NJ) | 66.4 | 71.3 | 14 |
| 104.253.197.113 | San Jose (CA) | 11.3 | 147.5 | 77.8 |
| 107.178.162.167 | Florence (CO) | 11.3 | 141.4 | 72.4 |
| 107.172.38.68 | Buffalo (NY) | 71.6 | 79.8 | 18.4 |
| 119.252.27.34 | Australia | 168.7 | 307.5 | 243.4 |
| 178.159.4.170 | United Kingdom | 139.7 | 6.1 | 80.7 |
| 185.158.107.40 | Germany | 157.8 | 16.4 | 88 |
| 192.230.42.105 | Atlanta | 51.9 | 88.5 | 25.4 |
| 192.171.244.54 | Athens (GA) | Packets Lost | Packets Lost | Packets Lost |
| 194.126.237.39 | Germany | 150.3 | 14.9 | 92.4 |
GEOlocation Test / ISP Test
A very positive thing about Limeproxies is that they let you choose the proxy locations while you are buying the proxies. You can select from the US or other locations and for US locations, you can select from the cities.
In the control panel of Limeproxies, you can find the location of the proxy IP provided by MaxMind Geo. Still, we performed a location test to verify whether the locations claimed by Limeproxies are true. From our tests, we found this to be very accurate.
Here is the geolocation test of Limeproxies that we performed.
10 virgin IPs from LimeProxies

Location Provided by LimeProxies (via MaxMind Geo)
Test from IP2Location
Test from ipinfo.io
31.220.8.99
Newark (NJ)
Location: Nuremberg, Bayern, Germany
ISP: LimeIP Networks
Location:  Newark, New Jersey, United States
ISP: Net Access Corporation
104.253.197.113
San Jose (CA)
Location: San Jose, California, United States
ISP: EGIHosting
Location: San Jose, California, United States
ISP: EGIHosting
107.178.162.167
Florence (CO)
Location: Florence, Colorado, United States
ISP: GCHAO LLC
Location: N/A, N/A, United States
ISP: HT, GCHAO LLC
107.172.38.68
Buffalo (NY)
Location: Buffalo, New York, United States
ISP: ColoCrossing
Location: Buffalo, New York, United States
ISP: ColoCrossing
Features of LimeProxies.com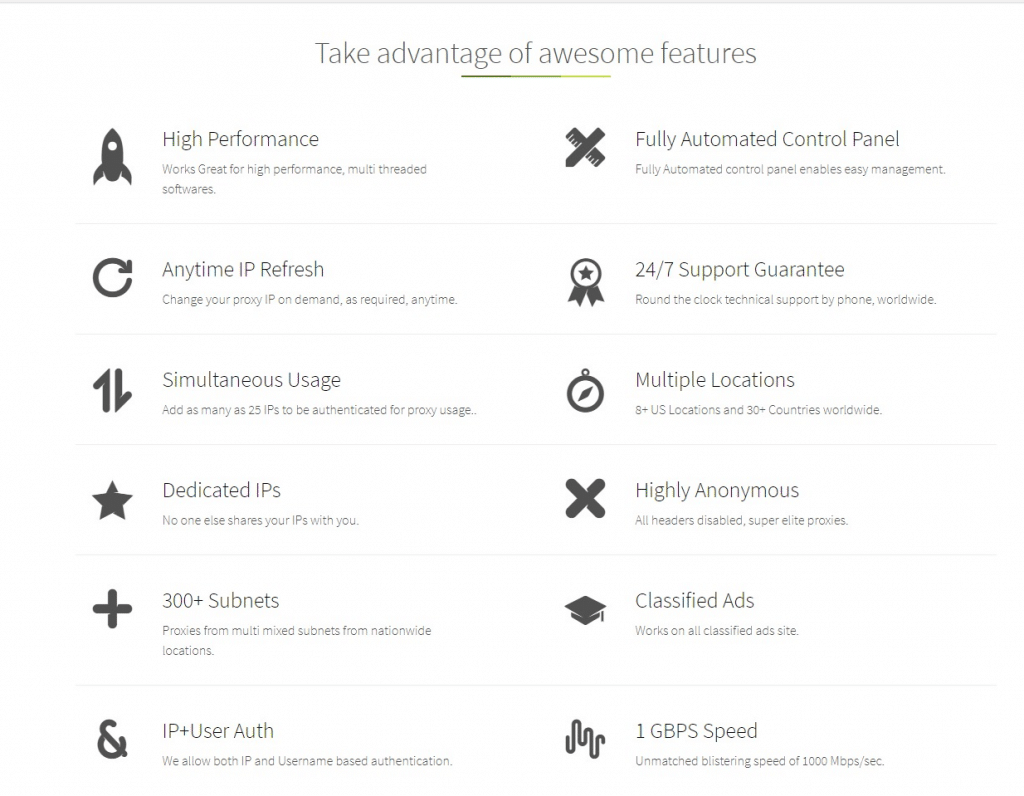 Limeproxies is one of the very few proxy providers that supports the SOCKS Protocol. All premium packages of Limeproxies have the option to enable SOCKS5 from the control panel. SOCKS5 adds another layer of security and authorization.
Limeproxies offers on-demand proxy refreshing for premium packages once per month. It is also possible to change the locations during the refresh. Although the premium proxies come with virgin IPs, it may sometimes be necessary to have the IPs refreshed in case some IPs stops working.
A very unique feature of Limeproxies is that they provide an API for the proxies. You should be able to integrate the API to your applications to automatically configure the proxy settings.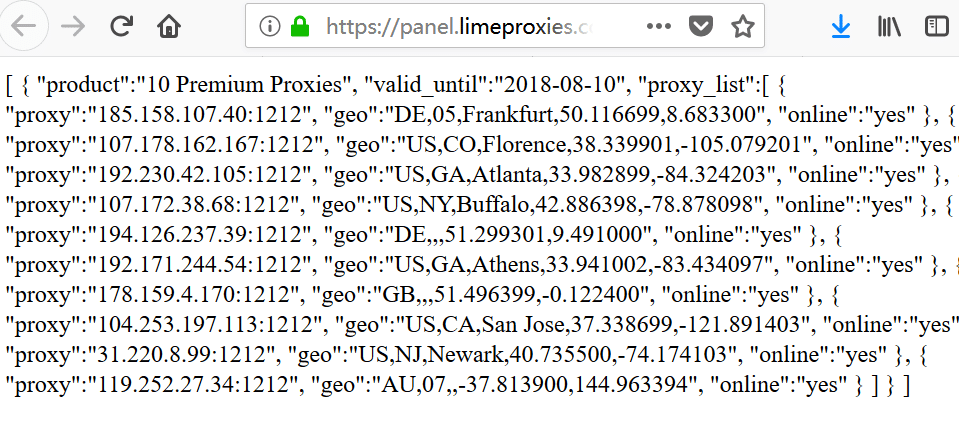 There are some other private proxies that also offer those proxy API, such as Myprivateproxy, Yourprivateproxy, and Highproxies.
Limeproxies support up to 100 concurrent connections and up to 25 authorized IPs. This means you can have up to 100 networks using the same proxy at a time from 25 different places. Since Limeproxies does not require username authentication, by authorizing each IP address in the control panel and configuring the proxy network, you are good to go.
Although Limeproxies offer a free test proxy, they also have a three-days refund policy. The refund policy is not applicable if you buy the proxies for forbidden usage such as mailing, sneakers sites, Scrapebox etc. Else, they provide an excellent support to solve any problems that may arise with the proxies and will give a refund if it does not work in the end.
Limeproxies has a very prompt customer support. Their live chat is open 24/7 and it usually takes less than 10 minutes for them to reply. They can also be reached by phone worldwide. Limeproxies has an average sales response of 12 hours and average billing response of 24 hours.
Limeproxies has a very detailed and updated knowledgebase on Zendesk so that potential customers and new users can easily get the answers to their general questions regarding how to use their service. The knowledgebase contains answers to some very frequently asked questions as well.
On their website, Limeproxies lists all their servers and whether the server is currently online or offline. This makes sure you don't need to stress over thinking your IP was blocked when in reality the server was down just for some moments. During our testing period, we found only the Portugal server to be offline whereas, all others were online.
Limeproxies has a very well arranged website to attract customers and for ease of access. You can easily find the pricing plans from the top navigation menu and can buy the desired package right away. Right after choosing a package and proceeding to buy, you'll be presented with a list of their available proxy locations to select from.
Based on the limitations of the package, you can select a number of proxy locations. The proxies are allocated instantly and a confirmation email will be sent to your email with details on how to login to your control panel. Limeproxies accepts credit card payment along with Paypal and Bitcoin.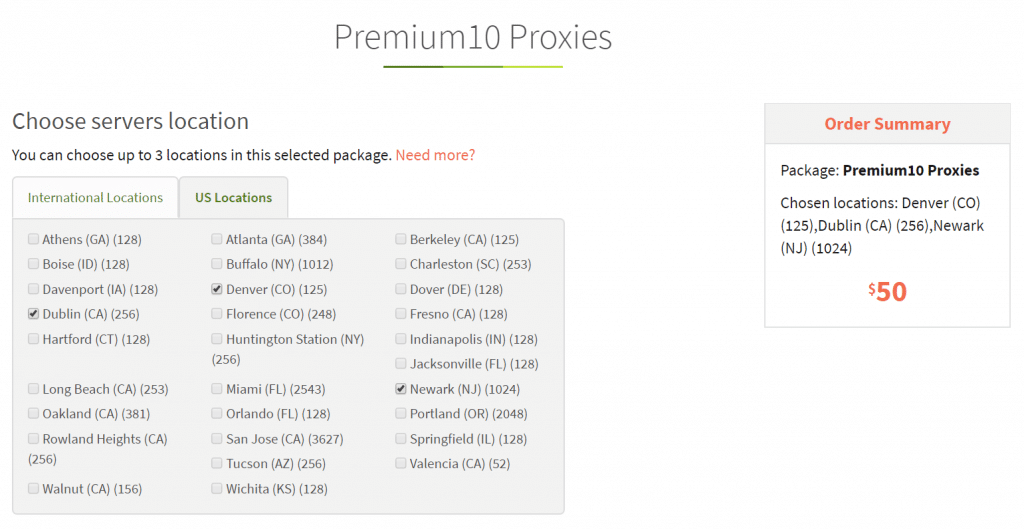 How to install/use the Squid Proxies
By default, Limeproxies uses IP based authentication. Username based authentication is available under special considerations and only by issuing a support ticket. Limeproxies has a dedicated control panel to manage the proxies from where, along with other things, you can authorize the IPs to connect to the proxy.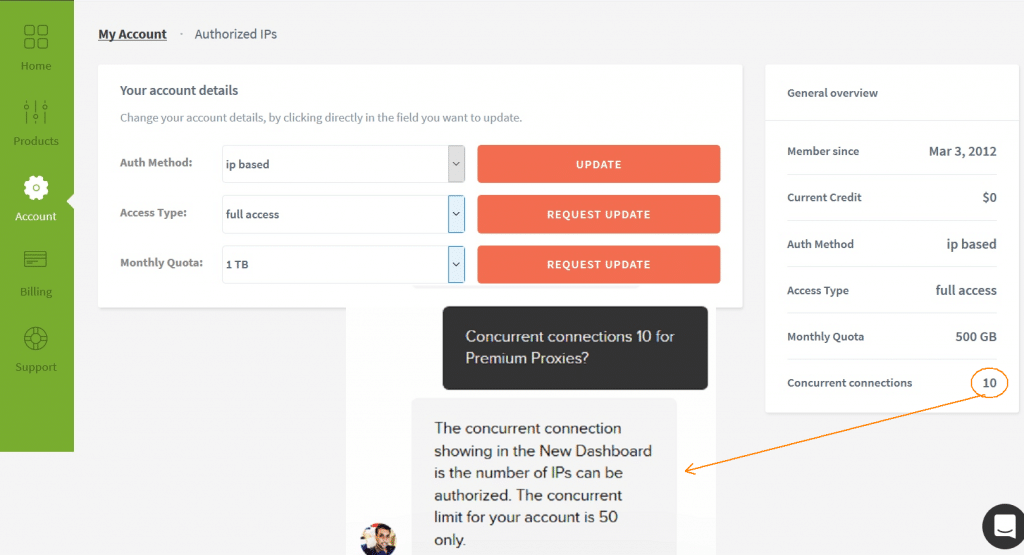 By default, Limeproxies does not offer username and password based authentication and instead offers an IP based authentication system. This is somewhat easier than username-based authentication and requires one less step.
To authorize the IPs you want to use the proxies from, simply log in to your control panel and navigate to Authorized IPs from the left menu. You can find your current IP address which you can copy and paste to the Current IP List text box and save changes. The proxies should start working immediately if you had configured the proxy network settings on your device properly.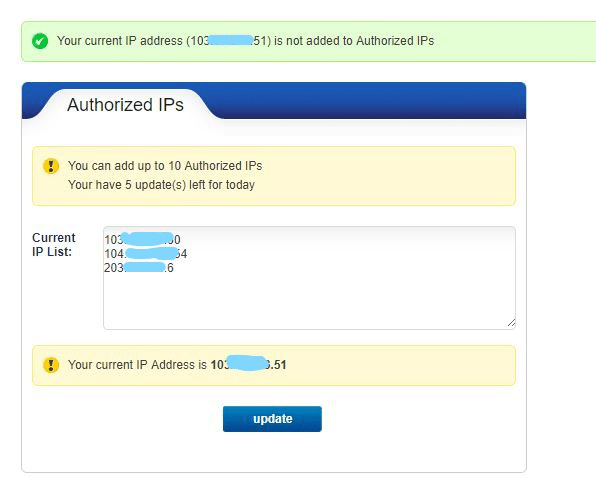 After authorizing IP, you'll need to configure the proxy settings in your web browser or other applications. You can configure the proxy settings for each application individually, and the process is somewhat similar for all applications. In most cases, you can find the option to add proxy settings in the settings menu of the application.
As Limeproxies offer IP based authentication system, you don't need to authenticate with a password. To use the same proxy settings for all applications, you can configure the system proxy configuration.
It is also possible to use proxies provided by Limeproxies in your smartphone. Smartphones don't allow individual configuration of proxies for each application.
To set proxies, you need to add a system proxy which can be found in the Wifi settings of your mobile. You'll need to add the proxy IP and port number as well as authorize your current IP in the proxy control panel of Limeproxies.
Editor's Rating
Features

Pricing

Reliability

Easy to Use

Support
Limeproxies has definitely impressed us with their myriads of features along with excellent service. We liked their generous offer to let users test a proxy for free. The SOCKS protocol, a large number of geographic locations, IP refreshing, fast connection speed, customer service all add up to make them a very good choice while buying premium private proxies.
However, their lack of support for sneakers proxies or mailing along with a capped bandwidth is something that might be a big turn off for many. They should also offer a competitive price to stay relevant in the market. We hope Limeproxies will work on these issues which will be better both for them and the users.
User's Reviews & Rating
LimeProxies.com
Average rating:
1 reviews
Jun 9, 2022
Lime proxies are complete garbage! Though price 5X than others!
premium proxies may be the same as others' "private" proxies, private proxies just as others shared proxies!

What's worse, they just use cheap datacenters...100% dirty IPs/Proxies!
---