Chi Proxies claim to offer the best proxies you can get for copping limited-edition sneakers. But how true is this? This review enlightens you about this sneakers proxy and if it's worth your investment.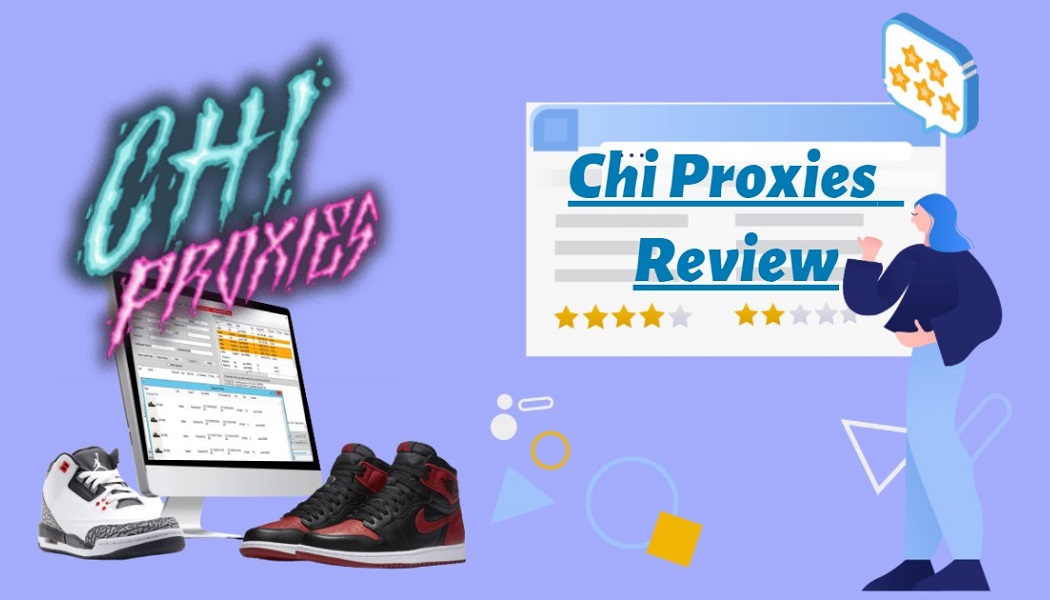 Chi proxies are among the new players in the proxy industry and are making their way to the top. They offer the best proxies you may need to cop limited edition sneakers. But first, why would you need to use a proxy? Well, proxies enable you to have several IPs, which allows you to buy more than one sneaker. If you are a reseller and required to have many in-demand sneakers, you have to use proxies.
So why would you choose Chi Proxies for your copping activities? Let's look at what makes them stand out in the crowd and what features they offer.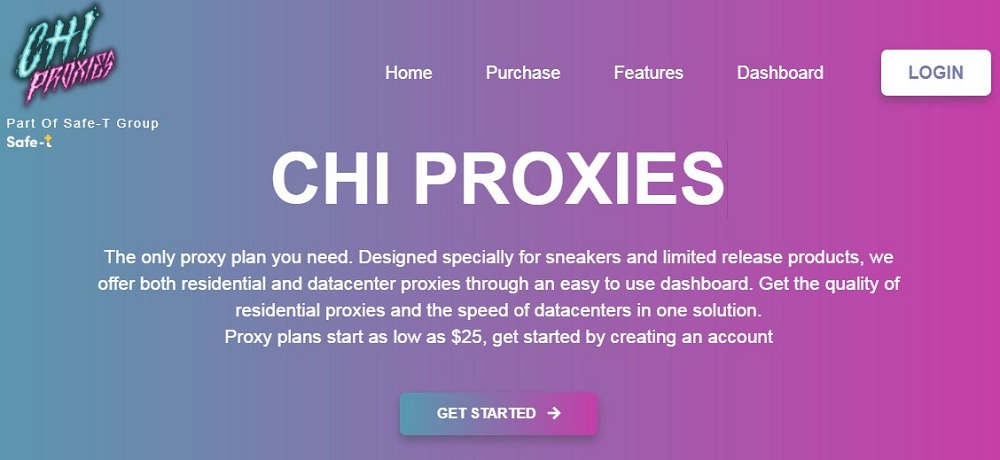 Chi Proxies is a proxy service that specializes in sneaker copping proxies. If you've attempted copping before, you'll realize that speed is crucial, and your proxy selection may determine whether you succeed or fail. Chi Proxies was developed to meet the unique requirements of sneakerheads. According to its website, Chi Proxies has been operating since 2017, and it claims to have serviced over 10,000 clients. This is excellent for a specialized supplier.
It turns out that a lot goes into determining whether a service is excellent or poor. While Chi Proxies are effective, they do have drawbacks. We are aware of this because we conducted an extensive study on them. They also have some of the most excellent features, which make them a choice for many. Here is what we love and what we dislike about the Chi Proxies.
Pros
High-Quality datacentre and residential proxies
Top success rates
Has multiple locations
Super-fast speed
Offers unlimited bandwidth
Instant delivery
Flexible payment schedules
Cons
Minimal information is available on the website
Only supports username and password authentication.
Chi Proxies Types and Pricing

We were compelled to create an account to view the price plans and purchase throughout our analysis. Four options are to choose from: standard, premium, monthly, and daily. Each has its bandwidth and price structure. Let's have a look at each of the categories listed below.

Standard plans are made of residential and datacenter proxies. You may choose an infinite amount of IPs since the price is based on bandwidth. Residential proxies cost $25 for 1GB of data. Datacenter, on the other hand, begins at $40 for 25 proxies. The proxies may be used to shop at Nike, Shopify, Supreme, Adidas, and Footsite. Proxies from datacenters are less expensive and quicker. They include unrestricted bandwidth.

There is no data limit for premium residential proxies. Your subscription is contingent on the IP addresses you need, and once activated, they are only valid for a month. Premium residential proxies cost $75 for 25 proxies and $750 for 250 proxies.
However, one ISP is located in North Virginia and offers support for the premium datacenter proxies. They have excellent speed for copping on Shopify and other sneaker sites. Pricing begins at $60 for 25 proxies and goes up to $240 for 100 proxies. After activation, both plans have a validity of 30 days.

For the Monthly ISP data plan, you get unmetered IPs. Unmetered IPS proxies are included in the monthly ISP package. Although there is no bandwidth restriction, the proxies are only enabled for limited editions. They are also only accessible once a month. Prices start at $50 for 25 proxies and go up to $400 for 200 proxies.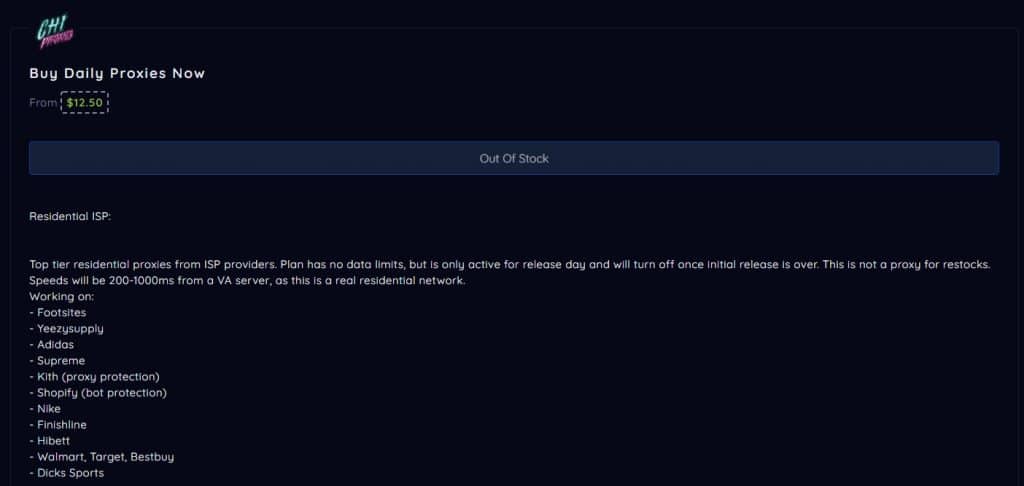 This plan provides proxies for just 24 hours on a release day. There is unlimited data; however, it does switch off after the release is finished. Datacenter and residential ISP proxies are available from Chi proxies. Residential connects to the VA server at a speed of up to 1000MBPS. They look great on a variety of websites, including Nike, Adidas, and YeezySupply. Residential ISP proxies have a starting price of $20 for 25 proxies.
On the other hand, Daily datacenter proxies offer a high speed that is ideal for replenishing numerous shops. On Footsites, however, the proxies are unreliable. There is no set fee for 20 and 50 proxies; however, 100 proxies cost $130.
Location of Proxy Servers
As a sneaker proxy provider, Chi Proxies has deliberately chosen its location to be optimal for sneaker copping. They offer data centers in Chicago and North Virginia for their datacenter proxies, and you must choose a site when making a payment. Chi Proxies also have compatibility for 15 nations for their residential proxies. The USA, the UK, Canada, Australia, Germany, and China are among the supported nations.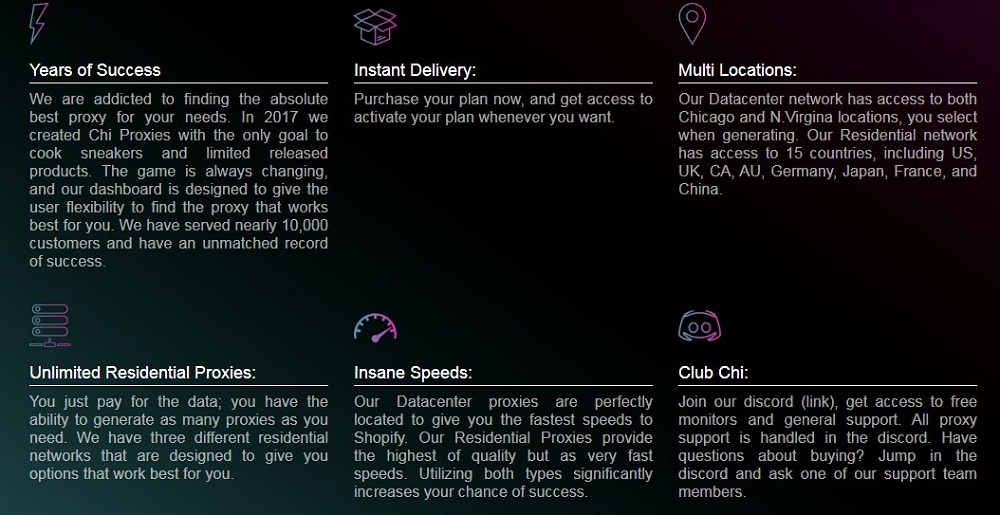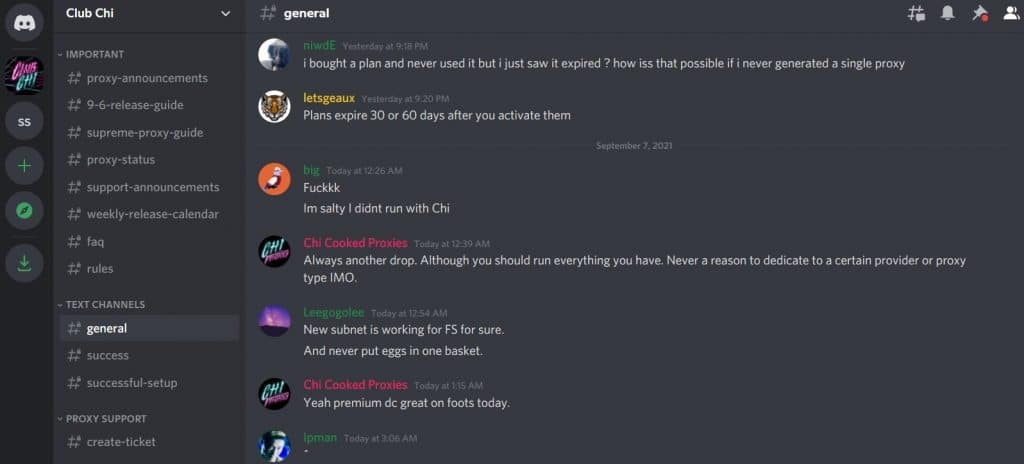 They offer instant support for all queries. You can get support from Discord. Their team is also pretty responsive and professional; they offer the best help you may need.
One of their significant setbacks is the lack of a refund policy. After buying a package, you will not get back your money, even if you aren't satisfied with their services.
They have a good speed which helps you cop well. This is also very important as far as bypassing web-filters is concerned. It enables you to avoid blocks and bans from sneaker sites.
Their IPs are entirely anonymous and come from trusted ISPs. They appear as regular IPs, making it impossible for sneaker sites to detect the proxies.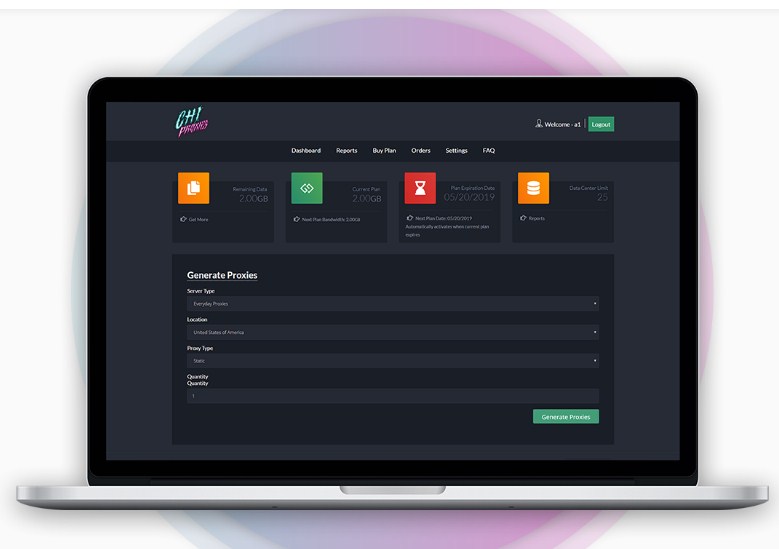 They offer username and password authentication. For all the proxies, you need to enter your username and password to log in. However, they do not have IP authentication, which can be inconvenient.
What are our thoughts about Chi Proxies? Should you make a purchase from them or not? But it may not be the best option to go for. This is because standard datacenter proxies, which are constantly accessible, are readily identified and disabled.
Features

Pricing

Reliability

Support
Premium datacenter proxies, on the other hand, are nearly always sold out. Customer service is also only offered on Discord, and residential proxies are costly.
User's Reviews & Rating
Stupid Proxy
Average rating:
0 reviews
---