Are you looking to bypass your country's restrictions and have full access to Telegram? Check out today's list of the best proxy providers that can enable you that.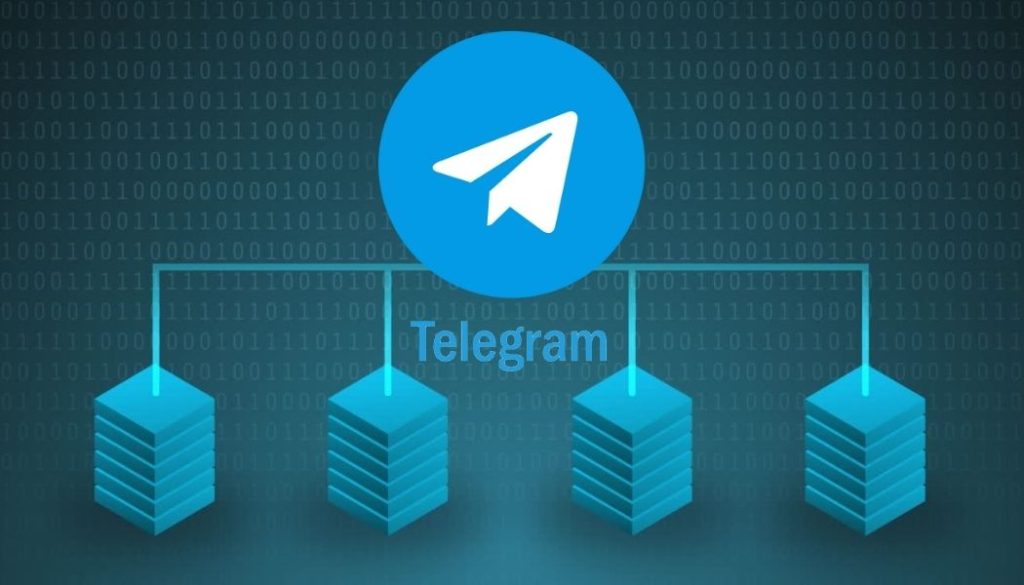 Thanks to the wonders of technology, we can communicate much faster than before. Unlike the days before the internet, where people communicated via telegrams, today, we have tons of instant messaging services that we can use. They are quicker and much more convenient, as they are at our fingertips, literally.
One of the many services is called after the "ancient" way of communicating – Telegram. For almost a decade, this nifty little service has been the go-to place for people to communicate, regardless of whether we're talking about work or just a regular chat.
The main issue some people have with Telegram is the geo-restriction. Several countries across the globe have limited access to the service, making it unusable for its residents. If you live in one of these countries, then this is the article you should read.
Today, I'll outline my top 10 picks for the best telegram proxies, where I'll discuss multiple types. The main reason for it is that Telegram isn't the strictest service for proxies, so even datacenter ones can access it.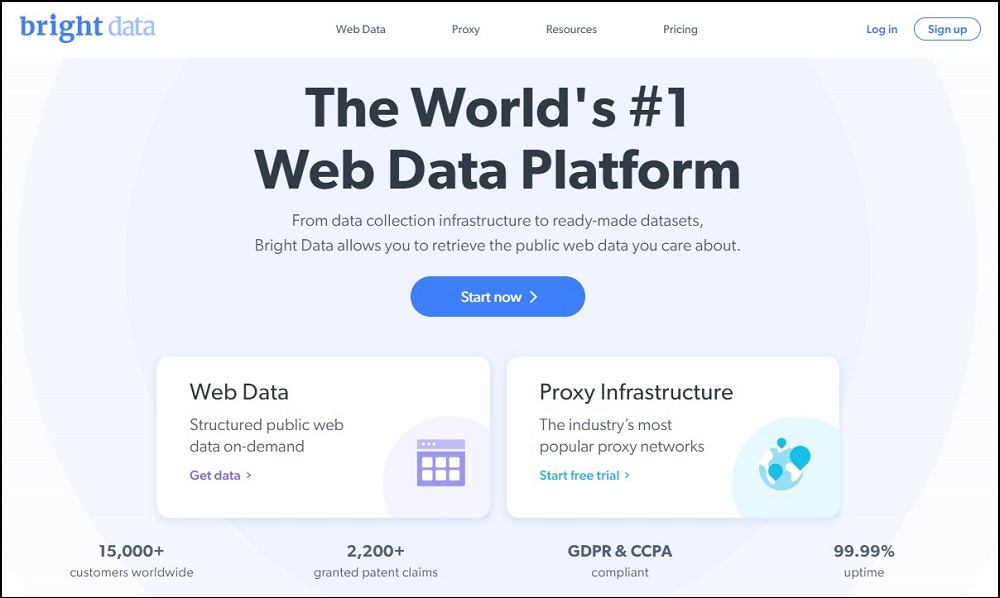 The list starts with one of the most popular names in the proxy industry – Bright Data. People looking for the best provider usually revert to this one. It makes for an excellent Telegram proxy provider with loads of offerings and plenty of features. As part of the lineup, you can choose between residential, mobile, and datacenter proxies.
In the residential lineup, you have over 72 million IP addresses from over 195 countries worldwide, making it one of the largest proxy networks at the moment. To ensure that you get no restrictions with Telegram, Bright Data offers an advanced geo-targeting feature that enables you to choose an IP address from the country you want. The prices aren't particularly affordable, and with a starting price of $300 per month, it's not for everyone's pocket. On a positive note, you have a 7-day free trial to test out the service.
If residential proxies aren't your thing, Bright Data also offers mobile IP addresses. The pool of proxies has over 7 million 3G and 4G proxies worldwide, and even though the list of countries isn't available, it covers the popular choices as far as Telegram proxies are concerned. You also have the advanced geo-targeting feature here, and you can choose IP addresses from a specific country or a provider. Price-wise, these start from $300 per month, but you get more bandwidth included.
Finally, we come to the datacenter proxies, which may be a popular option for people on a tight budget. There are over 1.6 million Telegram proxies in datacenters across the world, so you won't struggle to find IP addresses from countries where Telegram isn't banned. The prices start from $500, where you pay for the number of IP addresses and the bandwidth included.
For all 3 proxy types, there is also a pre-paid option Bright Data calls Pay-As-You-Go. This is for those that don't want the monthly commitments and can top up their account based on usage.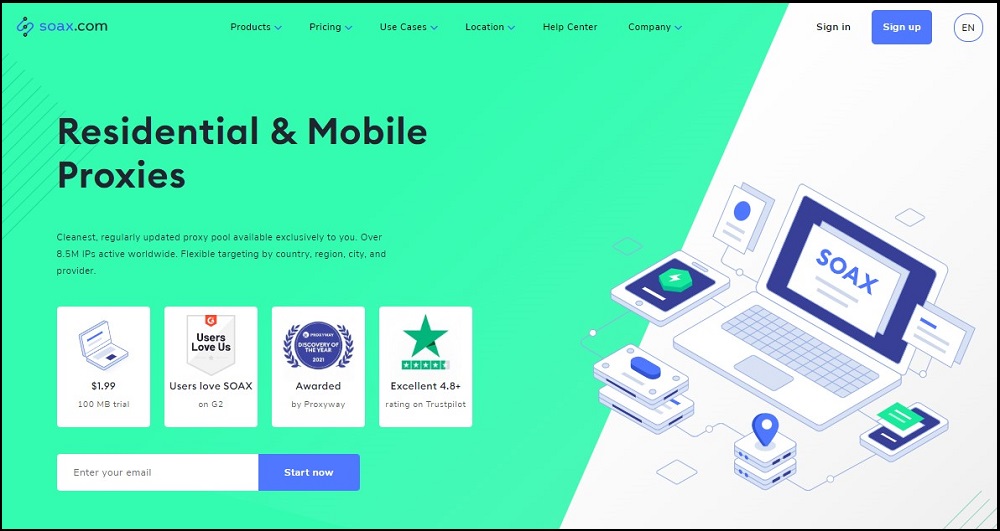 On the more affordable side of things, you have a provider like Soax. While it doesn't offer as much as the previous one, it's undoubtedly an excellent option for people looking for Telegram proxies. There are two options on the table – residential and mobile proxies.
Soax's residential pool of proxies consists of over 5 million IP addresses from over 170 countries worldwide. Like with most residential proxy providers, you have a limitation on the included bandwidth and ports, and for the smallest package, you are looking at $99 per month.
The mobile proxies don't come in as large a number like this, but there are some perks. Soax offers over 3.5 million Telegram mobile proxies, and thanks to the highly precise targeting feature, you can be sure that you'll get an IP address from the location you need to. The cheapest package is similarly priced, but for $99, you get less bandwidth per month and the same number of ports.
On the company's website, there is a mention of datacenter proxies, so I'm expecting to see those soon as well.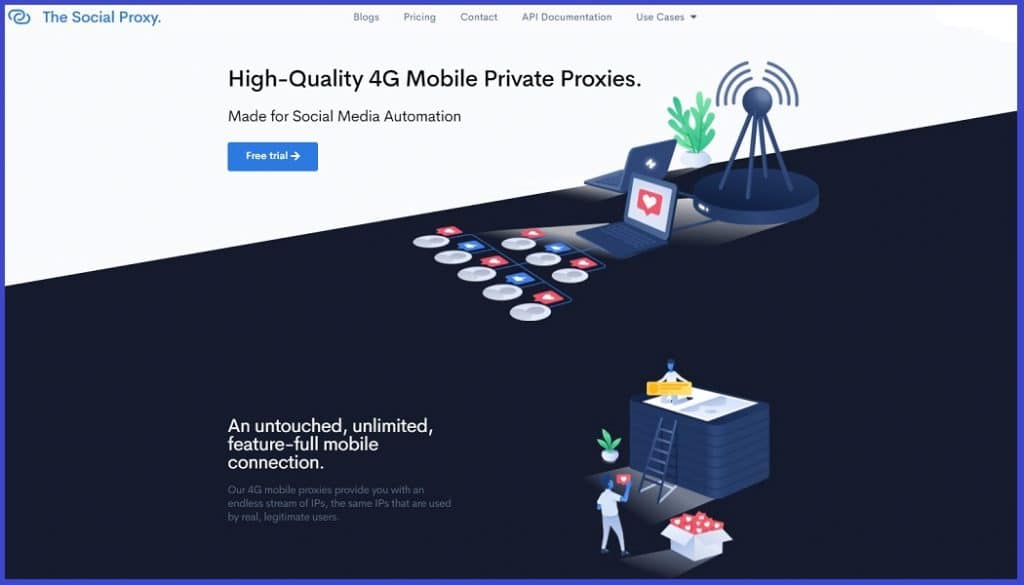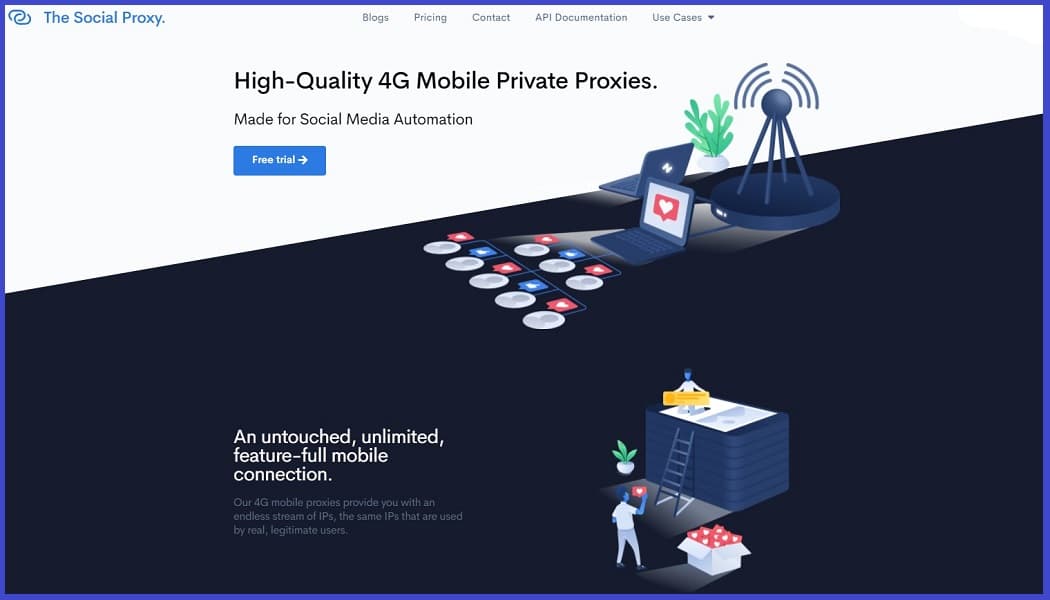 There are also those proxy providers that may seem like they are dedicated to one thing, but in reality, they can be used in other applications. The Social Proxy is another excellent choice for Telegram proxies, despite the name suggesting that it's for social media.
Unlike the providers so far, The Social Proxy is a service that offers only mobile Telegram proxies, and unlike Bright Data, there are only 4G proxies at your disposal. The size of the pool remains unknown, but for this application, you probably won't need a lot of IP addresses. As far as locations go, there are only a handful of them, but the good news is that they are all countries where Telegram isn't banned. Regardless of which one you choose, the price is 90 euros per month, including the same set of features.
The best part about this Telegram proxy provider is that it offers a free trial. While you get only 24 hours to test out the service, you have an option to ask to get that period extended a bit.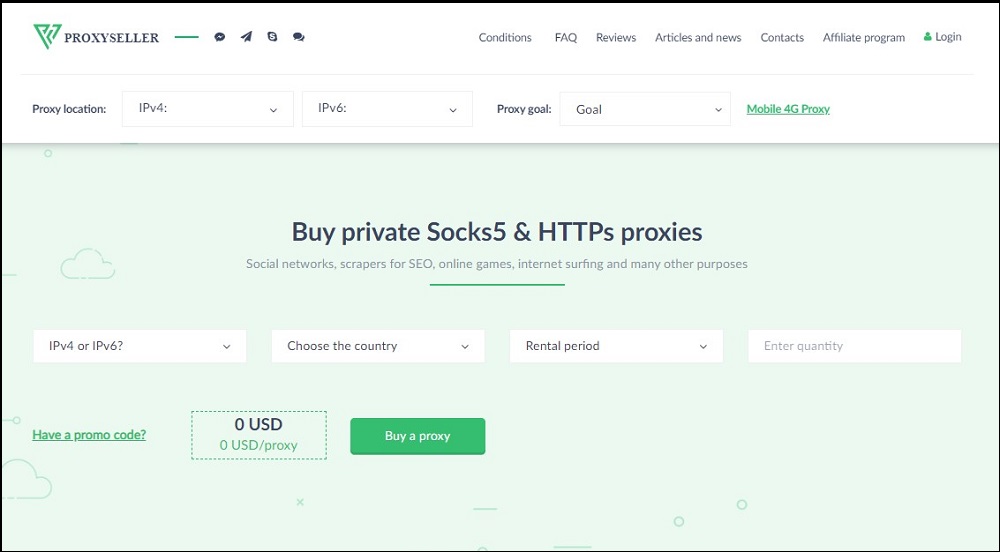 In many ways, Proxy Seller is a Telegram proxy provider that's similar to the previous one. In some areas, it performs better, while in others, it may seem like it's falling behind, but regardless of that, it's an excellent option. One thing it offers more than the previous provider is the type of proxies, so you have datacenter and mobile ones.
In terms of datacenter Telegram proxies, Proxy Seller offers a wider range of locations, covering over 50 countries in various parts of the world. There are no limits on the bandwidth you use, basically, you are paying per IP address. As with all datacenter proxy providers, you get IP addresses with gigabit speeds.
The mobile proxies are a new addition to Proxy Seller's lineup, and the company seems to be doing a pretty good job in terms of locations. There are 4G proxies from 11 countries that offer a nice variety, but unfortunately, the number of IP addresses is unknown. In terms of the price, it depends on the location you'll go with, but it ranges from $32 to $80.
In both cases, an option to test the proxies isn't available, so your only option is to ask for a refund within 24 hours.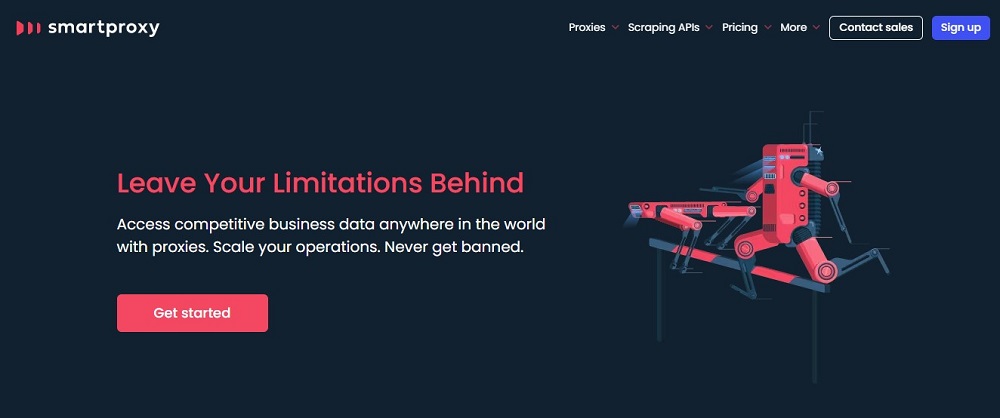 In the world of proxies, some providers find themselves in most top lists, one of which is Smartproxy. With many years of experience in the field, you are looking at another excellent option for Telegram proxies, and you get to choose between residential and datacenter ones.
If you're after residential Telegram proxies, Smartproxy has over 40 million of those in over 195 locations, meaning that you have a wide range of countries and plenty of IP addresses. They come in several packages with limited bandwidth that start from $75 per month for 5 GB of traffic.
Smartproxy also offers datacenter Telegram proxies, which seem to tick all the right boxes. You get unlimited bandwidth from private IP addresses that only you can use. The number of available proxies in the pool is unknown, and as far as the location goes, your only option is the US, which isn't a problem for this case.
A free trial won't be available to you regardless of which type of Telegram proxy you choose. With that said, there is the option to ask for a refund within 3 days if the Telegram proxies don't perform as advertised.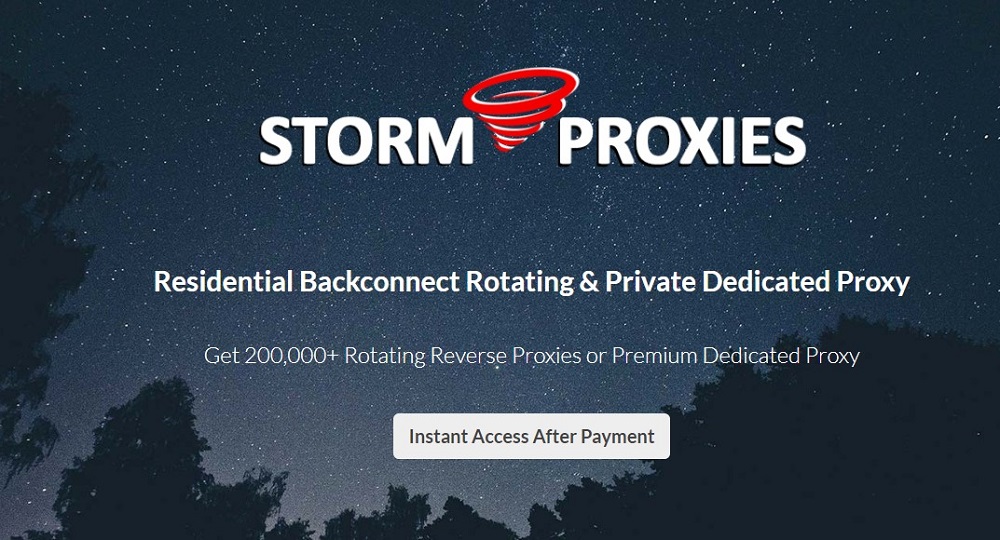 Stormproxies is one of those providers that doesn't seem to offer much but still finds itself on these lists. While it cannot provide a pool of IP addresses on the same level as some other providers on this list, it's not a bad option considering the application.
This provider has several types of proxies, but for Telegram, I'd recommend going for the premium dedicated ones. The number of available proxies is unknown, but they come from 3 datacenters in the US, so any limitations with Telegram will be avoided. With each package, you get unlimited bandwidth, and the cheapest one starts from $10, for which you get 5 proxies.
Testing the proxies for free isn't available, but Stormproxies does have a money-back guarantee. You have an option to ask for a refund within 24 hours if the proxies don't perform per your linking.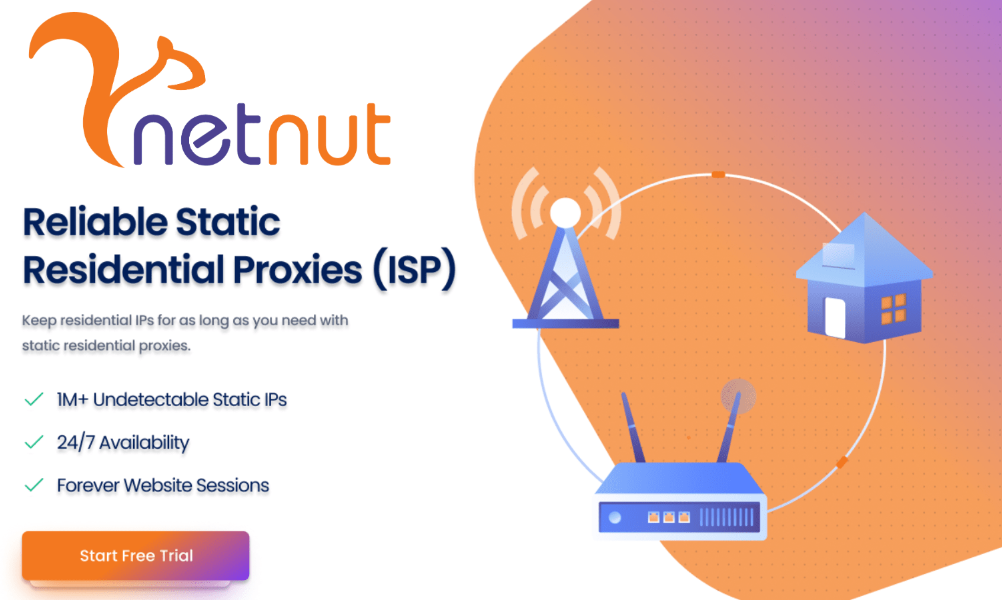 When it comes to enhancing your Telegram usage, NetNut stands out as a premier proxy service provider that can improve your online interactions with fans and audiences. By seamlessly merging ISP and P2P proxy networks, NetNut delivers a truly remarkable blend of speed, anonymity, and overall performance. Whether you're communicating on Telegram or other similar platforms, NetNut's approach ensures unmatched access that's both fast and secure.
NetNut harnesses the strengths of its residential proxy is some 52 million IPs that grant users the ability to connect with their customers based on Telegram. No worries about dealing with content geo-restrictions because NetNut's real IPs enable effortless access to any region or market you are interested in. If you're seeking to overcome Telegram's geographical barriers and collect market info seamlessly, you can do much better than NetNut.
A standout feature of NetNut's proxies is their browser integration, simplifying the method of rotating proxies during your different browsing sessions. When combined with the dynamic P2P Proxy network, you get constant network availability measured at an impressive 0.001 percent fail rate. This is actually more power than you'll ever need for data collection and efficient engagement on Telegram.
Additionally, NetNut's proxy pools are optimized to align with target audiences, this ensures a better experience on Telegram. Also, you can monitor usage data in real-time through the API, enhancing the already user-friendly dashboard. All these thoughtful features make us recommend NetNut not only as a great choice for Telegram but for every other professional data-centric activity that requires a first-class proxy network.
What's equally impressive is the flexible pricing package that caters to a variety of needs and budgets. The residential proxies begin at $350 per month for 20GB. As your requirements grow, the scalability of their packages ensures you can easily upgrade to larger plans to accommodate increasing data demands.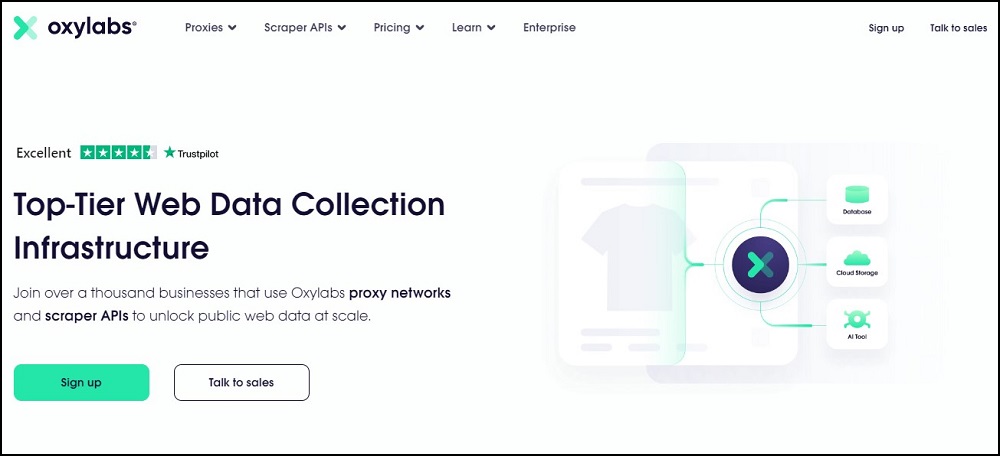 The last entry on the list is also the largest one. For a long time, Bright Data, or Luminati as it was known before, was the provider with the largest pool of proxies, but now Oxylabs takes the crown. Like its main rival, this one also offers 3 types of proxies – datacenter, residential and mobile.
Let's start off with what most people would be after, the residential proxies. Oxylabs has over 100 million IP addresses that you can use with Telegram from every country globally. Since we're talking about residential proxies, all packages come with limited bandwidth, and the smallest one you can get is for $300 with 20 GB of included traffic.
Next up are mobile Telegram proxies, which aren't as many as residential ones. To be honest, Oxylabs doesn't outline the number of IP addresses in the pool, and the list of locations isn't as extensive as the one with the residential proxies. For the price, things are a bit more expensive, and for the same 20 GB of traffic, you'll need to pay $500 per month.
The datacenter Telegram proxies also cover a wide range but aren't the most affordable ones on the market. There are over 2 million IP addresses in multiple parts of the world, and the price per proxy depends on that. The cheapest package is $180, where you can get either 100 IPs from the US or 60 from anywhere else in the world.
When it comes to testing the Telegram proxies, Oxylabs takes a different approach. You can get a 7-day free trial if you're a company, while the 3-day money-back guarantee rule applies to individuals.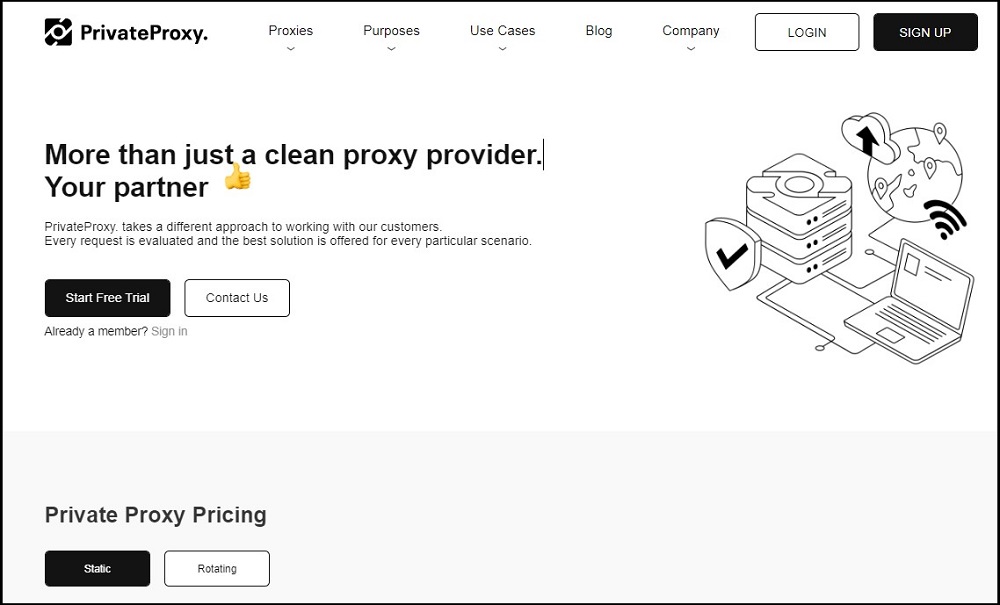 One of the many proxy providers that often gets overlooked is ProvateProxy.me. With over a decade of experience in the field, this provider is an excellent option for Telegram proxies, and the best part is that it has multiple types. Depending on your preference, you have the option to get datacenter or residential static IP addresses.
The biggest drawback you'll face with ProvateProxy.me is the fact that the company doesn't outline the number of residential proxies. On the location side of things, there are IP addresses from 195 countries, so there's more than enough to choose from. As for the packages, things start from $5, which comes with 1 static proxy, unlimited bandwidth, and an option for a swap once a month.
With the datacenter proxies, you get a similar set of information. The number of Telegram proxies isn't available, and PrivateProxy.me has only 3 datacenters. While the number isn't on the same level as some of its rivals, the countries are one where Telegram isn't banned. The pricing structure is similar, and for a starting price of $9, you get 3 datacenter proxies with unlimited bandwidth and connections, with the included swap per month.
Even though ProvateProxy.me is a relatively affordable provider, there is an option for a free trial. If you're going after datacenter IP addresses, you have 1 week to test them out, while the residential ones are free for 2 days.
Geonode isn't a newcomer in the proxy world and considering that it's advertised as a provider without any bandwidth limitations, it's clear why I included it in this list. One thing that's a bit unique is that the unlimited bandwidth comes from residential proxies, which is a rare sight in this niche.
Even though there are residential proxies only, Geonode goes about structuring things differently. You have premium Telegram IP addresses from a pool of around 2 million proxies where you pay based on the bandwidth you use. You can choose rotating or sticky, depending on your preference, with the price starting from $14 per month.
On the other hand, you have private proxies that come with unlimited bandwidth. Here, you have roughly 400 thousand Telegram proxies, and the price you pay will depend on the number of ports you need. The smallest package available is $70, giving you access to 5 ports.
There is an option to test the proxies, but you only get that for the private ones. Unfortunately, it isn't free, and you'll need to pay $7 to get 5 ports and use them for 7 days.
As I've mentioned, datacenter proxies do work with Telegram, but it's essential to get them from a reputable provider like High Proxies. This provider ticks all the right boxes you'd need for this application.
The pool of proxies consists of over 70 thousand datacenter IP addresses coming from 33 servers. Most of them are located in the US, and a handful of the others are from Europe, Australia, and Canada. Regardless of which location you choose, you won't have any issues with Telegram. Plus, all datacenter have gigabit connections, so speed shouldn't be an issue.
High Proxies has its IP addresses divided into several sub-types, and for this application, I'd recommend going for the private proxies. The cheapest package you can find is $2.30, which gives you access to 1 IP address, which should be fine for most people.
A free trial isn't available here, and High Proxies advises you to get the smallest package and use it. If you're unhappy with the results, you have 3 days to ask for a refund.
Q. Are Telegram proxies legal?
As a general rule, most countries don't ban the use of proxies, so you shouldn't have any legal issues. There are a handful of countries where proxy usage is either restricted or some laws apply, so check that before making a purchase.
Q. Can Telegram ban me for using proxies?
No, Telegram doesn't have a strict policy for using proxies, so you shouldn't have any problems with that.
Q. Which Telegram proxies are better?
When you consider that Telegram isn't too strict, any kind of proxy will do the trick. I often advise people to use residential or mobile proxies to ensure that they remain anonymous, and I can say the same thing here. On the other hand, if that's not your primary goal, the datacenter Telegram proxies are a good option. With these, you also get higher speeds, lower latency, and with some providers – unlimited bandwidth.
Q. Will I be able to use the Telegram proxies for other things?
Yes. Overall, the providers I outlined in this list offer general-purpose proxies, so even though I refer to them as Telegram proxies, you can use them for other activities like browsing, streaming, and scraping on Telegram, etc. One thing to keep in mind, some providers have a stricter policy about what you can do with the proxies, and torrenting is sometimes forbidden. Check the provider's usage policy to ensure that you don't break any rules.
When it comes to using Telegram, there are many options that can cover your needs. Some are more expensive, others have faster speeds, thirds will have no limit on bandwidth, etc. At the end of the day, these are my picks as the best proxy providers that I believe would cover most people's needs. With that said, there are other options out there, so some of those may suit your needs better.
---